You've got a long to-do list that never ends, and promoting matching gifts is an easy task to push aside. However, it's a necessary job.
The specifics vary by company, but donors have a limited window of when they can apply for matching gifts. If you're not getting the word out about matching gifts then you'll lose eligible donors and receive fewer requests. The goal of any great matching gift program is to maximize its dollars donated for the public good.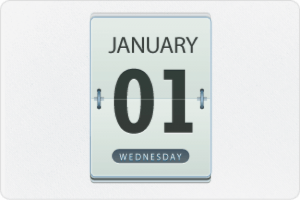 Don't make people wait. Just like you, your donors live busy lives and likely don't ruminate on the intricacies of charitable donations. A healthy dose of matching gift motivation in the form of necessary information can go a long way. Many donors simply need to know that matching gift programs exist.
Standard Matching Gift Submission Deadlines
Calendar specifics vary by company, but the following three dates are the general standards for matching gift submission deadlines:
End of the calendar year.
A set number of months after the date of the donation. The standard is one year, but anywhere from one to twelve months is normal.
End of January, February, or March in the year subsequent to when the donation was made. Companies with a January or February deadline include Verizon, Home Depot, and Caterpillar.
These dates mean that you can engage in both start and end of year appeals. Let's start with end of year appeals.
End of Year Appeals
Here's an end of year appeal from Adrian College: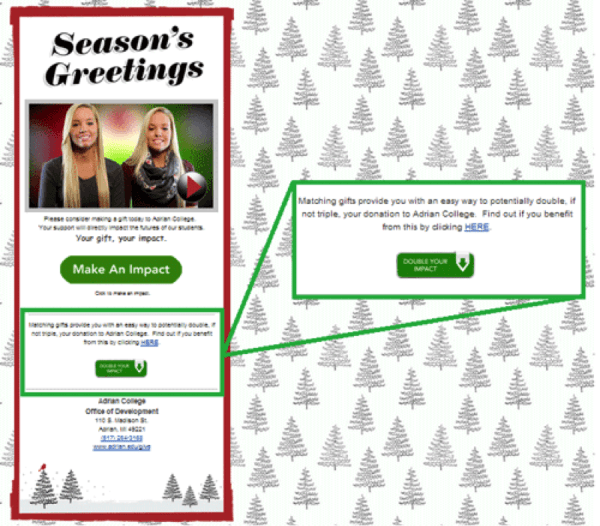 Email templates vary, but it never hurts to embrace the time of year with festive, emotionally engaging graphics. This matching gift appeal utilizes a basic font against a clean background. Nothing fancy, and, to access matching gift programs, there is both a blue link to click as well as a conspicuous green button. Priority number one is getting the information out there, and any aesthetic enhancements will follow according to what you can manage.
A great appeal will conjure urgent emotion out of its reader. The goal is both to remind donors about matching gift programs and to foster a feeling that a matching gift will provide necessary good for both the donor and the nonprofit. End of year appeals are, at their essence, urgent calls for donations to be matched, but appeals don't need to come across as desperate. People understand the time of year. Donors can decide for themselves whether or not it's worthwhile to match their gifts.
Here's a sample end of year appeal from Atlanta Animal Rescue Friends on Twitter: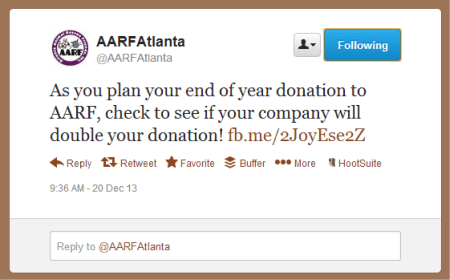 Here's a sample Facebook appeal from Camp Kudzu: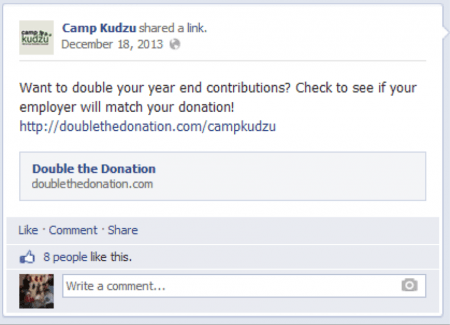 And here's an appeal from the DRI Foundation that nicely incorporates a graphic: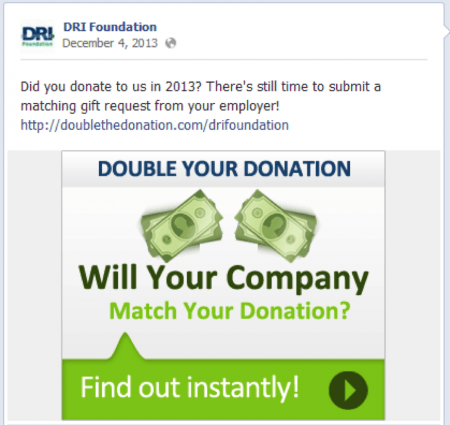 Start of Year Appeals
If you missed the end of year deadlines, don't worry. Many companies offer grace periods both for donations made at the end of the year and donations that were forgotten. This means that, even once the calendar turns to the new year, you have time to capitalize on matching gifts from donations made during the previous year.
A lot of people make their donations at the end of the year and fail to match gifts either due to missing out on end of year appeals, overlooking them, or due to the general frenetic pace of the holiday season. Start of the year appeals are the solution to this problem.
While these dates are not set in stone, company deadlines for grace periods tend to fall into one of three categories:
Companies will match gifts if applications are submitted by Jan. 31, Feb. 28, or Mar. 31 of the following year.
Companies will match gifts made at any time during the previous three, six, or twelve months.
Companies will match all gifts made during the current calendar year.
For instance, Monsanto has a policy that donors must register matching gift requests by February 15th of the year following the donation date.
Monsanto Fund's February, 2015 Matching Gift Submission Deadline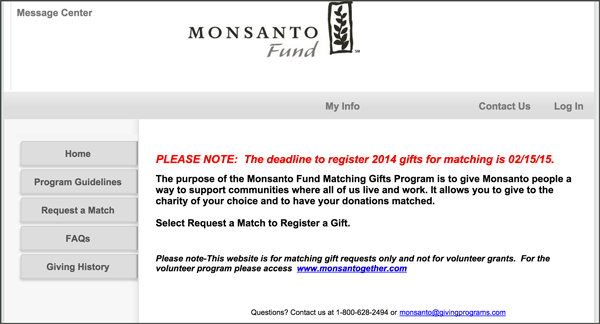 As with end of year appeals, don't sound desperate. Thank donors for their donations and put the information in front of them. No flashy colors or bright lights required, although well-implemented graphics can help. You want people to understand your appeal and to participate in your call to action. The above email from Adrian College is a good template to follow for any appeal (although, obviously, adjust the seasonal template for the time of year).
https://doublethedonation.com/wp-content/uploads/2012/08/Untitled-design.png
321
845
Adam Weinger
https://doublethedonation.com/wp-content/uploads/2016/09/double-the-donation-logo-header.png
Adam Weinger
2015-01-28 09:29:09
2015-06-25 15:18:48
Feature Matching Gifts in Year End and New Year Appeals