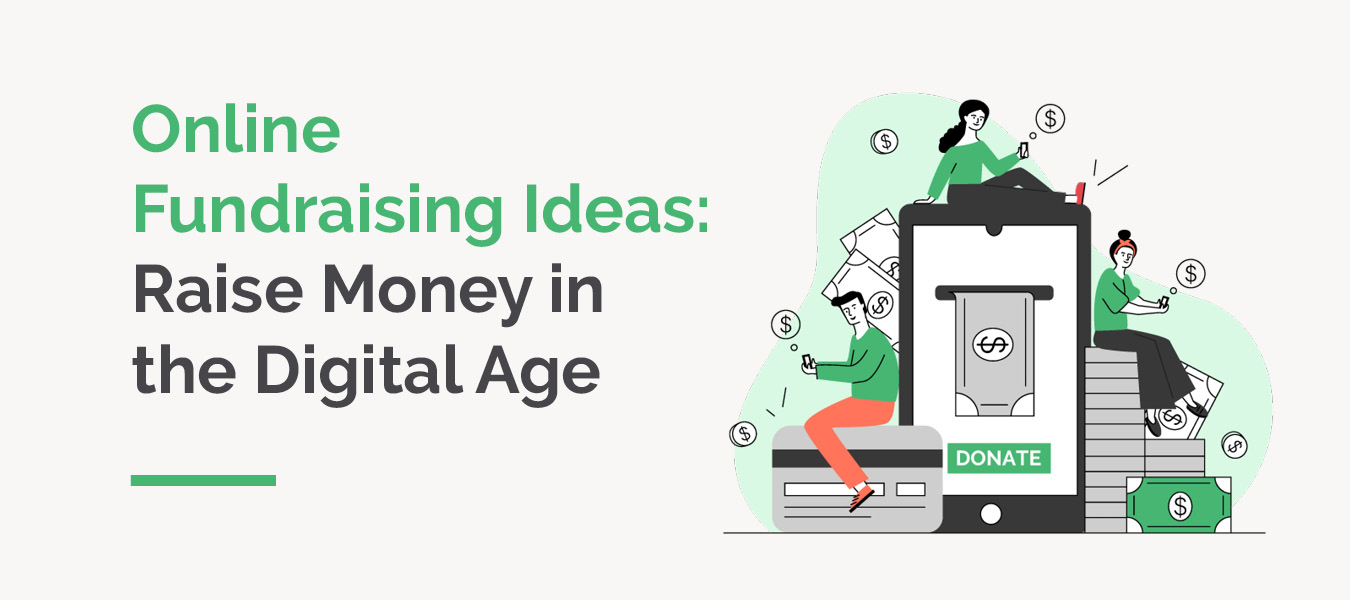 10+ Online Fundraising Ideas: Raise Money in the Digital Age
We all know that online fundraising is quickly taking the nonprofit world by storm. More people than ever are making their charitable contributions via online avenues. That's why we've compiled 11 of the best online fundraising ideas that can help your nonprofit raise more money in the digital age!
Here's what we'll be covering:
Tools mentioned:
Let's take a look at each of these online fundraising ideas in more detail.

Online Fundraising Idea #1: Crowdfunding
Crowdfunding is proving to be one of the most popular ways for nonprofits and individuals alike to raise money for causes, projects, or events that they care about.
For those new to the term, crowdfunding essentially makes use of a nonprofit's or individual's existing network of supporters, friends, family members, coworkers, peers, and even acquaintances.
Nonprofits and individuals can set up crowdfunding pages and then share those pages on social media sites and via email.
A typical nonprofit crowdfunding page looks like this: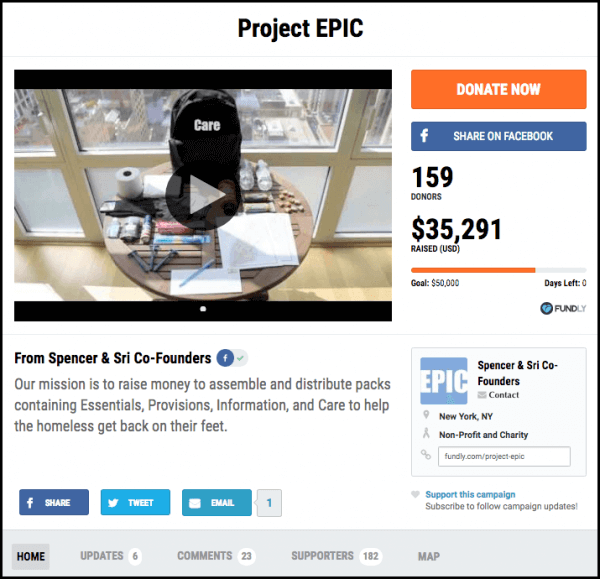 Most crowdfunding platforms allow nonprofits to:
Upload images and videos.
Write a detailed description.
Post updates and comments.
Share the campaign across social media sites and email.
Set up giving levels or tiers.
Send out automatic acknowledgements to donors.
Track metrics like number of donors, average donation amount, and total amount raised.
If you want to make the most of your nonprofit's crowdfunding campaign, follow these best practices:
Interact with your supporters: Your donors want to know how your online fundraising campaign is going! Keep them in the loop by posting updates and responding to their comments on your crowdfunding page.
Post at least 4 photos or videos: Media gives your donors some context and allows them to see exactly what they're donating to. Make sure that your photos look professional and highlight the people, animals, or communities that your nonprofit serves.
Set up giving levels: Including donation tiers or giving levels on your campaign page allows donors to select the one that they prefer. To create an even bigger impact, you can list out the specific actions that your nonprofit can accomplish with each donation amount.
Main Takeaway: Crowdfunding is one of the best online fundraising ideas for nonprofits. Most crowdfunding platforms enable you to get up and running in just a few minutes, and you can start raising money from your supporters in no time!
Bonus: Start your crowdfunding campaign today!

Online Fundraising Idea #2: Peer-to-Peer Fundraising
Peer-to-peer fundraising or virtual events are a type of fundraising that many nonprofits pair with fundraising events like walkathons, marathons, and in-person events that need to be transitioned to virtual.
Peer-to-peer fundraising campaigns typically follow this structure:
A nonprofit sets a goal, determines a timeline, and plans a peer-to-peer event.
The nonprofit reaches out to loyal supporters and asks them if they want to participate in the fundraiser.
If supporters are willing to participate, they then set up their own online fundraising pages (with the nonprofit's help). These individual pages link up to the nonprofit's main peer-to-peer fundraising page.
Individuals reach out to their networks to ask for donations on the nonprofit's behalf.
Supporters' friends and family members make donations via the individual's peer-to-peer fundraising page.
The nonprofit collects the donations, acknowledges and thanks supporters and donors, and hosts the (typically active) event.
This individual peer-to-peer fundraising page is linked to the nonprofit's primary fundraising page.
This peer-to-peer campaign follows a few best practices that we're a huge fan of:
They include several images: Both the nonprofit's main page and the individual's campaign page have images and videos that allow supporters to see exactly what their donations are going toward.
They describe what the contributions will help accomplish: Each page highlights the need for homes and volunteer time in Austin. Both pages have giving tiers that describe what a donation amount will be able to buy. For example, $300 will buy a stove, while $500 will buy a roof.
Each description is detailed: A good peer-to-peer campaign description is the key to encouraging people to donate to your cause. Without it, people won't know why you're raising money! This campaign has listed out the reasons for fundraising and lets people know why building homes in Austin is important.
Main Takeaway: Peer-to-peer fundraising is a type of online fundraising that enables your nonprofit to raise more money and acquire more donors. As your supporters reach out to their networks, your nonprofit can introduce more people to your cause and mission.
Bonus: Check out the top priorities you should be looking at as you evaluate the various peer-to-peer fundraising platforms!

Online Fundraising Idea #3: Matching Gift Drive
Take online giving one step further by encouraging your donors to search for the matching gift programs for which they might be eligible. Companies of all sizes will often match (or more than match) their employees' donations to nonprofit organizations!
There are even useful tools you can embed directly onto your websites or campaign emails. Here's how the National Audobon Society incorporated a user-friendly search tools directly into their ways to give page: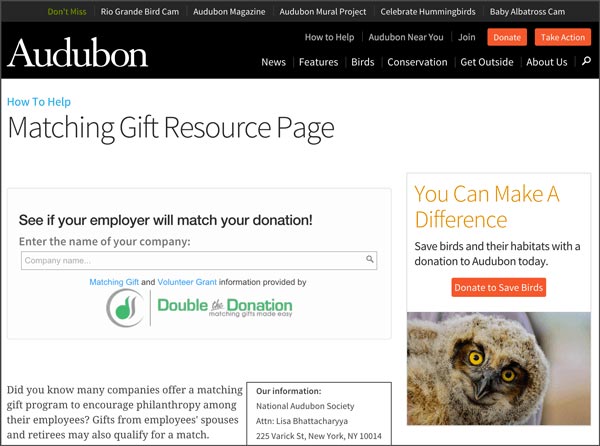 For a fundraising campaign, create some buzz by asking a local company or major donor to match donations made on a particular day. Time sensitive drive campaigns work well because they create urgency, a good motivator for supporters. Plus, since each donation goes twice as far, donors will be more likely to participate.
Best of all, and unlike ongoing corporate matching gift programs that apply to eligible employees, matching gift drives don't have restrictions on who can participate!
The key to a prosperous matching gift drive is promotion. Get the most people to participate by sending emails to your donors on the days leading up to the event. 
Social media is also an effective place to promote your online fundraiser. If your museum is running a matching gift drive, for example, you can publish posts on Facebook and Twitter that tell donors any tickets purchased or contributions made during your drive will be doubled by your sponsor.
Also, let donors know about the many ways they can contribute. Provide your donors convenient ways to give, such as:
Donation pages.
Text-to-give.
Mobile-responsive forms.
Crowdfunding pages.
The more fundraising options donors have, the more likely they are to make a donation.
Additionally, if you're hosting a giving day, but only accept donations through a form on your website, this limits the number of people that can contribute to your cause. 
Always ensure that you have a variety of ways to collect donations before launching your matching gift drive.
Main Takeaway: Knowing that their gifts will double for a limited time is a great motivator for donors. Use that knowledge to your advantage and host a matching gift drive.
Bonus:  For matching gifts year-round, check out another example of how Mercy Corps helps their supporters determine if their employer matches donations on their branded matching gifts page from Double the Donation.
Online Fundraising Idea #4: T-Shirt Fundraising
Another effective way for nonprofits to fundraise online is by selling t-shirts. Your nonprofit can deisgn t-shirts as merchandise for your organization and sell them online to your supporters.
T-shirt fundraisers are a fun, engaging way to raise money for your nonprofit because they allow supporters to show their love for your organization while still getting something back in return.
For supporters who many not be able to donate as much as they would like due to financial limitations, t-shirt fundraisers offer them the opportunity to contribute to your cause without breaking the bank.
Your nonprofit can get started by promoting t-shirt sales in conjunction with different fundraising campaigns. For example, you might sell holiday-themed t-shirts during year-end giving to capitalize on the seasonal spirit.
Even further, the t-shirts you sell can double as marketing materials for your nonprofit's brand. When people see their friends wearing your organization's shirts, they may get inspired to start contributing to your nonprofit.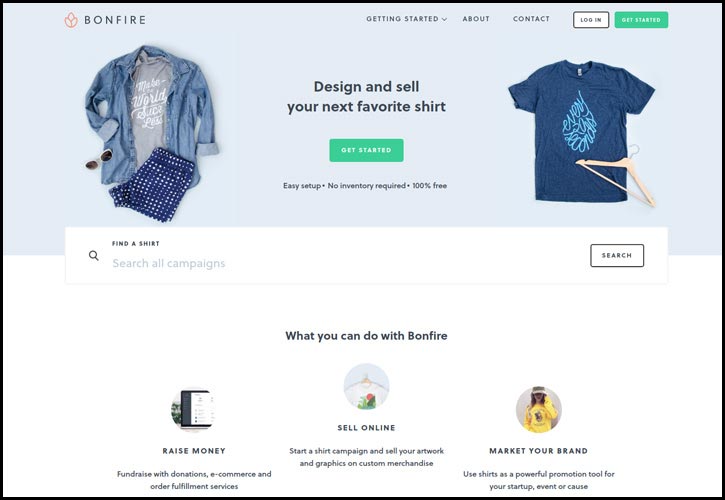 When choosing an online host for your t-shirt fundraising initiative, select one that:
Offers plenty of t-shirt customization options.
Allows you to upload original designs for your shirts.
Gives you the freedom to set your own t-shirt prices.
Charges a low-overhead fee so you can keep more of your profits.
Gives you the ability to customize your nonprofit's t-shirt sales page.
As your organization starts selling t-shirts, remember that customization is key! Supporters are more likely to buy your organization's shirts if they feel the product (and sales process) reflects the brand they have come to know and love.
Bonus: Learn more about selling t-shirts to raise money for your nonprofit with Bonfire!
Online Fundraising Idea #5: Gift Card Fundraisers
What if you could raise money by having supporters do something they were probably going to do anyway? Gift card fundraising is an innovative way to bring in revenue online, and it's convenient for supporters because they get to contribute to your cause simply by buying a gift card for a friend or family member.
Digital gift cards tend to work best for these types of fundraisers, as they can be delivered to supporters' inboxes within minutes of their purchase. Then, supporters can forward their email to the loved one they want to give the card to as a gift.
Every time someone buys a gift card through your fundraiser, a percentage of the sale automatically goes back to your nonprofit. The exact amount varies depending on the retailer who provided the gift card, but it's often around 5.5%. However, these contributions add up over time to make a major difference for your organization!
To launch a gift card fundraiser through a gift card fundraising platform (like ShopRaise), follow these three easy steps: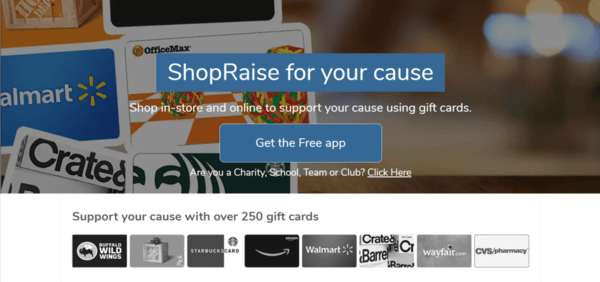 Register your organization. The experts who run your fundraising platform will walk you through a simple onboarding process, answer any questions you may have, and provide the app your supporters will use to purchase their gift cards.
Spread the word. Marketing is essential to a successful gift card fundraiser. Leverage all of the communication channels your nonprofit uses to make supporters aware of your fundraiser and provide instructions for getting started. The platform you partner with may be able to provide some marketing materials to help you with this step.
Track results. Your organization's dashboard will display real-time fundraising data to help you thank your top supporters individually and encourage them to continue buying gift cards to support your cause.
Consider starting your gift card fundraiser at a time of year when people are likely to be buying a lot of gifts. For instance, you could launch in November to prepare for the holiday season or in April as your supporters start thinking about Mother's Day, Father's Day, peak wedding season, and upcoming graduations. Just make sure to leave your fundraiser open year-round so supporters can buy gift cards for their loved ones' birthdays in between these busy seasons.
Main takeaway: Gift card fundraisers are an easy virtual idea that can be run year-round. They're free for your organization to launch and convenient for supporters as they can contribute to your cause by buying gift cards they were going to purchase anyway.
Bonus: Explore the ins and outs of gift card fundraising with ShopRaise!
Online Fundraising Idea #6: Online Donation Forms
One of the most traditional ways to raise money online is through the tried-and-true online donation form. In many cases, donation forms allow you to brand your page and create special fields to capture specific, related information.
Best of all, online donation forms can be mobile-friendly so even more of your supporters have access. 
Since there are many customization capabilities available, your organization can create a form that is completely unique to your brand.
There are many vendors available that offer both free donation forms and paid donation forms.
Here is an example of what your online donation form could look like: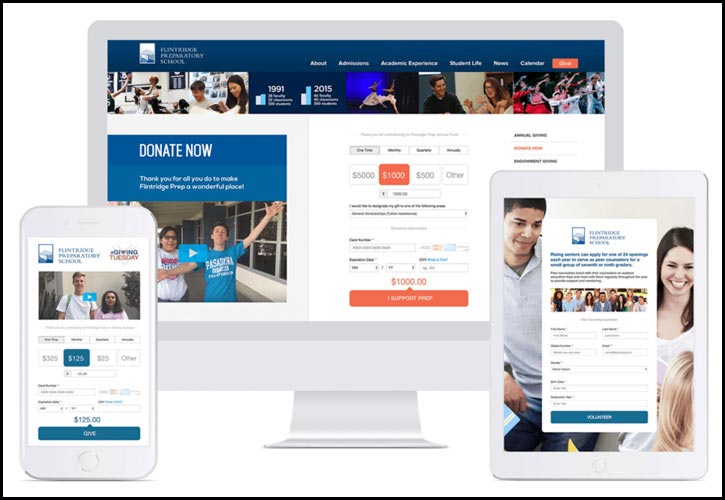 As you can see, the Water Project does a lot of great things with their donation form:
First, the donation form has preset giving buttons, making it easy for the donor to choose a gift amount.
Secondly, donors have the option to set recurring gifts.
Last, the option to share contributions on Facebook and Twitter is predominantly displayed.
All these features not only help boost your awareness and funds, but they also make the giving process convenient for your donors.
Of course, if your organization wants all of these features (and more!), you'll have to choose an excellent fundraising software provider.
Look for a vendor that has a responsive technical support team and an easy-to-use interface; you shouldn't have to be an expert in CSS and HTML to create a professional-looking form. With a simple donation form builder, your organization should be able to drag and drop the elements you want to use and customize them to fit your needs.
If you're using a fully customizable platform, you'll be able to create a form that is unique to your organization or recruit a technology consultant who can design a form catered to your needs.
When creating your online donation forms, be considerate of your donors' time and keep your donations quick and simple.
Main Takeaway: Creating a convenient and beautifully designed donation page starts with finding the right software. Find a provider that offers the features that will make donating quick and easy.
Online Fundraising Idea #7: Online Giving Days
The most common online giving day is #GivingTuesday, a national day of charitable giving started a few years ago by the 92nd Street Y in New York.
While your nonprofit might already participate in #GivingTuesday, that doesn't mean that you can't organize your own online giving day for your supporters!
Just so we're clear, an online giving day is a 24-hour period where a nonprofit tries to raise as much money as possible from its supporters.
An online giving day has to have a lot of digital promotion and advertising to make it effective. Reach out to your supporters:
With emails.
Over social media.
Via text message.
On your website.
With videos.
These digital outreach methods should contain information about your giving day such as the time, ways to donate, what the funds will go toward, and how supporters can get more involved.
Here's an example of an animal nonprofit that promotes #GivingTuesday on Twitter:
Be a hero for a cause during #GivingTuesday! Kim fights for the animals because "Everyone deserves a second chance." https://t.co/GGMPkn5uct pic.twitter.com/y5XiDXQTZv

— Homeward Pet (@HomewardPet) November 27, 2016
Of course, Twitter has character limitations, so this tweet had to be short and sweet. Your other digital promotions for your giving day can go a bit more in-depth and include more specific information about your online fundraiser.
Whatever route you take, make sure that you explain what the funds are going toward and provide supporters with a link to your online donation page.
Main Takeaway: An online giving day can be an energetic and fast-paced way to raise money for your cause. Electrify your donor base with lots of digital promotions and encourage them to give as much as they can in just 24 hours!
Bonus: Take a look at these #GivingTuesday promotional resources.
Online Fundraising Idea 7: Text-to-Give Campaign
Text-to-give came on the scene as a digital fundraising method in 2010 when millions of dollars were donated to the American Red Cross to support victims of the Haiti earthquake.
Since then, text-to-give (or text-to-tithe for churches) has become a mainstream way to raise money for any organization or cause!
Today, text-to-give tends to work like this:
A donor will text a keyword to a specific number that has been assigned to a nonprofit.
The donor will receive a link as a text message.
The link takes the donors to a mobile-responsive donation page where they can make a contribution.
It's that easy!
When choosing a text-to-give tool, look for a provider that is PCI-compliant, which means the company follows strict rules to ensure a high level of security.
Ease of use and integration are also vital characteristics to look for in a text-to-give tool. You want the giving process to be quick and simple for donors as well as have a way to export data to your CRM.
Many nonprofits, schools, and churches use text-to-give technology as an online fundraising avenue throughout the year, but it's also a popular donation method during fundraising events. One of your speakers can make a live appeal and ask people to give with their cellphones (all of your attendees will likely have their phones in their pockets or purses!).
Main Takeaway: Text-to-give is quickly becoming one of the most popular online fundraising ideas. Don't get left behind by this fundraising trend!
Bonus: Check out the ultimate guide to text-to-give.
Online Fundraising Idea #9: Online Auctions
Online auctions are essentially digital silent auctions that are more cost-effective and are open to all your supporters, increasing fundraising potential even more.
For your digital venue, you can opt to use auction software or an online marketplace like eBay to host your online auction. 
Just like with any charity auction, you'll need to procure items and experiences that excite your guests and encourage them to place bids.
Look for unique items that your guests won't be able to find anywhere else. Look at the following suggestions to help you get started:
Sports memorabilia.
Backstage passes to a concert.
Tickets to an exclusive museum exhibit.
And so much more!
Generate excitement before your event by creating an auction catalog with images and a description of each item (or experience) and teach registered guests how to place bids to prepare them for the big day. Plus, with dedicated auction software (like OneCause) you can track the progress of your online auctions in real time: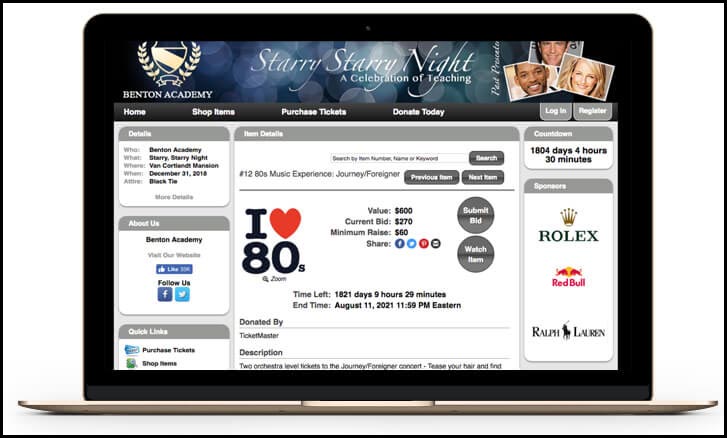 Main Takeaway: Online auctions make it possible for supporters from all over the world to participate and are cost-effective so that you can raise the most money from your event.
Online Fundraising Idea #10: Viral Fundraising Campaign
You've likely heard of the ALS Ice Bucket Challenge, but you may not know just how successful that particular viral fundraising campaign was.
In just a month and a half, the ALS Association was able to raise $115 million (and tons of awareness!) for ALS research by asking people to pour cold water on their heads.
Another example of a viral fundraising campaign is "Movember." For this viral campaign, men grow out their facial hair during the month of November and make donations in support of men's health.
These are just two of the many viral fundraising campaigns that nonprofits have started. Why not start your own?
Keep these tips in mind before trying to launch a viral fundraising campaign. And remember, it might take a few months or even more than a year for your campaign to go truly viral.
Don't ask for too much. You aren't going to receive a ton of donations if you ask for $500 every time. Instead, ask people for small contributions like $5, $10, or $20. Once a campaign goes viral, all of those little donations will add up!
Create a memorable hashtag. Hashtags help group your social media posts and make your nonprofit's message easier to find on platforms like Facebook, Twitter, and Instagram. Create a memorable and punchy hashtag. Use it in all of your social media posts and encourage your supporters to use it, as well!
Get to the point. A viral campaign has to be focused and targeted. It's not the time to explain every single detail of your nonprofit's mission. Instead, boil down your vision to a few key points and use them interchangeably throughout the duration of your campaign.
Make use of all of your digital channels. Post on Facebook. Tweet out a promotional message. Snap a picture and post it to Instagram. Start a Pinterest board. Send out emails. Use every digital communications channel at your disposal!
Main Takeaway: It might take time to get a viral fundraising campaign off the ground, but if you can do it, your nonprofit's mission and vision will be made known to supporters across the country and even around the world!
Online Fundraising Idea #11: Online Cashback Websites
Online cashback sites can be used by nonprofits as well as individuals who are looking to raise a little extra money while doing something that nearly everyone loves: shopping online!
Let's break down how most online cashback websites work:
Someone in your nonprofit needs to buy office supplies or something else online.
The staff member begins their search for office supplies at an online cashback site.
Once the items have been purchased, a percentage of the total amount is deposited into a cashback account.
Your nonprofit can withdraw the cashback amount at regular intervals (typically monthly or quarterly).
Common cashback sites include:
While cashback sites aren't going to help your nonprofit break any fundraising records, they are an easy way to raise more money from online shopping. Signing up for most of these cashback sites is easy, and everyone in your nonprofit can participate!
Main Takeaway: Online cashback sites can supplement your existing fundraising efforts. If your staff does a lot of online shopping, sites like Ebates and Amazon can be an easy way to raise extra funds!
Online Fundraising Idea #12: Donation for a Vote
The donation for a vote online fundraising idea gets your supporters engaged in a silly challenge in return for their contributions.
Here's how this fundraiser works:
Create a list of silly challenges that your staff or volunteers are willing to complete.
Create a poll, asking your supporters to vote (with a donation) for the challenge they'd like to see your team complete.
At the end of the poll, record your team completing whatever challenge received the most votes and post it on social media.
The challenges you pick should be interesting and if possible, related to your cause in some way.
In the video, thank your supporters for their contributions, and mention how the funds will be used to further your cause.
Supporters will get a kick out of seeing you do a silly task, and you'll raise more money for your cause!
Not only will donors like seeing a hilarious video, but they'll also appreciate that you want their opinion and input. Plus, supporters will encourage their peers to vote so they can see their favorite challenge win. 
Main Takeaway: Donation for a vote is a fun (and potentially viral) way to raise money for your cause. Makes sure to choose your challenges and continue to encourage your supporters to vote.
---
We hope that these online fundraising ideas have inspired you to go out and try some different fundraising techniques.
For more ideas and tips, check out these helpful resources:

https://doublethedonation.com/wp-content/uploads/2016/11/online-fundraising-ideas_feature-1.jpg
600
1350
Adam Weinger
https://doublethedonation.com/wp-content/uploads/2022/03/logo-dtd.svg
Adam Weinger
2016-11-28 16:36:00
2023-09-19 14:13:22
10+ Online Fundraising Ideas: Raise Money in the Digital Age