Top 9 Nonprofit Technology Consulting Firms — Reviewed!

For nonprofits of all sizes, technology is crucial. Especially as your organization grows in scale, you'll need to find software solutions to help you manage donor information, market your campaigns, and track fundraising data. And those are just the basics!
To fully capitalize on your technology, however, you'll need a smart captain at the helm to guide your efforts and work with you to develop custom solutions that align with your goals and needs.
The answer? A nonprofit technology consultant, of course!
In this post, we'll introduce you to our favorite nonprofit consultants who specialize in all things technology:
After checking out our favorite firms, you should be ready to take the first step in finding a trusted technology partner to help you get more from your software solutions.

1. DNL OmniMedia — Our Top Choice for Nonprofit Technology Consulting

Consulting Firm Overview
A trusted Blackbaud partner and Salesforce solution provider, DNL OmniMedia understands nonprofit software—but more importantly, they understand nonprofits!
With Team DNL on your side, you'll be able to develop a smarter nonprofit strategy that builds on the use of powerful technology.
Not only can DNL OmniMedia assess your needs and goals, but they'll also develop software solutions that can bring your vision to life. Through custom web development and design, software configurations, and more, DNL can guide your nonprofit to more strategic fundraising and stewardship in no time.
Nonprofit Technology Services
DNL OmniMedia offers nonprofit-exclusive services including:
Technical strategy
Software implementation and customization
Website development
Data migration and clean-up
In addition to their services, DNL also offers custom nonprofit products to expand your Blackbaud Luminate system, including peer-to-peer fundraising and advocacy add-ons.
Nonprofit Technology Portfolio
Team DNL has worked with many different types of nonprofits tackling a variety of nonprofit technology challenges.
From boosting fundraising through custom Blackbaud TeamRaiser donation forms for the North Shore Animal League to designing a one-of-a-kind nonprofit website for the Interlochen Center for the Arts, DNL has proven their expertise for a number of clients.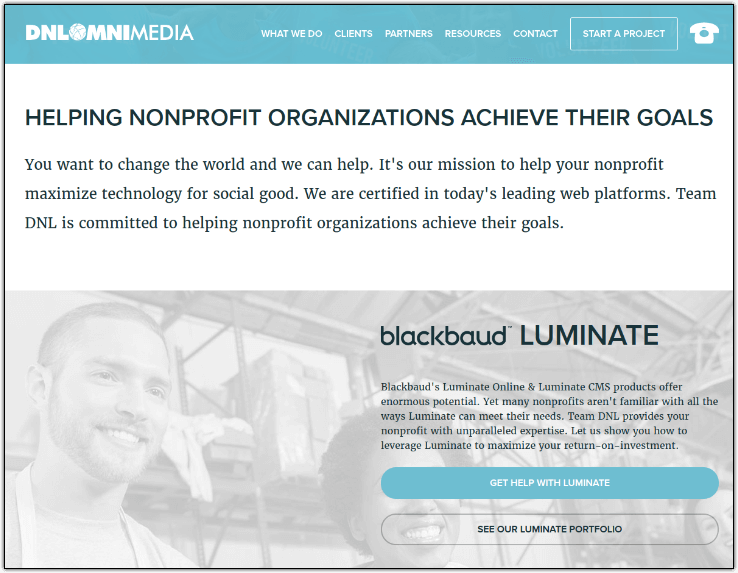 ---

2. Donorly — Our Top Choice for Nonprofit Technology Consulting

Consulting Firm Overview
Ever look at your fundraising goals and wonder if you can achieve them? The nonprofit technology consultants at Donorly know that you can if you just have the right information and assets by your side!
Under the direction of president Sandra Davis, the Donorly team channels their creativity and passion into creating elegant donor research solutions specifically for your nonprofit. With their comprehensive donor information, your nonprofit can reach higher than you thought possible.
Nonprofit Technology Services
When it comes to donor research, the Donorly team provides your nonprofit with the foundations for:
Capital campaign management
Board expansions and recruiting
Grant proposal writing
Interim staffing
Donorly promises a customized approach, based on their unique engagement model.
Nonprofit Technology Portfolio
Many of Donorly's clients come from the arts and culture or humanities space, though the team has worked with nonprofits across the sector. Their client lists includes the Seattle Children's Museum, Playwrights Horizons, Martha & Mary Lutheran Services, and the Studio Theatre.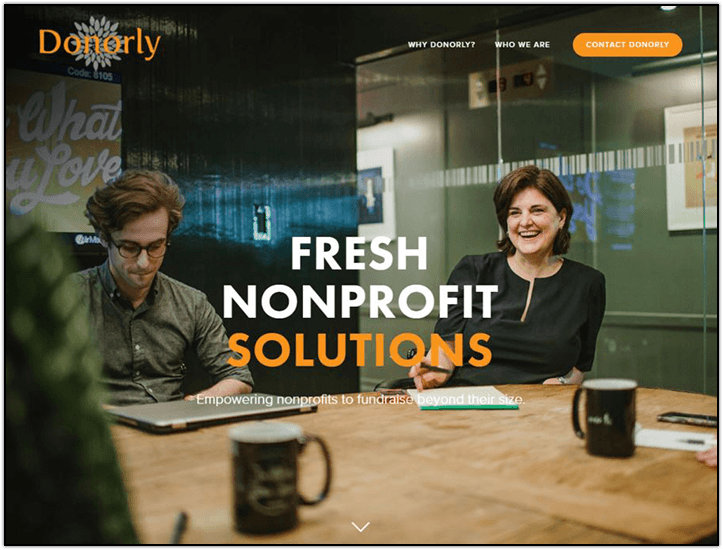 ---

3. Morweb — Our Top Choice for Nonprofit Technology Consulting

Consulting Firm Overview
For nonprofits looking to get started building a beautiful website, Morweb will be the perfect partner. Pairing their unmatched CMS with expert support services, your web design strategy will be more effective than ever.
When you leverage Morweb's consulting services, they'll walk you step-by-step through the website creation and implementation process.
After your website is live, you can still call on them for additional consulting if you ever want to update your style, change your strategy, or otherwise improve the functionality of your site.
Nonprofit Technology Services
Morweb offers the following nonprofit web design services:
Customizable themes and layouts

Search engine optimization

Form builders

Donation processing

Technology and design consulting
Even better, Morweb has scalable products to meet the needs of all kinds of nonprofits. This way, you can pay for what you need now and have the option of upgrading down the line.
Nonprofit Technology Portfolio
Morweb has experience enhancing the web design strategy of a diverse range of nonprofits, from small, regional organizations to international ones.
Their portfolio of clients includes nonprofits like 4th Street BRZ in Canada, Habitat for Humanity of St. Joseph County, Society of University Surgeons, and the Driving School Association of the Americas.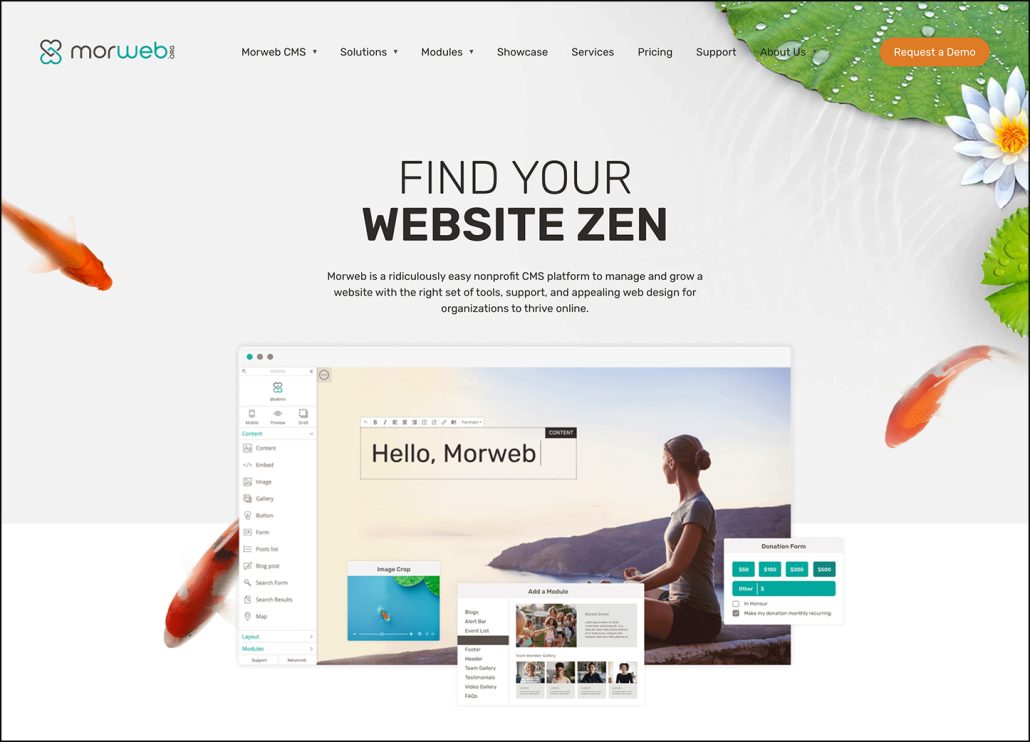 ---

4. Whole Whale

Consulting Firm Overview
Whole Whale is a digital agency dedicated to helping nonprofits enhance their strategic use of technology. They'll help your organization learn valuable skills and implement best practices so that you don't need to rely on a consultant or third-party administrator. 
To achieve that goal, Whole Whale provides one-on-one consulting services for clients with like-minded missions. On top of their long-term projects, this firm also offers online training courses through Whole Whale University in areas such as social media, Google AdWords, and more.
Nonprofit Technology Services
Whole Whale takes a holistic approach to digital strategy, with key services that include:
Google AdWords grants management
Google Analytics
Web design and development
Content marketing
Each Whole Whale project is customized based on nonprofit needs, so you won't have to worry about getting a canned approach.
Nonprofit Technology Portfolio
Notably, Whole Whale worked with the Malala Fund to improve the nonprofit's use of Google Analytics for tracking user actions on their site. Following their engagement, the Malala Fund was able to successfully implement Google Analytics on their own, without any ongoing support from a consultant.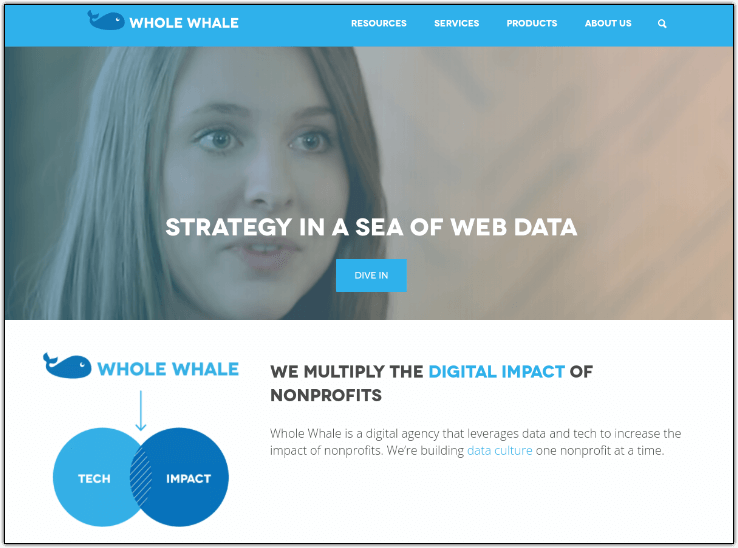 ---
5. Heller Consulting

Consulting Firm Overview
Since 1996, Heller Consulting has worked exclusively with nonprofits to develop effective strategies in data management, communications, fundraising, and other vital areas.
In particular, the Heller consultants are passionate about working with nonprofits to get more from their CRM systems. With their services, your organization can outline a clear vision for your constituent relationship management, implement and customize your technology, and learn best practices for your software.
Nonprofit Technology Services
Heller Consulting works primarily with nonprofits and higher education institutes, offering a variety of technology services such as: 
CRM strategy and design
CRM implementation
Online fundraising strategy
Google Analytics
In addition, Heller Consulting maintains an active blog on their website to help organizations continue gaining and sharing knowledge about nonprofit technology.
Nonprofit Technology Portfolio
Heller Consulting has worked with nonprofit clients in multiple sectors, including advocacy, healthcare, higher education, and social services. Some of their past engagements include the ASPCA, Make a Wish National Foundation, and the Lincoln Park Zoo.
You can check out their website for more information on recent projects and case studies detailing their work with specific software solutions, such as the Salesforce Community Cloud.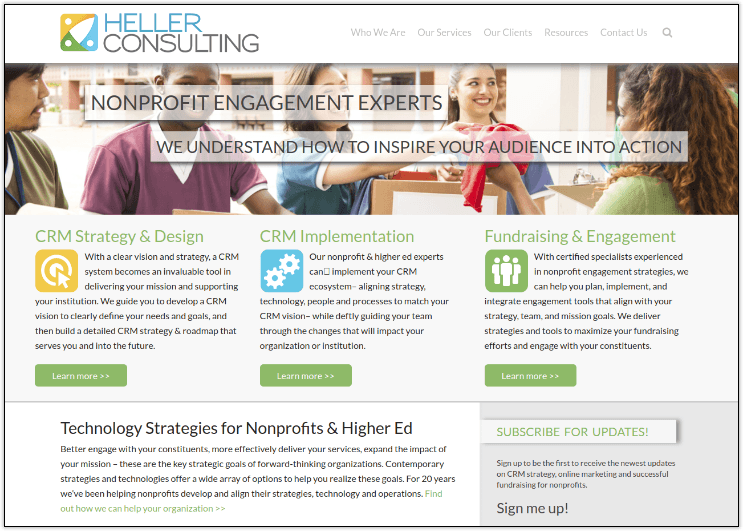 ---
6. Idealist Consulting

Consulting Firm Overview 
With about 60% of their clients being nonprofits, Idealist Consulting specializes in Salesforce and marketing automation consulting. They can help you build out a custom Salesforce experience that works for your organization, with strategic app integrations and personalized configurations.
Idealist Consulting works with organizations to get more from the Salesforce system and raise funds and awareness for their cause. Their four-step consulting process always concludes with increased impact made possible through strategic technology implementation.
Nonprofit Technology Services
Idealist Consulting offers services that build on your existing technology and online presence through:
Salesforce CRM development
Email marketing automation
Online form optimization
Salesforce application integration
On top of all of that, Idealist can also work with you to build out a custom Salesforce app of your own!
Nonprofit Technology Portfolio
Among their other nonprofit and for-profit clients, Idealist Consulting worked with The Banfield Foundation, an animal welfare organization, to move their data to the Salesforce Nonprofit Success Pack for improved fundraising and donor data management.
By learning how to track small donations more effectively in Salesforce, The Banfield Foundation increased their online donations by over 300%! Idealist Consulting also developed custom fields within their CRM and helped them generate unique reports showing donor trends and demographics.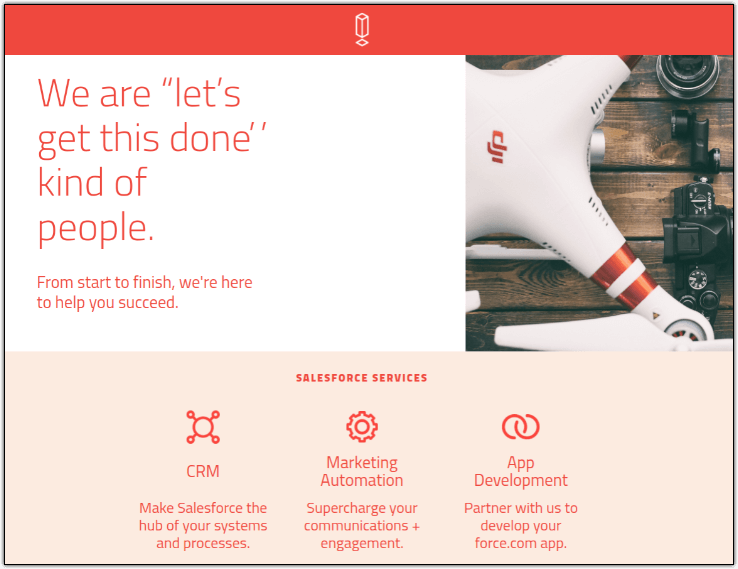 ---
7. KELL Partners

Consulting Firm Overview 
As a Salesforce Premium Partner, KELL Partners strives to remove the confusion from the nonprofit data management and fundraising experience.
With KELL, you'll have access to a full suite of services specific to the Salesforce Nonprofit Success Pack. Their team of strategic consultants can analyze your data and current practices and develop a path forward that helps you achieve your goals, no matter how simple or complex they may be. 
Nonprofit Technology Services
KELL can lend their expertise to every phase of the nonprofit Salesforce experience, helping you with:
Data manipulation and migration
Systems integration
Application development
Web development
With their KELL360 plan, the KELL team can build out a system of must-have integrations to take your baseline CRM to a whole new level.
Nonprofit Technology Portfolio
KELL Partners helped the New Orleans Area Habitat for Humanity centralize the data they'd been storing across multiple fundraising and volunteer management systems using Salesforce. With a newly integrated system, the nonprofit was able to see fuller picture of their constituents and more effectively design engagement strategies for each supporter.
See more of the case study here!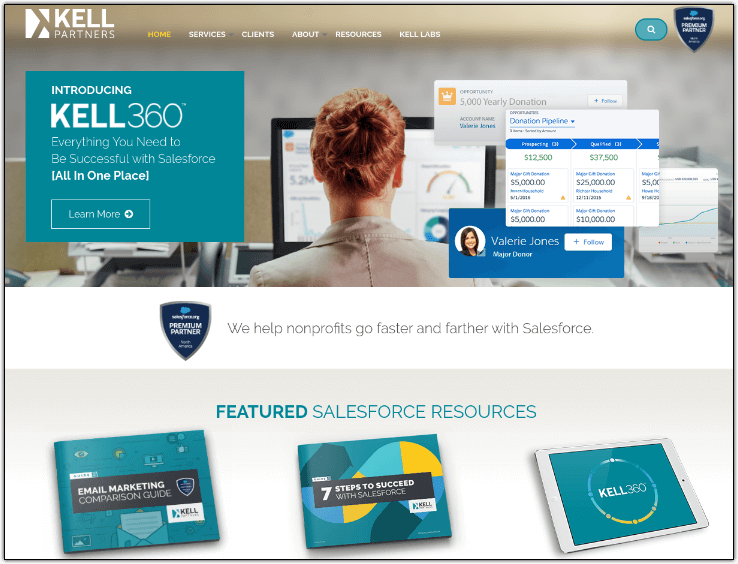 ---
8. Apparo

Consulting Firm Overview 
Apparo seeks to "empower nonprofits through technology that enhances their missions." They provide volunteer nonprofit technology consulting to organizations of all sizes and skill levels in the Charlotte, North Carolina, community. 
All of Apparo's consulting services are individualized and unique to the organization. They'll get to know your organization so they can most aptly pinpoint challenges and areas for improvement before working to push your mission forward.
Nonprofit Technology Services
Apparo's consulting team offers a wide variety of free nonprofit services, including:
Basic Microsoft coaching
Nonprofit technology panels and forums
One-on-one technology assessments
Training groups
As a nonprofit themselves, Apparo is dedicated to helping philanthropic organizations within their community. Their volunteer consultants can help organizations with almost anything, from selecting the right software to learning the most up-to-date best practices in the nonprofit tech community.
Nonprofit Technology Portfolio
Apparo's many success stories include the Carolina Raptor Center, a nonprofit working to rehabilitate and release injured birds. Prior to working with Apparo, the Center relied on paper tracking and Excel spreadsheets for all of their volunteer information, costing them time and data.
With Apparo, the Center was able implement more strategic software that reduced paperwork and increased their supporter engagement possibilities across the board.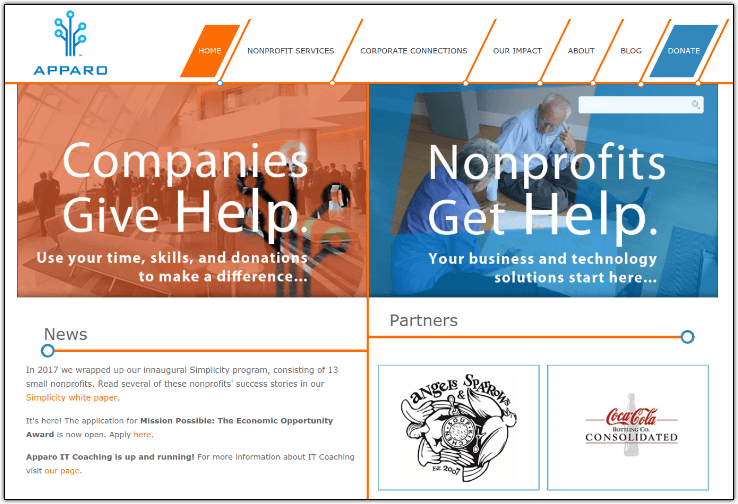 9. ScienceSoft — Our Top Choice for Nonprofit Big Data Consulting

Consulting Firm Overview
ScienceSoft is an international provider of IT consulting and software development services with 30 years of experience in heterogeneous IT environments. ScienceSoft is headquatered in Texas, US, and has offices in the EU and Eastern Europe. Today, the company houses a team of 550 experts, including more than 20 business analysts with an understanding of nonprofits' specific needs and expertise in multiple technology stacks and platform-based solutions.
Nonprofit Technology Services
ScienceSoft offers an array of IT consulting services to help you achieve your organization's mission:
Other platform-specific consulting – SharePoint, Microsoft Dynamics 365, Magento.
Nonprofit Technology Portfolio
ScienceSoft has worked with multiple types of NPOs, including educational institutions, government entities and public service providers, supporting the nonprofits' mission to expand their outreach with available tech capabilities. The examples of such cooperation range from solutions that make an NPO visible on the internet, improve member retention and engagement to multifaceted applications for an NPO's external interactions with the focus on integrity and confidentiality.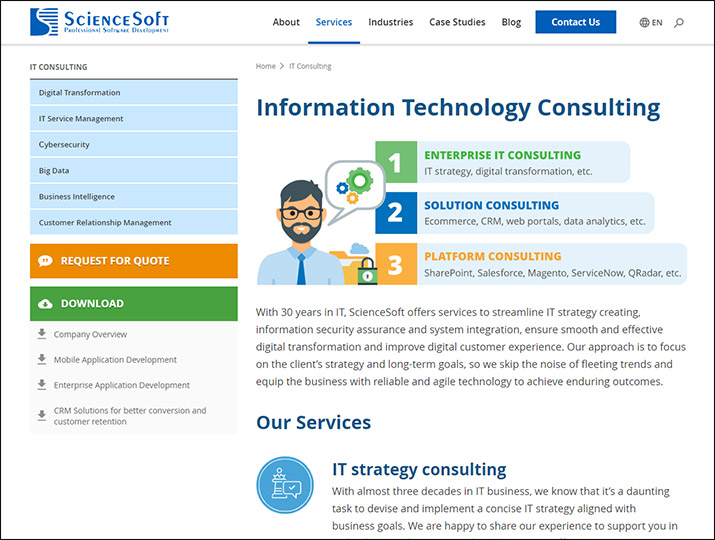 ---
Once you find the right nonprofit technology consulting, implementing and using your software will be easier (and more effective) than ever before.
Check out these resources for more help with your nonprofit software:
More Nonprofit Consulting Firms. From fundraising consultants to IT consulting and more, this comprehensive page will introduce you to even more great nonprofit consultants with a variety of specialties. Check it out!
Best Technology Solutions for Nonprofits. A nonprofit technology consultant can help you take your software to the next level, but if you're not sure what software solutions to get started with, this helpful post from DNL OmniMedia can guide you.
Top Blackbaud Partners. Looking for nonprofit technology consultants with Blackbaud expertise? Want to expand your Blackbaud products with integrations? @Pay's got a list of solutions (and solution providers) for you.

]
https://doublethedonation.com/wp-content/uploads/2022/06/Top-Nonprofit-Technology-Consulting-Firms-1.jpg
321
845
Adam Weinger
https://doublethedonation.com/wp-content/uploads/2022/03/logo-dtd.svg
Adam Weinger
2017-10-29 19:56:49
2023-03-01 21:01:11
Top 9 Nonprofit Technology Consulting Firms — Reviewed!