40+ Marketing Ideas for Nonprofits to Spread Your Mission
Nonprofits are always pressed for funds, especially when it comes to their marketing budgets. There are so many exciting marketing ideas for nonprofits, but your organization might not have the resources to pull them off.
It's important for your organization to know how to market on a budget. Effective nonprofit marketing allows people to find your organization, learn about your cause, and show their support. Without a strong marketing strategy, your organization cannot grow and reach its intended audiences.
Your organization can create a successful marketing strategy without spending tons on extra resources, though. In this article, we'll walk you through over 40 marketing ideas for nonprofits that will help promote your organization without breaking the bank.
We'll teach you how to use the resources you already have and introduce you to free and affordable resources you can leverage. Here's a sneak peek at the categories of nonprofit marketing ideas we'll cover:
It's our job at Double the Donation to connect nonprofits with matching gift opportunities. Since we work with organizations looking to maximize their fundraising potential, we know just how important every last penny in your budget is. That's why we've created this guide to marketing ideas for nonprofits that will help you promote your organization at little to no cost.
Now that we know where we're headed, let's jump right into these proven marketing ideas for nonprofits!

Nonprofit Marketing Basics
The term "nonprofit marketing" refers to the use of typical marketing strategies for nonprofit purposes such as amplifying your organization's cause and mission, soliciting donations, and recruiting supporters.
As a nonprofit, your main goal is accomplishing your organization's mission. To make your aspirations a reality, you'll need to get others involved in your organization. It takes donors, volunteers, board members, and event attendees among others to ensure that your nonprofit can give back to the community it serves.
To let others know about the great work you're doing, you'll need to leverage a combination of proven marketing ideas for nonprofits.
Benefits of Effective Nonprofit Marketing
However, it's easier said than done to pull off a nonprofit marketing campaign. There's a lot of planning involved in developing a well-thought-out marketing plan. Despite the challenges that may come with nonprofit marketing, the resulting benefits will help your organization soar.
Nonprofit marketing can empower your organization to: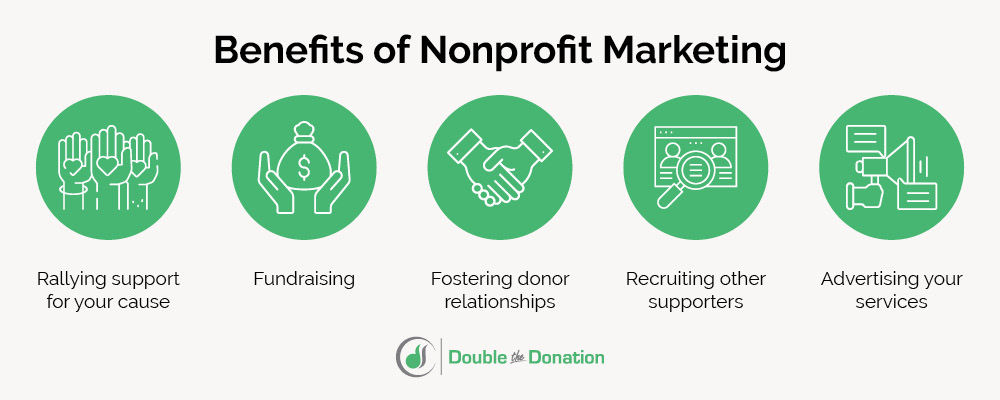 Rally support for your cause. Educating people about your mission is a crucial part of nonprofit marketing. It allows people to understand not only the work your organization does but also why you do it and how they can help.
Fundraise. Perhaps the most concrete way to measure your organization's success is by the amount of money you're able to raise for your cause. Sharing your nonprofit with others will help your fundraising efforts immensely.
Foster donor relationships. One-time donations are not a sustainable fundraising source for your organization. Studies show that recurring donations are better for maximizing your fundraising potential. The best way to ensure regular donations is to curate good relationships with donors through consistent marketing.
Recruit other supporters. While donors are great assets to your organization, they're not the only people who can help. Volunteers, board members, and event attendees all serve important roles for your organization. Marketing your nonprofit effectively will allow you to gather all the support you need.
Advertise your services. Before contributing to your cause, most people will want to know exactly what your organization does in service of its mission. With effective marketing ideas, you can make sure potential supporters understand the services your nonprofit provides.
It's clear to see that nonprofit marketing offers so many advantages for your organization. However, you might be wondering where to start in the marketing process. To help you out, we'll go over the best marketing ideas for nonprofits in a variety of useful categories.
The Top Nonprofit Marketing Idea: The Google Ad Grant
When looking for more information about a nonprofit, a cause, or truly anything, most people turn to Google first. That's what makes the Google Ad Grant program so powerful. If you're a qualifying nonprofit, Google will give your organization $10,000 per month in ad credits for free. With these funds, you can promote a variety of programs, including: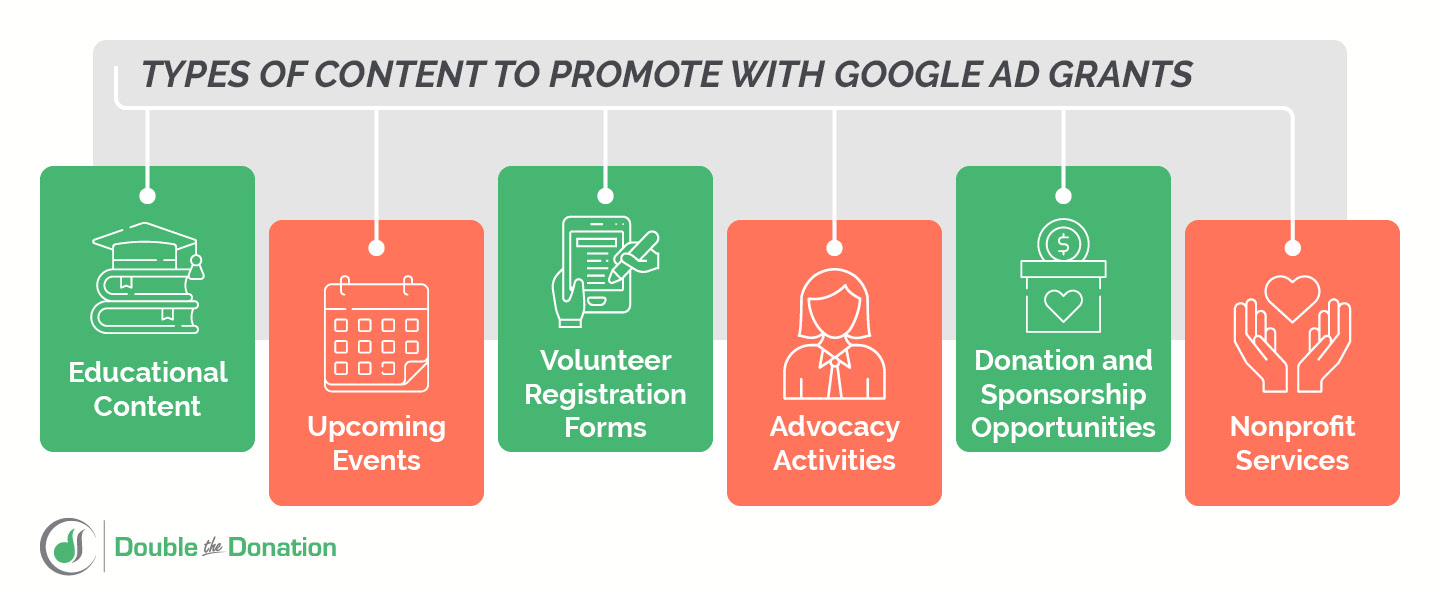 Educational content
Upcoming events
Volunteer registration forms
Advocacy activities
Donation and sponsorship opportunities
Nonprofit services
Of possible content to advertise, your educational content is likely to see the best results. This is because most people using Google to find nonprofit causes are entering queries related to the issues they're most interested in. By marketing your high-quality educational content, you'll earn clicks from these visitors who will then see your nonprofit as a reputable source of knowledge, leading them to continue exploring your website and even donating.
Of course, you can promote more than just your educational content, and most nonprofits using the Google Ad Grant do! Google Ad Grant campaigns allow nonprofits to create ads targeting multiple goals at once. Here's a breakdown of the Google Ad structure: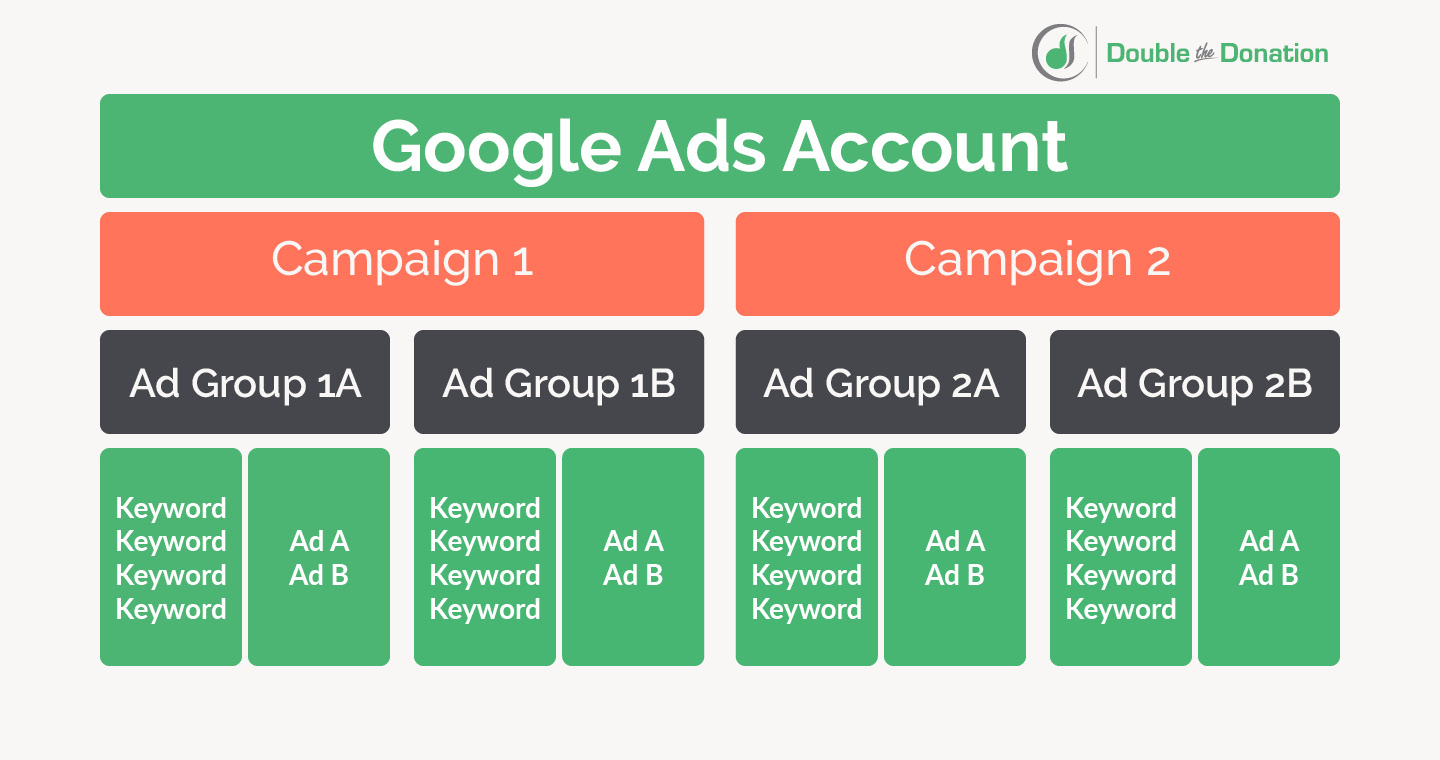 As the image depicts, each Google Ad Grant account can run multiple campaigns. Each of these campaigns has an overarching goal, like educating supporters, attracting volunteers, or raising funds. In each of these campaigns are ad groups. Each ad group focuses on a specific keyword, like "volunteer opportunities," "pet adoptions," "Chicago homelessness," and so on depending on the ad campaign's goal.
Finally, each ad group contains multiple ads which are different messages targeting the ad group's keyword. Individual ads will use different language and strategies to appeal to different audiences, helping you attract a variety of supporters searching your target keyword.
To get started with Google Ads, all you have to do is apply and follow all program requirements.
If you need help wielding this amazing resource, reach out to a Google Grants agency. We recommend Getting Attention! They'll assist you with every step, including applying for the program, choosing keywords to target, and making sure your account is compliant with all requirements.
Marketing Ideas for Nonprofits Building Their Missions
As we've mentioned before, your nonprofit's mission is central to its goals and aspirations. It should also be one of the main focuses of your marketing efforts. Since it lays the groundwork for your organization's values, your mission should inform your branding, outreach tactics, and promotional content.
If you don't have a well-developed mission or want to give yours a refresh, try some of these nonprofit marketing ideas for building your organization's mission: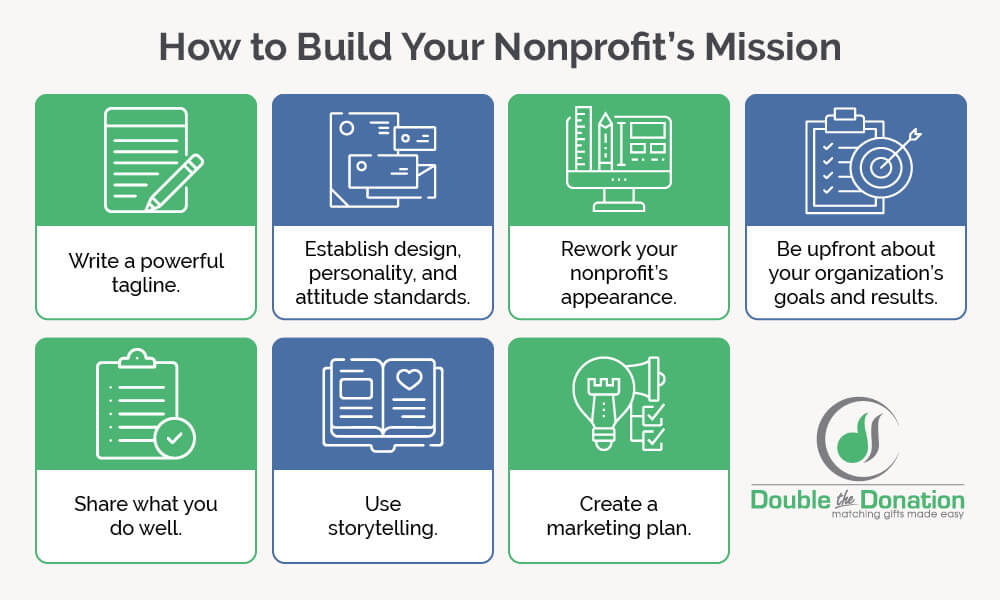 Write a powerful tagline. When it comes to marketing, people absorb more information when it's concise. Your mission is one of the most important aspects of your organization, so you'll want prospective supporters to understand it right away. Take the time to condense your mission into a short tagline that you can use in your marketing materials.
Establish standards for design, personality, and attitude. Make a good first impression with cohesive branding. From the way your website looks to the way your employees act, every aspect of your organization should work together to form a perfect picture of your nonprofit.
Rework your nonprofit's appearance. Speaking of branding, changing yours up can bring new life to your organization. A funky new logo or elevated graphics can entice potential supporters and demonstrate your willingness to improve your nonprofit. You can even reach out to a graphic design company for help with your organization's new look.
Be upfront about your organization's goals and results. People interested in your organization want to know what you're trying to accomplish and what you've been able to achieve so far. Being open about your nonprofit's operations lays a solid foundation for great relationships with potential supporters.
Share what you do well. It never hurts to brag a little! Your organization is doing amazing work, and people should see that. If you show confidence in your nonprofit and highlight its strengths, people will be more eager to get involved.
Use storytelling. Giving people specific examples of individuals you've helped fosters deeper connections between your supporters and your organization. Stories make your marketing more personal and digestible for prospective supporters.
Create a marketing plan. To stay focused and organized, you'll need a comprehensive marketing plan. That way, you'll have all of your goals and intentions in one place for you to easily go back and reference.
Your mission is the foundation of your marketing efforts, but now it's time to expand them! Head to your nearest computer or phone to start sharing your incredible organization with others.
Bonus Tip: Include your nonprofit's values in all of your marketing values, including your Google Ads!
Marketing Ideas for Nonprofits Advertising Their Services
Letting others know what your organization does is essential to earning their support. Your nonprofit does great work, so why not show it off? Advertise your services with the following online and offline marketing ideas for nonprofits.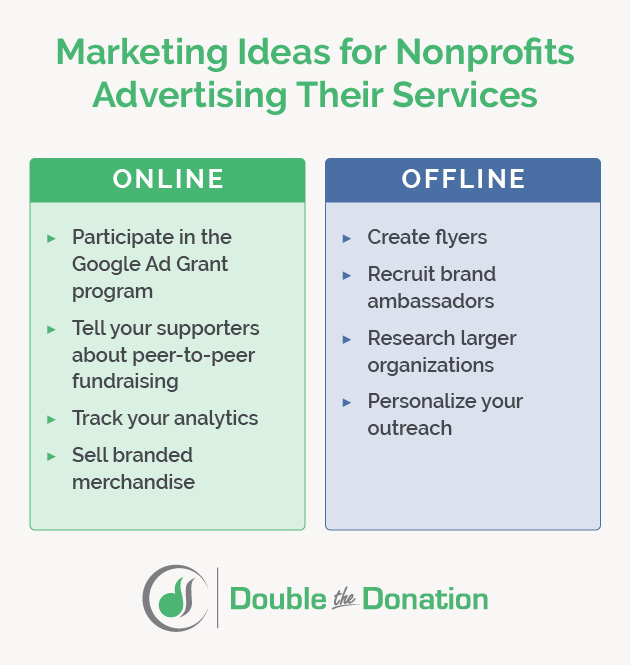 Online Advertising Ideas
The internet allows you to share your services with a variety of people with the click of a button. Whether you want to invest in paid advertising or create eye-catching merchandise, there are endless ways to stand out in the digital space. In addition to the Google Ad Grant, try out these online marketing ideas for nonprofits:
Tell your supporters about peer-to-peer fundraising. Your supporters can help fundraise for your organization and advertise your nonprofit in the process. With peer-to-peer fundraising, people raise money by collecting donations from their friends and family. To encourage your supporters to participate, teach them how to set up a peer-to-peer fundraising page. An even easier method is to leverage the built-in peer-to-peer fundraising options on platforms such as Instagram and Facebook. This fundraising option is especially popular around holidays and birthdays, so if you know your supporters' birthdates, you can proactively reach out and encourage them to create a fundraiser on your nonprofit's behalf
Track your analytics. Data is the key to figuring out which of your marketing efforts are effective. Use Google Analytics or another similar tool to track and review website traffic and the actions people take once they're there. That way, you can see if there are any patterns or areas where you can improve. For example, if a certain landing page on your site isn't getting much traffic, it might be time to refresh it to make it more worthwhile for your supporters.
Sell branded merchandise. Turn your supporters into walking advertisements with branded merchandise! It's a win-win situation because you'll get to collect more for your cause and receive free advertising, while your supporters will get to show the world what they believe in. Branded t-shirts are always a great idea, but you could also go with hats, tote bags, or mugs depending on your audience's preferences. Once you work with a graphic design company to bring your merchandise to life, you can set up an online store and let your supporters know all about it!
Online advertising is a proven way to connect with larger audiences than ever before. Break down geographical barriers by leveraging some of these marketing strategies.
Offline Advertising Ideas
Digital marketing is all the rage these days, and for good reason. However, that doesn't mean that more traditional offline marketing efforts should go extinct. While online marketing can expand your reach, offline marketing can help create a personal experience for your supporters. Use these offline marketing ideas for nonprofits in conjunction with your online ones:
Create flyers. A good old-fashioned flyer is a great way to grab potential supporters' attention. It allows you to fit an abundance of information about your organization into a small, foldable, and engaging handout. You can send flyers in your direct mail campaigns, hand them out at events, or keep them in your organization's office for walk-ins. People will love the opportunity to learn about your organization's services in an easily digestible format.
Recruit brand ambassadors. Influencer marketing is a fairly new yet powerful way to promote your organization. Finding people with an online presence who truly care about your nonprofit's mission and are willing to spread the word can help you reach new audiences quickly. These brand ambassadors can also help you host in-person events or sell your branded merchandise to get people excited about your organization.
Research larger organizations. If you want to be the best, you'll have to learn from the best. Look into what larger, more experienced nonprofits are doing and see if yours can replicate it. You can even reach out to someone on the team of an organization you admire and ask if they'd be willing to give you some advice for your nonprofit.
Personalize your outreach. Reaching out to people using offline methods allows you to create more personal connections with them. For example, you could go up to a volunteer at an event to learn more about them or send your donors more information about matching gift opportunities in a customized postcard. People will appreciate the thoughtfulness that goes into these outreach methods and associate that quality with your organization.
For the best results, use a combination of online and offline marketing ideas. That way, you'll reach different audiences and see which methods work best for which supporter segments.
Your mission is the foundation of your marketing efforts, but now it's time to expand them! Head to your nearest computer or phone to start sharing your incredible organization with others.
Bonus Tip: Use your Google Ads to support other marketing efforts! Link to your peer-to-peer ambassador page and merchandise store.
Marketing Ideas for Nonprofits Leveraging Technology
These days, there's so much technology at our disposal to help us improve and innovate our everyday lives. For nonprofits, leveraging technology appropriately can expand their impact and help them reach new audiences through different channels.
To make sure your nonprofit knows how to use each type of technology effectively, we've split our technology nonprofit marketing ideas into three separate categories.
Website
Like all organizations, nonprofits use their websites to teach others about what they do and what they stand for. Ensure your organization's website is the best it can be with these website nonprofit marketing ideas:

Update your nonprofit's website.From Squarespace to Wix to WordPress, there are so many website-building platforms that make the process easy. Include information about current and upcoming events and initiatives to entice potential supporters to become involved in your organization.
Make SEO a habit. If you're leveraging the Google Ad Grant, you'll still need to do your part to promote your website. Optimize your ads and your website to help internet searchers find your content. Research which relevant keywords you should include on your website often to keep up with any new trends. Additionally, make sure your website is mobile-friendly to improve your ranking in mobile search results.
Start a blog. Keeping an up-to-date blog allows you to display news about your organization and industry with long-form, informative content. Writing blog content about nonprofit-related topics also establishes your organization as a reputable source of information in the field.
As you create informational pages and blog articles for your nonprofit's website, be sure to focus on quality content creation. Take the time to make sure your copy is clear and concise, and break the text up with graphics wherever possible to help the reader follow along. If you have the resources, hiring a qualified copywriting team will help to make sure the copy across your site is strong and cohesive.
Social Media
Social media is not only how people stay connected to their family and friends, but also to the companies and organizations they care about. With nearly every organization out there maintaining a social media presence, it's important to understand how you can make yours stand out. Here's what we suggest:
Utilize different platforms. To connect with as many people as you can, your organization should create social media accounts on several different platforms. Instagram, Facebook, and YouTube are great places to start. Twitter, TikTok, and Snapchat also offer unique ways to engage with your younger supporters.
Participate in trends. Perhaps the most important part of your social media presence is playing into current trends like using humor and short videos over images. That way, your content stays fresh and engaging for your supporters.
Create marketing videos. While images can be very informative, videos are better for eliciting emotion. Creating and sharing videos about your mission on social media will allow you to connect with your audience on a deeper level.
Take advantage of social media advertising. If you don't feel that you're reaching the correct audience organically, you can create ads on the social media platforms you're using. For example, Facebook allows you to set up campaigns that target people based on a variety of factors such as age, gender, location, and interests. This approach can help you segment your supporters into different groups and communicate with them accordingly.
Connect your online assets. To promote your online presence, make it easy for people to jump from platform to platform. For example, you can create a social media post about a new blog article and add a link to the article in your social media account's bio. That way, you'll drive traffic from your social media page to your website's blog. Doing so can allow people to interact with your organization in a different way and perhaps learn more about what your nonprofit does.
Your nonprofit's website and social media accounts are your biggest online assets. Now that we've covered them, it's time to learn some general online marketing ideas for nonprofits.
General Online Marketing Ideas for Nonprofits
To get the most out of your online presence, it's important to follow general digital marketing best practices. Check out these marketing ideas for nonprofits looking to rule the marketing game online:
Leverage multi-channel marketing. Just as it's useful to have multiple social media platforms, it's also important to take advantage of every digital marketing opportunity. Post on social media and update your website, but combine them with more traditional marketing methods such as emails, phone calls, and direct mail. This way, you'll increase your chances of reaching out to your supporters with their preferred communication method.
Encourage your supporters to take action. Informing your supporters about your organization is great, but what exactly do you want them to do to help you out? Use calls to action across your marketing materials to work towards your goals. For example, include the link to your donation page in your Instagram bio and create a post encouraging people to contribute. To help promote your events, add your event registration link to your regular email newsletter. Note that the most effective calls-to-action start with determining what actions you want your supporters to take and making it easy for them to do so.
Host virtual events. In the past couple of years, we've seen virtual events take off due to the COVID-19 pandemic. However, that doesn't mean we can't still use them as a marketing tool. Hosting events online, such as webinars and panels, allows more people to participate than ever before. Since no physical space is required, people can easily participate in virtual events from wherever they are, presenting a unique opportunity to engage with all different types of supporters at once.
Leveraging technology effectively allows you to reach your intended audience and rally support for your cause. We know that your nonprofit is likely working with a tight marketing budget, though. To make sure your organization has the resources it needs to create the best online content possible, we'll teach you how to save money in other marketing areas.
Bonus Tip: The Google Ad Grant can be a central part of your SEO strategy. The pages you create to promote through the Google Ad Grant should be highly valuable and keyword-optimized, setting them up to rank in organic search results, as well.
Marketing Ideas for Nonprofits On a Budget
Marketing can get expensive. However, there are ways that nonprofits can promote their organizations while still keeping costs low. Maximize your marketing potential while minimizing your spending with these marketing ideas for nonprofits on a budget: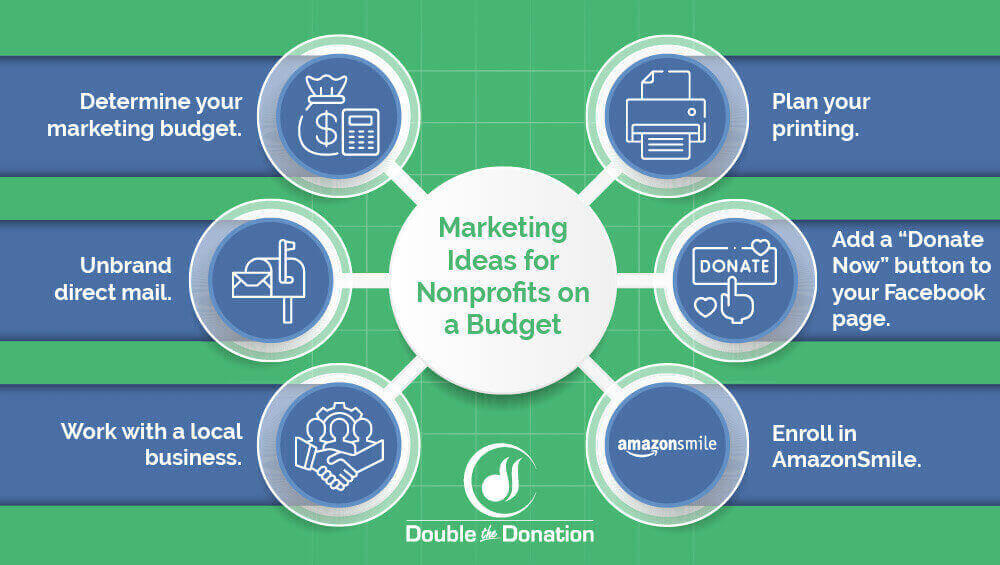 Determine your marketing budget. It's easiest to keep costs down when you have a clear budget in mind. That way, you'll know exactly how much you can spend on your nonprofit's marketing and allocate your resources accordingly. Include costs such as those for physical marketing collateral, marketing software, and staff time.
Plan your printing. Printing can get expensive very quickly. Besides, there are so many digital marketing methods your organization can leverage. Only print what needs to be printed, and try to print double-sided and in batches.
Use unbranded envelopes for direct mail. If you do need to print materials for a direct mail campaign, there are ways to keep your costs down. Sending unbranded envelopes will help you save money. Just remember to indicate that the mail is from your organization in a different way so recipients don't mistake it for junk mail.
Add a "Donate Now" button to your Facebook page. As we mentioned before, calls to action are key to motivating your supporters to contribute to your cause. Adding a "Donate Now" button to your nonprofit's Facebook page is an easy way to encourage donations. The best part is that it's free as long as your nonprofit qualifies for Facebook's fundraising tools.
Work with a local business. To help you out financially, many companies are happy to pair up with a nonprofit. While you get extra funding or resources for your marketing efforts, they get to give back to their community. Before you look for a local business willing to work with you, determine what you want to get out of the partnership. Examples of corporate philanthropy include companies donating money directly to your organization, keeping a donation bucket in their store, or contributing food or supplies for your event.
It's important to create a marketing budget and try to conserve resources when possible to save up for more expensive marketing efforts. These budget-friendly marketing ideas for nonprofits are a great place to start to maximize every dollar your organization earns!
Bonus Tip: The Google Ad Grant provides free ad credits, making it a low-cost way to attract attention to your website. All you need to do is put in the initial effort to get your site up to Google's quality standards and complete the application process. From there, you'll just need to create and maintain your ads.
Marketing Ideas for Nonprofits Forming Stakeholder Relationships
There are so many different stakeholders involved in your organization. Donors, partners, volunteers, board members, sponsors, and event attendees all play a huge role in your nonprofit's success. With that, it's important to form good relationships with your stakeholders so you can build a strong support network.
In this section, we'll go over some marketing ideas for nonprofits starting and stewarding relationships with their stakeholders.
Starting the Stakeholder Relationship
Building a good foundation for your relationships with stakeholders is essential to making sure your connections are long-lasting. Here are some marketing ideas for nonprofits beginning new stakeholder relationships:

Look for opportunities to form new connections. For newer organizations especially, it can be tough to find stakeholders to work with. You have to put your organization out there and seek out potential partnerships. Leverage any connections you may already have and form new ones by reaching out on social media or attending a nonprofit conference in your industry. That way, you can start to meet people who may be potential stakeholders and have their own network of potential stakeholders they're willing to share with you.
Create a welcome package. Once you initiate a relationship with a new stakeholder, it's time to make them feel welcome in your community. Curate a package of information and branded merchandise to introduce new stakeholders to your nonprofit. You can include items as small as stickers of your logo to yard signs they can display to show their support for your organization. No matter what you send your new stakeholders, you're showing them that you care.
Treat them to a meal. To form a more personal connection with a stakeholder, take them out to lunch or coffee. Learn more about your stakeholders and teach them more about your organization. You can answer any questions they may have and gather their feedback about their work with you so far. Not to mention, this is a great opportunity to learn more about who they are and what drives them to support causes like yours
Inform new donors of matching gift opportunities. Some of your new donors may not know what matching gifts are or if they're eligible to participate. Make it easy for donors to identify matching gift opportunities by providing matching gift software that shows if their employers are willing to match their donations. That way, you can earn more, and your new donors can feel good about making an even bigger impact on your organization.
Now that you know how to start your stakeholder relationships off strong, it's time to learn how to keep them that way with effective stewardship.
Stewarding the Stakeholder Relationship
Maintaining relationships with your stakeholders requires care and commitment. You must communicate with them well and respond to their needs. That way, you can build long-lasting connections that drive your work forward.
Practice good supporter stewardship with these marketing ideas for nonprofits:

Communicate regularly and strategically. Like with any relationship, maintaining supporter relationships requires communication. Establish effective communication habits with your stakeholders by reaching out to them individually and sending email newsletters for each stakeholder type. You may want to assign different people to manage different stakeholder relationships so you don't overwhelm any one person on your team. Additionally, you'll want to choose an opportune time to communicate with your stakeholders. Factors that might influence the messages, timing, and platforms you use to communicate with supporters might include their age, career, lifestyle, or time zone.
Reach out to lapsed donors. Sometimes, donors will only contribute to your organization once. If so, you can encourage them to up their support, or inform them of different ways they can still support your nonprofit without contributing monetarily, such as by volunteering or sharing your social media posts. For recurring donors who haven't contributed in a while, try sending them a gift or explaining new features of your donor program to spark that relationship once again.
Collect feedback. Listen to your stakeholders and any feedback they give you, whether it's solicited or not. Stay true to your organization's stakeholder guidelines, but also hear your stakeholders out. You want to provide them with a positive experience with your organization, and they may have some valuable suggestions for how to improve that experience.
If you've learned anything from this section, it should be that stakeholder relationships require effective communication. In the next section, we'll dive into more nonprofit marketing ideas specifically focused on improving your organization's communication skills.
Bonus Tip: Google Ad Grants are an opportunity to make a first impression on a large number of potential supporters. Start off on the right foot with strong ad copy, high-quality content, and a modern website.
Marketing Ideas for Nonprofits Staying in Touch with Their Supporters
It takes a lot of effort to keep up relationships with your supporters. With effective and regular communication, your nonprofit can keep supporters around and continue to grow your network. We'll give you some marketing ideas for nonprofits working on their communication style and supporter involvement.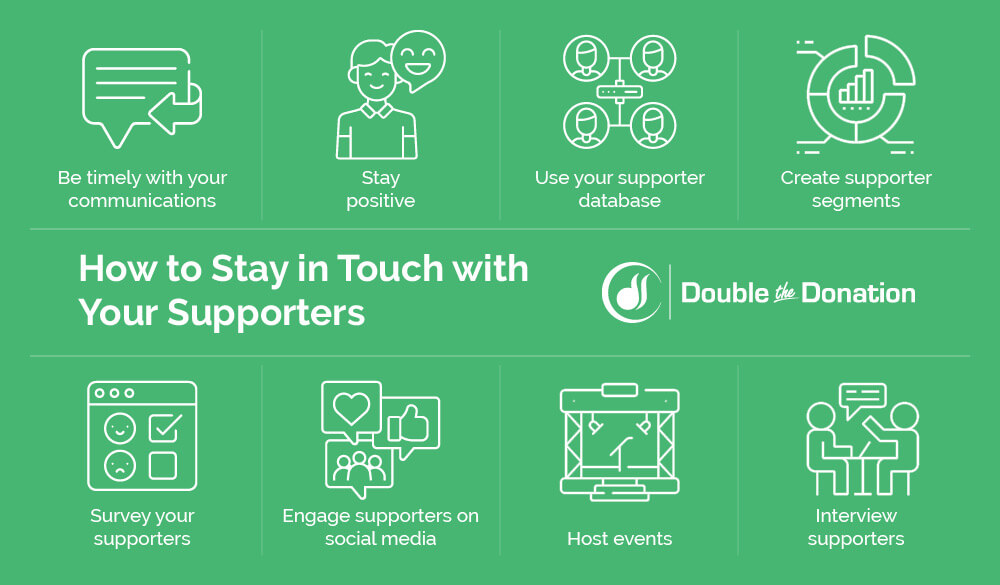 Communication Style
You already know that the messages you communicate to your supporters are vital, but how you communicate those messages is just as important. Here are a few pointers to make sure you send the right messages to the right people in ways that will resonate with them.
Be timely. Simply responding to your supporters' messages quickly shows that you care. Not only does it communicate that you want to address their concerns, but also that you want to respect their time.
Stay positive. Keeping a positive attitude in your communications will help supporters create a positive association with your nonprofit. Besides, it's always more enjoyable to interact with organizations that have an optimistic outlook and kind employees.
Store individuals' preferences in your supporter database. Organizing your supporters' information in a database not only helps you learn more about them but also how they like to communicate. If you ask for supporters' communication preferences and store that information in your database, then you can interact with supporters in the ways they prefer.
Create supporter segments. Segmentation is when you divide your supporters into categories based on certain characteristics in order to communicate with each group more effectively. There are various ways to segment your supporters. You may choose to divide them by stakeholder type with categories like donors, partners, clients, and board members. Another way to group supporters is by age, location, or length of involvement with your organization. That way, you can send relevant messages to the right people without flooding their inboxes with unnecessary messages.
Communicating with your supporters effectively will create a better reputation for your organization and lead to stronger stakeholder relationships.
Supporter Involvement
Communication goes both ways. You inform your supporters about what's going on within your organization, but they report back to you with their thoughts and feelings about your nonprofit. These marketing ideas for nonprofits will help you get supporters more involved in your organization:
Survey your supporters. Your staff can brainstorm ways to make your organization better, but you'll never know what more your supporters need unless you ask them. Sending out a survey will allow you to collect valuable feedback and show that you care about improving your supporters' experiences with your organization.
Engage supporters on social media. Social media is built to help people create connections with each other. Strengthen your bonds with your supporters by making your social media presence interactive. For example, take advantage of polls, live stream capabilities, and Q&A features in the platforms you use.
Host events. What better way to get people involved than by gathering together in person? Hosting an event allows you to show off your organization and get your supporters excited about it. Deck out your event in branded materials such as table runners for a cohesive look. You can also plan activities such as raffles and games to make the event fun for everyone involved.
Interview supporters. As we discussed before, storytelling is a great way to make your marketing personal. For storytelling to work, you'll need to collect stories from real people involved in your organization. Interview interested supporters so you can learn more about their experiences with your organization and use their quotes to promote your nonprofit across different channels.
Treating your supporters with the utmost care and respect begins with proper communication. You should use a give-and-take approach in which you update supporters about your organization and they give you feedback about your nonprofit in response. That way, you can work together with your supporters to constantly improve your organization.
Bonus Tip: As part of maintaining your website, continue posting high-quality content. Valuable research reports and blog posts are likely to get shared around, improving your nonprofit's search ranking placements.
Conclusion & Additional Resources
Nonprofit marketing encompasses a range of considerations. In addition to the regular business concerns of how to promote your organization effectively, nonprofits must also worry about how to do so on a budget. With these marketing ideas for nonprofits, we've given you a head start on your marketing strategy to save you time and money.
We went over a ton of marketing ideas for nonprofits in this guide, but there may be some that you want to learn more about. To help you out, we've provided some resources that will allow you to dive deeper into some of our suggested nonprofit marketing ideas, including:
Google Ad Grants for Nonprofits: The Complete Guide. The Google Ad Grant program is a proven way to push your cause forward. Learn more about marketing your cause using paid advertising with this guide from Getting Attention.
7 Steps to Design Your Nonprofit Logo. Logos build brand recognition among your supporters. Whether you're creating your organization's very first logo or refreshing an old one, take a look at this guide to help you out.
Creating Your Best Fundraising Flyer: 8 FAQs. If you're looking for an easy and effective way to promote your organization or upcoming fundraiser, consider creating flyers. This article will answer frequently asked questions about fundraising flyers.
12 Best Nonprofit Graphic Design Tools. A huge element of nonprofit marketing is creating a cohesive experience for your supporters. Using the right graphic design tools will allow you to create images that align with your organization's branding and design standards.
https://doublethedonation.com/wp-content/uploads/2022/07/Marketing-Ideas-for-Nonprofits_Feature.jpg
380
1000
Adam Weinger
https://doublethedonation.com/wp-content/uploads/2022/03/logo-dtd.svg
Adam Weinger
2022-07-29 19:59:01
2023-10-10 16:51:48
40+ Marketing Ideas for Nonprofits to Spread Your Mission