Digital Marketing for Nonprofits: The Ultimate Guide
As a nonprofit marketer, brand awareness is at the top of your priority list. You're challenged to grow your prospect list with limited funding. Luckily, digital marketing for nonprofits has changed the name of the game.
There's no better way to get more bang for your buck than by establishing an online presence. Nonprofit digital marketing has opened up a world of opportunities for causes trying to get the most out of their budgets. Organizations like yours can cut down substantially on overhead costs by eliminating costly print collateral. Plus, your potential reach has never been so large! You can reach supporters across the globe in a matter of mere seconds, whether you're promoting matching gifts or sharing volunteering opportunities.
From social media to email marketing, you have so many incredible, low-cost options to make your cause known. If you really want to stand out online, you've come to the right place! We're here to help you harness the power of digital marketing for nonprofits by covering these key topics:
Here at Double the Donation, we work with nonprofits to raise more money through matching gifts. A big part of that involves nonprofits proactively marketing corporate giving opportunities to supporters. From marketing matching gifts to generally raising awareness for worthwhile causes, we've seen the power the online space holds. We're hoping to share some of what we've learned, so you can expand your reach.
With a little research, you'll be a nonprofit digital marketing whiz in no time! However, if you need a bit of guidance for your nonprofit's digital marketing strategy, we recommend turning to the experts at Getting Attention. They specialize in Google Ad Grant management, helping all sorts of organizations grow their potential with PPC advertising.


What Is Digital Marketing for Nonprofits?
Digital marketing for nonprofits is a specific subset of marketing for organizations that relies on the internet and online-dependent technologies, such as desktop computers and mobile devices. Nonprofits use digital outlets to spread mission awareness, solicit donations, increase volunteer numbers, promote events, and publicize their services.
Common outreach strategies include social media, texting, search advertising, or any other internet-based approach at an organization's disposal.

Why Is Digital Marketing for Nonprofits Important?
A strong digital presence is a must for any organization that wants to thrive in the modern age. You might be wondering, "What exactly will establishing a digital presence do for my cause?" Great question!
Here's a breakdown of some of the best parts of effective online marketing for nonprofit organizations like yours:
Eliminate geographical barriers. Supporters are more accessible than ever. By sending an email, publishing on social media, or sending a mass text, you can connect with people within seconds.
Make supporting your nonprofit convenient. Your supporters are already online. They're scrolling through social media, shopping, and Googling stuff they care about. Going digital allows you to make learning about and donating to your cause easy.
Open up two-way communication. Just like going digital makes your supporters more accessible, it does the same for your marketing team! Instead of talking at your supporters, you can engage in meaningful conversations when they comment on your social media posts or email you.
Raise more. By engaging in storytelling tactics and leveraging online fundraising tools, you can inspire people to donate to your cause. You can also promote engaging fundraising opportunities, like corporate giving!
Reduce marketing costs. We already touched on this, but digital marketing for nonprofits has minimal upfront costs, making it a cost-effective option.
The list of pros goes on and on! The examples above only scratch the surface. To experience any benefits, you'll need a strong nonprofit digital marketing strategy to serve as the foundation of your outreach.

Creating Your Nonprofit Digital Marketing Strategy
It's no secret that digital marketing for nonprofits is insanely powerful. However, it's not enough to post on social media sporadically or send generic emails to constituents. The online space is competitive, so you need a holistic strategy that defines your objectives and how you'll reach them. Otherwise, your efforts might be disjointed and not contribute much to strengthening your digital presence.
While each nonprofit's marketing strategy will vary, there are some common steps to craft a plan that works for your cause. Let's walk through those now!

1. Define your nonprofit's digital marketing goals.
Laying out clear goals will help you craft the right messages to the right audiences who will get you there. Every digital communication you send will get you one step closer to reaching whatever goals you set, so spend plenty of time hashing your objectives out with your marketing team.
Generally speaking, you might want to boost awareness for corporate giving, increase membership renewals, or spread awareness for your nonprofit's services. Think through how these goals correlate with your overall mission and how your digital marketing efforts can support that. Let's take a look at a specific example of a bad goal vs. a SMART goal:
Goal 1) Grow our email subscriber list and use that channel to raise more through matching gifts.

Goal 2) Add 1,000 more subscribers to our email list and use that channel to raise an additional $5,000 in matching gift revenue by the end of the year.
Notice how the second goal is much clearer, defines how your nonprofit's digital marketing can support your mission, and gives you solid metrics to work toward. That's because it's what we call a SMART goal.
The SMART Goal Framework
As a marketer, you might already be aware of this approach. The SMART goal framework allows you to set clear goals that anyone on your team can understand. The acronym stands for:
Specific: Be as clear as possible when setting nonprofit digital marketing goals. That way, everyone will know what you're attempting to achieve! Returning to our example above, we're clearly aiming to raise more money specifically through matching gifts by leveraging email rather than all channels.
Measurable: Your goal should have clear metrics attached to measure performance. In our example, the key performance indicators are 1,000 more subscribers and $5,000 in matching gift revenue sourced from that channel.
Attainable: Your goal should be reasonable yet still aspirational. You want to challenge your team without deterring them. For example, let's say that you grew your email list by 800 subscribers and sourced $4,250 in matching gifts through that channel last year. That makes your new goal attainable yet aspirational!
Relevant: Your nonprofit's digital marketing goal should play into your overall mission. In the example above, it's clear that growing email subscriptions will provide valuable fundraising dollars.
Time-Based: Your goal needs a clear deadline to establish a sense of urgency! In the example above, we made the goal time-based by setting the end of the year as the deadline.
By following this framework, you can set objectives that make sense for your organization, make the most of digital outlets, and push your mission forward in meaningful ways.
2. Choose the right nonprofit digital marketing platforms.
There's no shortage of nonprofit digital marketing platforms that you can leverage. Whether you're trying to reach tech-savvy teens or email-reliant boomers, there's a platform for reaching every segment of your audience.
Let's walk through some of the most common ones: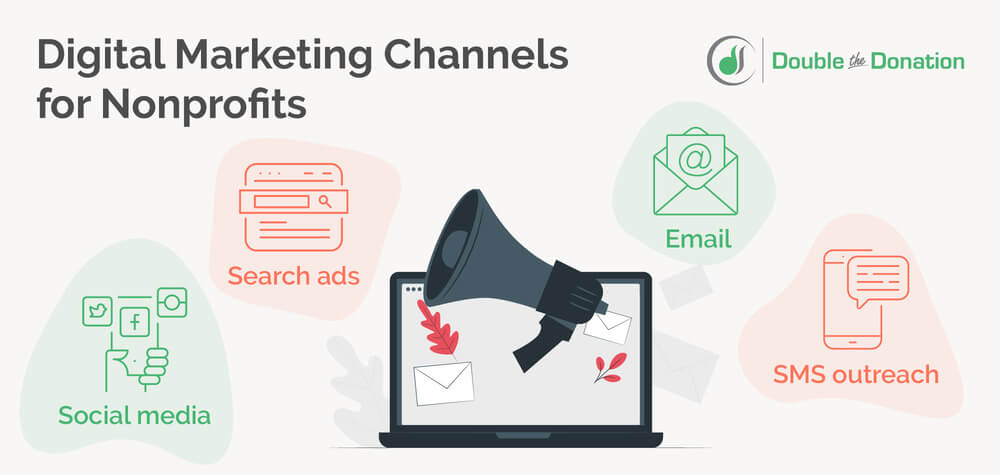 These platforms will serve as the foundation of your organization's outreach. When getting started, think through your audience for each platform carefully. Then, craft messages that support your objectives and play to each channel's strengths.
For example, if you're aiming to boost awareness for your animal shelter's adoption services, you might use search ads to amplify your adoption page, social media to share a testimonial video about an animal that found its forever home, email to promote an upcoming adoption event, and text to share a quick announcement and a link to your adoption page.
Pro tip: Use a mixture of platforms to connect with supporters. Multichannel marketing allows you to expand the number of people you're able to reach, bringing more exposure to your cause online.
3. Push your digital marketing campaign live.
At this point, you'll need to write your digital marketing messages and publish them on relevant platforms.
There's a lot of competition online, so your team needs to do everything it can to stand out online. Get creative in how you present your messages. Lean into storytelling tactics, use visual techniques like video and images, and offer different engagement opportunities to garner as much attention as possible.
Remember, digital marketing for nonprofits offers two-way communication opportunities, so pay attention to people's interactions with your posts and messages. You might like their comments, respond to their emails, or show them you appreciate their interactions with your team in some other way.
Finally, you'll want to create a schedule for each platform, so your team creates a pattern of consistency. That way, supporters will regularly see your nonprofit's updates in their inboxes and newsfeeds, keeping your cause top of mind.
Need campaign ideas to drive greater results through online marketing for nonprofits? Check out these creative marketing ideas from Getting Attention!
4. Monitor your nonprofit's digital marketing performance.
Even once you send your outreach, the work's not quite over yet! One of the best parts of going digital is that you can gather insightful metrics. Data-driven digital marketing for nonprofits is a must if you want to be proactive about growing your digital presence actively and providing value to your supporters.
During and after your campaigns, evaluate how successful your nonprofit digital marketing efforts are. Modern platforms make it easy to pull performance metrics and create reports to see how your efforts measure up against your goals.
Let's break down the most common key performance indicators (KPIs) you can measure on each platform:
Email: Open rates, click-through rate (CTR), and unsubscribe rates are a few engagement metrics that your team should pay attention to.
Search ads: Your CTR and conversions (e.g., donations, event registrations, etc.) are the best metrics for determining the effectiveness of your search ads.
Social media: Likes, shares, comments, and impressions can help you estimate your reach and engagement.
Text: Delivery rate, opt-out rate, and conversions can let you know if your text outreach is performing as expected.
If your outreach is underperforming, make adjustments as you go. Do you have low email open rates? Experiment with your subject lines to capture more attention. Do you have exceptionally high social media impressions but minimal shares, likes, and comments? Your content might be reaching plenty of people, but it's not quite doing the trick and inspiring them.
Do you have low delivery rates for texts? That may mean your supporters have changed their phone numbers. Don't worry; this happens! Use a phone number append to make sure you have accurate phone numbers for supporters if your delivery rate is alarmingly low.
No matter what metrics you monitor, you need to pay attention to your performance. Successful digital marketing for nonprofits rides on these numbers!

Tips To Take Online Marketing for Nonprofits Up a Notch
There's no one-size-fits-all approach to digital marketing for nonprofits. As you get into the swing of things, test out some different strategies to find out what works for your organization!
Let's explore several best practices you can use to tailor your plan and maximize your marketing ROI.
Promote Your Website with Google Ads.
We touched on Google Ads earlier, but there's so much more to it than what we've covered! Search ads are one of the most effective digital marketing outlets for nonprofits.
In fact, Getting Attention's Google Ad Grant Impact Report explains that search ads have the highest ROI of any nonprofit paid advertising channel, returning an incredible $4.78 for every dollar spent.
As we touched on, you'll need to apply for the Google Grants program and meet the eligibility requirements to receive the $10,000 in ad credits. From here, you can create ads that promote your website's content and use your free funding to bid on relevant keywords.
You can promote pretty much any valuable content, whether you want to bring attention to your donation form, services, volunteer opportunities, events, or something else. You can even use Google Ads to promote matching gifts! Here's a quick example of how The Nature Conservancy, Rainforest Trust, and Greenpeace USA all targeted donors using Google Ads: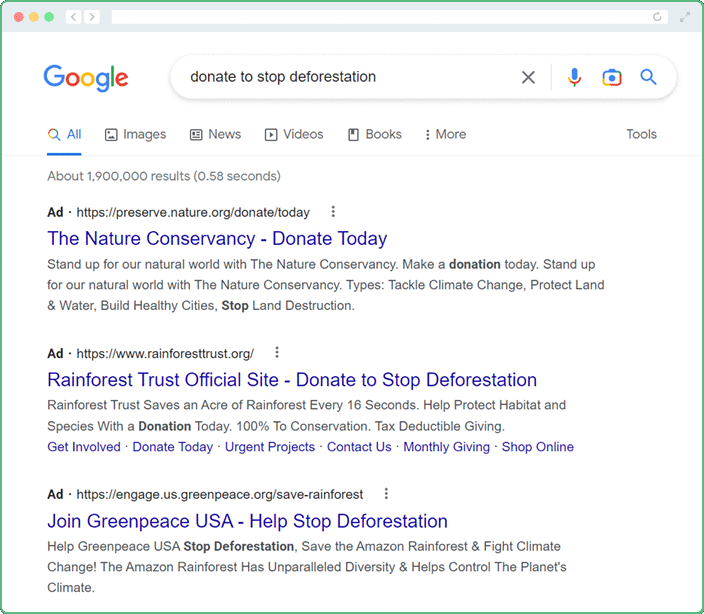 With a thoughtful bidding strategy, you can bring more visibility to your cause than ever before. Plus, the grant will automatically renew every month, so you'll have a reliable source of funding as long as you comply with the compliance requirements.
It'll take some time to learn the intricacies of the program, which is why we recommend working with a Google Grants manager. Our preferred agency is Getting Attention! They work with you to craft your nonprofit's digital marketing strategy for Google Ads. They'll help you apply for the program, create your ads, and monitor metrics to make sure you're driving meaningful results.

Automate your nonprofit's digital marketing when possible.
Marketing automation allows you to automate monotonous marketing work. Your marketing team can automate routine tasks such as email marketing, social media posting, and ad campaigns. Not only will this boost efficiency, but it'll help you provide a personalized experience for your supporters.
While automation certainly doesn't replace manual outreach, the two can be used in conjunction to provide a timely, valuable experience to your supporters. This can lay the ground for healthy, long-term relationships.
Let's take a look at a few areas where you can leverage automation:
Email streams. Let's say you set up an email stream for a volunteer opportunity. The second someone registers to volunteer, your software might trigger a confirmation email. Then, you might have a reminder email within this stream to follow up a few days before the actual volunteer event. After the opportunity, you can automatically follow up with a well-written volunteer thank-you letter that's customized with their volunteer details.
Google Ads. Google Ad Grants can be confusing, which is why Google's advertising platform allows you to leverage search ad automation tools. Using features like responsive search ads (RSAs), your ads will adapt to show relevant messages to users. You'll submit a variety of headlines and descriptions. Then, Google will swap them out to find the best fit for users and improve your results.
Matching gifts. Through the use of our matching gift tools, you can drive more corporate giving revenue through automation. You can set up email streams that follow up with match-eligible donors, encouraging them to submit their employer requests. We also launched an autosubmission function, which allows donors to skip steps in the employer request submission process. By selecting a box on your donation confirmation page, they can opt-in to have our tools automatically check their eligibility and submit their requests to their employers on their behalf. No need for your team to step in when you have automation handling the hard work for you!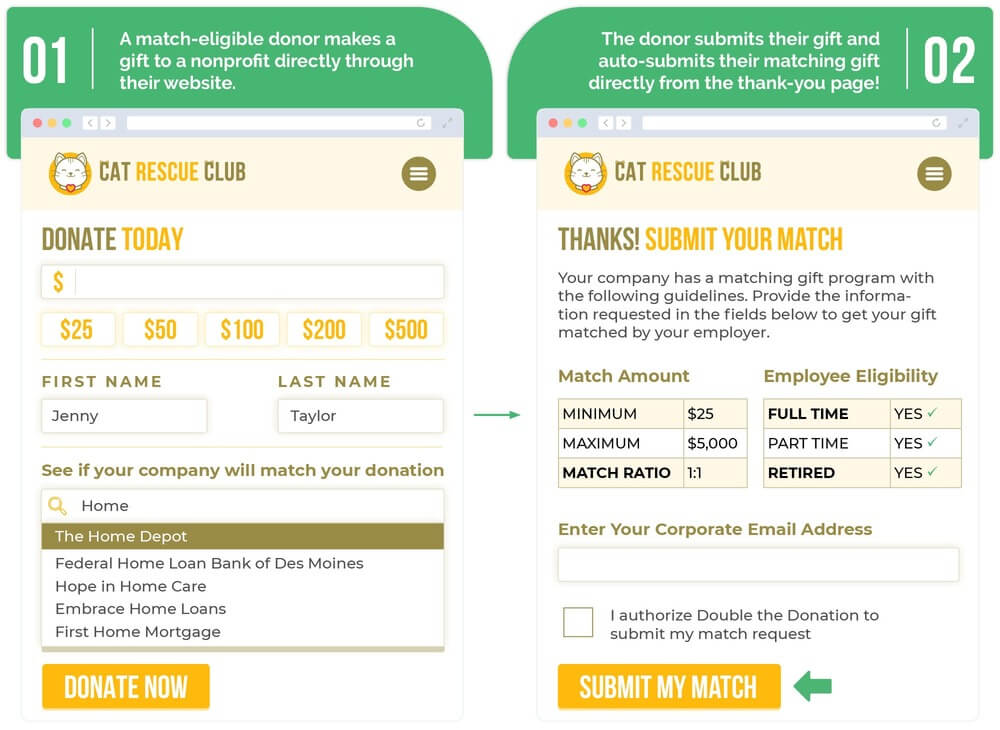 No matter how you leverage it, automation can be a powerful strategy when it comes to digital marketing for nonprofits. Think carefully about how it can play into your plans without risking the personalized touch of manual outreach.
Tailor your outreach with segmentation.
Generic outreach won't get you very far. Instead, personalize your outreach. This conveys that you care about your supporters, helping to capture their attention and build a stronger connection with each message you send.
Put yourself in a donor's shoes. You receive an email that starts with "Dear generous donor." Chances are, you won't read the whole email. At the most, you might skim it. Your nonprofit's online marketing tools should make it easy to customize your emails with recipients' names.
Personalization should go further than adding their name to an email, though. That's where segmentation comes into play!
You'll want to create meaningful supporter segments, so you can send relevant appeals to those who are most likely to engage. To get started, you might create segments based on:
Past engagement history. Try creating groups based on past engagement with your organization—whether they've donated, attended events, volunteered, or engaged in other ways. That way, you can send volunteer opportunities primarily to volunteers, fundraising campaign details to committed donors, and so on. Common segments include first-time donors, recurring donors, match-eligible donors, volunteers, advocates, and peer-to-peer fundraisers.
Contact method. As you can tell by how many digital marketing outlets there are, there are countless ways to contact supporters. Consider noting their preferred communication methods in your CRM. That way, you can be sure to contact them using the channels to which they're most responsive.
Age. Categorizing supporters by age allows you to determine the types of messages and platforms your supporters will be most receptive to. Even if they haven't indicated their communication preferences, you can predict the best channels to use for each supporter. For instance, those under 25 might be more active on social media or be likely to interact with text messages, while supporters over 45 might prefer email.
Thoughtful segmentation can go a long way toward improving your nonprofit's digital marketing. While primarily used in email marketing for nonprofits, it's also a great strategy for any other channel!
Optimize your nonprofit's website.
Your website is the hub of all your nonprofit's digital marketing efforts. It's where first-time supporters will go to learn more about your cause and long-term supporters will go to find new engagement opportunities. It also enables you to raise online donations.
With all that rides on your website, you'll need to put some thought behind your site's design and create a valuable experience for each visitor. As a starting point, follow these best practices:
Use a mobile-responsive design. Fundraising research states that half of all nonprofit web traffic comes from mobile users. By optimizing your site for mobile users, you'll make it easy for all supporters to learn about your cause, no matter what device they're using! Start by using a mobile-responsive CMS to resize your web content to fit any device automatically. From here, compress your images, minimize the number of pop-ups you include, and reduce the number of fields you include on any form.
Reduce load time. The longer it takes your website to load, the more likely people are to leave. In fact, research from Google estimates that the probability of bounce increases by 32% as page load time goes from 1 to 3 seconds. Page speed also plays a pivotal role in your SEO performance since Google uses it as one of its ranking factors. To reduce your site's load time, compress images, reduce redirects, enable browser caching, and minify any unnecessary coding.
Feature corporate giving. Your website is the perfect place to increase awareness for corporate giving! Include our employer search tool on your donation form to encourage more users to research their eligibility for their employers' programs. Then, get crafty by developing a dedicated matching gifts page that defines what they are, covers common guidelines, and walks through the process. If you already have a Ways to Give page, you can include information about matching gifts, volunteer grants, and other corporate giving opportunities there, too!
There's plenty you can do to make your website as valuable as possible for your nonprofit marketing strategy. For other recommendations, we recommend checking out the site requirements for Google Ad Grants. While specific to the program, these rules provide guidance tailored to nonprofits, helping them create valuable web content that speaks to their mission and inspires supporters to get involved.

Wrapping Up
Digital marketing for nonprofits is an incredible opportunity to spread more awareness for your mission than ever before. From promoting corporate giving to increasing event attendance, there's no limit to what you can accomplish for your mission.
Remember to spend time crafting a thoughtful nonprofit digital marketing strategy that plays to your organization's strengths and connects you with your unique audience. Leverage all sorts of channels like social media, Google search ads, and email to make a lasting impression on supporters. In no time, you'll strengthen your digital presence and drive greater outcomes for your work.
To continue enhancing your nonprofit's outreach, explore these resources: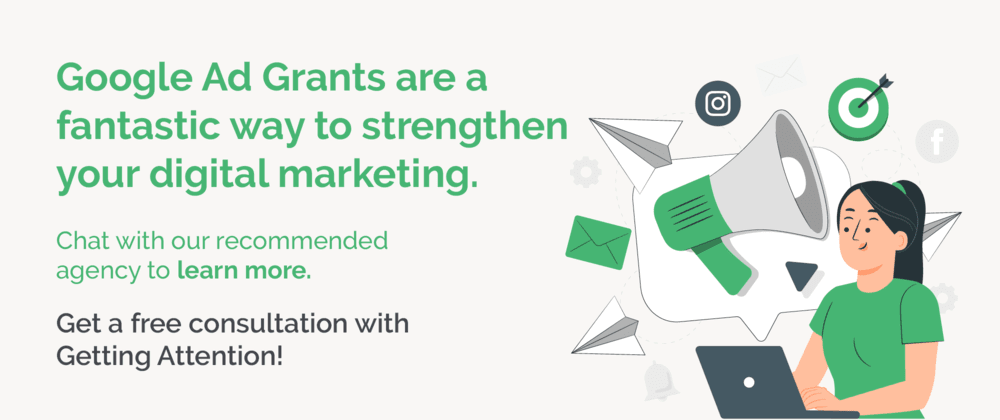 https://doublethedonation.com/wp-content/uploads/2023/03/Digital-Marketing-for-Nonprofits_Feature.jpg
380
1000
Adam Weinger
https://doublethedonation.com/wp-content/uploads/2022/03/logo-dtd.svg
Adam Weinger
2023-03-03 16:59:33
2023-06-01 17:03:05
Digital Marketing for Nonprofits: The Ultimate Guide