Hiring a Google Grants Agency: A Guide and 5 Expert Agencies

Through the Google Ad Grants program, nonprofits have the potential to amplify their marketing and connect with prospects searching for causes like theirs. The program empowers nonprofits to share their missions with people around the globe, but only if they're strategic about how they allocate their funds.
Google Ad Grant agencies dedicate their time to helping nonprofits make the most of the opportunity. From applying for the program to pinpointing the right keywords, they cover every aspect of the process and eliminate the learning curve that comes with this opportunity. That way, you can focus on pursuing your mission and engaging the new constituents you connect with through your ad campaigns.
Whether you're just now learning about Google Ad Grants or you're looking to refresh your account management strategies, a Google Grants agency knows what it takes to keep your account compliant and make your ad campaigns excel. To help you effectively leverage your grant money, we'll cover everything you need to know, from the basics of the program to our recommended Google Grants agencies that will help you make the most of your $10,000 every month. Here's what we'll cover:
Here at Double the Donation, we spend plenty of time working with nonprofits to maximize their fundraising revenue and make a greater impact on their causes. We've seen organizations do some pretty incredible things for their missions when they put thought behind their fundraising strategies and leverage corporate giving programs like Google's. While we work exclusively with matching gifts, other powerful funding opportunities like Google Ad Grants impact the difference an organization can make, so let's explore how specialized agencies can streamline that.

An Overview of Google Ad Grants Management
Before researching specific Google Grants agencies, make sure you know what Google is offering eligible nonprofits through the program. This will help you understand whether outsourcing the work to a professional is the right move. If you're already well-versed in Google Ad Grants, feel free to jump ahead to learn how an agency fits into your strategies.
What is the Google Ad Grant?
The Google Ad Grants program is a corporate giving initiative that gives 501(c)(3) organizations $10,000 every month to spend on amplifying their pages in Google search results. That adds up to $120,000 every year that qualifying nonprofits can invest directly into marketing their missions.
Nonprofits pick the landing pages they'd like to amplify, then build ad campaigns that target different keywords related to their mission. The goal of the program is to help nonprofits scale their impact by getting in touch with more donors, volunteers, and advocates online.
So long as your nonprofit complies with the program's guidelines, the grant will automatically renew each month. The program has pretty strict guidelines for eligibility and ongoing compliance. That's why organizations typically outsource account management to Google Ad Grant agencies who will oversee their campaigns and ensure their accounts remain compliant.
Are Google Ad Grants worth it?
While it can be challenging to create winning ad campaigns, any organization can (and should) apply for the program. It's $10,000 of free funding every month that can really amplify your cause if you allocate it strategically. With proper Google Ad Grants management, the program empowers all sorts of nonprofits to:
Increase online conversions such as event signups, donations, and volunteer registrations
Connect with lifelong supporters who are motivated by their cause
Bid on competitor's keywords so their ads can show up alongside their listings
Build brand awareness and spread awareness for worthwhile causes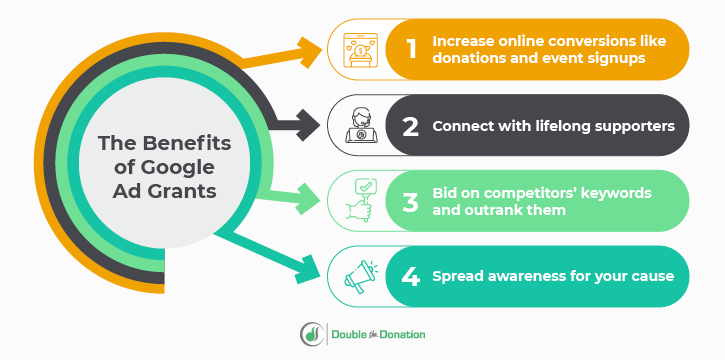 To really make the most of the program, the best approach you can take is to have someone at your organization spend at least a few hours each week learning about Google Ad Grants management once you receive your funding. If you face limited staff bandwidth and can't invest the time you want into creating your campaigns, you might want to outsource the work to a dedicated Google Ad Grant management agency.
Either way, $10,000 a month is a good chunk of change that will pale in comparison to the amount of staff time you spend or the money you pay an expert to actively manage your campaigns.
Why should I invest in Google Ad Grants management?
This Google Ad Grants impact report explains that the return nonprofits see can be incredible with proper Google Ad Grants management. In fact, search ads have the highest ROI for nonprofits using paid advertising among any other paid advertising platform.
With billions of search queries processed per day, Google is the world's most popular search engine. Advertising on Google can put you in touch with a world of prospects, and properly managing the grant means you can deliver the right content to these individuals.
When you first get started, there's a huge learning curve you'll have to overcome. Between conducting keyword research and keeping up with Google's compliance standards, newcomers have a lot to learn! And with an already-busy schedule, your team might not have enough time to devote to managing your Google Ad Grant.
Investing in professional Google Ad Grants management can help you overcome the learning curve, so you can make the most of your grant money from the start.
Bonus! If you want to learn more about the basics of the program, explore our beginner's guide to Google Ad Grants. It breaks down the essentials of the prgram, so you can determine if it's a smart move for your nonprofit.

How A Google Grants Agency Can Help
From determining your eligibility to finding the right keywords, there's a lot that goes into effective Google Ad Grants management. That's where a dedicated Google Grants agency comes into play.
Agencies will take the guesswork out of account management and help you develop winning campaigns that supercharge your marketing efforts. They spend all of their time understanding the program's requirements and learning how to leverage relevant tools that will maximize their clients' results. Specifically, they help nonprofits with the following:
Google Grant application. If you've yet to apply for the program, a dedicated agency will help you do so by creating your Google For Nonprofits account, registering your organization with Techsoup.org, ensuring your website has promotable content, and submitting your application for review.
Keyword research. A Google Grants agency will help you develop ad campaigns that target the right keywords. They'll spend plenty of time researching the keywords associated with your cause and pinpointing the ones that qualified prospects are searching online.
Campaign management. A healthy account will have anywhere from 3-5 campaigns going at once to drive results. An agency will actively track these campaigns, report on performance, and make adjustments to your online content to maximize results. Through Google Analytics and Google Tag Manager, they can create live dashboards and reports that keep you looped into your campaigns' performance whenever you want.
Monthly compliance. The program's guidelines are pretty extensive, and by not complying, your account will potentially be deactivated. One of the main priorities of your Google Ad Grants agency is to make sure you're complying with the program's guidelines at any given point. Some of these include maintaining a 5% clickthrough rate, avoiding single-word or generic keywords, and responding to the annual program survey.
Landing page optimization. Your grant money will go to waste if the pages you're promoting don't inspire users to convert. Some agencies will help you relaunch and redesign your landing pages for campaigns to help boost traffic and conversions.
Reactivation if needed. Ideally, your Google Grants agency will help keep your account in good standing. However, things happen, especially considering the program has pretty strict guidelines. If your account ever lapses or gets suspended, your agency will help reactivate it.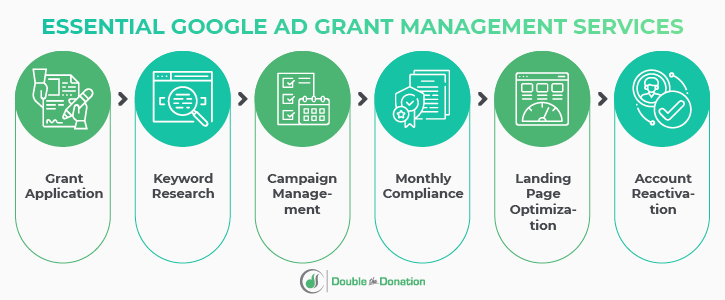 If you're curious about any of these common services, Getting Attention's Google Grant agency guide explores how agencies help nonprofits in-depth. That way, you can understand if investing in an agency is the right move for you.
It's best not to leave it up to chance. A Google Grants agency knows what it takes to create winning campaigns that inspire users to click through to your website. And like we mentioned, the money you spend on hiring a professional will be well worth it compared to the $10,000 in marketing money you'll receive every month.

Getting Started With A Google Ad Grant Agency
At this point, you're almost ready to kickstart your buying journey and explore different agencies. As you explore your options, bear in mind that you should walk through a few steps to make sure you find a Google Grants agency that you can fully depend on to make the most of this CSR opportunity.
For instance, you'll want to:
Find Google Ad Grants agencies that meet your criteria. For one, many nonprofits look specifically for partners that are certified by Google. However, there are other professional Google Grants agencies out there that might not meet guidelines for certified partner eligibility but may provide the right support for your needs. Look first and foremost for partners that offer services for the specific areas you need help with. For instance, if you want full transparency into your campaigns' performance, double-check that your Google Ad Grant agency will provide comprehensive reports to your team. If you're seeking help because your account's been deactivated, make sure you find agencies that offer account reactivation services.
Explore their website and offerings. An agency's website is the first resource you can leverage to understand their approach and specializations. Read through their offerings thoroughly to make sure you agree with their approach. Oftentimes, an established agency might also include testimonials or case studies that display the work they've completed for their clients.
Reach out to learn more about their approach to Google Ad Grant management. Before you decide to work with an agency, reach out to them to make sure they're a good fit. This gives you the opportunity to ask any lingering questions and see if their team will mesh well with yours. Many agencies start with a complimentary audit of your account, so you can get a feel for what working with them will look like.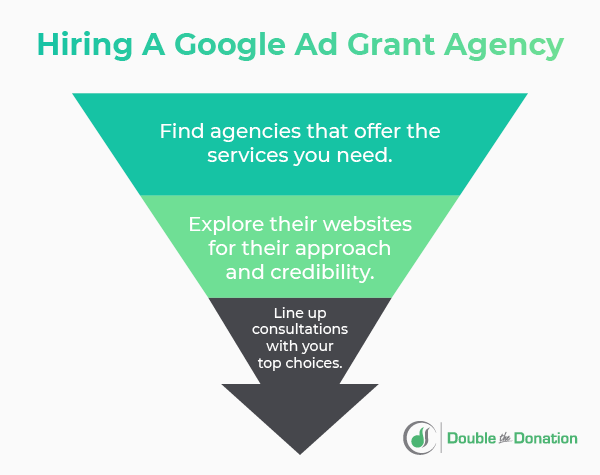 By walking through these steps, you'll be able to narrow down your options in no time. Remember, the right Google Ad Grants agency will act as an extension of your team and do everything it can to champion your cause. Even if they're not certified by Google, that doesn't mean they aren't a trustworthy agency. Spending time to find a good fit up front will pay off in the long run as you'll be able to fully rely on them to make the most of your grant money.

5 Recommended Google Ad Grants Agencies
To help simplify the extensive vetting process, we've put together a list of recommendations, so you can get an idea of which ones might be a good fit for your team. Each of these partners works with nonprofits to enhance their Google Ad Grants management and displays in-depth knowledge of the program's requirements and opportunities. Use this list to narrow down your options and request their support as soon as you're ready.

Getting Attention
Getting Attention specializes solely in Google Ad Grants management. They're committed to maximizing your grant money, keeping your account compliant, and connecting you with lifelong prospects through powerful marketing campaigns. Backed by a team of seasoned professionals, they'll act as an extension of your team and work with you to make sure you're experiencing the results you expect. By managing every aspect of your Google Ad campaigns, they'll help get your cause in front of qualified prospects who want to make an impact on your cause.
Their core services include:
Google Ad Grant Application. If you haven't already applied for the program, let Getting Attention's experts handle your application for you. They'll check your eligibility for the program and help walk you through every step necessary to get your account reviewed and accepted.
Account Hygiene. When it comes to Google Ad Grants management, data means everything. Backed by this Google Grants agency, you'll never have to worry about outdated, duplicate, or otherwise unnecessary data sticking around.
Campaign Management. They'll maintain up to 5 active campaigns per month, do ample keyword research, consistently monitor ad performance, and make adjustments as needed. Not to mention, they'll stay on top of reporting and pinpoint the most useful opportunities and goals for your team.
Account Reactivation. Their team has extensive knowledge of the program's compliance requirements. If your account is currently lapsed or ever gets suspended, they'll get everything up to code, so you can continue amplifying your mission.
Landing page optimization. If your landing pages aren't optimized to drive conversions, Getting Attention will completely redesign and relaunch them for you. After all, if your landing pages aren't optimized, you'll have a hard time inspiring supporters to get involved!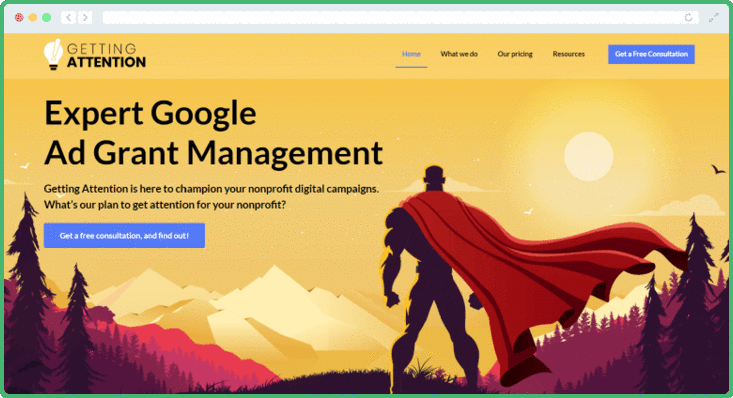 Getting Started With This Google Grants Agency
Getting Attention strives to be fully transparent with its clients, which is why they don't charge any upfront fees and instead only charge a monthly fee of $499. Compared to the $10,000 in grant money they'll secure for you, that's a small price to pay for expert Google Ad Grants management.
If you require additional services beyond what's included in their pricing package, they're open to discussing their experience with you to find a plan that will work. Reach out to discuss your needs with their team today.

2. DNL OmniMedia
DNL OmniMedia is a nonprofit technology consultant. Their mission is to help your nonprofit leverage technology in ways that amplify your cause and focus on goals rather than getting bogged down with code and data. While they don't specialize solely in Google Grants, they do offer services that will help enhance your Google Ad Grants management.
Their Google Ad Grants services include:
Google Grant strategy. DNL OmniMedia can make sure that your Google Ad Grant strategy aligns with other aspects of your nonprofit's strategy. They'll help you create a keyword strategy that makes sense for your cause and connects you with the right prospects.
Ad copy development. Their digital marketing experts will write and test ads that are designed for optimum impressions and clicks. That way, you can inspire readers to click through to your site.
Website development. Backed by a team of skilled developers, DNL OmniMedia will help you create your website and amplify your online presence. That way, you can create valuable landing pages for your Google Ad Grant campaigns that drive users to get involved.
Reporting. With Google Analytics and Google Tag Manager, DNL OmniMedia will report back to your team on campaign performance and interpret the data for your team. That way, you can improve your site and campaign's content.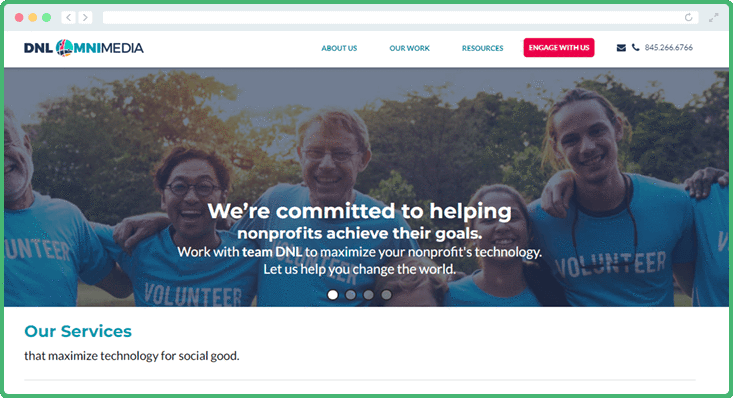 Getting Started With This Google Grants Agency
DNL OmniMedia makes it easy to learn about their services and contact their team. Whether you're looking to improve your Google Ad landing pages or better understand campaign data, this Google Grants agency is a reliable choice!

3. Allegiance Group
Formerly known as Beaconfire RED, Allegiance Group works with nonprofits and associations to transform their digital strategies and grow their impact. Whether you're focused on fundraising, advocacy, stewardship, or content marketing, they'll tailor your digital marketing plan to do more good for your cause. One of their primary digital marketing offerings is Google Ad Grants management.
Their core Google Ad services include:
Website content optimization. They'll leverage data to evaluate your website's existing content and teach you how to create valuable content that you can then amplify through your ad campaigns. The Allegiance team has plenty of experience with A/B testing, too, so they can pinpoint what elements drive users to complete your online forms that you want to promote as well.
Keyword research. This Google Grants agency will help you find the keywords that your supporters are searching online and develop campaigns that target those terms. Aside from your Google Ad campaigns, they'll also monitor your organic traffic and rankings to help create a more holistic SEM strategy.
Reporting. Allegiance Group takes data seriously. With custom implementations of Google Analytics using Google Tag Manager, they deliver reports and real-time dashboards that display your marketing performance, like page views, entrances, and goal assists. That way, you can continuously refine your campaigns.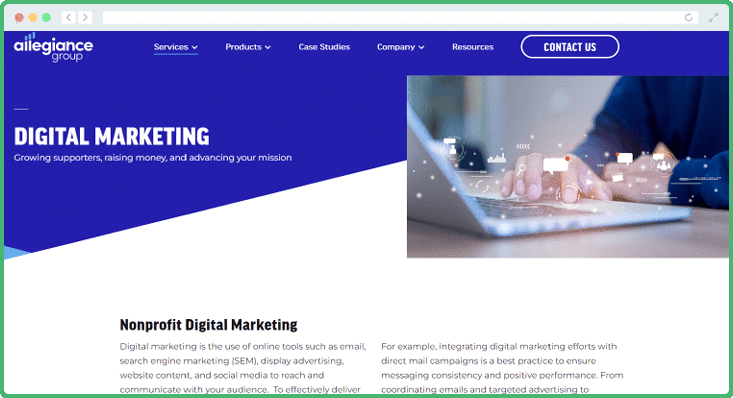 Getting Started With This Google Grants Agency
Allegiance Group empowers you to create a more holistic approach to your nonprofit's digital marketing. Explore their site to get a sense of whether their offerings align with your Google Ad Grant needs.

4. RKD Digital
RKD Digital is a certified Google Grants agency that empowers nonprofits to get the most out of their grant money. They understand that nonprofits often have trouble making the most of their free advertising money without professional help and aim to eliminate those obstacles for them. They were the first full-service direct-response company to be added to the Ad Grants Certified Professional Community, so you know you're in good hands if you choose them to handle your Ad Grant needs.
Their team of experts will work closely to manage all aspects of your account through services such as:
Account Activation. Between filling out applications and securing validation tokens, RKD Digital will help you get your account up and running, so you can secure your free grant money.
Ad Creation. Their professional Google Ad Grants team will build high-level campaigns with ad groups and keywords. They'll even write the ad copy for you.
Campaign Optimization. Once your campaigns go live, the work doesn't stop there! Their Google Ad Grant agency will monitor your campaigns' performance and make adjustments to boost conversions.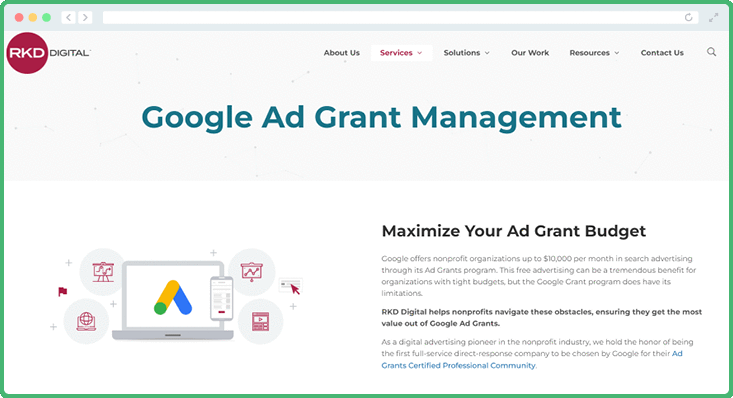 Getting Started With This Google Grants Agency
RKD Digital makes it easy to amplify your work and take advantage of the opportunities available to your nonprofit. Before lining up a consultation with their team, check out their services to make sure they offer what you need.

5. TrueSense Marketing
As a certified professional Google Ad Grant agency, TrueSense Marketing is a smart addition to your marketing efforts. They're made up of a team of more than 200 professionals who have extensive search engine marketing (SEM) experience that can take your Google Ad Grants management to the next level. They'll handle everything from application to ongoing maintenance, so you can focus on other aspects of your mission.
Their core services include:
Google Analytics. Their team will implement tracking to view how users interact with your site, so you can pinpoint and optimize your most important content.
Hands-On Management. TrueSense Marketing will actively manage your account to ensure it stays compliant, edit your campaigns to maximize ad performance, and collaborate closely with your team to highlight the most valuable opportunities for your nonprofit.
Comprehensive Campaigns. With help from this Google Grants agency, you won't be confined to only donor-based ad campaigns. They'll help you leverage your grant money to reach an entire community of prospective clients, volunteers, advocates, and other supporters.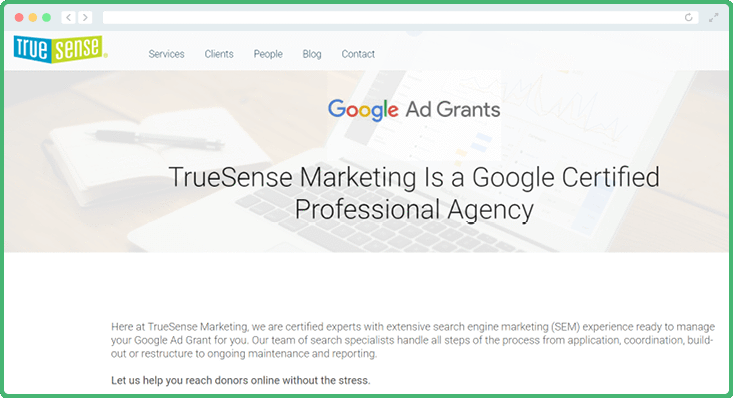 Getting Started With This Google Grants Agency
TrueSense Marketing is devoted to helping you make the most of your $10,000 each month. You can explore their full list of services on their website and determine if they'd be a good fit for your nonprofit.

Additional Google Ad Grant Resources
The Google Ad Grant program offers an immensely valuable marketing opportunity for your team. You can amplify your work and expedite your mission, but only if you choose the right keywords and deliver optimized landing pages to prospects.
A professional Google Grants agency eliminates the guesswork and makes it incredibly easy to get your content in front of the right audiences.
Plus, agencies that are fully devoted to Google Ad Grants management spend their time learning the ins and outs of the program. They fully understand everything from compliance requirements to keyword research best practices. That way, you can rest assured that you're creating winning campaigns and that your account will stay compliant. In turn, you can keep receiving your free $10,000 grant every month.
As the only agency fully dedicated to Google Ad Grants on our list, we highly recommend you check out Getting Attention. They offer everything you need to get your account activated and create optimized campaigns.
Looking to learn more about the program? As you start researching different agencies, check out these educational resources:

https://doublethedonation.com/wp-content/uploads/2022/06/Google-Grants-Agency_Feature-1.png
270
725
Adam Weinger
https://doublethedonation.com/wp-content/uploads/2022/03/logo-dtd.svg
Adam Weinger
2022-03-16 14:48:00
2023-06-01 16:58:39
Hiring a Google Grants Agency: A Guide and 5 Expert Agencies