How to Get Matching Gifts Trending at Your Organization
Employee matching gifts are one of the most popular forms of corporate philanthropy. Still, the source is widely untapped, largely due to a lack of knowledge surrounding the programs. If you're looking to drive participation at your organization (in order to maximize funding and elevate donor engagement), it's time to get matching gifts trending among supporters.
But how can you go about doing so? Start a buzz around matching gifts at your nonprofit with these helpful tips:
Our hope is that, by incorporating our recommended practices, matching gifts will become a well-known and fully utilized source of support among you and your supporters.
Let's jump in with our first trick.
1. Use hashtags on social media.
Your organization likely relies on social media as a core tenet of your digital marketing strategy. But do you have a plan in place to maximize your reach and engagement on key networking platforms?
Research indicates that incorporating hashtags in your posts goes a long way in terms of visibility, audience engagement, and more. A hashtag, which is essentially an octothorpe symbol followed by a key word or phrase, is a social media tool used to organize posts based on content topic. And including one or more in your postings can drive engagement by up to 100% compared to posts without hashtags.
In your next social media post about matching gifts for your organization, consider utilizing a few related hashtags and see how your audience responds. Here are a few examples you can use:
#match
#matchinggifts
#doubleyourdonation
#donationmatch
#amplifyingimpact
#[nonprofit name]matchinggifts
#getyourgiftmatched
#nonprofitmatching
#matchingdonations
#corporatematching
#doyoumatch
#doublethelove
#corporatephilanthropy
#employeegiving
#makeyourmatch
It's also important to note that the way you use hashtags can and should vary depending on the social platforms you use. For example, studies show that Tweets with 1-2 hashtags see more than twice as much engagement as those without hashtags. But Tweets with more than two hashtags actually see a drop in engagement.
Meanwhile, the most-interacted-with Instagram posts typically include 11+ hashtags!

2. Prioritize video content.
According to content marketing research for nonprofits, video content is one of the most essential components of an optimized engagement plan. In fact, 66% of individuals find short-form videos to be the most engaging type of material published on social media.
Not to mention, of an organization's audience…
Over 75% find videos useful when determining whether to give;
57% then go on to donate;
39% purposefully research the nonprofit within 24 hours of watching a video.
In the age of YouTube, Vimeo, TikTok, Snapchat, and more, video-sharing is becoming an increasingly integral part of nonprofit marketing. And when it comes to matching gifts, producing video content can play a critical role in informing and inspiring action among donors.
For example, check out this exemplary matching gift video that demonstrates the ease with which a donor can complete the process to amplify their impact on behalf of a cause they care about:
Once they had the video created, the organization opted to share the content on both its website and social media channels to further its reach.
Take a look at the Facebook post here: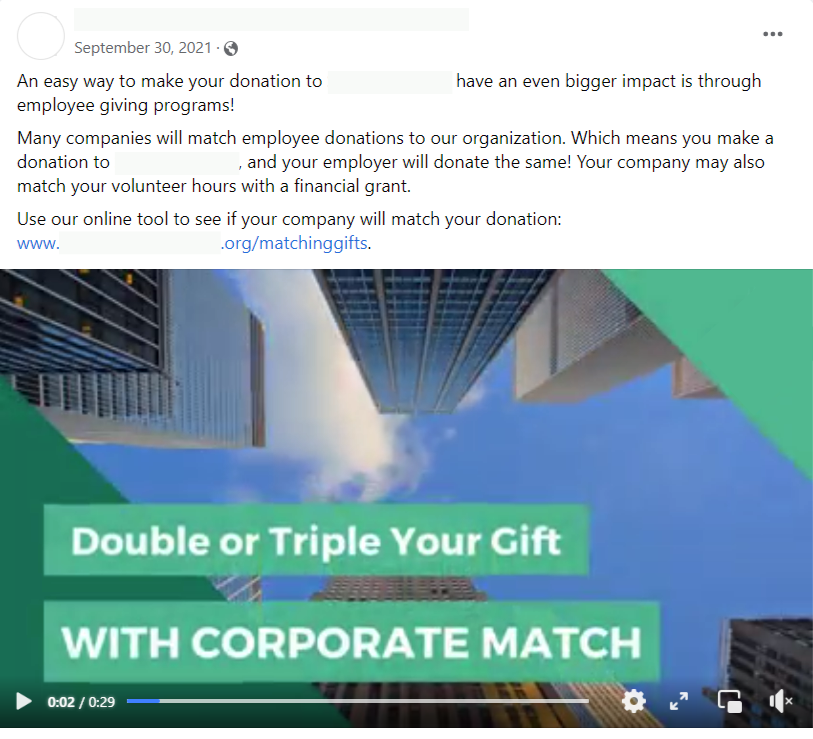 Want to make your own video? Here's a sample script you can use to get started:
"Increasing revenue with matching gifts isn't too tricky, but we need our donors' help. Last year we collected $[total revenue] worth of matching gifts. This year, we'd like to receive even more. We've set a goal to raise over $[revenue goal] from these programs by the end of the year. If we meet our goal, we'll be able to [summary of your nonprofit mission and/or specific project or programming].
You can help us reach these goals by searching for your own match eligibility. Immediately assess your eligibility and gain access to detailed information about your employer's corporate giving program. All you have to do is search our database of companies with matching gift programs. Click the link in the caption [to your organization's dedicated matching gift page] to learn more."
3. Explore artificial intelligence and technology for content creation.
A significant roadblock facing all sorts of nonprofits is a lack of time and effort dedicated to their marketing strategies⁠—especially when it comes to matching gifts. In fact, Nonprofits Source finds that over 80% of nonprofits report difficulty building strong workplace giving strategies due to limited staff and resources.
One unique and innovative solution? Artificial intelligence and smart technology.
AI-powered tools are currently sweeping the nation, particularly in regard to brands streamlining content creation while putting more time back into the hands of staff members. To provide some examples of how this can impact matching gifts, we tested a few artificial intelligence tools to see what they could come up with.
Here's a sample social media caption written by one AI chatbot tool, ChatGPT (from the emojis to the hashtags and everything in between):
"Did you know that matching gifts can double or even triple your impact as a donor? 💰💸 Not only does this benefit your favorite nonprofit, but it also shows your employer's commitment to supporting causes that matter to their employees. 🤝 Learn more about the power of matching gifts and how you can get involved to make a difference today!

#MatchingGifts #DoubleYourImpact #NonprofitImpact"
Not to mention, our very own 360MatchPro can help streamline donor communications while maintaining targeted and personalized efforts. With this tool, you can easily collect and track donor employment data, identify match-eligible donations, and trigger automated email follow-ups that drive more matching gifts to completion. And it can all take place without your fundraising team having to lift a finger!

4. Host a real-time Q&A online.
From the perspective of a donor who has never requested a matching gift, the entire process can seem a bit overwhelming. What your team can do, as the nonprofit they're supporting, is make an effort to answer any questions your supporters may have.
And what better way to do so than with a real-time Q&A session? According to recent live-streaming research, real-time content generates 27% more watch time per viewer than on-demand video. Users like interacting with their favorite organizations, and doing so as a nonprofit can help facilitate deeper relationships with donors. In fact, 79% of marketers indicate that a more authentic interaction with their audience is a top benefit of live-streamed video.
While you'll likely aim to answer a number of questions in any pre-recorded content you share, it can be hard to predict what exactly your donors will want to know. So let them tell you in real time. We recommend:
Sharing the date and time beforehand so supporters can plan accordingly;
Accepting matching gift Q&A submissions ahead of time through email or an online form on your site;
Encouraging live viewers to ask questions in real-time using the streaming site's chat or comment functions;
Preparing your team with a number of in-depth resources on corporate matching gift programs (hint: check out our webinars, blog posts, and free eBooks here);
Posting your live-stream recording to your website and/or social media pages, so those who missed the real-time engagement can still savor the insights shared.
Today, most social media platforms offer some sort of live-streaming option⁠—including YouTube, Facebook, Instagram, TikTok, and even Twitter. So pick your favorite platform (ideally one that already sees a lot of user engagement with your nonprofit) and go live!
5. Consider influencers and peer advocates.
Influencer marketing and peer-to-peer fundraising are based on a shared principle: social proof. Social proof revolves around the psychological finding that people are more likely to assume the actions of others when making their decisions.
Luckily, you can use this idea in your next matching gifts campaign!
The first step in leveraging social proof for matching gifts involves locating a number of individuals who you'd like to promote matching gifts to your audience. When donors see other supporters participating in matching gift initiatives, it can be the inspiration they need to get involved themselves.
These so-called "influencers" might be someone closely associated with your nonprofit cause, such as:
Major donors to your organization
Well-known board members
Dedicated volunteers
Well-connected P2P fundraisers
Your nonprofit's executive director, president, or CEO
Or, you might even be able to get a popular influencer (or micro-influencer) on board! For the best results, look for individuals who share a similar target audience to your nonprofit. Plus, existing connections to your organization or its mission can go a long way toward making that connection.
Regardless of who you choose to get involved, encourage these individuals to share information about gift-matching opportunities⁠—such as your new matching gift videos⁠—on their personal social media pages. Provide them with pre-made images, suggested captions, video scripts or outlines, and more, empowering champions to advocate for matching gifts and encourage others to get involved.
From there, your nonprofit can typically re-post the content to your own pages (depending on the platform or platforms used), furthering the reach of the posts.
6. Make the most of free advertising with Google Grants.
Another marketing strategy that you won't want to overlook is paid search engine advertising. And don't be alarmed by the word "paid," either. Google offers nonprofits access to a generous in-kind grant in the form of free ad space (the equivalent of up to $10,000 per month), known as the Google Ad Grant.
Now, why should you promote matching gifts to your audience with the Google Grant? First of all, it's a free marketing opportunity. Of course you want to make the most of it! Not to mention, research indicates that search advertisements (such as Google Ads) have the highest ROI for nonprofit paid advertising⁠—with an average value of $4.78 for every dollar.
When you participate in the Google Ad Grant, you essentially choose a page (or pages) and the keywords you'd like to advertise for. Then, when a donor or prospect searches the phrase (e.g., matching gifts for Cat Rescue Club), they'll be met with your relevant sponsored content (i.e., your donation form, dedicated match page, ways to give page, blog article) at the top of the results page.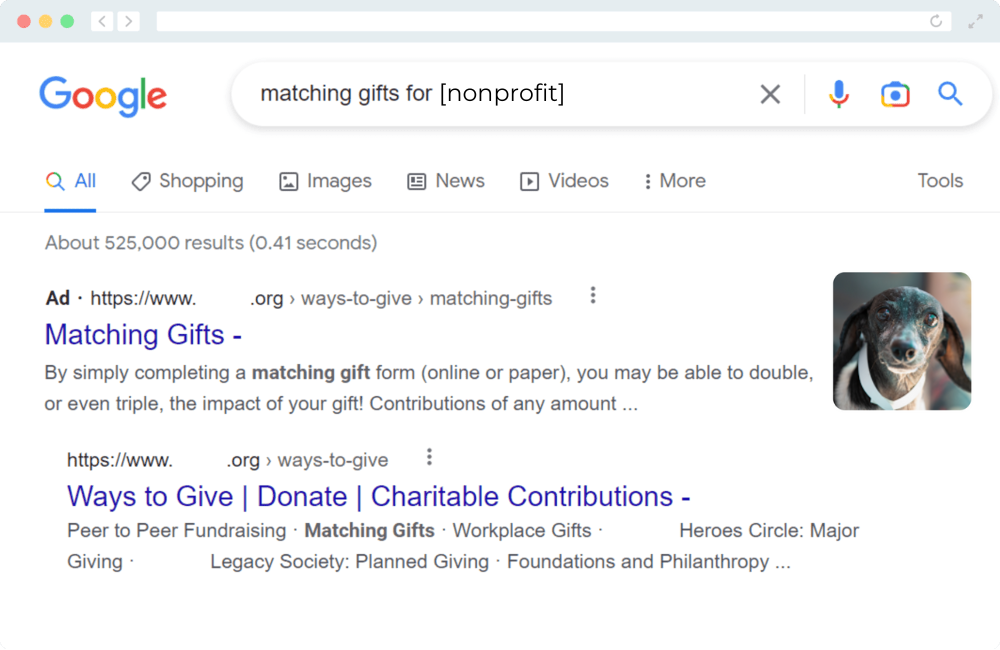 The Google Grant is a great way to increase visibility and expand the reach of your organization's fundraising efforts. And when done well, it can drive more match-eligible donors through the giving⁠—and matching⁠—processes.
Ready to apply for the Google Grant? Check out this step-by-step guide from the experts at Getting Attention.
7. Keep up with shifting trends.
When it comes to getting donation-matching (or just about anything else) "trending" at your organization, it's important that you have a solid understanding of current trends. After all, trends can change fairly quickly, along with the introduction and development of new technology, changing consumer⁠—and supporter⁠—preferences, and more.
And in order to get matching gifts trending effectively, there are a few key types of trends to consider as you craft your strategy. These include…
Marketing and engagement trends ⁠— Things like new social media platforms emerging, communications best practices (e.g., optimal number of hashtags per post), etc.
Workplace giving trends ⁠— Things like which companies offer matching gift programs (so far, it keeps trending upward!), new technology enabling innovative matching processes (i.e., auto-submission), and more
It ultimately boils down to this: just because something is a key trend today doesn't mean it will necessarily be the same five years from now. So keep an eye out, make a note of any significant shifts you see, and reconvene with your marketing team on a regular basis.
And if you're a Double the Donation user, we'll always keep you up to date with the latest trends that our team is seeing! Check back with our blog, attend upcoming webinars, or explore our online Matching Gift Academy to stay at the forefront of matching gift innovation.
---
Next Steps
You've heard the tips⁠. Now, get started by implementing these tried-and-true practices in your own organization's strategy.
Just remember: the more familiar your audience is with the idea of matching gifts, the more likely they are to partake in their employers' programming. And the more funding you'll ultimately receive from corporate philanthropy opportunities available to your cause.
Want to learn more? Explore additional resources and discover how you can double your organization's fundraising impact with matching gifts: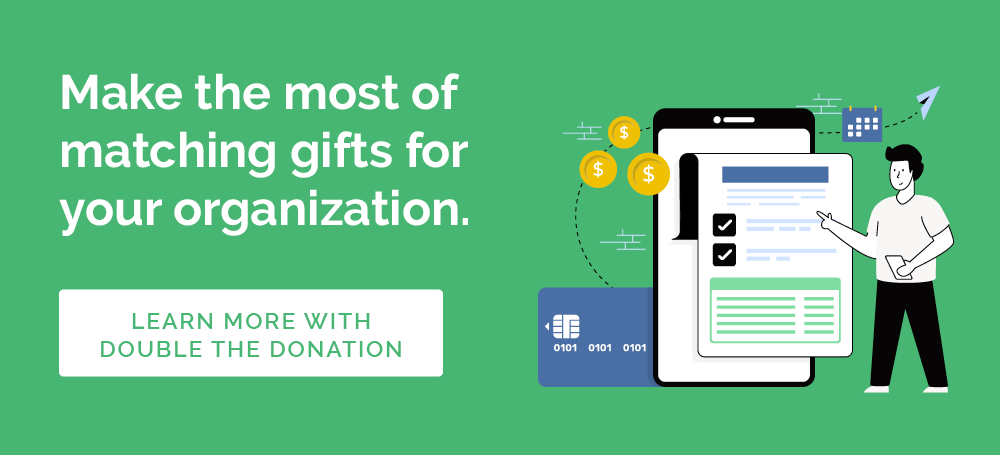 https://doublethedonation.com/wp-content/uploads/2023/03/DTD_How-to-Get-Matching-Gifts-Trending-at-Your-Organization_Feature.png
600
1600
Adam Weinger
https://doublethedonation.com/wp-content/uploads/2022/03/logo-dtd.svg
Adam Weinger
2023-03-28 13:53:20
2023-09-15 15:33:44
How to Get Matching Gifts Trending at Your Organization