Matching Gift Process | A Complete Step-by-Step Guide
As one of the most popular forms of corporate philanthropy, matching gifts are on the rise. This CSR tactic provides an easy way for organizations like yours to double incoming donations. However, many organizations are not taking full advantage of matching gifts⁠—largely due to a lack of understanding (among donors and staff alike) about the prevalence of the offering and the simplicity of the matching gift process.
Though it can vary based on specific companies and organizations, the basic matching gift process follows these key steps:

Note: In this guide, we'll dive deep into the traditional matching gift fundraising process. Keep in mind, though, that if a company was not prepared to launch a broadly accessible matching gift program or an organization sought a more personalized partnership with a business in its network, there's another opportunity: custom matching gifts.

In the case of a custom matching gift program (also referred to as "one-off" or "unique" matching gift initiatives), a corporation commits to matching employee gifts to a single nonprofit cause. However, it's important to note that the processes involved in establishing, marketing, and disbursing funding through these alternative programs tend to differ. If you're looking to pursue a custom matching gift partnership, we recommend checking out our complete guide to custom matching gift programs here.

*While 360MatchPro offers custom matching gift management functionality, this feature is designed specifically for fundraisers looking to manage custom matching gift initiatives—360MatchPro does not work directly with corporations. If you're a company interested in creating a matching gift program, contact us, and we'll share information about our corporate vendor partners.
Now, without further ado, let's start at the beginning of the standard matching gift process.

Step 1: An individual donates to a nonprofit.
The first step in the matching gift process occurs when an individual makes a personal donation to an organization. This is a prerequisite for the gift-matching initiative, and it's essentially what kicks off the rest of the procedure. After all, you can't match a gift without a gift to match!
Luckily, there are tons of ways for individual donors to support their favorite causes. Depending on the companies the donors work for, different giving types may be eligible for matching gift program participation.
For example, an individual may give via a cash donation, online giving page, peer-to-peer campaign, direct mail, event contribution, and more. Meanwhile, some companies enable employees to give matchable donations through their CSR platform. And others will even match gifts of securities, such as stocks and mutual funds!
According to matching gift research on the topic, "The more options an employee has to give and to get their gift matched, the more likely they are to utilize available company matching opportunities."

Step 2: Their matching gift eligibility is determined.
Unfortunately, not every donation made to a charitable organization is going to be match-eligible. Not only do donors need to work for participating companies to qualify for corporate gift matches, but the donations themselves must also meet certain criteria in order to be approved. Thus, after a donor submits their personal donation, it's time to determine whether that gift will be matchable.
In order to do so, you'll need to compare the recently contributed gift against the donor's employer's matching gift guidelines. These should include:
Types of qualifying employees
Types of qualifying nonprofit causes
Minimum and maximum match amounts
Match submission deadlines
Matching gift ratios
Though some donors may go into the process fully aware of their matching gift eligibility status (for example, if their employer had previously promoted the opportunity to its staff), many will not know whether their company even offers such a program. That's why more and more organizations are choosing to incorporate matching gift promotions immediately following the giving experience⁠—including on the donation confirmation page, follow-up emails, and more.
Luckily, top matching gift tools (that include access to a comprehensive matching gift database) should provide your donors with access to employers' matching gift guidelines as well as links to company-specific match request forms. This will enable users to determine matching gift eligibility in just a few clicks.

Step 3: The individual submits a matching gift request (separately or through auto-submission).
Each matching gift an organization receives is the direct result of a matching gift request from a donor to their employer. And though the online submission process can vary by company, the traditional request process typically involves the following steps:
1. An employee logs into the company's matching gift submission website.
While some employers develop their own matching gift submission process internally, most contract behind-the-scenes facilitation of the program to a matching gift program provider designed specifically for the purpose. Those companies are typically provided with an online portal through which they manage their employer matching gifts programming.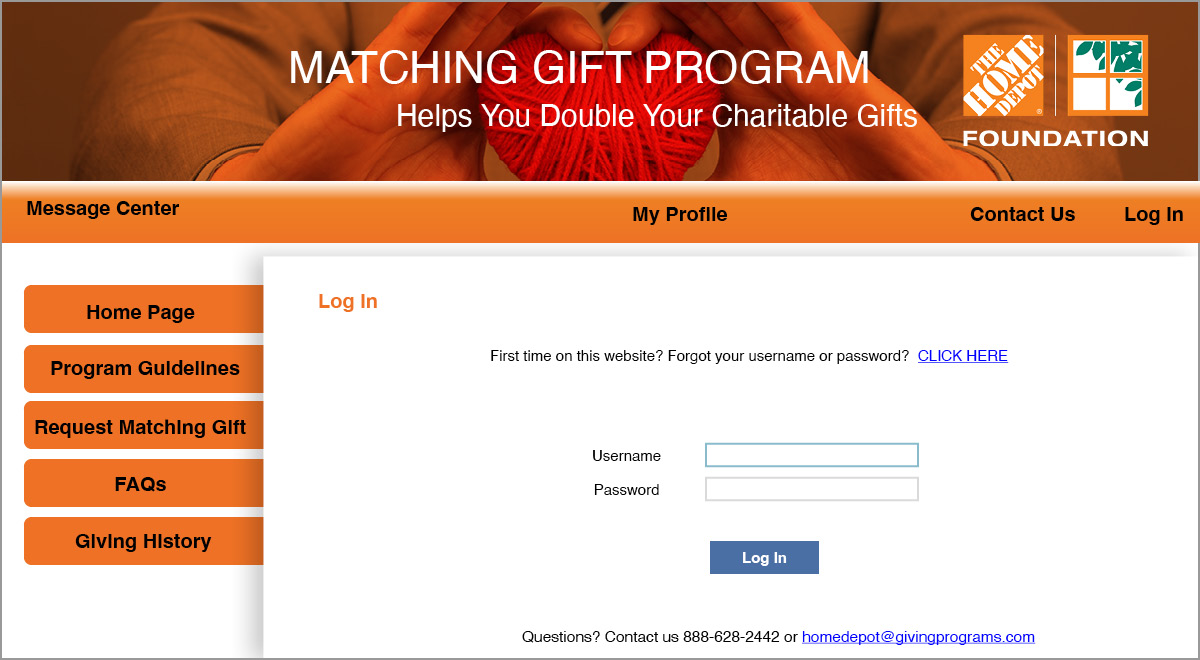 For donors looking to submit their matching gift requests, the first step is to log into their employers' online portal with their unique username and password. (Hint: Those with difficulty logging in may have access to support assistance through the management provider!)
2. The employee searches for the nonprofit they donated to.
Once logged into their employers' giving portal, the employer/donor should be prompted to locate the organization to which they gave from within an online database. For example, an individual may be asked to provide the nonprofit's:
City
State
Country
Zip code
Name (or keywords)
Tax ID number (EIN)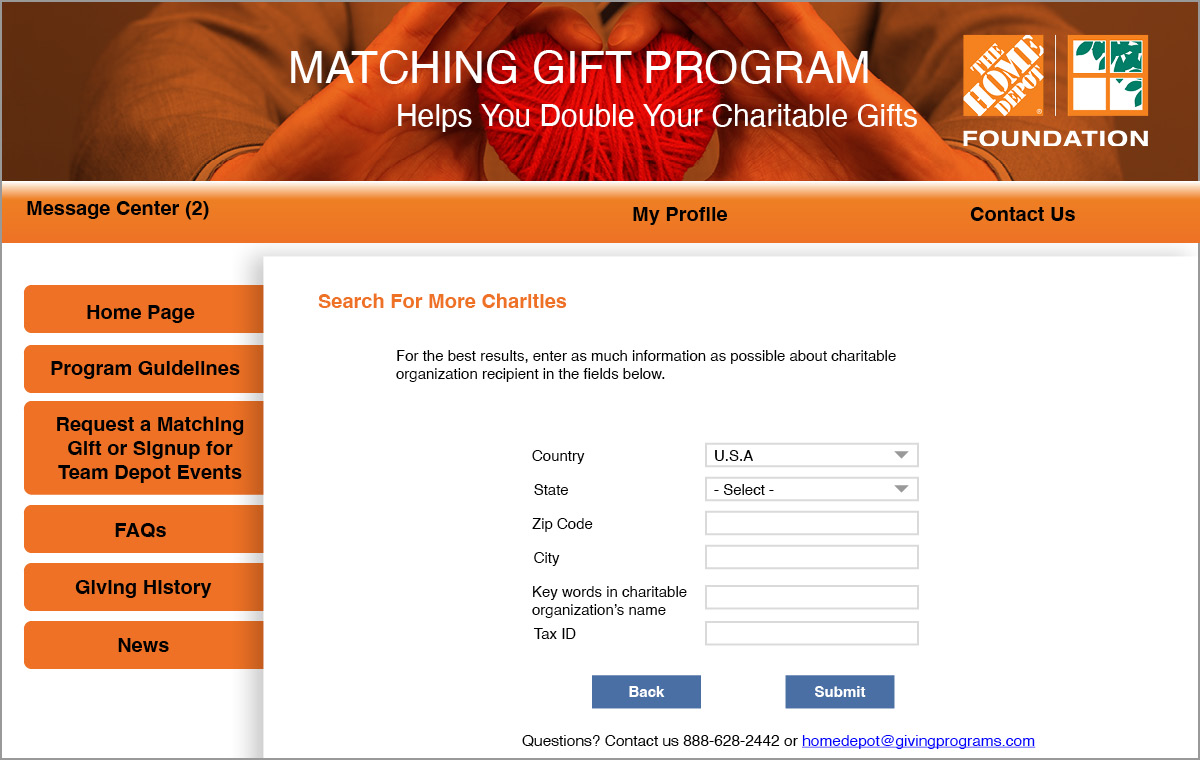 While a donor may not have all of the above information, entering as much of the data as possible will increase the likelihood that they're able to select the correct organization in the following step.
Top tip! For this reason, we recommend providing your donors with easy access to your organization's contact information and other essential details, so they have everything they need to submit their matching gift requests.
3. The employee selects the correct nonprofit from the search results.
After an employee provides the requested information about the organization they donated to, the matching gift management platform compares data against thousands of nonprofits in the system. Typically, a number of organizations meeting the search criteria are then compiled, and the employee is encouraged to select the correct listing with which to complete their request.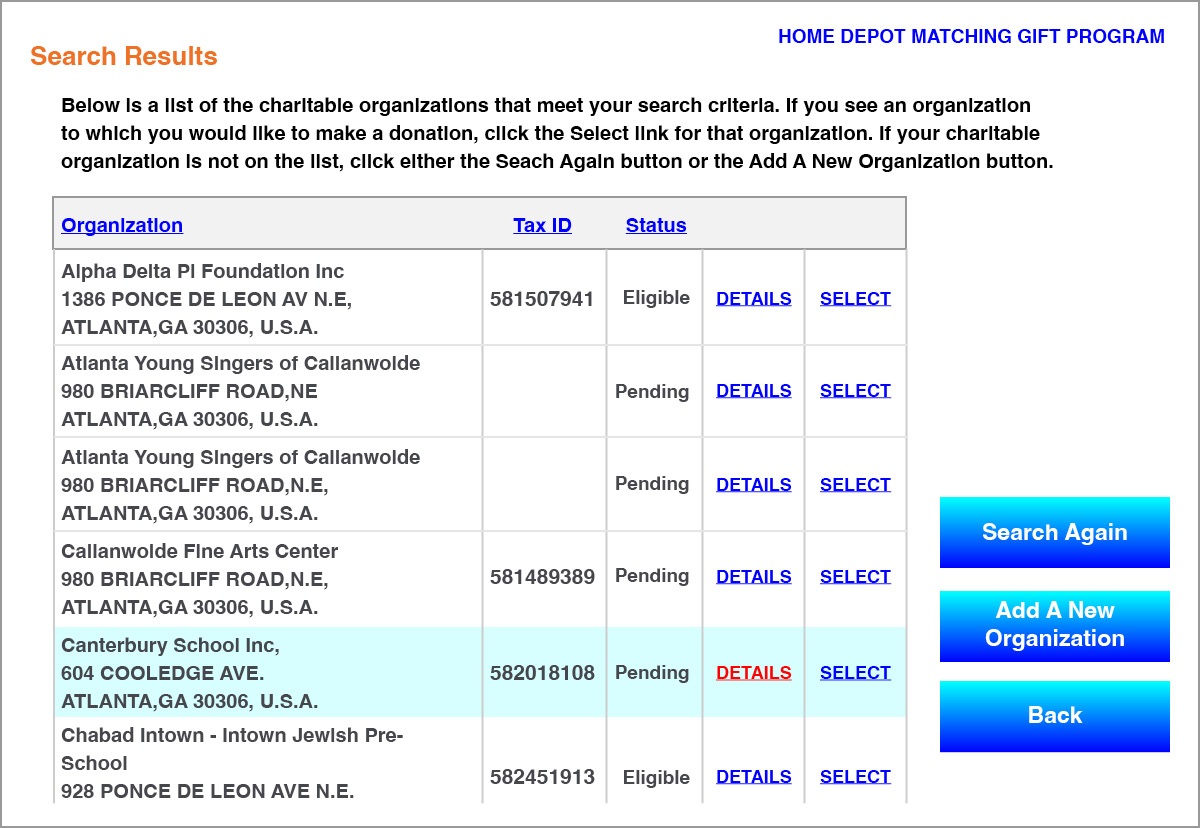 If the organization is not found, the individual is typically able to add a new organization by manually entering the nonprofit's information—such as their mailing address and tax ID number⁠—to submit their match request.
4. The employee registers their donation.
After selecting the correct organization from the provided list, the employee donor is then able to provide details about their most recent donation to the nonprofit. Information requested will typically include:
Payment type
Donation amount
Donation currency
Date of payment
Match amount requested (as calculated using the company's predetermined matching ratio and maximum match amount)
Optional anonymity or memorial status
Optional donation program designation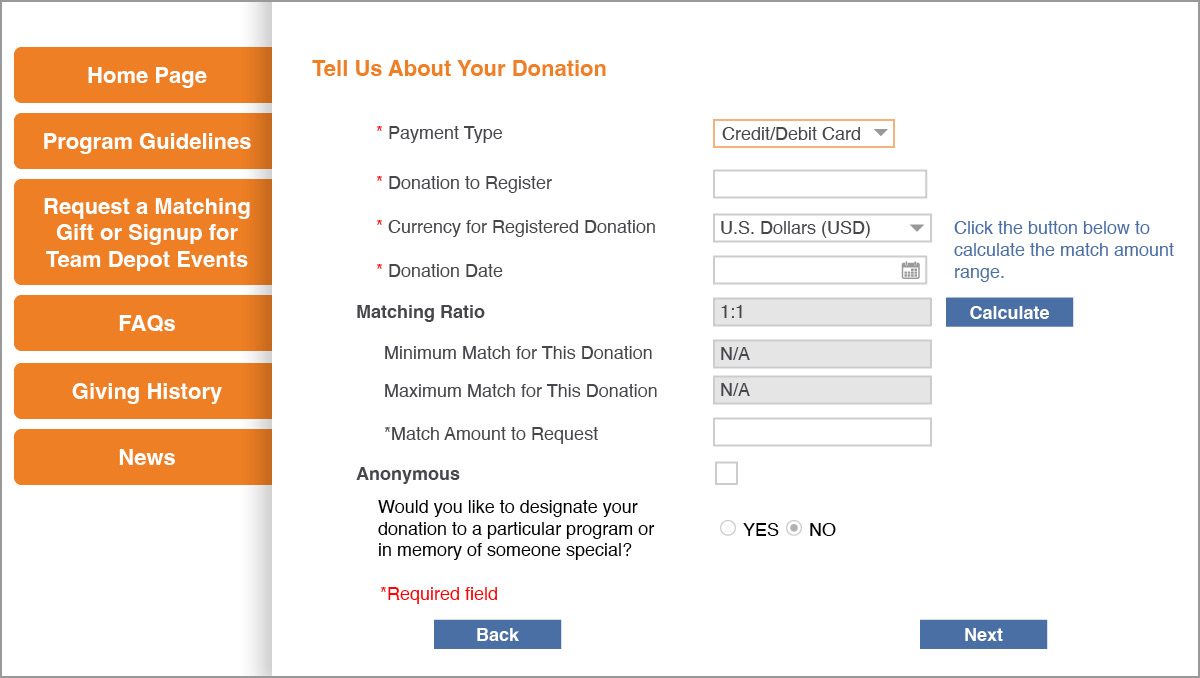 Ultimately, this data will be reviewed by the donor's employer (or matching gift management provider) to ensure the donation meets the company's matching gift eligibility criteria.
5. The employee submits their matching gift request.
This final step is the simplest of them all!
After providing detailed information about their nonprofit donation, the donor is asked to review the information for accuracy and submit their gift request to the company for processing and review.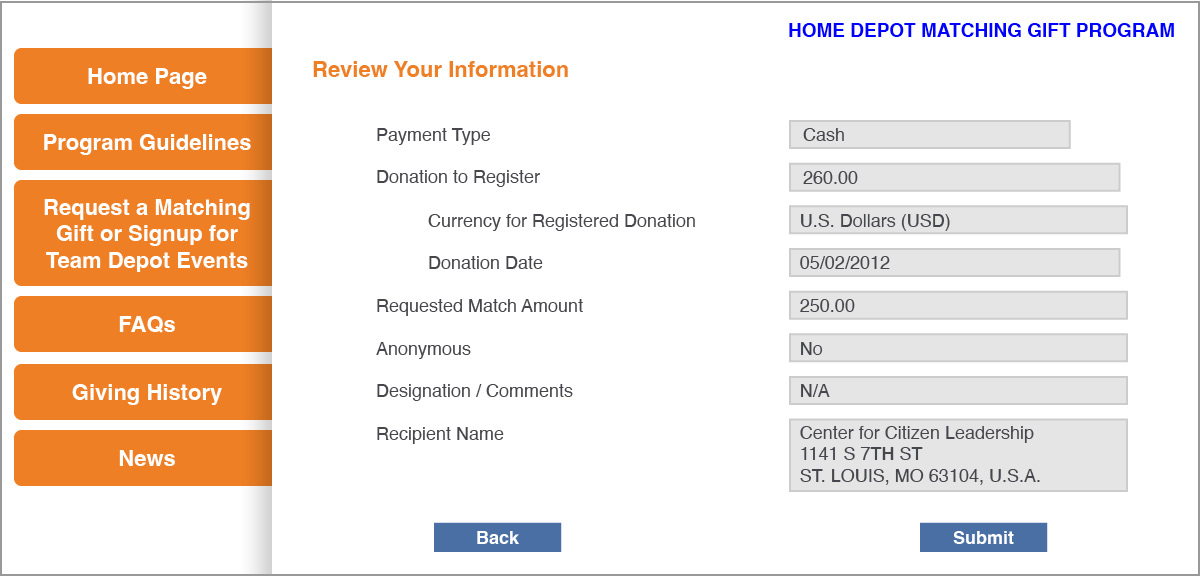 However, Double the Donation has recently rolled out an all-new streamlined way for donors to submit their matching gift requests with matching gift auto-submission.
NEW! Matching Gift Auto-Submission with Double the Donation
With new auto-submission functionality, Double the Donation enables donors to bypass steps 1-5 highlighted above and complete their matching gift request more quickly than ever before. And it can all be done directly from an organization's gift confirmation page!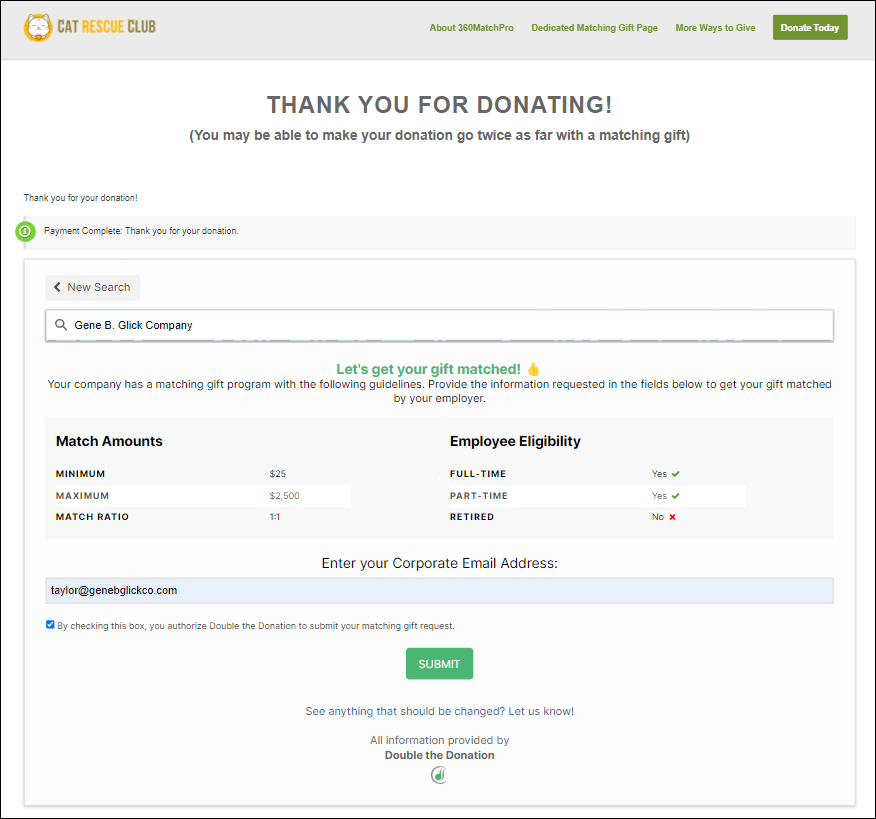 Here's how it works: During the giving process, donors are prompted to enter their employers' names as usual. If an individual works for a company that has auto-submission enabled through their corporate giving platform, they are flagged as auto-submission-eligible.
Once they are redirected to their thank-you screen, the individual is prompted to enter their corporate email address (or potentially another piece of information to verify their identity) and authorize Double the Donation to submit the match request on their behalf.
From there, Double the Donation processes the matching gift request behind the scenes, passing data pertaining to the initial gift along to the CSR platform used by the individual's employer to review the submission.

Step 4: The employer reviews and verifies the match request.
At this point, the donor will have completed their portion of the matching gift process⁠—and the rest will fall on the nonprofit receiving funds and the company contributing funds, respectively.
Now, the employer will typically review the employee's matching gift request and ultimately determine whether to approve the matching donation. One of the key stages in this process involves the matching company ensuring that the initial donation was actually made. Otherwise, they won't want to match a nonexistent donation!
While some companies manually verify each donation, many utilize gift receipts as proof of an individual's personal contribution. In this scenario, the company will simply analyze the provided donation receipt and matching gift request to ensure the donation meets the company's matching gift standards. If so, the donation match will be approved.
In other cases, however, the organization's team will be responsible for verifying that the original donation was made as reported to the donor's employer. When this occurs, the nonprofit will be required to attest to the validity of the original donation in order for the company to issue its matching gift.
(Tip: if you do get a request for donation verification, see to it as quickly as possible to avoid unnecessary delays in the matching gift disbursement process!)

Step 5: The employer matches the donation.
Once the original donation is verified and approved, the actual disbursement process is triggered. As a result, the company offering the matching gift will issue its corporate donation in the amount offered by its matching program (typically at a dollar-for-dollar rate of the employee's initial gift, but depending on the preset matching gift ratio).
Here are a few things for organizations to consider when it comes to this step in the matching gift process:
Disbursement schedules
Different companies have different disbursement schedules, so it may take a while for companies to process the verification and issue the check. Many businesses opt for a monthly distribution, but more information about a specific company's timeline can often be found online or by using a matching gift program database.
Grouped donation matches
If a company receives multiple matching gift requests from multiple employees to the same nonprofit, they may decide to combine the matches together in a single donation.
For example, let's say Ashley requested a donation match for $100 and John requested a match for $500, both to the Cat Rescue Club. Ashley and John's employer, the Home Depot, may provide the Cat Rescue Club with one check worth $600 rather than two separate donations.

Bonus Step: The nonprofit thanks its donors!
Though this final step is not technically required for organizations looking to increase corporate revenue with donation-matching, recognizing donors for their participation is a critical component of an optimized matching gift process.
Consider this sample recognition message, which reads:
"Dear Jenny,

Thank you for your generous support of Cat Rescue Club.

We are pleased to inform you that we have just received a corporate matching gift as a result of your recent contribution. We appreciate the time you took to initiate the matching gift process.

Cat Rescue Club greatly appreciates your continuous support.

Sincerely,

Matching Gifts Manager
Cat Rescue Club"
Following up after receiving a match enables your team to close the loop that may otherwise be left open. If a donor is never made aware that their match request was successful, they're not likely to participate in a matching program again in the future. When you confirm the completion of the match, however, you leave a positive impression of both your organization and the matching gift process for donors to hold onto.
Not to mention, sending out a thank-you message after collecting a matching donation allows you to communicate your appreciation of the donor and their support. Once again, feel free to remind the individual of the increased impact that their matching gift has brought to your cause.
---
Matching gifts can seem like an immense task for nonprofits and donors who are unfamiliar with the programs and all they entail. When you take a closer look at what's really involved, however, getting your donations matched is entirely doable⁠—some might even say easy!
Just remember, equipping your team with the right tools for the job is essential, especially for those looking to further streamline and simplify the matching gift process from start to finish.
Interested in learning more about the matching gift process and other strategic corporate fundraising opportunities? Check out our other educational resources: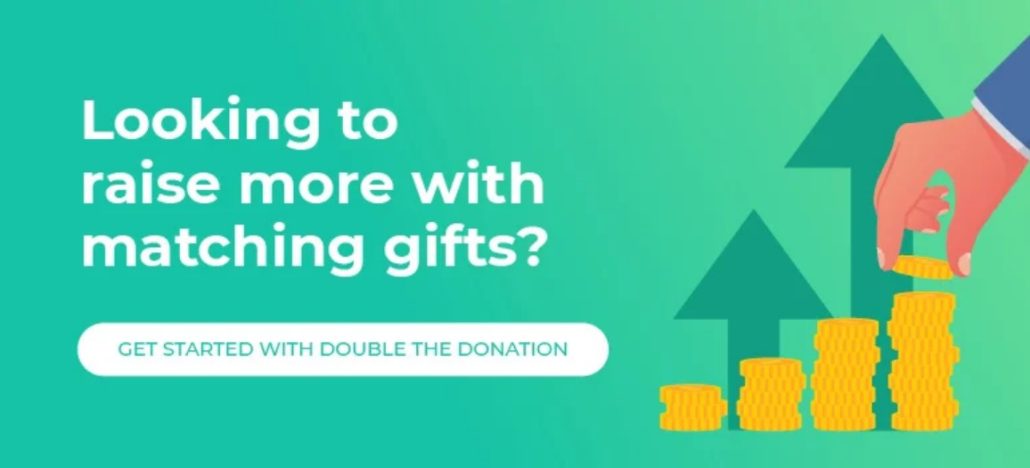 https://doublethedonation.com/wp-content/uploads/2022/05/DTD_Matching-Gift-Process-A-Complete-Step-by-Step-Guide_Feature2.jpg
550
1450
Adam Weinger
https://doublethedonation.com/wp-content/uploads/2022/03/logo-dtd.svg
Adam Weinger
2022-05-31 16:00:26
2023-10-09 15:21:36
Matching Gift Process | A Complete Step-by-Step Guide