What to Know About Custom (or "One-Off") Matching Gift Programs
Tons of companies offer generous gift-matching programs where the business agrees to match donations made by employees to a wide range of charitable causes. Those are great⁠—and relatively well-known in the nonprofit space. However, there's another type of corporate matching program that's less widely understood, and that is custom (or "one-off") matching gift programs.
One-off matching gift programs generally involve specific partnerships between one corporation and one nonprofit organization. And the results can be grand!
If you're interested in making the most of corporate matching opportunities for your mission, you've come to the right place. In this guide, we'll walk you through a series of questions and answers pertaining to one-off matching initiatives:
Ready to dive in? One-off matching gift programs have the potential to bring your organization's corporate fundraising to the next level.
Let's start with the basics.
What are custom (one-off) matching gift programs?
Custom matching gift programs are those that are unique to a single organization—in this case, yours! You may hear this type of partnership described in a few ways, including custom matching gift programs, one-off matching gift programs, or even unique matching gift programs. Regardless of the term used, the bottom line is the same: a company works with an organization to facilitate a matching gift program with narrower criteria than a standard match program would have. Specifically, donations to your nonprofit are the only ones being matched.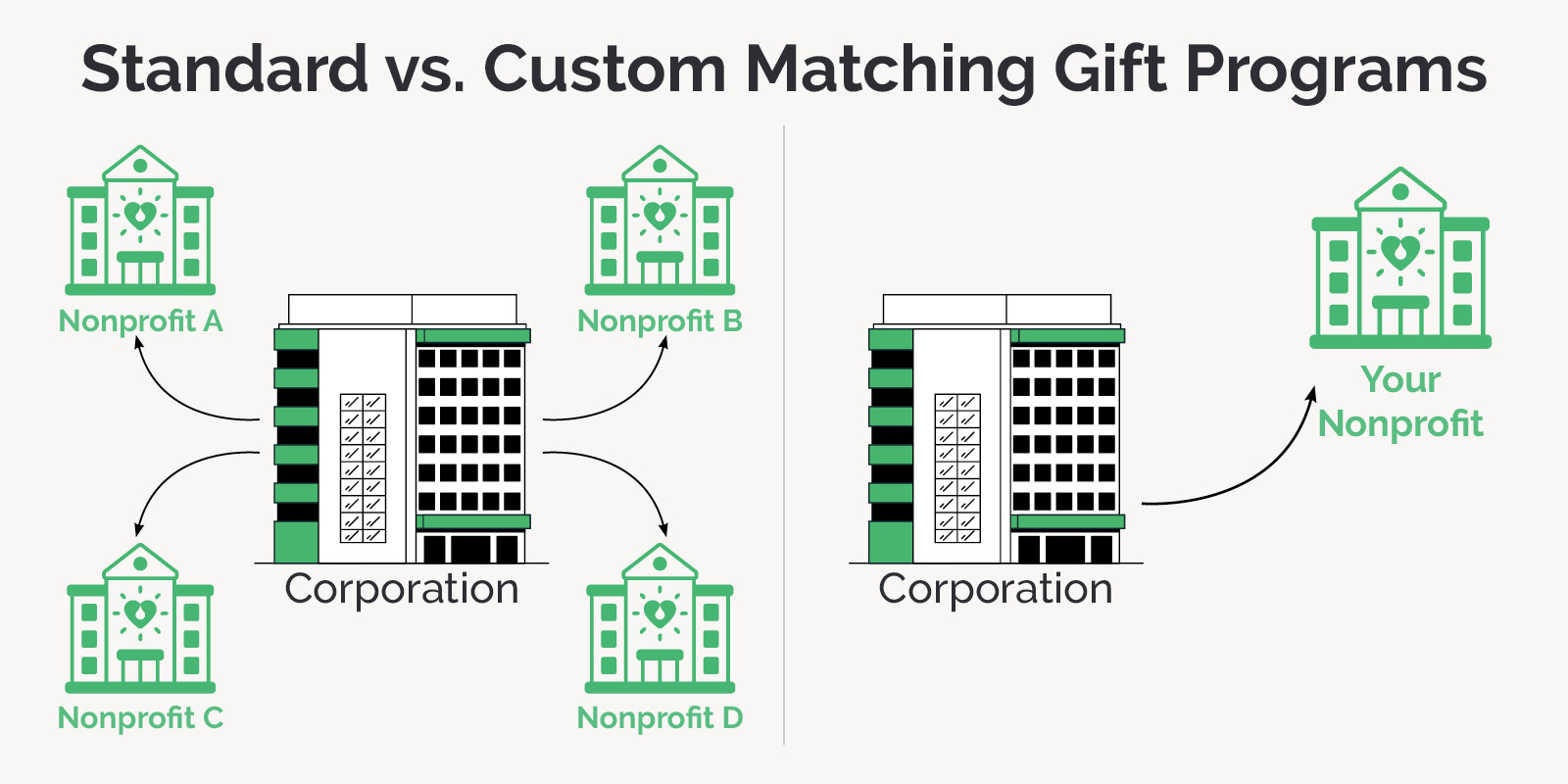 You might wonder why a company would offer this particular type of donation-matching initiative. Picture this: let's say you run an organization dedicated to breast cancer research and treatment services. Now, imagine a corporate CEO has a soft spot for missions like yours. They come to your nonprofit team with a proposal: They'd like to match employee donations to your organization throughout the span of Breast Cancer Awareness Month.
While the company may not typically have the bandwidth to match all team member donations, a one-off matching gift program can serve as an excellent jumping-off point to get involved with corporate philanthropy. Alternatively, the business might offer a traditional matching gift initiative with a 1:1 ratio year-round⁠—but choose to elevate giving during particular times (or to particular causes) by offering a temporary 2, 3, or even 4:1 match through a custom program.

Double the Donation's custom match program functionality [with auto-submission]
If you've made an effort to elevate corporate fundraising at your organization, you've likely invested in a matching gift automation software like Double the Donation. This tool makes it quick and easy for you and your donors to locate information regarding thousands of matching gift companies.
If a company doesn't offer a widely available matching gift program, however, they likely won't show up in a search of the database tool.
But when you've organized a custom matching gift program with a corporate partner, you want your donors to seamlessly locate the information they need to get involved.
Luckily, Double the Donation has the solution: built-in functionality for managing unique matching gift programs in 360MatchPro. That means you can add matching gift programs specific to your cause into your matching gift search tool⁠—without it populating in other organizations' databases as well.

While this functionality has previously been available exclusively for 360MatchPro Enterprise clients, we're excited to announce that all 360MatchPro Standard accounts now have access to our unique program management tools!
*As a note, this feature is designed specifically for fundraisers looking to manage custom matching gift initiatives—360MatchPro does not work directly with corporations. If you're a company interested in creating a matching gift program, contact us, and we'll share information about our corporate vendor partners.
Adding a Custom Program in 360MatchPro
Already have a corporate partner offering a custom matching gift program for your organization? To add your unique campaign to your nonprofit's matching gift database, log into the backend of your 360MatchPro portal and fill out a brief form regarding the offered program (under the settings tab → Manage Programs).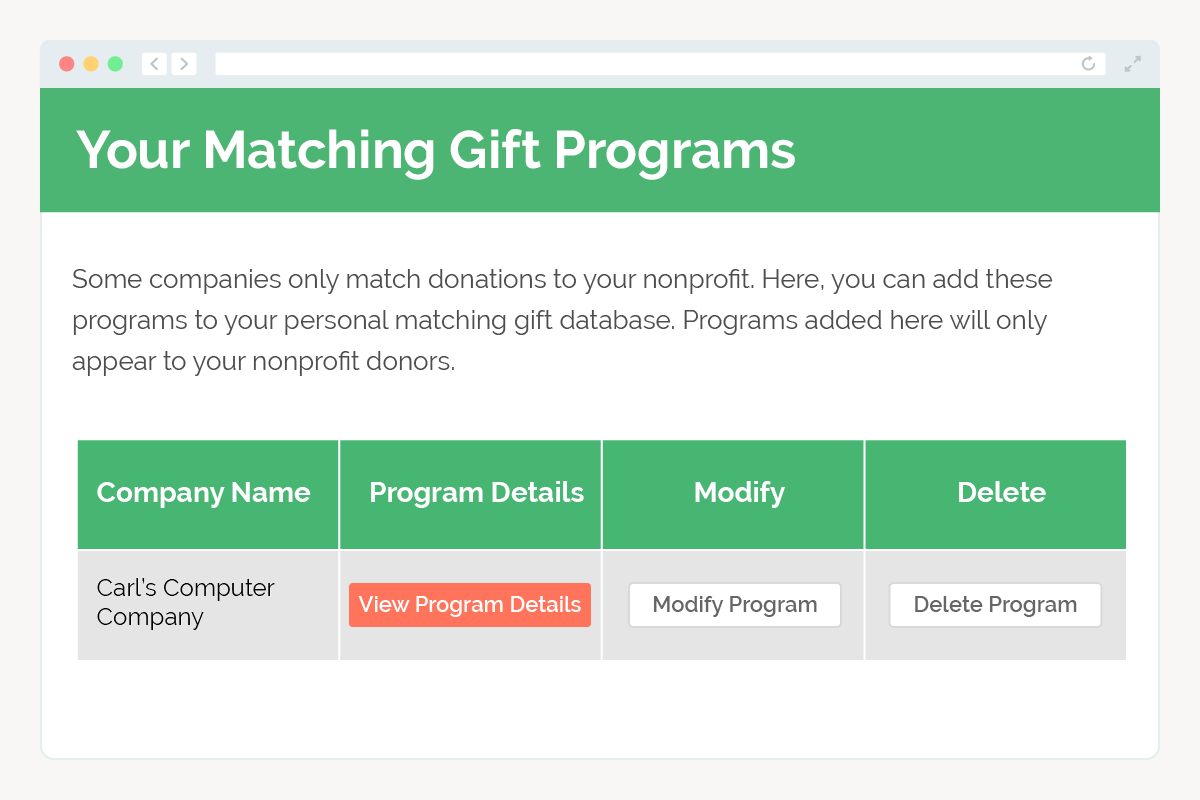 Upon providing your matching gift partners' agreed-upon program guidelines and parameters, you can save the program in your database. To do so, you'll be asked for the following details:
Company name
Contact information (e.g., the company's workplace giving coordinator or HR department), email address, and phone number
Eligible employees (full-time, part-time, and/or retired team members)
Minimum and maximum donations matched
Matching gift ratio
Submission form URL or PDF upload and an overview of the request process
Program start and end dates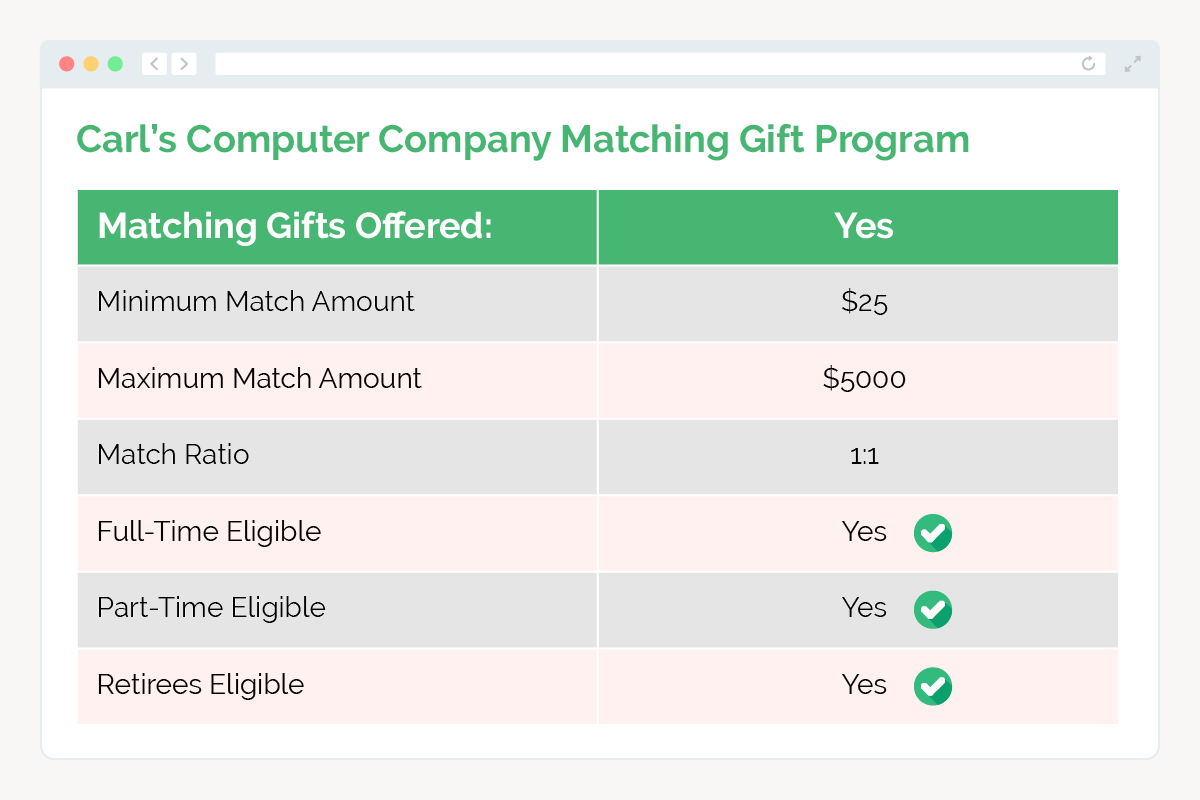 And from there, the custom matching gift initiative will begin populating within eligible donors' queries!
Enabling Auto-Submission for Your Unique Program
In the same form, your team will also be asked whether you'd like to enable optional auto-submission functionality for the matching gift program. This essentially enables Double the Donation to pre-fill a request form on the donor's behalf, thus streamlining their experience and increasing engagement rates!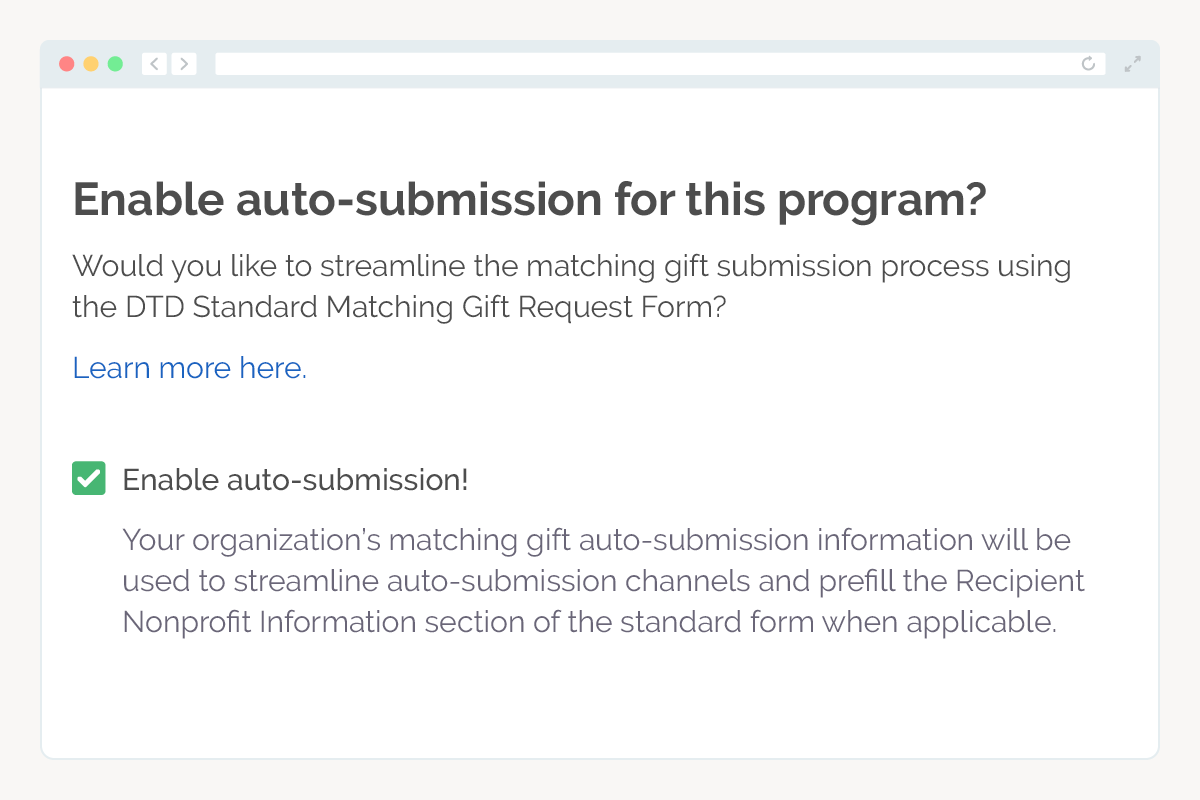 In order to see the best results from auto-submission forms, be sure to also fill out your comprehensive Organization Profile (under the settings tab → Organization Profile) within 360MatchPro.
This resource should include vital and up-to-date information about your nonprofit that will then be used to automate donors' submission request processes. Details should include:
Organization's name
Phone number
Tax ID number (or EIN)
Website URL
Full mailing address
Form W-9
501(c)(3) IRS affirmation letter
In the end, it increases the likelihood that matches are completed without a hitch⁠—leading to more matching gift funds flowing into your cause in a timely manner.
(Hint: Your Organization Profile helps streamline auto-submission for other companies' general matching gift programs as well!)
Locating a custom corporate matching gift partner
One-off or unique matching gift programs are, by definition, developed on an ad hoc basis. Luckily, that opens up a world of possibilities⁠—because just about any company could offer such a program.
We recommend taking a similar approach in your search as you might pursue a traditional corporate sponsorship. This might mean:
Identifying companies your donors work for that don't have existing matching gift programs.
Reach out to them, share that you have a lot in common with them already (your donors and their employees), and would like to launch a one-off donation-matching initiative. Point out that it can be a great way to get into corporate giving⁠.
Encouraging donors to advocate for a one-off matching program on your behalf.
Your donors can be some of your greatest assets! If they work for companies without existing programs, see if your supporters would be willing to pitch the idea to their employer on your behalf.
Suggesting unique opportunities for amplifying existing matching gift programs.
Perhaps there's a company that you receive a lot of matching gifts from already. Consider proposing the idea of an increased match ratio to set your prospective one-off program apart. This can be a great place to highlight well-known giving days, awareness and affinity months, and more as key motivators for increasing the standard match for your organization.
Throughout your search, keep an eye out for companies with similar missions and visions as your own. This will help ensure your values align with one another and can maintain a mutually beneficial partnership. And don't forget to mention the vast benefits to participating companies as well!
Then, once you've identified a corporate partner, be sure to determine specific program guidelines to define the opportunity. Like a traditional matching gift program, these criteria are established by the corporate donor and typically include:
Minimum and maximum donation amounts;
Matching gift ratios;
Types of qualifying employees (i.e., full-time, part-time, retired);
Submission deadlines;
Forms and request processes.
In this regard, the only difference between a one-off and a standard match program is the nonprofits eligible for funding. Because that question is easy⁠—the applicable organization is yours!
Still, it's a good idea to discuss associated criteria with your matching gift partner before rolling out your program. This will enable your team to better communicate eligibility standards and ensure match requests have the required information for approval.
Key benefits of one-off matching gift programs for nonprofits
Though narrower in scope, one-off matching gift programs offer many of the same benefits that traditional matching gift programs do. Plus, this unique offering can unleash a number of exclusive advantages just for your cause.
These include:
Building deeper connections with charitable-minded corporations.
Whereas a typical matching gift program may lead to a company contributing to hundreds or thousands of nonprofits, a one-off matching gift program is just between you and your corporate partner. Therefore, it provides enhanced opportunities for strengthening your relationship. You might even be able to turn it into a recurring program!
Widening your fundraising reach to encompass new supporters.
When promoted effectively, one-off matching gift programs have the potential to direct first-time donors to your organization. A company's employees may otherwise never have been made aware of your cause. But when their employer highlights the giving opportunity, your nonprofit is at the forefront of their minds. You might even uncover some new, long-term supporters this way!
Elevating donor engagement with unique match opportunities.
Perhaps your one-off matching partner employs individuals who are already involved with your cause. You have the chance to further their engagement through the program, too! In fact, studies show that simply mentioning matching gifts in donation appeals results in more than a 71% increase in response rate and a 51% increase in average gift amount.

Best practices | Top tips for successful custom matching programs
Want to take your organization's unique matching gift program to the next level? Consider these smart tips and tricks to better engage your donors and your corporate partners.
1. Encourage your corporate partner to promote the program to employees.
A matching gift program is only as good as the employees who know about it. Uninformed team members, after all, are not likely to benefit from available corporate matching. Thus, they're not sending additional match revenue your way.
One of the best things a company can do to drive corporate giving participation⁠—and, as a result, get the most out of its program offerings⁠—is to make its employees aware of the opportunity in the first place. From the nonprofit's end, it's a good idea to encourage proactive employee outreach in order to aid your partner in doing so.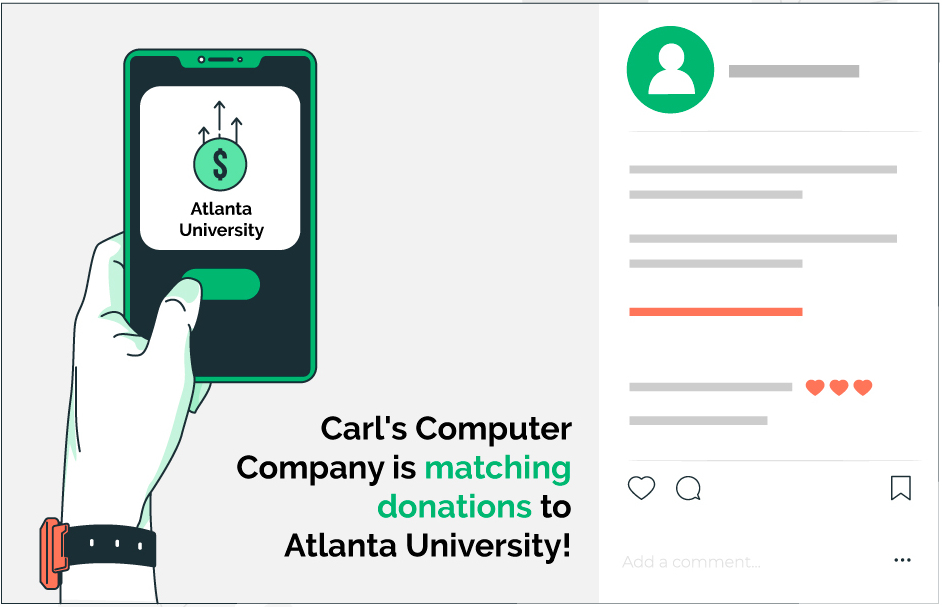 Your team can even help drive the efforts by sending co-branded graphics, social sharing templates, sample communications, and more.
2. Market the opportunity to your audience.
Just like you expect your matching gift partner to promote your one-off program to their employees, it's a good idea to market the opportunity to your audience as well. This might include:
A social media post highlighting the program and recognizing your matching gift company for their generosity;
A blog post on your organization's website sharing program information and how to get involved, if applicable;
Personalized outreach (phone calls, emails, letters, etc.) to existing and prospective donors who work for the company hosting your unique match program.
Plus, by sharing co-marketing materials with your organization's network of support, you can help provide additional benefits to the matching gift company. When they recognize significant value from your partnership, the company will be more likely to offer workplace and corporate giving initiatives alongside your organization in the future.
3. Enable auto-submission functionality to streamline participation.
You want your donors to be able to take part in your matching program as easily as possible. One of the best ways to simplify participation is to implement Double the Donation's auto-submission functionality⁠—essentially removing obstacles and driving more requests to completion.
Why does this matter? Unfortunately, custom matching gift programs can suffer from many of the same roadblocks that traditional programs face. For example, common hindrances include a lack of understanding surrounding the matching gift request process from the donor's perspective.
With auto-submission enabled, however, eligible donors can complete their match submissions right from your donation forms with no redirects, separate logins, or paper forms required! All donors typically have to do is enter their corporate email address on your gift confirmation page. Then, voilà⁠—Double the Donation handles the rest of the submission process using our standard request form behind the scenes.
By incorporating auto-submission for your unique matching gift program, everybody benefits! For example:
Your organization receives increased matching gift revenue and elevated donor engagement.
Your donors save time with one-click matching gift requests, enabling them to make the most of their nonprofit contributions without dedicating more time and resources.
Your corporate match partner sees maximal program usage, more satisfied employees, and a positive brand image.
Step 1) An employee of your corporate matching company makes a donation on your organization's website and enters the company name.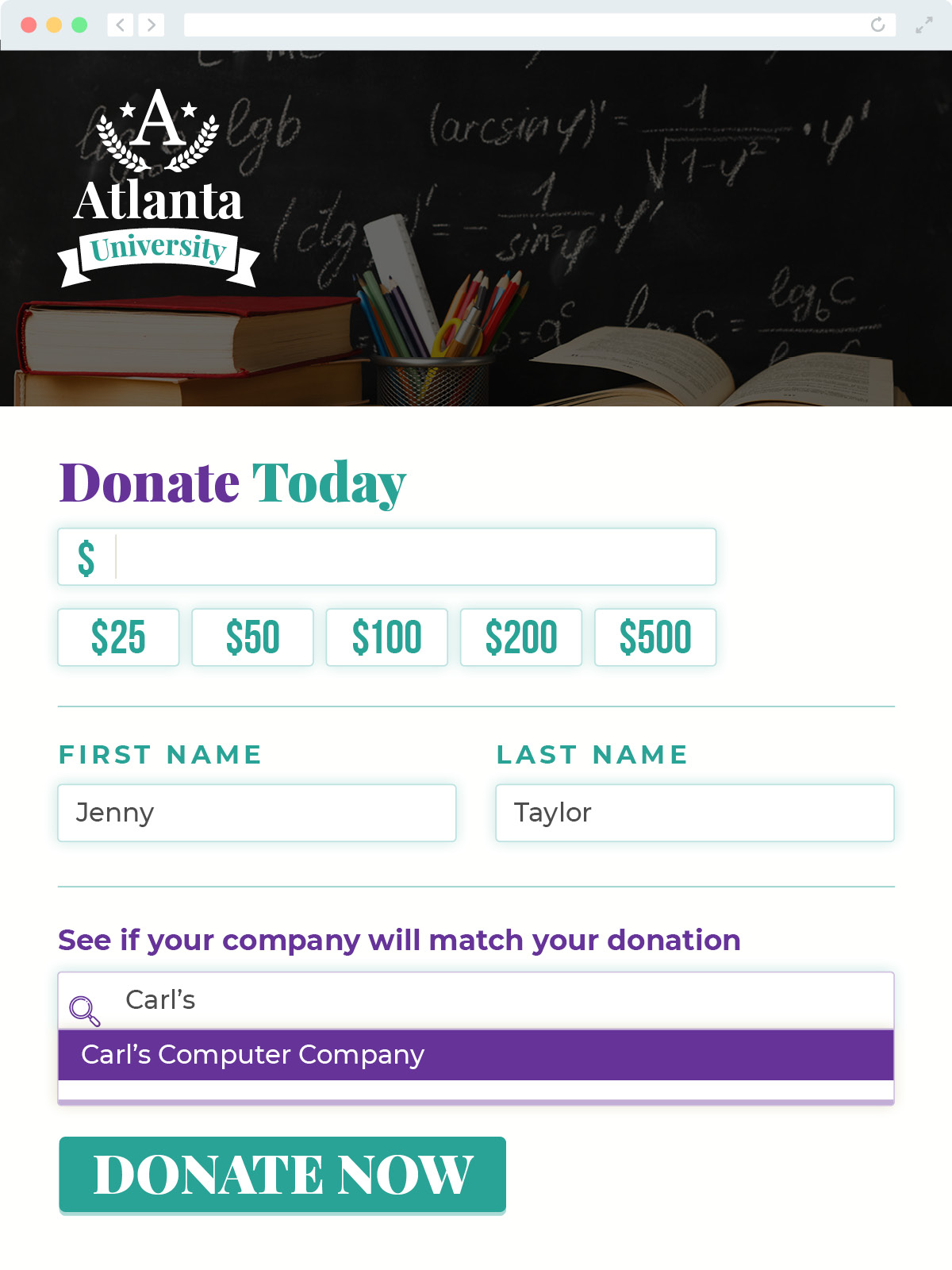 Step 2) The donor enters their email on the confirmation screen, authorizing Double the Donation to auto-submit their match request.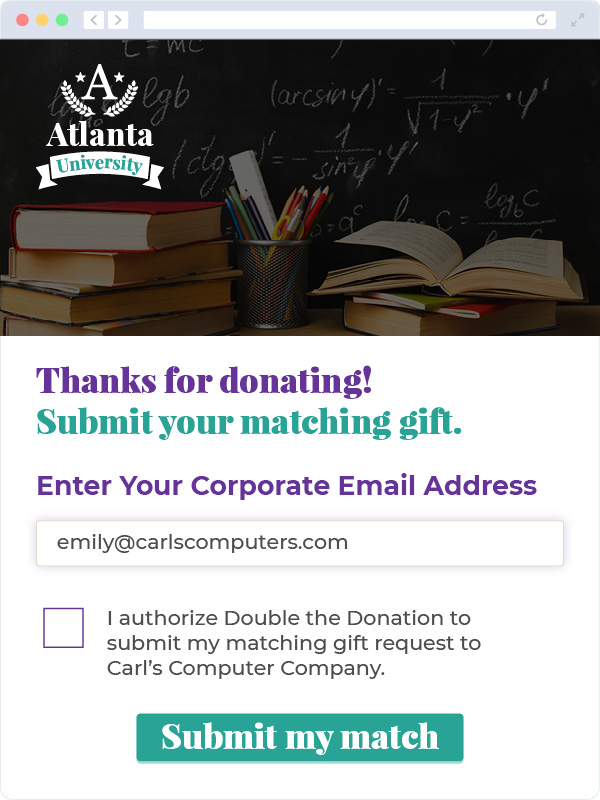 4. Pitch an annually recurring custom match program.
Most custom matching gift programs are going to be organized as a short-term campaign initiative (for example, a company supporting a breast cancer research nonprofit during the month of October or an LGBTQ+ advocacy organization in June). However, that doesn't mean that the partnership has to be a one-and-done experience!
Instead, pitching your custom matching gift program as an annually recurring event is a great way to grow your relationship with a corporate donor and its employees for the long term. You can even position the first month as a "trial run," allowing both your organization and the company to fine-tune the program and ensure it aligns well with your shared goals and values over time.
Alternatively, your custom match efforts might inspire the corporate partner to dive in fully with matching gifts⁠—rolling out an evergreen program in conjunction with a dedicated CSR platform to simplify ongoing management.

Bonus: An inspiring case study, "The Power of a One-Off Match"
If you're wondering what kind of impact a custom matching gift program can have for your organization, check out this example of a successful partnership that resulted in a unique initiative engaging employee donors at new heights.
As you read, consider which elements of this strategy you can implement in your own team's efforts.
The Leukemia & Lymphoma Society (also known as LLS) is a key player in the fight against blood cancers, dedicating its mission to medical research, education, advocacy, and more. As one of the world's largest peer-to-peer fundraising organizations, the LLS team has always been at the forefront of innovation to further its cause⁠—including with a particularly well-established corporate matching gift strategy.
Meanwhile, Danaher Corporation, which comprises some of the world's most groundbreaking science and technology companies, expresses a forward-looking mission of "making things better for our customers, our company, and the world." Its focus on diagnostics, life sciences, and biotechnology⁠—in addition to a desire to support organizations working to advance healthcare innovation⁠—make its partnership with LLS a natural fit.

By offering a custom matching gift program in partnership with LLS, Danaher Corporation was able to increase its total giving by more than 150%, surpassing its initial fundraising goal and elevating its impact greatly. The Danaher team, with an employee count of over 70,000, got on board to give back to their communities in a substantial way.
And as a result, the company continued to grow its matching gift initiatives after the fact! In addition to taking its match program global, Danaher also plans to venture into skills-based volunteerism, nonprofit board service support, and Volunteer Time Off (VTO), demonstrating a holistic and ongoing approach to corporate giving.
---
Wrapping Up
Sourcing a one-off matching gift program may be one of the best ways to make your organization stand out from the crowd. And it will enable you to grow mutually beneficial corporate relationships that can last long beyond the matching program itself.
Not to mention, with the right tips, tricks, and tools, getting started has never been easier.
Interested in learning more about matching gift programs and best practices for elevating corporate fundraising at your organization? Check out our recommended resources: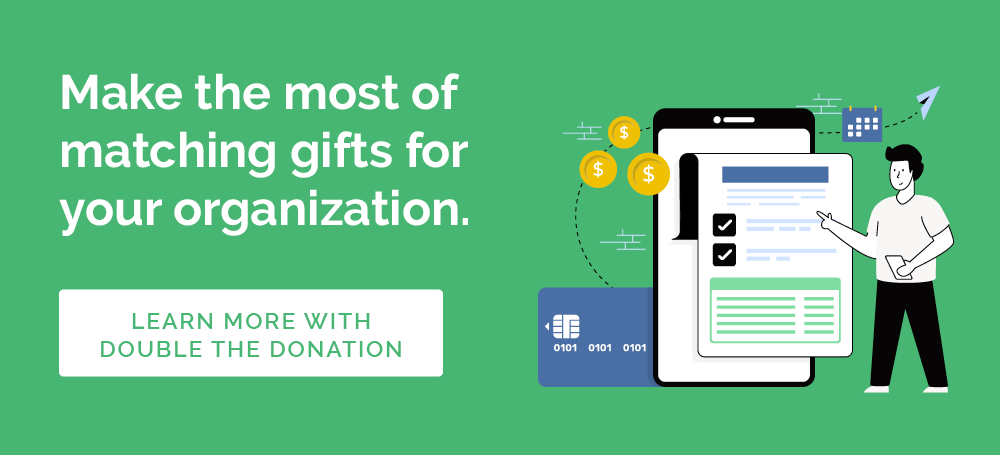 https://doublethedonation.com/wp-content/uploads/2023/09/DTD_What-to-Know-About-One-Off-Corporate-Matching-Gift-Programs_Feature-2.jpg
600
1600
Adam Weinger
https://doublethedonation.com/wp-content/uploads/2022/03/logo-dtd.svg
Adam Weinger
2023-09-19 05:00:53
2023-10-09 15:40:31
What to Know About Custom (or "One-Off") Matching Gift Programs