How to Advocate for a Matching Gift Program to Your Employer
Matching gifts are one of the simplest and most impactful ways for nonprofit donors to amplify their support for their favorite causes. Unfortunately, not all companies offer these initiatives⁠—which is why you're searching for best practices on how to advocate for a matching gift program.
You've come to the right place! Double the Donation is full of experts on matching gift programs, and we've compiled a list of easy tips for individual employees to take in order to effectively communicate the value of matching gift programs to the corporate leaders at their company.
Specifically, we recommend taking the following steps:
In this guide, we'll walk through each practice in detail. Ready to learn more about how to convince your boss to build a matching gift program?
Let's begin!
1. Cover the basics of matching gift programs.
First things first, it's a good idea to begin with a solid foundation of knowledge regarding workplace giving programs and matching gifts. Not only will this help you to understand the value of the constantly growing opportunity, but it can also enable you to better advocate for the programs to your employer.
Matching gifts are one of the most popular forms of corporate philanthropy⁠—both in terms of the number of programs available and the high regard for the initiatives among companies, employees, and nonprofits alike.
This is typically an ongoing opportunity where a company agrees to match monetary donations their team members make to qualifying nonprofit causes. For example, Employee A decides to contribute $100 to Nonprofit B. Employee A then submits a match request to their employer, Company C. Company C reviews the submission, verifies the initial gift, and makes their own corporate donation to Nonprofit B. In the end, Nonprofit B receives double the funding, while Employee A is able to see their dollars make a larger impact and their employer support the causes that they care about.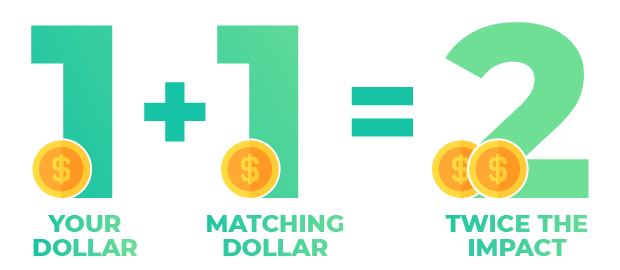 It helps to make your request as detailed as possible so your employer knows exactly what your matching gift program entails and isn't surprised down the line. A helpful timeline to include is the general steps of starting a matching gift program. Consider these essential steps from re: charity's Guide to Starting a Corporate Matching Gift Program:
Establish your minimum and maximum giving amounts

Determine which types of causes and which employees are eligible for participation 

Create a submission process

Launch your program
Most matching gifts go unclaimed due to employees being unaware that their company offers a matching gift program. Thus, your company should prioritize promoting your program to employees so it can achieve its maximum potential.
You may also want to take the opportunity to highlight typical matching gift parameters. Each company that builds a matching gift program has the chance to set its own matching gift ratio, minimum and maximum match amounts, submission deadline, and more. They can even determine which types of employees and nonprofits are eligible to participate, thus tailoring the program to meet the company's specific needs and abilities.
In order to provide some more context into what existing companies are doing, we also have key statistics and benchmarks that can be shared. For example, 93% of companies have a minimum match requirement of less than or equal to $50, with the average landing at $34. On the other end of the spectrum, 80% of companies' matching gift maximums fall between $500 and $10,000 annually per employee, for a mean of $3,728. And when it comes to ratios, 91% of companies match at a 1:1 rate, while 4% match at a lower rate (such as .5:1) and 5% match at a higher rate (such as 2:1, 3:1, or even 4:1).
2. Explain the benefits of matching employee gifts.
Once you have the basics of matching gift programs down, it'll be essential to understand and communicate the range of ways in which a company can benefit from offering employee matching gifts. As your employer considers developing a matching program, it's important to continuously highlight the value that will be derived from it.


Specifically, we can break things down into both internal and external advantages.
Internal
People want to work for companies that support the greater good. That's why businesses that give back to the community tend to see:
In fact, research shows that over 77% of surveyed individuals report a sense of purpose as part of the reason they selected their current employer, while more than 54% of employees who are proud of their company's contributions to society report being fully engaged in their job. Even more, 55% reported being willing to take a pay cut to work for a socially responsible company.
Corporate leaders know that a positive work environment is essential to running a successful business. Thus, philanthropy is key⁠—and giving directly to employees' favorite causes through matching gifts can produce even greater results than supporting nonprofits in a more general sense.
External
The reasons to launch a matching gift program don't stop at internal benefits, either. Companies can also see substantial advantages when it comes to their consumers.
Research into CSR, and specifically matching gifts, reports that 77% of consumers are motivated to purchase from companies committed to making the world a better place and that over 90% of consumers are likely to switch to brands supporting good causes. Plus, 66% of consumers would pay more to socially and environmentally responsible businesses.
Thus, if businesses are looking to best appeal to their buyers, they know to contribute to nonprofit causes and that matching gifts are an effective way to do it. Because consumers are now expecting⁠—and even demanding⁠—social responsibility from their favorite brands, not participating in such programs can even cause businesses to lose out on a major competitive advantage.
3. Highlight similar businesses with matching gift programs.
One of the most impactful ways to persuade your employer to launch a matching gift initiative is to show them a number of well-known businesses that are already doing so. It's its own kind of social proof! They'll see other companies, perhaps even their competitors, benefiting from matching employee donations and be increasingly inspired to get involved.
You can even provide examples based on the industry in which you're employed. For instance, let's say you work for a bank. You may consider the following companies' match programs as a model:
Meanwhile, if you work for a retailer, you might highlight programs from companies like these:
Perhaps you're employed by an airline. In that case, get inspired by Alaska Airlines' matching gift program. Work for a hotel? Check out Choice Hotels' standout program!
Or, if you want to provide a few matching gift companies in the same area as your employer, we've produced several geographic-based lists to help. Encourage your company to look at examples of powerful matching gift programs in Boston, Atlanta, Philadelphia, New York, Seattle, Dallas, Denver, Detroit, Miami, Baltimore, Los Angeles, and so on. Just search "matching gift companies in [the city of your choice]" to locate even more inspirational programs.
The bottom line is that there are tons of existing matching gift companies to aspire to. By sharing sample programs with your employer, you can help inspire them to take steps to develop their own initiative.
4. Share resources to streamline program development.
One of the most significant roadblocks for many companies interested in matching gifts is that they simply don't know where to start. You can help remove obstacles before they occur by sharing useful resources from the beginning.
For example, we created a step-by-step guide on how to establish a matching gift program for companies in situations just like this. This resource covers key undertakings, which include setting a budget and objectives, determining eligibility criteria, promoting the program to employees, tracking data and making improvements, and more. Or we've also created a free downloadable template that companies can use to customize their program policies.
If you're interested in other corporate-facing assets, we have these resources as well:
Feel free to forward the guides to your employer to help kick things into action.

5. Emphasize simplicity with auto-submission and CSR platforms.
A common hindrance for new companies considering exploring matching gift programs is that it can seem like a significant undertaking—both in terms of getting the program off the ground as well as managing matching gifts in the long run. Luckily, dedicated technology known as CSR or corporate giving platforms enable businesses to launch and facilitate matching programs with ease.
In order to overcome this potential roadblock with your employer, we recommend coming prepared with information about such solutions and how they can help. For example, some corporate giving technology empowers companies and their employees to give quickly and easily with new matching gift auto-submission abilities made available through tightened integrations between nonprofits, donors, companies, and employees.
This innovative functionality allows employers to decrease time spent on matching gift requests for themselves and their employees, consequently resulting in more completed matches, and amplifying the ROI of these programs.

6. Use a template to communicate your request.
Now, it's time to put everything together and begin actively advocating for a matching gift program at your company. During this stage, you want to ensure your matching gift program request is as well-thought-out and well-written as possible. You also want to make sure you can hit all the points discussed above.
Get a headstart on drafting a message to your employer by utilizing a customizable template like this:
Subject line: Request for a corporate matching gift program

Hi [manager or HR representative name],

I am writing to request the addition of a corporate matching gift program at [company name].

If you weren't aware, thousands of companies across the globe have begun establishing employee matching gift programs as a way to support their staffs and the nonprofit causes they contribute to. Companies that offer these programs essentially agree to match gifts made by their employees to qualifying nonprofit causes with their own corporate donations.

This is an extremely beneficial program to host for every party involved⁠—including the company, its employees, and the nonprofits they support. For the companies specifically, matching gift programs tend to result in substantial advantages in terms of employee engagement and retention, opportunities to attract competitive candidates, improved brand image, and even increasing sales.

And on the employee's end, team members love knowing that their employer is willing to contribute to their favorite causes; hence, why they end up having longer tenures in the business and seeing higher levels of engagement than ever before.

In order to best understand the impact that matching gifts can have on [company name], I recommend checking out matching programs from well-known businesses such as General Electric, Gap Corporation, Coca-Cola Company, and the Home Depot.

If you'd like to take steps to establish a matching gift program for the company, Double the Donation has provided a detailed guide that walks corporate leaders through the process. You can access this resource here in hopes that it will help simplify the creation of such a beneficial program and use this free template to kickstart your policy creation.

Thank you for your consideration,

[Your name]
[Job position]
[Contact information]
If you choose to go with a face-to-face meeting with management, feel free to use the above template as conversation talking points or a presentation follow-up message instead. Overall, a combination of verbal and written communication touch-points is likely going to produce the greatest results.
---
More and more companies are developing matching gift programs, and your employer just might be one of them. By promoting the opportunity to the decision-makers at the company you work for, you can help communicate the increasing demand for this type of socially responsible corporate initiative.
Best of luck!
Interested in diving deeper into matching gifts and other corporate philanthropy initiatives to help prepare your company for success? Explore our other educational resources here: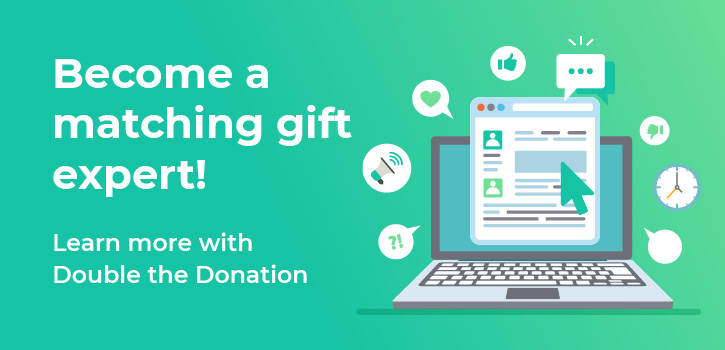 https://doublethedonation.com/wp-content/uploads/2022/07/DTD_How-to-Advocate-for-a-Matching-Gift-Program-to-Your-Employer_Feature.jpg
300
800
Adam Weinger
https://doublethedonation.com/wp-content/uploads/2022/03/logo-dtd.svg
Adam Weinger
2022-08-02 23:42:12
2023-09-12 15:32:54
How to Advocate for a Matching Gift Program to Your Employer