Why Workplace Giving Matters for Nonprofits + Companies
In this day and age, companies are diving deeper into social good. This is largely due to the rise of corporate social responsibility (CSR), which reflects a company's efforts toward improving society.
It's through these efforts that corporate social responsibility programs are created. And one of the biggest programs to come from CSR is workplace giving.
The reasons why workplace giving matters aren't limited to companies, however. Nonprofit organizations all over the world benefit from CSR initiatives, with workplace giving at the forefront. So if you're part of a nonprofit organization and you're wondering why you should care about workplace giving strategies, this guide is a great place to start. Likewise, if you work for a company trying to implement or enhance its workplace giving program, this article will be a great resource for you, too.
Both companies and nonprofits should be focusing on workplace giving—it's a key driver of success from both ends. That's why we're going to cover the following topics:
Workplace giving can have a huge impact on society as a whole, benefiting nonprofits all over the globe. But there's more to it than that. Let's get started.



1. What is workplace giving?
Workplace giving is a company-sponsored program that provides its employees with the opportunity to financially support nonprofit organizations.
Through workplace giving, employees can make charitable donations to the nonprofits they care about.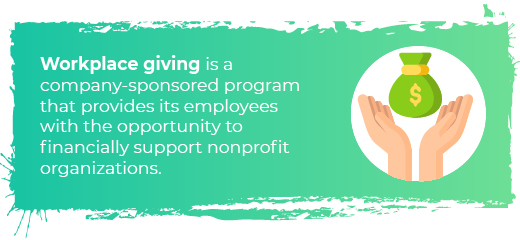 Workplace giving is an umbrella term, which means it takes many forms when it comes to supporting organizations. One of the most common types of workplace giving programs is payroll deductions, through which employees automatically deduct a portion of their paycheck to a charity of their choice.
Payroll deductions and other similar workplace giving programs can result in a larger number of donations to nonprofits. For example, when multiple employees across several companies choose to give part of their paycheck to the same nonprofit, that nonprofit will amass a large amount of funds and support.
But workplace giving extends beyond this. In fact, diversifying workplace giving is one of the best ways a company can get its employees to participate. When you don't limit them to one or two giving options, employees have the freedom to choose how they want to give and actively take part in the process as a result.
As part of workplace giving, companies can choose to:
Match donations.

Corporate matching gift programs

are a form of workplace giving in which companies financially match donations their employees make to nonprofits. When paired with other workplace giving campaigns where employees financially support nonprofits, those donations are essentially doubled.

Offer volunteer grants.

For employees who might not be able to donate financially, they can still donate their time. Employees who volunteer on a regular basis with a nonprofit can submit a

volunteer grant

request to their employer. This means the nonprofit will receive a set amount of money based on the number of hours the employee committed to them.

Participate in annual giving.

During the year-end giving season (generally October through December), donation numbers are even higher than all year round. Many companies run seasonal giving campaigns, encouraging employees to set up automatic payroll deductions to give to nonprofits of their choice, and then matching those donations.
Corporate matching gifts are arguably the most effective and important giving channel to focus on as both a company and a nonprofit. Most companies match at a 1:1 ratio (a dollar for a dollar), but ratios can range from .5:1 to 4:1. Many companies also match donations to a wide range of organizations, with few restrictions.
So when nonprofits tap into workplace giving, corporate matching gifts should be something they actively pursue. And when employees give through their employers, matching gifts can maximize their impact.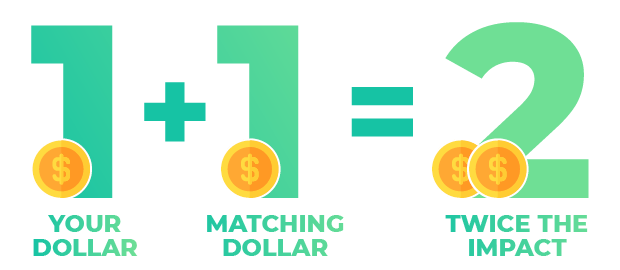 Workplace giving can be enhanced by any of the programs we've already mentioned. But the most important thing to remember is when companies offer multiple ways to give to charities, employees will be more likely to participate in the first place.



2. Why workplace giving matters for companies
Beyond the social good workplace giving promotes all around, there are specific benefits for companies. When it comes to employee engagement, a company's employees tend to be happier working for companies that support generous giving initiatives. Employees have a longer tenure with those companies, which then benefits the company because of its higher retention rates and money saved from low employee turnover.
Apart from internal benefits, companies also maintain a positive public image in the communities in which they operate. Consumers are more likely to buy products and services from companies that encourage workplace giving.
Your company has spent a lot of time and energy setting up its workplace giving program, and it's obvious that many benefits come with this. But beyond having an effective workplace giving program, it should also be easy for your employees to participate. After all, the more your employees take part in workplace giving, the happier they'll be.
For that reason, finding software that makes participating in workplace giving easy can help you get the most out of your program. Read more about workplace giving software solutions below!

3. Why workplace giving matters for nonprofits
It's obvious that workplace giving campaigns help nonprofits financially. But the benefits go deeper than that. 
When companies emphasize corporate matching gifts and other workplace giving programs, nonprofits benefit tremendously. This is because:
Workplace giving builds stronger relationships between nonprofits and companies/employees.

Long-term relationships between nonprofits and companies lead to ongoing partnerships and

corporate sponsorships

for the nonprofit's events and programs.

All of this support means nonprofits can better serve their constituents and their missions.
Nonprofits also save time and resources by participating in workplace giving programs. They can receive gifts in a cost-efficient way without spending more time soliciting donations. Instead, that time can go to doing good.
When companies do everything they can to encourage employees to participate in workplace giving programs, nonprofits will get more than just monetary support. They'll become part of a larger community that helps them reach their goals and keeps their organization running.



4. Why workplace giving matters for employees
Workplace giving doesn't just benefit companies and nonprofits. As previously mentioned, companies that participate in workplace giving maintain a higher employee engagement rate and lower turnover. So let's look specifically at how workplace giving programs can further benefit employees:
Employees give to reputable charities.

One of the benefits of workplace giving—especially for employees—is that they can be certain they're giving to reputable organizations. Generally, workplace giving programs carefully screen the nonprofits that participate according to strict guidelines. This means employees can rest assured their donations are going to a good cause.

Employees give in smaller increments.

Employees who might not be able to donate a large sum at once can benefit from automatic payroll deductions. The smaller amounts deducted from each paycheck will add up over time, and when paired with a matching gift from their employer, they can make a real impact.

Employees make a larger impact overall.

Even if employees are only able to donate in small increments, their gifts combine with thousands of employees across the country to those nonprofits. That money is also unrestricted—meaning it's not meant for a specific purpose and can be used in any way by the organization. The fewer restrictions in place, the greater the impact.
There are many reasons why workplace giving matters, and for employees, being able to donate effectively to worthy causes is a big one.



5. How can companies implement and maintain workplace giving programs?
For companies, implementing and keeping up with their workplace giving programs is crucial to their success. If a company doesn't have a set process in place for tracking matching gifts, volunteer grant requests, payroll deduction options, and other components of their giving programs, those tasks can quickly become tedious and disorganized.
That's why many companies invest in workplace giving solutions to effectively track each task, their CSR initiatives, their goals, and any pending requests. There are many types of workplace giving platforms, so be sure to look for tools that meet your company's needs.
More specifically, if you're running a matching gift, volunteer grant, or payroll deduction program, below are some key features to look for in your workplace giving solution:
Centralized employee donation tracking

Streamlined approval process for nonprofit types, donation matches, and volunteer grants

Volunteer event setup and management

Volunteer hour tracking

Payroll integration
When you choose workplace giving software that offers the tools you need to manage each component of your giving program, it'll be much easier for your employees to get involved and for your company to track your overall CSR initiatives and progress.
How can companies offer the best workplace giving programs for employees?
According to corporate giving research, one of the largest considerations as to whether employees will participate in a workplace giving program revolves around how easy it is for them to get involved. For many donors, that idea is based heavily on the different ways that they're able to give.
For example, our studies show the following:
96% of employees at companies with matching gift programs have a strong or very strong preference for their company to match donations made directly to a nonprofit (such as through the nonprofit's website, peer-to-peer fundraising platform, or mail) rather than only matching donations through a workplace giving software platform.
This idea boils down to the fact that employees do not want their abilities to participate in an employee giving program to be restricted to gifts made through one platform or another. The more options a company has for employees to support the nonprofits they care about (and to get their contributions matched), the more likely they are to partake.
Along similar lines, if you want more employees to get involved with your giving initiatives, it helps to offer match low minimum donations, high maximums, and liberal submission deadlines⁠—not to mention, matching donations by more types of employees to more categories of nonprofit causes.
How can companies actively promote workplace giving programs?
The best thing a company can do to promote workplace giving—and to help nonprofits in the process—is to educate their employees.
Feature your workplace giving programs in employee onboarding materials. More specifically, you should highlight:
Matching gift programs

Volunteer grant opportunities

Payroll deductions

Paid time off to volunteer

Other opportunities to support nonprofits
Educating your employees from the start and offering reminders throughout the year (or even through a year-end giving campaign) will keep your CSR initiatives at the forefront of your company culture.
Of course, it's always a good practice to get feedback on your workplace giving programs, especially from employees. This will help you determine whether your program is accessible and effective for those who work within your company. Send out surveys and even allow employees to vote on the types of nonprofits or causes they want to support (or the types of workplace giving programs they want to see).
When companies take charge and contribute to the greater good, nonprofits can benefit immensely. But the effectiveness of a workplace giving program depends on how the company implements it, how they promote it, and how they maintain it at all times.



6. Additional workplace giving resources
Hopefully, this guide has served as a helpful start to learning more about employee giving opportunities and why workplace giving matters in the long run. Whether you're part of a company or nonprofit, the benefits of taking part in workplace giving programs are endless.
If you want to do some further reading, we've compiled a few of our favorite resources below:

https://doublethedonation.com/wp-content/uploads/2022/06/DTD_Why-Workplace-Giving-Matters_Feature.png
270
725
Adam Weinger
https://doublethedonation.com/wp-content/uploads/2022/03/logo-dtd.svg
Adam Weinger
2021-03-31 17:41:05
2022-06-20 07:55:44
Why Workplace Giving Matters for Nonprofits + Companies