Why Workplace Giving Matters for Nonprofits + Companies
Today, companies are diving deep into social good causes in large part due to the rise of corporate social responsibility (CSR), which reflects a company's efforts toward improving society. One of the biggest programs to come from CSR is workplace giving.
Workplace giving programs are important to more organizations than just the companies that run them. Nonprofit organizations all over the world benefit from CSR initiatives, with workplace giving at the forefront, raising approximately $5 billion every year. 
Both companies and nonprofits should focus on workplace giving to reap its unique benefits. That's why we're going to cover the following topics:
Workplace giving can have a huge impact on society as a whole, benefiting nonprofits all over the globe. But there's more to it than that. Let's get started.


1. What is workplace giving?
Workplace giving is a company-sponsored program that provides its employees with the opportunity to financially support nonprofit organizations.
Through workplace giving, employees can make charitable donations to the nonprofits they care about. 
Workplace giving is an umbrella term, which means it can refer to multiple types of programs. Diversifying workplace giving can encourage greater employee participation. When you provide multiple ways to get involved, employees have the freedom to choose how they want to give and actively take part in the process as a result.
As part of workplace giving, companies can choose to:
Match donations.

Corporate matching gift programs

are a form of workplace giving in which companies financially match donations their employees make to nonprofits, essentially doubling employees' donations.

Offer volunteer grants.

For employees who might not be able to donate financially, they can still donate their time. Employees who volunteer on a regular basis with a nonprofit can submit a

volunteer grant

request to their employer. This means the nonprofit will receive a donation from the employer based on the number of hours the employee volunteered.

Payroll deductions.

Payroll deductions are one of the most common types of workplace giving. Rather than employees going out of their way to make donations, payroll deductions automatically deduct a portion of their paychecks to donate to a charity of their choice. Payroll deductions are usually small but can quickly add up, allowing one nonprofit supported by an entire company to amass significant financial support.
Of these programs, corporate matching gifts are arguably the most effective and important giving channel to focus on as both a company and a nonprofit. Most companies match at a 1:1 ratio (a dollar for a dollar), but ratios can range from 0.5:1 to 4:1. Many companies also match donations to a wide range of organizations, with few restrictions.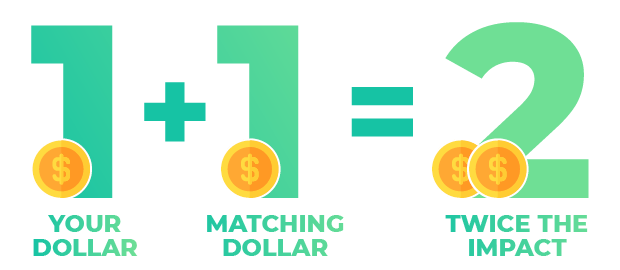 Workplace giving can be enhanced by any of the programs we've already mentioned. But the most important thing to remember is that when companies offer multiple ways to give to charities, employee participation as a whole will rise.
2. Why workplace giving matters for companies
Beyond the social good workplace giving promotes all around, there are specific benefits for companies: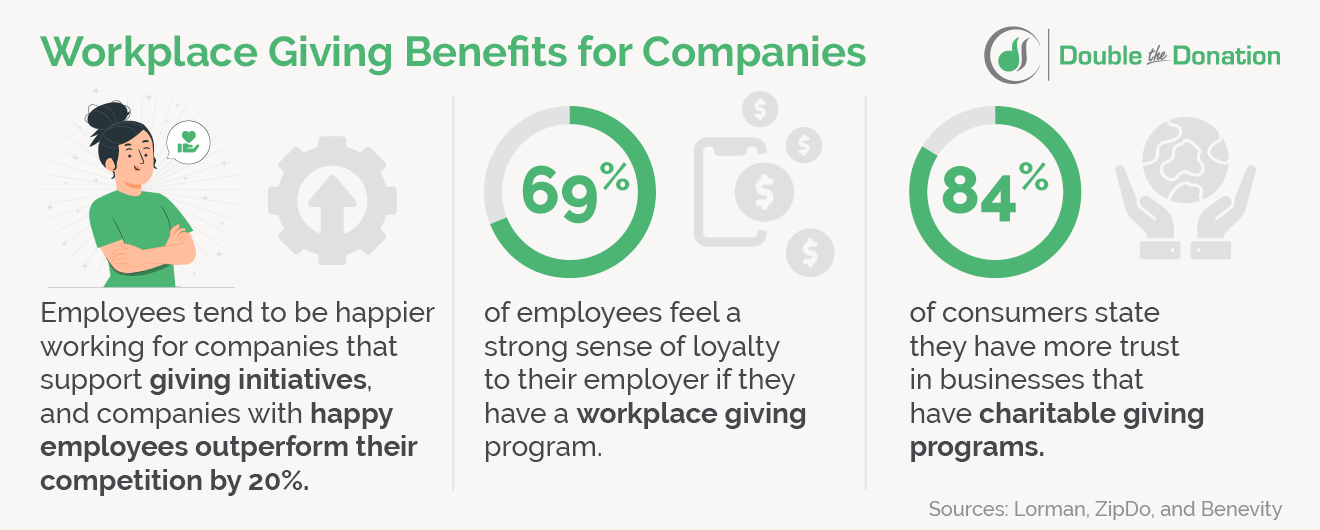 When it comes to employee engagement, a company's employees tend to be happier working for companies that support generous giving initiatives, and companies with happy employees

outperform their competition by 20%

.

69% of employees

feel a stronger sense of loyalty to their employer if they have a workplace giving program. This loyalty leads to higher retention, meaning less turnover and more time spent investing in experienced employees rather than training new ones. 

Apart from internal benefits, companies also maintain a positive public image in the communities in which they operate.

84% of consumers

state they have more trust in businesses that have charitable giving programs. 
Your company has spent a lot of time and energy setting up its workplace giving program, and you can start reaping its benefits faster the easier employee participation is. After all, the more your employees take part in workplace giving, the happier they'll be.
For that reason, finding software that makes participating in workplace giving easy can help you get the most out of your program. Read more about workplace giving software solutions below!
How auto-submission helps
When an employer leverages a workplace giving platform equipped with auto-submission functionality, it makes workplace giving participation easier than ever before. Not only is it quicker for employees to get involved, but it's also simpler for companies to organize, establish, and maintain their programs.
Employers can spend less time tracking and reporting on employee giving and matching gift submissions, reducing the administrative workload it takes to manage workplace giving. And it's all while making a larger impact on the causes their employees care about!

3. Why workplace giving matters for nonprofits
It's obvious that workplace giving campaigns help nonprofits financially. But the benefits go deeper than that. 
When companies emphasize corporate matching gifts and other workplace giving programs, nonprofits benefit tremendously. This is because:
Workplace giving builds stronger relationships between nonprofits and companies/employees.

Even charitable employees can forget to give on occasion, but workplace giving makes interacting with nonprofits a routine part of their schedule, increasing interactions and strengthening their investment in the nonprofits they give to. 

Long-term relationships between nonprofits and companies lead to ongoing partnerships.

When multiple employees give to the same nonprofit, leadership may be inspired to take their support to the next level with

corporate sponsorships

for the nonprofit's events and programs.

Nonprofits can better serve their constituents and their missions.

Nonprofits also save time and resources by participating in workplace giving programs. They can receive gifts in a cost-efficient way without spending time soliciting donations. Instead, that time can go to doing good.
When companies do everything they can to encourage employees to participate in workplace giving programs, nonprofits gain more than just monetary support. They'll become part of a larger community that helps them reach their goals.

How auto-submission helps
With higher participation rates by companies and their employees, auto-submission leads to greater revenue for the nonprofits on the receiving end of the relationship. More matching gifts are processed with auto-submission⁠, meaning charitable organizations in need of support earn more revenue.
Not to mention, matching gift auto-submission directly addresses obstacles that nonprofit fundraisers have been facing for years! Common roadblocks⁠, such as a lack of donor awareness of workplace giving programs and non-completed submission forms⁠, are eliminated with auto-submission. Donors are more inclined to complete their end of the process when it's as easy as a single click⁠, and they're also likely to keep giving and matching year after year.



4. Why workplace giving matters for employees
Workplace giving doesn't just benefit companies and nonprofits. As previously mentioned, companies that participate in workplace giving maintain a higher employee engagement rate and lower turnover. 
Let's look at how workplace giving programs can further benefit employees specifically:
Employees give to reputable charities.

One of the benefits of workplace giving—especially for employees—is that they can be certain they're giving to reputable organizations. Generally, workplace giving programs screen the nonprofits that are allowed to participate. This means employees can rest assured their donations are going to a good cause.

Employees give in smaller increments.

Employees who might not be able to donate a large sum at once can benefit from automatic payroll deductions. The smaller amounts deducted from each paycheck will add up over time, and, when paired with a matching gift from their employer, add up to make a real impact.

Employees make a larger impact overall.

Even if employees are only able to donate in small increments, their gifts combine with those of thousands of employees across the country. These donations are also unrestricted, meaning nonprofits can use them however they see fit to continue fulfilling their mission. 
There are many reasons why workplace giving matters, and for employees, being able to donate effectively to worthy causes is a big one.
How auto-submission helps
A nonprofit's donors want to make a significant impact on their favorite organizations' missions. Additionally, a company's staff appreciates the opportunity to involve their employer in the causes they care about. Luckily, auto-submission makes every step in the process easier.
When an employee who qualifies for auto-submission gives to an organization equipped with Double the Donation's tools, a matching gift request can be completed in mere seconds⁠—no website redirects, separate login processes, or repetition of donation information. 
This empowers more employees to get involved in their companies' workplace giving programs that would have otherwise been deterred by a complicated process.



5. How can companies implement and maintain workplace giving programs?
For companies, reporting tools are crucial to their workplace giving programs' success. If a company doesn't have a set process in place for tracking matching gifts, volunteer grant requests, payroll deduction options, and other components of their giving programs, measuring what impact the company has made becomes challenging. 
Reporting enables your company to maintain transparency, which tends to be low among corporate philanthropy programs. As a result, only 1 in 10 consumers state that they trust corporate giving programs as compared to nonprofit programs. 
That's why many companies invest in workplace giving solutions to effectively track each task, their CSR initiatives, their goals, and any pending requests. There are many types of workplace giving platforms, so be sure to look for tools that meet your company's needs.
More specifically, if you're running a matching gift, volunteer grant, or payroll deduction program, below are key features to look for in your workplace giving solution: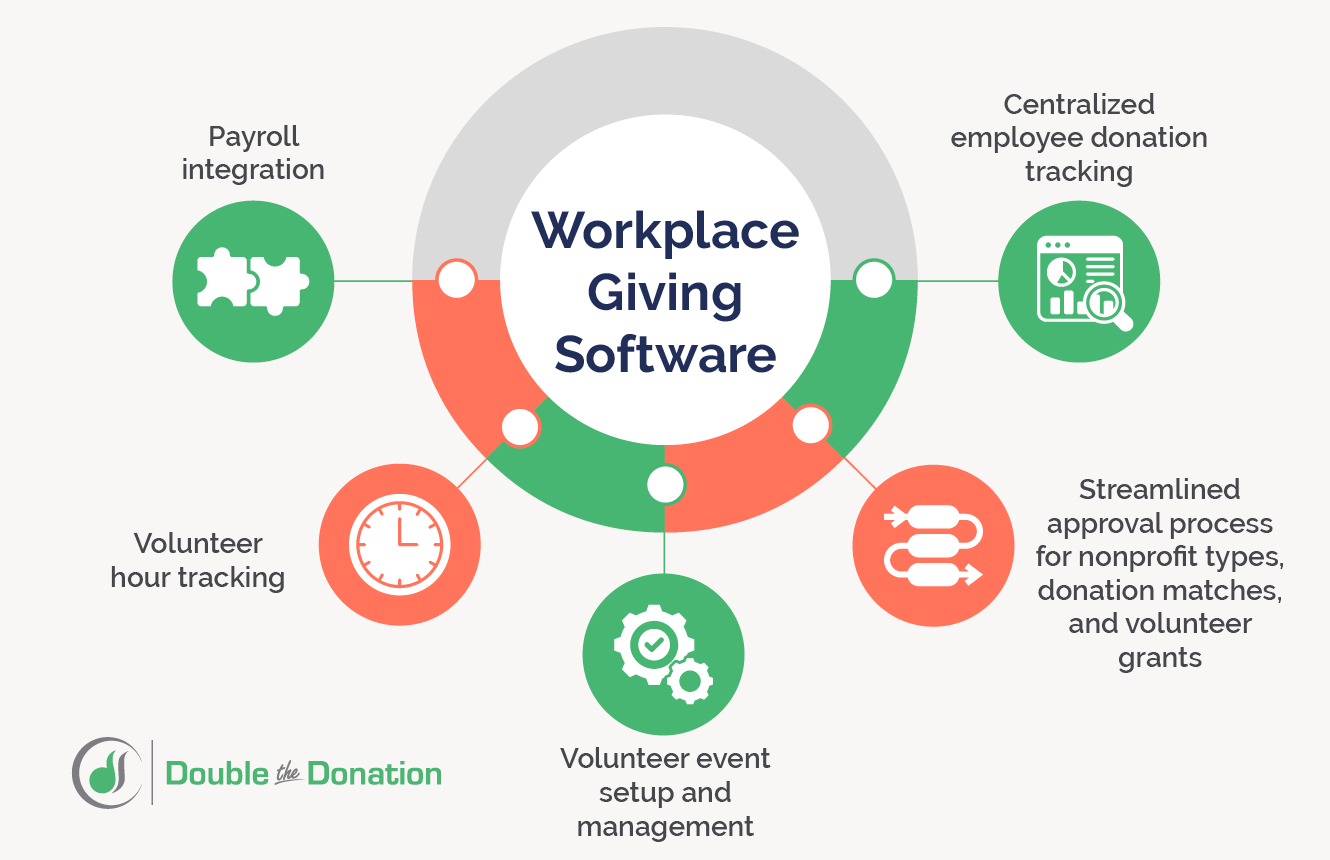 Centralized employee donation tracking

Streamlined approval process for nonprofit types, donation matches, and volunteer grants

Volunteer event setup and management

Volunteer hour tracking

Payroll integration
When you choose workplace giving software that offers the tools you need to manage each component of your giving program, it'll be much easier for your employees to get involved and for your company to track your overall CSR initiatives and progress.
How can companies offer the best workplace giving programs for employees?
According to corporate giving research, one of the largest considerations as to whether employees will participate in a workplace giving program revolves around how easy it is for them to get involved. For many donors, that idea is based heavily on the different ways that they're able to give.
For example, our studies show the following:
96% of employees at companies with matching gift programs have a strong or very strong preference for their company to match donations made directly to a nonprofit (such as through the nonprofit's website, peer-to-peer fundraising platform, or mail) rather than only matching donations through a workplace giving software platform.
This idea boils down to the fact that employees do not want to participate in an employee giving program that is restricted to gifts made through just their employer's workplace giving platform. The more options a company has for employees to support the nonprofits they care about, the more likely they are to partake.
Along similar lines, if you want more employees to get involved with your matching gifts initiatives, adjust your requirements to offer low minimum donations, high maximums, and liberal submission deadlines⁠, and expand the types—full-time, part-time, and retired—of employees who can have their gifts matched.
Once a match-eligible donation has been made, it's equally (if not more) important that the match submission process is quick and easy. Again, this is where matching gift auto-submission—made available through Double the Donation in partnership with select workplace giving platforms—can come in handy.
How can companies actively promote workplace giving programs?
The best thing a company can do to promote workplace giving—and to help nonprofits in the process—is to educate their employees.
Feature your workplace giving programs in employee onboarding materials. More specifically, you should highlight:
Matching gift programs

Volunteer grant opportunities

Payroll deductions

Paid time off to volunteer

Other opportunities to support nonprofits
Educating your employees when you first launch your program and offering reminders throughout the year will keep your CSR initiatives at the forefront of your company culture.
Of course, it's always a good practice to get employee feedback on your workplace giving programs. This will help you determine whether your program is accessible and effective. Send out surveys and allow employees to vote on the types of nonprofits or causes they want to support or even the types of workplace giving programs they want to see offered.
Additional workplace giving resources
If you're interested in starting a workplace giving program, hopefully, this guide has served as a helpful start to learning more about employee giving opportunities and why workplace giving matters in the long run. Whether you're part of a company or nonprofit, the benefits of taking part in workplace giving programs are endless.
To learn more about this extensive topic, we've compiled a few of our favorite resources below:

https://doublethedonation.com/wp-content/uploads/2021/03/why-workplace-giving-matters_feature.jpg
600
1600
Adam Weinger
https://doublethedonation.com/wp-content/uploads/2022/03/logo-dtd.svg
Adam Weinger
2021-03-31 17:41:05
2023-10-10 19:11:12
Why Workplace Giving Matters for Nonprofits + Companies