How to Unlock Corporate Sponsorships: Get More Support
Securing corporate sponsorships involves researching, appealing to companies, and following up on top of all the other important work you're doing to raise support for your nonprofit. But these partnerships are well worth it, as they can prove to be invaluable sources of revenue,  positive social image, and important relationships.
In this article, we'll discuss some corporate sponsorship best practices your organization can leverage to secure the best partnership suited to your cause, as well as some of the top corporate sponsors. We'll cover the following topics:
Understanding the importance of corporate sponsorships is just the beginning. Securing the right corporate sponsorship is another story entirely. Let's get started!

What is a Corporate Sponsorship?
A corporate sponsorship is a form of support nonprofits receive from corporations to fund events, nonprofit programs, or specific projects. The benefits are twofold: nonprofits receive the help they need to continue serving their missions, while the company receives tax deductions and a positive reputation for their brand.
Corporate Sponsorship Types
Corporate sponsorships can take many forms. Here are a few examples of the most common types: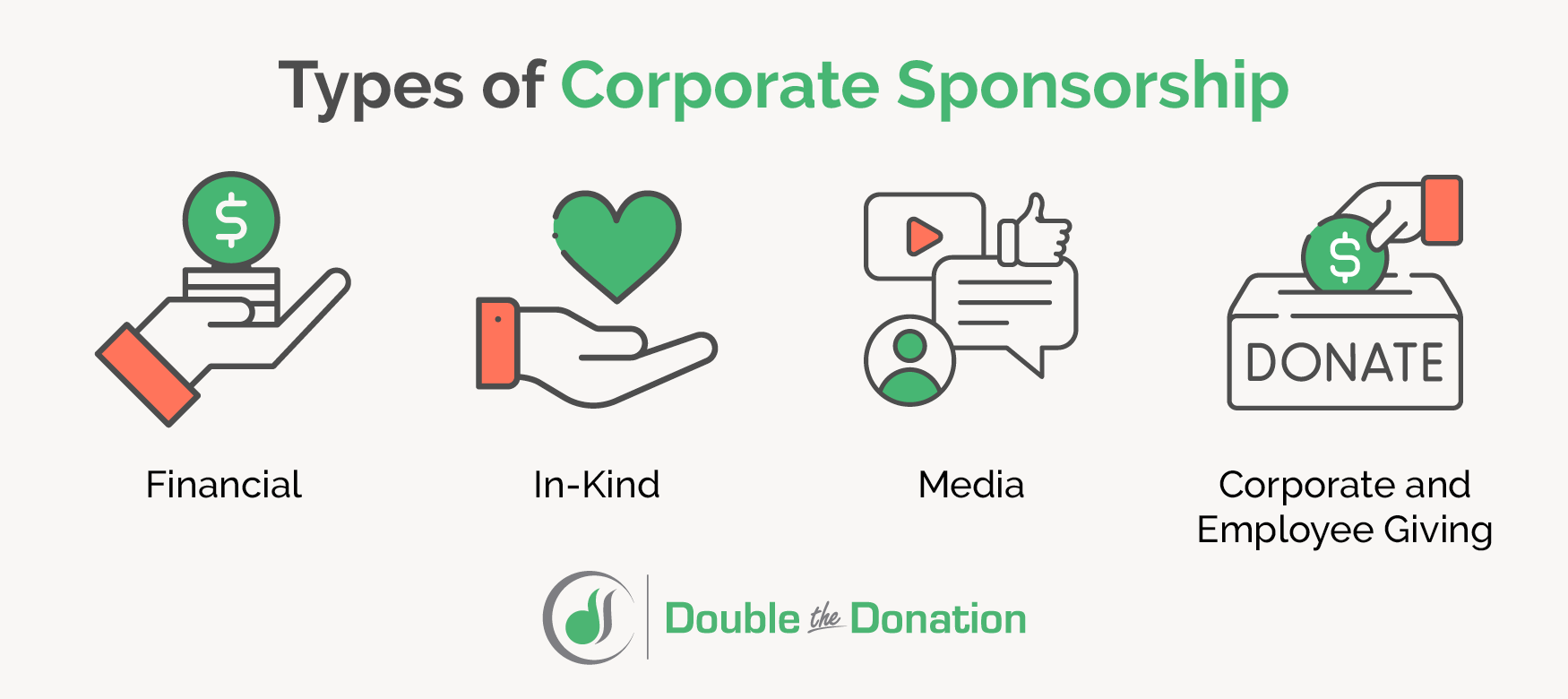 Financial
This is when a company donates money to sponsor an event or program. Generally, nonprofits recognize the company through various event materials, such as signage, merchandise, and online advertising, in exchange for its support.
In-Kind
An in-kind sponsorship involves a company donating goods or services to an event or project. For example, a restaurant might provide catering services, or a spa may donate free spa packages as a raffle prize.
Media
Some companies pay for the cost of promoting a nonprofit event through media sponsorships. This could include radio promotions, TV ads, or printed advertisements.
Corporate and Employee Giving
Beyond typical corporate sponsorships, there are other forms of corporate giving that can help your nonprofit. These include automatic payroll deductions, volunteer programs, and corporate matching gifts. Read more about these below!
Benefits of Corporate Sponsorships
Corporate sponsorships benefit both companies and nonprofits.
For nonprofits specifically, these benefits include:
Increased awareness. By leveraging a company's audience, nonprofits can share their mission with more people.
Acquisition of new supporters. Corporate sponsorships can transform a company's customers into their nonprofit partner's supporters.
A way to boost your organization's credibility. If potential supporters see a well-known company supporting your nonprofit, they can be confident they're contributing to a legitimate cause and organization.
Benefits for companies include:
Positive brand recognition. Helping nonprofits gives companies a chance to live up to their proclaimed values and demonstrate their community involvement.
Attracting new customers. Just as a company's customers can turn into a nonprofit's supporters, a nonprofit's supporters can also be converted into the corporate sponsor's customers.
Happy employees. When companies practice social responsibility, their employees can feel good knowing they're working somewhere that honors their values and supports worthy causes.
How to Find Corporate Sponsorships
When it comes to asking for corporate sponsorships, it's essential to be careful and thoughtful about who you choose to work with. As you research potential partners, consider the following tips to narrow down your search: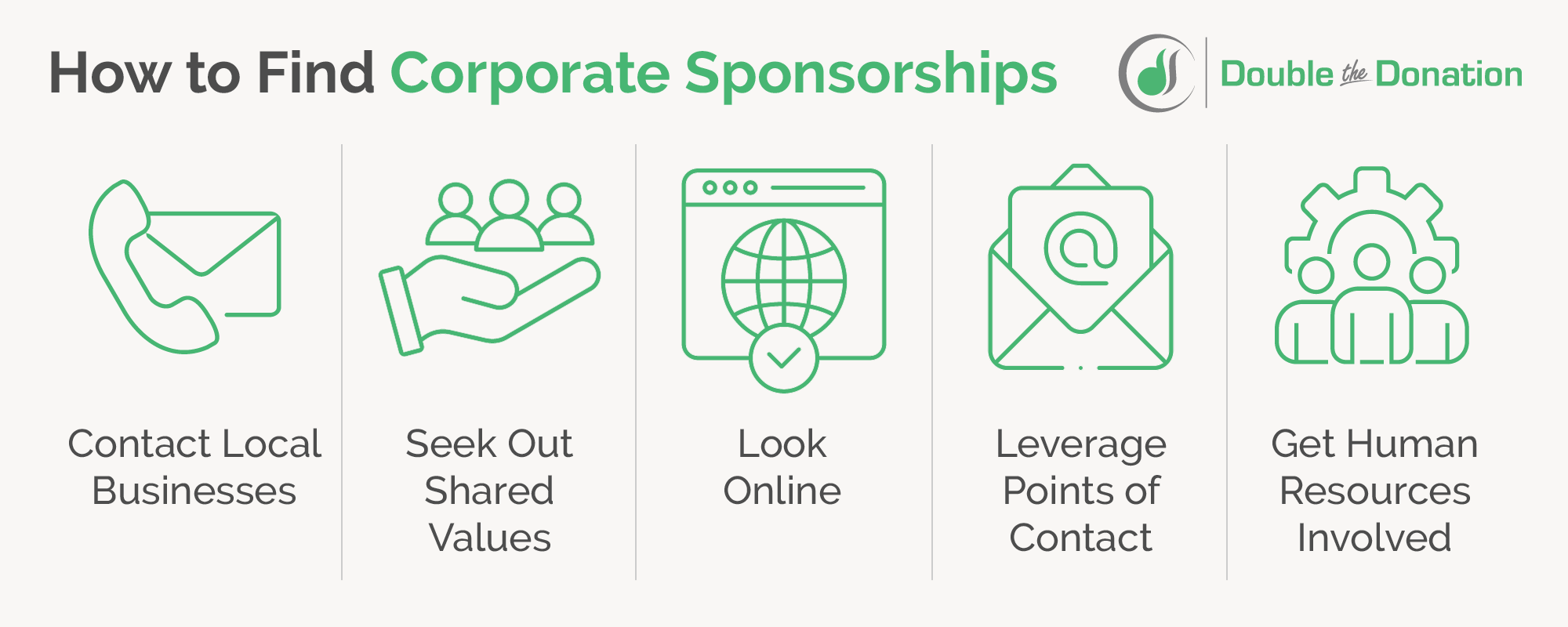 Contact Local Businesses
Start local! Approach the businesses in the immediate area of your event. These businesses are likely to see the value in sponsoring an event in their own community, which can have a huge impact on their decision to partner with you.
Seek Out Shared Values
A corporate partner should align with your organization's mission. This means if you're an environmental organization, you should be working with a corporation that values sustainability, environmental conservation, and other related issues. Your organization could end up losing credibility if you partner with a corporation that does substantial harm to the environment or has received bad press.
Look Online
Search for lists of companies that donate to nonprofits online. These are companies that have a reputation for their philanthropic behaviors, so they might be more interested in forming a partnership than a business with no previous interest in charitable giving. You might find one you haven't thought of before.
Leverage Points of Contact
If your board members or other high-ranking members of your organization have connections or contacts at a particular company, ask them to directly reach out and request a sponsorship.
Get Human Resources Involved
Most organizations looking for corporate sponsors approach the marketing department of a business—but why not ask the human resources department?
If you're planning a walkathon or other physical event, for instance, ask HR if they have a health initiative in place. If they do, asking them to form a team would be a great way for them to get involved. You can offer discount codes for employees, a designated meeting place on event day, volunteer opportunities, and/or other perks depending on the level of sponsorship.
The takeaway: It's important to find the right partners who share your values and a corporation you can establish a connection with. From there, you'll be on your way to securing more support for your cause.
Top 20 Companies with Excellent Corporate Sponsorship Programs
Zipsprout's guide to corporate sponsors shares some interesting corporate sponsorship statistics. We've combined these statistics with insights from our robust database of matching gift and volunteer grant programs to highlight the best corporate sponsorship and relationship opportunities.
Check out these top corporate sponsors!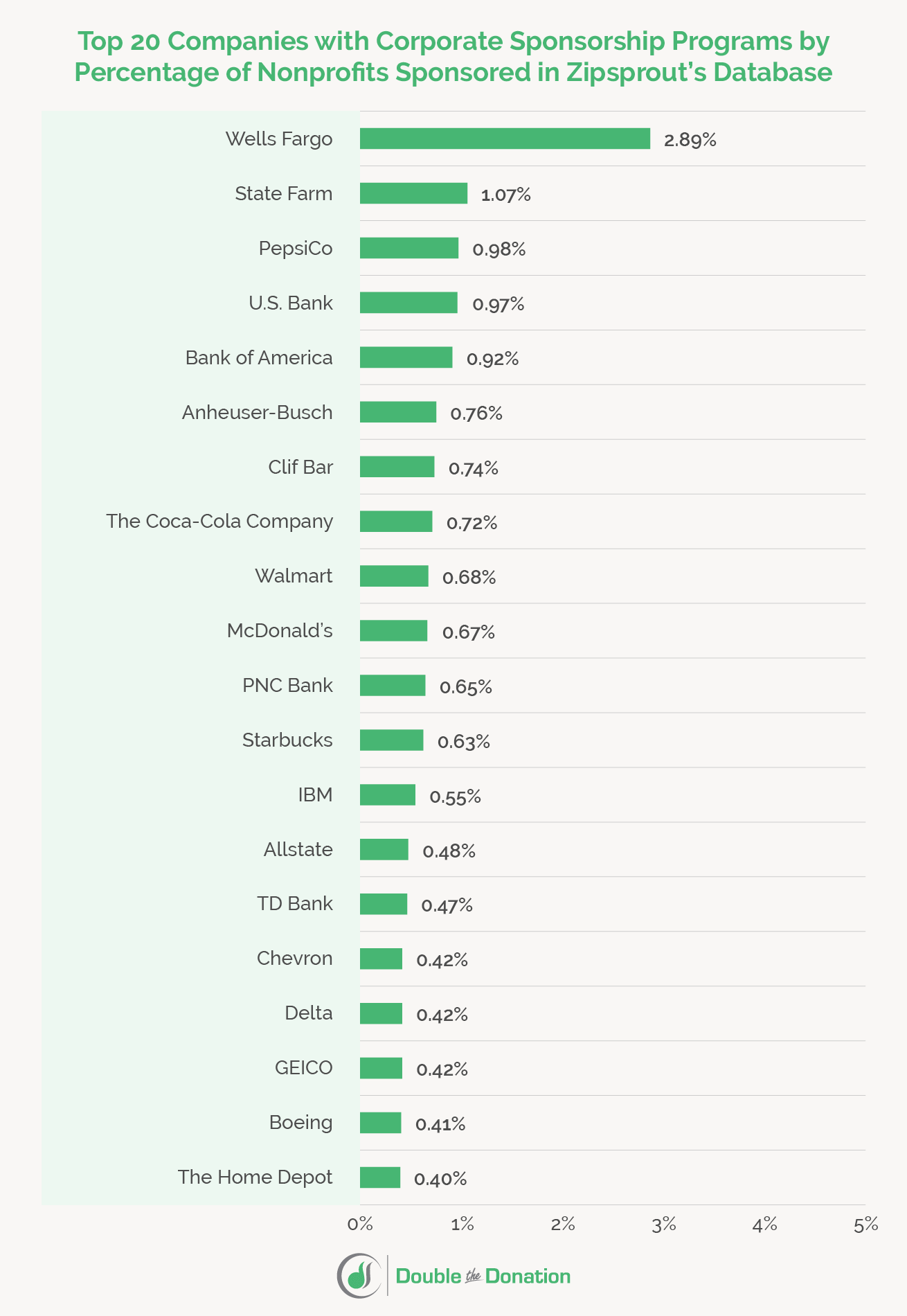 1. Wells Fargo
Wells Fargo has sponsored 2.89% of nonprofits in a database of nonprofits that publicly list their sponsors, placing them at #1 on the list of top corporate sponsors.
"Wells Fargo is committed to building an inclusive, sustainable future for all through a focus on opening pathways to economic advancement, championing quality, affordable homes, empowering small businesses to thrive, and driving an equity-focused transition to a low-carbon economy."
Corporate Giving Information
Wells Fargo offers both matching gifts and volunteer grants. The company matches up to $2,000 per employee at a 1:1 ratio.
2. State Farm
State Farm has sponsored 1.07% of nonprofits in a database of nonprofits that publicly list their sponsors, placing them at #5 on the list of top corporate sponsors.
"With more than 19,000 agents around the country, State Farm is a committed member of your community and we welcome any opportunities that build our brand and tie into our marketing strategies on both a local and national level."
Corporate Giving Information
State Farm offers both a matching gift program and volunteer grant opportunities. The company matches up to $4,500 at a 1:1 ratio for full-time employees.
3. PepsiCo
PepsiCo has sponsored 0.98% of nonprofits in a database of nonprofits that publicly list their sponsors, placing them at #6 on the list of top corporate sponsors.
"At the heart of the PepsiCo Foundation is our belief in the potential possessed by the people and communities we serve. There are far too many communities around the world, however, that are systemically excluded from access to the essential resources they need to grow, prosper and thrive — like nutritious food, safe water and economic opportunity. That is why the PepsiCo Foundation's work focuses on the creation of sustainable and innovative solutions to these three critical socioeconomic issues."
Corporate Giving Information
PepsiCo matches employee donations up to $10,000, with a minimum donation amount of $25. The company also offers a volunteer grant program.
4. U.S. Bank
U.S. Bank has sponsored 0.97% of nonprofits in a database of nonprofits that publicly list their sponsors, placing them at #7 on the list of top corporate sponsors.
"Nonprofit donations and sponsorship are an integral part of our company's philanthropic initiatives. In 2022, U.S. Bank contributed more than $32 million in corporate contributions and nonprofit sponsorships."
Corporate Giving Information
U.S. Bank matches up to $3,000 in donations made by active full- and part-time employees at a 1:1 ratio. The company also offers a "Dollars for Doing" volunteer grant program.
5. Bank of America
Bank of America has sponsored 0.92% of nonprofits in a database of nonprofits that publicly list their sponsors, placing them at #8 on the list of top corporate sponsors.
"We have countless strong nonprofit alliances around the country, which include grants and sponsorships to local organizations that help improve financial lives and entire communities. Some areas we concentrate on are workforce development and education, basic needs like food and housing, and community development."
Corporate Giving Information
Bank of America offers matching gifts and volunteer grant opportunities. The company matches up to $5,000 in donations to most nonprofits at a 1:1 ratio.
6. Budweiser/Bud Light (Anheuser-Busch)
Budweiser has sponsored 0.76% of nonprofits in a database of nonprofits that publicly list their sponsors, placing them at #9 on the list of top corporate sponsors.
"We are business partners, collaborators, and community leaders working to make a difference around the corner and around the globe. We create jobs. We help our neighbors when natural disasters strike. We remain unwavering in our advocacy for responsible drinking. We put sustainable innovation at the center of our business by reducing our use of precious natural resources and continuously striving to leave our world a cleaner place for the future."
Corporate Giving Information
Anheuser-Busch's matching gift program matches donations up to $5,000 per year at a 1:1 ratio.
7. Clif Bar
Clif Bar has sponsored 0.74% of nonprofits in a database of nonprofits that publicly list their sponsors, placing them at #10 on the list of top corporate sponsors.
"From the volunteer work we do locally to the way we source ingredients globally, our commitment to the communities we touch is an important part of who we are."
Corporate Giving Information
Clif Bar offers a matching gift program to active employees, matching up to $2,500 in donations at a 1:1 ratio.
8. The Coca-Cola Company
The Coca-Cola Company has sponsored 0.72% of nonprofits in a database of nonprofits that publicly list their sponsors, placing them at #11 on the list of top corporate sponsors.
"Our mission is to make a difference in communities around the world by investing in transformative ideas and institutions that address some of our most pressing global challenges."
Corporate Giving Information
The Coca-Cola Company offers a very generous matching gift program. The company contributes up to $20,000 per employee per year, matching at a 2:1 ratio.
9. Walmart
Walmart has sponsored 0.68% of nonprofits in a database of nonprofits that publicly list their sponsors, placing them at #12 on the list of top corporate sponsors.
"We seek to create value in the communities around the world where we operate, strengthening them through local grants supporting programs that help them thrive."
Corporate Giving Information
Walmart matches up to $25,000 in donations made by executive-level employees at a 3:1 ratio. The company also offers a volunteer grant program.
10. McDonald's
McDonald's has sponsored 0.67% of nonprofits in a database of nonprofits that publicly list their sponsors, placing them at #14 on the list of top corporate sponsors.
"We show our commitment to helping others by facilitating fundraising and engaging volunteers for Ronald McDonald House Charities® programs and the McDonald's® HACER® National Scholarships. Through involvement in youth sports, local charities and events that inspire the world, giving back is an essential part of the way we operate every day."
Corporate Giving Information
McDonald's offers a very generous matching gift program, matching up to $10,000 in employee donations (depending on role) per year at a 1:1 ratio.
11. PNC Bank
PNC Bank has sponsored 0.65% of nonprofits in a database of nonprofits that publicly list their sponsors, placing them at #16 on the list of top corporate sponsors.
"We proudly commit resources to community organizations that drive the success of our neighborhoods. To achieve this, we support initiatives and organizations connected to education and community and economic development which include areas such as arts, culture and financial education."
Corporate Giving Information
PNC Bank matches donations made by full-time employees up to $2,500, at up to a 4:1 ratio. The company also offers volunteer grants.
12. Starbucks
Starbucks has sponsored 0.63% of nonprofits in a database of nonprofits that publicly list their sponsors, placing them at #17 on the list of top corporate sponsors.
"The Starbucks Foundation supports thriving communities through grants to nonprofit organizations, from coffee and tea-growing communities around the world to our hometown in Seattle and neighborhoods across the country."
Corporate Giving Information
Starbucks will match up to $1,500 in donations made by active employees at a 1:1 ratio. The company also offers volunteer grants.
13. IBM
IBM has sponsored 0.55% of nonprofits in a database of nonprofits that publicly list their sponsors, placing them at #20 on the list of top corporate sponsors.
"IBM aspires to make a lasting, positive impact on the world in business ethics, our environment, and the communities in which we work and live."
Corporate Giving Information
IBM matches up to $10,000 per donor per year. The company also offers volunteer grants.
14. Allstate
Allstate has sponsored 0.48% of nonprofits in a database of nonprofits that publicly list their sponsors, placing them at #21 on the list of top corporate sponsors.
"Since 1952, The Allstate Foundation has led national programs, partnered with national organizations and offered grants to local nonprofits to create innovative, long-term solutions for those in need."
Corporate Giving Information
Allstate matches donations made by active employees at up to a 1:1 ratio. The maximum match amount is $1,000. The company also offers volunteer grants.
15. TD Bank
TD Bank has sponsored 0.47% of nonprofits in a database of nonprofits that publicly list their sponsors, placing them at #23 on the list of top corporate sponsors.
"As proud members of the communities we serve, we're committed to making a difference. Driven by the TD Ready Commitment, our funding initiatives support programs that bring people together, give them access to the resources they need and provide meaningful solutions for a sustainable and inclusive tomorrow."
Corporate Giving Information
While TD Bank does not offer a matching gift program, the company provides $500 grants to nonprofits after their employees have volunteered at least 40 hours in a year with the organization.
16. Chevron
Chevron has sponsored 0.42% of nonprofits in a database of nonprofits that publicly list their sponsors, placing them at #27 on the list of top corporate sponsors.
"Our global social impact initiatives aim to ignite and inspire new possibilities for women, families and communities. By investing in programs that provide support for small businesses and entrepreneurs with financial health training and soft skills training, we are supporting the current and future health and prosperity of the communities where we operate."
Corporate Giving Information
Chevron matches up to $10,000 in donations made by active employees, while retirees can request matches up to $3,000 annually. The company also offers a volunteer grant program.
17. Delta
Delta has sponsored 0.42% of nonprofits in a database of nonprofits that publicly list their sponsors, placing them at #27 on the list of top corporate sponsors.
"Delta has long been committed to the communities where we live, work and serve. We focus our giving on the environment, equity, education and wellness while supporting our armed forces and veterans and antihuman trafficking programs, partnering with organizations like American Red Cross, Captain Planet, Junior Achievement and UNCF, among others."
Corporate Giving Information
Delta matches up to $5,000 at a 1:1 ratio to most educational nonprofits, including public and private schools, elementary schools, secondary schools, and colleges.
18. GEICO
GEICO has sponsored 0.42% of nonprofits in a database of nonprofits that publicly list their sponsors, placing them at #27 on the list of top corporate sponsors.
"At GEICO, our commitment to being an engaged and involved corporate citizen is important to us. We work with supportive partners that help us create sustainable resources for people in need. Authenticity and inclusiveness are paramount as we give back to strengthen communities."
Corporate Giving Information
GEICO matches donations up to a 2:1 ratio, depending on the organization type, with a maximum of $1,000.
19. Boeing
Boeing has sponsored 0.41% of nonprofits in a database of nonprofits that publicly list their sponsors, placing them at #31 on the list of top corporate sponsors.
"At Boeing, we are committed to innovating and investing in efforts that build, enhance and contribute to the communities where our employees live and work. As a sustainable, healthy, dynamic and global company, we are a force for change in our world, and we work every day to bring about that change for the communities that need it most."
Corporate Giving Information
Boeing matches employee donations at a 1:1 ratio, while retirees, spouses, and domestic partners receive a .5:1 match. The maximum match amount is $10,000.
20. The Home Depot
The Home Depot has sponsored 0.40% of nonprofits in a database of nonprofits that publicly list their sponsors, placing them at #34 on the list of top corporate sponsors.
"Great things happen when compassionate groups unite for a common cause. The Home Depot Foundation partners with thousands of nonprofit organizations to deliver aid and ongoing support in our communities."
Corporate Giving Information
The Home Depot matches donations to most nonprofits. The company matches up to $1,000 annually per employee for each organization they donate to, for a total of $3,000 per employee.
How to Ask for a Corporate Sponsorship
Once you've identified corporations with which you want to partner, you still need to approach them. Forming the right kind of ask depends on your goals, who you're reaching out to, and when you plan to make contact. Here's a helpful list of strategies to help you make the ask: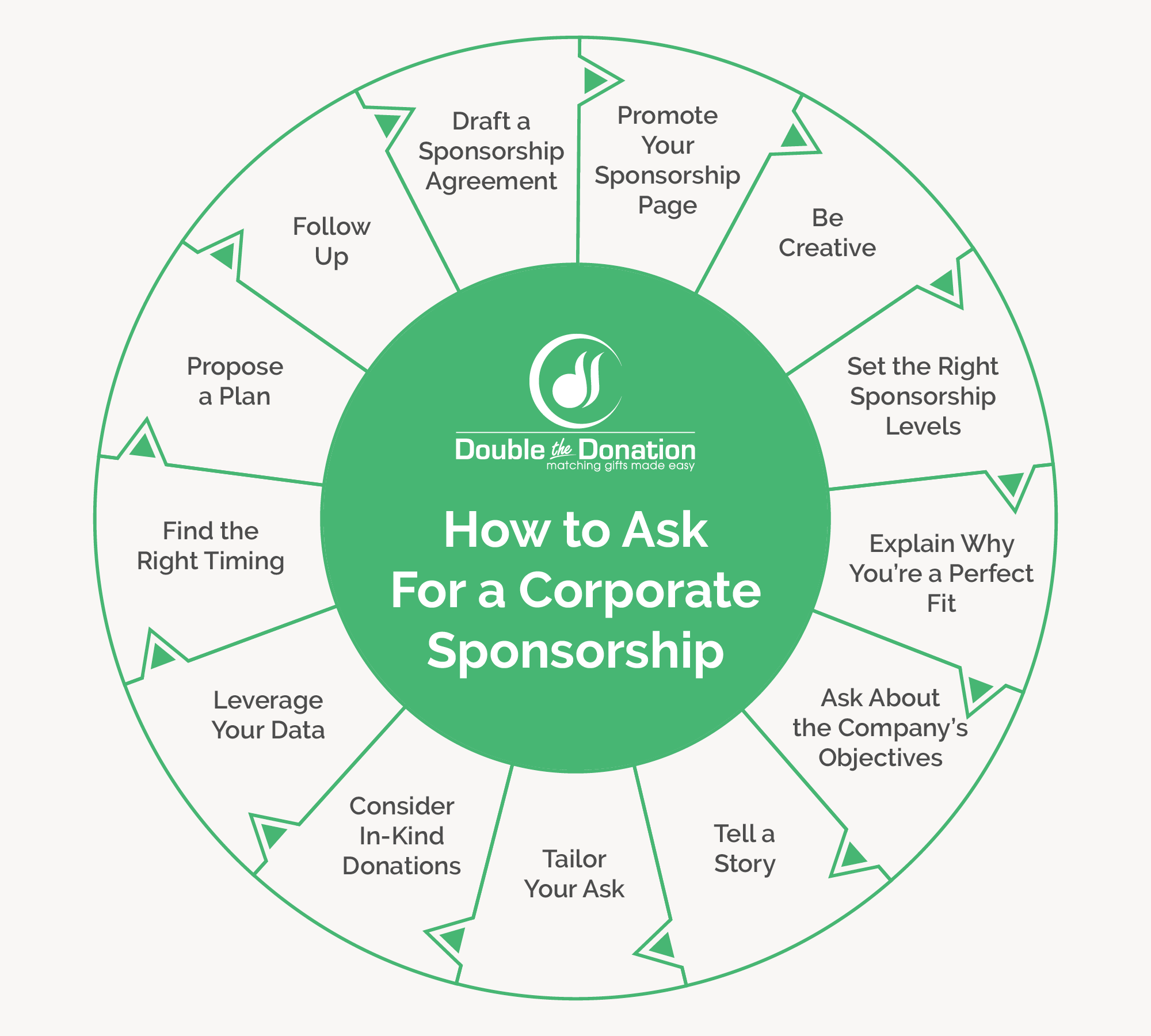 Promote Your Sponsorship Page
Creating a sponsorship page on your nonprofit's website is a great way to condense the must-know information about sponsoring your organization. Include information like:
Your sponsorship levels
A case for support that explains why you need sponsors
How an interested company can reach out to your team
Then, promote this page across different channels, such as social media and paid advertising platforms like Google Ads. You can tap into paid advertising for free with the Google Ad Grant! If you apply and are approved, you can promote content like your sponsorship page on Google Search Results for relevant keywords.
Finding the right keywords can take some work, but you can always turn to a professional to handle the work for you. A Google Ad Grants expert like Getting Attention can help you optimize your sponsorship landing page and promote it using Google Ads.
Be Creative
You can ask a company to sponsor just about anything—from the portable toilet area to your photo booth. Use aspects of your event that already exist, and turn them into sponsorship perks. Then, be sure to position them as excellent sponsorship opportunities for your potential partners.
Set the Right Sponsorship Levels
Just like you receive a variety of donation amounts from individual supporters, establish multiple levels of sponsorship for corporations to agree to. If you have an event with hundreds or thousands of people, make sure your sponsorship levels are high enough (such as $1,000 and up). You don't want sponsorship to be priced so high that no one will want to participate, but by keeping levels elevated, sponsors will feel like this event is well run and that you have confidence in what you're doing.
On the other hand, if you're planning a smaller event and have difficulty securing a large sponsorship, consider offering a lower sponsorship level with fewer perks. For instance, offer a $100 level, and several smaller businesses that were not interested in the larger sponsorship may be able to take part at this level.
Explain Why You're a Perfect Fit
As you make your ask, explain how this corporate partnership will contribute to building up the company's brand. Do your missions align? What will working with your nonprofit help the company achieve in terms of its own goals? Keep these in mind and communicate them as clearly as possible.
Ask About the Company's Objectives
That said, asking the company directly about its objectives and priorities demonstrates that you're genuinely interested in bringing value to the partnership. Remember, your corporate sponsors have objectives, or "missions," of their own. They'll want to know they're supporting a nonprofit that aligns with these goals and that the sponsorship can help them achieve it.
Tell a Story
Explain to potential sponsors how their sponsorship and support can directly impact someone as part of your mission. For instance, "$1,000 will help us do X for Y number of people." Additionally, share how last year's sponsors were able to help your organization accomplish its goals.
Tailor Your Ask
Rather than using one main template and filling in names, make your ask personal and write individualized letters. These should be addressed to a relevant person at the company who is most likely to be receptive to hearing about your cause. Make sure you do your research on who to ask. Go beyond just marketing contacts and speak to anyone who will sympathize with your mission and also be in a position to create a plan of action!
Consider In-Kind Donations
If a business declines to offer a monetary sponsorship, consider asking for a non-monetary sponsorship instead, such as coupons for free services on event day. You can also request that a portion of their proceeds on the event day be donated back to the organization. A business in the area could serve as a location for the kick-off party, packet pick-up, or after-event party.
You can also reach out to companies to provide services you'll need at the event, such as photography, DJ/entertainment, signage, food, portable toilets, and tent/chair rentals. The value of their goods or services can certainly equate to a sponsorship level.
Leverage Your Data
Back up your corporate sponsorship ask with data! Determine what demographics a sponsor is targeting, and provide them with information about your event that would be relevant. For example, if a company tends to target women aged 50 to 60, let the company know how many people or what percentage of participants attending your event fall into that group.
Find the Right Timing
The timing of your sponsorship ask is important. A lot of larger companies earmark a specific amount of money each calendar year for charitable giving, so be sure to ask when is the best time for them to consider a sponsorship.
Oftentimes, you have to get your ask in very early to even be considered. Other times, you have to adjust your strategy to the business you're reaching out to. For instance, if you're reaching out to an accounting firm during tax season, you're most likely not top-of-mind, and your request may go unanswered.
Propose a Plan
Part of crafting an appealing sponsorship ask means outlining your campaign initiatives and success metrics. This consists of defining your fundraising goal and the impact it will have first and foremost. As mentioned before, use numbers and data as support. But also be sure to define your success metrics and use KPI benchmarks that show when you've achieved your fundraising goals. Be specific about how your organization plans to meet its objectives, and link this process to ongoing projects, as well.
Draft a Sponsorship Agreement
The biggest thing that will demonstrate that you're professional and committed to the partnership is a sponsorship agreement. It should be written down to outline your goals, expectations, and other deliverables for your organization and the company. It may also be a good idea to include how you're going to recognize the company for its support, such as through advertising materials, merchandise, or event printouts.
Follow Up
Haven't heard back? Don't give up! Continue to communicate with companies after you've reached out with a corporate sponsorship request. Always check back to ensure someone has received your call, email, letter, etc. If not, ask to speak to the appropriate person at the company, and/or resend your ask to that person.
How to Cultivate Relationships with Corporate Sponsors
Once you've secured your corporate sponsorship, cultivating your relationships with those companies can't fall to the wayside! In addition to presenting your partnership in a professional light, continuing to recognize and work with your sponsor can have a huge impact on your organization.
Here are some effective ways to work with a sponsor after they've signed up to support your cause: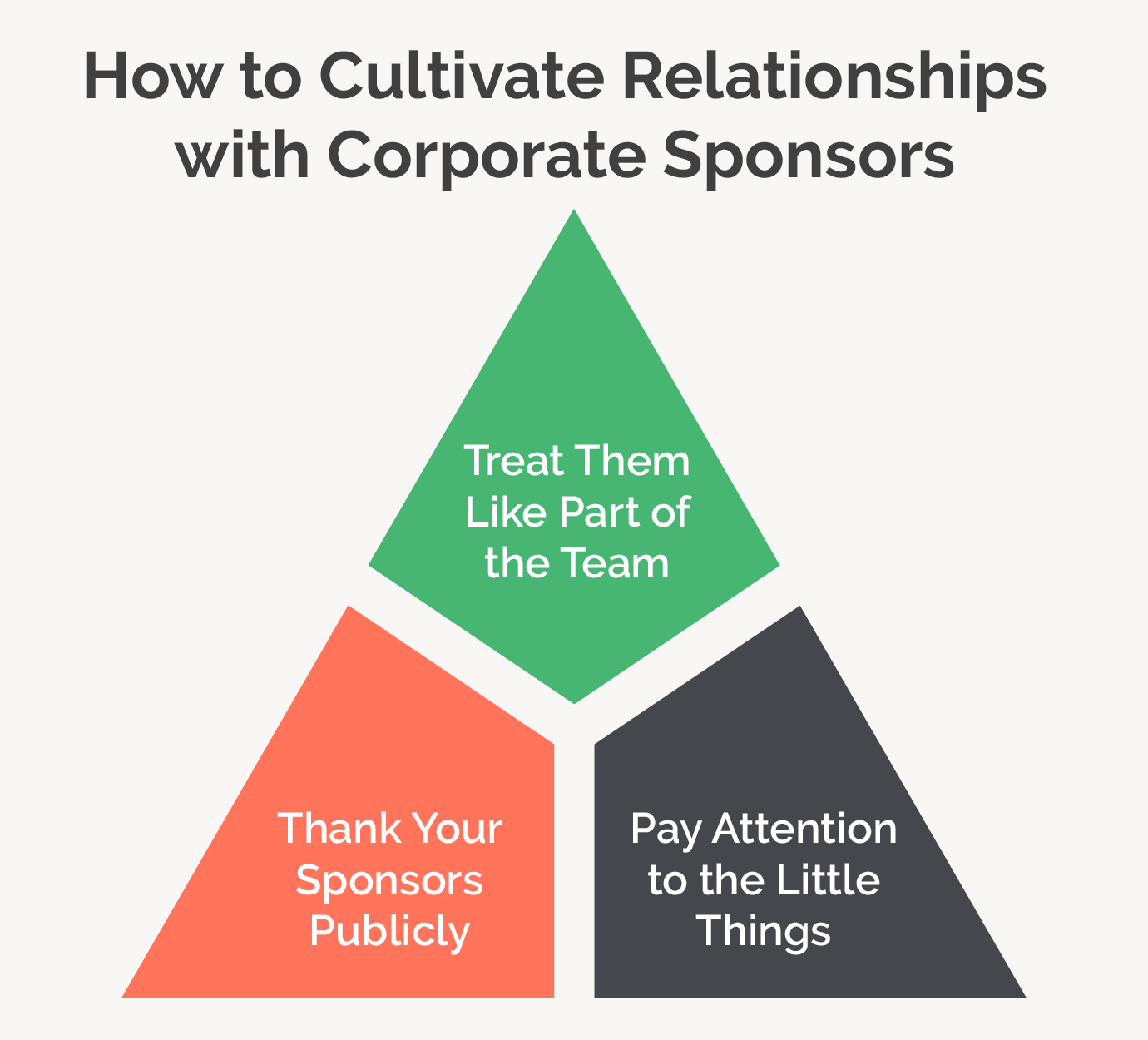 Treat Them Like Part of the Team
Treat your corporate sponsors like part of the team, because they are part of the team. Many sponsors will feel more engaged and recognize that they're getting more from their sponsorship if they hear from you often. This doesn't mean sending them an email every day, but rather, treating them like you would a top fundraising team.
Use the same engagement tools and approaches you use with participants to connect with your sponsors. For fundraising events, offer them a free team captain registration, help them get their page set up, and provide fundraising coaching. The more a sponsor raises and the larger their team, the more exposure they will get. This will in turn make them feel like they're getting more out of the sponsorship.
Pay Attention to the Little Things
Yes, big perks matter, but the little touchpoints make a big difference, too. Send a handwritten thank you or a note from a participant or beneficiary of your cause's work. If the sponsor also fundraised for your campaign, create a top fundraisers certificate that you send to them by mail.
These little touchpoints show that you acknowledge the importance of their support, yet the cost is minimal, which demonstrates good stewardship by not wasting the sponsor's money.
Thank Your Sponsors Publicly
Feature sponsor logos and information in your event materials, such as merchandise, pamphlets, and online advertisements and emails. Then, give a shoutout on social media! Tag their company or business page, and publicly thank them in a post.
This will help your sponsor gain exposure as a reward for supporting your event, and it will also help solidify your partnership as beneficial and worthwhile in terms of the company's branding. Most likely, the company will then re-post your original post to its full audience to help your event reach new constituents.

Additional Corporate Giving Programs
It's obvious by this point that corporate sponsorships are a fantastic source of funding and support for your nonprofit's events and projects. A corporate sponsorship can help you meet your fundraising goals, continue serving your mission, and create exceptional partnerships with companies that share your values.
But as you assess the value of corporate sponsorships, you should also research other forms of corporate philanthropy. Especially when combined with a corporate partnership, this can maximize your fundraising revenue and keep your participants and supporters engaged.
Some of these top corporate giving programs include matching gifts, volunteer grants, payroll deductions, and in-kind donations.
Matching Gifts and Fundraising Matches
Corporate matching gifts are the most popular type of corporate giving program. In fact, more than 26 million individuals work for companies that have matching gift programs. As part of this program, companies match donations their employees make to eligible nonprofits.
Corporate matching gifts pave the way for increased fundraising dollars, especially during a big fundraising campaign. If you've already set up a partnership with a company, their employees will be encouraged to donate to your cause. And if that company offers a corporate matching program, those donations can be doubled, or even tripled!
In terms of your nonprofit's fundraising event, there are even more ways to build support and revenue. Through fundraising matches, corporate employees who participate in your event (e.g., a walk, run, or bikeathon) can have the money they raise during the event matched by their employer.
While your partnership with a corporation can help bring in a lot of matching gift funds, matching gifts are still an overlooked source of revenue. That's why it's important to raise awareness among all of your donors and supporters, whether they're connected to known sponsors or not.
Consider investing in matching gift software to raise awareness among your supporters.
Matching gift software gives donors and event participants direct access to a comprehensive matching gift database that houses information on thousands of companies and their corporate giving programs.
With a matching gift tool like 360MatchPro by Double the Donation, donors can search for their company using a straightforward search tool, which can be easily embedded right on your website. The search tool will then populate with all of the information on their employer's matching gift program. It's easy to understand and use and will lead to even more successful match requests.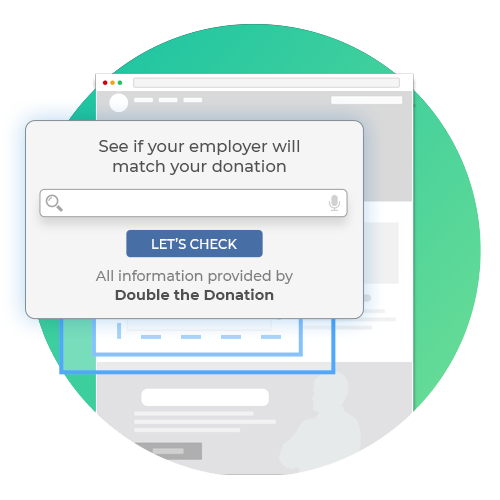 Volunteer Grants
While popular and incredibly effective, matching gifts aren't the only form of corporate giving that you should look into. 
When you're running any kind of fundraising event, it's likely that your team will need the assistance of volunteers to help everything run smoothly. But what if there was a way to turn these already beneficial volunteer hours into another source of fundraising revenue?
There is. And that's through volunteer grants.
Volunteer grants are another common form of corporate philanthropy in which companies provide monetary grants to organizations where their employees regularly volunteer. And if you fold this into your already established corporate partnerships, you may very well end up with extra funds for your mission!
Ask corporate sponsors to encourage their employees to volunteer at your event—especially if those volunteers offer specific skill sets that can benefit your cause. If the company also offers a volunteer grant program, this means you'll not only get much-needed help at the event itself, but you'll also raise more money.
Even if your volunteers don't come from corporate partners, it's important to encourage them to look up their eligibility for a volunteer grant. The best part? Many matching gift databases also offer information about volunteer grants! Using a solution like 360MatchPro, your volunteers can search for their employer using the search tool embedded in your website. From there, the search tool will populate with all the information they need about their company's volunteer grant program.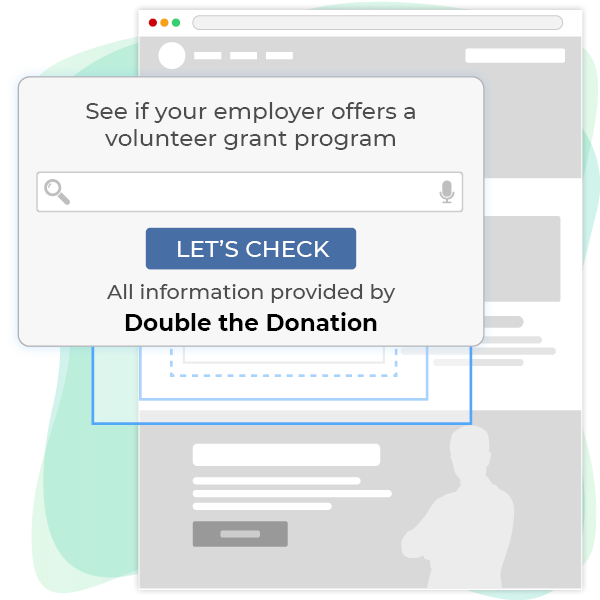 Payroll Deductions
Payroll deductions are another great perk of building relationships with companies. Whether the company is a partner of your organization or not, employees can arrange to have a certain amount deducted from their paycheck and automatically donated to a nonprofit of their choice. These recurring donations can make a huge difference for your organization.
In-Kind Donations
As you probably guessed from reading about in-kind sponsorships above, in-kind donations involve companies donating equipment, products, or services, rather than money. This expands beyond your fundraising events. Maybe your team needs marketing or tax assistance. Many companies are willing to provide these services to nonprofits free of charge!
Educating your organization about the various corporate giving programs out there can help boost your fundraising revenue. Pair that with strong corporate partnerships, and you'll have the resources you need to continue serving your mission!

Developing Mutually Beneficial Partnerships with Auto-Submission
The most successful corporate partnerships are built on a mutually beneficial foundation between charitable organizations and for-profit companies. One of the best ways to improve both parties' sponsorship outcomes is to make the process as easy as possible for everyone involved. That's why we recommend implementing corporate giving auto-submission!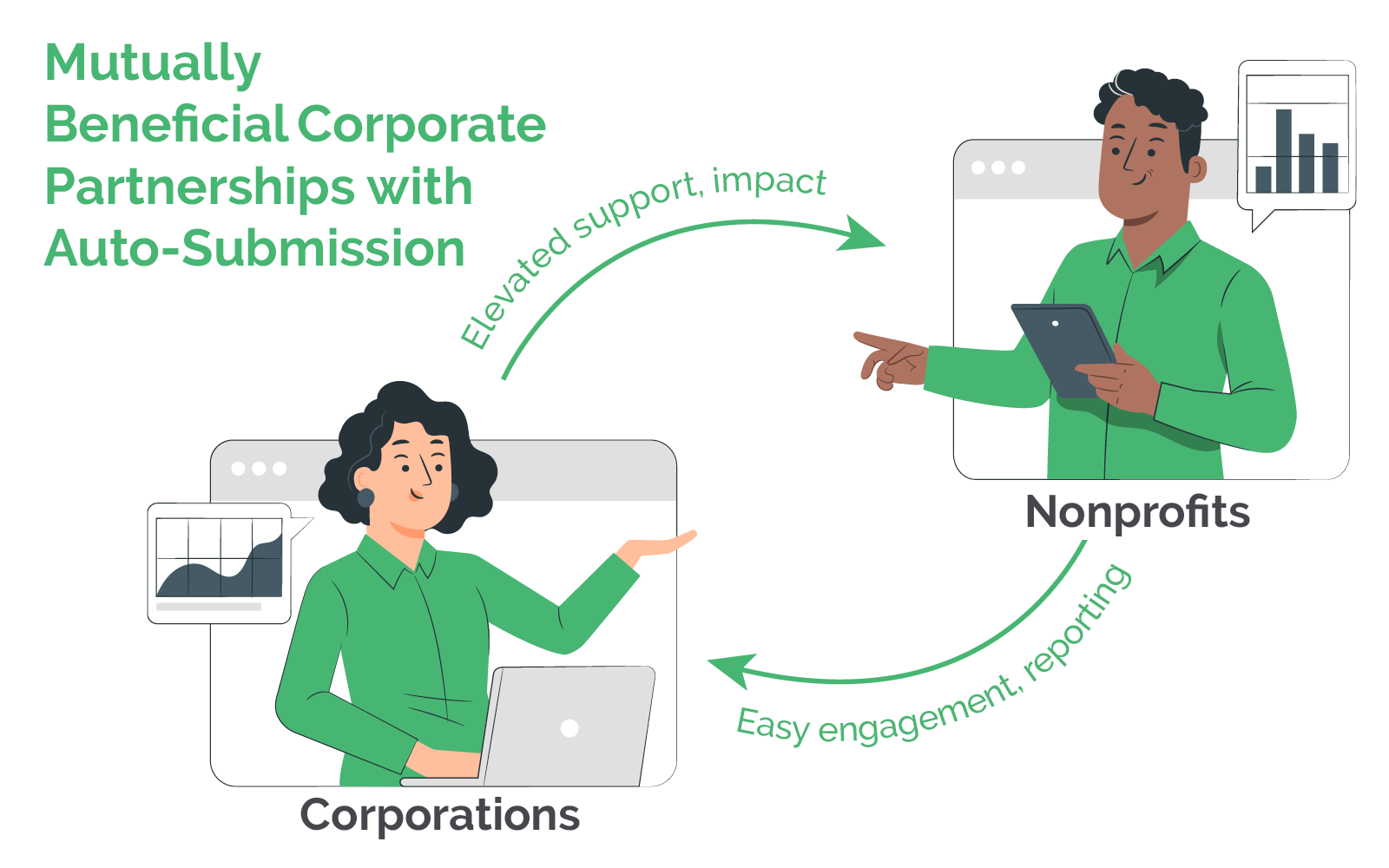 Double the Donation's auto-submission functionality is a groundbreaking development in the world of matching gifts and corporate partnerships. And it can aid nonprofit fundraising in a few key ways.
Improving Standard Matching Gift Experiences
Auto-submission makes matching gifts easier than ever for nonprofit organizers, their donors, and the companies that support them. Specifically, it enables eligible individuals to complete their match requests in significantly fewer steps⁠—meaning more matches are ultimately completed and fulfilled.
It's also a lesser administrative workload for the nonprofit and business sides of things and allows each group to make a larger impact than they could have otherwise. Not to mention, auto-submission capabilities include improved reporting practices, complete with new data points that allow organizations to better track matches through the process.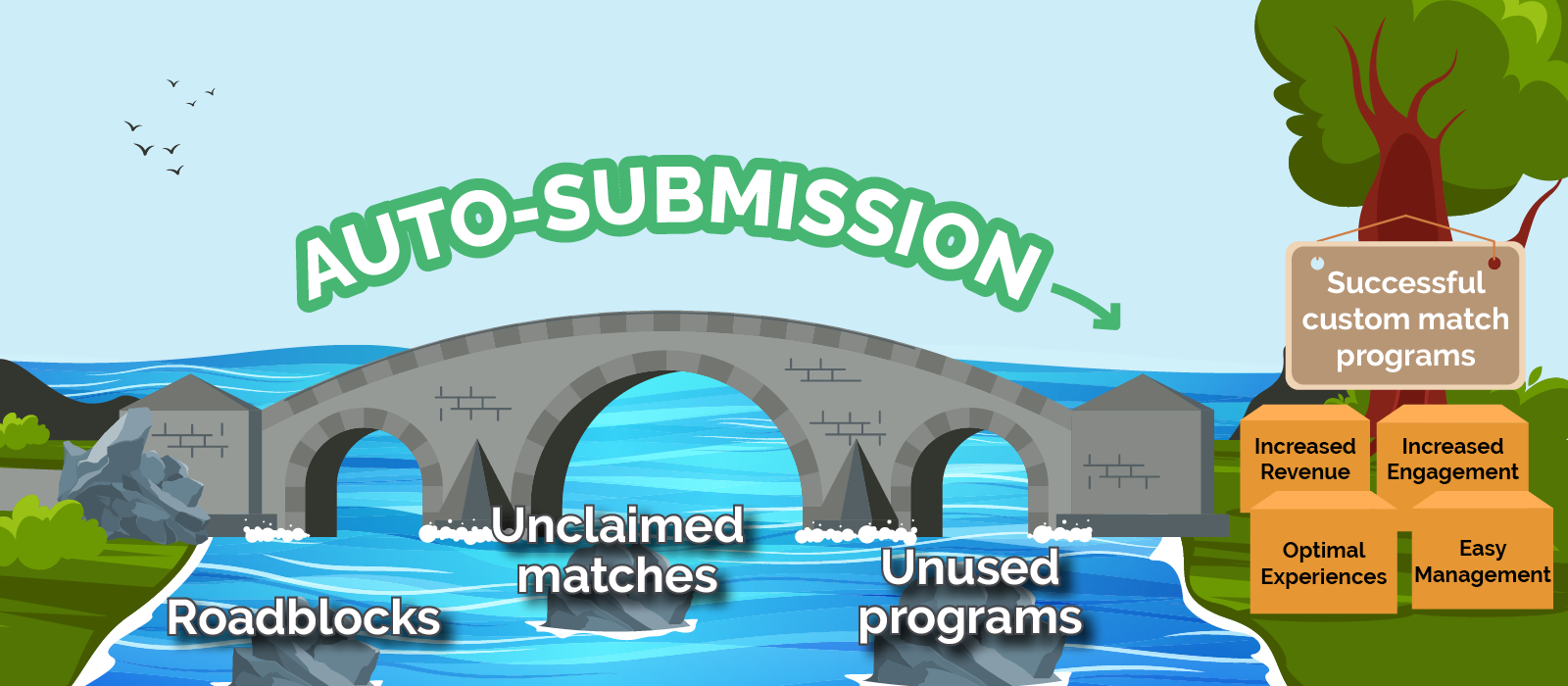 Introducing Custom Matching Gift Partnerships
On the other hand, there's a wide range of companies that may not feel prepared to jump into a full-fledged matching gift program for their staff. However, they want to find a way to support nonprofit causes and inspire their employees to do the same.
Our recommendation for these types of partnerships is a custom (or "one-off") matching gift program⁠—where a company will agree to match employee donations to a single organization. These are typically more targeted partnerships than a standard matching gift program, which allows for deepening relationships between a nonprofit and a corporate sponsor. And auto-submission allows these partners to facilitate their offering with minimal lift.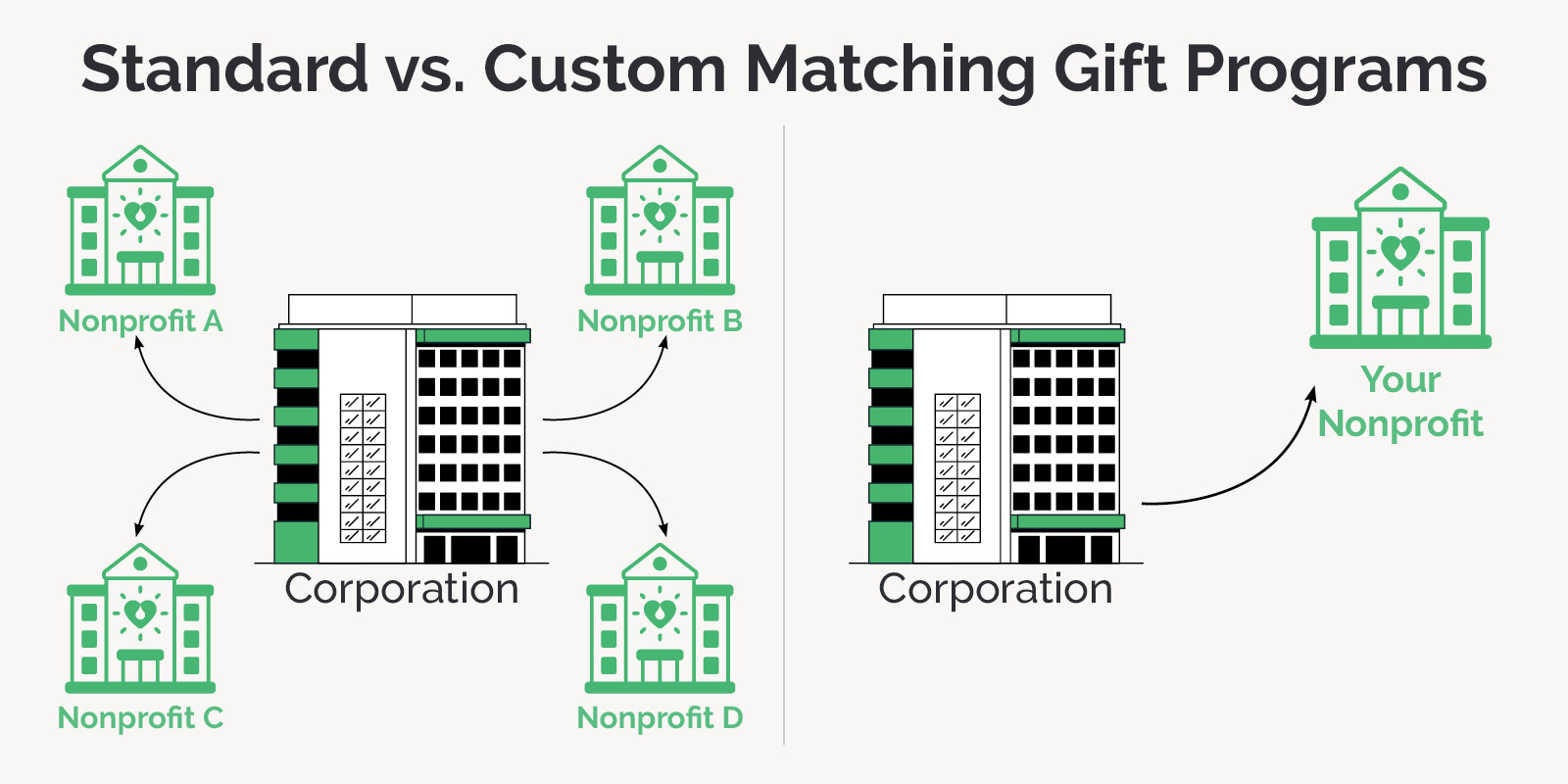 Organizations that use 360MatchPro can do so by adding a program exclusive to their own database tool. With auto-submission enabled for the campaign, employee giving transaction details are automatically passed from the nonprofit's donation page to the business offering the program. This allows it to establish and disburse the correct amount of match funds without requiring additional steps from the employees who give.
Additional Resources on Corporate Sponsorships
Corporate sponsorships can have a huge impact on more than just the money your organization brings in. They also affect your organization's brand recognition, exposure, and credibility. Be sure to choose the right corporate partners for your sponsorships and put in the required research to find the best match. Then, you'll be ready to tackle anything!
Looking for even more information about corporate philanthropy? Check out these resources below:
https://doublethedonation.com/wp-content/uploads/2020/10/Corporate-Sponsorships_Feature.jpg
760
2000
Adam Weinger
https://doublethedonation.com/wp-content/uploads/2022/03/logo-dtd.svg
Adam Weinger
2023-08-10 13:00:50
2023-09-27 23:23:27
How to Unlock Corporate Sponsorships: Get More Support