6 Types of Fundraising Letters: Write Amazing Appeals! [2022 Update]
Sending out fundraising letters might seem like an old-fashioned way to ask for donations, but they can be extremely effective when written correctly!
If you've been looking for fundraising letters, look no further! We've got six of the most common fundraising letters that nonprofits should be sending out to their donors.
Here's what we'll be going over:
Tools we mention to support fundraising letter campaigns:
The power of direct mail fundraising is often underestimated. However, with the right tools and tips, physical fundraising letters can be extremely effective for bringing in increased revenue. Let's jump right in!

1. Donation Request Letters

What are donation request letters?
Donation request letters are nonprofit fundraising letters that charitable organizations send out to individual donors and/or prospects.
They can be sent on their own or included in a welcome packet that contains pamphlets, booklets, and additional information. Typically, an effective donation request letter will include a summary of the issue you're addressing with the donations along with a specific call to action. This way, recipients can better understand the urgency behind the donation request and, hopefully, choose to partake in the campaign.
When should you use them?
Your nonprofit can use donation request letters at any time of the year! However, they are particularly effective toward the end of the calendar year when donors are determining their pre-tax season finances. People also tend to be more charitable in November and December, which means that your donation request letter has a better chance of encouraging a donation.
You can send out donation request letters to any of your donors, but these types of communications are better received by older generations. While millennials respond to digital donation appeals, the baby boomer generation overwhelmingly prefers direct mail.
Bonus: We suggest giving donors the option to reply to your letters by mailing a traditional check or directing them to give through your organization's website.
Example letter
---
Date

Your Name
Your Organization's Name
Street
City, State ZIP

Dear [Donor's Name],

[Begin with an emotional appeal. A success story or a narrative that tugs on your donors' heartstrings hooks your readers. Keep it short, though!]

Our community/nation/world is facing [problem(s) your organization is trying to fix]. While we are actively [insert current solutions your organization is attempting], we need your help to make our efforts go even further!

You can help us [solve the problem you're trying to fix]. Your support is crucial to our efforts to [solve the problem].
If you're able, we'd love it if you could make a donation of [amount] to help us achieve our mission and [solve problem].

Thank you in advance for your contribution. Your donation will go toward [insert effort, accomplishment, or project].

Here are the ways you can make a donation:

— Make a donation online at [URL to donation page or crowdfunding campaign page]
— Call us at [phone number]
— Send a check in the pre-stamped envelope we've included (no cash, please!)
— Text [keyword] to [text-to-give phone number]

Thank you again!
Sincerely,

[Signature of an organizational leader]
[Typed name of organizational leader]

P.S. [End with an update about an upcoming event, volunteer opportunity, or other information]
---
2. Church Fundraising Letters

What are church fundraising letters?
Church fundraising letters can take many forms. They can be used to ask for general church-related contributions, but they can also be used for specific fundraising efforts such as:
Charity auction item requests.
Fundraising event donations.
Sponsorship requests.
Mission trip funding.
Church building funds.
Missionary support.
It's common for churches to send out fundraising letters to notify congregants when church events or other fundraising initiatives are occurring. These types of fundraising letters can be used to share the details—date, time, location, etc.—of the event as well as encourage those who can't attend to give in advance.
For our purposes, we'll be talking about a generic church fundraising letter that you can use to ask for general contributions.
You can send church fundraising letters to members of your congregation or to community members, depending on your fundraising need.
When should you use them?
You can send out church letters whenever you have a fundraising need! Churches rely on the generosity of their congregants to keep the doors open and the lights on.
Of course, you shouldn't send out too many church fundraising letters. Limit your letters to a few per year and rely on in-person appeals during a church service for the majority of your fundraising efforts.
Sample letter
---
Date

Your Name
Your Church's Name
Street
City, State ZIP

Dear [Church Member's Preferred Name],

Greetings! We hope this letter finds you well and that you've had a relaxing, blessed holiday season. Because you're an important part of our church family, we thought you'd want to know about our big plans for this new year.

As you may know, our congregation is growing. Just like any family, the more members you have, the more room you need. We're pleased to invite you to be an important part of this exciting process!

This Sunday afternoon, [your church's name] is hosting a special event to raise money for the brand new sanctuary and bell tower. How blessed are we to have so many members like yourself that we need to build an entirely new structure?

It's our greatest hope that you'll be able to join us at [date and time] for a family fun carnival! Snacks and drinks will be provided for a small price. The only thing you need to bring is your sense of fun and adventure!

Admission is free, but of course, willing contributions of any size are always accepted.

If you have any questions about the event or the new sanctuary or bell tower, please feel free to reach out to our special projects coordinator, [name] at [phone number] or email her at [email address].

As always, have a blessed day. We hope to see you Sunday!

His Clay,

[Pastor's Signature]

[Pastor's Name]
---
3. Individual Fundraising Letters

What are individual fundraising letters?
Nonprofits aren't the only ones who have fundraising needs! Sometimes individuals need to raise money for a cause, project, or life event.
If that's the case, you can use individual fundraising letters to send out donation requests to members of your community and local businesses.
Whatever you're raising money for, an individual fundraising letter can help you generate funds for your cause, project, or event!
When should you use them?
You can use an individual fundraising letter whenever you need to raise money for a cause or project that means a lot to you. Of course, you shouldn't just rely on fundraising letters to raise money.
You can set up a crowdfunding campaign to supplement your fundraising efforts. You can also use your fundraising letter to direct people to your crowdfunding page to give them an easy way to make a donation.
Letter template
---
Date

Your Name
Street
City, State ZIP

Dear [Donor's Name],

My name is [your name] and I am [describe your position/situation/background]. I am looking to raise [amount of money] to help me pay for [project/expense/cause/etc.].

[Include information about why the cause or project is important to you and how it could potentially impact the reader or those you serve].

I'm writing to ask you to support me and my [cause/project/etc.]. Just a small donation of [amount] can help me [accomplish task/reach a goal/etc.]

Your donation will go toward [describe exactly what the contribution will be used for].

[When possible, add a personal connection to tie the donor to the cause. For example, if you're raising money to help build a school in a developing country and you're writing to a teacher, emphasize the fact that everyone deserves a quality education].

Thank you in advance for your contribution. You have no idea how much it means to me to have your support.

Here are the ways you can make a donation:

— Make a donation online at [URL of your crowdfunding campaign]
— Send a check in the pre-stamped envelope I've included (no cash, please!)
— Come to my fundraising event on [date] at [location] [when applicable]

Thank you again!
Sincerely,

[Your signature]
[Your typed name]
---
4. Matching Gift Fundraising Emails or Letters

What are matching gift fundraising letters?
Matching gift fundraising letters are tangible letters (or emails) that nonprofits send out to donors to remind them to submit matching gift requests.
For those who don't know, matching gifts are a type of corporate giving program. After an employee has made a charitable donation to an eligible nonprofit, they can submit paperwork to their company's HR department. If the donation and the nonprofit meet the company's requirements, the business will make a contribution to the nonprofit for the same amount.
However, many donors simply don't know that their employer offers a matching gift program.
That's where a matching gift fundraising letter comes in!
Your nonprofit should send out communications to remind donors that their contributions might be eligible to be doubled (and sometimes, even tripled!).
When should you use them?
The best time to promote matching gifts (besides during the donation process itself) is directly after a donation has been made.
Your nonprofit is still fresh in donors' minds, and they'll be more likely to submit a matching gift request.
As soon as a donor has made a contribution (regardless of how the donation was made), your nonprofit should send out an automatic email that:
Thanks them for their donation, and
Encourages them to submit a matching gift request.
You can also follow up a few days later with a matching gift fundraising letter if the donor hasn't already submitted a matching gift request.
Example letter
---
Here is an example of a matching gift fundraising email: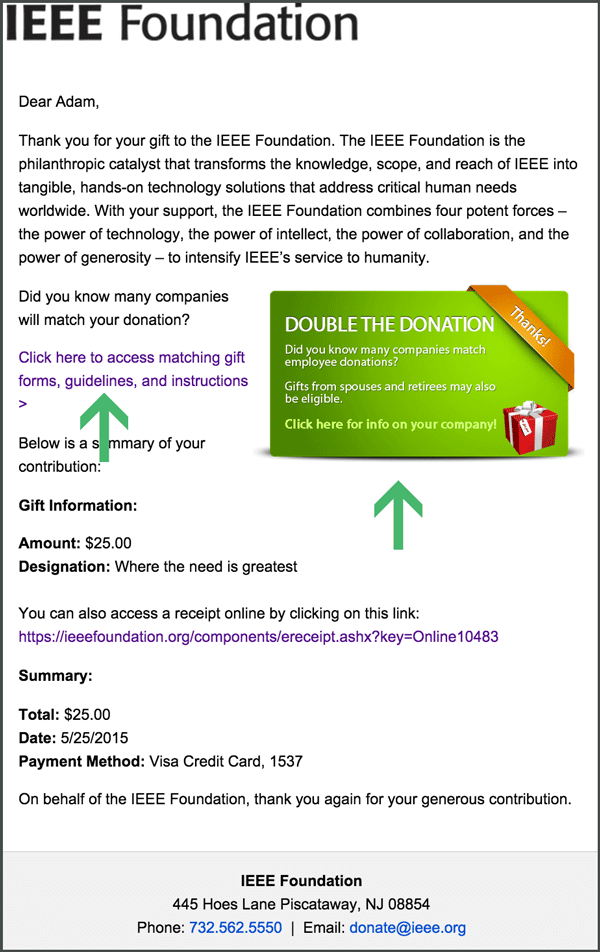 This is an excellent example of a direct mail letter/postcard that promotes matching gifts:
Use these letters and emails in conjunction with one another to maximize your nonprofit's matching gift potential!
---
5. Sponsorship Letters

What are sponsorship letters?
Sponsorship letters are used by nonprofits that are looking to receive corporate sponsorship donations for a specific project or event.
Sponsorship letter packages include:
A sponsorship proposal cover letter.
A sponsorship levels document.
A sponsorship acknowledgement letter.
The proposal letter is the formal request for a sponsorship donation. It explains the nonprofit's fundraising need and details how the funds will be used.
The sponsorship levels document is how companies decide how much they would like to give. This document lists out a few different sponsorship levels and the perks that come with each level. The higher the donation, the more perks the company receives.
The sponsorship acknowledgement letter is a thank-you to the company after they have made a donation. Your nonprofit can send out an acknowledgement immediately after a donation has been made and after the event has ended.
When should you use them?
Sponsorship letters should be sent out well in advance of your event or project. You want to give the company enough time to consider and respond to your donation request.
Sample letter
---
Date

Your Name
Your Organization's Name
Street
City, State ZIP

Dear [CEO/CSR Manager/Business Owner/etc.],

[Open with a description of your organization. Give some brief background including your mission, vision, and how you serve your community.]

We are hosting our [event name] on [date] at [location]. Last year's event was such a huge success that we decided to host the event again!

In the past, this event has raised [amount] and has [list out specific accomplishments using statistics and figures].

This year we're hoping to raise even more! Our goal is [amount], and we were hoping that you could help us reach that goal.

By becoming one of our corporate sponsors, you'll be able to [list out projects that corporate donations could help accomplish].
We've also listed out some of the incentives and perks that your company can enjoy should you decide to become one of our corporate sponsors (see attached Sponsorship Levels Document). Regardless of the amount you choose to give, your company name will be included in our event program and you'll be included in the press release that we'll publish on our website.

We're accepting cash donations as well as in-kind donations of goods or services. Feel free to make a contribution that you're comfortable with.

See the attached Sponsorship Levels Document to find the giving level that's right for your company. If you're ready to make a donation, please tear off the perforated section of the following document and send it back to us in the self-addressed envelope we've enclosed.

I'd like to thank you in advance for your generosity. Please don't hesitate to contact me directly at [phone number] or [email] if you have any questions.

Sincerely/All the best/etc.,

[Your printed name]
[Your title]

[Your signature]
---
6. Donor Thank-You Letters

What are donor thank-you letters?
Donor thank-you letter are pretty self-explanatory.
These letters (or emails!) are meant to be used after a donor has made a contribution of any kind, including:
Monetary contributions.
In-kind donations.
Volunteer time.
A matching gift from an employer.
And more!
When should you use them?
Your donor thank-you letters should be sent out as soon as you receive a contribution. Donors should receive an acknowledgement within two days of making a donation.
Feel free to send out an acknowledgement email as well as a direct mail letter. You can never be too appreciative of your donors!
Letter template
---
Date

Your Name
Your Organization's Name
Street
City, State ZIP

Dear [Donor's Preferred Name],

I can't tell you how much all of us at [nonprofit name] appreciate your contribution to our cause. Thanks to your donation of [amount], we'll be able to [list out specific goals, objectives, etc.].

I also wanted to let you know that we'll be [hosting volunteer event, opening up our nonprofit's doors for tours, holding a fundraising event, etc.]. We'd love to extend an invitation to you to participate in this opportunity! Our current donors have all enjoyed developing a stronger partnership with our organization, and I'm hoping you'll do the same.

Thank you again!

[Your printed name]
[Your title]

[Your signature]
---
Bonus: How to Send Your Letters
Once you've finalized the content of your letters, you'll need a way to get them into the hands of supporters. Be sure to invest in a direct mail platform to get your compelling fundraising letters sent out quickly and without hassle.
Platforms like GivingMail allow organizations to upload their pre-drafted text along with any descriptive graphics and images. They'll even handle the printing and sending, meaning all you have to do is wait for the responses and donations to come in!
---
We hope that these six fundraising letter templates have given you some insight into how to write an amazing fundraising appeal. Which ones have you used in the past? Which letters have you had the most success with?
If you want to learn more valuable fundraising tips, check out these additional resources:
Must-Know Nonprofit Software: Every nonprofit needs fundraising software if they want to raise money online. Learn about the top vendors providing nonprofits with top-notch tools to help you raise more donations.
Online Fundraising Guide: Looking for more ways you can raise money online. You're in luck! This extensive guide will lead you through everything you need to know about raising money online.

https://doublethedonation.com/wp-content/uploads/2022/06/6-types-of-fundraising-letters-for-nonprofits.png
321
845
Adam Weinger
https://doublethedonation.com/wp-content/uploads/2022/03/logo-dtd.svg
Adam Weinger
2019-01-29 14:23:38
2022-09-23 14:26:06
6 Types of Fundraising Letters: Write Amazing Appeals! [2022 Update]