Donor Retention: A Comprehensive Guide + 6 Strategies
Donor retention is a popular topic within nonprofit organizations and for good reason! The practice of retaining donors takes strategy and careful planning. However, the benefits of a fortified retention strategy are worth it.
In this comprehensive guide, we'll discuss all things donor retention related and give five strategies to maximize your efforts, let's get started!

What is donor retention?
Donor retention is the measure of how many donors continue to donate to your organization. Nonprofits with high donor retention rates experience less turnover as they cultivate relationships with the same donors who continue to donate year after year.
On the other hand, nonprofits with a lower donor retention rate must continually pour their efforts into donor acquisition, or the process of recruiting new donors. This process can be exhausting as nonprofits have to keep up with fielding new support to increase their mission and cover the cost of lapsed donors.
How does donor retention fit into the donor lifecycle?
It can be helpful to take a step back to fully understand how donor retention operates within the greater donor lifecycle. Terms like "donor acquisition" "donor retention" and "lapsed donors" all exist within a larger framework of the donor lifecycle.
This lifecycle is a concept that helps nonprofits create an actionable fundraising strategy that turns their revenue goals into manageable to-dos by segmenting their donor base. Additionally, the donor lifecycle reminds organizations that finding and maintaining donor relationships is a marathon, not a sprint.

Donor acquisition:

Describes the process of collecting contacts to cultivate into donors after establishing a relationship. Usually, organizations use tools like

prospect research

and wealth screening to identify reliable candidates.

Donor retention:

As previously mentioned, donor retention is the process of keeping donors continually engaged following their initial gift, so they do not lapse.

Donor upgrade:

Refers to the cultivation process involved in continuing donor relationships and guiding donors towards recurring giving or major gifts.
All three of these elements must work together within your nonprofit's donor cultivation strategy. For instance, if you place all of your emphasis on nurturing current donors, you'll miss key opportunities to bring new supporters and welcome them to your organization. And, current donors might decide to give to another cause or decrease their giving amount for reasons that are beyond your control. 
On the flip side, if your efforts are focused solely on donor acquisition, you'll likely see more donors lapse over time. Plus, your acquisition efforts might be too single-minded and you could miss out on several average-sized gifts in pursuit of one major gift. 
The solution? You'll need to continually analyze and balance your growth goals between these three stages of the donor lifecycle. 
Why is donor retention important? 
You might still be thinking, well even if current donors take a hiatus, I could still supplement donations through donor acquisition. Not so fast! Donor retention is still worth pursuing for several reasons:
It's cost-effective:

Donor retention ROI is much higher since it costs less to retain donors than to acquire them. Plus, your fundraising costs will decrease since you will not have to recruit more donors. 

It prepares your operations for the future:

When donors make consistent gifts to your nonprofit, you can rely on their support as a regular revenue source moving forward. 

It builds relationships:

Continued efforts to engage donors will increase their satisfaction and desire to get more involved. 

It supports a positive reputation:

Nonprofits that retain donors over time benefit from the positive reputation associated with appreciating and recognizing their supporters. 

It streamlines the communication process:

Nonprofits can use tailored communications to target long-term donors and new donors to personalize their marketing strategies. 
By investing in donor retention, nonprofits can experience deeper relationships and more financial stability. Additionally, a loyal donor community can act as proof that your nonprofit's mission resonates with people who want to drive meaningful change. 
Key donor retention metrics
When referencing donor retention, there are a handful of metrics your nonprofit should be familiar with to keep a pulse on your fundraising progress. These include donor retention rate, donor lifetime value,  and donor attrition rate. 
Let's break down each of these: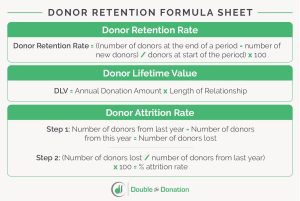 Donor Retention Rate: The percentage of donors who continue to contribute to your organization. Calculate this percentage by dividing the number of donors that gave this year by the number of donors that gave last year and multiplying that number by 100. The average repeat donor retention rate for nonprofits is 40%. 
Donor Retention Rate = ((number of donors at the end of a period – number of new donors) / donors at start of the period) x 100
Donor Lifetime Value (DLV): Calculates the projected total value of a donor's contributions over their lifetime. Considers average gift size, donation frequency, and length of donor relationship. Nonprofits use this metric to identify high-value donors and to adjust their retention strategies to target their ongoing support.
DLV = Annual Donation Amount x Length of Relationship
Donor Attrition Rate: Measures the number of donors lost within a specific period as a percentage of the total number of donors at the beginning of that period. To determine the number of donors lost, you'll need to identify the number of donors you had at the start of the period and then count the number of donors who have discontinued their support or become inactive.
Keep tabs on all of these metrics throughout the year and use them as KPIs following major campaigns. For instance, you might throw a series of appreciation events to engage your current high-value donors with the goal of increasing your donor retention rate by 10-15%.
5 Strategies to increase donor retention
To watch your donor retention metrics soar try out these five easy-to-use strategies: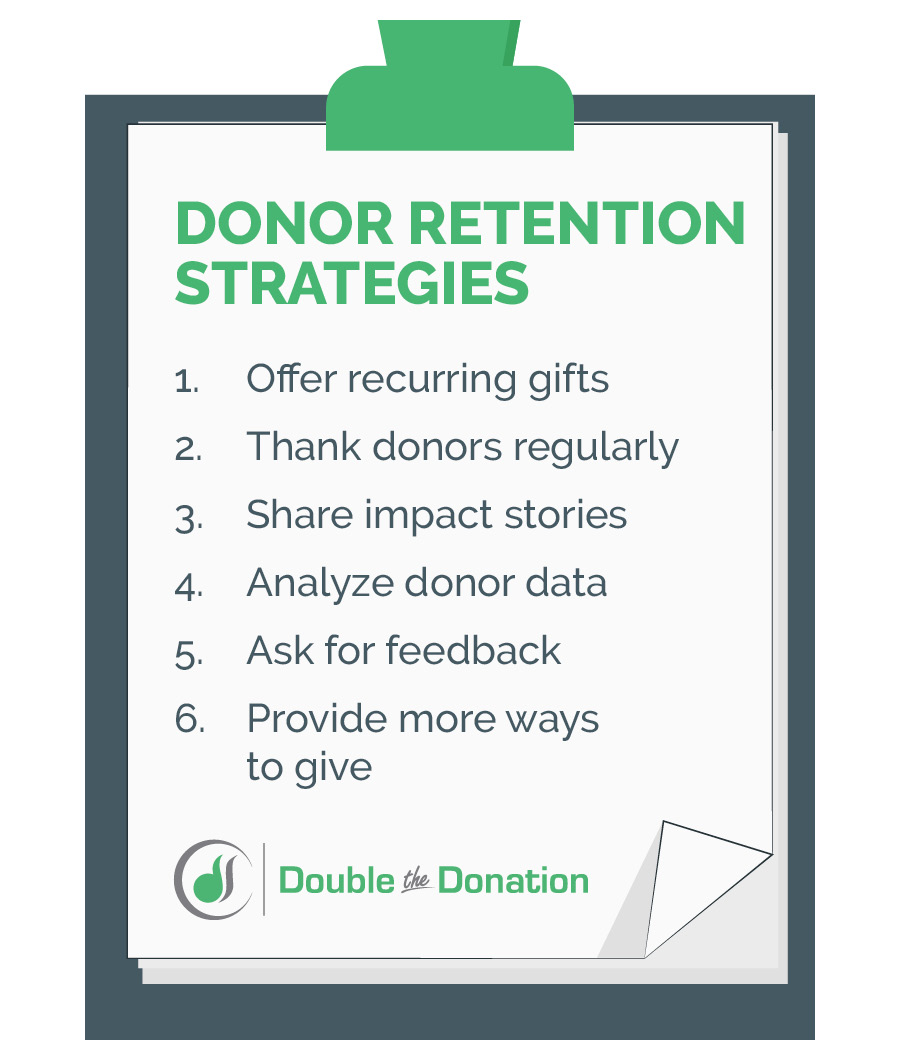 1. Offer recurring gifts
Recurring or monthly giving options make it simple for one-time donors to become long-term supporters. If your organization hasn't already, offer a recurring giving option, so donors can easily schedule their gifts without having to go through the standard one-time gift process each time.
Recurring gifts from donors act as an obvious indication that your supporters are ready to take the next step in partnering with your organization. To recognize their efforts, consider implementing recurring gifts from your organization as a way to signal your appreciation. Some popular gift ideas include:
Branded merchandise
Lunch with the CEO
Early access to tickets or events
Discounted tickets
Exclusive updates
Not all donors will be interested in a recurring giving program right away, and that's ok. Look for donors who have already given to your organization a handful of times and incentivize them with unique nonprofit perks.
2. Thank donors regularly
Not being acknowledged is one of the top reasons why donors churn. While being appreciated is certainly a benefit, the lack of a thank-you message often causes donors to assume the causes they gave to don't need their support.
Don't let that happen! Instead, make regular efforts to show your appreciation, emphasize that each gift matters, and build relationships with your donors. You can do this with the use of old-fashioned mailed thank-you notes, eCards, thank-you videos, or even phone calls.
Whatever method you use, be sure to thank donors promptly. Fundraising professionals advise that your first thank-you should be within 48 hours after a gift, usually through a text or email, and your second thank-you should be five to seven days after, usually through slower forms of communication like mailed letters. 
Of course, for a fast thank-you to be effective, it also has to be meaningful and sincere. After donors respond to your fundraising appeal with a gift, express gratitude by:
Greeting the donor by their preferred name.

Use your donor database to keep all of your supporters' personal information organized. Then, when you create your

thank-you emails

or letters, you can pull the correct names and physical or email addresses automatically. 

Specifying how their contribution played a role in your impact.

Be specific about how you intend to use donors' gifts and how they will make a difference for your cause. For example, a food bank might share how many families were fed or a medical research foundation might emphasize how every bit of funding gets them closer to a cure. 

Including compelling visuals that illustrate how they made a difference.

Communicating impact through text alone can be challenging, so make your donor thank-you letters more meaningful by using visuals. Add infographics that show how you use donations or photos of the people and places who are helped by your donors' generous gifts. 

Providing additional ways for them to engage with your nonprofit.

In a thank-you message, it's important to

not

ask donors for another gift. Asking for a donation right on the heels of their last one can make donors feel unappreciated. Instead, invite them to get involved in other ways, like volunteering, attending an event, or even just exploring your blog.
Outside of emails and letters, nonprofits can also thank donors with videos and appreciation events. Of course, these will require quite a bit more effort to create and are usually best used as an appreciation strategy for major campaigns, like an end-of-year seasonal fundraiser.

3. Share impact stories
Donors want concrete details about how their gifts are furthering your cause. For instance, if your mission is to build wells to provide clean water for families in need, update donors on how many wells your team has built and how many families have clean water access because of your donor's generosity.
It's important to keep your impact stories personal and tangible, so donors can visualize how their contributions are affecting positive change. For that reason, consider using these tools to make your impact stories come to life:
Beneficiary photos and quotes (with permission)
Video evidence of your team's progress
Real-time statistics
You can include these elements in your marketing materials such as weekly newsletter, social media posts, website, and blog posts. Doing so will prove to donors that your team is dedicated to goals which will strengthen their trust in your effectiveness.
4. Analyze donor data
Your nonprofit fundraising software should integrate with a constituent relationship manager (CRM), also known as a donor database, to track your donations and individual donor information. This will help your nonprofit segment donor communications and identify top givers and it can help your nonprofit understand the root causes behind your donor metrics. You can analyze warning signs that indicate when donors are in danger of lapsing, including:
Reduced engagement
Decreased giving
Life changes
Negative feedback
In other words, your team will be able to understand giving trends and adjust your strategy accordingly. If you notice, for instance, that many donors lapse during the summer months, you can craft a follow-up strategy to re-engage them.
5. Ask for feedback
To get a new perspective, ask for feedback from your long-term donors. Send them short surveys and ask questions like:
What makes our nonprofit different?
Why did you choose to support our mission?
Have you attended any of our recent events and if so, how was your experience?
Is there anything we can do to improve your overall experience?
Are you satisfied with our communication cadence and depth? What areas of our mission would you like to know more about?
When your nonprofit makes an effort to survey your existing donors, it indicates that you value their opinion and will make changes to better serve them. So, don't be afraid to ask for their feedback as they'll be happy to offer their perspective.
6. Provide more ways to give
Offer donors a choice for how they'd like to give to your nonprofit. This makes it more convenient for donors to give and offers them more agency in the decision-making process, increasing retention rates. To do so, invest in nonprofit software that allows you to offer online donation forms, text-to-give options, and more.
Take time to educate your donors on matching gift opportunities as well! Matching gifts are a form of corporate philanthropy in which companies offer to match their employee's donations at a 1:1 or 2:1 ratio. This opportunity can increase your donor's impact and propel your nonprofit to new fundraising heights.
Conclusion and Additional Resources
Keeping your donors invested in your cause are key to your nonprofit's growth. Focus on implementing the five above strategies to practice careful donor stewardship and engagement tactics. Remember to provide compelling updates and convey genuine appreciation to establish your nonprofit as one that highly values its supporters.
To learn more, check out these resources:

https://doublethedonation.com/wp-content/uploads/2023/06/Donor-Retention_Feature-2-scaled.jpg
953
2560
Adam Weinger
https://doublethedonation.com/wp-content/uploads/2022/03/logo-dtd.svg
Adam Weinger
2023-06-05 20:04:15
2023-09-01 19:36:42
Donor Retention: A Comprehensive Guide + 6 Strategies