Matching Gifts for K-12 Schools | A Crash Course
Educational institutions, public and private alike, rely on strategic fundraising to bankroll their academic programming, extracurricular activities, student scholarships, supplies and equipment, and more. And matching gifts for K-12 schools enables fundraisers to literally double the impact of their generous donations.
Here, we'll walk through everything you need to know as an educational fundraiser to make the most of matching gifts.
This includes:
Ready to bring your school's fundraising to an A+ level? Let's get started.
Multiplying Generosity with Matching Gifts: The Basics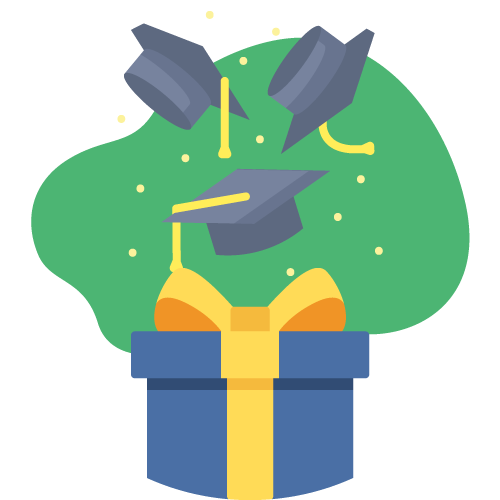 Corporate philanthropy plays a vital role in supporting educational institutions like K-12 schools. Specifically, matching gifts are one of the most widely accessible forms.
Essentially, corporate matching gifts refer to a type of program in which a company matches the charitable contributions their employees make to eligible nonprofit organizations. The programs are designed to incentivize and amplify the generosity of a company's employees, effectively doubling or even tripling their personal donations to worthwhile causes. And most often, these matching initiatives are inclusive of K-12 schools.
Donors who wish to participate in a matching gift program typically follow a straightforward process that looks like this:
After making a donation to their chosen K-12 school (or other organization), the donor inquires about matching gift opportunities with their employer.
The employer⁠—or, in many cases, the school itself⁠ via a matching gift automation tool—provides the necessary forms and guidelines for the donor to complete.
The donor completes the submission process, providing details about the donation, such as the amount gifted and the recipient organization.
Once the paperwork is submitted, the company reviews and verifies the information before issuing a matching gift to the designated school.
Matching gifts present numerous benefits for K-12 schools, their donors, and the companies they work for⁠—ultimately establishing a mutually rewarding experience. By leveraging corporate matching gifts, donors can significantly increase the impact of their contributions. From there, the additional funds received through matching gifts can support various programs, benefiting the school community as a whole.
However, billions of dollars worth of matching gifts go unclaimed each year⁠—largely due to a lack of awareness and initiative. In fact, despite 26 million individuals working for companies that match gifts, more than 78% of the segment has never been informed about the programs! And even those who know their employer offers matching gifts are sometimes unaware of the process of getting involved, which is where strategic donor education comes in handy.
Companies That Match Gifts to K-12 Schools
Double the Donation offers the most comprehensive database of matching gift information⁠, which contains records for more than 24,000 companies. And though each employer is able to set its own limits regarding organizations that qualify for matching, most businesses are willing to provide matching gifts for K-12 schools and other education-based institutions.
While there are tons to consider, we've opted to spotlight here a few businesses with heavy focuses on education and school philanthropy.

McGraw-Hill
McGraw-Hill is one of the largest American publishing companies. With a devotion to educational content⁠, McGraw-Hill provides reading materials, software, and services for pre-kindergarten through postgraduate institutions. It's also a dedicated supporter of a wide range of K-12 schools, including through a generous matching gift program.
Each year, employees working more than 20 hours a week qualify to request between $25 and $2,500 in matching gifts to eligible nonprofit causes. Organiations like those that focus on long-term solutions for educational issues, civic, arts and cultural organizations, museums, libraries, parks, zoos, and more tend to qualify.
Learn more about the matching gift program for K-12 schools.

Penguin Random House
Penguin Random House is another well-known publishing company and is currently the largest provider of general-interest paperback books across the globe. Its subsidiary Random House Children's Books, which also encompasses Little Golden Books and Beginner Books, produces some of the most popular youth-focused books in the industry.
In addition to captivating young readers with its stories, Penguin Random House also aims to support educational efforts worldwide. One key example is its matching gift program! In addition to matching up to $2,500 worth of employee donations per team member per year, the company also offers to match contributions raised by their staff through peer-to-peer fundraising efforts in a fundraising match initiative.
Learn more about the matching gift program for K-12 schools.

Crayola
As one of the most prominent art supply manufacturing companies, Crayola plays a significant role in equipping students and teachers in K-12 classrooms across the nation. And going a few steps further, the company also supports schools through its dedicated employee matching gift initiative.
Specifically, Crayola focuses its matching gift efforts on supporting key categories of nonprofits. This includes educational (both K-12 private and public schools and higher ed institutions) and those pertaining to arts and culture. Each year, full-time and part-time employees can request up to $500 worth of matching gifts in each category, incentivizing staff to support missions most closely related to Crayola's own values.
Learn more about the matching gift program for K-12 schools.

Texas Instruments
Texas Instruments is a leading provider of educational technology, most commonly known for its innovative series of calculators and other STEM (science, technology, engineering, and mathematics) products. For decades, science and mathematics classes have relied on TI calculators to inspire academic success.
Facilitated through the TI Foundation, Texas Instruments also offers a particularly generous employee matching gifts program. Each year, full-time and part-time team members and employees can secure up to $30,000 in matches on behalf of the nonprofits they support. And, of course, the program is inclusive of education organizations such as K-12 schools, colleges, and universities.
Learn more about the matching gift program for K-12 schools.

Kaplan (Graham Holdings Company)
Kaplan, a subsidiary of the Graham Holdings Company, is an international education services company that's devoted to increasing access to education materials and transforming learning with new technologies. And one of the ways that they do so is through their matching gifts program!
Current full-time Kaplan employees (as well as other Graham Holdings staff members) can qualify for generous donation-matching to educational institutions at a 2:1 ratio of up to $2,000 per person per year. Other nonprofit organizations can also qualify for matching gifts from the company, though non-educational causes are limited to a standard dollar-for-dollar match rate.
Learn more about the matching gift program for K-12 schools.
Keep Learning! Best Practices for Effective K-12 Gift-Matching
Over the years, we've worked with a lot of educational institutions, K-12 schools included. From our experience, we've gleaned several tips and tricks along the way that have produced substantial results for organizations like yours.
All in all, we recommend implementing the following strategies as you craft and enact a matching gift fundraising plan for your school.
1. Integrate matching gift fundraising in your annual Giving Day.
Many schools host dedicated Giving Days, in which the school communities band together to raise significant funds in a 24-hour window. If that's the case, bring your Giving Day to new heights by incorporating matching gifts in your strategy!
Integrating matching gift fundraising into your annual Giving Day can significantly boost the impact of donations for your K-12 school. All you need to do is highlight the opportunity for donors to have their contributions matched by their employers within your existing Giving Day promotions. Utilize various communication channels such as emails, social media posts, website banners, and more to spread the word about matching gifts leading up to, during, and following your Giving Day campaign.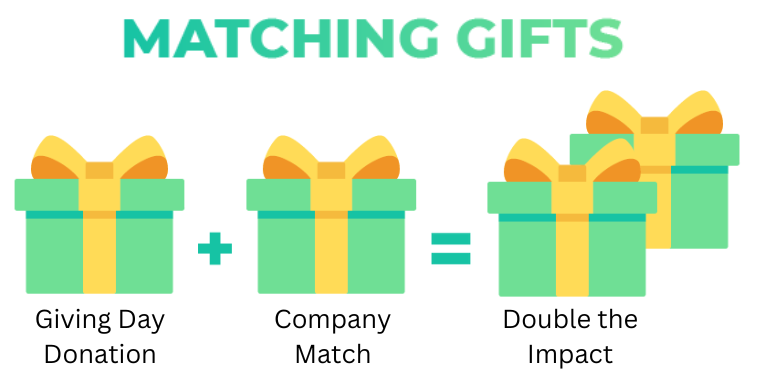 Emphasize that their support can go twice as far, motivating them to give generously. This is proven to work, too. Recent studies show that 84% of survey participants say they're more likely to donate if a match is offered, and 1 in 3 donors indicate they'd give a larger gift if matching is applied to their donation.
2. Identify popular local employers in your school's community.
Schools are one type of nonprofit that tend to have a significant reach, particularly within the geographic areas in which they operate. After all, it's most likely where their students and families live, and even community members without direct connections to the schools are often interested in supporting local education. So when it comes to pursuing matching gifts, it can help to seek popular employers in your school's neighborhoods.
To do so, begin collecting employment information from parents and other donors if you haven't already. Then, research the companies located in your area and compile a list of those offering matching gift programs. This can allow you to connect supporters with known matching gift companies and identify trends regarding companies that employ a significant portion of your network⁠—and it's especially easy to do with the aid of Double the Donation's 360MatchPro!
By focusing on local employers, you can tap into a potential pool of matching gift donors who have a personal connection to your school and are more likely to participate. And if a segment of donors works for a company that doesn't match employee gifts, it might show an opportunity to seek a corporate sponsorship (or one-off matching gift initiative!) or empower your supporters to advocate for a program on your behalf.
3. Provide educational matching gift materials to parents and families.
To increase awareness and understanding of matching gift programs among your school's supporter base, be sure to provide them with educational materials on the topic. Because a lack of awareness is a huge cause of the subsequent funding gap, a little education about the opportunity can go a long way!
We recommend developing clear, informational, and easy-to-understand brochures, flyers, and online resources that explain the basics of matching gifts.
These materials should include…
What matching gifts are;
How donors can participate;
The impact matching gifts can have on your school;
Examples of companies that match employee gifts;
Where to locate additional information.
Then, distribute these materials to your school's donors⁠—many of which are likely parents and other family members⁠—during parent-teacher meetings, open houses, school events, and through digital communication channels.
By equipping your audience with the necessary information, you empower them to take advantage of matching gift opportunities and become active supporters of your school's corporate fundraising efforts.
Hint: Double the Donation offers some helpful materials here!
4. Consider volunteer grants as well.
In addition to matching gifts for your K-12 school, another type of corporate philanthropy initiative you won't want to overlook is volunteer grants. Schools, and K-12 schools in particular, frequently rely on devoted volunteers to support various academic and extracurricular activities and events. Oftentimes, volunteers are even leading school fundraising efforts!
In order to maximize the value of this much-appreciated support, be sure to explore the potential of volunteer grants for your K-12 school. After all, many employers offer volunteer grant programs that provide monetary donations to organizations based on their employees' volunteer commitment.
Thus, encourage parents, alumni, and community members associated with your school to inquire if their employers have volunteer grant programs. Provide guidance on how to track and report volunteer hours to secure available grants, and be sure to emphasize the impact that these programs can have on your school's overall fundraising results. Incorporating volunteer grants alongside matching gift fundraising expands the range of opportunities for individuals to contribute to your school's success, whether through monetary donations, volunteer efforts, or a combination of both.
And if you've already invested in a matching gift tool like 360MatchPro, you can uncover volunteer additional grant insights in the same search of a donor's company!
Sample Matching Gift Messaging Templates for K-12 Schools
Raise awareness of matching gifts for your K-12 school with strategic fundraising outreach. These customizable templates can be an excellent place to start!
Matching Gift Email Template for K-12 Schools
Subject: Double Your Impact to [School Name] Today!

Dear [Supporter's Name],

At [School Name], we believe in providing the best education and opportunities for our students. We are reaching out to let you know about an exciting opportunity to maximize the impact of your donation through a corporate matching gift program.

Did you know that thousands of employers offer matching gift programs where they match their employees' charitable contributions? This means that your donation to [School Name] could be doubled⁠—or even tripled! It's a fantastic way to make an even greater difference in the lives of our students.

To find out if your employer offers a matching gift program, check out our online matching gift page (with a searchable company database!) here: [link]. This will provide you with the necessary forms and instructions to submit your matching gift request.

It's a simple process that can have a tremendous impact on our community! If you have any questions or need assistance with the matching gift process, please don't hesitate to contact our office at [contact information].

Thank you for considering this opportunity to make your support go even further. Your generosity helps us continue to provide exceptional education and enriching experiences for our school.

Thank you again for your support!

Sincerely,

[Your Name]

[Your Title/Role]

[School Name]
Matching Gift Text Template for K-12 Schools
Hi [Supporter's Name]! Did you know your donation to [School Name] could be doubled? Tons of employers offer matching gift programs. Click here to see if your donation can have double the impact! [Link to matching gifts page]
Matching Gift Facebook Template for K-12 Schools
🎓 Double Your Impact! 🎓

At [School Name], we believe in providing the best education for our students. You can help make an even greater difference through our matching gift program!

Many employers offer matching gift programs, where they match their employees' donations to educational institutions like ours. This means your donation to [School Name] could be doubled or even tripled! 🌟

To find out if your employer offers a matching gift program, click here [link] to explore our matching gift page. This resource will provide you with the necessary forms and instructions to submit your matching gift request. It's an easy process that can have a tremendous impact on our students' education!

#MatchingGifts #SupportEducation #SchoolFundraising
Matching Gift Tweet Template for K-12 Schools
Double your impact today⁠—More than 26 million people work for companies with matching gift programs. Search for your employer here [link to matching gifts page] or check with your HR department to see if your donation to [School Name] can be matched.

Together, we can make a difference! #MatchingGifts #SupportEducation
Matching Gift Postcard Template for K-12 Schools
Double Your Impact!

Have your gift to [School Name] matched to make twice the difference for our school community. Doing so allows us to provide better educational opportunities for the students in our care by making the most of every dollar we receive.

To find out more about corporate matching gift programs⁠—which are widely available and offered by tens of thousands of businesses⁠—scan the QR code below. You'll be taken to our school's matching gifts page, where you can discover details about your employer's match offerings.
Bonus: Automate Your Matching Gift Outreach with 360MatchPro!
Make matching gift messaging as easy as can be with matching gift automation tools. Double the Donation's 360MatchPro is designed to aid fundraising organizations, like K-12 schools, in streamlining the matching gift process from start to finish⁠. This includes raising awareness of the opportunities, driving matches to completion, and more.
And with the software in your school fundraising toolkit⁠—which integrates seamlessly with top school fundraising solutions⁠—you won't need to worry about manually sending matching gift reminders, either. After an individual gives to your school, 360MatchPro triggers timely and personalized follow-ups that inform supporters about their employer's programs with company-specific insights.
You'll never have possible matches slipping through the cracks due to a stretched-too-thin fundraising team again!
Want to learn more? Check out these additional educational resources on fundraising and matching gifts for K-12 schools: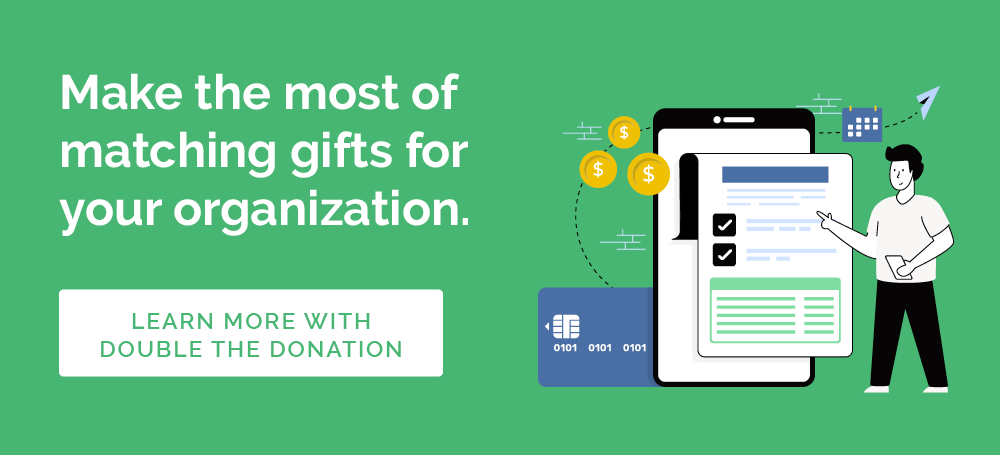 https://doublethedonation.com/wp-content/uploads/2023/05/DTD_Matching-Gifts-for-K-12-Schools-Multiplying-Generosity_Feature.png
600
1600
Adam Weinger
https://doublethedonation.com/wp-content/uploads/2022/03/logo-dtd.svg
Adam Weinger
2023-06-02 21:25:53
2023-06-09 22:25:25
Matching Gifts for K-12 Schools | A Crash Course