8 Ways to Encourage Donors to Submit Employee Matching Gift Requests
As a fundraising leader, you may have put a lot of thought into how to market matching gifts before and during the donation process. For example, you might host a matching donation challenge and mention matching gifts as a way to increase the impact of donations. That's great—doing so lays a solid foundation and begins increasing awareness about the opportunity. Not to mention, it allows your team to collect much-needed data points regarding your donors' employing companies.
But for the donor, clicking submit or mailing a check often feels like the final step. And for this reason alone, many eligible matches go unclaimed⁠—thus, resulting in available funds being left on the table.
The solution? Strategic follow-ups post-donation.
Getting in touch with donors after they complete their gifts allows you to remind individuals of matching gift programs at hand and encourage them to take the next steps to submit their matching donation requests. Plus, it provides a unique opportunity to retain your organization and its purpose at the forefront of supporters' minds, reiterate your mission and vision and highlight key opportunities for furthering engagement.
And in this guide, we'll share eight of the best ways to do so. These include the following:
Don't let your organization's matching gift opportunities fall through the cracks! Incorporating these follow-up methods enables your team to drive more corporate matches to completion, ultimately ensuring you get the biggest bang for your fundraising buck.

1. Educate your staff.
One of the first things you can do to easily raise your match submission rates among donors involves looking inward. In other words, make sure that, when it comes to matching gifts, your organization is cultivating a knowledgeable staff.
At the very least, every employee should understand:
When your team is equipped with a solid foundation of matching gift information and feels confident explaining the process, benefits, and more, you can work together to create an outreach strategy that is specific to your donor base. And don't forget about volunteers, either!
We recommend hosting dedicated internal training sessions to cover all of the above information, providing in-depth resources for learning more, and incorporating matching gift information in team-wide onboarding going forward.

2. Share guidelines on the confirmation page.
Immediately following the donation process, many donors' engagement levels remain high. That said, a nonprofit's confirmation page or thank-you screen can be a valuable resource for promoting actionable next steps. In this case, it's one of the best opportunities to begin actively encouraging individuals to submit their matching gifts.
When communicated effectively, match information on the confirmation screen can be positioned as a logical extension of the giving experience. And when you've collected employment information within the donation form, you can use the opportunity to provide company-specific eligibility criteria.
When available, this should include minimum and maximum match thresholds, corporate donation ratios, qualifying employees and nonprofits, submission deadlines, and more.
When available, this should include:
Minimum and maximum match thresholds (on average, between $34 and $3,728);
Corporate donation ratios (most typically 1:1, though some companies go lower, such as .5:1, or higher, such as 2, 3, or even 4:1);
Qualifying employees (full-time, part-time, retired, spouses);
Qualifying nonprofit mission types (education, community service, religious, etc.);
Submission deadlines (# of months post-donation, end of the calendar year, end of calendar year plus a grace period);
And more.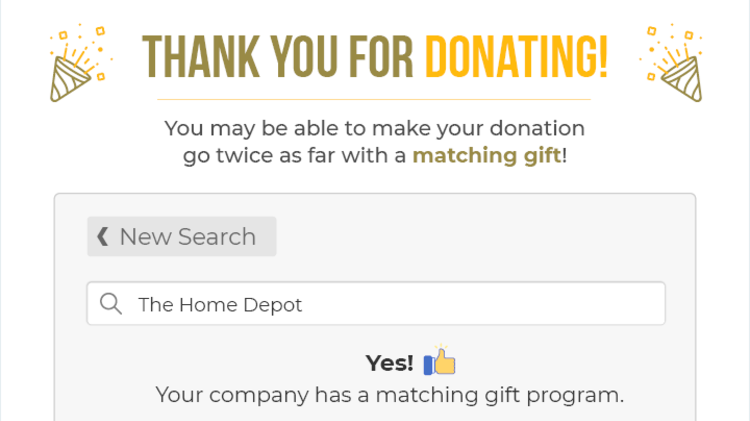 3. Link to request forms and next steps.
Each company that offers a matching gift program is able to establish its own submission process. These typically range from paper forms to online request portals. However, not all employers take a proactive approach to communicating the process to their employees. And many donors can be overwhelmed by a lack of direction⁠—even if the experience itself is quick and easy.
Thus, you don't want your donors to have to do a ton of research on their own to determine how to submit their matching gift. If that's the case, they're significantly more likely to abandon their potential match altogether.
In order to streamline the experience for your donors, providing direct links to the forms they need can go a long way. And if that information is unavailable, sharing contact information for a person or team at the company to reach out to can be helpful as well.

4. Enable auto-submission functionality.
It makes sense that the easier it is for a donor to take the steps required to submit a match request, the more likely they are to follow through. That's why Double the Donation has worked to streamline and guide donors through the process for years.
Now, the company has developed an even simpler way for nonprofit donors to submit match requests: matching gift auto-submission.
For companies that offer this functionality, employees can request their matches directly from the confirmation screens of their favorite nonprofits. All they usually have to do is enter their corporate email address (or another piece of identifying information). From there, they simply click to authorize Double the Donation to submit a match automatically on their behalf.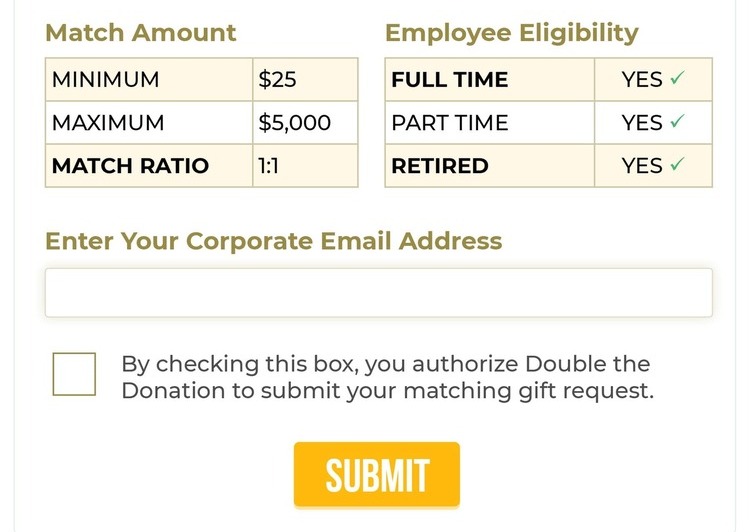 Auto-submission requires no redirects, and there's no need to provide repetitive nonprofit and donation details within a separate portal. In the end, it works to remove roadblocks and drive more matches to completion.
Even better? Nonprofits looking to leverage this breakthrough offering can do so with ease⁠—it comes automatically with a 360MatchPro subscription!

5. Send a follow-up email.
Looking to re-engage your donors after they leave your donation page? Send a quick email that specifically asks them to follow up and submit their matching gift requests.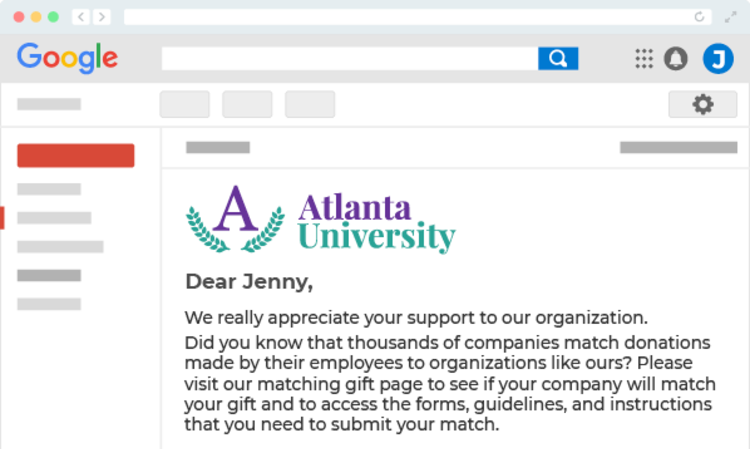 Make sure to incorporate an explanation of matching gifts and the benefits they can bring to your organization. Plus, demonstrate the simplicity with which a donor can complete their request by walking them through the process.
Top tip ⁠— Send your follow-up email within 24 hours of receiving an individual donation in order to retain giving momentum. Matching gift emails sent within this time frame see a 53% open rate, which is more than 2-3 times higher than the average nonprofit open rate!
Here's a sample:
"Dear Jody, thank you for your generous donation to the Cat Rescue Club. Did you know that your employer, Home Depot, will match your gift of $100 to our organization?
Matching gifts enable us to support twice as many furry friends. And it's quick and easy for you to complete your match. Click here to log into your company's matching gift request portal and submit your request."
Even better, use Double the Donation's 360MatchPro platform to trigger personalized outreach to donors. When individuals contribute to your cause, they are automatically triaged by match eligibility. Thus, they're sent a targeted email that incorporates employer-specific program information. This typically includes the company's minimum and maximum donation amounts, match ratios, and direct links to online forms.
Not to mention, emails can be sent from your organization's domain and branded to match your colors, fonts, and overall styles. And when you leverage automation, you can ensure each donor receives timely and actionable follow-ups. No more worries about prospective matches slipping through the cracks, and it's less legwork for your team to handle!

6. Pick up the phone.
To make your efforts really stand out, consider sorting through recent donations and identifying your top contributors. Then, call these donors to thank them for their gifts and encourage them to submit their matching gift requests.
Many donors would be happy to support your organization in this way, and taking the time to make a phone call demonstrates the importance of donation matches to your team.
Lack of donor awareness is one of the biggest hurdles to increasing matching gift revenue. If you're able to briefly walk a donor through the process and provide them with the information they need, they'll be more likely to complete their end of the matching gift request.
Feel free to use this sample phone script as a jumping-off point for your efforts: "Hi Jeff! It's Anita from the Cat Rescue Club. We just wanted to call and let you know that we are so appreciative of your generous support for our mission. Because of you, we're able to feed and care for more than 100 furry friends while they wait for their forever homes.
Did you know that tens of thousands of companies offer corporate matching gift programs where they agree to match employee donations to their favorite charitable causes? Our records indicate that your recent donation of $1,000 is likely eligible for a match from your employer, Apple! All it takes is to fill out a brief online form, which we can send directly to your email address on file for easy access.
Would you be willing to double your impact on our cause by submitting a matching donation request to your employer? Thanks again!"

7. Utilize snail mail.
Good old-fashioned postage is still a great way to touch base with your donors! Physical mailers can work as impactful calls to action that encourage donors to submit their matching gift requests.
This might include:
Letters (handwritten or printed)
Postcards
Direct mail inserts
Thank-you notes
Return envelopes
Many companies have very generous matching gift request submission deadlines. In fact, this window is often open between three months and over a year. This gives donors plenty of time to get their donations doubled—even when leveraging so-called snail mail to promote the opportunity.
And by sending tangible follow-ups to your supporters' mailboxes (likely in tangent with alternative outreach as well), it can help your team break through the ever-increasing digital clutter. In order to keep your costs down, consider reserving direct mail marketing for your highest-value matching gift opportunities.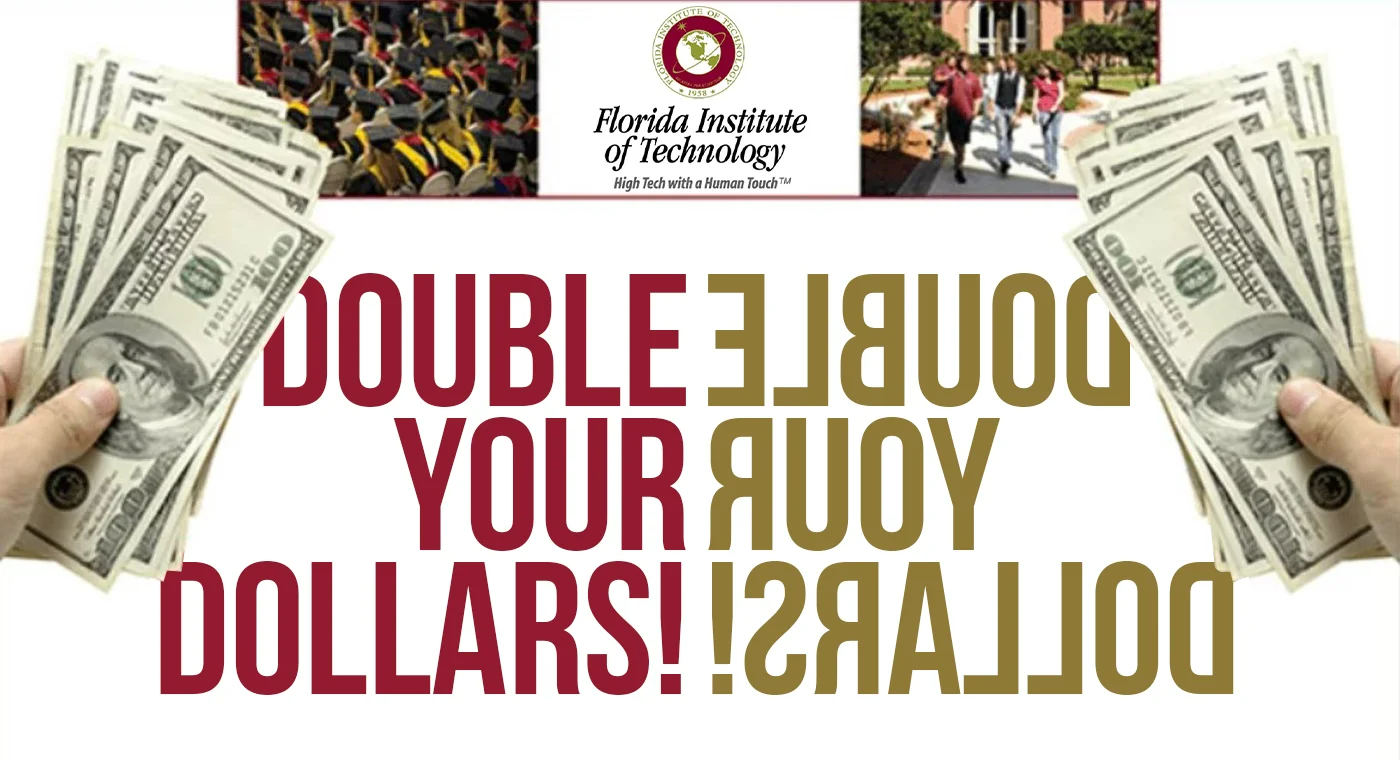 8. Incorporate SMS outreach.
Mobile outreach is becoming an increasingly popular method of communication for nonprofit fundraising. Consider incorporating this channel into your organization's strategy as well. It's a great way to reach your donors exactly where they are⁠—wherever they are⁠.
In fact, recent studies indicate that text message marketing boasts open rates of up to 98%, compared to only 20% open rates for emails. People tend to always have their cell phones on them⁠, making SMS an effective outreach method, particularly for the on-the-go donor.
For the best results, matching gift text messaging should be short, sweet, and to the point⁠—as compared to a follow-up email that may incorporate longer blocks of text. Inform or remind donors about matching gift opportunities and provide direct links to additional resources and next steps.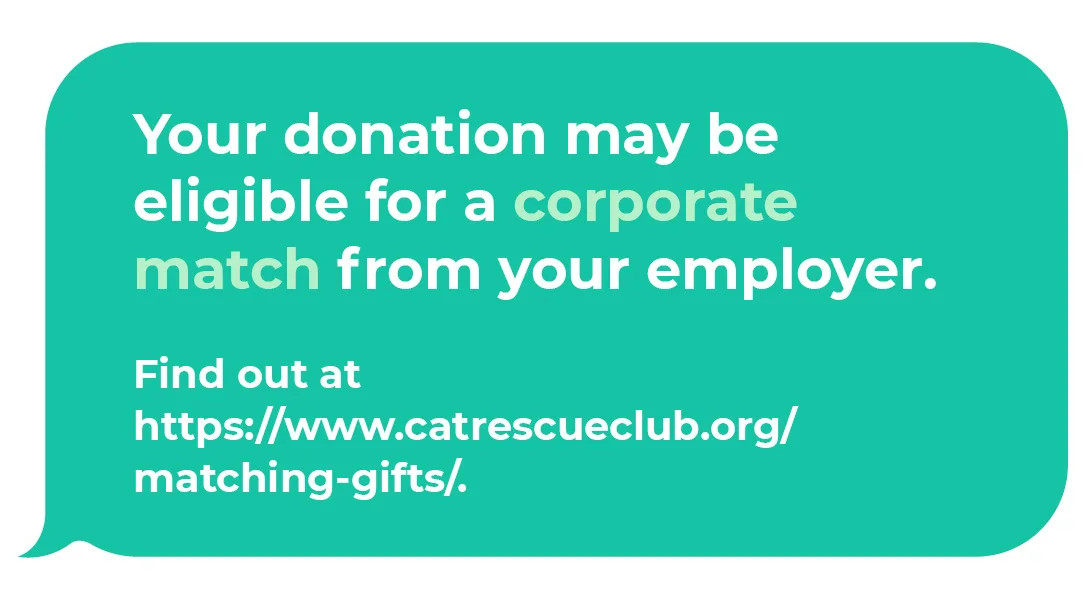 Interested in streamlining and elevating your text messaging efforts? Currently, automated matching gift text streams are available for 360MatchPro Enterprise clients to make use of!
---
Next Steps
The most effective way to encourage donors to submit their matching gift requests is to mention matching gifts as often as possible. Include corporate matching information in your acknowledgment letters, emails, text messages, and more. You can even integrate a more generalized approach by leveraging your website, social media posts, and regular newsletters, too.
The bottom line is that the more your donors hear about matching gift opportunities (and the widespread benefits that are involved), the more likely they are to take part when the time comes. And the more personalized your outreach, the better!
Ready to learn more? Dive into our other educational resources on matching gift tips and best practices: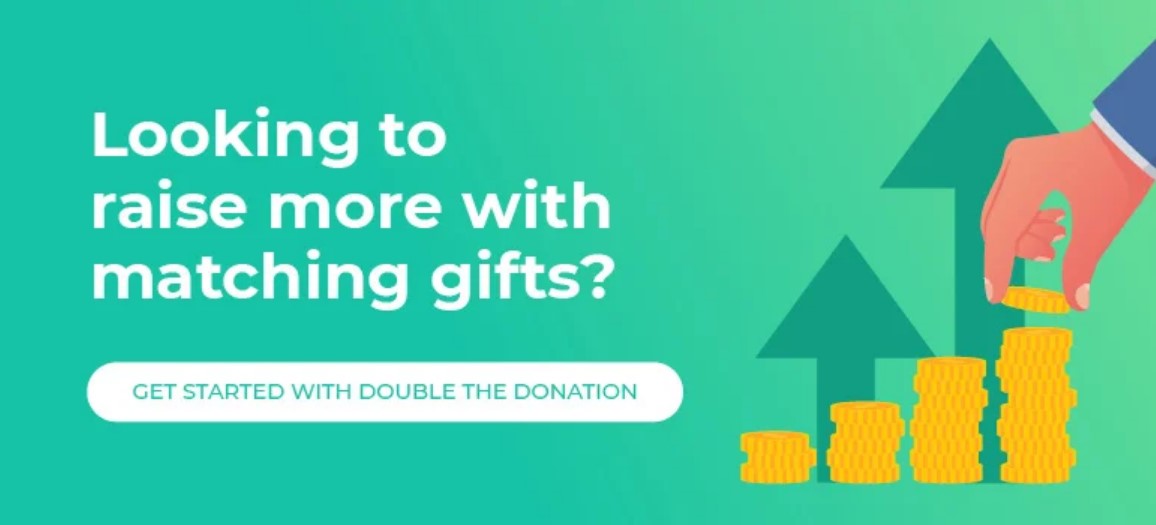 https://doublethedonation.com/wp-content/uploads/2016/05/DTD_8-Ways-to-Encourage-Donors-to-Submit-Matching-Gift-Requests_Feature.png
600
1600
Adam Weinger
https://doublethedonation.com/wp-content/uploads/2022/03/logo-dtd.svg
Adam Weinger
2023-01-04 13:34:56
2023-10-19 12:14:23
8 Ways to Encourage Donors to Submit Employee Matching Gift Requests