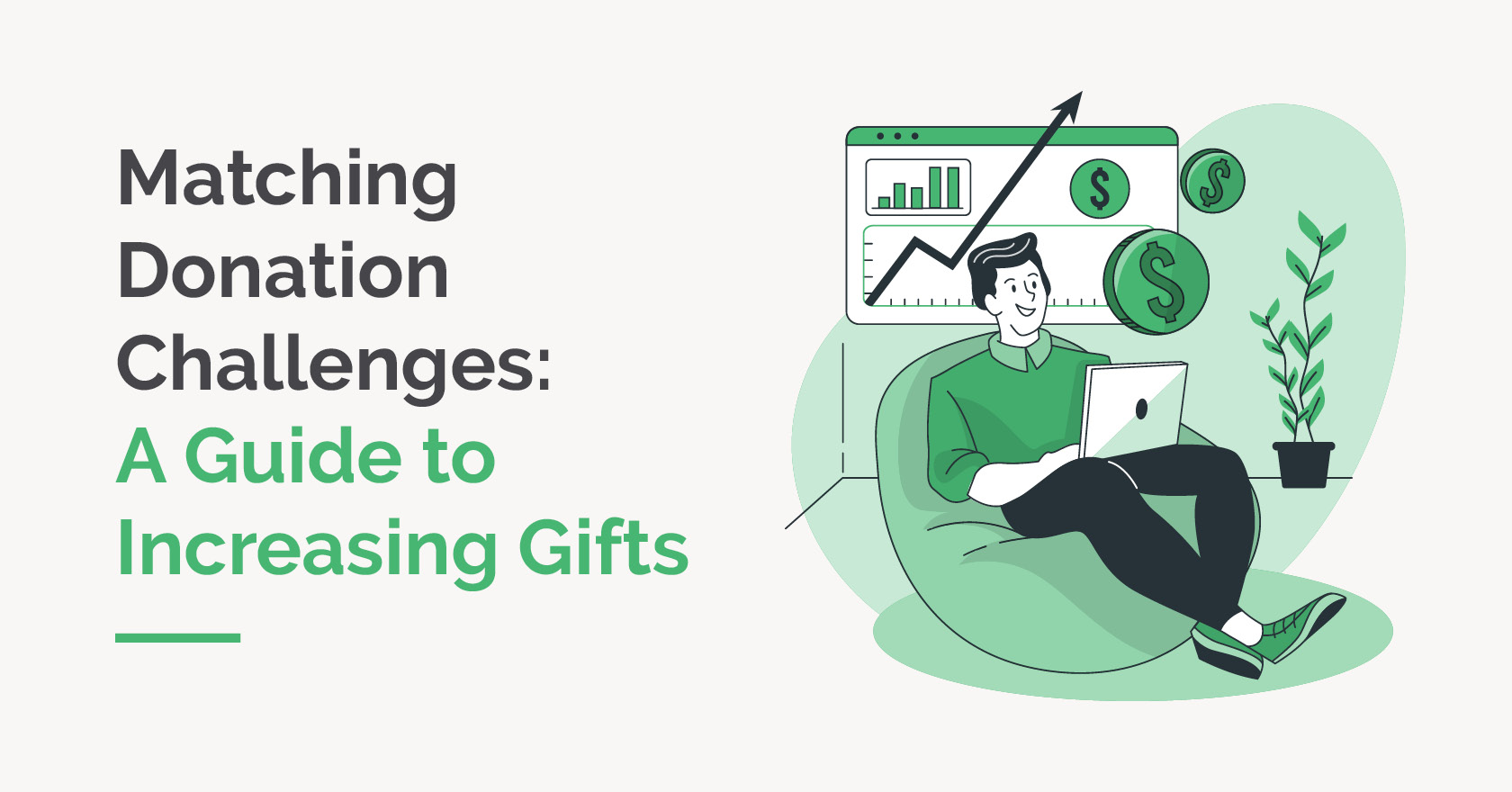 Matching Donation Challenges: A Guide to Increasing Gifts
With matching gifts, nonprofit organizations can double the impact of their donors' contributions with just a tiny amount of effort. In fact, an estimated $2-3 billion is donated through matching gift programs annually. But if you need funds by a specific deadline or want to finish out your fundraising campaign with a bang, a matching donation challenge is more suited to your needs.
When organized thoughtfully, matching donation challenges can greatly increase the gifts your nonprofit receives. To help you get started, we'll cover the following topics:
By the end of this article, you'll be able to confidently host a matching gift challenge of your own. Let's get started!
What is a Matching Donation Challenge?
With matching gifts, your nonprofit essentially asks your donors to check with their employers to see if they offer donation matches. If these matches are offered, then donors will typically need to fill out a form requesting the match. Then, your nonprofit receives the funds from both the donor and the employer's match. Usually, matching gift programs work on an annual basis—even if the donation was made months ago, a donor can still request a match from their employer if it's still the same year.
Where matching donation challenges differ from matching gifts is that they are generally a much more time-sensitive fundraising initiative. Rather than having individual donors request matches from their employers, during a challenge, a major donor or corporate partner pledges to match donations during a set time frame.
For example, they could pledge to match every dollar donated up to $20,000 at a 1:1 ratio for the weekend. This incentivizes supporters to make gifts during that time, as their donations will have a greater impact.
While matching gift challenges are usually for the benefit of a nonprofit, that doesn't mean that only nonprofits organize them. For example, the popular convention Dragon Con designates a charity every year for a dollar-to-dollar match during the convention dates.

Benefits of Matching Donation Challenges
Matching donation challenges offer nonprofits a variety of benefits, including the following: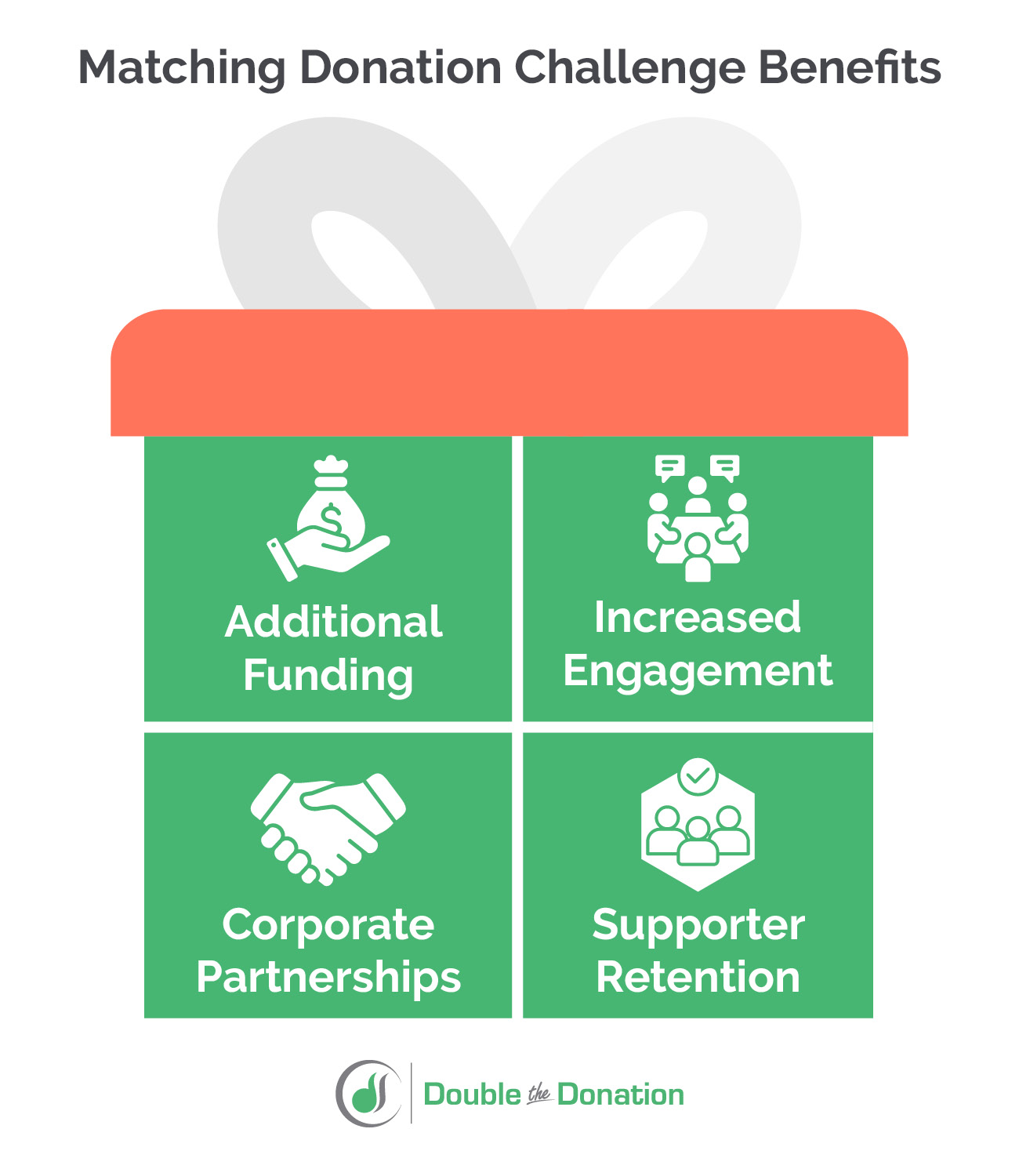 Additional funding. Since donations will be matched by your partner, your nonprofit will receive additional funding without having to ask donors to give more.
Increased engagement. Due to their time-sensitive nature, matching donation challenges create a sense of urgency for your supporters. This results in an increased amount of gifts and drives high levels of engagement.
Supporter retention. Through the power of donation matching, your supporters' gifts will make a greater impact on your nonprofit. This empowers donors to play a more rewarding role for your organization, and when they witness the impact of their gifts, they'll be more likely to give again.
Corporate partnerships. Depending on the partner you acquire, matching donation challenges provide an excellent opportunity to solidify relationships with corporations and businesses. This can lead to future partnership opportunities, such as event sponsorships.
These benefits make matching donation challenges uniquely suited to augment your existing fundraising efforts. For example, if you have a year-end giving strategy in place, take advantage of the increased generosity at the end of the year and create a matching challenge for the last few days of December. That way, you'll maximize the gifts that your nonprofit receives.

How to Set Up a Matching Donation Challenge
To properly leverage the benefits of a matching donation challenge, you need to know how to organize your challenge. Follow these six steps to help ensure your fundraising success.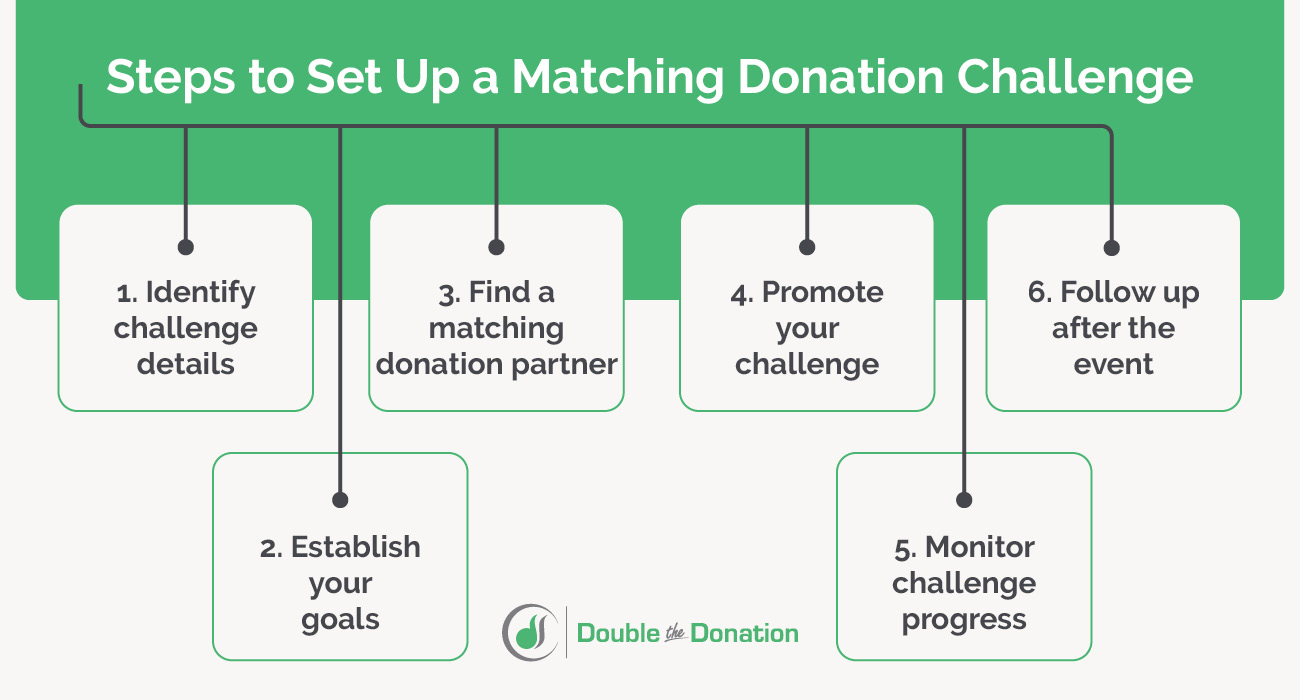 1. Identify challenge details.
The first step to creating a successful matching donation challenge is to identify the details of the challenge. Ask yourself the following questions:
Will the challenge be a part of a larger fundraising campaign?
When will the challenge take place?
Will the challenge fall on any significant dates or times?
Are there any legal requirements or restrictions to consider?
By answering these questions, you'll lay the groundwork for a carefully planned challenge. For example, if you decide that your matching donation challenge will be your main fundraising event of the summer, your plans should look different than if it will be the grand finale of your year-end giving campaign. In the former instance, you'll be structuring your summer fundraising around your matching donation challenge. In the latter, you'll need to plan other fundraising events and initiatives on top of your matching donation challenge.
2. Establish your goals.
As with any other fundraising initiative, the main goal of a matching donation challenge is to increase donations to power your nonprofit's mission. After identifying the details of your challenge, consider how your fundraising initiatives have fared in the past to help inform what your goal should be.
For example, let's say that you're the leader of an organization dedicated to funding breast cancer research. You host an annual Pinktober fundraising campaign, and you usually raise around $50,000. However, this year, you'd like to raise $75,000 instead—$25,000 more than usual. You can plan to use a matching donation challenge to raise this amount, making your goal $25,000.
What's interesting about a matching donation challenge is that the match amount generally represents half of your goal. In the case of the Pinktober fundraising campaign, your goal is to raise an additional $25,000 with your challenge. To have a successful matching donation challenge and fundraising campaign, you need to secure a partner who's willing to match at least $12,500 worth of donations.
3. Seek out a matching donation partner.
After deciding on the details of your challenge and determining your goal for it, your next step is to seek out your matching donation partner. This individual or group will be responsible for putting forth the funds to match the donations made by your supporters.
Individuals and groups that are commonly nonprofit matching donation partners include: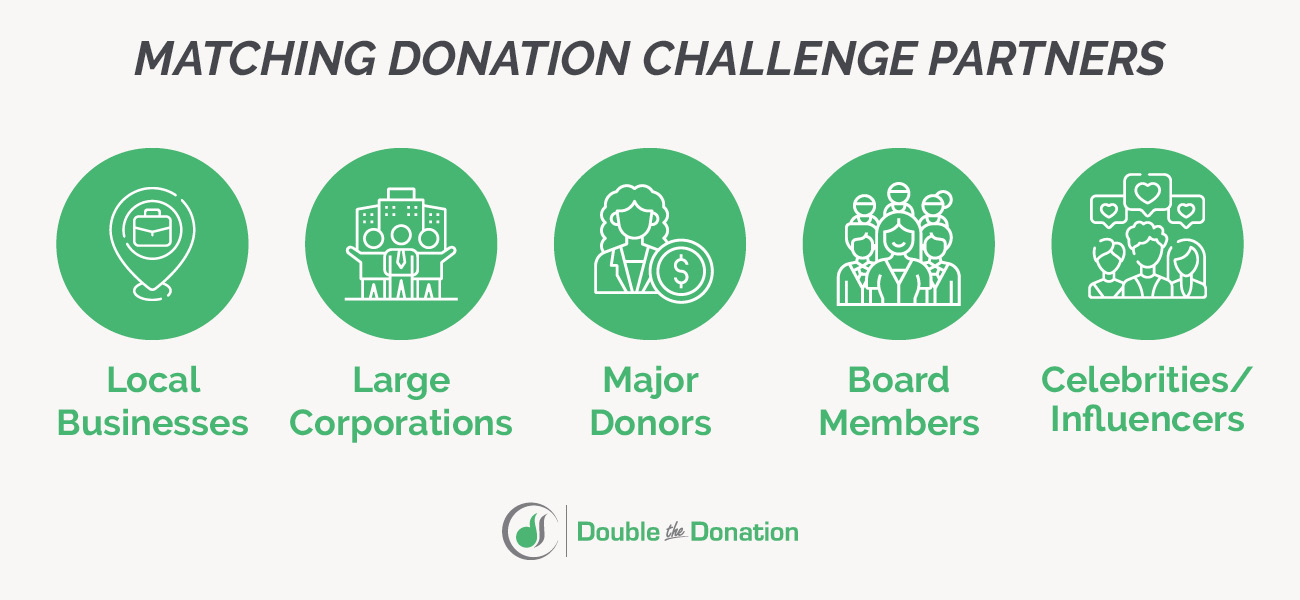 Local businesses. Since these businesses work in the same community as your nonprofit, they're more likely to be interested in lending their support. Target businesses that work in a similar vertical to your nonprofit for best results. For example, if your organization is dedicated to solving food insecurity in your community, a restaurant may be open to partnering with you. Alternatively, you can work with businesses with similar values and visions for the future. For instance, an environmental conservation organization might partner with a sustainable clothing store since they both believe in preserving the world's natural ecosystems.
Large corporations. Large corporations are also great prospects for matching partners, as they usually have larger budgets. When seeking a partner in businesses like these, check for companies that share your values or have corporate philanthropy programs. This demonstrates a vested interest in social good, making it more likely that they'll partner with you.
Major donors. Major donors are some of your nonprofit's staunchest supporters. You can propose a matching donation partnership in lieu of their generous annual donation, making them more likely to accept.
Board members. Your nonprofit's board members may also be wealthy, making them another enticing option when seeking out matching donation partnerships.
Celebrities or influencers. Celebrities and influencers frequently align themselves with charitable causes—just look at Angelina Jolie, for example. If you have connections to these individuals, they have the funds to make the perfect partner.
When reaching out to potential partners, frame your ask in terms of the benefits that they'll receive. For instance, if you share a similar target audience as a business, you might share your audience's demographics and explain how, in exchange for their generosity, you'll market their business in your advertising materials. As a result, they'll gain exposure to new prospective customers. Plus, your corporate partner will get a boost in their reputation by working with your organization.
Keep in mind that you don't have to limit yourself to a single partner! If multiple individuals or organizations are willing to be your partner for your matching donation challenge, don't hesitate to accept multiple partnerships to help you reach your goal.
4. Promote your matching donation challenge.
It's estimated that over $4 billion in matching gift funds goes unclaimed every year, yet 84% of individuals say that they're more likely to donate if a match is offered. This shows that the biggest barrier to nonprofits claiming funds from matching gifts is a lack of awareness.
Generating enough awareness is also critical to matching donation challenges. To create that sense of urgency and entice your supporters into giving, you need to have a strong marketing strategy. Spread information about your challenge through the following marketing channels:
Direct mail
Email newsletters
SMS
Social media
Announce your matching donation challenge in advance of the challenge's start date to build excitement. Be sure to include the dates of the challenge, the dollar amount of donations that will be matched, and any restrictions on donations. For example, if your partner will match $25,000 at a 1:1 ratio but only if the donations are $100 or less, include that information in your materials.
By thoroughly marketing your challenge, you'll be able to create a sense of immediacy to support your cause, resulting in more donations for your organization.
5. Monitor challenge progress.
When your matching donation challenge begins, monitor your donation progress toward the match maximum. Be sure to provide this information to your supporters as well—transparency about funds received will create a sense of trust. Additionally, if individuals see that you are nearing your match goal, they may be more likely to donate to your nonprofit.
For the best results, consider investing in a matching donation or matching gift software solution. These tools simplify matching donation challenges with data and analytics features. With the right solution, you can create fundraising thermometers or leaderboards that automatically update as gifts are made. Plus, you can even leverage your software to receive employer matches during your matching donation challenge, effectively tripling the impact of donations made during this time.

6. Follow up after the event.
At the close of your matching donation challenge, report the results to your match partner and supporters. That way, your partner will know how much they'll need to match, and your supporters will know if you met your goal or not.
Regardless of whether your goal was met, be sure to thank all parties involved in the challenge. For instance, you might email thank you notes to all of your supporters, write handwritten thank you notes to your top donors, and spotlight your match partner on social media. By properly stewarding these relationships, you'll ensure future support for your nonprofit.

3 Best Practices for Successful Matching Donation Challenges
Now that you know how to set up your matching donation challenge, let's take a look at three best practices to ensure your success.
1. Simplify your matching donation challenge with software.
Without dedicated tools, your matching donation challenge will require a large amount of manual, time-consuming work from your nonprofit's team members. The right software solutions will simplify your challenge, reduce work for your staff, and make it easier for you to garner support.
Useful tools for matching donation challenges include: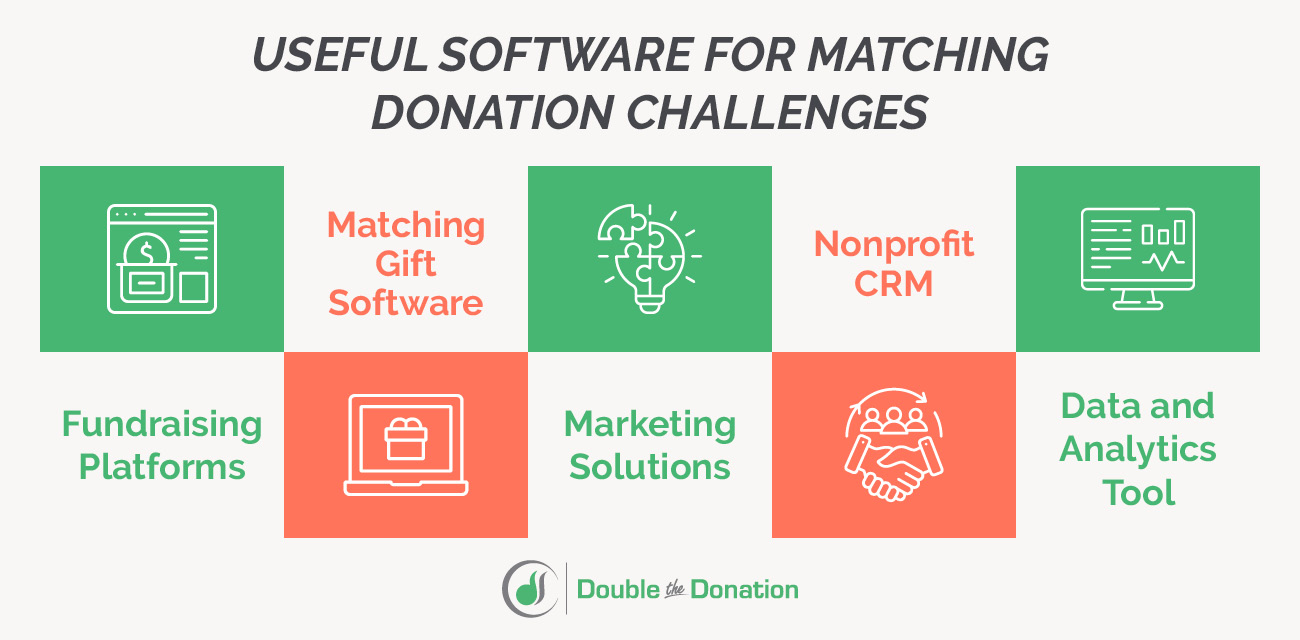 Fundraising platforms. You may already be using a fundraising platform to collect donations from supporters. These tools allow donors to conveniently and securely make gifts to the causes they care about. Leverage your fundraising platform to create a unique donation form for your matching gift challenge to increase support.
Matching gift software. Many individuals work at companies that offer matching gifts of their own. With matching gift software, you'll be able to triple the impact of a single donation, as it will be matched by both your challenge partner and the donor's employer.
Marketing solutions. Remember that the biggest obstacle to matching donation challenges and matching gifts is awareness. Invest in marketing tools, like a social media management platform or email marketing solution, to boost your promotional efforts and ensure that you get your challenge in front of the right people.
Nonprofit constituent relationship management (CRM) software. Even after your matching donation challenge ends, your work isn't over. Using a nonprofit CRM, you can collect donor data, track interactions with supporters, and create histories of support. With this information, you'll be able to tailor your communications and properly steward relationships with new donors.
Data and analytics tools. Monitoring challenge progress can be a challenge in and of itself without a data and analytics solution. Use this to monitor challenge progress and gain insights into donor behavior. Plus, at your challenge's close, you'll be able to conveniently generate reports to demonstrate results and impact.
Set your nonprofit up for success by investing in the right tools for your matching donation challenge. Thoroughly research your options to find the right choice for your nonprofit's unique needs.
For instance, if you choose to invest in matching gift software, look for a solution that also offers auto-submission tools. One of the greatest barriers to matching gifts is that it takes effort on the part of the donor—they're required to navigate to their employer's matching gift management portal, locate the organization that they donated to, and then fill out a matching gift form.
Auto-submission removes this barrier to participation by allowing donors to automatically submit their match request. All they need to do is give their corporate email address, and your software will do the rest. This functionality empowers you to capture all eligible matches, triple donations during your matching gift challenge, and generate the impact that you need.

2. Strategically choose when to host your challenge.
At certain times of the year, individuals are more likely to give to nonprofits. If you host your matching donation challenge during these moments, you'll be able to reap the benefits of increased generosity.
For example, the end of the year is a well-known season of giving, with 30% of annual giving happening in December. Aside from the holidays, GivingTuesday, a day of global generosity, also occurs the Tuesday after Thanksgiving. This makes year-end a particularly appealing time for a matching donation challenge, as it's more likely that donors will give.
Other periods of increased giving include cause months, which is a month or period that is dedicated to a specific cause. For instance, February is Black History Month, March is Women's History Month, June is Pride Month, and so on. If your nonprofit's mission aligns with a cause month, consider hosting your matching donation challenge during that month for increased visibility for your cause.
3. Emphasize increased impact.
As you're constructing your marketing materials for your matching donation challenge, keep in mind that the increased impact of gifts is not just the challenge's primary benefit for your nonprofit. It is also a compelling reason for donors to lend their support.
Emphasize this benefit to donors as you make your appeal for donations. Stress that there's no extra financial obligation on their end, as your matching partner will provide the additional funds.
Consider using the following language in your marketing materials:
Did you know you can double your donation if you make a gift between May 5th and May 11th?
Between December 1st and December 10th, our generous partner will automatically double any donation you make!
Our partner is providing a dollar-for-dollar match for donations made before July 25th. Increase the impact of your gift by donating now!
For the last 24 hours of our fundraiser, our partner will donate two dollars for every dollar you donate!
Remember, your donation helps us raise $2 for every $1 you give with our partner's match!
Encourage donors to make gifts by strategically positioning the impact they'll be able to generate for your organization. Since your matching donation challenge only lasts for a limited amount of time, make sure to use time-bound language like "Donate by midnight" and "Give by Friday" to spur action.
Additional Resources
Matching donation challenges are opportunities for nonprofits to generate a greater-than-usual amount of monetary support for their cause. By investing in the right software solutions, strategically choosing your challenge timing, and emphasizing the increased impact of gifts made during your challenge, you'll be well on your way to generating the funds your nonprofit needs to power your mission.
If you'd like to learn more about matching gifts, take a look at the following resources:

https://doublethedonation.com/wp-content/uploads/2023/10/Matching-Donation-Challenge_Feature.jpg
880
1680
Adam Weinger
https://doublethedonation.com/wp-content/uploads/2022/03/logo-dtd.svg
Adam Weinger
2023-10-19 11:54:08
2023-11-10 13:51:05
Matching Donation Challenges: A Guide to Increasing Gifts