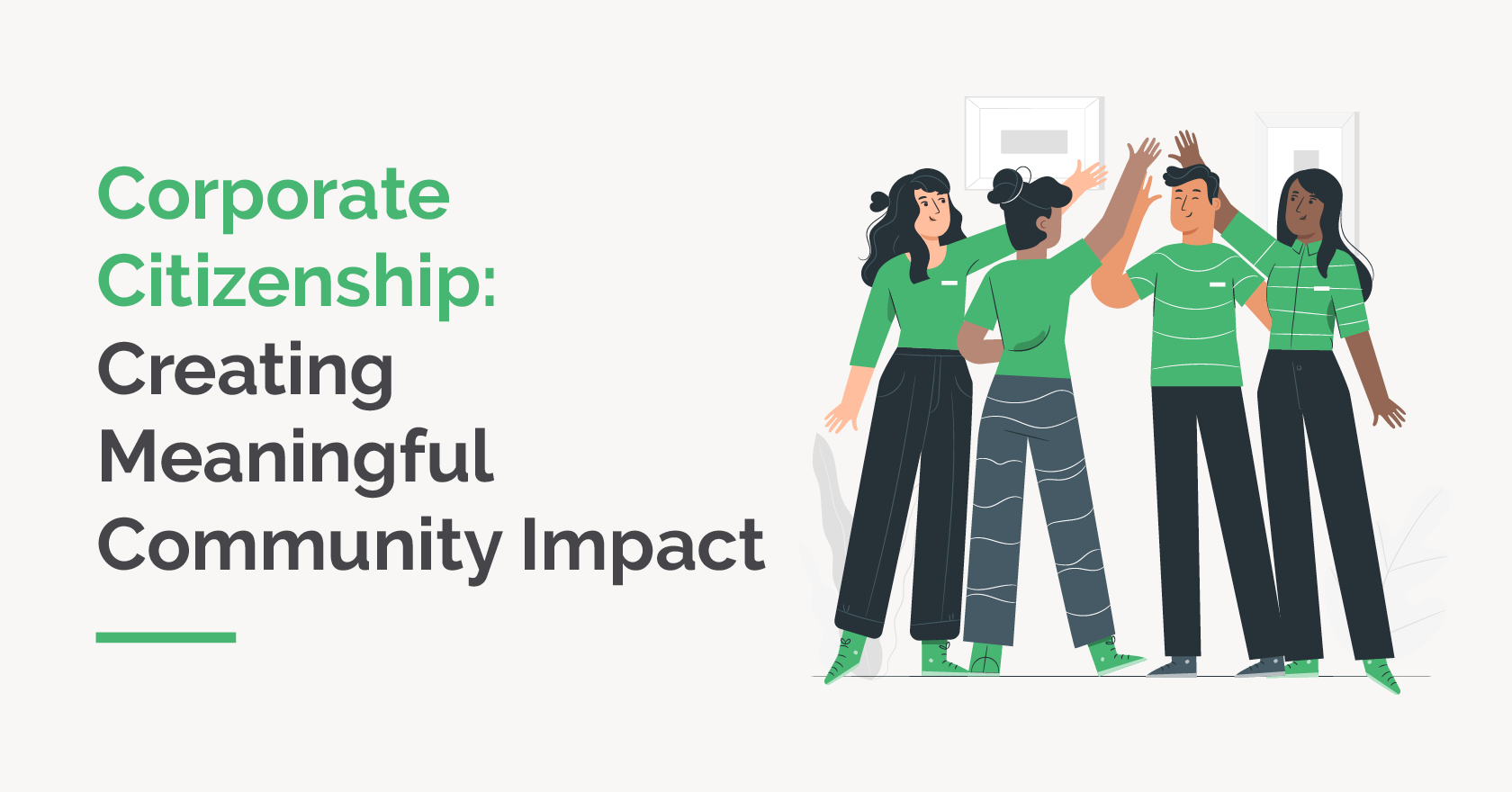 Corporate Citizenship: Creating Meaningful Community Impact
With 77% of consumers aiming to support socially responsible companies and 93% of employees believing that companies must lead with purpose, it's increasingly important for businesses to give back to their communities to set themselves apart from the competition. That's where corporate citizenship comes in—by centering this concept at your organization, you'll be able to reap a variety of benefits and see even greater success.
To help you embrace corporate citizenship at your company, we'll cover the following topics:
By the end of this guide, you'll have a comprehensive understanding of corporate citizenship and the steps you can take to prioritize it in your business. Let's get started!
Definition of Corporate Citizenship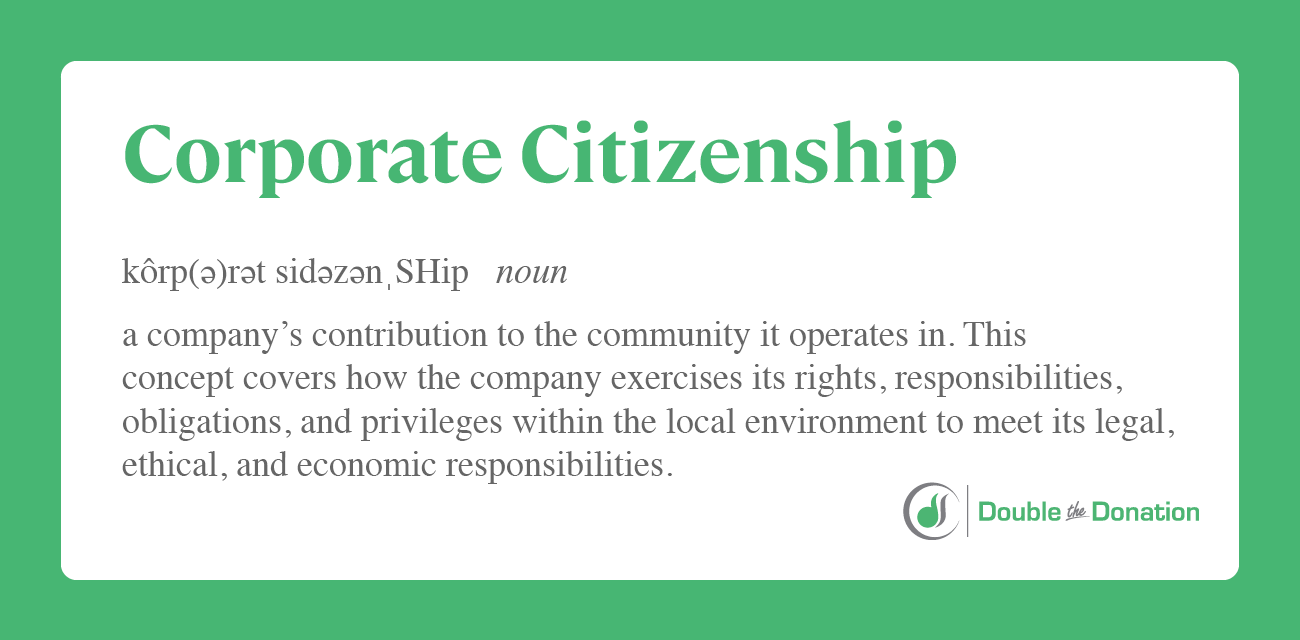 Corporate citizenship is defined as a company's contribution to the community it operates in. This concept covers how the company exercises its rights, responsibilities, obligations, and privileges within the local environment to meet its legal, ethical, and economic responsibilities. Organizations that prioritize corporate citizenship measure their success not just with return on investment (ROI) but also their social impact.
Focusing on corporate citizenship also brings a variety of benefits, empowering businesses to:
As expectations for businesses grow higher, your company must rise to meet them to stay competitive. From employees to customers to society at large, these groups all care about your company's purpose and how you're giving back to the community. Great corporate citizenship goes beyond surface-level issues. Instead, it requires you to establish practices and initiatives that address a variety of challenges using your unique resources.
Corporate Citizenship versus Corporate Social Responsibility
You may be thinking: Wait a minute! This sounds familiar. Isn't corporate citizenship just a synonym for corporate social responsibility?
While there are varying definitions of corporate citizenship and corporate social responsibility (CSR), according to the Boston College Center for Corporate Citizenship (BCCCC), corporate citizenship is a larger umbrella term that encompasses CSR. Corporate citizenship refers to the impact a business has on society. CSR refers to the specific activities that are happening within a company that will further its corporate citizenship. This includes projects, campaigns, and initiatives.
Additionally, another term that is associated with corporate citizenship and CSR is environmental, social, and corporate governance (ESG). This term helps us to categorize corporate citizenship efforts as environmental, social, or governance-related.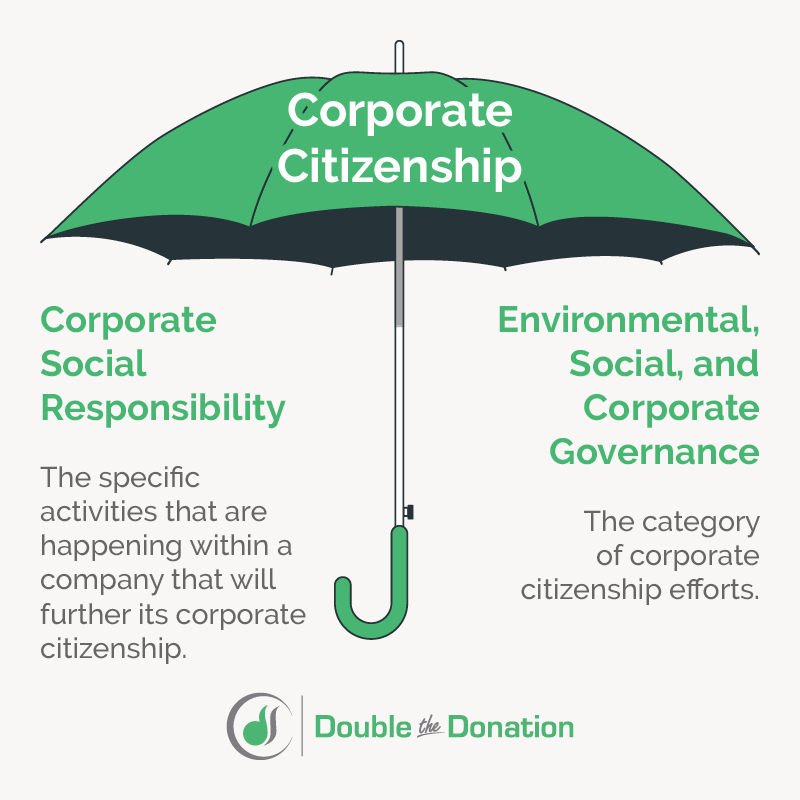 So, for example, let's say a restaurant has decided to focus more on corporate citizenship. They start by considering the amount of food waste they produce. To reduce that waste, they then decide to donate any leftover food to local food pantries. In this situation, the food donation program would be considered CSR that aids in environmental and social causes. Add this program to the restaurant's other rights and responsibilities in society, and you get a greater picture of their corporate citizenship.
Developing Corporate Citizenship: The 5 Stages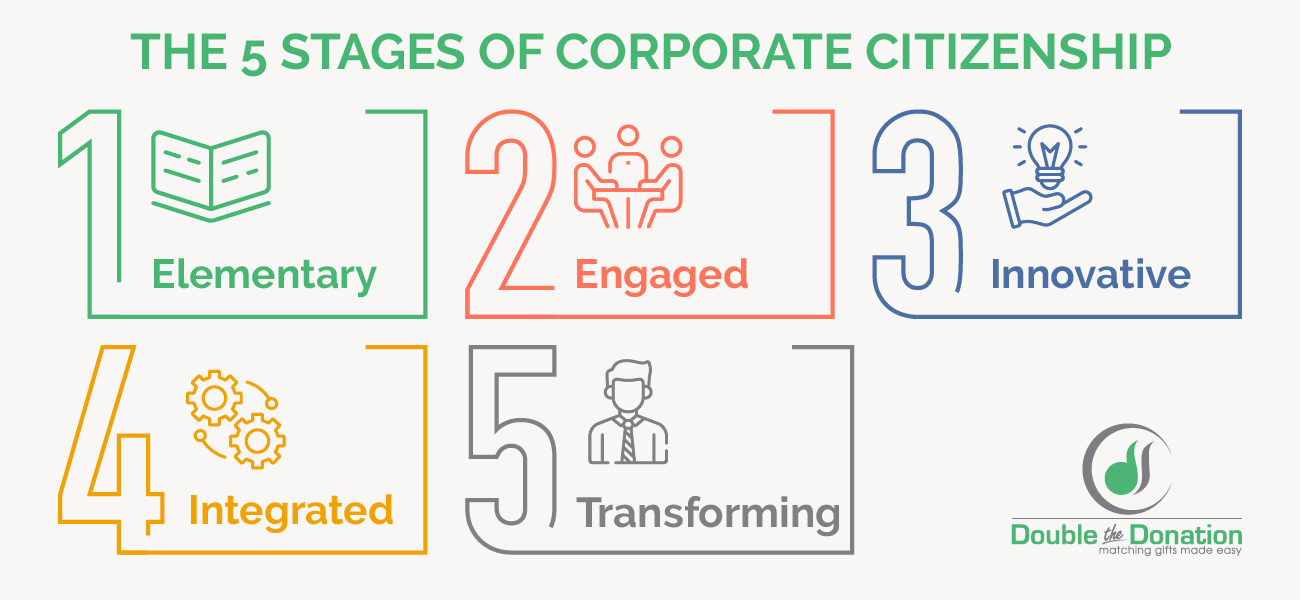 According to the BCCCC, there are five stages to corporate citizenship. In this section, we'll go over each stage to help you determine which stage your organization is in and how you can become a better corporate citizen. Let's dive in!
1. Elementary
At the elementary stage of corporate citizenship, an organization is more concerned about complying with existing laws than it is about creating a positive impact on its community. There's little to no actual interest in corporate citizenship from leadership. Any CSR programs are undefined, underdeveloped, or even nonexistent. Any efforts made are mostly to protect the organization's reputation, and these efforts are often viewed as performative.
That's not to say that all organizations in the elementary stage of corporate citizenship are only doing the bare minimum because they don't care about social or environmental good. For example, some small businesses may be at this stage simply because they do not have the resources for further community involvement.
2. Engaged
In this stage, company leaders begin to take an interest in society's expectations and corporate citizenship. They experience the beginnings of a mindset shift for their organization's role and responsibilities. Corporate citizenship in this stage is policy-focused—leaders create programs or initiatives that encourage employees and managers to take part in social and environmental good. Plus, they begin to have more discussions with shareholders and stakeholders who are interested in more innovative corporate citizenship practices.
Although organization leaders and employees are engaged with corporate citizenship, at this stage they're still reactive in their policies rather than proactive. This is still only the start of corporate citizenship, and companies still have lots of room for improvement.
3. Innovative
As companies move through the stages of development, they gradually become more involved and proactive about corporate citizenship. In this stage, policies become more defined as business leaders discover methods that work for their organizations. This leads to an increase in program launches to support corporate citizenship, such as corporate philanthropy initiatives.
During this time, there may be some internal restructuring to make it more convenient for the company to fulfill its responsibilities. Additionally, there are usually increased discussions with stakeholders, experts, and leading companies.

4. Integrated
By the end of the innovative stage of corporate citizenship, a company's biggest challenge will be to create a cohesive citizenship strategy. In the integrated stage, leaders are constantly setting new standards and monitoring performance in all areas, including social, environmental, and financial.
At the end of this stage, a company's corporate citizenship efforts will be fully integrated into its core values, everyday activities, and lines of business. Plus, they'll determine exactly how deep their commitment to citizenship is.
5. Transforming
A company in the transforming stage is often viewed as a leader in corporate citizenship. These organizations take their citizenship extremely seriously, and many aspire to make the world a better place. They partner extensively with other organizations to address problems socially and environmentally. Businesses in this stage are the ones everyone else looks up to as an example of great corporate citizenship.
Getting Started with Corporate Citizenship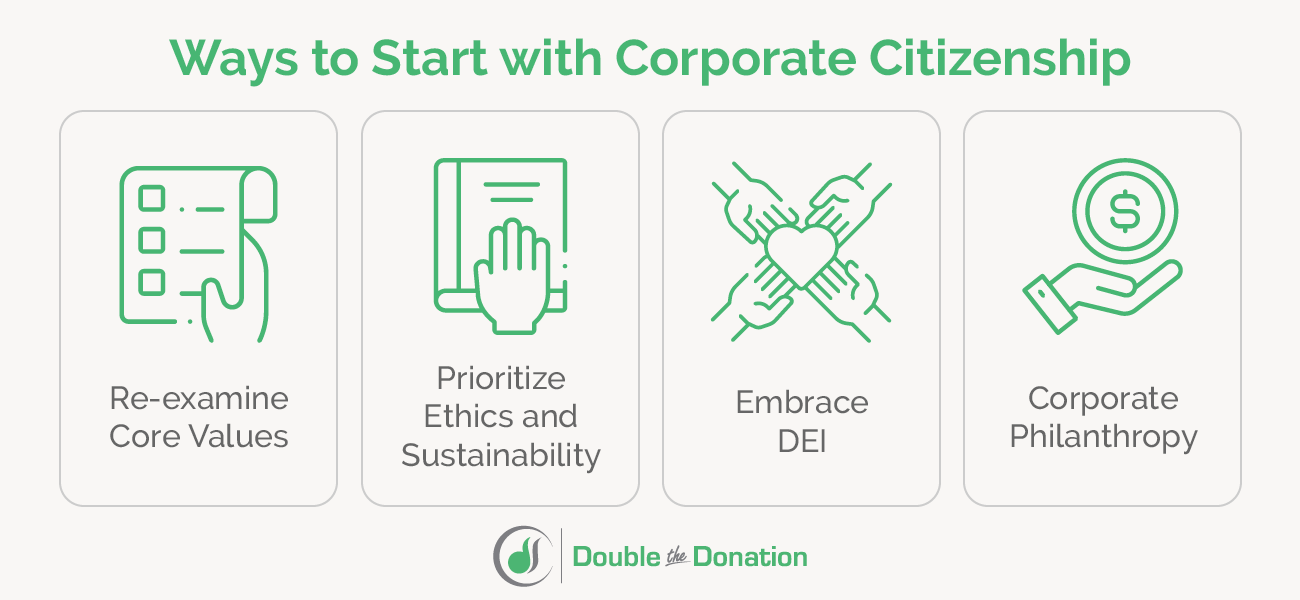 If you're unsure how your organization approaches corporate citizenship, then it's likely that your company is in one of the first few stages of developing a corporate citizenship strategy. If you're ready to begin your journey, consider these jumping-off points:
As you develop programs and make changes to become a better corporate citizen, share them with stakeholders and your customer base. Inform them of your intention to focus on corporate citizenship and ask them if they have any feedback for your company. By doing so, you'll not only be including your community in the discussion, but you'll also be crowdsourcing suggestions and getting a read on how your organization is perceived from the outside.

Examples of Corporate Citizenship
To help you understand how you can center corporate citizenship in your organization, here are a few examples of organizations with great corporate citizenship programs:
Becoming a good corporate citizen requires you to go above and beyond compliance on social and environmental matters. While that may seem overwhelming to an organization that's just starting, keep in mind that it's extremely difficult to jump straight to the transforming stage from the elementary stage of corporate citizenship. Start small and slowly grow your efforts to become a leader in the corporate citizenship space.
Additional Resources
Being a good corporate citizen comes with many benefits for your business, but above all, it allows your organization to be a responsible member of society. As you begin making adjustments to focus on corporate citizenship, don't be afraid of making large operational changes. By doing so, you'll better engage your employees, enhance your reputation, and make a greater difference in your community.
If you're interested in more resources about corporate citizenship, check out the ones below:

https://doublethedonation.com/wp-content/uploads/2023/10/Corporate-Citizenship_Feature.png
880
1680
Adam Weinger
https://doublethedonation.com/wp-content/uploads/2022/03/logo-dtd.svg
Adam Weinger
2023-10-19 12:27:48
2023-11-29 14:04:04
Corporate Citizenship: Creating Meaningful Community Impact