Company Spotlight: Get Inspired by Checkr's Groundbreaking Matching Gift Program
Companies participate in corporate giving for a number of reasons. A corporate executive might be inspired to give back to a particular cause that resonates with them and their values. A different company might do so in order to engage with its employees on a deeper level, fostering a positive workplace culture and driving satisfaction and retention. Another yet may choose to give in order to receive tax benefits or boost their public image.
Tons of businesses partake in matching employee gifts, and most intend to reap all of the benefits listed above. But there are a few that truly stand out in their efforts⁠—specifically when it comes to corporate matching gifts.
One such company? Checkr!
Want to find out how? We've compiled information to provide you with a solid understanding of the Checkr corporation, its philanthropy and matching gift endeavors, and what makes it stand out from the crowd.
This includes:
Let's begin with the basics.
Company Background: About Checkr
Checkr, Inc. was founded in 2014 with a unique idea to modernize and advance the traditional background check process—while removing common obstacles and enabling a fairer hiring process for all.
Today, this background check screening company aims to aid other businesses with the right technology to make the right recruitment and hiring choices. Checkr is built on the idea of fair chance hiring that works to make the hiring process as even as it can be for all candidates⁠—including those with criminal backgrounds.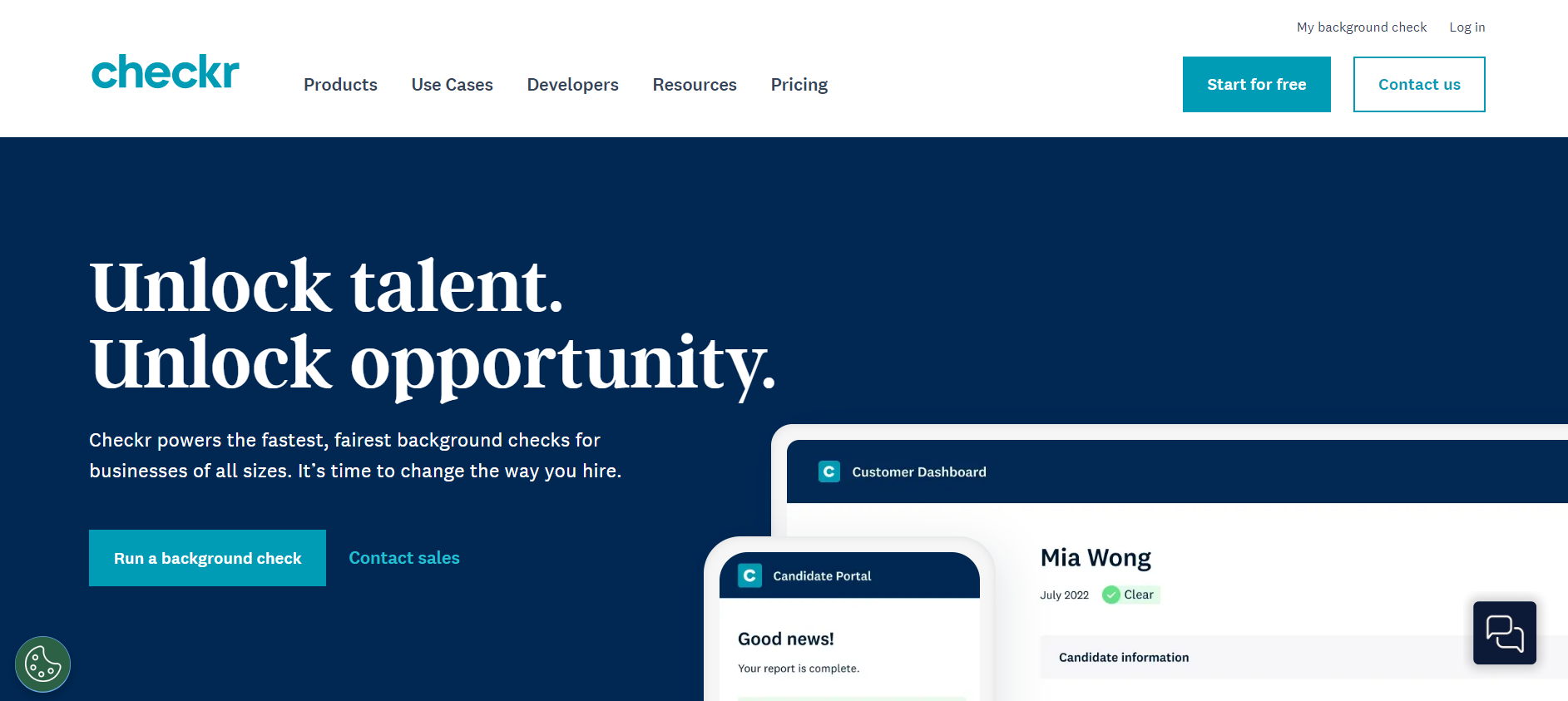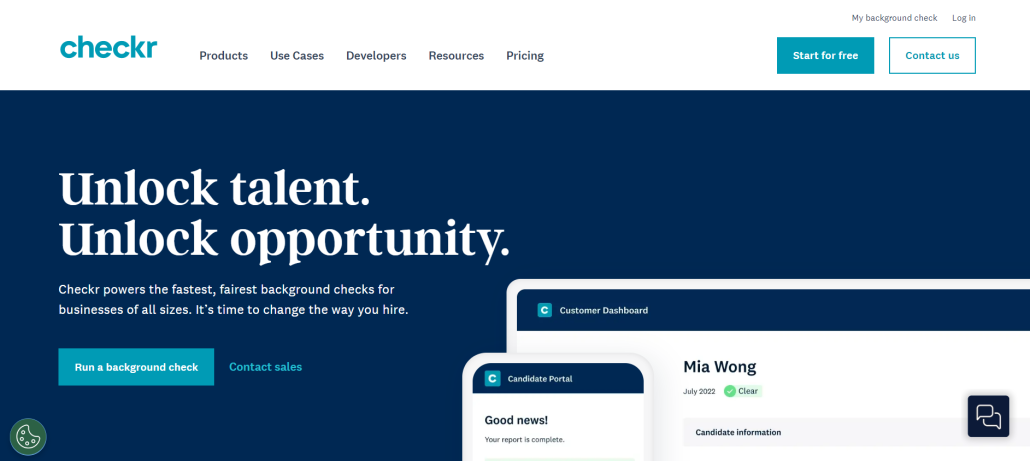 And Checkr understands the importance of corporate philanthropy in an overall business plan⁠—especially pertaining to strategic recruitment and retention practices. They've even written several blog posts citing matching gifts and overall corporate giving programs as key components for How to Recruit Talented Leaders and How to Increase Employee Retention at Your Small Business. Not to mention, the Checkr team offers its own corporate giving initiatives—including, but not limited to, matching employee donations to charitable causes.
Current Matching Gift Program Guidelines
Checkr matches charitable gifts made by all full and part-time employees at a 1:1 rate. With no minimum donation amount and open match availability to nearly all nonprofit causes, Checkr aims to make its employee matching gift program as accessible as possible.
Not to mention, they utilize matching gift auto-submission functionality to enable one-click matching gift requests, which ensures the process is quick and easy for employee participants.
Let's take a quick look at Checkr's employee matching donation guidelines: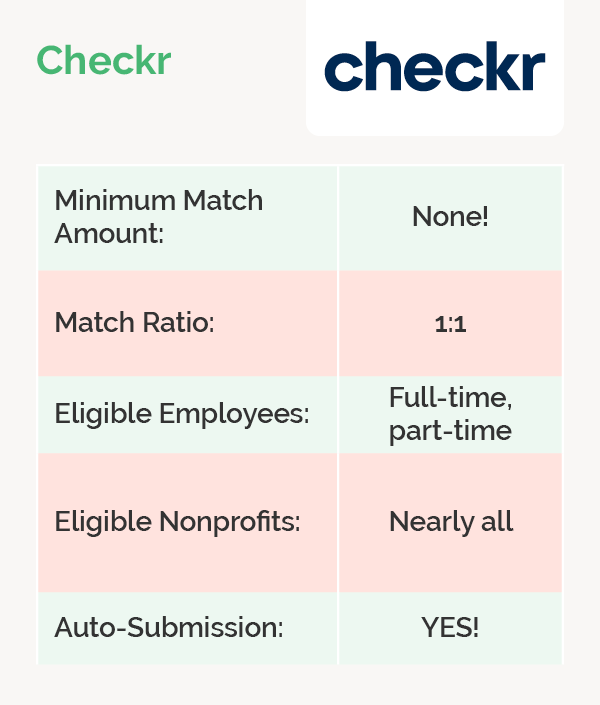 Minimum employee donation matched – None!
Matching gift ratio – 1:1, or dollar for dollar
Qualifying employees – Current full-time and part-time Checkr employees
Eligible nonprofit recipients – Nearly all nonprofit causes qualify to receive Checkr matches. This includes:

K-12 schools
Higher education institutions
Health and human services
Arts and cultural organizations
Civic and community organizations
Environmental nonprofits
And many more 501 (c)(3) organizations

Submission process – Checkr employees can leverage auto-submission to complete the matching gift process in seconds from their favorite organizations' donation forms or submit their match requests manually by logging into the company's CSR portal, Millie.
New Feature! Auto-Submission With Millie and Double the Donation
Checkr's employee donation-matching program has many admirable features that make it one of our top matching gift companies. But what really makes this employer stand out in its offering is its matching gift auto-submission functionality.
Checkr employs corporate giving platform Millie to facilitate its matching gift program. Historically, that meant providing an employee-facing portal with which team members can log in, provide basic information about their recent donations, and submit their matching gift requests.
Now, thanks to a trailblazing integration between Millie and industry-leading matching gift software provider Double the Donation, the process for employee donors is easier than ever before.
In fact, all an individual has to do is enter their corporate email address from the confirmation screen of their favorite organization's donation page. They won't be rerouted to a separate submission platform or be required to reenter donation details. The software ecosystem handles it all seamlessly behind the scenes!

In the end, consider these key benefits of breakthrough auto-submission for all parties involved:
Checkr benefits from increased usage of its matching gift program⁠—and the key advantages that go alongside it. This includes improved employee relations, elevated sales and brand image, substantial tax benefits, and much more.
At the same time, Checkr employees have the opportunity to double their impact on cherished causes without a complicated process for doing so.
And don't forget about the nonprofits seeing significant growth in matching gift revenue⁠—and the communities that benefit from their services.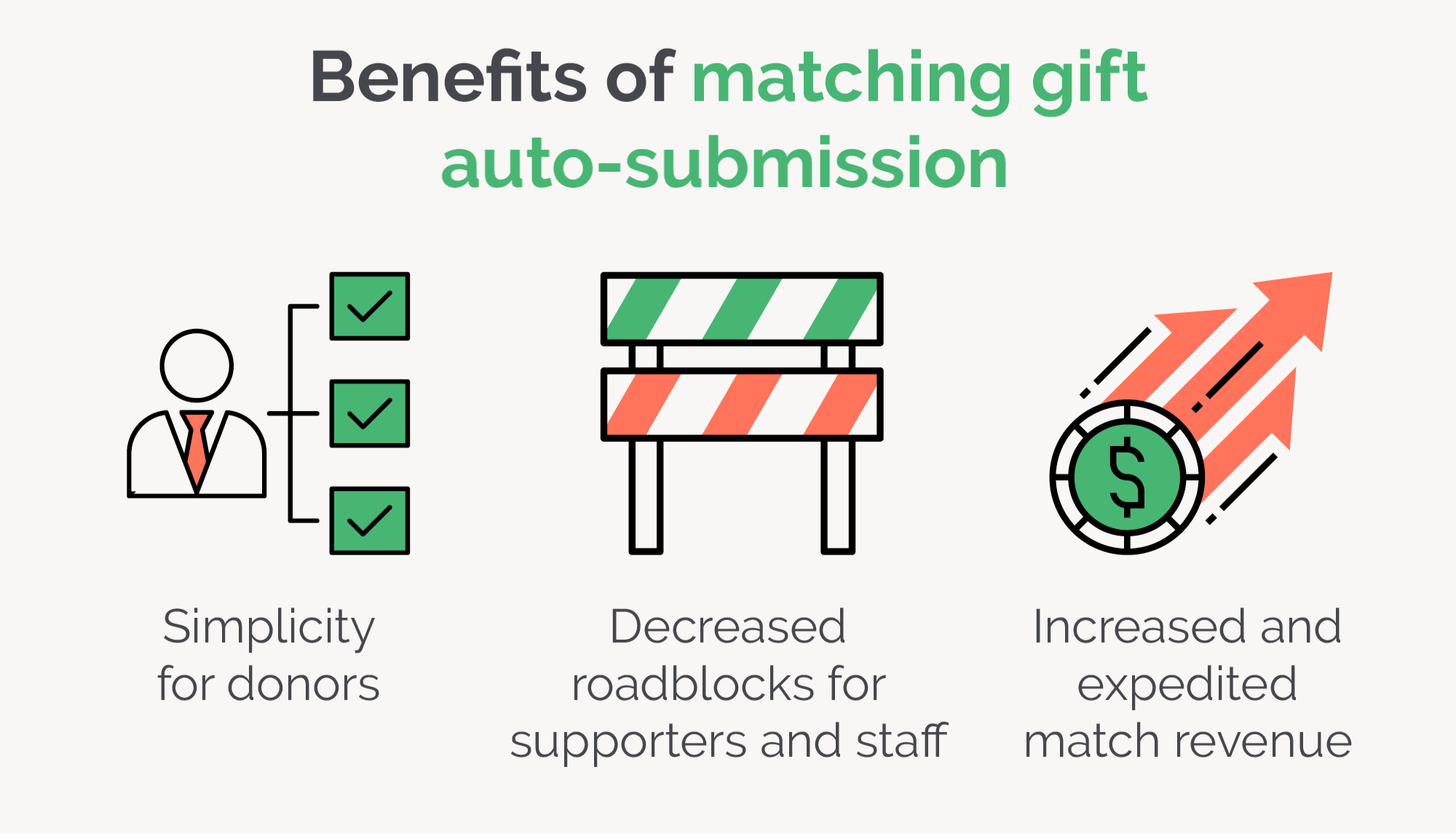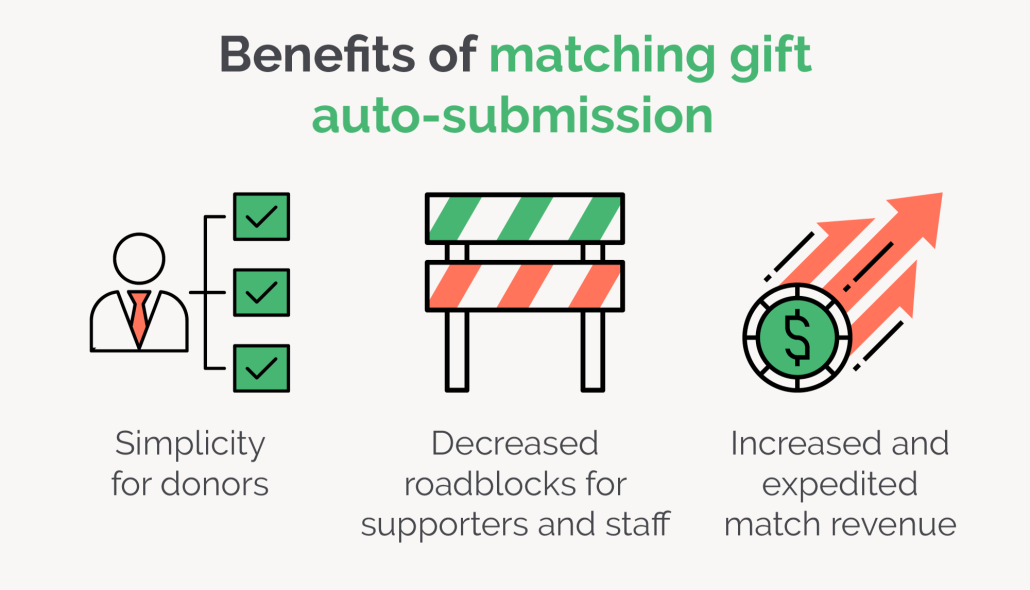 Auto-submission has the potential to revolutionize matching gifts⁠, and it's never been easier for companies like Checkr⁠—as well as the employees and nonprofits in their networks⁠—to make use of it.
Learn more about matching gift auto-submission with Double the Donation here.

What to Know About Checkr's CSR Partner, Millie
In order to bring their philanthropy to the next level, the Checkr team chooses to leverage a social impact platform called Millie. Millie describes itself as offering a simple and flexible matching gift solution that's budget-friendly for all companies. And for Checkr, Millie is able to help simplify the facilitation of their matching gifts and other corporate giving programs!

Here's a look at Millie's key offerings:
Essential matching donation management of programs that encourage both corporate and individual giving;
Campaign-hosting capabilities that enable companies to support and fundraise for various causes;
Remote and in-person corporate volunteer management tools;
Charitable gift cards, affinity groups, gamification campaigns, and more.
Plus, Millie has been at the forefront of corporate giving innovation with its new auto-submission partnership with Double the Donation. This allows businesses like Checkr and more to streamline and elevate philanthropy, ultimately bringing advantages to every party involved. We're excited to see what they do next, and how they bring forward-thinking companies along with them.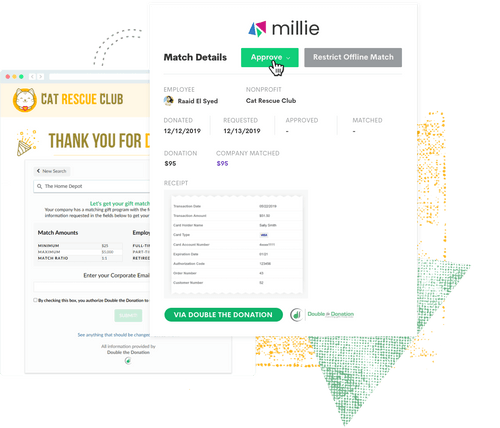 Other Corporate Social Responsibility Initiatives
In addition to Checkr's standout matching gift program, here are a few other CSR efforts that the background check company pursues: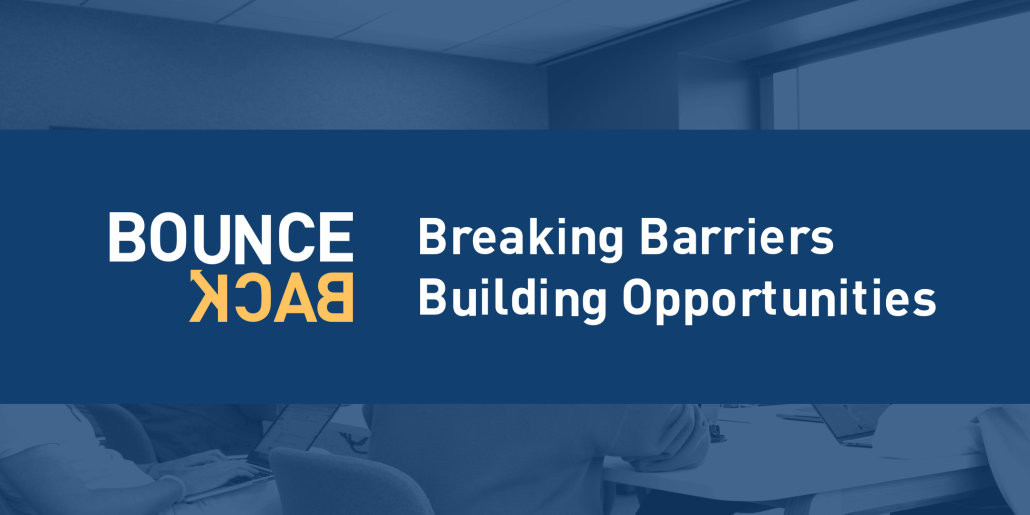 Bounce Back program ⁠— Bounce Back is a unique program developed by Checkr with the help of its dedicated employees. By providing tools and resources to post-incarcerated applicants and companies looking to establish fair hiring practices, Bounce Back aids in securing a more optimal workforce for everyone involved.
Free reentry simulation ⁠— In order to provide insight into the various challenges involved with employment post-incarceration, Checkr has invested in developing an interactive virtual reentry simulator. This free and accessible tool aims to share perspective and understanding of those looking to reenter society after a criminal record.
Expungement assistance services ⁠— Checkr believes that a criminal record should not put an end to an individual's employment potential. And when it's possible to clear a candidate's record and reopen opportunities, the company is dedicated to helping with a fast and affordable solution.
The Checkr website states that "Checkr has committed to the Pledge 1% corporate philanthropy movement, pledging to donate one percent of its employees' time, one percent of its product, one percent of the equity, and one percent of the profits every year to the mission of enabling fair chances."
But they often go farther than just one percent! In fact, much of Checkr's corporate offerings revolve around its overall mission of fair chance hiring.
---
Concluding Thoughts
Matching gift programs continue to expand in terms of both prevalence and potential. And companies like Checkr are leading the pack. By enabling innovative auto-submission, Checkr is demonstrating matching gift programs of the future.
And while bringing inspiration to other corporate leaders, they're also benefiting their employees by offering next-level engagement experiences, the nonprofits receiving increased funding through the matching programs, and even their own bottom line.
Dive deeper into corporate matching gifts! Learn more with these additional corporate giving resources from Double the Donation:

https://doublethedonation.com/wp-content/uploads/2022/12/DTD_Company-Spotlight-Article-Millie-Checkr_Feature-1.png
600
1600
Adam Weinger
https://doublethedonation.com/wp-content/uploads/2022/03/logo-dtd.svg
Adam Weinger
2022-12-19 15:43:04
2022-12-20 22:53:03
Company Spotlight: Get Inspired by Checkr's Groundbreaking Matching Gift Program