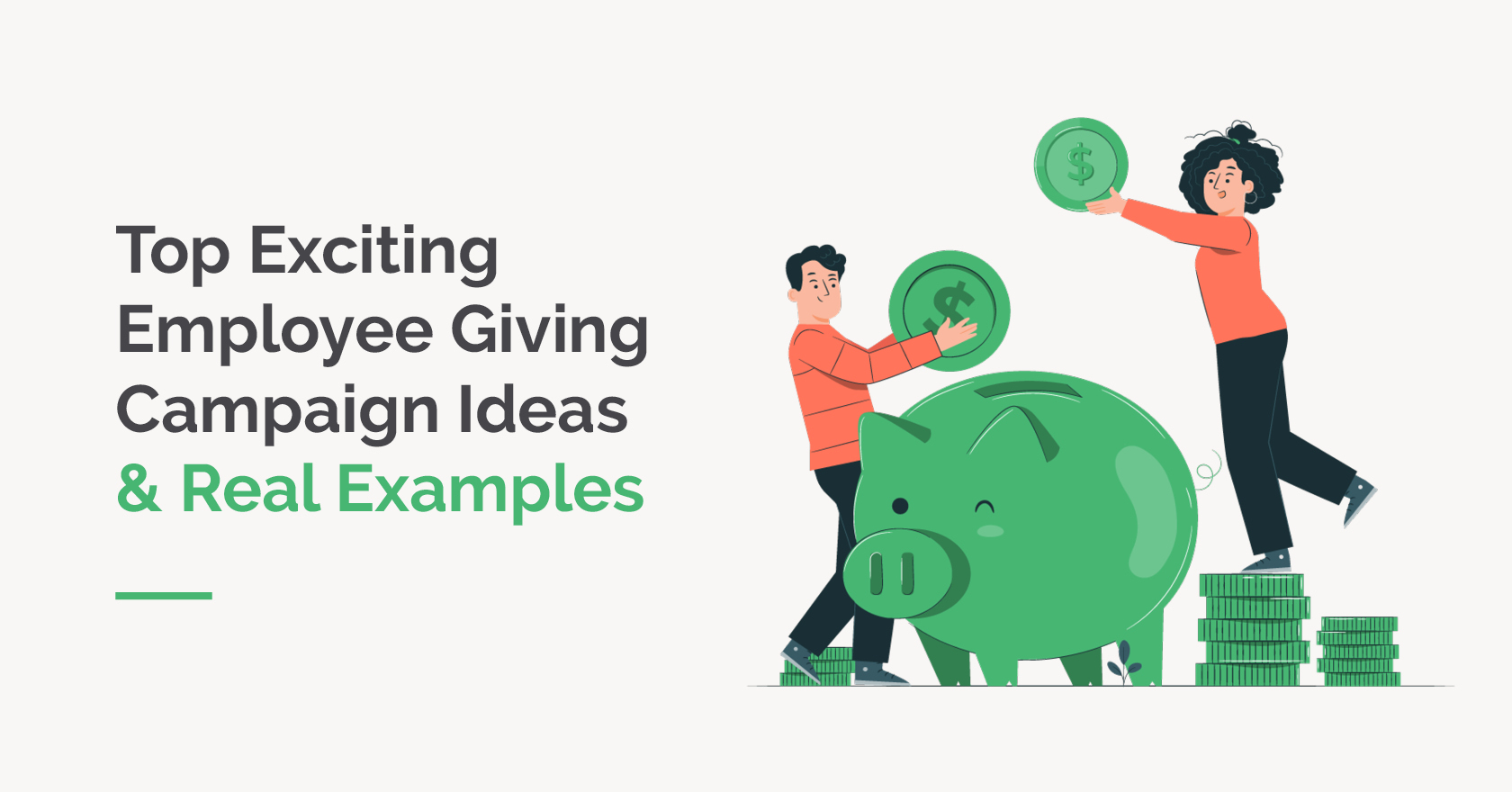 9 Exciting Employee Giving Campaign Ideas & Real Examples
Thanks to the growing movement toward increased corporate citizenship, combined with innovative new technology, many companies are stepping up their employee-giving game like never before.
Businesses interested in creating or improving their workplace giving programs—as well as nonprofits eager to engage donors and corporate partners in new ways—will find inspiration in these versatile employee giving campaign ideas.
This guide will cover:
Before we dive into ideas your business can use for employee giving, let's explore the basics.

The Importance of Employee Giving
The framework of corporate social responsibility (CSR) is becoming increasingly popular across many sectors. It's even inspiring employers to provide a variety of ways for their company to give back to the community in the form of philanthropic donations, volunteerism, and proactive policies that put people and the environment first.
Take a look at these statistics to understand the power of CSR: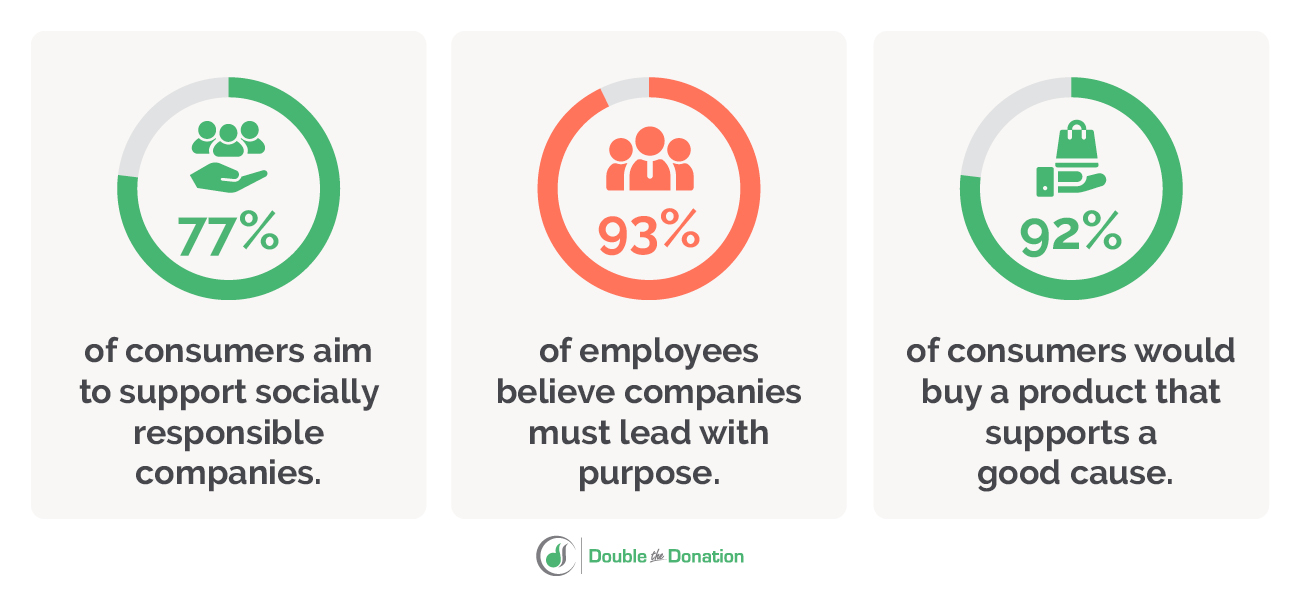 77% of consumers aim to support socially responsible companies.
93% of employees believe companies must lead with purpose.
92% of consumers would buy a product that supports a good cause.
A welcome shift from the "greed is good" mindset of past generations, corporate citizenship promotes commitment to sustainability both inside and outside corporate office walls.
Employee giving (also called workplace giving) is one of the most popular CSR strategies. It creates opportunities for everyone in a corporate environment to support charitable organizations and causes in a collective effort, making a much greater impact than what most individuals can do alone. From annual fundraisers and donation drives to giving days and volunteer programs, employee giving campaigns will (and should!) look different in every workplace, depending on your unique company culture and values.
However, there is one aspect of employee giving every workplace campaign should include: matching donations.
When individual employees give from their own pockets to eligible nonprofits, their companies should match those donations. Through matching gift programs, companies can double their employees' impact on the causes they care about. This kind of support and commitment builds buy-in, signals to employees that their company is just as committed to this work as they are, and affirms that their participation is seen and celebrated.
The Benefits of Workplace Giving Campaigns
Employee giving initiatives backed by matching donations can do a whole lot of good—and not just for your nonprofit beneficiaries and the communities they serve.
A company's public image, for example, can undoubtedly improve with well-documented charitable contributions. Plus, the tax incentives for large philanthropic gifts are nothing to shrug at. Still, it's the impact that workplace giving campaigns have on employee morale that cannot be understated.
Generosity, science tells us, is tied to human happiness. Creating meaningful opportunities for employees to build relationships and contribute to good causes alongside their peers leads to a greater sense of belonging, stronger engagement in future activities and projects, and higher staff retention. It's a win-win-win!
With the help of automated systems, giving can become an integral part of the culture of your workplace. Imagine an environment where giving is as much a part of your work week as logging into your email in the morning—not just once a year, but throughout! That's achievable by implementing matching gift programs and hosting regular employee giving campaigns.
9 Employee Giving Campaign Ideas to Try Throughout the Year
We've gathered some of our favorite workplace giving campaign ideas you can implement year-round at your office. Plus, each idea features an example from a real nonprofit that nailed it.
Every workplace is different, so think creatively about how you can customize and adjust these ideas based on your company's size, time constraints, interests, and areas of specialty. The possibilities are endless—just like your potential for making a positive impact in your community.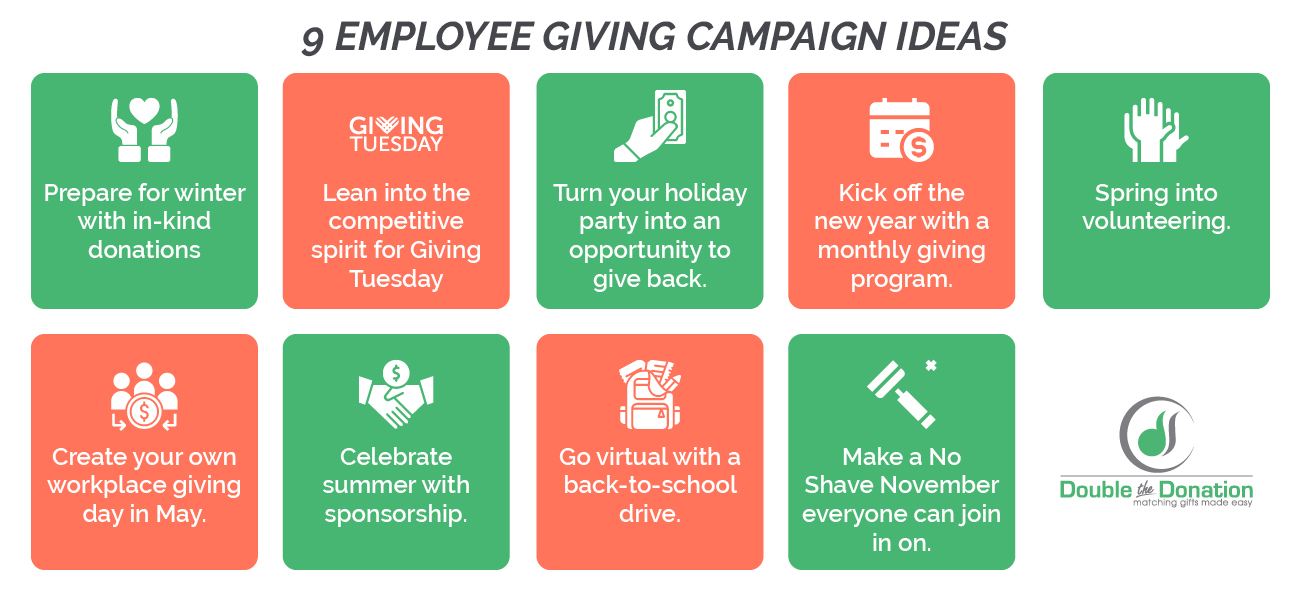 1. Prepare for winter with in-kind donations.
Winter is a particularly difficult time of year for many nonprofit beneficiaries, especially if they're individuals experiencing homelessness or poverty. Encourage your employees to make in-kind donations, which are any non-monetary gift, to organizations that need them. This is an especially great idea for employees with tighter budgets who may not be able to justify a monetary donation.
To make the donation process easier for your employees, partner up with one or a few specific nonprofits. Ask them what donations would be most helpful to them, and then provide your employees with that list of items. Organizations might be searching for items that directly help their beneficiaries, such as canned food or winter clothing, or they might be searching for items to empower them to more effectively help their beneficiaries, such as computers, printers, or fundraising event decorations.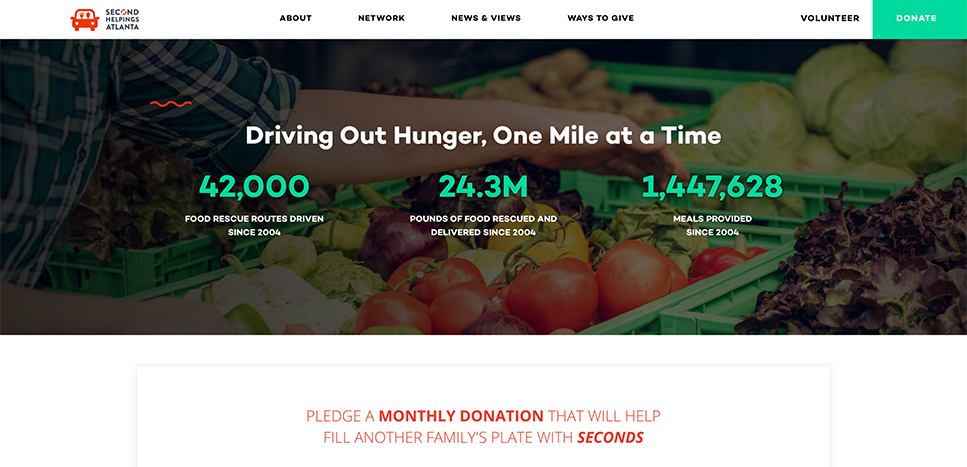 Real-world example: Second Helpings Atlanta is a nonprofit food rescue organization whose mission is to reduce hunger and food waste in the Metro Atlanta area. It rescues healthy, nutritious, surplus food and distributes it to those in need.
They've created a network with over 75 food donor organizations across Atlanta, including businesses such as Chick-Fil-A, Mercedes Benz, Pizza Hut, and Publix. These businesses work with Second Helpings Atlanta as part of their CSR and employee giving initiatives to use food for good in the local community.
2. Lean into the competitive spirit for Giving Tuesday.
Year-end is a popular time of year for nonprofit fundraising, and it all begins with Giving Tuesday. This global day of generosity happens the first Tuesday after Thanksgiving and is meant to channel the shopping madness of Black Friday and Cyber Monday toward a worthy cause instead.
A virtual peer-to-peer or team fundraising Giving Tuesday campaign is an easy and fun way to foster friendly competition as individuals or staff teams try to out-raise one another for their cause.
The secret to a successful peer-to-peer fundraiser? Keep spirits high and be a cheerleader for your fundraisers! Celebrate everyone's hard work by shouting out teams at various times throughout the campaign and offering prizes for the teams with the most donations, the highest amount raised, or even the most team spirit.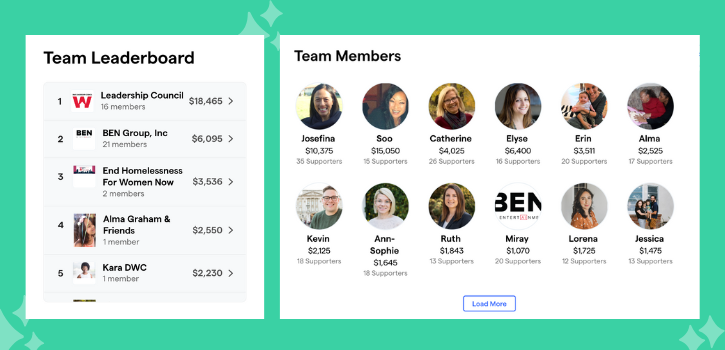 Real-world example: For the Together Housed campaign, participants created personal or team fundraising pages to raise money over three weeks for women in Los Angeles experiencing homelessness.
This virtual effort raised over $155K for the Downtown Women's Center and culminated in a live-streamed celebration to thank individual fundraisers and corporate sponsors.
3. Turn your holiday party into an opportunity to give back.
The holidays bring out the giving spirit in even the Grinchiest among us—especially if the food and drinks are free. If you've already budgeted for a staff gathering or outing for the holidays, think about adding on a party-worthy fundraising element like a silent auction to benefit a local nonprofit. This is also an excellent time to celebrate your Giving Tuesday teams or winners with silly prizes or awards!
Depending on the size of your staff, a team can volunteer to source auction items or request that everyone (CEO included) contribute an item, experience, or basket to auction off during the party.
Sourcing items can be work-intensive, so make the rest of the process easy on your team by using an online silent auction platform that partygoers can use to bid right from their smartphones. Mobile bidding also makes it easy to create a hybrid or virtual auction experience if your remote employees want to start a bidding war for a good cause.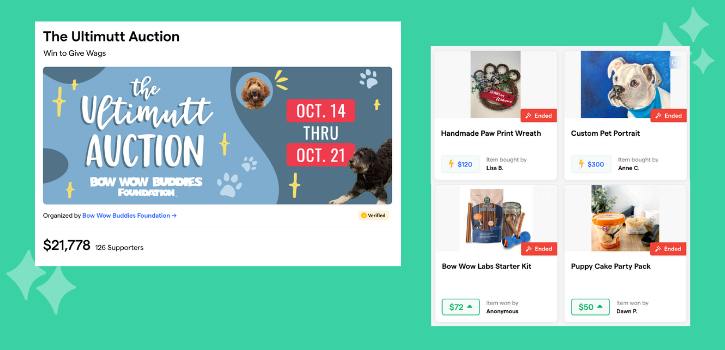 Real-world example: The Ultimutt Auction fundraiser for the Bow Wow Buddies Foundation offered bidders a range of fun experiences and items from local businesses. To reach a wider audience and build momentum to raise more funds, the organizers had the online auction open for a week, enabling them to raise over $21K!
4. Kick off the new year with a monthly giving program.
With everyone energized by your Giving Tuesday and holiday party success (and hopefully some time off), build on this momentum to get employees excited about giving back regularly.
A great place to start is by hosting a casual "Lunch and Learn" once a month, where a guest speaker or representative from a local nonprofit gives an informal presentation about their impact and need.
The actual giving part can happen in a few different ways:
A monthly stipend from the company that employees can donate
Informal monthly contributions matched by the company
Automated payroll deductions (also matched by the company)
Build buy-in by providing incentives like a catered lunch for those who attend and asking staff to nominate organizations or community groups that are meaningful to them. National celebrations like Black History Month (February), Women's History Month (March), Asian American and Pacific Islander Heritage Month (May), etc., can be a great guidepost for causes to highlight if you're not sure where to start.
Be sure that your company's matching gift program is set up before you begin your new monthly giving program. That way, you'll be able to engage your employees through philanthropy and increase the impact of gifts to your local nonprofits.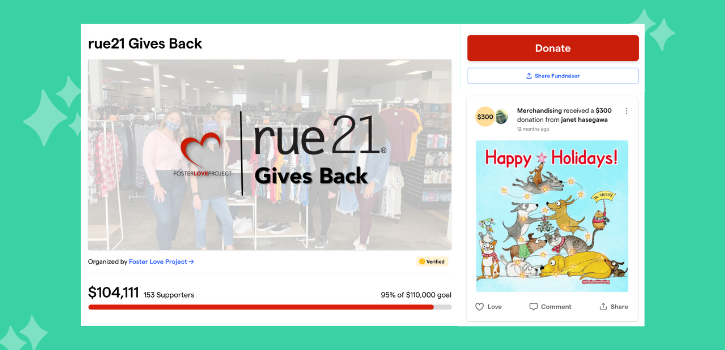 Real-world example: Clothing retailer rue21's annual giving campaign organizes staff fundraising teams by department (Marketing, Merchandising, Human Resources, and so on). Each year, they have raised more funds for their nonprofit partner organization, Foster Love Project, which serves youth in foster care.

5. Spring into volunteering.
Financial contributions aren't the only way to make a difference in your place of work. Harness the power of your team's talents to give back through volunteer hours or pro bono projects in partnership with a local nonprofit, school, or other community organization.
Volunteering can be skill-based work (graphic design, tutoring, or even accounting!) or just helping with whatever is needed (envelope stuffing, serving meals, or checking people in). It's all about meeting the needs of your particular community partner.
The key to success here is to incentivize volunteering, which can happen in many ways.
Some companies, including 40% of the Fortune 500 list, give volunteer grants to employees who put in a certain number of hours, and others offer perks like additional vacation time. You can even liven things up by making it a competition to see who can give the highest number of hours by a specific date.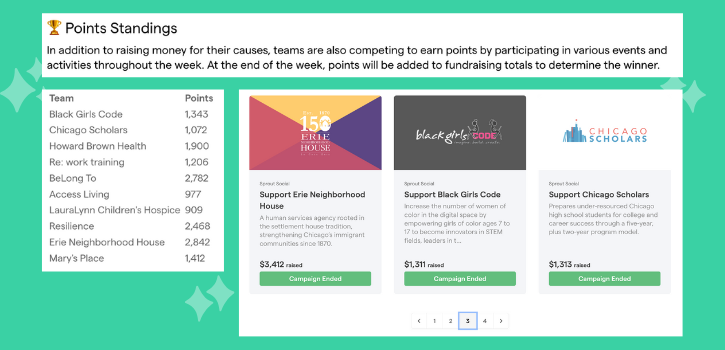 Real-world example: Chicago-based software company Sprout Social organized Philanthropy Week, which combined volunteering and team-based fundraising for local nonprofits.
Teams of employees chose an organization in their community, created fundraising pages, and volunteered on-site to foster deeper connections with their partners.
6. Create your own workplace giving day in May.
Aside from being a great help to nonprofits, volunteering is also one of the most effective team-building activities. Hosting a workplace giving day can empower your company to build connection and belonging amongst your staff—and contribute to a good cause at the same time.
As the weather warms up, partner with a local nonprofit that needs a lot of hands for a park cleanup, meal prep, material assembly, mural painting, or other beautification projects. Make sure everyone on your staff is able and incentivized to attend, get t-shirts made for the occasion, and cap it all off with a celebration and big group photo.
If all goes well, try to make it an annual event that employees look forward to, your nonprofit partners can plan around, and the entire community can feel proud of.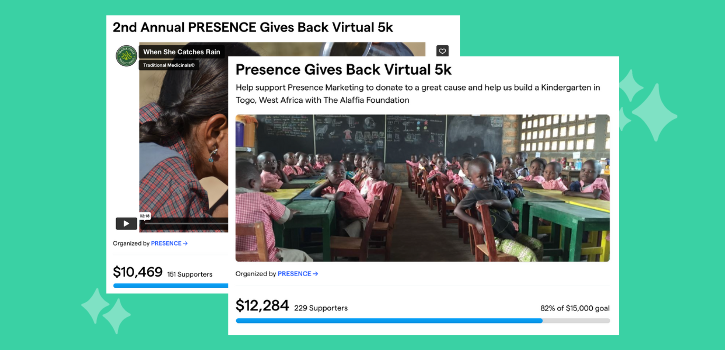 Real-world example: When pandemic restrictions made in-person activities impossible, Presence Marketing organized a virtual 5k and complementary fundraiser in partnership with a charitable foundation to help build a Kindergarten in the West African nation of Togo.
The event was so successful that they organized a second annual day of giving the following year to benefit another charity project!
7. Celebrate summer with sponsorship.
June is the start of summer and Pride Month, a great time to support organizations that serve the LGBTQ+ community. Give your coworkers a special night out together and raise some serious money by sponsoring a fun fundraising event, like a standup comedy, drag show, or a combination of the two!
Planning events is a lot of work, so if that's not something you can take on, seek out a nonprofit partner already planning a benefit event that you can sponsor. Or enlist the help of a local venue that can help match you with a good cause. If a virtual or hybrid event can help you reach your community better, livestream it!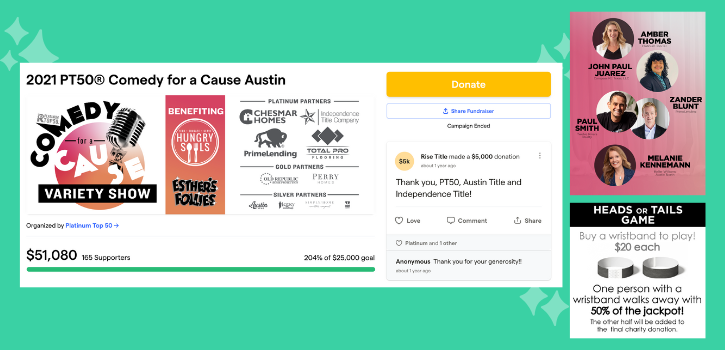 Real-world example: Platinum Top 50, an industry organization for real estate professionals in Texas, organized a comedy show fundraiser featuring standup and improv from some talented local realtors. In addition to ticket sales, extra donations from individuals and corporate sponsorships helped them to raise over 200% of their original goal for their hunger-fighting nonprofit partner.
8. Go virtual with a back-to-school drive.
Drives for essential items like jackets, toys, and perishable goods are popular for workplace giving campaigns for many reasons. For one, those who are making donations can immediately see the real-life impact of their gifts, which is sometimes harder to communicate with solely monetary asks.
With a virtual drive, donors can still understand exactly where their money is going and, at the same time, give the nonprofit beneficiary more oversight and flexibility to order the items they need and get them directly to the people who need them.
This campaign idea is also great for remote office teams, as virtual drives open up donations to a broader pool of people and save the time and energy it can take a team of employees to collect, organize, and transport items.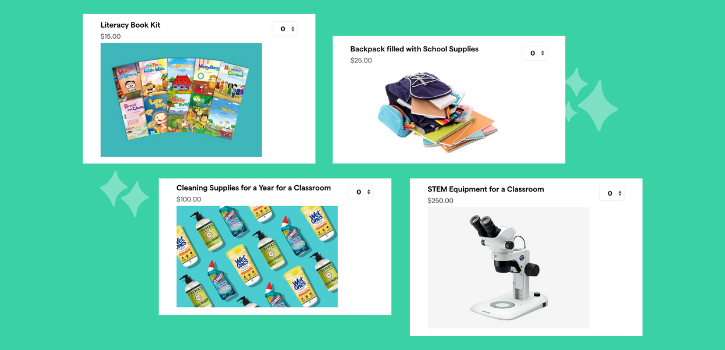 Real-world example: With several businesses participating, Teachers' Treasures organized the Gr8 Paper Push Virtual School Supply Drive and enabled donors to select specific classroom items or just make a flat donation to the campaign.
This campaign also had an added team fundraising element. Local businesses competed with one another to raise the most, which created a lively, fun atmosphere.
9. Make a No Shave November everyone can join in on.
Movember and No Shave November, popular social challenges to see who can grow the most facial hair, were created to raise awareness and funds for men's health and cancer prevention. Anyone can play on this idea for a good cause of their choosing—just make sure to take lots of photos!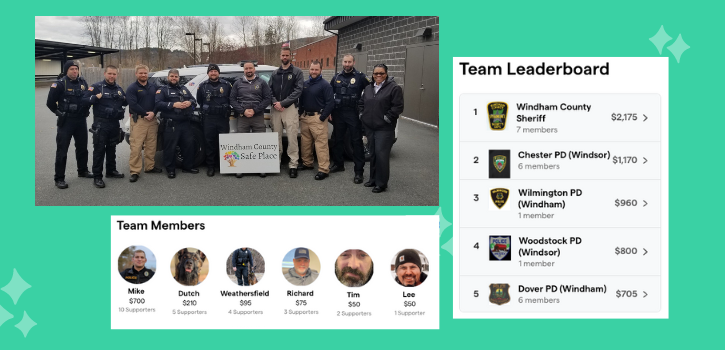 Real-world example: For their annual Let It Grow! campaign, Vermont-based victims' services agency Windham County Safe Place engaged teams from the police departments, hospitals, and legal groups that they work with for a light-hearted competition. Each team was encouraged to grow facial hair or rock colorful hair extensions and bright nails for the month. Inclusivity for the win!
Every participant received a special pin for joining the campaign. They created their own individual or team fundraising page, donated $25 or more, and encouraged their friends and family to help them reach their goal. The top three earners even won a special prize at the end of the competition! The novelty of this campaign drew attention to their cause from local media and helped them to raise thousands of dollars.
Additional Resources
From selling tickets and making donations to administering payroll deductions and matching contributions, automating as much of your workplace giving campaigns as possible will save you a lot of time and energy. CSR platforms can free you up to focus on what really matters—engaging your workplace community and creating meaningful ways to give back together.
Looking for more inspiration? Dive deeper into these additional resources:

https://doublethedonation.com/wp-content/uploads/2022/12/Employee-Giving-Campaign_Feature.jpg
880
1680
Adam Weinger
https://doublethedonation.com/wp-content/uploads/2022/03/logo-dtd.svg
Adam Weinger
2023-11-15 16:35:21
2023-11-29 13:56:52
9 Exciting Employee Giving Campaign Ideas & Real Examples