The Impact of Matching Gift Programs on Employee Engagement
Philanthropy has become a core value of many American corporations. CEOs and corporate leaders see philanthropy as a major part of their commitment to society as well as a valuable benefit for their employees. It's a way to give something back to employees and support causes that are important to them.
One of the biggest ways that corporate philanthropy manifests itself is in the  form of matching gift programs.
However, an important consideration for implementing, maintaining, or expanding a matching gift program should be its impact on employee engagement.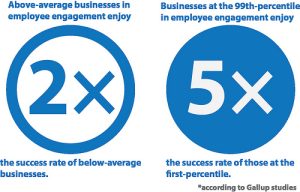 What is Employee Engagement?
Employee engagement is typically defined as the extent to which employee commitment, both emotional and intellectual, exists relative to accomplishing the work, mission and vision of the organization.
Engaged employees work with passion and feel a strong connection to their company. Companies with high levels of engagement also see higher levels of employee retention.
Find out more about why employee engagement is so important.
Unfortunately the converse is also true. Disengaged employees feel distant from their organization and generally do not view their connection to their employers as anything more than a job.
They are less likely to commit time and effort to help the organization succeed. Studies show that disengaged employees are less productive than engaged employees.
A key driver of employee engagement has been reported to be an employee's perception of the organization's values. Without a positive feeling about the values of the organization, employee engagement will likely remain low.
At a time when employee engagement is on the decline and corporations are depicted as greedy and insensitive, a well-designed matching gift program can help companies show their employees that they care and have shared values. While this is not the sole driver of engagement, it is an important contributing factor.
Check out these companies that do a great job engaging employees through their corporate giving programs.
Common Themes of Effective Matching Gift Programs
They are easily understood and communicated to employees.
They are easy for the corporation to administer.
They are flexible enough to be utilized by employees in their desire to support nonprofits and causes of their choosing.
Check out these best practices for matching gifts!
An alternative approach is to construct the matching gift program in a way that garners and encourages support for causes that the organization chooses to champion. With this approach, corporate values are emphasized and reinforced for employees who share those values.
Conversely it can have less of a positive impact on employee engagement as it limits their choices to areas that the company values. This would be the case where a corporation focuses its matching gifts program exclusively in areas like education, for example.
Learn more about matching gift and other corporate giving programs.
Companies seeking to positively impact employee engagement should consider implementing a matching gift program that is broad in scope, easy to communicate, and demonstrates the shared values of the company and employees.
For other ways to increase employee engagement, check out these best practices.

https://doublethedonation.com/wp-content/uploads/2022/05/matching-gifts-employee-engagement.png
321
845
Adam Weinger
https://doublethedonation.com/wp-content/uploads/2022/03/logo-dtd.svg
Adam Weinger
2015-09-02 11:00:00
2022-06-20 07:54:01
The Impact of Matching Gift Programs on Employee Engagement