Top Trends in Corporate Philanthropy for 2023: How to Tap In
Corporate philanthropy programs like matching gifts, volunteer grants, employee giving campaigns, and corporate sponsorships evolve constantly to meet the needs of companies, nonprofits, and supporters. But there are external factors at play that impact corporate philanthropy trends, too.
For instance, when the economy seems rocky, many worry that corporate matching gifts will be negatively impacted. But luckily, that's not been the case this year. Instead, many corporations even expand their giving programs in the face of economic downturns.
In this guide, we dive into this year's trends in corporate philanthropy—including what we're currently seeing and what we expect to continue into the future. Specifically, we'll cover:
If you're looking for the Too Long; Didn't Read version, it's this⁠: corporate philanthropy programs like matching gifts are thriving, and we don't expect them to go away anytime soon. For a more in-depth look, however, keep reading to find the latest industry developments and what they mean for your nonprofit.
5 Trends in Corporate Philanthropy We're Seeing
With the explosive growth of giving initiatives comes a number of new patterns and trends in corporate philanthropy worth exploring. Here's what's currently shaping the corporate philanthropy landscape: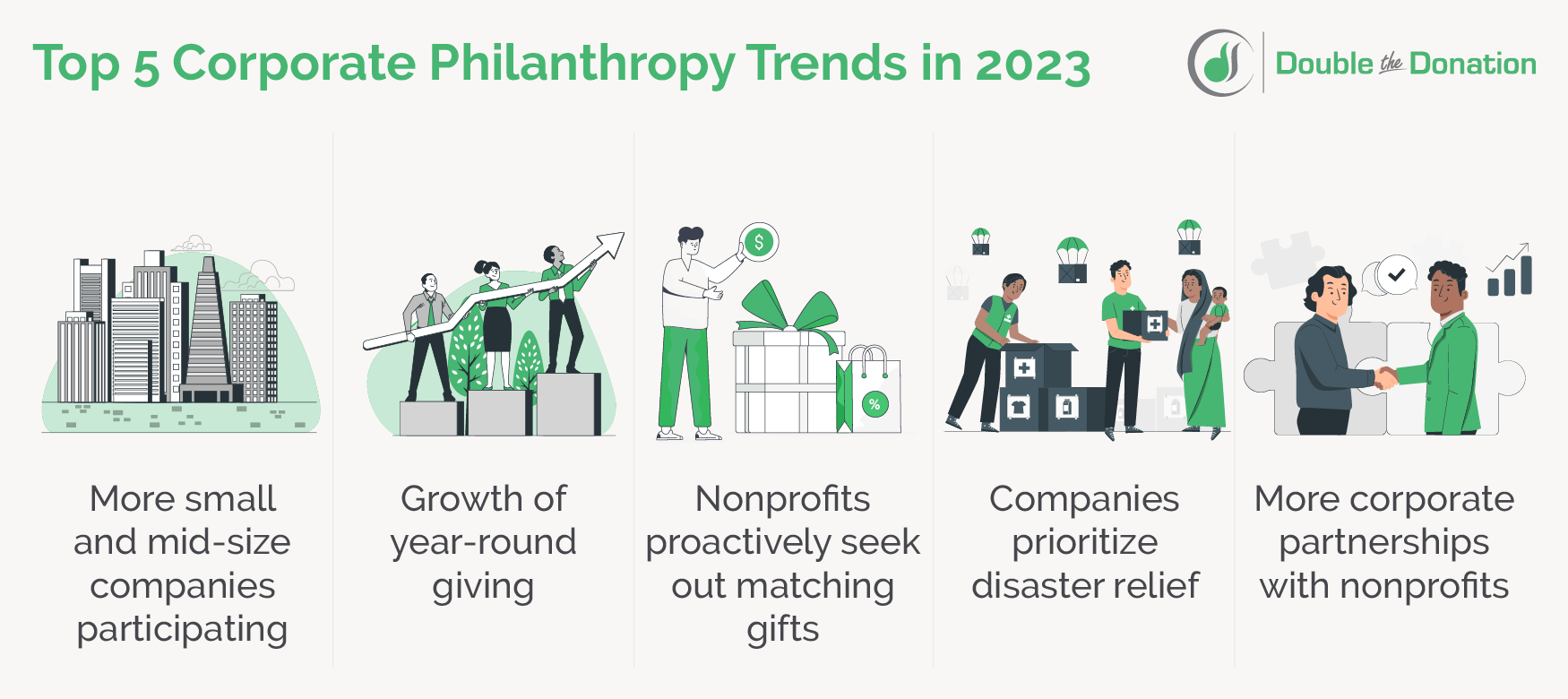 1. Increased small and mid-size company involvement
Historically, primarily enterprise-level corporations have offered programs like matching gifts. Companies needed a big budget to get started⁠, not to mention the time and energy required to run the program.
Today, our analysis shows that over 65% of Fortune 500 companies still provide matching gifts⁠, but the number of small and mid-sized businesses following suit is growing rapidly as well. The introduction of a number of dedicated corporate giving platforms designed for smaller teams has made this change possible for organizations with limited budgets.
Now, just about any employer can get started with matching gifts and see a substantial return on their investment as a result! All in all, that means organizations are seeing more match-eligible donors⁠, with approximately 26+ million individuals working for companies that match employee gifts.

2. Growth of year-round giving
In the last few years, an increasing number of companies have expanded their corporate philanthropy programs—going from one-off annual giving campaigns to year-round employee-matching programs.
This is due in part to an increased focus on corporate social responsibility from both employees and consumers. US-based consumers have realized the need for philanthropy and want the companies they work for and buy from to take part. Additionally, businesses realize that the benefits of year-round corporate philanthropy on their bottom line are significant!
That said, we can expect to see continued growth in year-round and recurring corporate giving. In fact, according to studies, 94% of major US corporations plan to heighten or maintain their current level of philanthropy in the next few years. With the trends we're seeing, we estimate that a notable portion of that increased giving will be contributed through employee-driven initiatives, like matching gifts. This means your donors will be in the driver's seat—so keep up your outreach!
3. Nonprofits take a proactive approach to matching gifts
Even with an increasing number of companies offering matching gifts, eligible employees being unaware of the programs available to them remains a significant roadblock. Research even shows that less than 19% of companies include adequate information on matching gift programs in easily accessible employee-facing materials.
The result? 78% of donors do not know whether their company matches gifts. Thus, available matches are going unclaimed⁠—so nonprofits are taking it upon themselves to proactively promote matching gifts to their audiences. This can take many forms but often consists of:

With these efforts and other strategic matching gift outreach, nonprofits can increase the number of donors who are aware of their employers' corporate philanthropy programs—therefore boosting the amount of matched donations they receive.
4. Companies prioritize disaster relief and crisis response
Ever since the onset of the COVID-19 pandemic, many companies' giving initiatives have prioritized disaster relief philanthropy. According to Candid's analysis of public corporate announcements, companies donated $3.6 billion to disaster-related funding in 2020, and recent trends in corporate philanthropy indicate that it's still a top priority.
With this year's increase in climate-related emergencies like hurricanes, wildfires, and droughts, there's clearly a need for this kind of philanthropy. Companies and their employees alike are making an effort to provide relief by participating in crowdfunding, volunteering, and matching gift initiatives.
5. Nonprofits and companies are forming more partnerships
Corporate philanthropy initiatives like matching gifts involve a few key stakeholders—namely, the companies offering the programs and the nonprofits receiving associated funds. To make the process as simple and direct as possible, tighter partnerships are forming between the two parties.
One example of this is our innovative new matching gift auto-submission functionality. Auto-submission within 360MatchPro enables employees at forward-thinking companies like Checkr, Innovative Discovery, and more to submit their matching gift requests right from their favorite organizations' giving pages.
It's quick, it's easy, and it's all handled behind the scenes⁠. Thus, it minimizes complications for nonprofits, companies, and donors alike, driving more matching gifts to completion.

Recent Industry Developments in Matching Gifts
Tons of companies contribute to these corporate philanthropy trends by matching employee gifts. Our matching gift database contains records on upwards of 24,000 companies' program guidelines.
We work to provide the most comprehensive, accurate, and up-to-date source of information on the topic, and recently, we can attest that programs' potential is continuously trending upward⁠. Specifically, new, reinstated, and expanding matching gift initiatives are driving growth. Let's take a closer look at these developments.
New programs

New companies are rolling out matching gift programs every day! Check out these examples of businesses that have recently incorporated matching gifts into their ongoing corporate giving strategies:
Russell Reynolds Associates: In 2022, Russell Reynolds Associates established RRA Gives Back, a philanthropic program that encourages RRA colleagues to support charitable causes and get their contributions matched by the company.
Kraft Group: The Kraft Group and its subsidiaries have long participated in a wide range of philanthropic activities. One of their newest initiatives is matching employee donations, doubling employees' impact when they donate.
Another trend in corporate philanthropy we're seeing more and more of is employees advocating for matching gift programs to their employers. So if a number of your donors are not eligible for matching gifts, don't fret! Instead, provide resources that can help them champion gift-matching on your behalf.
Knowing their employees want a matching gift program can be a significant motivator for rolling out such an initiative. In exchange, companies can look forward to increased employee engagement, productivity, and retention.
Reinstated programs

Thanks to the significant value that companies see in their corporate social responsibility efforts, many businesses have recently reinstated their matching gift programs. Companies recognize philanthropy as an integral aspect of their businesses⁠, even in the face of economic uncertainty.
For example, here are a few companies that are matching gifts again after a brief intermission in their programming:
These companies may have reinstated their programs because they're in a better place financially, but it's also likely that they recognized that matching gifts are a long-term investment in their communities. Regardless of the reasoning, we're glad these companies are back!
Expanding programs

Companies with existing matching gift programs are also expanding their efforts⁠ by increasing their matching gift ratio and/or upping their maximum match amount per year. Here are a few examples of companies recently making these changes:
American Eagle Outfitters: Quadrupling their maximum match amount (from $500 to $2,000 per team member per year), American Eagle continues to offer a best-in-class matching gift program! They also upgraded from a paper request form to an online submission portal⁠, making it simpler than ever for employees to get involved.
The Hartford: With an increasing match ratio from 0.5:1 to matching on a dollar-for-dollar basis, The Hartford Financial Services Group, Inc. empowers employees to give by doubling individual donations.
Chicago Community Trust: Not only did the Chicago Community Trust increase its matching gift ratio from 2:1 to 3:1⁠ (effectively quadrupling individual donations⁠), but it also heightened the maximum gift amount to $7,500.
Not to mention, the number of matching gift programs that will match to any nonprofit continues to grow, while programs that only match to a particular mission type have severely declined. This trend continues to reflect a broader shift toward more inclusive corporate philanthropy as companies empower their employees to support causes that matter to them.

How to Tap Into These Corporate Philanthropy Trends
Now that you're up to date on all the latest trends, let's dive deeper into what they mean for your nonprofit. Ultimately, these trends are positive and mean that your nonprofit can continue to see the benefits of corporate philanthropy. But there's more you can do to tap in!
Our number one piece of advice for leveraging these trends in corporate philanthropy is to take a proactive approach in marketing matching gifts to your audience. 
Remember, your donors may not be aware of their companies' matching initiatives. To maximize funding and engagement from these programs, it's crucial to spread the word across your marketing channels. Let donors know how to check their eligibility, why they should submit match requests, and how much of an impact they can make with matching gifts. Check out this video for more tips on how to promote matching gifts to your donors:
On top of increasing your matching gift marketing, use these additional tips to tap into corporate philanthropy trends:
Invest in matching gift software. With software like 360MatchPro, you can greatly simplify the matching gift request process for donors. When you employ functionalities like matching gift auto-submission, your team can sit back and enjoy matching gift revenue trending upward.
Expand your promotion of disaster relief campaigns. If your nonprofit participates in crisis response or disaster relief efforts, plan to promote these campaigns directly to corporate audiences. Reach out to businesses and let your donors know that their employers can magnify their impact on aiding disasters.
Seek out corporate partnerships. Companies want to partner with organizations like yours! Take advantage of this trend by continuing to develop relationships with specific businesses, seeking out sponsorship opportunities, and tracking companies that frequently match your donors' gifts.
Taking these steps will help your organization get the most out of corporate philanthropy and raise more funds for your mission.
Trending Onward & Upward
Corporate philanthropy continues to be a priority for businesses and employees everywhere. Thus, we encourage nonprofits to make the most of the opportunities at hand.
Interested in learning more about corporate philanthropy trends to be aware of? Check out these additional Double the Donation resources:
Interested in learning more about how to continue fundraising through difficult times? Check out our immersive webinar on the topic!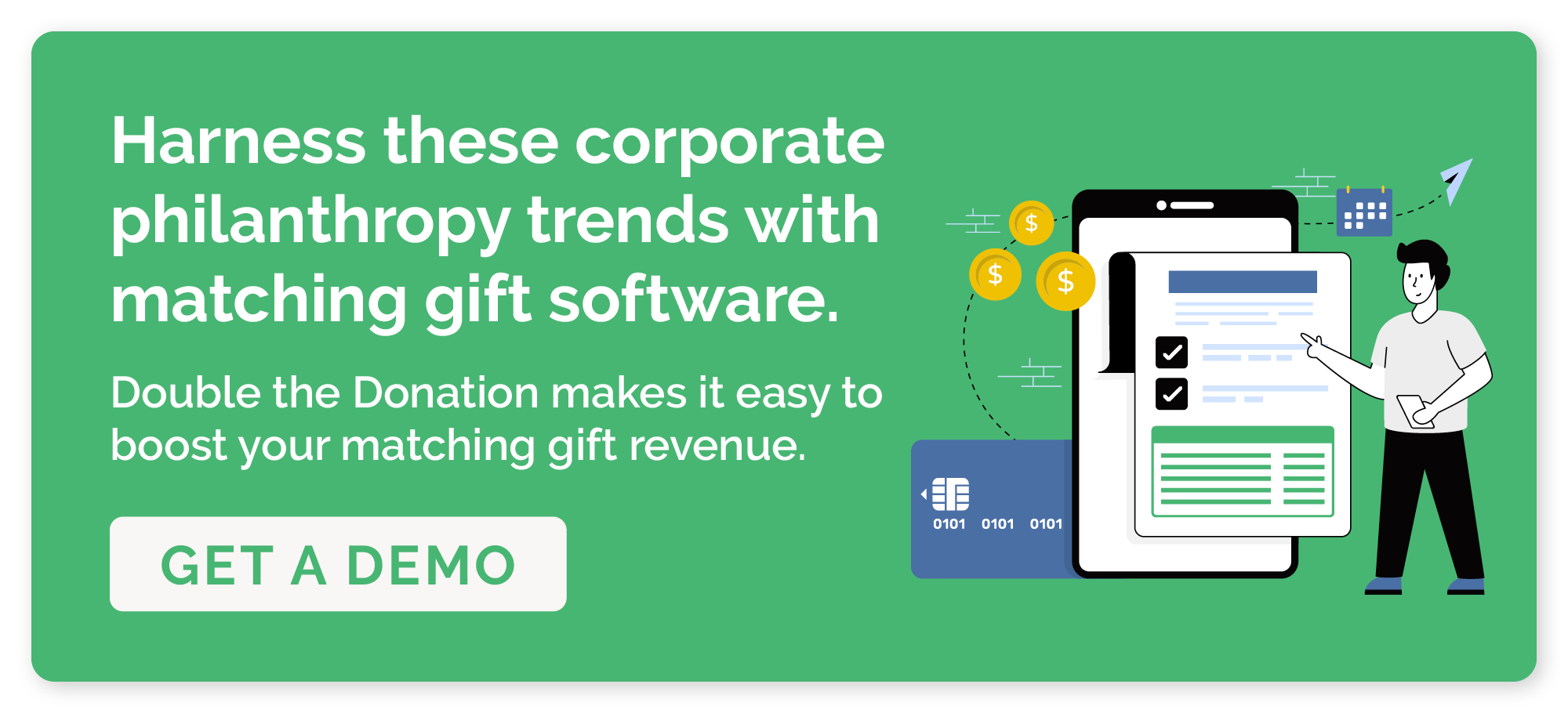 https://doublethedonation.com/wp-content/uploads/2023/03/Trends-in-Corporate-Philanthropy_Feature.png
600
1600
Adam Weinger
https://doublethedonation.com/wp-content/uploads/2022/03/logo-dtd.svg
Adam Weinger
2023-10-10 15:38:13
2023-11-30 14:20:18
Top Trends in Corporate Philanthropy for 2023: How to Tap In