Alternative Fundraising Avenues: Recouping After Lost Funding Sources
There are many different funding types at the disposal of nonprofit causes. These sources empower organizations like yours to bankroll mission programming and behind-the-scenes operations alike. Still, most fundraisers end up relying on a few primary channels to power the brunt of their operations.
So what happens when one of those key sources becomes unavailable? Oftentimes, that means it's time to begin searching for alternative fundraising avenues.
And we're here to help! In this guide, we'll cover:
Ready to dive in? Let's start at the beginning.
Why your nonprofit might lose a funding source
The loss of a nonprofit funding source can be jarring⁠, and you might not always see it coming. However, understanding common causes behind lost fundraising avenues can make a big difference in preparing to overcome whatever obstacles are thrown your way.
Some scenarios in which your organization finds itself without a key funding source might include losses of major donors (whether due to passing, changing financial circumstances, or other reasoning), specific grants not coming through, and more.
One of the most prominent⁠—and widespread⁠—examples of this occurred at the start of the COVID-19 pandemic in March of 2020. Still, the lingering effects remained for years after the fact. And that's when organizations across the globe that had been previously dependent on revenue generated through in-person fundraising events were now without access to the source.
Luckily, all was not lost! Instead, organizations went to work rapidly transitioning events to the virtual realm in order to maintain donor engagement and giving.
Another, more recent instance? The cessation of Amazon's philanthropic initiative, AmazonSmile, in February 2023. This program had been a fairly effortless source of income for over one million local and national causes, producing more than $365 million for participating organizations. Once the closing of the program was announced, tons of nonprofits began scrambling to locate new ways to make up the income they'd been depending on.
And that brings us to our next section!
Next steps after losing a funding source
If your nonprofit has just lost a key source of funding, you may be tempted to enter panic mode. But first, we recommend taking a few easy steps to get your organization back on track for financial success.
Determine how much was lost from the source.
First and foremost, start by gauging exactly how much was lost from the source.
If you were expecting a particular grant payout or a donor had been contributing a static amount year after year, you could fairly simply determine the amount you were accounting for. On the other hand, more variable sources⁠—e.g., fundraising events or programs like AmazonSmile⁠—can be estimated by calculating the average dollar amounts received over a period of time, such as the last months or years.
For example, many organizations are (understandably) fretting about the AmazonSmile program shutting down. However, reports indicate that the average annual payout for the program was a mere $230.
Looking at it this way can help contextualize the loss and make an actionable plan to compensate for the lack of funding.
Pursue new fundraising avenues.
Now, begin brainstorming ways to make up for the lost funding. When one door closes, another one may be opening. That means it might be time to pursue a brand new funding avenue.
A few examples may include:
Launching an online store (such as selling branded merchandise for your cause!)
Exploring fee-for-service models (e.g., summer camp, youth programming, etc.)
Hosting a nonprofit crowdfunding campaign
Keep in mind that this idea can look vastly different from one organization to the next. After all, there's a world of opportunities readily available.
Ramp up existing (yet often underutilized) funding types.
What about those revenue streams that produce some funding for your cause, but you don't have a particularly built-out strategy for making the most of the resource? It's a great chance to optimize your efforts regarding those funding types, as well!
For many organizations, this is where corporate giving programs fall. Perhaps you've received a number of matching donations, maybe even a few volunteer grants. However, you might generally rely on individual supporters to pursue those avenues on their own. In that case, now might be the best opportunity to ramp up your efforts to help ensure no matches are ultimately going unclaimed.
Diversifying funds with 10+ alternative revenue streams
When you rely too heavily on any one type of funding, you run the risk of financial instability should something happen to that source. Thus, one of the best ways to prepare your organization prior to losing potential revenue streams is to ensure a well-rounded and sustainable funding model.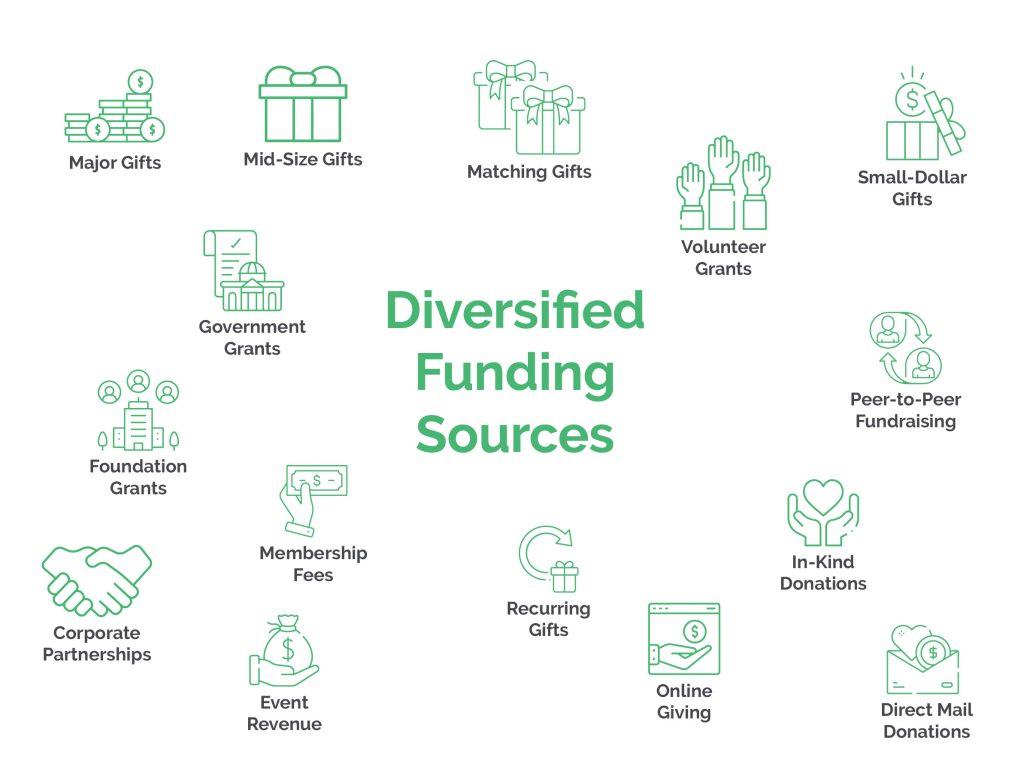 Let's take a look at some of the most popular⁠—and impactful⁠—kinds of nonprofit funding to consider. Keep in mind that a versatile fundraising strategy likely incorporates many, if not all, of these earning types.
1. Corporate Giving
According to corporate giving research, corporations contribute, on average, over $21 billion each year. Much of this funding is donated through generous programs, such as:
Matching gifts
Volunteer grants
Corporate sponsorships
However, billions of dollars in workplace giving revenue is left on the table each year, largely due to a lack of knowledge surrounding the programs.
Want to increase participation in corporate philanthropy and drive additional corporate funding to your cause? Raise awareness among donors⁠—and encourage them to get their employers involved. (Don't worry: we'll share more on matching gifts later.)
2. Individual Gifts
Many nonprofits make up the majority of their annual fundraising revenue through individual donor giving. This typically includes a number of specific giving types, such as:
Small-dollar gifts
Mid-size gifts
Major gifts
Planned gifts
In order to maximize individual giving, be sure to send personalized and targeted fundraising appeals. You'll also want to emphasize the tangible impact of generous donations on your nonprofit's mission.
Plus, the above-cited research shows that simply highlighting matching gifts in donation asks results in a 71% increase in response rate and a 51% increase in average gift amount.
3. Grants
Nonprofit (or fundraising) grants are a specific type of monetary contribution made to a charitable cause. They are typically larger than the average donation amount and are often restricted to funding a particular project or program.
Grants can be made by a range of different institutions but generally fall into one of the following categories:
Foundation grants
Government grants (federal, state, and local)
Corporate grants
Most grants require some sort of application process and may include a dedicated proposal to be submitted. In order to secure more grant funding for your organization, it's a good idea to spend some time researching opportunities and creating optimized proposal materials.
4. Event Revenue
Nonprofit fundraising events can certainly be fan-favorite experiences⁠—and can range from informal run/walk/ride competitions to elegant gala affairs. And each event typically encompasses multiple opportunities for generating revenue.
For example, your event may collect funding from:
Ticket sales or entrance fees
Auction bids
Merchandise sales
Individual donations
Event sponsorships
When you choose to host a fundraising event for your organization, be sure to invest time and resources into marketing the opportunity effectively beforehand. After all, your audience would love to participate to support your cause, but they need to know the event is happening in order to attend.
5. Online Giving
In line with the digital revolution, online giving has increased steadily, seeing consistent year-over-year growth throughout the past decade and beyond.
Remember: donors want an easy digital giving experience, so the tools you use to power online donations are a critical component of your strategy.
(Hint: Double the Donation partners with some of the greatest online donation platforms in the industry. Check out our integrations to learn more!)
6. Direct Mail Donations
Though many assume that direct mail is an outdated fundraising strategy, the truth is that it remains an excellent way to engage with your donors in an offline manner.
In fact, recent fundraising statistics report that direct mail is the second-highest reported giving preference among Baby Boomer donors worldwide. At the same time, it's one of the top four most inspirational channels to drive action among supporters in Millennial, Gen X, and Baby Boomer generations alike.
One way to modernize the giving avenue, however, is to provide an online option for giving⁠—even when an individual is being prompted through a direct mail ask. For example, you might include a scannable QR code or an easy-to-type digital giving page URL.
7. Peer-to-Peer Fundraising
Also known as social or P2P fundraising, peer-to-peer fundraising is an impactful way for nonprofits to raise substantial levels of funding while also expanding their campaign reach to new heights.
In these initiatives, organizations equip dedicated supporters with the tools they need to raise money on behalf of their favorite causes. Volunteer fundraisers then solicit donations from their own networks of friends, family members, and more.
In the end, P2P campaigns often culminate in an engaging event experience, such as a walk-a-thon!
8. Membership Fees
Some nonprofits take a membership-based approach to supplement their other existing funding sources. This is a particularly popular model among school PTAs, community programming organizations, and more. And it can be a great way to incentivize giving and foster a sense of camaraderie among members!
Organizations that choose to enact membership fees (sometimes referred to as dues) typically provide exclusive perks for those who join and aim to set their prices at an affordable monthly or yearly rate.
9. Recurring Gifts
Recurring donations offer a wide range of benefits for the nonprofits receiving them. Not only do individual supporters typically end up giving more through these programs, but it also aids organizations in estimating incoming revenue.
And leveling up your recurring gifts can be as easy as incorporating a button on your online donation pages! You may be pleasantly surprised as to how many donors opt to become regular supporters of your cause when presented with the easy opportunity to do so. In fact, average online monthly giving grew by over 40% as recurring donation options became an increasingly popular choice among online supporters.
10. In-Kind Donations
While not a direct source of funding, in-kind donations (i.e., any non-cash gifts of goods, services, or time) are an essential component of nonprofit fundraising. After all, these types of contributions empower organizations to stretch their budgets further than otherwise possible. And that allows them to allocate revenue to other areas of their operations.
To drive more in-kind donations, make sure to market the opportunity to your donors! Many individuals love supporting nonprofits by providing gifts-in-kind and seeing the impact that their tangible purchases can have on their favorite causes. Plus, Amazon still offers an easy way for charities to create and share online wishlists from which their supporters can purchase and send items directly to the organization.
Our favorite fundraising avenue: employee matching gifts!
While all of the above funding sources can provide significant benefits for the nonprofits who choose to establish the initiatives, our #1 favorite method is employee matching gifts. After all, this top alternative fundraising avenue has huge potential⁠—though it's still going largely underutilized.
In fact, Double the Donation research indicates that an estimated $2 – $3 billion is donated through matching gift programs each year. However, an additional $4 – $7 billion goes unclaimed on an annual basis.
Not to mention, corporate matching gifts are an opportunity that nearly all nonprofit organizations qualify to participate in. Over 26 million individuals work for companies with matching gift programs, including over 65% of the Fortune 500. More than likely, a key segment of your existing and prospective donors falls into that matching-gift-eligible group.
When you highlight the widespread availability of these programs, your organization can benefit not only from increased corporate funding but from elevated donor giving, as well. The above-mentioned studies also show that individual supporters are more likely to give (71% growth in gift conversion rates) and to give more (51% higher average transaction amount) when matching gifts are promoted. Thus, in the end, your organization receives additional revenue streams and new opportunities for communication and engagement. Talk about a win-win!
Plus, if you're looking for a particularly impactful source of fundraising revenue that doesn't require a ton of staff time and resources, dedicated matching gift technology is the way to go. Leveraging a matching gift automation tool (like Double the Donation's 360MatchPro) increases matching gift funds for nonprofits by over 61%, with innovative new auto-submission functionality projected to yield more than an 80% increase in match revenue.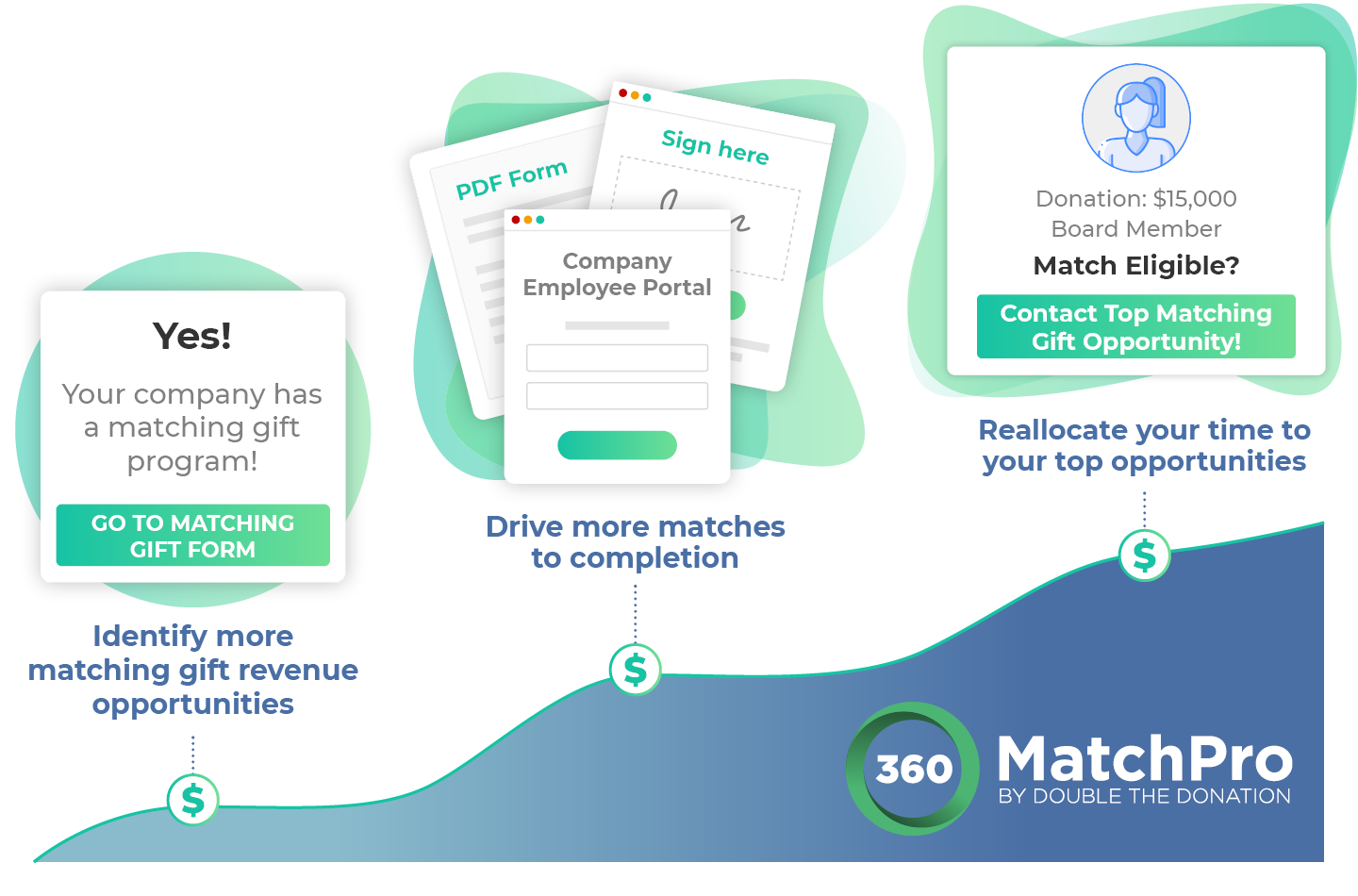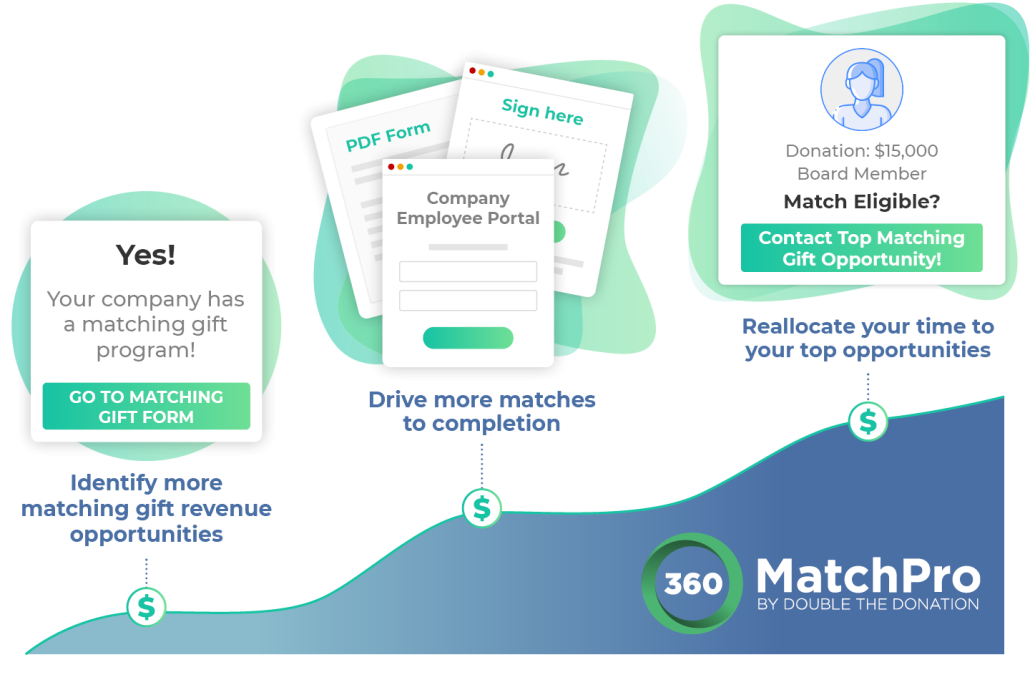 And in the face of adversity, you generally won't have to worry about a negative impact on matching gifts. In reality, many companies were reported to have developed new and improved employee matching initiatives in the wake of COVID-19 and other economic downturns. Besides, should one company roll back its programming, you'll likely have a number of additional matching opportunities to pursue⁠—making it a particularly sustainable fundraising practice over time.
---
Final Thoughts
Preparing your team with a range of diversified revenue can go a long way toward continuous operational success⁠. Even in the midst of lost funding avenues, you'll have a number of alternative fundraising streams supporting your organization.
And when you have a plan in place for optimizing passive income opportunities (such as employer matching gifts and more), you can continue driving forward mission impact despite losing access to other sources.
Ready to dive deeper into some of our favorite alternative fundraising avenues for nonprofits and schools? Check out these additional resources below: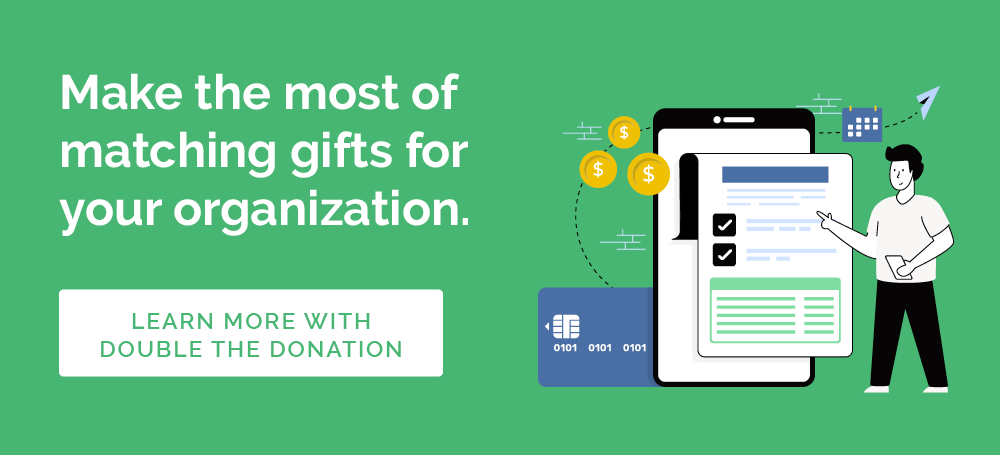 https://doublethedonation.com/wp-content/uploads/2023/02/DTD_Alternative-Fundraising-Avenues-Recouping-After-Lost-Funding-Sources_Feature.jpg
600
1600
Adam Weinger
https://doublethedonation.com/wp-content/uploads/2022/03/logo-dtd.svg
Adam Weinger
2023-02-15 17:40:14
2023-02-15 17:40:14
Alternative Fundraising Avenues: Recouping After Lost Funding Sources