How to Promote Matching Gifts with the Google Ad Grant
If your nonprofit is serious about driving more matching gift revenue, it's time to step up and get creative with your outreach. As one of the most innovative outreach channels, Google Ads might just be the missing piece to your matching gift marketing strategy.
For those who are paid marketing rookies, Google Ads is an online advertising platform where advertisers can display short ads that promote their web content to users on Google Search. Nonprofits that use the platform typically promote content related to fundraising, volunteering, and services.
Pay-per-click marketing can add up, though. Luckily, Google realizes this! That's why they offer eligible nonprofits free access to Google Ads, making it the perfect opportunity to strengthen your organization's digital presence. Crafting a high-performing ad campaign for matching gifts takes a bit more than writing a few sentences, directing people to your website, and calling it a day, though.
To help supercharge your marketing, we'll share everything we know about promoting matching gifts with Google Ads. Here's what we'll cover:
A lot of work goes into managing a Google Ad Grants account and creating winning ads for your fundraising initiatives. That's why we recommend working with a professional Google Grants manager! From pinpointing the right keywords to creating inspiring ads for matching gifts, our friends at Getting Attention know what it takes to stand out using Google Ads.
While waiting to discuss your Google Ad needs with their team, explore our suggestions below. That way, you can come prepared with some ideas for your Google Ad Grants marketing strategy!
An Overview of Promoting Matching Gifts with Google Ads
Before diving headfirst into specific marketing strategies, take some time to learn the basics of the Google Ad Grant program. You'll find that a carefully-crafted Ad Grants strategy can amplify several parts of your mission, including everything from corporate giving to volunteer registrations.
What Are Google Ad Grants?
Created in 2003, Google Ad Grants has transformed into a popular corporate giving program that provides eligible nonprofits with $10,000 in free advertising credits every month. Organizations can spend these credits to bid on different mission-related keywords and promote their web content.
Nonprofits most often promote donation pages, service pages, and educational content, depending on the keywords they're bidding on. Then, ads are placed strategically on the search engine results pages for those keywords, such as at the very top above the organic results.
Getting Attention's Google Ad Grants guide explains that you should "think of it as your secret weapon for spreading awareness for your cause, expanding your donor and volunteer network, sharing essential updates with your supporters, and ranking higher on Google."
The bottom line: The Ad Grants program makes it easy to fold Google Ads into your matching gift marketing strategy without blowing your marketing budget.
Not sure if you're eligible for the Google Ad Grants program? Before applying, check out our guide to determining your Google Grants eligibility.
The Importance of Marketing Matching Gifts
Corporate giving makes up a sizeable portion of any nonprofit's revenue. In fact, fundraising research estimates that corporations donate roughly $3 billion through matching gifts alone each year. Even with these incredible contributions, around 78% of match-eligible donors are unaware that their companies offer matching gift programs. That's why effective marketing is vital!
If your donors aren't aware of their match eligibility, they won't follow through with submitting their requests. While matching gift automation will deliver automated email reminders to donors, using other avenues to promote matching gifts will help you reach prospects who haven't donated yet.
From emails to Google Ads, there's a lot you can do to spread awareness to donors and prospects who need an extra push to donate.
Why Nonprofits Promote Matching Gifts With Google Ad Grants
One of the reasons that the Google Ad Grant is a game-changer is that you can create highly-customized ads that showcase your cause.
Using a feature called sitelink extensions, you can build out your ads with additional landing pages, providing users with a variety of ways to engage with your cause. In other words, you can share several touchpoints all within the same ad.
Not to mention, you have complete control over the keywords you target. That means you can make sure you're only targeting search queries that connect you with qualified leads. Plus, you can use Responsive Search Ads (RSAs) to test out different versions of your ads to drive more clicks.
Above all, Google Search empowers you to connect with donors from all over the world. Available to organizations in 51 countries, the Google Ad Grant breaks down geographical barriers, so you can connect with motivated supporters wherever they are.
Nonprofits Source's online giving research provides a few convincing statistics that speak to the power of Google Ads: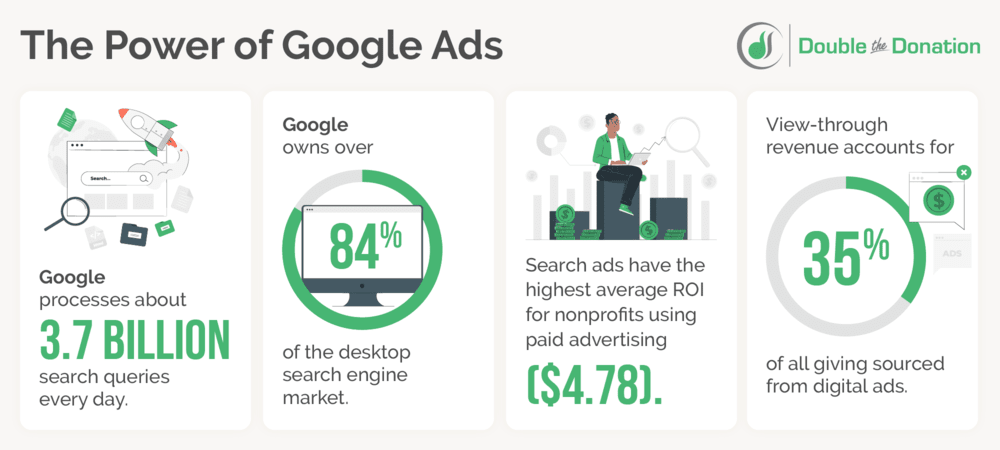 Google processes about 3.7 billion search queries every day and owns over 84% of the desktop search engine market.
With an average ROI of $4.78, search ads have the highest ROI for nonprofits using paid advertising.
View-through revenue (revenue from donors who saw but didn't click on an ad) accounts for 35% of all giving sourced from digital ads.
In other words, the Google Ad Grants program gives you the power to supercharge your digital marketing and increase matching gift awareness more than ever before. By carefully selecting keywords and creating persuasive ads, you can connect with donors who are ready to donate and submit their matching gift requests to employers.

Promoting matching gifts with Google Ads is just one piece of the marketing puzzle. Explore other creative ways to market matching gifts.

Types of Matching Gift Website Content to Promote with Google Ads
So you're convinced that Google Ads is a viable way to grow matching gift awareness. Great! We wholeheartedly agree. Now, it's time to take the next step: determining what content to promote with Google Ads. Or, if you haven't already done so, you'll need to create matching gift content on your website to attach to your ads.
One of the rules of the Google Ad Grant program is that your nonprofit must have high-quality website content. After all, that content is what you'll be promoting with your ads. Let's explore a few pages related to matching gifts you'll want to create on your site.
Your Donation Form
A donation form is one of the most popular pages that nonprofits promote using the Google Ad Grant. Luckily, the donation process is the perfect time to encourage users to check their matching gift eligibility! Anyone visiting this page is clearly already thinking about donating, and they might even increase their donation if they know their employer will match it.
Using one of 360MatchPro's donation form integrations, simply embed your employer search tool into this page. This will empower donors to take action immediately after clicking one of your Google Ads.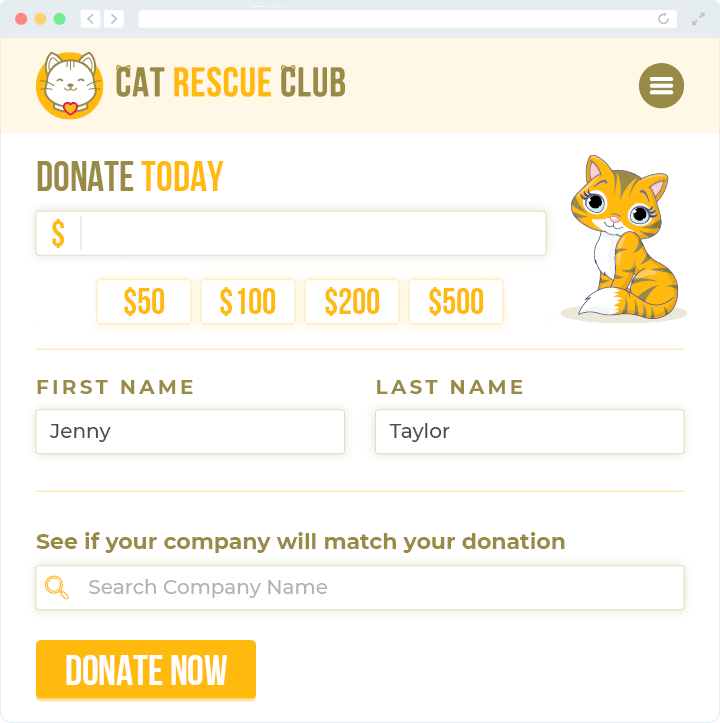 While creating brand-new matching gift content takes some time, updating your existing donation page with an employer search tool is a quick way to incorporate Google Ads into your matching gift promotion.
A Matching Gifts Page
While the concept of matching gifts is simple, companies' programs can be tricky to navigate. They each have their own requirements and processes donors must follow to qualify. That's why you'll want to create a landing page that guides users through the process and allows them to determine their eligibility.
Your page should feature:
Basic information regarding what matching gift programs are
How the process of requesting a matching gift works
Corporate giving statistics that convey the impact of matching gifts
Your employer search tool so that users can research their companies' programs
A dedicated matching gifts page will play a vital role in your Google Ads strategy. Your goal with this page should be to teach donors about matching gifts and spur them into action to submit the necessary forms. Then, when they click through to your site from your ad, they'll know exactly what next step to take.
A Ways to Give Page
A Ways to Give page covers every way a prospect can support your work, from monthly giving to volunteering to matching gifts. Best of all, you probably already have this type of page published on your site.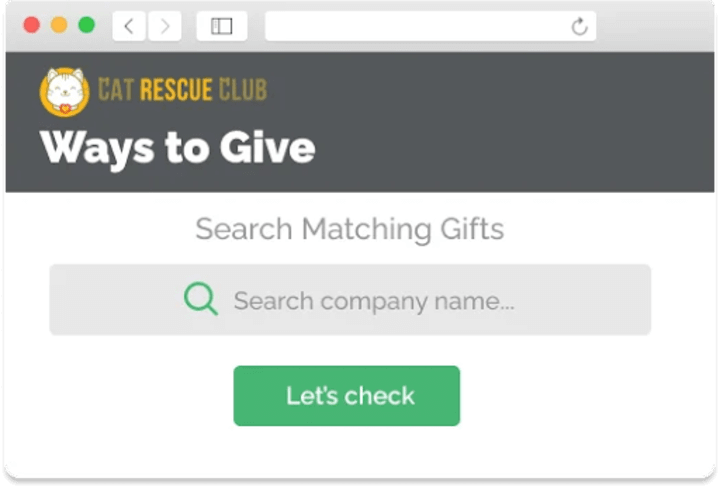 Easily update your Ways to Give page with matching gift content. At a minimum, we recommend that you:
As an added bonus, this page is great to include in other ads! You can expand your other ad campaigns using the sitelink extension feature. Then, link to your Ways to Give page, directing all types of prospects to it to learn more about supporting your work.
Blog Articles
Occasionally, you'll encounter donors who are confused about matching gifts, the process, and how to determine their eligibility. Clear up any confusion by publishing blog articles about matching gifts. This is also a great opportunity to share stories about how corporate giving has impacted your cause.
As you brainstorm your approach, here are a few other ways to create motivational blog articles about matching gifts:
Post insightful stories about matching gifts and the effects these programs can have on your organization's mission.
Incorporate a graphic that advertises matching gifts on the side of all blog posts to help increase awareness.
Review the basics of matching gifts and give donors clear steps for checking their eligibility and submitting requests to their employers.
Like we mentioned, you can promote all sorts of content with the Google Ad Grant, including educational content about matching gifts! Dedicate some of your marketing team's time to creating these articles. Then, when you create a particularly captivating article, you can promote it using Google Ads.
Dive into other common ways to market matching gifts to your donors across your website.

Choosing Keywords for Your Matching Gift Google Ads
One of the main components of your Google Ads is your keywords. Your keywords can make or break your Google Ads. Picking the right search terms will help you connect with motivated prospects who are likely to donate and submit matching gift requests to their employers.
Through Google for Nonprofits, you'll gain access to helpful keyword research tools like Google Keyword Planner. Use these tools to pinpoint the terms your donors are searching on Google. Or, if you're feeling wary about picking your keywords, a Google Grants manager can step in to do the research for you.
To build effective keyword lists and optimize your Google Ad Grant account, follow these quick tips:
Think like your donors. Ask, "What would a donor search to find out more about supporting our organization?" Then, think about how to promote matching gifts through those terms.
Select general keywords to expand your reach. As we mentioned, a lot of donors don't know about matching gifts. To reach a large audience, target generic keywords that relate to supporting your cause. Then, you can direct users to specific pages that promote matching gifts.
Narrow your audience with specific keywords. To reach donors who already know about matching gifts, you might bid on more specific terms. Know that specific keywords tend to be less competitive, meaning your ads are more likely to be shown to users. However, keep in mind that keywords that are too specific will limit who you're able to reach with your Google Ads since not many people will search these terms.
Know that you don't have to add every variant of every keyword. Your keywords can capture traffic from closely related variations of whichever ones you choose. In other words, you don't need to add every search query you come up with.
Let's give a quick example so that you can see how this might look in practice. Let's say you work for a heart disease prevention organization. Your donors might be looking to learn more about supporting heart disease research.
In this case, you might target search queries like "ways to give to heart disease research" and "donate to fight heart disease." Then, you can direct traffic to your donation form and expand your ad with additional links to your Ways to Give page and dedicated matching gift page.
More specific matching gift keywords, like "matching donations to heart disease research" won't receive much traffic. Targeting terms like this means you'll severely limit your audience and likely won't increase matching gift awareness very much.
So considering that your goal is to promote matching gifts with the Google Ad Grant, we suggest leaning into the first strategy of choosing more generic keywords. Then, you can use more specific keywords to spread awareness among knowledgeable donors.

Examples Showing How to Promote Matching Gifts with Google Ads
You can read all day about how to promote matching gifts with the Google Ad Grant. However, it's much more useful to see some examples from real organizations! Here are a few of the ways we've seen nonprofits increase matching gift awareness through well-written Google Ads.
ASPCA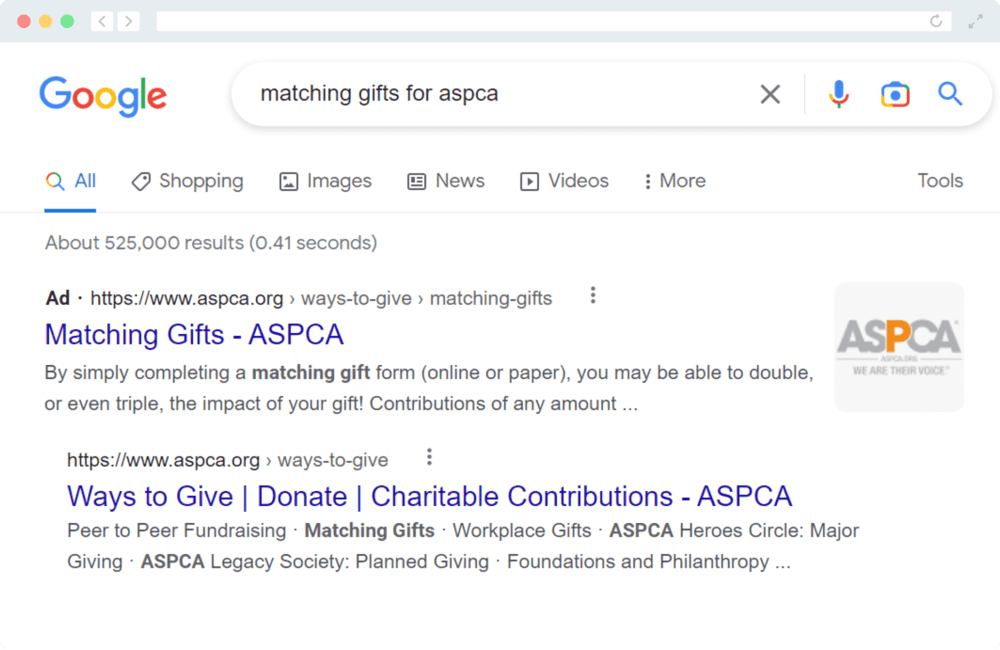 For this Google Ad, ASPCA targets focused keywords like "matching gifts for ASPCA." The intent for this keyword shows that the user is knowledgeable about matching gifts and is likely wondering if they can have their donation to the organization matched.
That's why the Google Ad directs the user to their dedicated matching gifts page. Then, it showcases the nonprofit's Ways to Give page by using a sitelink extension, giving the user an additional way to engage with the organization.
Muslim American Society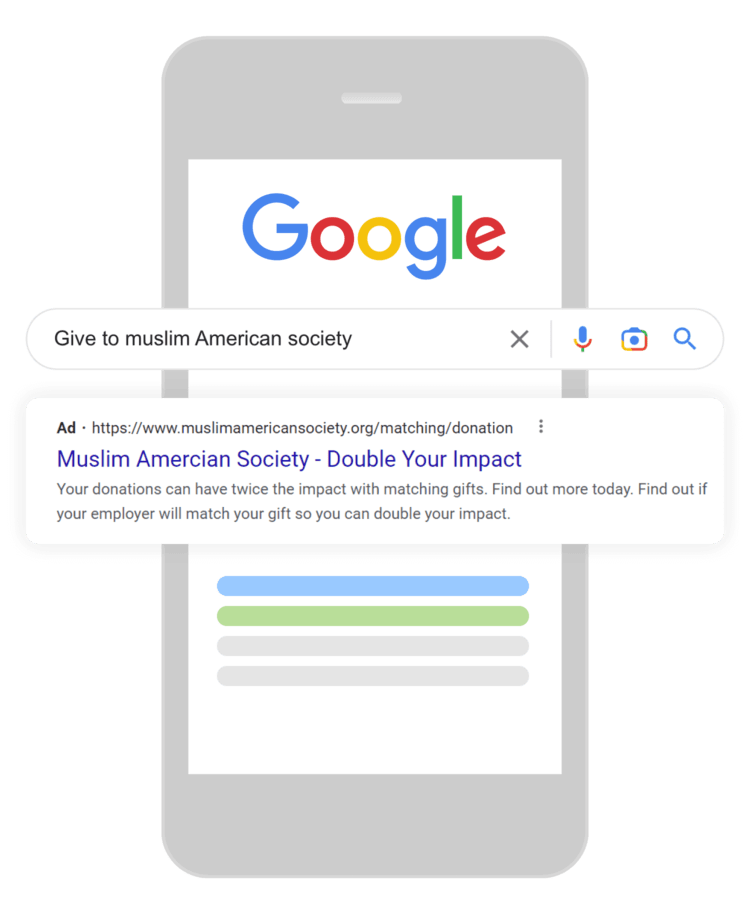 In this Google Ad example, the Muslim American Society promotes matching gifts to users who are ready to donate. Someone who searches "give to Muslim American Society" is clearly on the verge of donating, making it the perfect time to promote matching gifts!
The landing page for this Google Ad is the organization's donation form which prominently features matching gifts. There's information about common guidelines and the process for submitting a match request alongside the form. Then, donors can research their eligibility using an embedded employer search tool.
Getting Started Promoting Matching Gifts with Google Ads
Now that you know the basics of promoting matching gifts with Google Ads, it's time to dive in and create your campaigns!
If you need some additional help, you don't have to go into it alone! We suggest turning to the Google Grant managers at Getting Attention. These experts know everything there is to know about the Google Ad Grant. They devote their time to learning the intricacies of the program, empowering their nonprofit partners to connect with new prospects on Google Search.
Whether you want to promote matching gifts with Google Ads or drive awareness in other areas, they know what it takes to stand out. They provide services for every aspect of Google Ad Grant management, including:
Google Ad Grant eligibility check and application
Ad creation (including keyword research)
Ongoing account management to comply with Google's rules
Landing page relaunch (including design work)
Account reactivation for lapsed or deactivated accounts
So, if promoting matching gifts with Google Ads sounds out of your wheelhouse, trust these experts to handle it for you! They'll help you create compelling ads that drive real results for your cause. Plus, you can chat with their team about how the Google Ad Grant falls into your marketing strategy as a whole.

Final Thoughts
When you get creative, the Google Ad Grant can transform your digital marketing and increase visibility for corporate giving opportunities. Whether you're advertising your donation form or a dedicated matching gifts page, there's a lot you can do to make donors aware of their matching gift potential through the program.
For the quickest results, we highly recommend working with a Google Grants manager. These experts know the ins and outs of the program, so you can focus on other aspects of your mission while they design compelling ads.
As you get up and running, check out these resources to learn more about Google Ad Grants and how to promote matching gifts: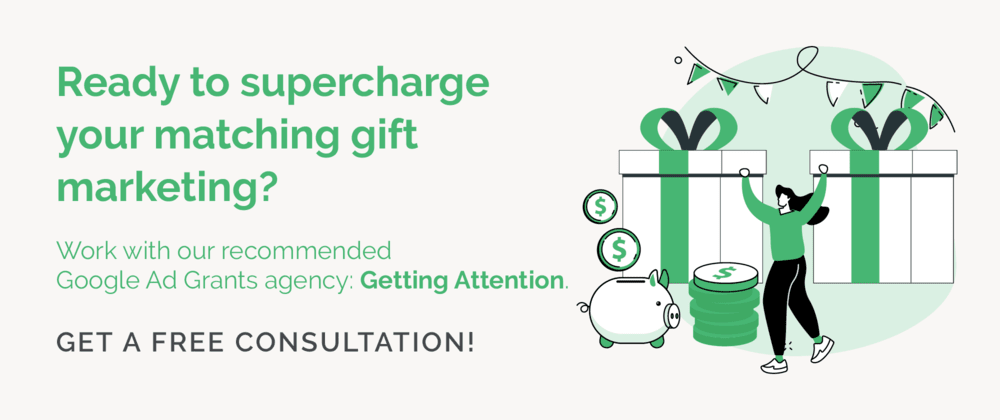 https://doublethedonation.com/wp-content/uploads/2023/02/How-to-Promote-Matching-Gifts_Feature.jpg
386
1030
Adam Weinger
https://doublethedonation.com/wp-content/uploads/2022/03/logo-dtd.svg
Adam Weinger
2023-02-09 19:17:20
2023-06-01 17:01:03
How to Promote Matching Gifts with the Google Ad Grant