Nonprofit Basics: The Google for Nonprofits Program
Google is one of the most profitable companies in the world, so it may come as a surprise that they have a program dedicated entirely to nonprofits. With Google for Nonprofits, Google does its part to give back to the community and support mission-driven organizations that are creating change in the world.
Since nonprofits often operate on limited budgets, they frequently don't have enough to spend on productivity or marketing tools. Google aspires to change that with its charitable giving program, streamlining nonprofit communications and putting a world of prospects at nonprofits' fingertips.
What Is Google For Nonprofits?
Google for Nonprofits is a program that gives eligible organizations free access to premium Google products, like Ad Grants and Workspace. Through the program, Google empowers nonprofits to increase internal productivity and connect with new supporters.
Currently available in 65+ countries, Google for Nonprofits is a powerful resource that enables nonprofits everywhere to use valuable tools without having to bear the brunt of the cost. All your nonprofit needs to do is meet the basic eligibility requirements and apply. Within a few weeks, you'll gain instant access to the free tools, and you can activate whichever ones will empower your team to achieve greater outcomes.
What's Included In Google for Nonprofits?
No matter if you want to streamline team collaboration or increase your website's visibility on Google Search, Google for Nonprofits provides products that can easily amplify your work! Let's dig into some of the tools you can look forward to leveraging.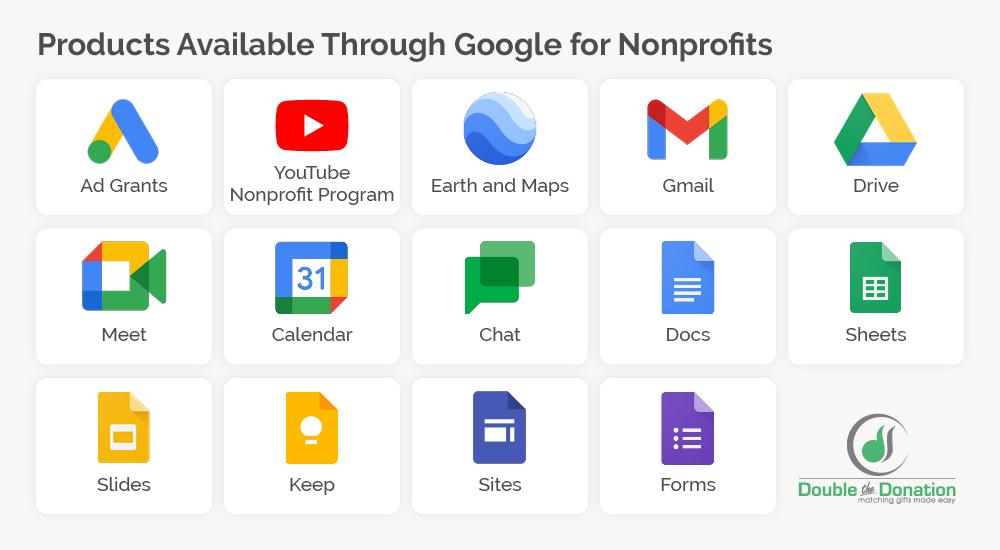 Google Ad Grants
This is one of the most popular features in Google for Nonprofits! Through this program, eligible nonprofits receive up to $10,000 each month to spend on marketing their web content on Google Search.
Registering for Google for Nonprofits gives you access to the Ad Grants application, which you'll need to fill out separately. From here, you can bid on keywords that your prospects are searching for online and write text-based ads that inspire people to visit your website and get involved in your work.
Here's what you can expect from participating:
$10,000 per month of free credits to spend on Google Ads
The ability to track online conversions like donations, newsletter signups, and volunteer registrations
Keyword research tools to determine the right mission-centric search terms
Bear in mind that Google Ads comes with a strict learning curve, especially considering that Ad Grants accounts have to follow strict guidelines in order to stay eligible. Luckily, there are Google Ad Grants experts that can help you set up and maintain your account.
In turn, you'll strengthen your digital presence, drive valuable traffic to your site, and raise more awareness for your mission.
Google Workspace
Also known as G Suite, Google Workspace is a collection of Google's online productivity and collaboration tools. Gain free access to everyday apps like Gmail, Drive, Docs, Calendar, Meet, and more. Empower your team to increase collaboration, securely store documents, and ultimately streamline your internal operations.
Here's what you have to look forward to with Google Workspace for Nonprofits:
Unlimited email addresses that end in your nonprofit's domain
100-participant video meetings
30 GB of cloud storage per user for documents and email hosting
24/7 support via phone, chat, and email
Administrative access over all accounts at your organization
Best of all, each app within Google Workspace works seamlessly together. For instance, Getting Attention's guide to G Suite explains that you can create Calendar invites that go directly to invitees' Gmail inboxes. Then, you can add a Meet link for virtual meetings and create a new Google Doc to take meeting notes.
YouTube Nonprofit Program
Elevate your organization's YouTube channel through the YouTube Nonprofit program. With more than 2 billion active users each month, YouTube is the largest video hosting platform in the world, making it a great opportunity to connect with supporters across the globe.
Using your Google for Nonprofits account, here's what to expect from this program:
"Link Anywhere cards" to include on your videos. These are annotations that allow you to direct supporters to external links.
Access to the Creator Academy, filled with lessons specifically designed for nonprofits
YouTube Giving features, such as a donation button on your videos
Even if your nonprofit doesn't already have a YouTube channel, now's a great time to get started since you'll have access to all these features that'll take your videos to the next level.
Google Earth and Maps
Google Earth and Maps is another tool that Google for Nonprofits offers to help organizations creatively share resources and connect with nearby community members. The program provides you with free credits for the Google Maps platform, so you can gain a stronger understanding of your service area, plan your work more efficiently, and share programs and resources with your community.
With unrestricted access to Google Earth and Maps, your nonprofit can:
Display community or donor location data on Google Maps
Receive a $250 per month credit to apply toward the Google Maps Platform
Get additional Google Mapping tools, like My Maps and Creation Tools
While this platform might seem like an unusual resource, it's actually incredibly useful for connecting with local audiences! Plus, there's no harm in using it since it's free through Google for Nonprofits.
How to Apply for Google for Nonprofits
If you're looking to increase team productivity or amplify your mission online, applying for Google for Nonprofits should be a no-brainer! Luckily, Google makes it incredibly easy to get started.
They break the process down into 4 easy steps, including:

Meet the eligibility requirements. The criteria vary by country. Essentially, you'll need to be registered as a charitable organization in your country, be registered with TechSoup, and agree to the terms of service. Note that governmental organizations, healthcare organizations, and schools are ineligible.
Request a Google for Nonprofits account. Once you meet the requirements, you'll need to request an account for the program. Visit the Google for Nonprofits homepage, click 'Get started,' and provide some information about your organization and your role.
Wait for verification from TechSoup. Google works with TechSoup to verify the legitimacy of nonprofits. TechSoup reviews most requests within 2-4 business days and may reach out for more documentation to verify your organization.
Activate the Google for Nonprofits products individually. Once you're verified, you'll receive a confirmation email and can activate each Google for Nonprofits product within your account.
That's all it takes! From here, you're free to dive straight into using your free tools from Google and take your mission to new heights!
Other Resources to Explore
Nonprofit Basics – Learn more nonprofit management essentials by exploring other expert resources.
Google Grants Eligibility: Is Your Nonprofit Eligible? – The Google Ad Grant is a huge asset to your marketing efforts. Figure out if meet the criteria outlined in this guide.
How to Apply for Google Grants: A Comprehensive Guide – Follow these steps to get your Google for Nonprofits account and Google Ad Grants account up and running.
https://doublethedonation.com/wp-content/uploads/2022/11/Google-For-Nonprofits_Feature-1.png
380
1000
Adam Weinger
https://doublethedonation.com/wp-content/uploads/2022/03/logo-dtd.svg
Adam Weinger
2022-04-10 18:55:26
2022-11-15 14:20:29
Nonprofit Basics: The Google for Nonprofits Program