Nonprofit Basics: The Google for Nonprofits Program
Google is one of the most profitable companies in the world, so it may come as a surprise that they have a program dedicated entirely to nonprofits. With Google for Nonprofits, Google does its part to give back to the community and support mission-driven organizations that are creating change in the world.
Since nonprofits often operate on limited budgets, they frequently don't have enough to spend on productivity or marketing tools. Google aspires to change that with its charitable giving program, streamlining nonprofit communications and putting a world of prospects at nonprofits' fingertips.
By applying for a Google for Nonprofits account, your nonprofit can leverage useful tools to streamline internal productivity and boost mission awareness. This quick start guide will cover what you need to know about Google for Nonprofits, including what it is, which tools are included, who's eligible, and how to apply.

What Is Google For Nonprofits?
Google for Nonprofits is a program that gives eligible organizations free access to premium Google products, like Ad Grants and Workspace. Through the program, Google empowers nonprofits to increase internal productivity and connect with new supporters.
Currently available in 65+ countries, Google for Nonprofits is a powerful resource that enables nonprofits everywhere to use valuable tools without having to bear the brunt of the cost. All your nonprofit needs to do is meet the basic eligibility requirements and apply. Within a few weeks, you'll gain instant access to the free tools, and you can activate whichever ones will empower your team to achieve greater outcomes.
What's Included In Google for Nonprofits?
No matter if you want to streamline team collaboration or increase your website's visibility on Google Search, Google for Nonprofits provides products that can easily amplify your work! Let's dig into some of the tools you can look forward to leveraging.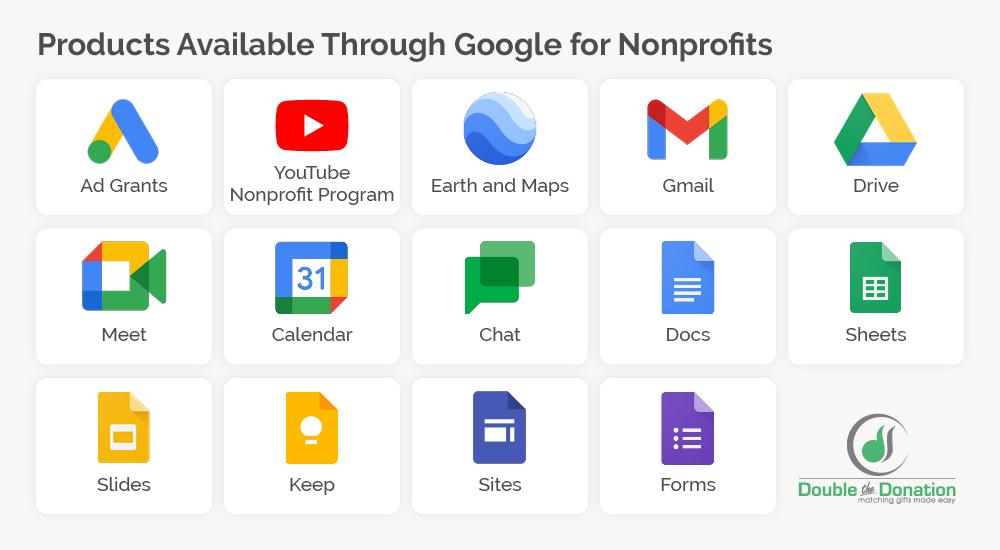 Google Ad Grants
This is one of the most popular features in Google for Nonprofits! Through this program, eligible nonprofits receive up to $10,000 each month to spend on marketing their web content on Google Search.
Registering for Google for Nonprofits gives you access to the Ad Grants application, which you'll need to fill out separately. From here, you can bid on keywords that your prospects are searching for online and write text-based ads that inspire people to visit your website and get involved in your work.
Here's what you can expect from participating:
$10,000 per month of free credits to spend on Google Ads
The ability to track online conversions like donations, newsletter signups, and volunteer registrations
Keyword research tools to determine the right mission-centric search terms
Bear in mind that Google Ads comes with a strict learning curve, especially considering that Ad Grants accounts have to follow strict guidelines in order to stay eligible. Luckily, there are Google Ad Grants experts that can help you set up and maintain your account.
In turn, you'll strengthen your digital presence, drive valuable traffic to your site, and raise more awareness for your mission.
Potential Impact
Your nonprofit's website is your biggest digital marketing asset. With the Google Ad Grant, you can drive more traffic to your site and increase visibility for mission-critical activities via paid advertising for nonprofits.
However, you won't be promoting content to just any users. With careful keyword research, you can drive qualified leads to your website and give them the opportunities they'll find most enticing. Share your donation form with likely donors, volunteer opportunities with likely volunteers, matching gift opportunities with likely participants, events with likely registrants, and so on.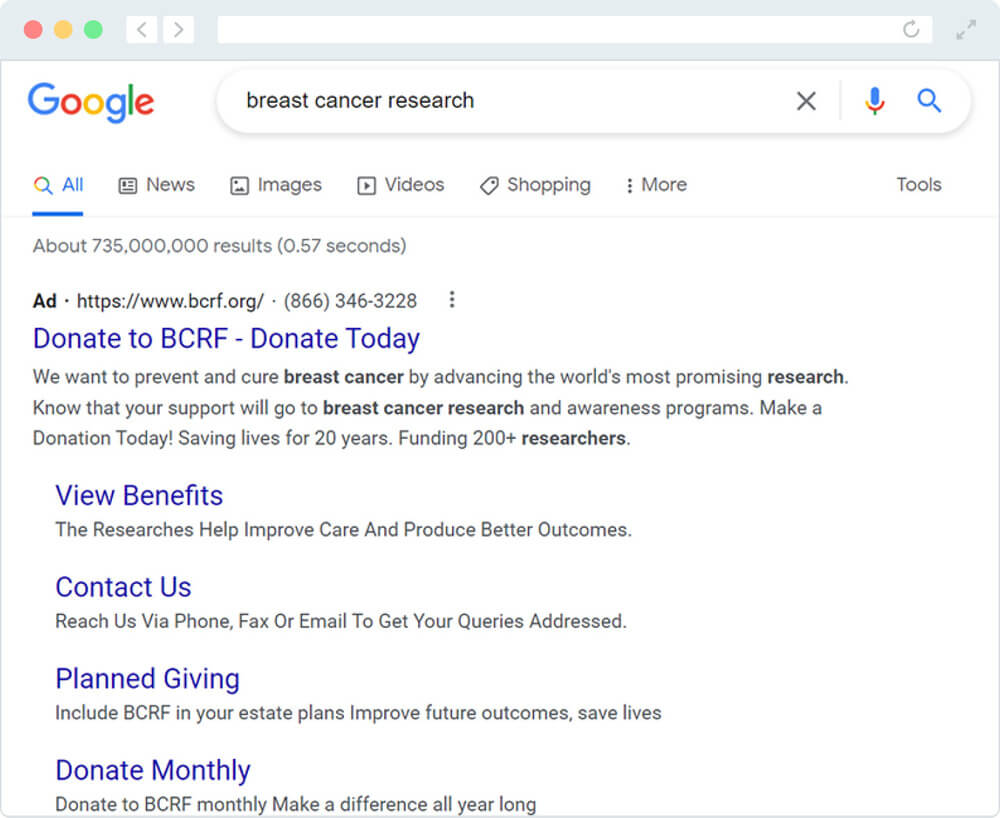 Squeeze even more out of your Ad Grant budget by testing out these strategies:
Use ad customization features like sitelink extensions and click-to-call buttons to expand your ads and provide more engagement opportunities to users.
Use geotargeting to narrow down your audience. For example, you might serve a developing country but raise funds in the U.S. Any fundraising campaigns should target users in the U.S.
Install Google Analytics and track your conversions and site engagement. (Hint: this is also a requirement for all participants.) Luckily, Google provides free access to all the tools you need to monitor your campaigns through Google for Nonprofits.
All of these useful features make this Google for Nonprofits resource a must for any organization that wants to grow its digital presence! In fact, Getting Attention's Google Ad Grant Impact report explains that search ads have the highest ROI among all nonprofit advertising platforms. That's why more and more organizations are turning to this resource. After all, who wouldn't want to add $10,000 to their marketing budget each month?
Google Workspace for Nonprofits
Also known as G Suite, Google Workspace for nonprofits is a collection of Google's online productivity and collaboration tools. Gain free access to everyday apps like Gmail, Drive, Docs, Calendar, Meet, and more. Empower your team to increase collaboration, securely store documents, and ultimately streamline your internal operations.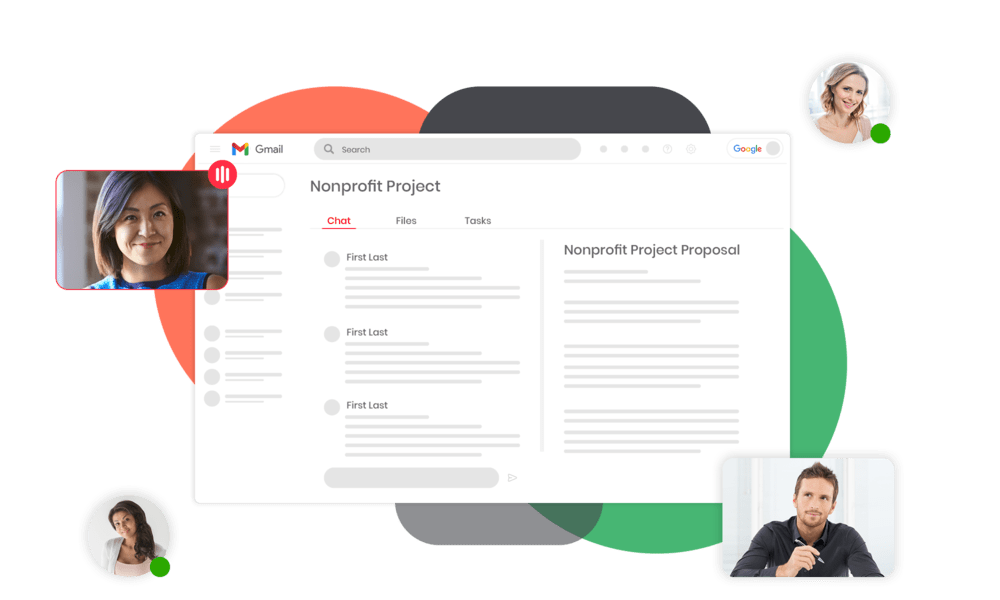 Here's what you have to look forward to with Google Workspace for nonprofits:
Unlimited email addresses that end in your nonprofit's domain
100-participant video meetings
30 GB of cloud storage per user for documents and email hosting
24/7 support via phone, chat, and email
Administrative access over all accounts at your organization
Best of all, each app within Google Workspace works seamlessly together. For instance, Getting Attention's guide to G Suite explains that you can create Calendar invites that go directly to invitees' Gmail inboxes. Then, you can add a Meet link for virtual meetings and create a new Google Doc to take meeting notes.
Potential Impact
Collaboration is a must for any nonprofit organization to run efficiently. Having free access to Google Workspace allows you to streamline productivity and communication between each of your teams.
Here are some easy ways you can make the most of Google Workspace for nonprofits:
Store your organization's documents in Google Drive. This enables everyone at your organization to search for, access, and edit resources they need, rather than requesting that someone sends it to them via email. Permission controls also allow you to refine your audience and editing permissions for each Google Doc or Sheet, so only the people who need certain resources will have access. What's more, you'll still have access to any resources someone created even if they leave your nonprofit.
Meet remotely with team members. If your nonprofit follows a hybrid work model, you can still meet with anyone regardless if they're in the office. Use Google Meet to video chat, and leverage tools like screen sharing to make meetings run smoothly. As we alluded to earlier, you can also conveniently schedule meetings that include your Google Meet link within Google Calendar.
As you get up and running with Google for Nonprofits, we highly recommend leveraging G Suite. Not only is it essential for collaboration, but their pricing plans can save your nonprofit a pretty penny.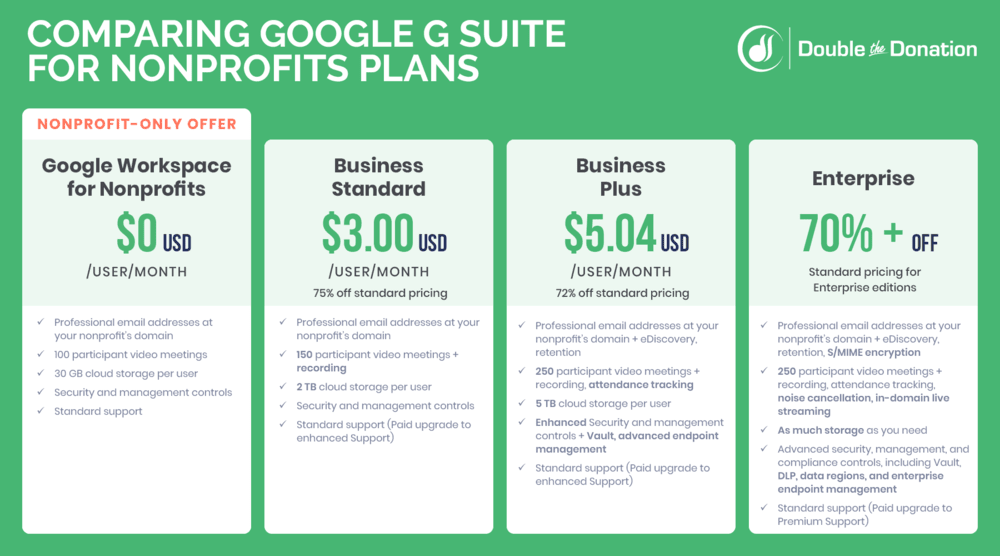 The base plan for Google Workspace for nonprofits is free, while businesses have to pay $6 per month per user. For more cloud storage, you'll need to choose the upgraded plan that offers 2 TB of cloud storage per user. You'll only pay $3 per month per user, while businesses must pay $12 for the same plan.
Larger organizations might look into the Business Plan, which offers 5 TB of cloud storage per user, upgraded security controls, and the capacity to hold larger video meetings. You'll only pay $5.04 per user per month, while for-profits are expected to pay $18 for the same package.
YouTube Nonprofit Program
Elevate your organization's YouTube channel through the YouTube Nonprofit program. With more than 2.1 billion active users each month, YouTube is the largest video hosting platform in the world, making it a great opportunity to connect with supporters across the globe.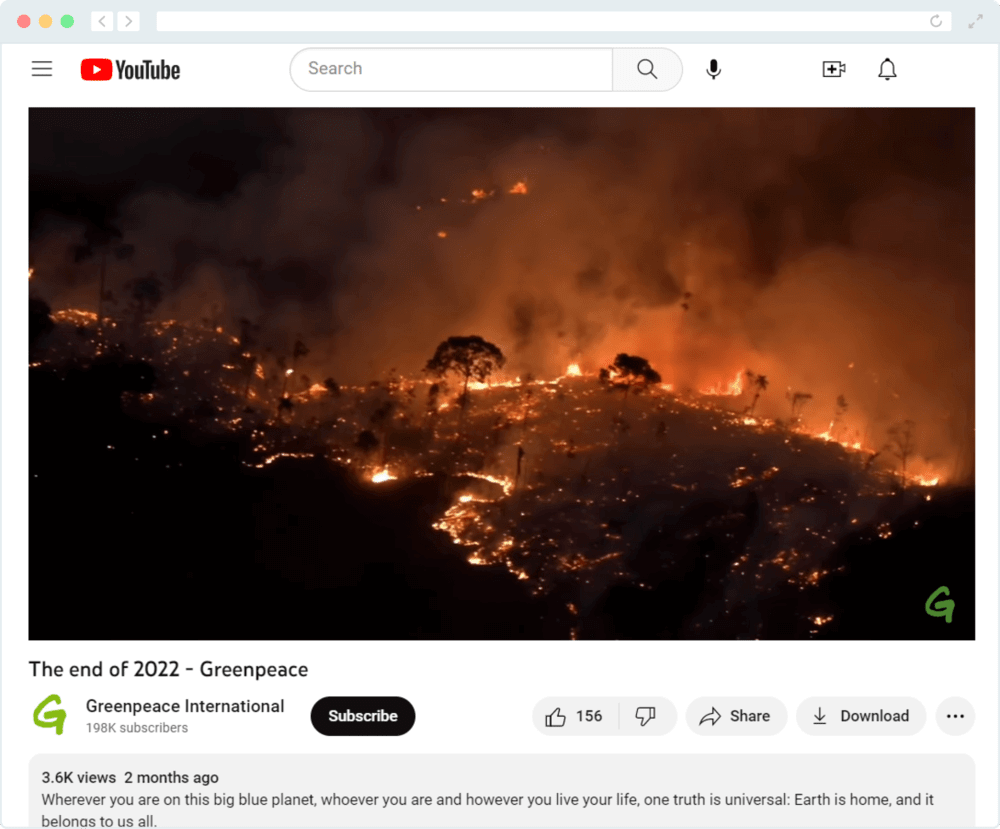 Using your Google for Nonprofits account, here's what to expect from marketing your cause with this program:
"Link Anywhere cards" to include on your videos. These are annotations that allow you to direct supporters to external links.
Access to the Creator Academy, filled with lessons specifically designed for nonprofits
YouTube Giving features, such as a donation button on your videos
Even if your nonprofit doesn't already have a YouTube channel, now's a great time to get started since you'll have access to all these features that'll take your videos to the next level.
Potential Impact
Video storytelling is an incredibly engaging way to inspire supporters. The YouTube Nonprofit Program seeks to empower nonprofits to get more out of their videos with extra features.
When tapping into this resource through Google for Nonprofits, maximize your results by taking extra steps like the following:
Leverage the fundraising features with your videos. YouTube comes with a suite of fundraising tools when you access the platform via Google for Nonprofits. Let's say you run a children's cancer research organization. You might create videos, telling children's stories and letting them speak directly to your audience. YouTube's fundraising features will allow you to stick a donation card on your videos, prompting people to give when they feel inspired.
Encourage influencers to stick your donation card on their videos. Content creators with a decent following will have access to this feature, too. Reach out to those who you feel would be a good fit for your cause. Influencers' loyal followers will trust their recommendations! Google also offers an outreach toolkit, making it easier for you to connect with content creators.
Video marketing is an increasingly popular way to promote your cause, and for good reason! Video marketers get 66% more qualified leads per year and achieve a 54% increase in brand awareness, according to video marketing research. This is primarily thanks to the quality of education video provides and the fact that it's an easy form of content consumption for users.
 As the most popular video-sharing platform, YouTube allows you to tap into these benefits, especially when you leverage its extra tools for nonprofits.
Google Earth and Maps
Google Earth and Maps is another tool that Google for Nonprofits offers to help organizations creatively share resources and connect with nearby community members. The program provides you with free credits for the Google Maps platform, so you can gain a stronger understanding of your service area, plan your work more efficiently, and share programs and resources with your community.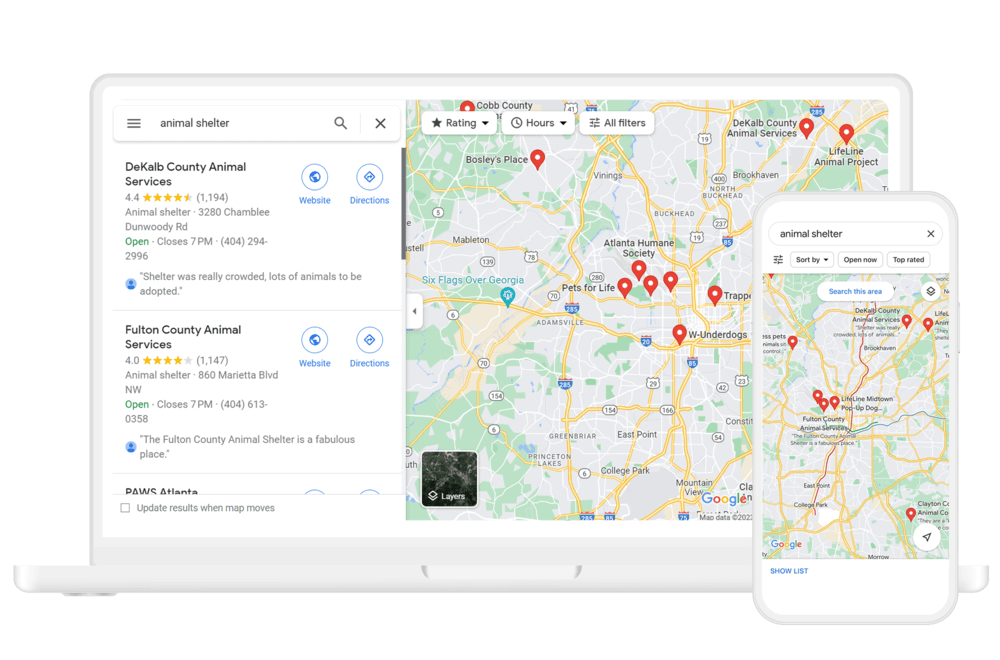 With unrestricted access to Google Earth and Maps, your nonprofit can:
Display community or donor location data on Google Maps.
Receive a $250 per month credit to apply toward the Google Maps Platform.
Get additional Google Mapping tools, like My Maps and Creation Tools.
While this platform might seem like an unusual resource, it's actually incredibly useful for connecting with local audiences! Plus, there's no harm in using it since it's free through Google for Nonprofits.
Potential Impact
This resource won't be quite as valuable for some organizations, but for some, it can really enhance how you carry out your work. To inspire your own use of this Google for Nonprofits product, let's look at an example.
As a well-respected organization, the Jane Goodall Institute (JGI) strives to preserve African great apes and their habitats. Conservation projects like these require data-rich information to create, measure, and monitor success. They also depend on engaging stakeholders in transparent and engaging ways. Google Earth's tools emerged as a unique way for JGI to capture stakeholders' attention and push their conservation efforts forward.
Google for Nonprofits' JGI case study explains that since 2009, JGI has been able to capture and share information about deforestation in visually-stimulating ways. Backed by mapping tools, they've been able to:
Illustrate disappearing habitats due to powerful factors like unsustainable farming practices.
Manage land use and forest reserves.
Monitor biomass and carbon in dry tropical forests.
Model potential distribution of chimpanzees across Tanzania's National Parks.
Develop an online course for their youth action program with Google's Coursebuilder software that uses Google mapping tools.
Conduct detailed inventory and mapping of private forest owners using Open Data Kit (ODK).
It may take some brainstorming to figure out how this Google for Nonprofits product plays into your efforts. It can be as simple as using Google Maps to help nearby beneficiaries locate your services. Or, you might use the platform to showcase interactive images of your locations using Google Street View. Get creative, and you can make real progress for your cause!
Who Is Eligible for Google for Nonprofits?
If you're registered as a charitable organization in your country, you're likely eligible for Google for Nonprofits. For U.S.-based nonprofits, that means you need to be a registered 501(c)(3) organization.
However, some organizations are automatically ineligible, regardless of their charitable status. Ineligible organizations include:
Governmental organizations and entities
Hospital and healthcare organizations (exception: charitable arms or foundations associated with healthcare organizations are still eligible.)
Schools, academic institutions, and universities (exception: philanthropic arms of educational organizations are eligible. All others must register for Google for Education to receive similar tools like Google Workspace, Google Classroom, and discounted Chromebooks.)
If you're not sure if you're eligible, it doesn't hurt to apply for Google for Nonprofits! The worst that can happen is your application gets rejected.
Before applying, you'll need to be registered for TechSoup or Percent, depending on where your organization is located. Google for Nonprofits works with these groups to verify applicants' legitimacy.
Those located in the United Kingdom, Ireland, or New Zealand must be registered with Percent, while all others must be registered with TechSoup or their local TechSoup partner.
Need to register with TechSoup? Nonprofits Source's Google Ad Grant application guide walks through the steps needed to register with TechSoup. Plus, you'll learn how to apply for the Google Ad Grant through Google for Nonprofits.
How Do I Activate Google for Nonprofits?
If you're looking to increase team productivity or amplify your mission online, applying for Google for Nonprofits should be a no-brainer! Luckily, Google makes it incredibly easy to get started.
They break the process down into 4 easy steps, including:

Meet the eligibility requirements. The criteria vary by country. As we mentioned, you'll need to be registered as a charitable organization in your country, be registered with TechSoup, and agree to the terms of service. Remember that governmental organizations, healthcare organizations, and schools are ineligible.
Request a Google for Nonprofits account. Once you meet the requirements, you'll need to request an account for the program. Visit the Google for Nonprofits homepage, click 'Get started,' and provide some information about your organization and your role.
Wait for verification from TechSoup or Percent. Google works with TechSoup and Percent to verify the legitimacy of nonprofits. TechSoup reviews most requests within 2-4 business days and may reach out for more documentation to verify your organization.
Activate the Google for Nonprofits products individually. Once you're verified, you'll receive a confirmation email and can activate each Google for Nonprofits product within your account.
That's all it takes! From here, you're free to dive straight into using your free tools from Google and take your mission to new heights!
Final Thoughts on Google for Nonprofits
Google for Nonprofits can be an incredibly valuable resource for any nonprofit. Depending on your nonprofit's work, some tools will naturally be more valuable than others. Like we mentioned, Google Earth and Maps isn't suited for every nonprofit.
However, every organization can benefit from Google Workspace and Google Ad Grants. Google Workspace for nonprofits allows you to strengthen team collaboration and securely store your documents. Whether you're communicating via email or editing extensive documents, these tools are a must-have on a daily basis.
As for Google Ad Grants, what organization would turn down free advertising money? The program requires some commitment to learning, though. You'll want to choose the right keywords and create inspiring ads that persuade searchers to click through to your site. We recommend working with a Google Grants manager to make the most of this opportunity. Plus, the right ones will also help you get set up with Google for Nonprofits.
No matter how you envision leveraging Google for Nonprofits, it's not something you want to miss out on. After all, it's completely free. Between Workspace, Google Grants, the YouTube Nonprofit Program, and Google Maps, you can make some serious strides for your cause.
Other Resources to Explore
Nonprofit Basics – Learn more nonprofit management essentials by exploring other expert resources.
Google Grants Eligibility: Is Your Nonprofit Eligible? – The Google Ad Grant is a huge asset to your marketing efforts. Figure out if you meet the criteria outlined in this guide.
How to Apply for Google Grants: A Comprehensive Guide – Follow these steps to get your Google for Nonprofits account and Google Ad Grants account up and running.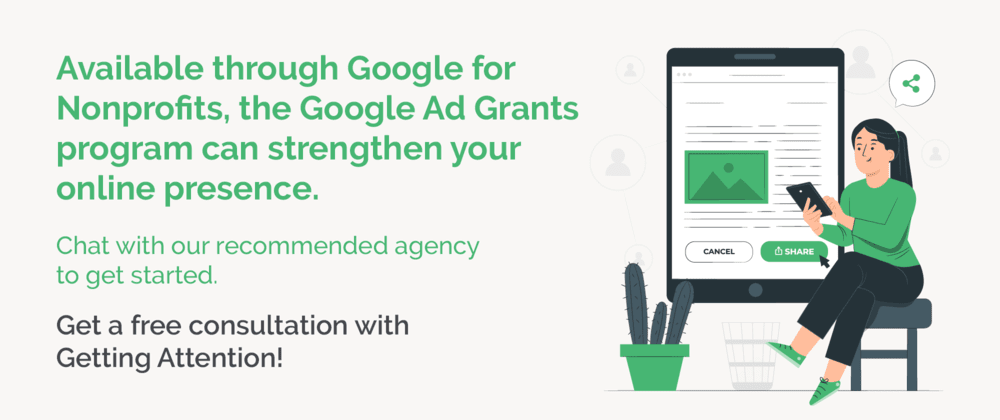 https://doublethedonation.com/wp-content/uploads/2022/11/Google-For-Nonprofits_Feature-1.png
380
1000
Adam Weinger
https://doublethedonation.com/wp-content/uploads/2022/03/logo-dtd.svg
Adam Weinger
2022-04-10 18:55:26
2023-04-03 14:20:52
Nonprofit Basics: The Google for Nonprofits Program