Marketing Matching Gifts In Your Digital Communications
The #1 reason why donors don't submit matching gift requests is that they don't know their employers offer such programs. Corporate giving can be a significant source of revenue for nonprofits, and promoting these engagement opportunities to donors can substantially increase your giving revenue. That's why more and more organizations like yours are crafting strategies to drive this funding source⁠—including marketing matching gifts in your digital communications.
In fact, studies show that mentioning matching gifts in fundraising appeals results in a 71% increase in response rate and a 51% increase in the average donation amount. Not only do matching gift programs double individual donations, but they also encourage more donors to give in the first place and to increase their original contribution. In the end, that makes the matched gift larger, too!
In this guide, we'll discuss a few of the most impactful and efficient ways to inform donors about gift-matching programs by utilizing digital communications. These typically include:
Incorporating corporate giving into your digital outreach strategy can put you on the path to reaching your fundraising goals in a fraction of the time. Let's get started!
Marketing Matching Gifts With Email Signatures
Chances are that your organization sends a ton of emails⁠—including fundraising messages, mission-related content, and more. But did you know that every message you send can be an opportunity to promote matching gifts? Just use your email signature!
An email signature typically includes an individual's personal contact details, nonprofit information, and even a relevant image or organization logo⁠—but it's also a great place to promote matching gifts.
Best practices for marketing matching gifts with your email signatures include:
Modifying the email signatures for everyone on your membership and/or development teams to promote matching gifts.
Linking to additional resources to which recipients can navigate to learn more about matching gift opportunities (such as your dedicated matching gift page on your website).
A simple blurb or a flashy graphic about corporate giving can increase awareness and be the needed push for donors to take a quick five minutes to submit matching gift requests. It's one of the easiest and most cost-effective ways to promote matching gifts year-round.
Example Content:

"Your donation may be eligible for a matching gift from your employer. Find out at catrescueclub.com/matching-gifts/."
"Your membership contribution may be eligible for a matching gift from your employer. Find out at doublethedonation.com/CRC/."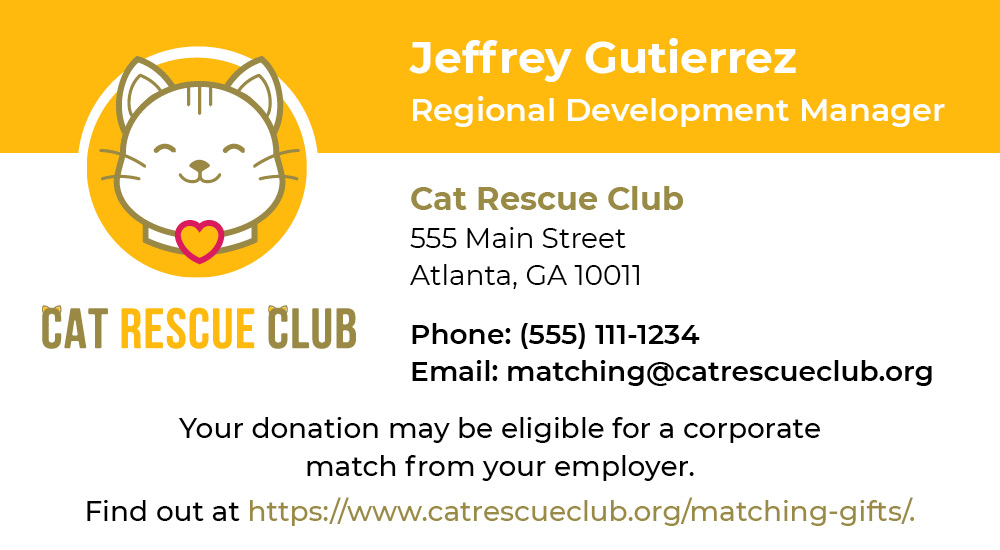 Marketing Matching Gifts With Emails
Email outreach is a vital component of digital communications and overall fundraising. Email provides instantaneous outreach to donors, so you can essentially say, "Hi. What's up? Have you thought about matching gifts today?" Then, people can reply (or request their match!) just as quickly.
Best practices for marketing matching gifts with your email streams include:
Embedding a text link and a visual graphic within your email, directing readers to your matching gift page.
Encouraging supporters to perform a search to see if their company matches donations and access the appropriate forms, guidelines, and instructions.
Snail mail simply cannot keep pace, and at $0.55 a stamp, why would you pay to slow things down?
A successful email marketing strategy hinges on a well-paced, steady procession of the right moves rather than a reckless bombardment of emails. With enough space to write a quick blurb and/or link to a full-length article, email messages are a great place to educate donors about matching gifts.
Keep in mind that an email or digital newsletter dedicated to matching gifts is likely going to be the most effective strategy. However, incorporating matching gifts in a larger email resource can work well, too. Loyal donors will likely read your regular emails, so it's a good place to provide in-depth information about the benefits of corporate giving.
Example Content:

"Do you work for a match-maker? Instantly find out if your employer will double or even triple your donation to the National Kidney Foundation with a quick search of our online database!"
"Thousands of companies will match donations made by their team members, retirees, and even employee spouses. Search now to access your employer's matching gift forms and complete the simple, minutes-long process to drive additional support toward our cause."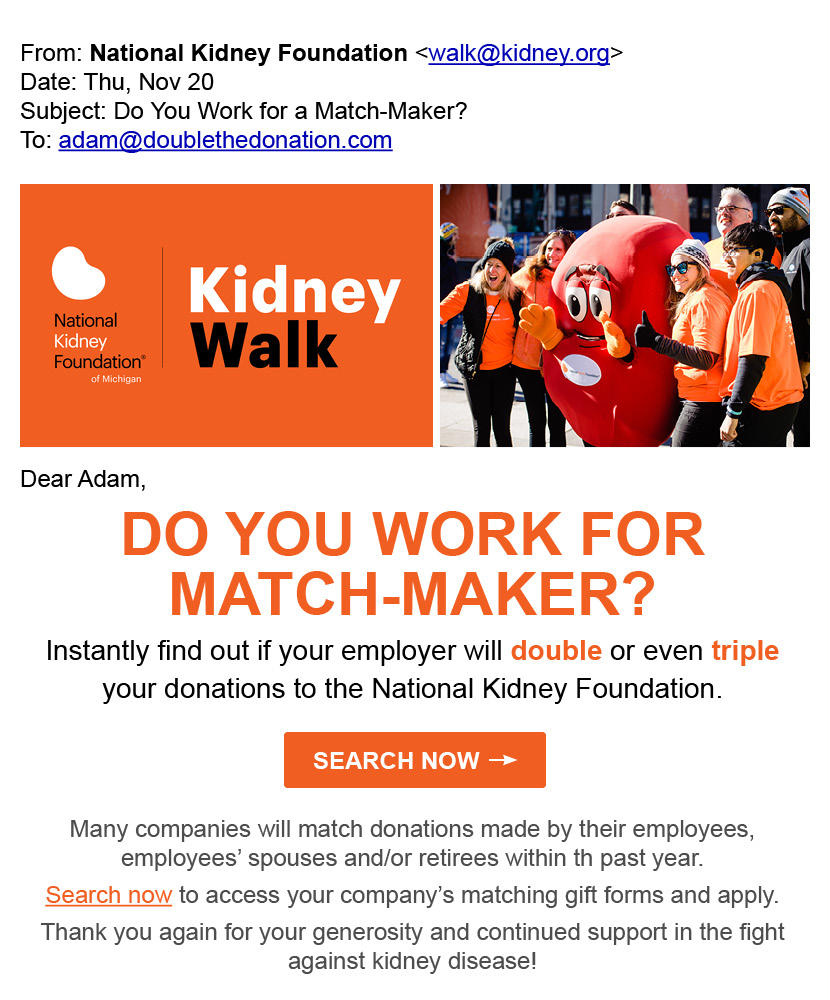 Marketing Matching Gifts With Prewritten Articles
Organizations often use online blogs to keep supporters updated on their efforts and tell the nonprofit's story. Why not also utilize your blog to share ways for donors to double their donations, enabling your team to keep telling that story?
Blog articles are a great way to start the conversation about corporate philanthropy, specifically the role that individual donors can play. Consider telling in-depth stories about the importance of matching gifts while educating people on how to submit the necessary forms.
Best practices for marketing matching gifts with your prewritten articles include:
Posting insightful stories about matching gifts and the effects the programs can bring your organization's mission.
Incorporating a graphic that advertises matching gifts on the side of a blog post to help increase awareness.
Many donors have never heard of matching gift and volunteer grant programs, so it's important to inform your supporters about the opportunities. And in order to evoke emotion and drive more donors to participate, we recommend carefully demonstrating the increased impact that corporate giving can have.
Example Content:

"Cat Rescue Club raises $200,000 from Matching Gifts and Saves 10,000 Additional Furry Friends!"

Use this article topic to detail how matching gifts provide additional resources that can create opportunities that would otherwise not be possible. Make the story personal and relatable so donors realize the importance of taking a mere five minutes to submit a matching gift request.

"Corporate Employee Matching Gift Programs: What Are They and How Do They Benefit Atlanta University?"

Use this article topic to inform donors about matching gift basics, from what matching gifts are to how they benefit your organization to how easy it is to submit a matching gift request. Sometimes people just need to know that such programs exist!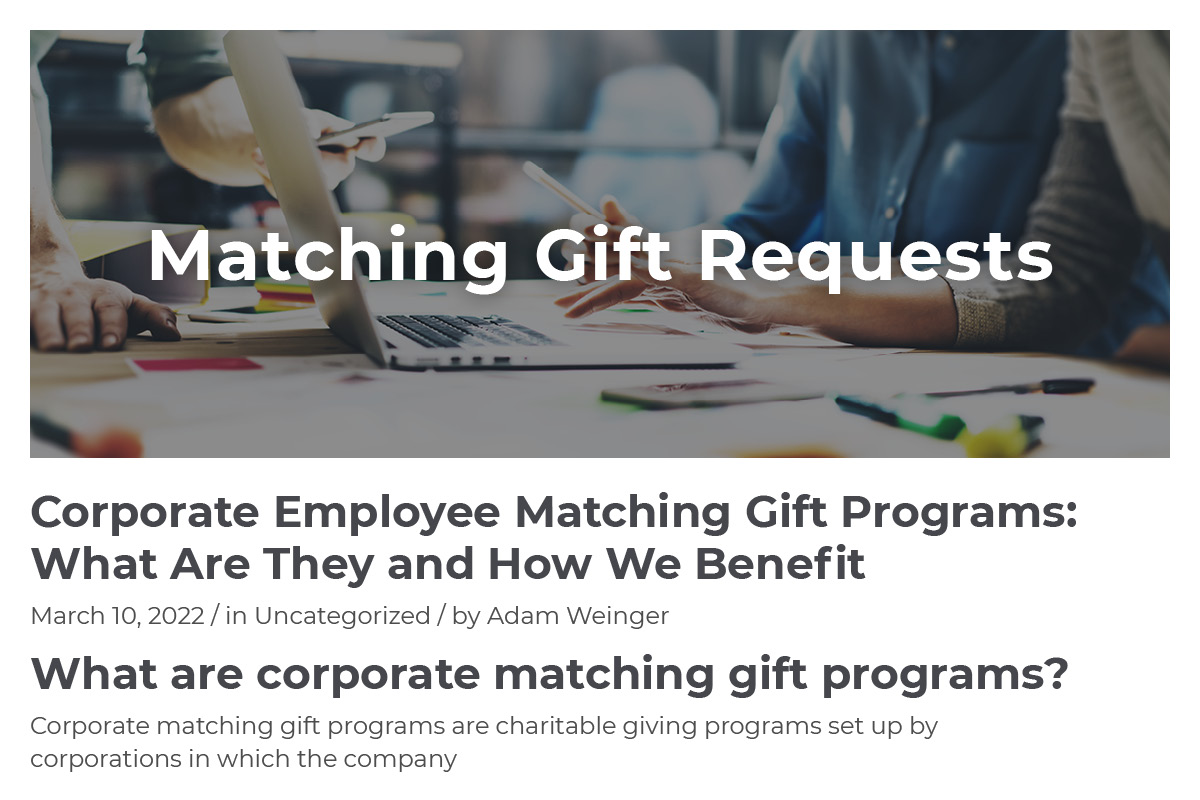 Marketing Matching Gifts With Social Media
People flock to social media to discover the internet's best content. Though you don't need to produce viral posts every day, you do need to provide compelling and engaging information on a consistent basis. And some of the most impactful content you can share has to do with corporate gift-matching opportunities!
There are nearly as many social media outlets as there are stars in the universe, so it's best to focus on really optimizing your strategy on just a few sites. Depending on your organization and its typical donor base, this might include Facebook, Twitter, LinkedIn, and more. Regardless of the platforms you choose, each networking site requires a nuanced approach to get your information out there and best engage with your audience.
Best practices for marketing matching gifts with your social media platforms include:
Sharing educational resources about matching gift programs and the companies that offer them.
Engaging your digitally savvy donors and volunteers and encouraging them to submit matching gifts.
Scheduling messages on a recurring basis as a way to appeal to supporters without asking for an additional donation.
Whether or not you employ a matching gift service, a simple tweet, Facebook post, or LinkedIn article can spread the word about these programs to thousands of donors.
Social media sites like these offer a great way to keep people up-to-date on your nonprofit's campaigns, inform your audience about matching gift opportunities, and encourage donors to look into the process. Just be sure to include a direct link to a location where users can uncover additional information and the next steps!
Example Content:

"It takes just a few minutes to submit a corporate employee matching gift form…have you submitted yours?"
"What do Microsoft, Bank of America, IBM, and Verizon all have in common? Each one matches donations made by their employees to nonprofit organizations. Many major employers offer similar employee matching gift programs. Search atlantauniversity.edu/employer-matching-gifts/ to find out if your employer offers something like this, as well as to access program guidelines, how-to instructions, and relevant forms."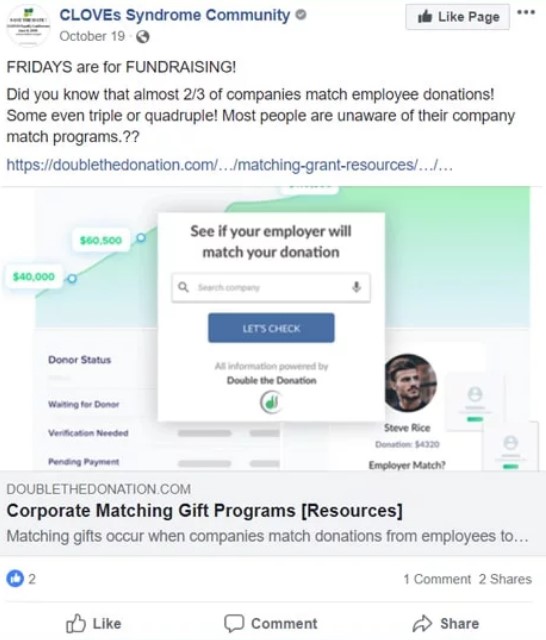 Marketing Matching Gifts With SMS Outreach
Another form of digital communication that is becoming increasingly popular among nonprofits and their donors is texting. In fact, studies show that SMS marketing reports average open and response rates of 98% and 45%, respectively. As a result, text messaging, or SMS, can be a fantastic way to reach donors quickly and affordably using direct marketing strategies.
Best practices for marketing matching gifts with SMS communications include:
Automating your organization's outgoing text messaging efforts to donors identified as matching gift eligible.
Keeping your texts short and sweet to get your message across quickly (typically 1,000 characters or less).
Utilizing personalizable SMS templates and customizing names, donation amounts, employing companies, and more.
Luckily, there are a number of tech solutions designed to streamline and simplify the processes involved with mass, pre-scheduled text messaging. For example, Double the Donation utilizes programmable communications company, Twilio to offer automated matching gift text marketing services for its enterprise clients.
Example Content:

"David, thank you for your generous donation of $200 to the Cat Rescue Club. Did you know that your gift is likely eligible for a corporate match from Johnson & Johnson? View your employer's matching gift guidelines and forms here!"
"Have you submitted your matching gift request for your most recent contribution? Get your donation doubled and increase the impact brought to Atlanta University."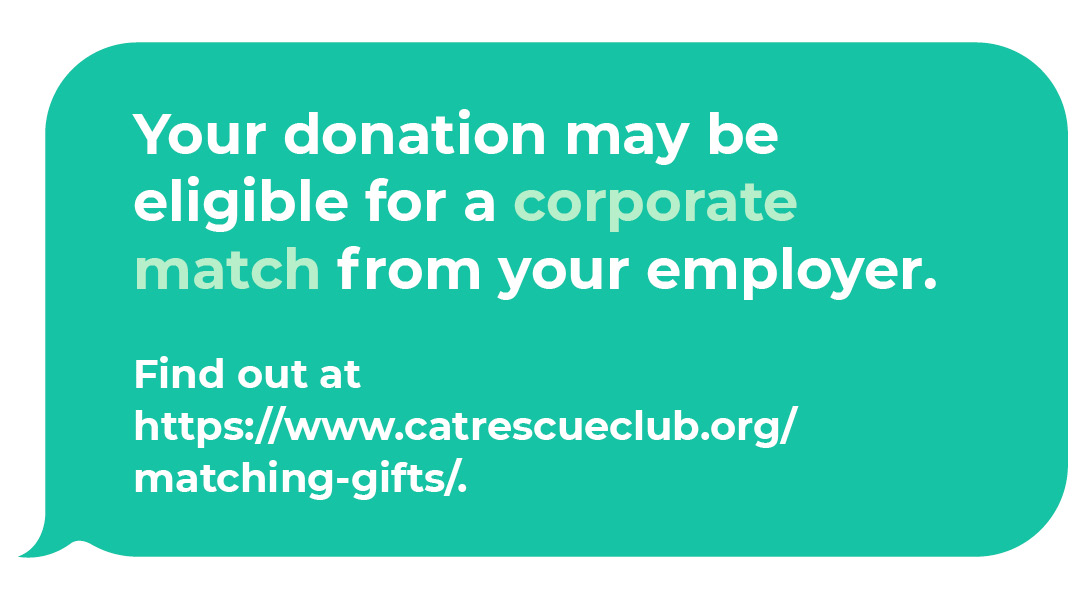 Marketing Matching Gifts With Start / End-of-Year Reminders
Matchable donations have limited lifespans, so you need to promote matching gifts to eligible donors before the clock runs. In other words, a supporter can't donate in 2018 and submit a matching gift request for that donation in 2022.
Although program specifics vary by company, most corporations adhere to one of the following types of standards for matching gift submission deadlines:
A set number of months from the date of the donation (the standard is one year, though it can range from one to twelve months)
The end of the calendar year
The end of January or February in the year following when the donation was made
That's why year-end and new-year appeals can be such a great way to remind donors about impending matching gift deadlines.
Best practices for marketing matching gifts with your start or end-of-year reminders include:
Providing context about matching gift programs and the importance of submitting matching gift requests before it's too late.
Stressing that previously made donations are often eligible to be matched for up to a year after being submitted.
Ramping up your matching gift marketing efforts with increased communications during the year-end giving season.
Utilizing social media as a great way to spread the word to your supporters and reach the widest audiences possible.
Optimizing communications by staying up-to-date on your donors' employers and their specific deadline requirements.
While you should certainly be encouraging donors to submit matching gift requests at the time of the donation, many companies have an extended grace period. The end/start of each new year is a fantastic opportunity to remind all donors that there may still be time to submit a matching gift.
Don't miss out on a final chance to double donations from the year!
Example Content:

"Did you donate to us this year? There's still time to submit a matching gift request from your employer⁠—submit your match here before the end of the year!"
"Many matching gift companies offer a several-month grace period in the year following the year a donation was made. Now, many deadlines are quickly approaching at the end of January and February! Find out how to access your employer's guidelines and complete your match request here."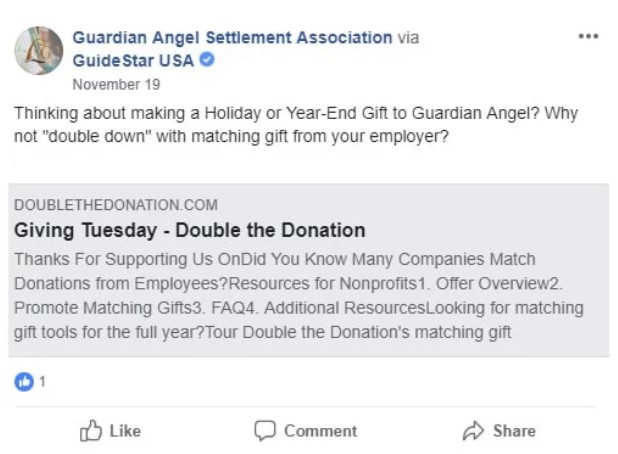 ---
Nonprofits need every dollar they can grab, and matching gifts are an effective way to increase fundraising without demanding too much out of donors. The first step is simply making donors aware of the opportunities—and one of the best ways to do so is by marketing matching gifts in your digital communications.
Whether you promote matching gift opportunities in your online newsletters, social media posts, or emails (or a combination of all of the above), digital outreach allows you to showcase matching gifts in a simple and affordable yet still effective way.
Get ready to maximize your matching gift funding! Explore our other suggested educational resources on the topic below: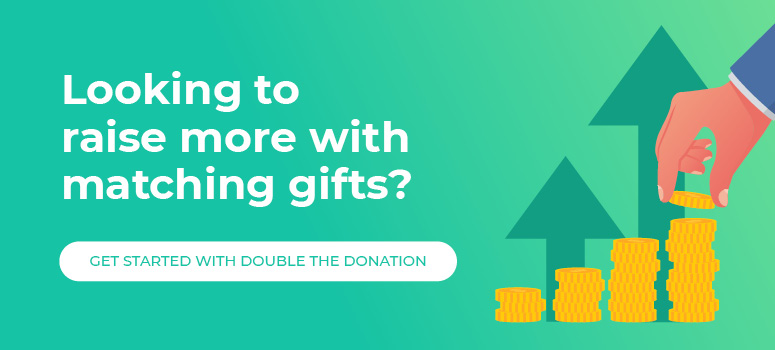 https://doublethedonation.com/wp-content/uploads/2022/06/DTD_Marketing-Matching-Gifts-In-Your-Digital-Communications_Feature-1.png
275
725
Adam Weinger
https://doublethedonation.com/wp-content/uploads/2022/03/logo-dtd.svg
Adam Weinger
2022-05-06 18:49:43
2022-06-20 07:56:09
Marketing Matching Gifts In Your Digital Communications