20 Festive Christmas Fundraising Ideas to Spread Good Cheer
As a fundraising professional, you know the year-end giving season is crucial for your nonprofit, especially the time of year between GivingTuesday and New Year's. In fact, nonprofits received 5% of all 2022 revenue on December 31 of that year.
What's right in the middle of this productive fundraising period? The Christmas season!
Christmas is a fun, festive time to spread good cheer and raise more for your nonprofit's mission. People tend to feel more charitable this time of year, meaning it's an effective time to hold fundraising campaigns or events to support your organization. Plus, you can use Christmas-themed fundraisers to get people excited about submitting their year-end donations.
In this guide, we'll explore these festive Christmas fundraising ideas:
Holiday eCards
Matching gift drive
Holiday 5K
Christmas present auction
Polar Plunge
Bake sale
Christmas tree sale
Holiday gala
House decorating contest
Gratefulness challenge
Concert or singalong
Online shopping fundraiser
Holiday photoshoot
Gift catalog
In-kind donation drive
Gingerbread decorating contest
Online baking or cooking class
Holiday lights festival
Pictures with Santa
Holiday movie marathon
Above all, your holiday fundraisers and events should focus on spreading goodwill among your supporters and showing appreciation for their continued involvement. Keep that in mind as you consider the following ideas.

1. Holiday eCards
Holiday eCards spread the Christmas spirit and allow donors to show their loved ones that they're thinking of them. You can leverage holiday eCards in multiple types of campaigns. For example, donors can purchase eCard packages to send to family and friends. Or, give donors the option to send eCards notifying their loved ones that they made a tribute gift on their behalf. You can also send donors festive thank-you eCards to show your gratitude for the gifts they made that year.
The most effective Christmas eCards are:
Personalizable, with space for donors to add each recipient's name.
Designed with the holiday spirit in mind, using festive imagery like Christmas trees or reindeer.
Branded to your nonprofit, with your logo incorporated into the design.
Here's an example of an eCard from UnitingWorld, a faith-based international aid agency: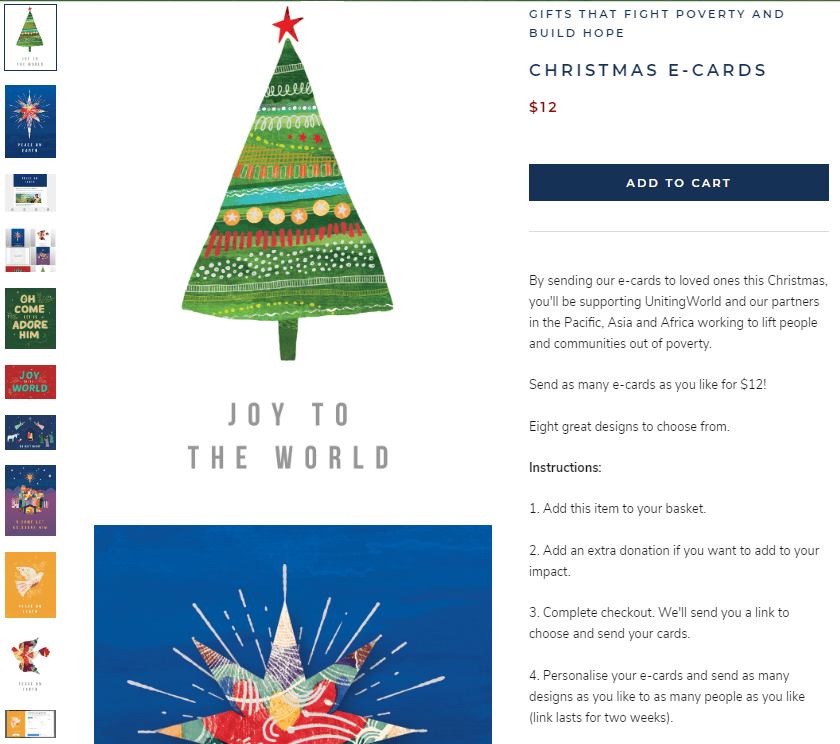 These eCards are available as online purchases through the organization's eStore.
Consider investing in holiday eCard software to make it easier to design and distribute these messages. These platforms simplify the design process with an intuitive and user-friendly interface, making it easy even for beginners. Then, you can immediately embed your eCards into your website or donation page for donors to start using them.
2. Matching gift drive
In matching gift programs, businesses match donations that their employees make to eligible nonprofits. You can expand this idea into a matching gift drive, where companies pledge to match all donations made to your nonprofit within a given time period or up to a certain amount.
Matching gift drives can be highly motivational for supporters because they'll feel that their gifts are more impactful, since they will be doubled. Launch a successful matching campaign by taking the following steps:
Reach out to new or existing corporate partners asking if they would like to partner with your nonprofit this holiday season. Highlight the benefits of getting involved, such as a positive PR boost.
Ask corporate sponsors to match donations made within a specific time period, such as December 25-31.
Promote your matching gift opportunities on multiple platforms, including your website, social media, and email newsletter.
Be sure to thank your corporate sponsors by spotlighting them in your social media posts and email newsletters.
3. Holiday 5K
A 5K or fun run can inspire friendly competition among your supporters and raise money for your nonprofit. Ask runners to pay an entry fee to participate in your 5K.
Choose a wintry theme for your 5K such as:
Reindeer Trot
Hot Chocolate Dash
Santa Sprint
Add a fun, engaging element to your event by encouraging participants to dress up in festive garb, such as Santa suits, reindeer antlers, or ugly sweaters.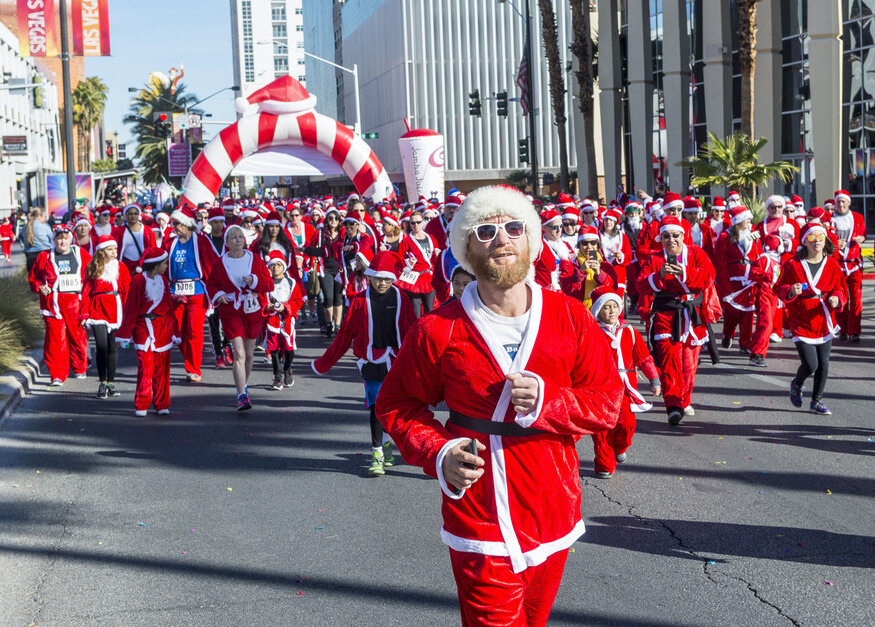 To generate an additional revenue stream, create branded merchandise, such as t-shirts and mugs, that reflects your theme to generate. Make sure to include cute Christmas imagery on your merchandise to make it more appealing to supporters.
4. Christmas present auction
Christmas shopping tends to be an anxiety-inducing activity for many people. Take away some of the holiday stress by hosting a Christmas present auction. Attendees can bid on items and then gift the items to their friends and loved ones.
Gather enticing auction items like:
Gift baskets
Lessons or classes, such as golf lessons or painting classes
Event tickets for experiences like concerts or sporting events
Custom art
Autographed memorabilia
Ask current supporters like your corporate sponsors or major donors to contribute auction items to your event.
5. Polar Plunge
Invite daring supporters to participate in a Polar Plunge fundraising event. In a Polar Plunge, participants jump into cold bodies of water to raise awareness and funds for a charitable cause.
Every Polar Plunge needs these elements to be successful:
Creative branded merchandise (think adorable polar bear imagery!)
Medical personnel on-site in case of any emergencies
Snacks and (warm) drinks for when participants emerge from the icy waters
Collect donations throughout this event by asking participants to gather pledges ahead of time. Donors will fulfill their pledges after participants have completed the plunge.
Take a look at a real-life example of a Polar Plunge event held by Special Olympics: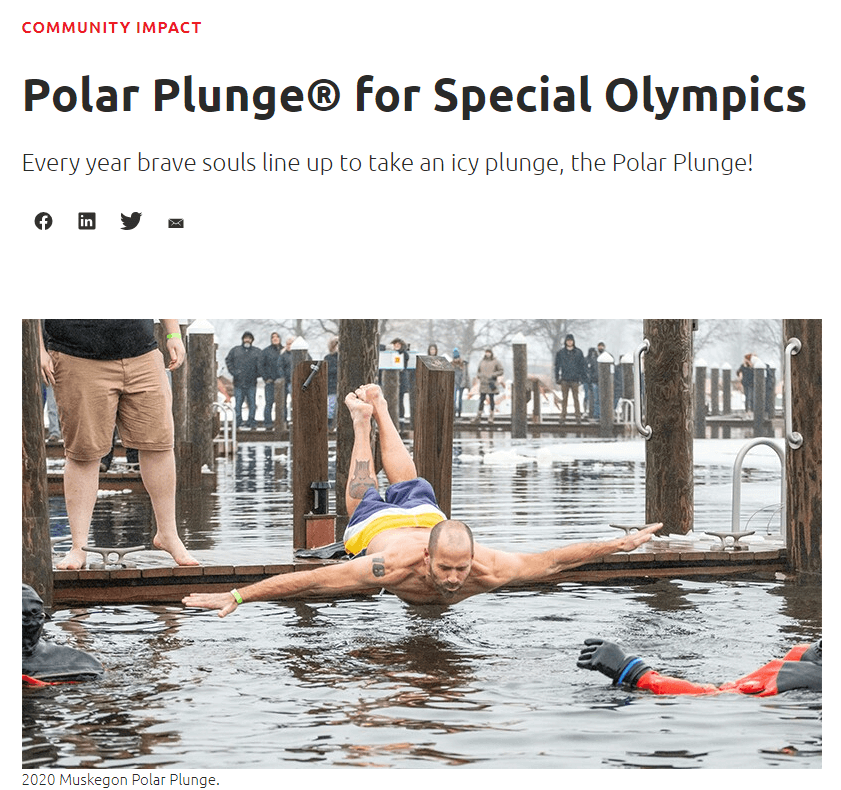 Special Olympics uses Polar Plunge events to raise awareness and funds for their efforts to make sports more inclusive and accessible for people with intellectual disabilities. Their Polar Plunge events routinely attract dozens of participants and spectators for local events.
6. Bake sale
No holiday party or gathering is complete without tasty treats to share! Host a bake sale for supporters to swing by and pick up their favorite sweets. This can be a great way to ease some of the stress that goes along with baking during the holiday season.
Offer items such as:
Christmas cookies
Pies
Cakes
Bread
Trifles
Bars
Gingerbread
Allow supporters to pick up their baked goods on Christmas Eve so they stay fresh.
7. Christmas tree sale
The Christmas tree is the most iconic symbol of the holiday season, with approximately 25-30 million trees sold annually in the U.S. Partner with a local Christmas tree farm or seller to see if they can host a donation box for your nonprofit or donate a portion of their sales to your cause. Ask if your nonprofit can also set up a booth or table at their tree farm to share information about your mission.
8. Holiday gala
Give supporters the excuse to dress up for a night on the town in the form of a holiday gala. Make your gala a night to remember with the following tips:
Engage attendees with a performance.
Provide a tasty meal and dessert.
Highlight your nonprofit's accomplishments from the year.
Host a silent auction alongside your other gala activities to give attendees another way to support your organization.
You can even host a raffle or giveaway during the event to open another fundraising stream and give attendees something to look forward to at the end of the evening.
9. House decorating contest
Decorations like Christmas lights, blow-up figures, wreaths, and candles are staples of the holiday season. Everyone has that one neighbor who takes things up a level with a vibrant Christmas display.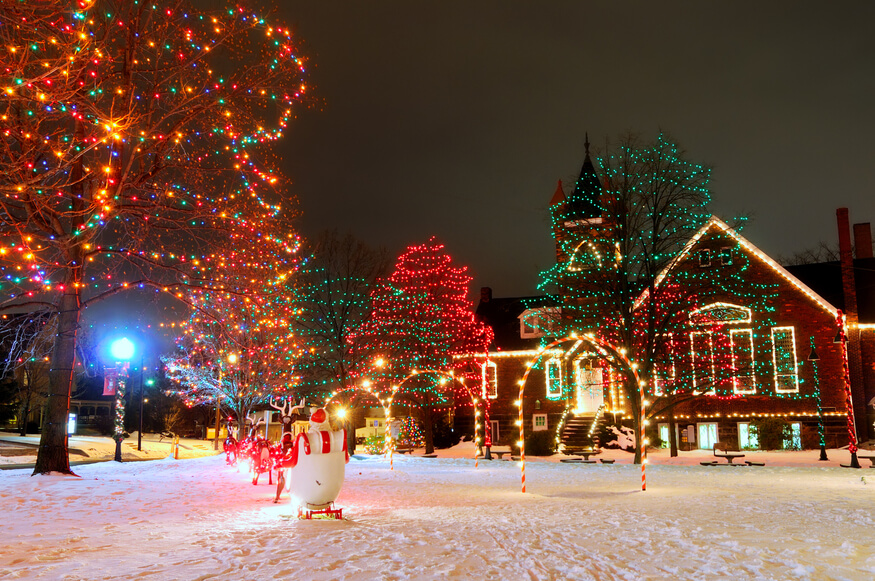 Turn this phenomenon into a fundraising opportunity by asking supporters to send in photos of their decked-out homes. Have participants vote on their favorite house using their donations. This can look like having a unique donation page link for each house or putting a space on your donation form for donors to note their favorite entries.
Announce your winner on your social media page and offer a first-place prize, such as cash or a gift basket.
10. Gratefulness challenge
Challenges are popular social media trends, especially on platforms like Facebook that make it easy to fundraise and spread awareness of a cause at the same time. Invite supporters to participate in a holiday gratefulness challenge. Every day for a week in December, encourage participants to post a photo or description of something they are grateful for, whether loved ones, pets, special places, etc. Then, request that supporters tag a family member or friend in their posts to invite others to get involved in the challenge as well.
To raise funds and awareness for your nonprofit, ask participants to share a link to your online donation page, along with some background information. For example, you might provide text for them to use that says "I'm participating in [your organization's name]'s Gratefulness Challenge to spread awareness of [your mission]. Here is a link to their online donation page: [link here]. I challenge @[friend or family member's name] to get involved!"
The holiday season tends to inspire people to reflect on the people and places they're grateful for, so a gratefulness challenge is an effective way to spread goodwill while enhancing awareness of your cause.
11. Concert or singalong
During the Christmas season, Christmas carols are practically unavoidable. Allow supporters to come together and share in the joy of the holiday season with a holiday-themed concert or carol singalong.
You might feature local performers such as the high school band or a locally famous singer-songwriter to foster a stronger sense of community. Round out your event by offering themed refreshments, like hot chocolate and cookies.
12. Online shopping fundraiser
Online shopping continues to grow, especially around the holiday season — 57% of U.S. consumers said they intended to shop online during the 2021 and 2022 holiday seasons. With an online shopping fundraiser, consumers can support your nonprofit while conducting their regular holiday shopping.
Here's how supporters can shop for a cause via an online shopping fundraiser:
Download an online shopping fundraiser app, like ShopRaise.
Make purchases online from participating retailers.
Automatically contribute a percentage of their sales to your nonprofit without having to take any action themselves.
Online shopping fundraisers represent the ultimate convenience for supporters. After downloading the app, they won't have to alter their daily plans in any way, and they can support your organization while shopping for friends and family.
13. Holiday photoshoot
Give supporters the chance to take Christmas card photos by hosting a holiday photoshoot. Recruit a few local photographers or your staff photographers to volunteer their services. Provide plenty of props, such as Santa hats and Christmas trees. And, make sure to send out the printed photos or digital files several weeks before Christmas so participants can get their holiday cards out in a timely manner.
14. Gift catalog
During the holiday season, plenty of folks like to send their family members or friends thoughtful gifts to let them know they're thinking of them. Consider hosting a gift catalog fundraiser to make it easier for supporters to send these gifts and support your nonprofit at the same time.
Your gift catalogs may feature a variety of products, such as:
Candy/chocolate
Candles
Chocolate pretzels
Nuts
Wrapping paper
Kitchenware
Mail your gift catalogs to supporters several weeks before Christmas so they have time to choose the right gifts and send them before the holiday begins.
15. In-kind donation drive
In-kind donations are noncash gifts that supporters donate to your nonprofit, typically in the form of goods or services. With an in-kind donation drive, you can ask supporters to contribute items that your nonprofit typically needs the most.
Depending on your mission, you may ask for gifts like:
Toys
Canned goods or other nonperishable food items
Personal care items and clothing
Gardening supplies
Pet supplies, like food, leashes, and bowls
Recognize your donors by sharing photos of their in-kind donations on your social media pages or email newsletter.
16. Gingerbread decorating contest
Decorating gingerbread houses is another time-honored Christmas tradition. Invite participants to compete in a gingerbread decorating contest to see who can come up with the most creative or elaborate structure. Require an entry fee for the competition or have participants "vote" with their dollars by placing money into a cash box next to their favorite design.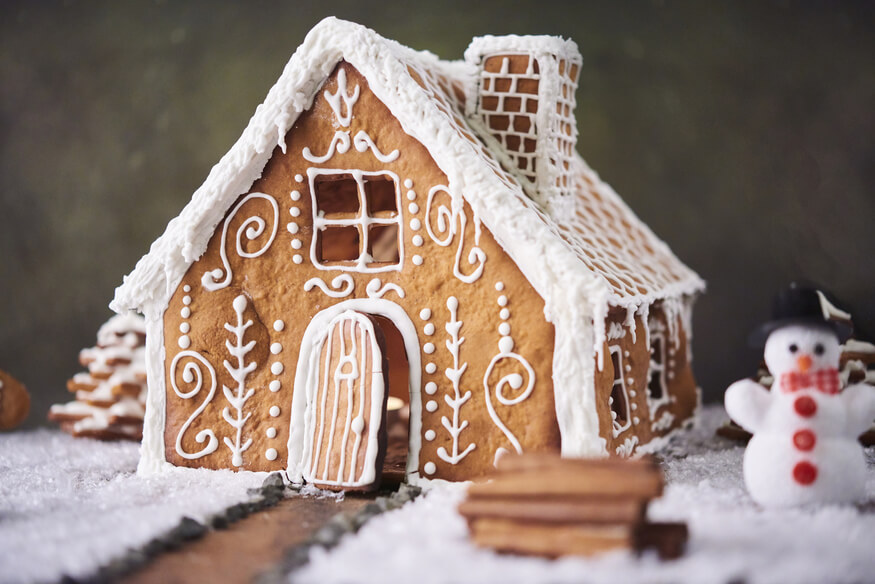 17. Online baking or cooking class
Online classes allow supporters to learn a new skill from the comfort of home. Plus, the holiday season is full of opportunities to try out a new baked good or dinner recipe.
Invite supporters to participate in an online cooking or baking class with a qualified instructor. Reach out to chefs or bakers within your community to see if someone would be willing to donate a couple of hours of their time to teach the class.
Be sure to send out an ingredient list ahead of time so participants can gather everything they need for the day of the class. Supporters will be able to impress their family members and friends at their next gathering with the new skills they've picked up!
18. Holiday lights festival
Deck your nonprofit's halls by creating a Christmas light display for your community to come see. If you have access to several roads on the grounds surrounding your facility, you can create a drive-by light display for visitors. Request donations at the start of the display and offer treats throughout, such as hot chocolate and cookies, that participants can snack on as they explore the winter wonderland.
19. Pictures with Santa
Along with Christmas card photos, pictures with Santa can be cherished memories for families. Recruit volunteers to be Santa and the elves, and ask a staff member or local photographer to take photos. Set up a picture-perfect backdrop with festive lights and a Christmas tree.
Charge a small fee for the photos to earn donations for your nonprofit.
20. Holiday movie marathon
Host a drive-in movie marathon where supporters can tune in to watch a classic holiday film or two. Rudolph the Red-Nosed Reindeer, A Christmas Story, and It's a Wonderful Life are just a handful of classic movies to consider showing at your event. Offer a snack stand where attendees can pick up popcorn, candy, and hot chocolate.
---
These ideas will help raise more for your nonprofit's mission while spreading positivity throughout your community. When community members see your nonprofit's efforts to generate goodwill, they'll feel much more connected to your cause and be more likely to donate.
Looking for even more Christmas fundraising ideas? Check out eCardWidget's guide to 25 creative ideas to continue brainstorming.

https://doublethedonation.com/wp-content/uploads/2023/10/christmas-fundraising-ideas_Feature.jpg
772
2060
jordan
https://doublethedonation.com/wp-content/uploads/2022/03/logo-dtd.svg
jordan
2023-10-03 12:00:57
2023-10-11 20:01:06
20 Festive Christmas Fundraising Ideas to Spread Good Cheer