Employee Engagement: The Essential Guide for 2021
As a company, managing employees and productivity can be a challenge. You want to keep your employees happy and feeling fulfilled in their work, and a lot of the time, their level of engagement with their job informs all of that.
That's why keeping your employees engaged is so important.
High employee engagement is one of the top reasons employees stay at their jobs long term, are more productive, and feel fulfilled. In order to explore these ideas, we're going to define employee engagement and dig deeper into why it makes a difference for your company.
What is employee engagement?
Employee engagement refers to the level at which employees are excited about and committed to their jobs. When employees are engaged, they are more likely to produce higher quality work and feel invested in what they do.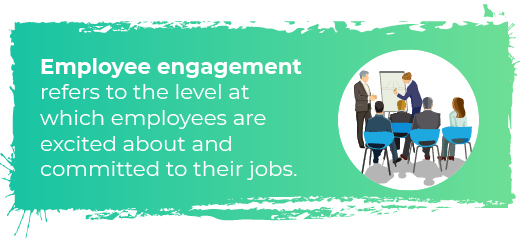 Employee engagement is different from employee satisfaction, but these terms are interconnected. Satisfaction simply means an employee enjoys their job, but isn't necessarily engaged with it. Employee engagement, on the other hand, means employees are emotionally invested in the work they're doing.
Consider the following questions as you look into ways your company can boost your employee engagement levels:
There are many benefits of employee engagement and ways to enhance it at your company. Let's jump in.


1. Why is employee engagement important?
According to recent statistics, 85% of employees are not engaged in the workplace—which means a large number of employees might leave their current jobs for another.
On the other hand, studies indicate that companies whose employees are engaged are 22% more profitable.
Put simply, employee engagement is important because it leads to higher retention rates and productivity. As is implied, a higher retention rate also means your company doesn't have to deal with as much turnover, hiring, and training, which saves you a lot of money down the road.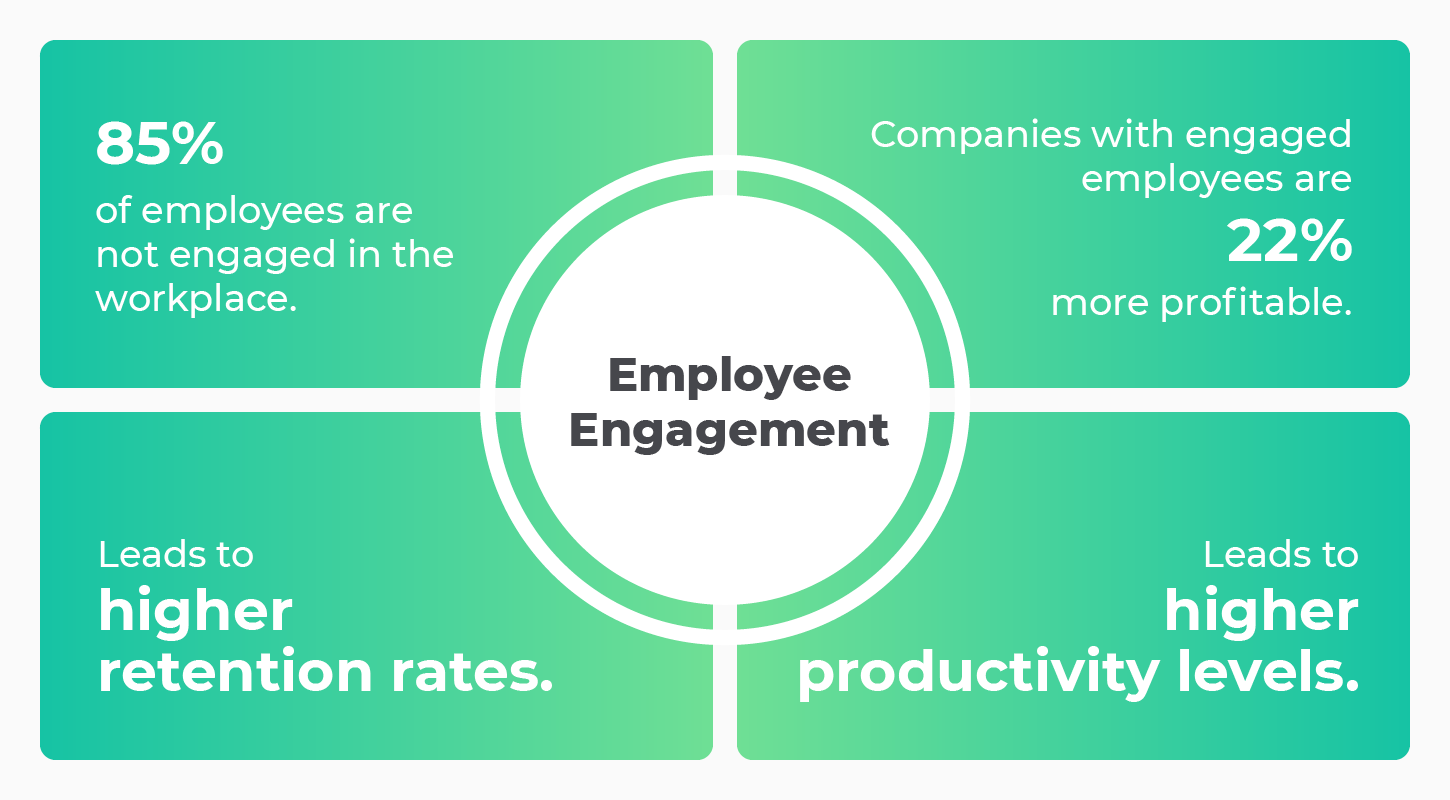 The takeaway? Employee engagement leads to happy employees, longer tenures with your company, and higher productivity levels.
So, how can your company build up its employee engagement rate? There are many ways to do this, but we're going to focus specifically on one avenue that has a huge impact: corporate social responsibility programs. Read on to learn more!


2. What are effective employee engagement ideas?
If you're looking for effective employee engagement ideas, consider corporate social responsibility. Corporate social responsibility (CSR) is a term used to describe a company's efforts to improve society. And with CSR comes many different initiatives companies take on to do just that.
Offering generous and inclusive CSR programs is one of the top drivers of employee engagement because employees are more likely to be happy working for a company that contributes to social good.
Employee Engagement and Corporate Social Responsibility
CSR is an umbrella term that covers everything from corporate philanthropy to positive economic and environmental efforts a company takes upon itself.
For the purpose of this article, we're going to focus on some of the top philanthropic efforts a company can put forth that in turn boost employee engagement. These include:
Matching Gifts
One of the best ways to foster employee engagement is through corporate matching gift programs. Corporate matching gifts are a type of CSR initiative in which companies financially match donations their employees make to nonprofits.

When it comes to workplace giving and CSR, matching gifts are a common offering, and it's important for companies to actively promote these opportunities to their employees.
Employees who understand how to request a matching gift for their donation will be more likely to go through the process and feel good that their company made their gift go twice as far.
That said, it can be challenging to inform employees of your matching gift program. That's why you should also make a point to promote matching gift opportunities throughout the year in a variety of ways, including:
New employee training materials

End-of-year campaigns

Internal employee communications
When you encourage employees to participate in your matching gift program, it not only benefits your company and helps you make the most of the giving program you've invested in, but also benefits the nonprofits those dollars go toward.
Volunteering
Now is the time to implement or enhance your employee volunteer program. That's because offering volunteer opportunities within your company is a fantastic way to keep employees happy and fulfilled.
Whether you offer paid time off to volunteer, team-building volunteer opportunities, or a simple way for employees to access volunteer positions in your community, employees will be excited to step up and help the causes they care about.
When it comes to corporate volunteering and building up employee engagement, volunteering takes on a few manifestations:

Volunteer grants.

Corporate volunteer grants

are another form of corporate philanthropy in which companies provide monetary grants to nonprofits where their employees regularly volunteer. This means nonprofits get two forms of support in place of one: valuable volunteer hours

and

financial contributions.

Individual volunteer opportunities.

Many companies offer paid time off for employees to volunteer at organizations they care about. This is a great incentive to boost employee engagement because they get paid while supporting an important cause. Add in a volunteer grant, and the benefits extend even further!

Team volunteer opportunities.

As a team-building activity, companies often plan a day of service or similar event to get their employees together to give back to the community. This can also result in

team volunteer grants

, increased camaraderie among coworkers, and deepened relationships with the nonprofits in their community.
Companies also tend to use employee engagement platforms to organize their volunteer activity, as well as manage matching gifts and employee donations. This type of platform helps companies track volunteer opportunities in the greater community around their business, get employees signed up, and keep them engaged in the company's culture of giving.
Looking to learn more about employee engagement software? Jump to that section now!
Other CSR Initiatives
Beyond matching gifts and corporate volunteerism, there are several other types of CSR initiatives that encourage employee engagement and participation.
Among the most common are workplace giving programs like automatic payroll deductions, annual giving campaigns, and other opportunities to donate to good causes. 
Through these company-sponsored programs, nonprofits are vetted and can build solid relationships with companies and their employees. Employees can rest assured that they're donating to a worthy cause, and nonprofits get the support they deserve. Meanwhile, companies can get the most out of the giving programs they invested in.
Out of all the employee engagement ideas out there, focusing on corporate philanthropy and workplace giving, as well as other corporate social responsibility programs, will help your employees feel fulfilled and happy working for your company. Knowing that your company cares about the same causes they care about will keep them engaged and invested in the work they do for you.


3. How does employee engagement software help companies?
Having highly engaged employees is great, right? When you offer opportunities for employees to get involved in helping important causes, everyone will benefit.
But how can you effectively keep track of and manage all of these programs?
Tracking workplace giving programs and volunteer opportunities might sound like spreadsheets upon spreadsheets and lots of data entry. But there's another way your company can manage your employees' activity, as well as the programs you're promoting: employee engagement software.
Employee engagement software helps you keep track of employee donations, volunteering opportunities, automatic payroll deductions, grant requests, and more.
Let's turn back to those employee engagement ideas we discussed earlier:
Matching Gift Programs and Employee Engagement Software
When you invest in software that helps you regulate your matching gift program, you'll make it easier for employees to get their donations matched for any eligible nonprofit. This makes them more likely to participate and feel engaged with your company as a result.
Employee engagement software helps manage your matching gift program by:
Allowing you to review or automatically approve matching gift requests that meet your company's guidelines

Helping you track employee donations and measure overall impact

Tracking your goals and overall CSR-related progress
All of these features give your company a bigger picture of the impact you can make.
Corporate Volunteerism and Employee Engagement Software
Employee engagement software can also regulate your volunteer opportunities. The easier it is for employees to provide you with their volunteer activity information, the more likely they will be to participate in your volunteer program.
For example, employee engagement software helps manage your volunteer program by:
Allowing your company to find or create new volunteer events

Making it easy for employees to track their volunteer hours

Helping you track and approve volunteer grant requests
Volunteering consists of many juggling tasks, but when you use software to streamline the tracking and approval process, you'll save your team and your company a lot of headache.


4. What are some additional employee engagement resources?
Your employee engagement efforts shouldn't stop here! Now that you have a basic understanding of how employee engagement works, check out these additional resources:

https://doublethedonation.com/wp-content/uploads/2022/06/Employee-Engagement-Feature.jpg
540
1450
Adam Weinger
https://doublethedonation.com/wp-content/uploads/2022/03/logo-dtd.svg
Adam Weinger
2021-04-08 15:01:18
2022-06-20 07:55:46
Employee Engagement: The Essential Guide for 2021