A Full Guide to Employee Engagement Tools + 20 Top Picks
What comes to mind when you think about employee engagement? Excitement, enthusiasm, maybe meaningful team collaboration? All of those elements are the results of an effective engagement program. And they all contribute to an improved workplace culture where people not only have to work but enjoy doing so.
Employee engagement may make sense in theory, but how should your organization cultivate it on a daily basis? In this guide, we'll explore the basics of employee engagement for your company and discuss 20 tools your organization can use to foster a positive work environment.

| | | |
| --- | --- | --- |
| Employee Engagement Tool | Best Feature | Website |
Why Does Employee Engagement Matter?
Your organization is most likely juggling a lot of different tasks—you have performance metrics to hit, clients to impress, and meetings to manage. That said, should employee engagement really be a priority? Recent statistics definitely suggest so.
Here are some combined polls that provide insights into employee engagement, including the good, the bad, and the ugly:

The Good
Highly engaged businesses achieve 59% less turnover.
77% of employees agree a strong culture allows them to do their best work.
Highly engaged employees result in a 23% increase in profitability.
The Bad
85% of employees are not engaged at work.
Only 22% of companies know what's driving their employee disengagement.
The Ugly
Actively disengaged employees cost their organizations $483 to $605 billion per year.
As you can see, employee engagement can make or break a workplace in more ways than one. If your employees aren't motivated and engaged, at best, you're not efficiently achieving your goals, and at worst, you're wasting resources.
On the other hand, engaged employees can be the secret weapon that lets your organization hit more performance benchmarks at a faster rate. They also stay at your organization longer and do their best work every day. So, how can you prioritize employee engagement? By leveraging dedicated employee engagement tools!
How Can We Boost Employee Engagement?
While every organization is different, there are some tried-and-true techniques that you can implement to energize and motivate your employees, including: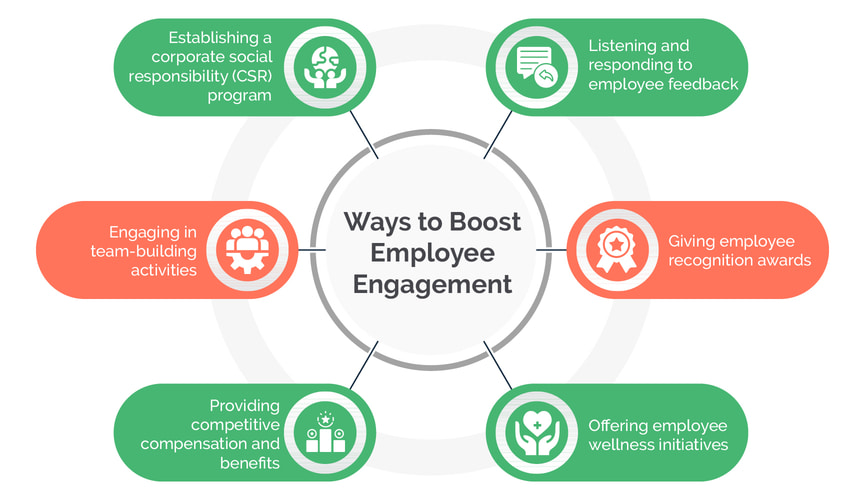 Listening and responding to employee feedback. Encouraging employees to provide feedback on your company culture and business practices allows you to tailor your workplace for employee satisfaction. Of course, you don't need to implement all recommended changes, but simply acknowledging your employees' ideas demonstrates that you value their input.
Giving employee recognition awards. Both formal and informal recognition initiatives are crucial to making employees feel accomplished and inspiring them to achieve their goals. You could implement a Bravo system where peers can recognize each other for outstanding work and highlight strengths that management might have missed. Or, you could deem a team member Employee of the Month, complete with a plaque and a gift card.
Offering employee wellness initiatives. According to Gallup, healthier employees are more engaged employees, and vice versa. Your organization can cultivate a healthy company culture by actively facilitating wellness initiatives. For example, you could hold a steps contest where the employee who walks the most in a month gets a prize. Additionally, you could offer time off for mental health days and respect work-life boundaries.
Providing competitive compensation and benefits. While fair compensation is crucial, you should consider how your other benefits contribute to employee engagement. Consider offering benefits such as flex work, PTO, corporate giving, health insurance, bonuses, continued education, and upward mobility to boost employee satisfaction.
Engaging in team-building activities. Tackling team activities outside of work helps your employees work better in-office. For instance, volunteer outings are a great way to strengthen teamwork across your organization. Also, embarking on company retreats is helpful for giving employees a change of scenery while still honing their professional skills.
Establishing a corporate social responsibility (CSR) program. Employees want to know that they're working for companies that support the greater good. When you establish a CSR program, you demonstrate that your business cares about the same causes as its employees and wants to make the world a better place. As a result, employees will feel more empowered to continue working at a company that does more than just provide a product or service. Common initiatives in CSR programs include matching gifts and volunteer grants, both of which involve companies donating to the nonprofits their employees care about.
Now that you have some ideas for improving your organization's employee engagement, let's review some of the software solutions that can help you make it happen.
What is an Employee Engagement Tool?
Employee engagement tools are software applications that a company uses to increase internal communication and boost employee satisfaction. There are a wide variety of tools available and choosing the right one will depend on your organization's needs. For instance, a company that wants to streamline its project management process between separate departments might look at an engagement tool like Asana. Or, an organization looking to track employee productivity more effectively may invest in a timesheet software solution.
Usually, human resources departments take the lead when introducing employee engagement tools and recognition platforms. Eventually, if the platforms succeed at providing engagement value to your organization, they'll become a part of your new employee onboarding materials and day-to-day workflow.
Employee Engagement Tool Benefits
What can you expect from an employee engagement tool? Depending on which provider you go with, the benefits will vary. However, here are a few common advantages: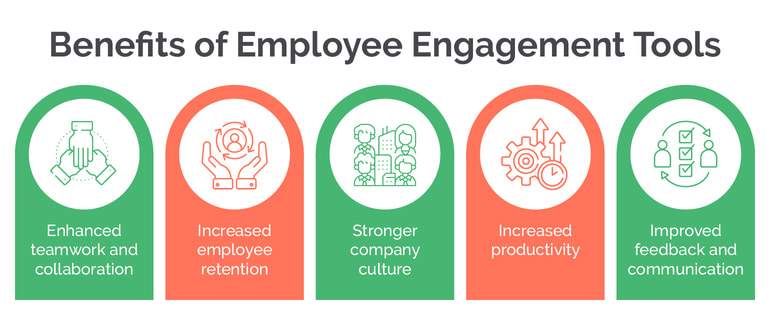 Enhanced teamwork and collaboration. Employee engagement tools open the door for more productive team projects and simplified collaboration.
Increased employee retention. Part of employee engagement is employee satisfaction, and a useful tool will add value to your company's work experience.
Stronger company culture. Engagement tools open lines of communication and can help reinforce company values leading to a stronger, more vibrant company culture.
Increased productivity. With the right tools, your company can break down silos and work together more efficiently.
Improved feedback and communication. Using employee engagement tools to recognize and reward employees can make them feel more valued. Additionally, employees can offer and receive more useful and recent feedback.
To help you discover which employee engagement tool is right for your company, we've broken down our top picks based on employee recognition, feedback, and internal communication. You can adopt one of these tools or several at a time depending on your budget and needs. Remember that as your team expands, you'll also need a scalable tool to keep new and existing employees engaged.
Top Employee Engagement Tool: CSR Software
One of the best ways to engage employees is to develop a CSR program that highlights your company's values and gives back to the causes your employees care about. For example, your hiking supplies business may focus on helping organizations that encourage sustainability and protect wildlife. When employees see their company making a positive difference in the world, they'll be more motivated to stay at the company long-term.
Corporate social responsibility programs can have a lot of moving parts. Here are just a few examples of initiatives your program may include:
Matching gifts. Matching gifts occur when companies match the donations their employees make to nonprofits. Typically, employees donate and fill out a matching gift request form to notify their employer. Then, the company contributes to the nonprofit, helping the organization boost its donation revenue.
Volunteer grants. Volunteer grants function similarly to matching gifts, except instead of donating based on employee donations, companies donate based on employee volunteer hours. Employees can track their volunteer hours with their nonprofit of choice and fill out a volunteer grant request so their employer can contribute.
Fundraising matches. Let's say an employee participates in a walk-a-thon and collects pledges based on the number of miles they intend to walk. Companies that offer fundraising matches would match the amount the employee raises and contribute it to the same cause.
Automatic payroll deductions. To make it easy for employees to get involved in your CSR program, offer automatic payroll deductions. That way, employees can contribute to their favorite causes each month without having to manually navigate to nonprofit donation pages.
You may be wondering how your company can juggle all of these components to properly engage employees. The answer is CSR software.
CSR software is specifically designed to help companies manage their CSR programs. With all the forms and information associated with your program in one place, you can keep track of all relevant data and make it easy for employees to get involved. Check out the CSR program elements that software can help you organize:
Employee donations
Automatic payroll deductions
Matching gift requests
Volunteer hour logs
Volunteer grant requests
Team volunteer opportunities
Company CSR metrics
The best CSR platforms go one step further in increasing employee engagement by integrating with nonprofit-facing tools. On the nonprofit side, many organizations use matching gift software to streamline matching gift requests, and some software providers even offer auto-submission functionality that submits matching gift request forms on the donors' behalf. Look for CSR software that integrates with auto-submission tools to increase program participation and employee engagement.
Employee Engagement Tools for Employee Recognition
Annual or even biannual performance reviews are not enough to keep your employees active and engaged. They benefit from continuous feedback both from managers and peers. Managerial recognition helps directs know that they're on target and keeps them motivated to keep going. Peer recognition boosts camaraderie and reinforces teamwork.
Additionally, employee recognition extends to celebrating milestones and anniversaries. If your employee has been working productively for five years, for instance, you can use an engagement tool to publicly applaud their impressive performance.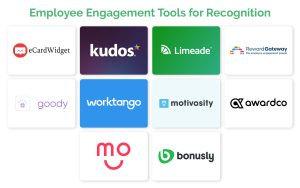 eCardWidget is a powerful digital retention tool built to prove to employees that they are more than just a number. These digital eCards are easy to make, send, and receive, making it easy for businesses to fold into their existing employee recognition programs. To start your engagement campaign, simply add your custom company branding, sort by company value (or any other internal goal), and draft a quick recognition note! Check out this video to learn more about how it works:
What we love about eCardWidget 
eCardWidget is the perfect peer-to-peer eCard site that lets employees share good news and quickly celebrate one another for their accomplishments. 

They have extensive experience as they have helped over 3500 organizations retain top talent and create a welcoming environment. 

This tool works on all major platforms and seamlessly plugs into any website or intranet, making it easy to add to your internal company portal.
eCardWidget stands out because it's extremely easy and enjoyable to use. With the ability to customize eCards using different fonts, colors, and images, you can personalize your recognition efforts and invite employees to use their creativity.
Additionally, eCardWidget provides insights into which employees are sending and receiving eCards. That way, you can gauge which of your employees are contributing to your internal company culture and which are being commended most often by their peers. You may want to recognize these employees more formally for improving the workplace environment.
Pricing: eCardWidget includes free options to Enterprise Options ($200) to best fit your team's size and internal engagement goals. See the pricing page for more information. 

Kudos is another workplace peer-to-peer recognition tool that provides actionable insights into employee performance and culture. You can also use Kudos to create rewards that reflect your company's goals, values, and overall culture. That way, employees can feel motivated and acknowledged for their hard work.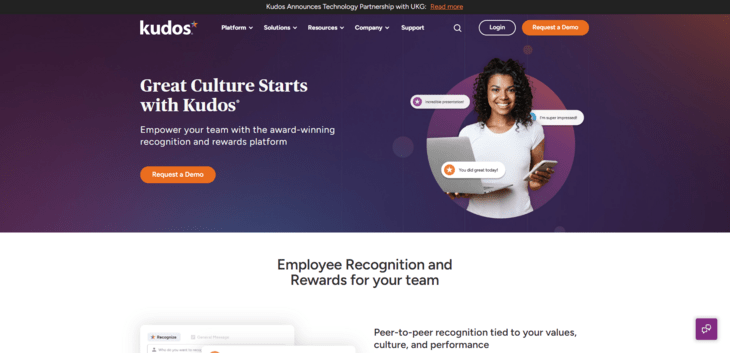 What we love about Kudos
Kudos easily integrates with apps your team might already be using like Slack, Mircosoft Outlook, and Teams, so you don't have to spend time learning a whole new platform.
Kudos uses fun gamification elements like badges, points, and rewards and can win real prizes like gift cards or even AirPods.
With anonymous monthly, Sentiment Surveys, your organization can get a feel for overall employee morale and make critical adjustments.
Pricing: Visit Kudos' website and talk to their sales representatives for more pricing information.
Formally known as TinyPulse, Limeade Listening is a solution for enhanced listening, 1:1 coaching, and employee recognition. This data-backed tool provides opportunities for employees to provide regular, transparent feedback so that they can show up to work as their best selves every day.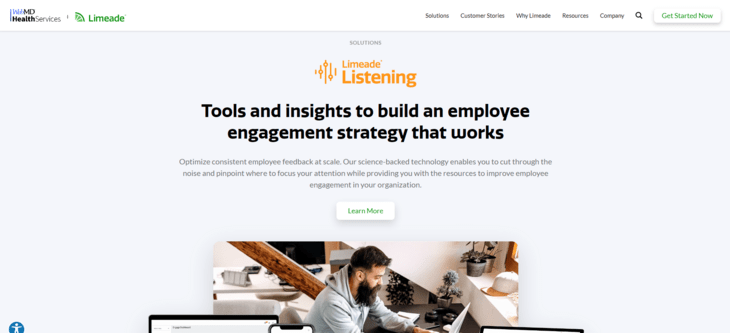 What we love about Limeade Listening
You can easily discover and recognize your company's cultural leaders with management-driven and cross-departmental recognition.
Limeade Listening lets you use data filters and insights to identify and reward those producing outstanding work.
Their tools help managers visualize problem areas and help facilitate regular one-on-one conversations.
Pricing: Visit the Limeade Listening contact page for more information or to book a demo.
Reward Gateway offers a tailored employee reward and recognition program that supports everyone. You can use their platform to quickly celebrate daily success through automation and endless redemption options. Their branded mobile app can even let you celebrate other employees on the go!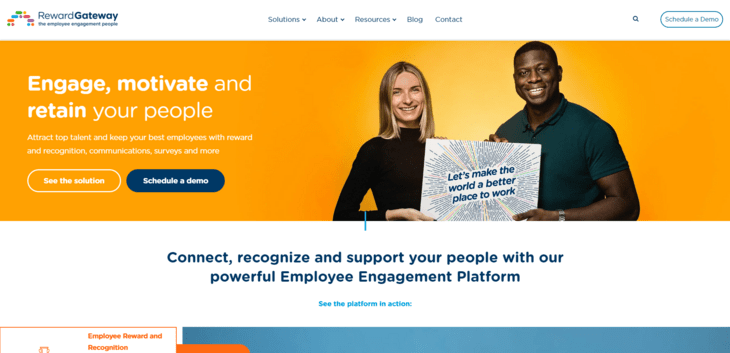 What we love about Reward Gateway
Reward Gateway offers on-the-spot rewards so managers can send immediate and trackable recognition that never lets good work go unnoticed.
With digital or in-person delivery, the sender can decide which method works best for their schedules and will make the recipient feel most valued.
Reward Gateway also offers employee wellness support content to support your company's physical, mental, and financial goals.
Pricing: Browse Reward Gateway's website and schedule a demo to find a pricing solution that suits your team.
Goody is an all-in-one platform for business gifting with no address needed. This simple solution lets recipients provide their shipping information once they accept your gift or they can easily swap it for something else if needed. Plus, with their regularly updated gift collections, you can choose from a selection of best-sellers or trending products.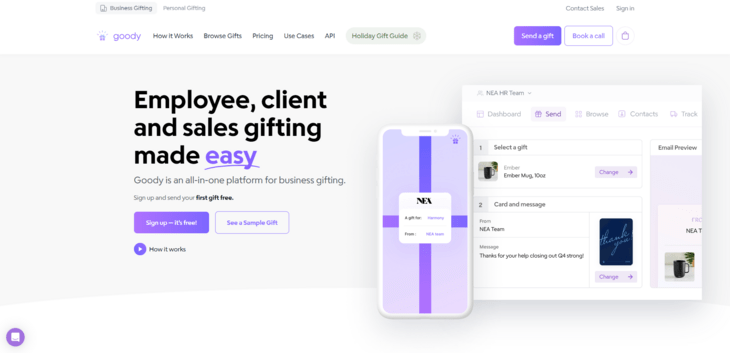 What we love about Goody
Goody's promise to provide "no tacky corporate gifts. Ever." makes their gift selection unique and full of practical and meaningful gifts you can easily tailor to suit employee preferences.
With the ability to send gifts and gift cards to 140+ countries worldwide, Goody makes it easy to recognize global employees.
Goody also lets you access gift receipts, status updates, and thank-you notes in one platform so you can check and update your records accordingly.
Pricing: Goody's plans vary from a free Starter Plan, a $20 Monthly Plan, or a customizable Team Plan for HR, Sales, and Marketing Teams.
WorkTango's holistic employee recognition and rewards, employee surveys and insights, and goals platform provide an effective employee experience. Its recognition and rewards experience amplifies key organizational values and can help your organization foster connections across hybrid and in-person teams.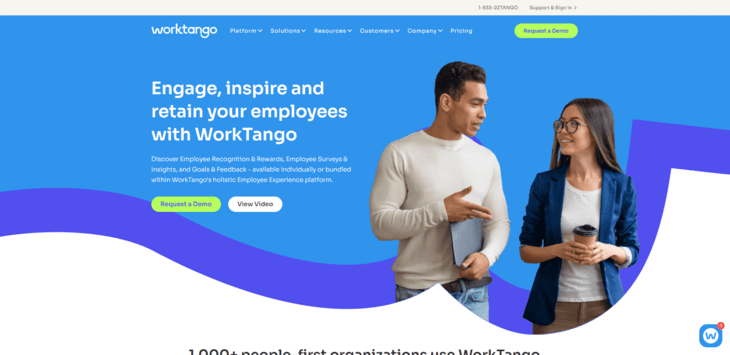 What we love about WorkTango
Worktango offers a customizable recognition option that your team can tailor to peer-to-peer, top-down, or bottom-up recognition initiatives.
You create and schedule custom nominations and rewards that reflect your company's values and are budgeted within a single location.
Your team can use the metrics dashboards to identify key influencers and keep a pulse on culture with real-time analytics.
Pricing: Schedule a demo with the WorkTango team to learn more and see how their solution fits into your company's budget.
Motivosity is a workplace solution built to help your team understand every stage of the employee journey. From recruitment to hiring to engagement and development, Motivosity helps your team understand your each of your employee's career goals and make measurable progress by providing a meaningful growth path. Its employee rewards and recognition add-on helps your team make consistent employee appreciation a reality.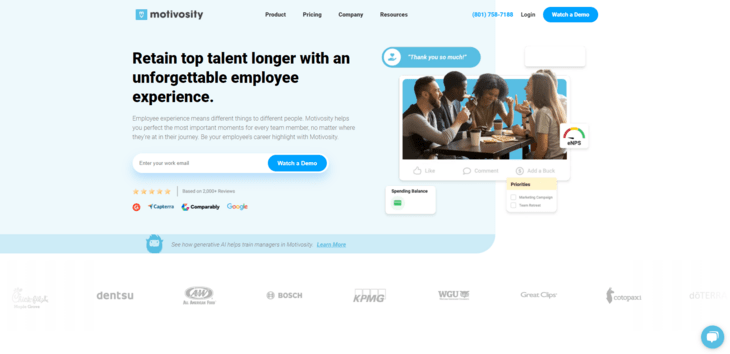 What we love about Motivosity
Motivosity's automated gift card inventories and balances let your team participate in how employees are rewarded without having to keep track of bookkeeping.
Your team can automate company-wide initiatives with custom awards and badges like employee of the month.
Motivosity lets you easily implement spot recognitions for employee birthdays, milestones, and anniversaries.
Pricing: Contact Motivosity to get a pricing quote based on your team's size and engagement needs. They promise to offer a 6-month money-back guarantee.
Awardco is an employee recognition platform that promises to offer millions of employee rewards with free shipping and zero markups. This recognition solution has partnered with Amazon Business to make rewarding effective and easy for both the sender and recipient. That means that your company can feel good about gifting your employees something that they actually love.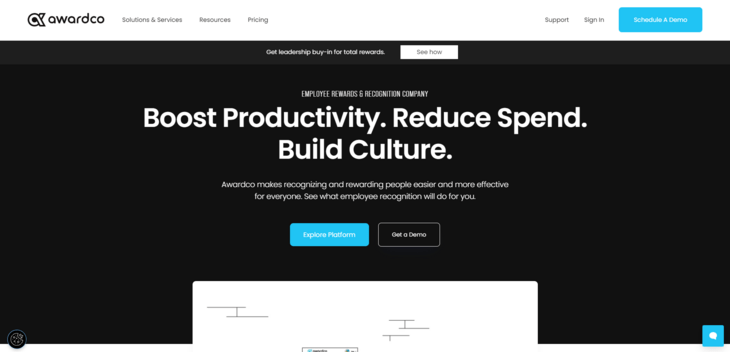 What we love about Awardco
Because of Awardco's partnership with Amazon, they can offer service to over 100 countries with reliable delivery.
Awardco's custom, meaningful rewards catalogs let your company curate the perfect rewards selections for your specific employees.
Integration with Slack and Microsoft Teams means sending support, recognition, and encouragement does not take extra time or effort.
Pricing: Book a time with Awardco's sales team to schedule a demo and discover a pricing quote for your company.
Mo's platform is built to improve retention, increase engagement, and boost productivity. Their software can help your company "drive change faster" with a long feature list from employee engagement and rewards and recognition to communication and insights. Specifically, Mo's employee recognition can help your team create sustainable engagement habits and celebrate meaningful moments.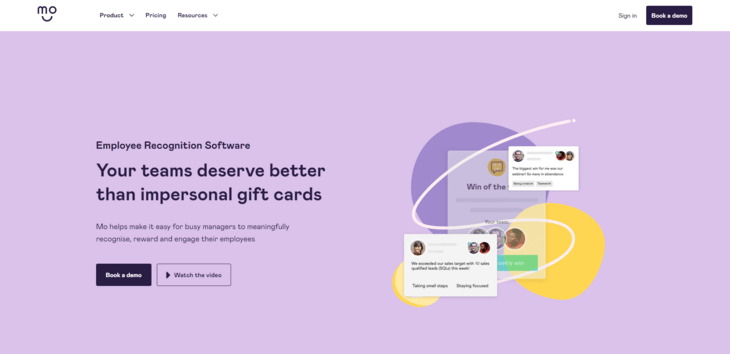 What we love about Mo
Mo incorporates automated Boosts to nudge teams to share and celebrate moments that align with your goals and reinforce positive habits.
With customizable habit tracking, Mo empowers leaders to create habits built for their specific teams using readymade templates.
This tool offers access to a variety of gift cards from popular brands to reward employees. Budget controls and assistant distribution also keep teams in line with budget constraints.
Pricing: Mo provides a $3 Monthly Starter Plan, a $5 Level Up Plan, or a Custom Plan with advanced security and advanced customer support.
Bonusly provides a streamlined, all-in-one engagement platform that fosters candid, social, and expressive recognition. The platform's global catalog lets you select gift cards from popular brands like Nike, Apple, and Starbucks. You can also display digital signage showing recent bonuses in your workspace.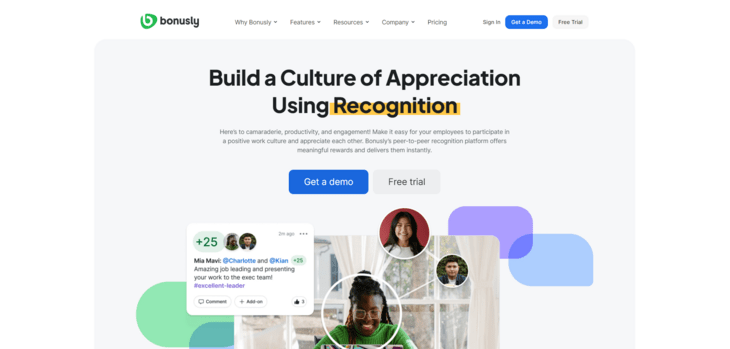 What we love about Bonusly
Bonusly's organized monthly allowance gives employees the chance to give each other small bonuses to recognize their peer's contributions.
The platform's public feed lets everyone see and celebrate employee wins in real time.
With custom rewards, your company can tailor rewards to your company's atmosphere from selecting memberships to gifting athletics shoes or even adding a personal recognition note from the CEO.
Pricing: Bonusly offers $2.70 monthly Core, $4.50 monthly Pro, and Custom Plans for mid-size to large organizations.
Employee Engagement Tools for Feedback
Employees want to know what they're doing well and where they can improve on a regular basis. And with 36.2 million Americans working remotely, it's a must to keep this feedback loop open and accessible. Additionally, incorporating reliable feedback is a way to safeguard against quiet quitting or the common practice of employees leaving unexpectedly. Providing consistent and reliable feedback is the perfect way to mitigate that risk while nurturing positive and candid relationships with managers and directs.
Feedback-based employee engagement tools can help your organization cultivate a rhythm of regular feedback that can put both managers and employees at ease. Browse through our top picks to find a platform that best fits your company's reporting and communication needs.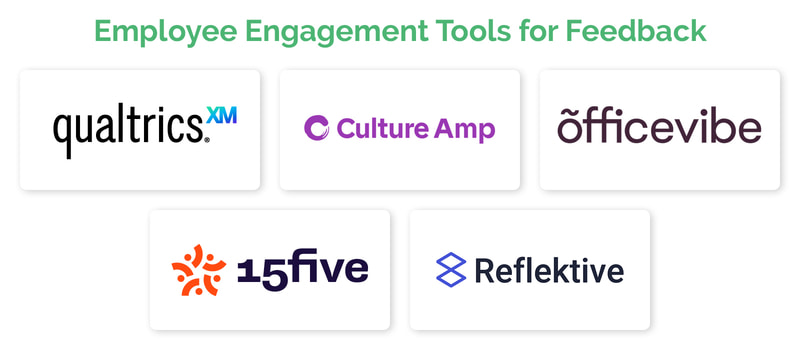 A leader within the employee feedback space, Qualitrics offers three suites to create exceptional customer frontlines, high-performing teams, and products. Qualtrics Core XM, or teams-based performance management, has scalable goal-setting functionalities with automated pulsing for regular feedback.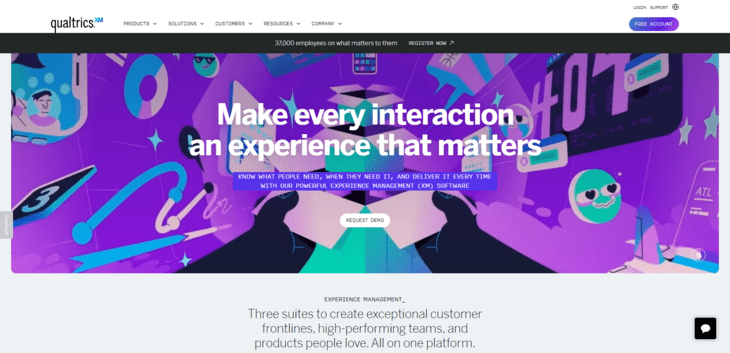 What we love about Qualtrics CoreXM
Qualitric CoreXM provides a useful tool that can help your team predict future satisfaction rates and adjust current processes accordingly.

This performance management tool can be tailored to every point along the employee journey from onboarding to development and exit.

The end-to-end 360 Development tool makes it simple to analyze feedback and construct a personalized development program for every employee. 
Pricing: Contact the Qualtrics CoreXM support team or request a demo to find the right Qualtrics solution for your organization. 
Culture Amp's employee engagement platform can help your organization build high-performing teams through an agile, trusted review process. Managers can review data based on the lifecycle stage of their employees, by demographics, or by time frame with customizable views. This tool is built to foster growth conversations for individual employees, teams, and whole companies wanting a culturally aligned performance process.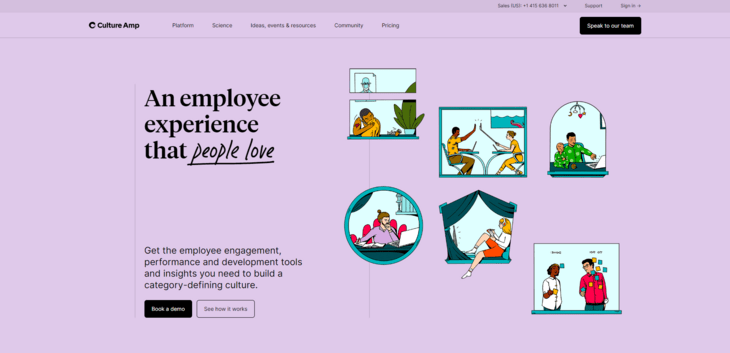 What we love about Culture Amp 
You can access a custom "driver analysis" view to understand which employees are key contributors to office morale and engagement.

Account managers can set up specific surveys for teams to which only a designated manager has access to view the responses.

Culture Amp's Skills Coach integrations with Slack, Email, and Teams make it simple to send daily micro-learnings for your team to develop new skills and foster positive habits. 
Pricing: Culture Amp divides its pricing options between company sizes, from 25 to 1,000+ employees, so your organization can choose platform capabilities that align with your goals. 
Officevibe is an intuitive platform that places managers at the center of their team's success. Trusted by over 8,000 companies worldwide, Officevibe provides impactful performance and development tools that can be tailored to your team's needs. Performance reviews, continuous performance monitoring, one-on-one meetings, and OKRs, and goal setting can be accessed and tracked in one place.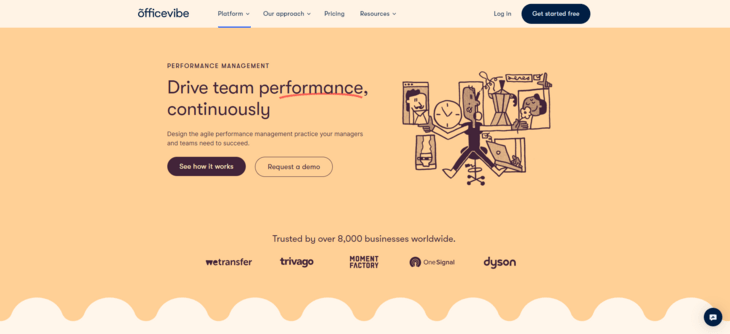 What we love about Officevibe
Officevibe gathers insights to identify both dissatisfaction sources and opportunities for increased efficiency, so your team can access a holistic view.

This tool offers a custom polling option to help you understand your team's perspectives on current projects.

Your team can set weekly automated surveys to individual team members and package the results into a shareable report for the whole organization. 
Pricing: Officevibe's pricing ranges from a free package to a $5 per month package that can be billed annually or monthly. 
15Five is a performance management tool that provides simple and effective reviews for your team to maximize productivity. This tool specializes in actionable engagement surveys that employees actually want to complete and managers can easily understand. These surveys take only 6 minutes and can be completed from anywhere, making engagement as easy as possible.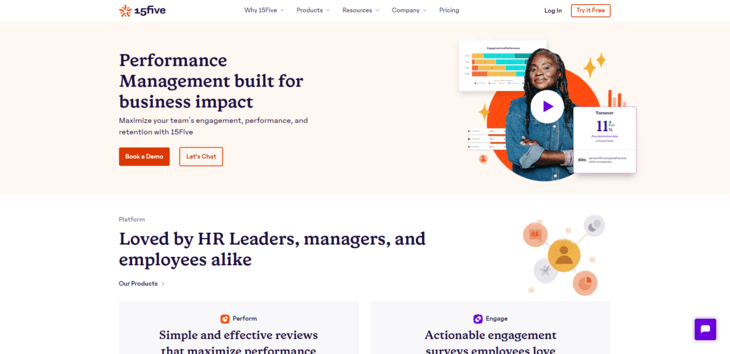 What we love about 15Five 
Managers can customize their survey questions using 15Five's list of valuable prompts so that they can get specific answers to their most crucial questions.

Managers can also set different viewers for each employee, so the right eyes are recording employee responses. 

15Five provides a scalable solution that enables managers to create groups related to achieving team-wide and company-wide goals. 
Pricing: 15Five offers four pricing options which range from $4 per month to $14 per month depending on your company's platform needs. 
Reflective's performance management platform helps companies scale constructive and ongoing conversations to increase employee satisfaction. This platform includes solutions for 1:1 conversations, reviews and check-ins, and feedback cadences. That way, high performers can get their voices heard and receive actionable development insights.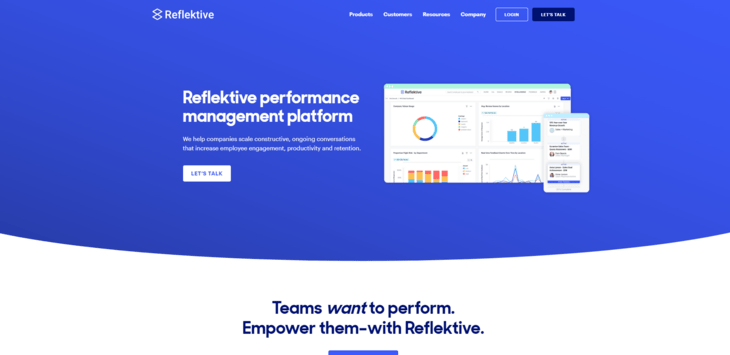 What we love about Reflektive
Managers can easily conduct yearly, quarterly, or monthly performance reviews through the platform.

Employees can add peer feedback within the platform in addition to top-down feedback through manager-controlled morale polls.

Reflektive includes a handy feature that lists out your company's organizational goals and team goals so directs can always reference what they are working towards. 
Pricing: Talk with the Reflektive sales team to schedule a performance management consultation and discuss your company's engagement goals. 
Employee Engagement Tools for Internal Communication and Project Management
With more and more projects to manage, employees to onboard, and growth goals to hit, the need for highly efficient internal communication has dramatically increased. Additionally, with every new communication touchpoint, your company needs a project management solution that grows with you. To find a technical solution that streamlines your team and your work, you'll need to research the top players. To help you get started, we've drafted our top picks: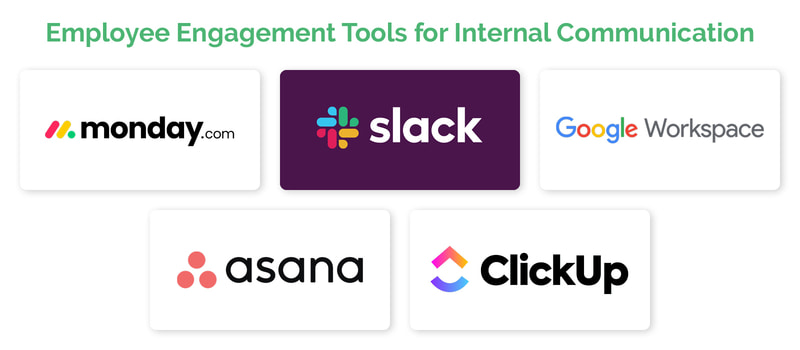 Monday.com is a well-known engagement tool to boost your team's alignment, efficiency, and productivity. This highly customizable platform can be tailored to suit creative and design, software development, marketing, project management, sales and CRM, task management, HR, and so much more.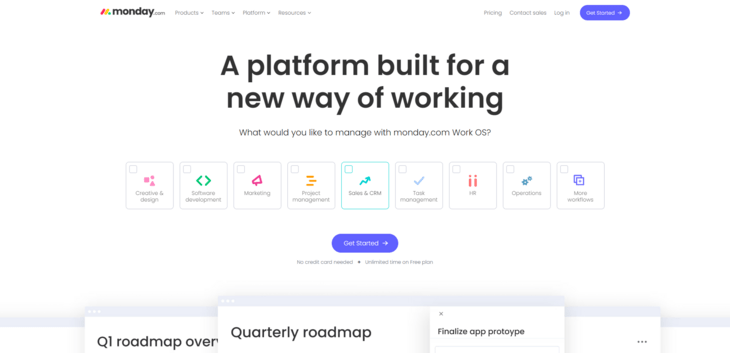 What we love about Monday.com
Monday.com provides customizable views that allow individual team members, teams, and administrators to select a view that's most optimal for them.
The platform includes convenient automation features that notify team members when they need to complete flagged tasks.
Monday.com's campaigns dashboards, status tracker, monthly planning, date column, and a slack plugin can help your team keep tabs on every project's status.
Pricing: Monday.com's pricing ranges from a free to a $16 seat per month Pro Package to a deluxe Enterprise Package for larger teams.
Slack is a channel-based communication tool with organized systems built to connect your teams across departments, offices, and time zones. This tool also allows you to build your own workflows enabling you to switch between fewer tabs during your routine tasks. Plus, with Slack's immediate and straightforward internal communication systems, your team can enjoy sending and receiving fewer emails.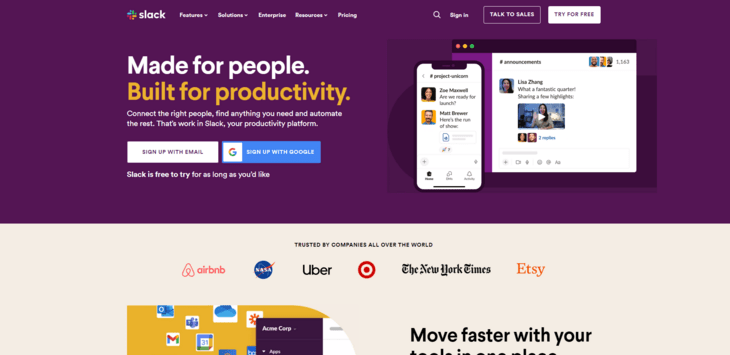 What we love about Slack
Slack offers chat, audio, and video clips so your team can easily hop on a huddle or talk things out live.
Slack's easy-to-use communication channels result in fewer meetings and faster team progress.
This communication tool has collaborative file and document sharing so that your team can seamlessly tell and show your work.
Pricing: Depending on your organization's needs, you can select a Free Package or an Enterprise Grid Package for large-scale team collaboration.
GoogleMeet offers comprehensive video conferencing services ideal for remote, hybrid, and global employees. The video conferencing tools let individuals using different devices and screens connect from anywhere with a stable internet connection. Businesses can use GoogleMeet to conduct meetings with up to 500 internal or external participants.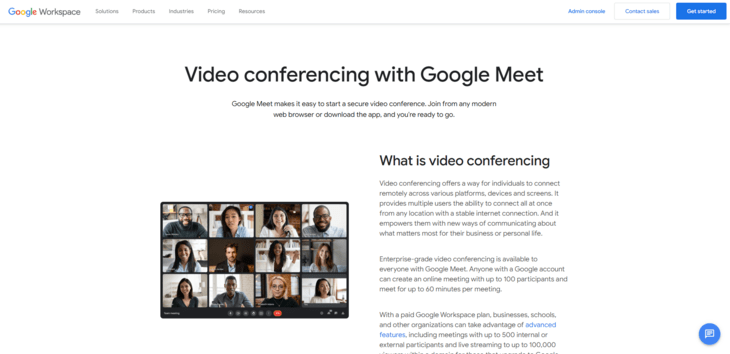 What we love about GoogleMeet
Your team can access GoogleMeet from their phone, tablet, or laptop.
Anyone with a Google account can easily set up and access GoogleMeet, making it simpler than ever to attend meetings or hold conferences.
GoogleMeet provides live captioning, meeting host controls, screen sharing, and Google and Microsoft integrations to keep your meeting organized and efficient.
Pricing: GoogleMeet provides a $6 Business Starter Package, a $12 Business Standard Package, and a $18 Business Plus Package all billed monthly.
Asana is an effective platform for cross-functional work. With calendar tools, timeline charts, goal tracking, automation, and workload management, Asana offers a wide range of management and collaboration capabilities. You can also sync tasks across multiple projects, to see work in different contexts without creating duplicates.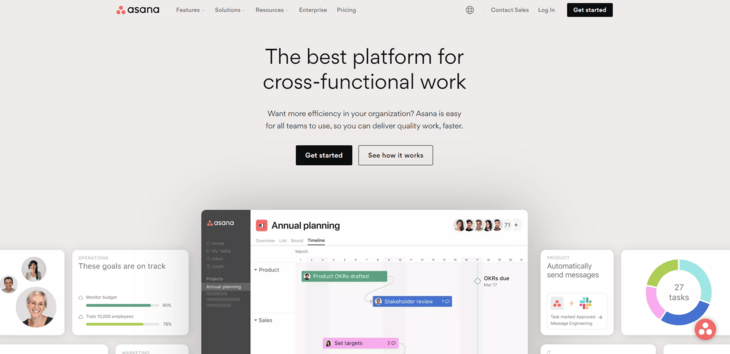 What we love about Asana
Asana has Mind Maps, wireframes, and checklists to visualize progress for larger and more involved projects.
The real-time chatting features and task assignments can create clear management workflows and ensure everyone knows which objectives to focus on.
Asana's time-tracking features and insights give your team an inside look into how your team divides time per project.
Pricing: Asana's pricing plans range from a Basic free plan to a $24.99 Business Plan that includes advanced integrations with Salesforce, Adobe Creative Cloud, Tableau, and Power BI.
ClickUp is a work solution customizable to fit any type of work from personal tasks and team collaboration to company-wide organization. ClickUp's nonprofit selection is especially useful for tracking funding and calculating budgets in addition to creating and sharing accessible volunteer schedules. ClickUp's variety of project management, remote work, personal, CRM, and business operations make it really simple to find a solution that works best for your organization.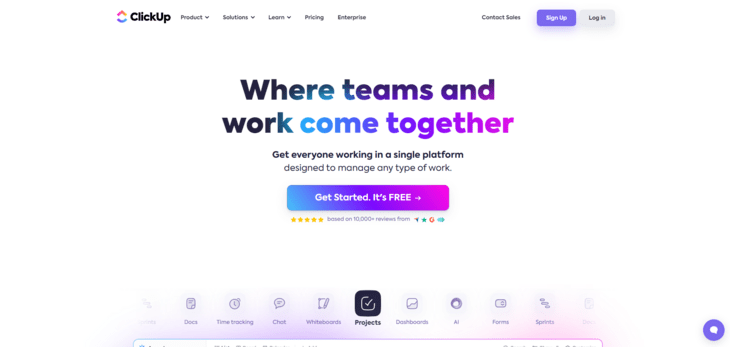 What we love about ClickUp
ClickUp's virtual networking spaces make cross-departmental meetings a breeze.
Clickup offers beginner, intermediate, and advanced templates to structure your workflows the way you want.
Within the project management template, your team can create a sprint system that tracks performance with real-time reporting metrics.
Pricing: ClickUp's pricing provides a Free Package that's best for personal use along with four other pricing packages that range from $5 monthly to $19 monthly.
Employee Engagement Tools: Final Thoughts
Choosing the right employee engagement tool can be a powerful way to transform your organization's recognition, feedback, communication, and project management. These tools help you also solve problems before they arise and maintain employee retention.
Did you enjoy this guide to employee engagement tools? Check out these resources to keep learning:

https://doublethedonation.com/wp-content/uploads/2023/05/Employee-Engagement-Tools_Feature-1.png
630
1600
Adam Weinger
https://doublethedonation.com/wp-content/uploads/2022/03/logo-dtd.svg
Adam Weinger
2023-05-26 13:22:03
2023-11-29 19:14:51
A Full Guide to Employee Engagement Tools + 20 Top Picks