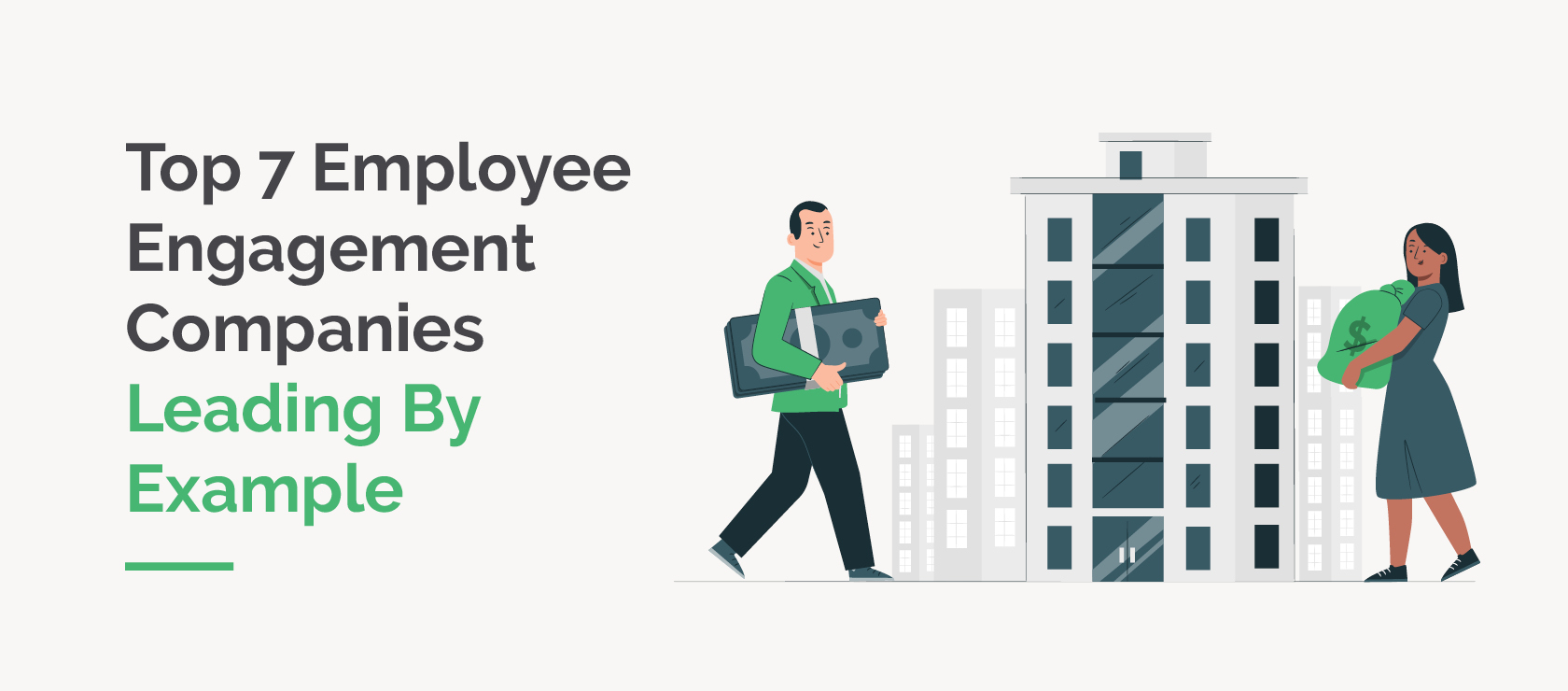 Top 7 Employee Engagement Companies Leading By Example
Employee engagement has become an increasingly important part of organizational success. After all, businesses with engaged employees are 23% more profitable than companies whose employees are not engaged.
However, if you're just starting to prioritize employee engagement, it can be difficult to determine where to begin. It can be helpful to take a look at what other companies are doing to engage their employees to gain actionable insights into how your organization can handle your new priority.
To show you how you can center employee engagement in your organization, we'll cover the following topics in this guide:
Before we dive into the companies leading by example with their employee engagement programs, you need to understand what exactly employee engagement is and why it's important. Let's get started!
What is employee engagement?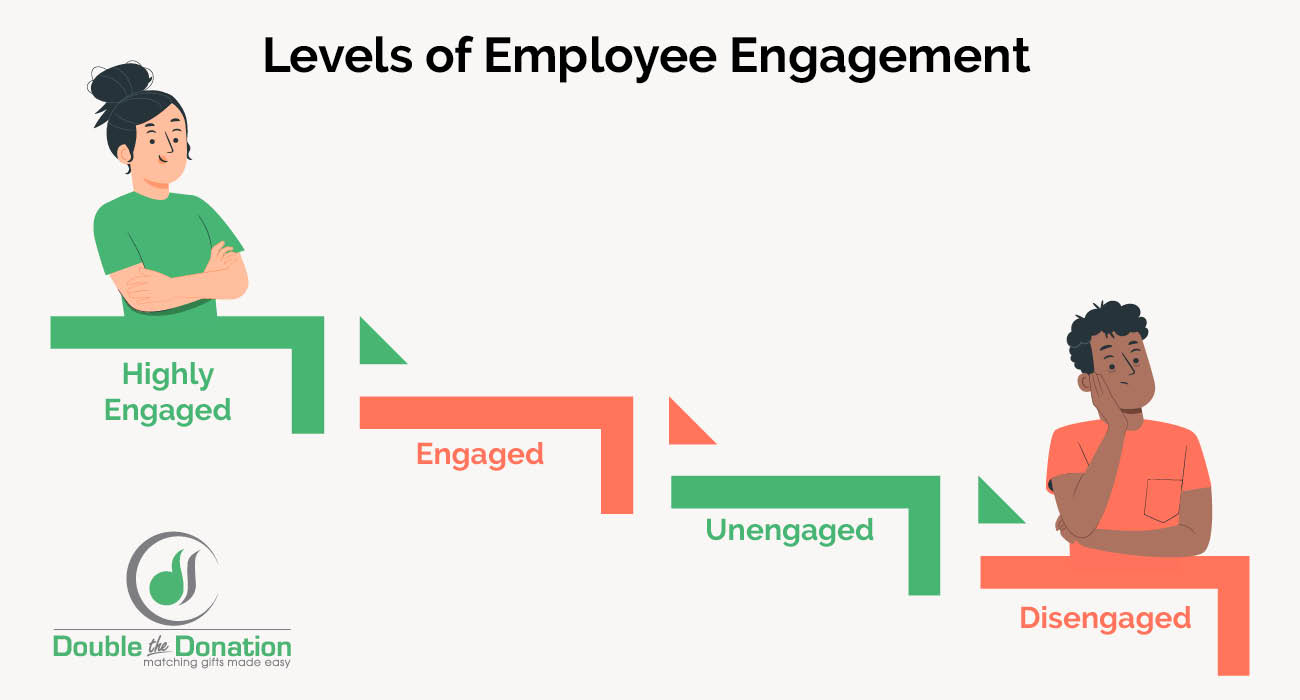 Simply put, employee engagement refers to the level of emotional and mental connection an employee has to their team, general workplace, and employer. This translates to the employee's commitment to the organization and dedication to achieving its goals. There are four different levels of employee engagement:
Highly engaged. Highly engaged employees have very favorable opinions of their team, workplace, and employer as a whole. They're extremely committed to their organization and willing to go above and beyond to help achieve its goals. Plus, they're likely to motivate other employees around them with their positive attitude.
Engaged. These employees like their work but might feel less satisfied about certain aspects of the organization. While they're still committed to their organization's success, they're less likely to go above and beyond their call of duty than highly engaged employees.
Unengaged. Unengaged employees feel unattached to their team, workplace, and employer. They're not committed to their organization and not dedicated to helping achieve its goals. While they're not unhappy with their work, they aren't happy either. These employees usually fulfill the bare minimum of their responsibilities and little more. They'll put time into their work but not their energy or passion.
Disengaged. These employees are actively unhappy with their work and may even be resentful that their employer isn't meeting their needs. This discontent may result in them acting out on their unhappiness, underperforming in their responsibilities, and even undermining the work of their more engaged coworkers.
As you begin evaluating the general engagement levels at your organization, keep in mind that engagement does not equal enthusiasm. It's easy to look at a happy employee and assume that they're engaged with their work. However, employee engagement is tied to your organization. Ask yourself: Is this employee connected to their work alongside being a happy person?

What are the benefits of employee engagement?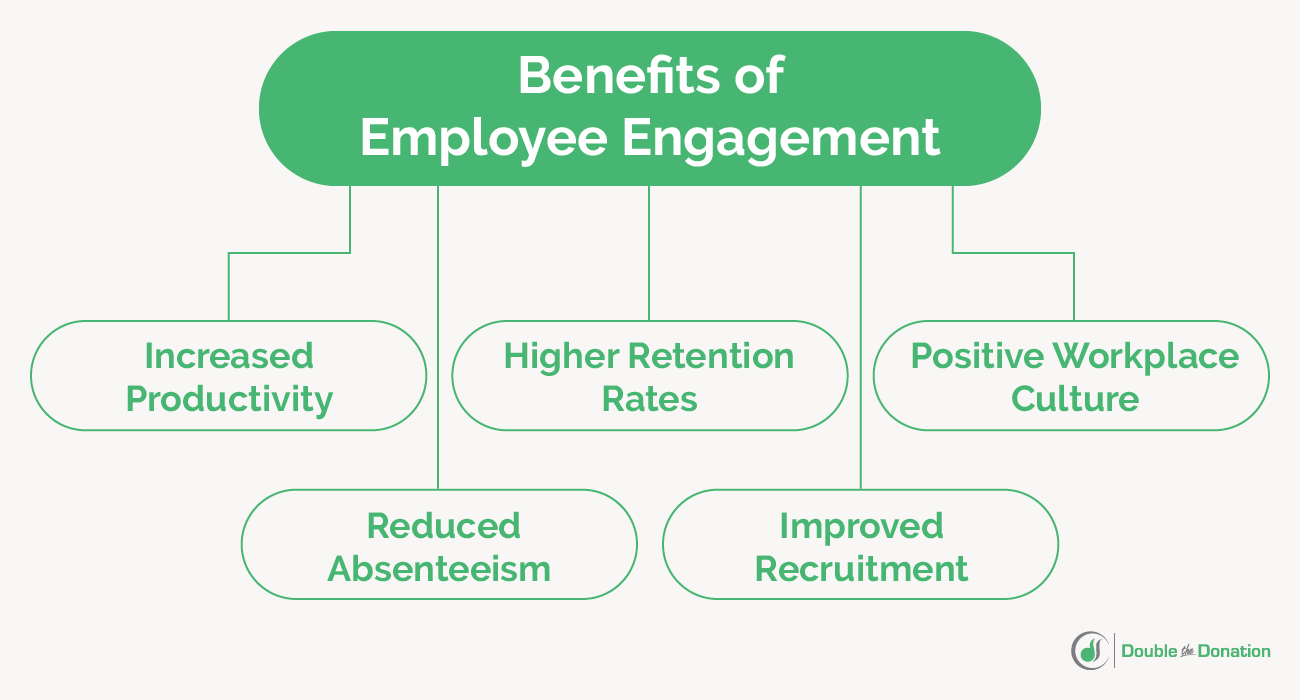 We've lightly touched on a few benefits of employee engagement. The main one is profitability—employees who are determined to help your organization meet its goals are more likely to do their best to increase your cash flow.
Aside from profitability, here are a few other benefits for companies with engaged employees:
Employee engagement is important for all organizations, even those that work in the nonprofit sphere. Plus, it's especially important for companies that have remote or hybrid employees, as those individuals are more likely to feel emotionally disconnected from their employer due to physical distance.
By prioritizing employee engagement, you'll be able to leverage these benefits to your organization's advantage. It's a win-win—your company will see greater success and your employees will be happier to contribute to that.
The Top 7 Employee Engagement Companies
Now that you know more about what employee engagement is and how it's helpful for your organization, let's take a look at the top employee engagement companies that are leading by example.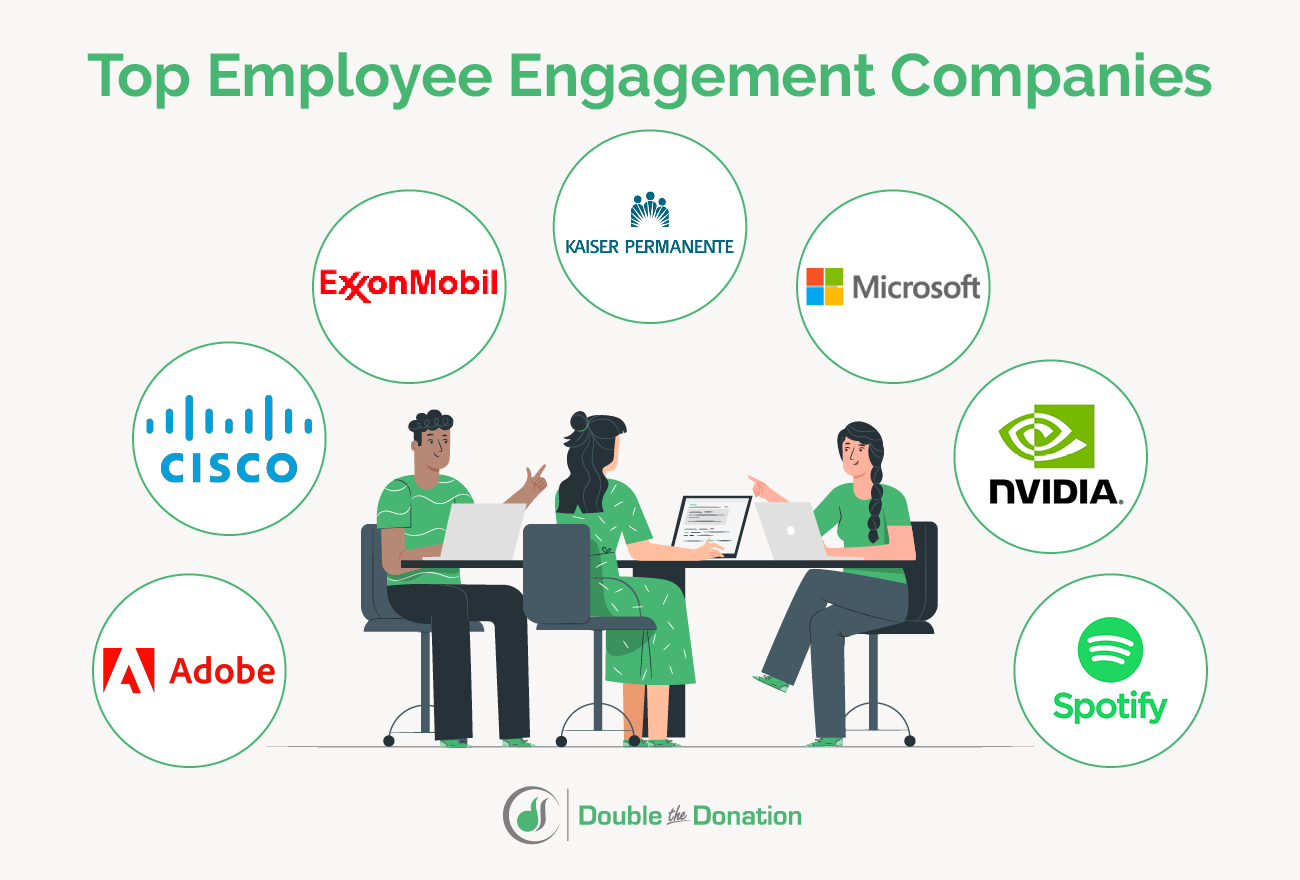 1. Adobe
If you've worked with or created visual media before, you're undoubtedly familiar with Adobe. This company offers a product suite for photographers, videographers, graphic designers, and more. Founded on the idea of creating innovative products that change the world, Adobe also prioritizes employee engagement alongside offering technology that empowers people to create.
Here are a few ways the company handles employee engagement:
Work and life integration. Adobe promotes work-life balance by offering a company winter and summer break. Plus, it offers a wellness fund for each employee up to $600 and sabbaticals starting at four weeks off after five years of working at the company.
Learning fund and reimbursement. This company supports employees on their learning journey by offering funds and reimbursements for educational material. It provides a learning fund of up to $1,000 every year and educational reimbursement of up to $10,000 a year.
Frequent employee engagement dialogue. Aside from these benefits, Adobe discusses how leadership can better improve the workplace. It keeps employee engagement dialogue going year-round by conducting regular surveys to understand their workers' everyday experiences.
Additionally, Adobe has a special focus on helping employees from underrepresented groups gain visibility and grow in their careers. To that end, it provides programs that help employees build leadership skills and connect with other employees across the company.
2. Cisco
Cisco provides innovative cloud-based networking and security solutions to businesses. Its mission is to power an inclusive future for all with technology that connects the world.
Additionally, Cisco believes in creating a workplace where employees can find more than just a job. Ranked by Fortune as one of the best companies to work for, Cisco uses the following strategies to center employee engagement:
Company-wide shut downs. Throughout the year, Cisco will occasionally choose to shut down to let employees recharge. Plus, there's a company-wide shut down at the end of the year, giving employees time off to spend with families over the holidays.
Corporate social responsibility (CSR). Cisco follows through on its mission of powering an inclusive future for all by giving back to the global community through CSR. It features a reporting hub and is environmentally and socially conscious throughout its entire supply chain, engaging its employees with these practices.
Employee recognition. High performers are motivated to stay connected and work hard with Cisco's employee recognition initiative. This initiative singles out exceptional employees who deserve kudos for their achievements from colleagues and peer organizations outside the company.
Cisco recognizes that it's important for workforce leaders to understand employee needs and provide an ideal work experience without sacrificing performance. And its efforts are working, as they are one of PEOPLE magazine's top companies that care.
3. ExxonMobil
This oil and gas company pioneers new research and technologies dedicated to reducing emissions while creating more efficient fuels. It's also committed to engaging its employees in meaningful ways—and it's paying off. In a survey conducted by resume.io, ExxonMobil ranked 15th in employee retention in the United States with a median employee tenure of seven years.
A few of the ways this company focuses on employee engagement include:
Training opportunities. ExxonMobil is committed to enabling its employees to reach their full potential. It invests in talent by delivering educational training courses to employees so that they can develop new skills and initiates a leadership program alongside career advocacy and mentoring programs. Plus, it performs more than 10,000 internal job rotations to support development plans.
Emphasizing thriving. To ensure that employees are thriving in the workplace, ExxonMobile releases company-wide surveys to strengthen its culture framework. Additionally, it supports flexibility, health, and long-term security through its PTO policies, wellness programs, financial planning initiatives, and more.
Centering inclusivity and diversity. ExxonMobil strives to create an inclusive and diverse work environment starting from the top down. Since 2016, women and U.S. minority representation has improved by over 50%, and its employees come from over 160 nationalities. It also fosters inclusive behaviors through annual skills assessments and their culture framework.
This company's employee engagement strategies have resulted in visible benefits. For example, it was awarded the top most attractive U.S. energy company for engineering students for 10 consecutive years and the second most attractive company globally. It also has strong global acceptance rates from potential employees, about 10-15% higher than other large companies.
Plus, ExxonMobil boasts corporate giving initiatives that keep its employees engaged with philanthropy. If you'd like to learn more about their programs, click on the button below!

4. Kaiser Permanente
Kaiser Permanente is a healthcare organization that operates hospitals and medical offices and provides health insurance. Aside from caring for the well-being of employees at other organizations, it also focuses on engaging its own employees.
Here are three reasons why Kaiser Permanente is an example of a great employee engagement company:
Investing in employee well-being. Aside from investing in wellness research, this company has implemented various wellness initiatives, including healthy eating and resilience training programs. It offers employees various health insurance packages in addition to plenty of holidays, sick leave, and time off to recharge.
Giving back to the community. Corporate citizenship is one of Kaiser Permanente's core values and it's reflected in its employee engagement programs. In addition to weekly community outreach programs, employees have access to quarterly outreach programs to give back outside of the office environment.
Support for veteran employees. Kaiser Permanente is recognized as a top Military-Friendly Employer, offering military transition programs to prepare junior military officers for successful leadership roles within the organization. It actively tries to provide better employment opportunities for veterans and their spouses.
As a health-related company, Kaiser Permanente leadership understands the importance of creating a positive and healthy workplace environment to engage its employees.
5. Microsoft
This technology corporation doesn't measure employee engagement—it measures employee thriving. It defines thriving as "to be energized and empowered to do meaningful work." As one of its core aspirations, employee thriving is meant to help employees find their sense of purpose within the company.
A few ways Microsoft focuses on employee engagement and thriving include:
Prioritizing communication. Through its internal employee engagement program, AskHR, Microsoft prioritizes communication between human resources and employees to ensure that employee inquiries are properly addressed. Employees can use the AskHR app to submit a variety of requests that the HR team fulfills promptly. Additionally, Microsoft uses a pulse survey tool to review if employees are thriving and obtain feedback regularly.
Creating a growth culture. This company doesn't just offer professional development opportunities; it promotes a growth culture and mindset. Rather than being "know-it-alls," employees should be "learn-it-alls." Microsoft supports employees seeking professional development by recognizing those who show a growth mindset.
Team-building and networking opportunities. Microsoft acknowledges that forming bonds with coworkers is part of a healthy, thriving workplace culture. It empowers its workers to do that by arranging team-building events to rally employees behind solid company values. For example, it bolsters its commitment to CSR through community volunteering activities.
From Microsoft's perspective, thriving is different from work-life balance—the former is about being motivated to do meaningful work, and the latter involves an employee's personal life, too. While it's possible for an individual to thrive but lack work-life balance or vice versa, Microsoft is dedicated to creating a positive experience in both aspects for its employees.
6. NVIDIA
Multinational tech company NVIDIA designs top-of-the-line graphics processing units, cutting-edge computer chips, and effective employee engagement programs. This organization is dedicated to creating an empowering environment where employees have the support and inspiration to take on the world's greatest challenges together.
Here are a few elements of their employee engagement strategy:
Physical and mental health. NVIDIA prioritizes physical and mental health by providing a variety of health plans for its employees. It offers a choice between five different medical plans, allowing employees to select the plan that works best for them. It also provides dental and vision plans, flexible spending accounts, and health savings accounts. Plus, it has resources for virtual care, so workers feel empowered to seek the care they need.
Programs for parents. This company has one of the nation's best parental policies. It includes 22 weeks of fully paid parental leave, unlimited reimbursements for adoption and surrogacy expenses, and plans that cover in vitro fertilization and egg freezing. Additionally, for employees with older children, NVIDIA partners with Collegewise to offer complimentary college preparation resources.
Support for life changes. NVIDIA leadership understands that extenuating circumstances can impact an employee's ability to work and engagement with their work. From marriage and divorce to moving to losing a loved one, this company offers resources and programs to help employees navigate their life changes.
Although NVIDIA lives in the technology industry, it understands that its employees are not robots or data points and deserve compassion and empathy. It's committed to supporting its team members holistically, not just as employees, but as humans.
7. Spotify
Spotify is one of the world's largest music streaming service providers, with over 550 million active users. It offers over 100 million songs and five million podcasts to listeners. Aside from that, it's also one of the leading employee engagement companies.
A few ways that Spotify keeps its employees motivated and engaged in their work are:
Embracing self-leadership. Spotify leadership encourages all employees to drive their own development. This practice empowers employees to take ownership of their career trajectories and seek out what they need to grow.
Inspiring innovation. Innovation is one of Spotify's core values, and it acknowledges that to innovate, you must disrupt the status quo. It encourages its employees to find new ways to be disruptive by making it safe to fail. This value creates a culture where employees are not afraid of being bold or taking risks and making mistakes.
Centering sincerity and collaboration. Sincerity and collaboration are two other core values at Spotify. This company puts these values into practice by leading with transparency, engaging with open minds, and delivering honest feedback. Employees recognize that they are all one big team, which means that they share ideas and best practices across business units and despite traditional hierarchies.
When it comes to its employees, Spotify's approach is that they are all a band—dependent on each other to create the best audio experience. This employee engagement company focuses on creating an environment where employees are energized and excited to inspire those around them and drive innovation.
Additional Resources
Business magnate Richard Branson once said that businesses should "train people well enough so they can leave [and] treat them well enough so they don't want to." And these companies do—in some shape or form, they've mastered the art of employee engagement to create a great environment where employees are happy and even proud to work. As you begin forming or improving your organization's employee engagement initiatives, consider taking a leaf out of their book to create a great experience for your team members.
If you'd like to learn more about employee engagement, consider the following resources:

https://doublethedonation.com/wp-content/uploads/2023/10/Employee-Engagement-Companies_Feature.jpg
740
1680
Adam Weinger
https://doublethedonation.com/wp-content/uploads/2022/03/logo-dtd.svg
Adam Weinger
2023-11-01 14:11:25
2023-11-09 12:38:54
Top 7 Employee Engagement Companies Leading By Example