25+ Top Corporate Volunteering Ideas to Inspire Employees
Expectations of the modern company have changed. To many people, a successful, noteworthy company is not just one that earns profits or offers enticing employee benefits. To win the support of employees, consumers, and other stakeholders, you must also stand as an advocate for social change. That's where corporate volunteering comes in.
77% of consumers are more motivated to purchase from companies with CSR initiatives. By facilitating corporate volunteering, your company can power social good while engaging your employees in meaningful, rewarding activities. Whether you already have an established philanthropy program, or you're just looking to launch one, you'll need to build a repertoire of compelling volunteer ideas to inspire employees to participate.
We've compiled over 25 inspiring in-person and virtual ideas, along with tips on making the most of each corporate volunteer experience, in the following sections:
Chances are, many of your employees enter their roles expecting more than just responsibilities and a paycheck. Through corporate volunteering, you can help them find a larger purpose in their roles and encourage them to stay with your company for the long term.


Corporate Volunteer Activities: FAQs
Before we explore corporate volunteer ideas to engage your employees, let's answer some frequently asked questions to get you started on the right foot.
What is corporate volunteering?
Corporate volunteering, or employee volunteering, refers to the time and skills that a company's employees dedicate to charitable causes as part of their combined corporate social responsibility (CSR) efforts.
Since the estimated national value of every volunteer hour is $31.80, corporate volunteering allows companies to make a substantial difference in supporting nonprofit missions worldwide and leave a lasting impact on society.
What are the benefits of corporate volunteering?
While it's clear that volunteering brings significant benefits to nonprofits, it can be very rewarding to your company as well. By incorporating corporate volunteering ideas into your philanthropic initiatives, you can: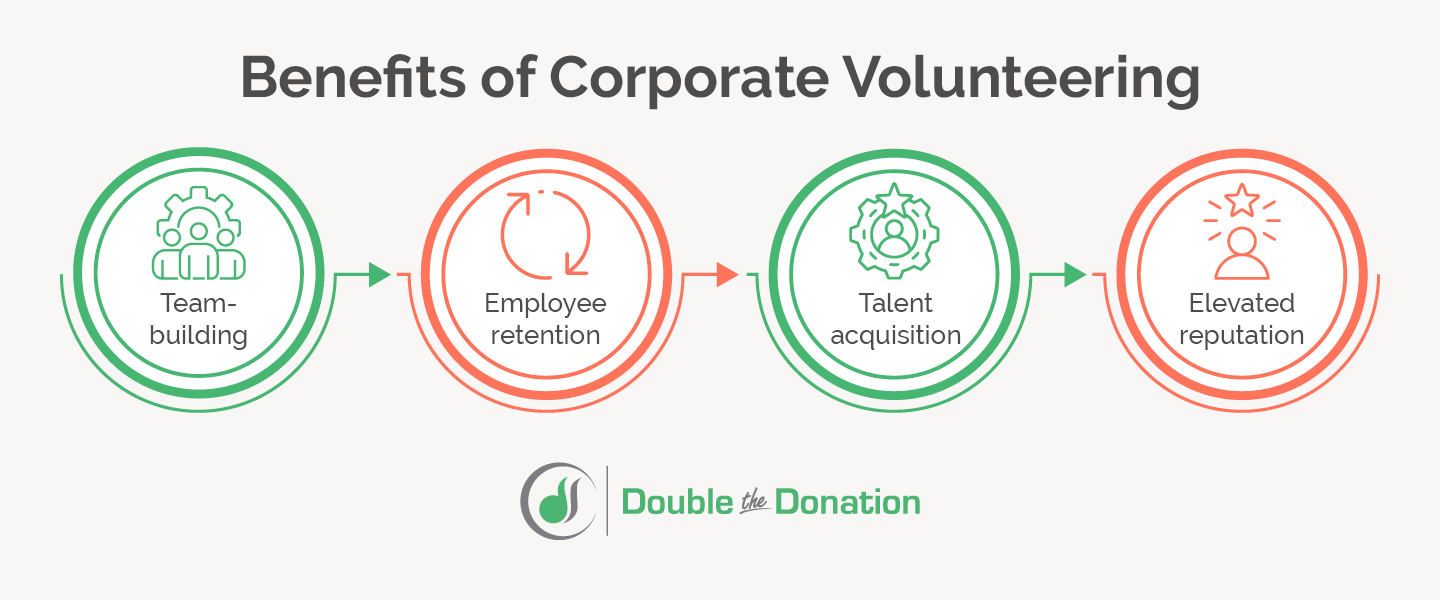 Promote team-building. A winning company culture relies on team-building. By assembling employees for a corporate volunteer event, you'll help them develop collaboration and communication skills that they can then apply to their roles.
Boost employee retention. It's one thing to have your employees show up for work every day. It's another to have them fully invested in their roles and your company's overall success. Corporate volunteering enables you to better engage your employees by creating a sense of community and purpose among them. This makes them more likely to stick around year after year.
Increase talent acquisition. According to a survey conducted by Paul Polman, 76% of U.S. employees want to work for a company that is trying to have a positive impact on the world. If your company makes it clear, through its corporate volunteering efforts, that it's committed to the common good, then you'll attract many more socially conscious job seekers to your roles.
Elevate your reputation. Ultimately, corporate volunteering demonstrates that your company is interested in more than making profits. This can go a long way toward building trust and cultivating support within your community.
While other corporate giving initiatives, such as community grants, can lead to similar benefits, corporate volunteering is one of the most popular and effective ways to directly engage employees in your social impact.


15 In-Person Corporate Volunteering Ideas
In-person corporate volunteer activities allow your employees to get directly involved in their local neighborhoods. Consider the following ideas to start engaging employees and strengthening connections with your community:
1. Organize a community cleanup.
Keep America Beautiful estimates that there are nearly 50 billion pieces of litter along U.S. roadways and waterways. Gather your employees to clean up a local park, beach, or other public space in your local area. This will not only create a more beautiful place for everyone to appreciate, but it will also reduce pollution and protect wildlife in the area.
Furthermore, this corporate volunteering idea can inspire local residents to pay more attention to their carbon footprint and how they can take better care of the community in which they live.
2. Spend a day at an animal shelter.
Enlist your employees to help out at an animal shelter for a win-win corporate volunteer activity. They'll improve the lives of animals in need of homes, and at the same time, experience a boost to their mental health. Studies indicate that spending time with dogs can raise oxytocin and dopamine levels in people, which promote happiness and reduce anxiety.
There are a variety of volunteer roles that your corporate employees can fill at an animal shelter, such as walking dogs, taking pictures of adoptable animals, and cleaning up the shelter.
3. Build homes for people in need.
If your employees spend much of their time sitting in front of a desk, this corporate volunteering idea provides a wonderful opportunity for them to get active for a worthy cause. To organize this activity, you'll typically partner with a nonprofit, such as Habitat for Humanity, that can oversee your employees' efforts and guide them through the construction process.
Bank of America is one standout company that champions affordable housing, with a 30+ year partnership with Habitat for Humanity. Their employees spend about 35,000 a year supporting the nonprofit's initiatives and making a difference in the lives of people facing housing insecurity.
4. Visit a senior center.
There are numerous roles that corporate volunteers can fill at a senior center. Depending on your employees' skills and interests, they can:
Speak with and provide companionship to residents.
Lead arts and crafts activities.
Help with administrative tasks.
Assist with meal preparation.
Beyond lending a hand with daily activities, your employees can even plan and host a holiday party or another type of special event to brighten up residents' lives.
5. Partner with a homeless shelter.
Last year, homelessness in the United States reached record highs. Support your local homeless shelter and assist an increasingly vulnerable population by:
Preparing and serving meals.
Helping children with their homework.
Sorting donated clothes and other goods.
Leading life skills workshops, such as resume writing.
Planning a corporate volunteer event at a homeless shelter is an opportunity for your employees to make a direct impact on the lives of other people in their community. They can not only help raise awareness about homelessness, but also build meaningful relationships with people in need of compassion and support.
6. Help out at a food bank.
Visiting a food bank is a popular volunteering activity for companies and individuals alike. Employees can work together to sort food at the facility, and then transport and distribute these supplies to support hunger relief in the community.
Disney is another company that has a particularly impactful corporate volunteering program. Employee participants in Disney's VoluntEARS program often team up with food backs to address the needs of thousands of food-insecure community members. Beyond that, they get involved in initiatives ranging from making blankets to recording bedtime stories for children living in rural areas.
7. Support a school improvement project.
Engage your employees in enhancing the education of local students by participating in a school improvement project. These projects might involve:
Renovating classrooms.
Making improvements for accessibility.
Beautifying the school through landscaping and gardening.
Expanding and updating a school library.
This corporate volunteering idea is a stellar way to invest in the future generations of your community. To get started, reach out to local schools and identify those in need of support. With a thoughtful approach, your company can build lasting partnerships and set up more corporate volunteering opportunities in the future.
8. Donate blood.
According to the American Red Cross, someone in the United States needs blood and/or platelets every two seconds. Your company can either host its own blood donation drive or encourage employees to attend one that another organization is holding in the local area.
Before the event itself, be sure to provide educational materials to employees to highlight the importance of donating blood and include basic details on how the process works. This ensures that more employees feel comfortable participating when the day rolls around.
9. Run a donation drive.
Beyond donating blood, your employees can arrange and run a donation drive for a range of essential supplies and resources. For instance, your company could collect:
Clothing
Food
Books
School supplies
Pet supplies
In addition to encouraging employees to give their new and gently used items, you can invite everyone in your community to get involved. This can help your company cultivate new relationships with potential customers and job seekers while furthering your CSR goals.
10. Start or maintain a community garden.
Establishing or maintaining a community garden allows your company to leave a lasting impact on its community. If there isn't currently one in your local area, consider renting out a vacant lot and creating a plan for how the garden will benefit everyone in the neighborhood.
If there is an existing community garden nearby, assemble a team of corporate volunteers to help with weeding, planting, and harvesting.
11. Plant trees as a team.
80% of consumers are more likely to buy from and 84% of employees are more likely to work for a company that stands up for the environment. Demonstrate your company's commitment to the environment and engage your employees in a team-building exercise with tree planting.
One of the easiest ways to organize a tree-planting activity is to partner with a nonprofit or local conservation group dedicated to the environment and reforestation. They'll have the expertise to guide your employees on how and where to plant saplings.
12. Offer a mentorship program.
Consider launching a mentorship program to facilitate connections between your employees and community members. Employees can volunteer their time to support mentees in areas such as:
Resume writing
Job interviews
Career advancement
Your company can choose to offer a virtual mentorship program as well. This would enable more people outside of your local area to participate, including remote employees.
13. Participate in a literacy program.
Literacy programs are essential resources that empower people of all ages to improve their communication skills and set a foundation for their future success. There are numerous ways your employees can support a literacy program, from serving as a reading buddy to creating educational resources for participants. Or, your company can even create its own.
Costco has its own Volunteer Reading Program that allows employees to support students in schools, community centers, and after-school programs. The company engages over 2,600 volunteers and even provides all the reading materials for the program.
14. Prepare and distribute care packages.
Throughout the year, or following a specific incident such as a natural disaster, your employees can assemble and distribute care packages to people in need. These can include anything from hygiene supplies to first aid kits.
Last year, for example, Delta volunteers delivered grocery boxes on Martin Luther King Jr. Day and care packages for service members during USO Fleet Week events.
15. Host a sports clinic.
By hosting a sports clinic, your company can encourage both its employees and community members to engage in physical activity to promote well-being. The process is simple:
Choose a specific sport or activity based on employee or community interests.
Find a suitable location for the clinic.
Promote the event in your community.
Enlist employee volunteers to run the clinic.

With this corporate volunteering idea, your company can demonstrate its dedication to health and wellness in society.
11 Engaging Virtual Corporate Volunteer Ideas
For companies with remote or hybrid employees, putting together in-person corporate volunteer events may not be as practical or effective. Plus, some employees may want to participate in social change beyond just their local communities. In these cases, consider incorporating some of the following virtual corporate volunteer activities into your program:
1. Tutor students online.
About one-third of school leaders indicate that they don't have the capacity to provide frequent, one-on-one tutoring to all students who need it, and nearly 20% report that they can't even provide regular tutoring. By engaging your employees in online tutoring, your company can alleviate staff and resource shortages at educational institutions.
With video conferencing platforms such as Zoom, your corporate volunteers can offer one-on-one tutoring sessions with students. In doing so, they'll be able to support academic excellence and make a tangible difference in the lives of individual students.
2. Provide translation services.
This virtual corporate volunteering idea is ideal for multilingual employees. Many nonprofits serve diverse populations, which means they may interact with people who prefer communicating in another language. In fact, nearly 66 million people, or around 21.6% of the U.S. population, speak a language other than English in their homes.
To help nonprofits make their services more accessible to everyone, your employees can translate documents, website content, and more.
3. Teach language classes.
Encourage your company's multilingual employees to teach language classes as part of your corporate volunteering activities. They can conduct these classes over Zoom and facilitate practice discussions among online participants.
To make it easy for your employees to get involved, consider creating language learning materials that they can use in their classes. This way, they can dedicate their time to teaching without having to worry about creating a comprehensive curriculum or worksheets.
4. Plan skills-based workshops.
Your employees are a diverse group of individuals with their own interests, skills, and hobbies. Empower them to share their expertise by hosting workshops for people who are interested in learning a new skill. These workshops could focus on topics such as:
Business management
Art
Cooking
Leadership
Financial Literacy
If these workshops are related to employees' roles, they can have the added benefit of reinforcing their skills and knowledge to boost their performance in the workplace.
5. Create content for nonprofits.
To secure enough support for their missions, nonprofits need to produce content to spread awareness and solicit donations. Your employees can assist nonprofits with their marketing efforts in various ways. For instance, they can:
Write blog articles.
Craft social media posts.
Produce short videos.
This corporate volunteering idea leaves employees with a finished product that they can look back on with pride.
6. Pitch in with graphic design.
If your employees have an eye for graphic design, consider having them offer their services to nonprofits. There are many areas where having well-designed images and graphics can come in handy, including:
A nonprofit's website
Social media
Flyers
Whether a nonprofit is looking to redesign its logo or revamp its website, having graphic design services can go a long way toward reaching and engaging new supporters.
7. Help with social media management.
According to Nonprofit Tech for Good, 87% of nonprofits regularly use social media for digital marketing and fundraising. However, with so much activity on social media, it can be a challenge for them to stand out among all the noise. Enlist your social media-savvy employees to help nonprofits by:
Creating eye-catching social media content.
Scheduling posts to maximize engagement.
Interacting with followers.
Doing so will free up more time and energy for nonprofits to focus on other mission-critical activities, such as delivering services to their beneficiaries.
8. Assist with grant writing.
Nonprofits need to seek funding from a variety of sources to continue fulfilling their missions. Many foundations and corporations offer grants to cover program or project expenses—however, a nonprofit must submit a compelling application before they can access those funds.
Since effective grant writing takes time and effort, this is an excellent opportunity for your company to pitch in, especially if you have employees with strong writing and communication backgrounds. They can research grantmakers, help write proposals, and proofread everything before submission.
9. Coordinate remote volunteers.
A nonprofit organization may have plenty of volunteers willing to dedicate their time and skills. Without proper volunteer management, however, they won't be able to make the most of the resources at their disposal.
Recruit your employees to take over some key remote volunteer coordination responsibilities by onboarding, communicating with, and organizing volunteers in other areas of the world. This creates impactful, satisfying experiences that encourage volunteers to continue supporting a nonprofit time after time.
10. Offer coding support.
If your employees have coding experience, bring them together to offer coding assistance to nonprofits. They can lend a hand with:
Cybersecurity best practices
Web development
General IT support
Staff training
Additionally, consider opening up support beyond nonprofits and planning workshops for those interested in developing their programming skills.
11. Host virtual fundraising events.
Encourage your employees to take the lead in fundraising for nonprofits by hosting online fundraising events. Doing so allows them to tap into their personal networks and cultivate new supporters for a nonprofit's mission. Get creative as you determine which types of fundraisers will appeal most to your employees and be sure to poll them on which organization or cause should receive the funds raised.
For instance, you could plan a virtual walk- or run-a-thon that employees can participate in by using their treadmills at home. Additionally, consider hosting silent auctions, raffles, and other contests such as a trivia night.
How to Put Your Corporate Volunteering Ideas into Action
Now that your company has some engaging corporate volunteer ideas up its sleeve, it's time to start planning an experience that employees will be excited to take part in. Follow these steps to set your next event up for success: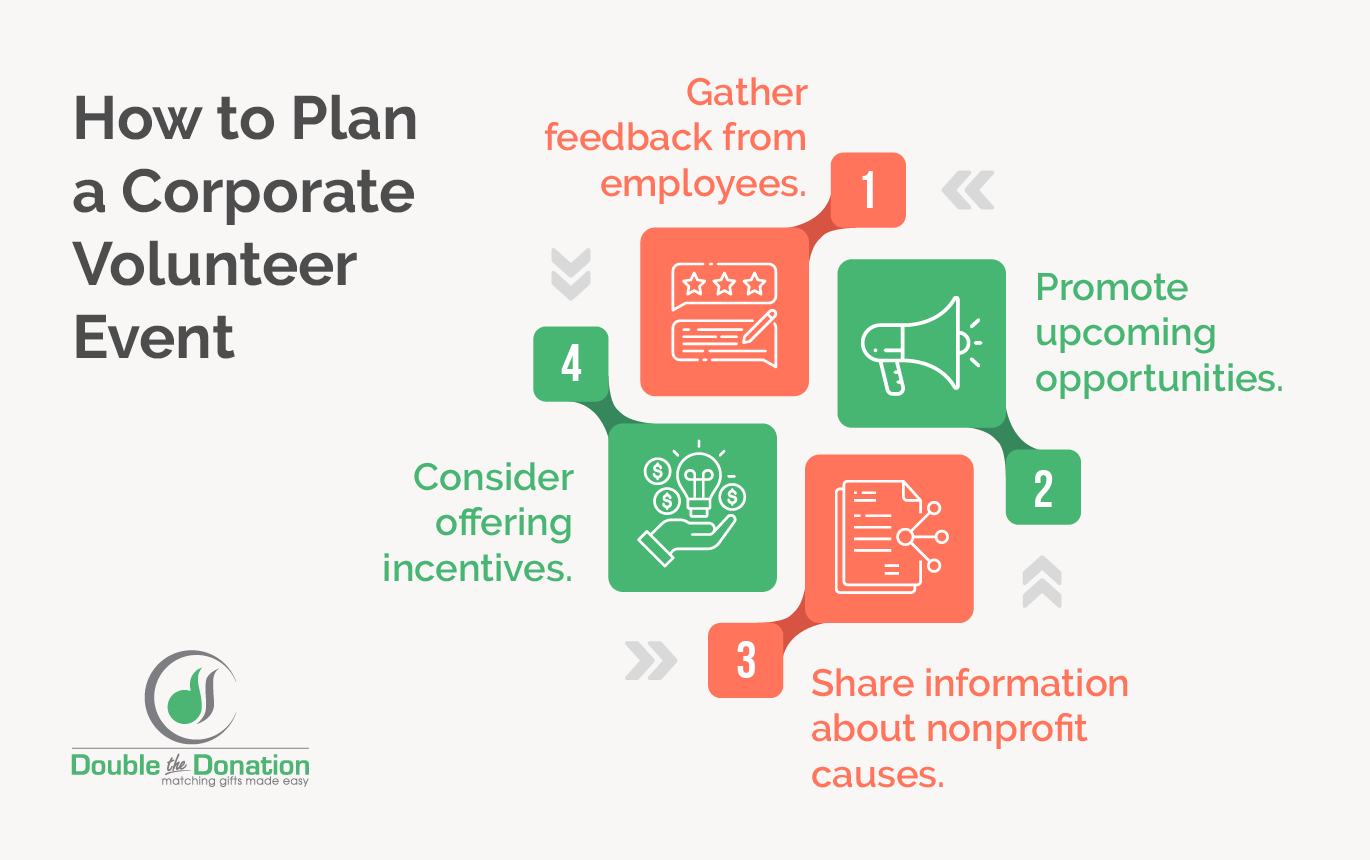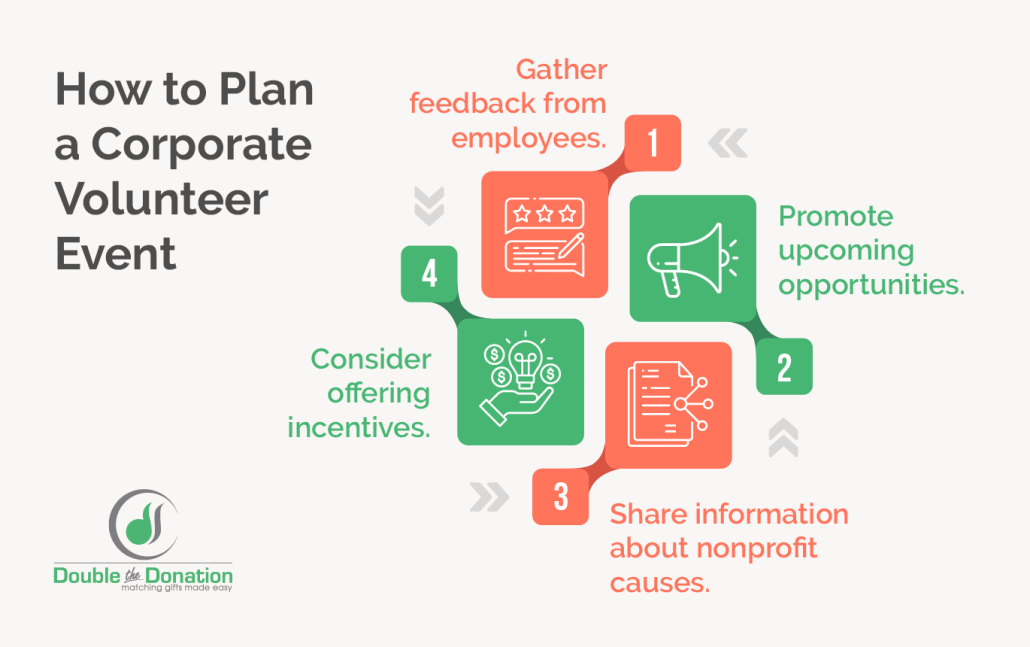 Gather employee feedback. Survey your employees in advance to determine which types of corporate volunteer events, activities, and nonprofit causes resonate most with them. Use these insights to guide your planning.
Spread the word about upcoming opportunities. Ensure that your employees are aware of upcoming opportunities, so they can make room in their schedules to participate.
Communicate about nonprofit causes. One effective way to engage more employees in corporate volunteering is to share more information about the nonprofit causes that they'll have an impact on. This may inspire them to sign up for your next event and make a difference in the community.
Consider offering incentives. For employees who are on the fence about participating, add an extra incentive such as paid volunteer time off (VTO) or a free lunch after volunteering to encourage them to get involved.
If you haven't already, consider investing in workplace giving software to make planning and participating in corporate volunteer activities easier for everyone. A high-quality solution will streamline processes such as promoting volunteer opportunities and tracking employee hours.


Maintaining Momentum After a Corporate Volunteer Activity
For your corporate volunteer program to be successful in the long term, it's important to understand that each event is not a one-and-done activity. Consider these tips to maintain momentum and keep your employees engaged after volunteering: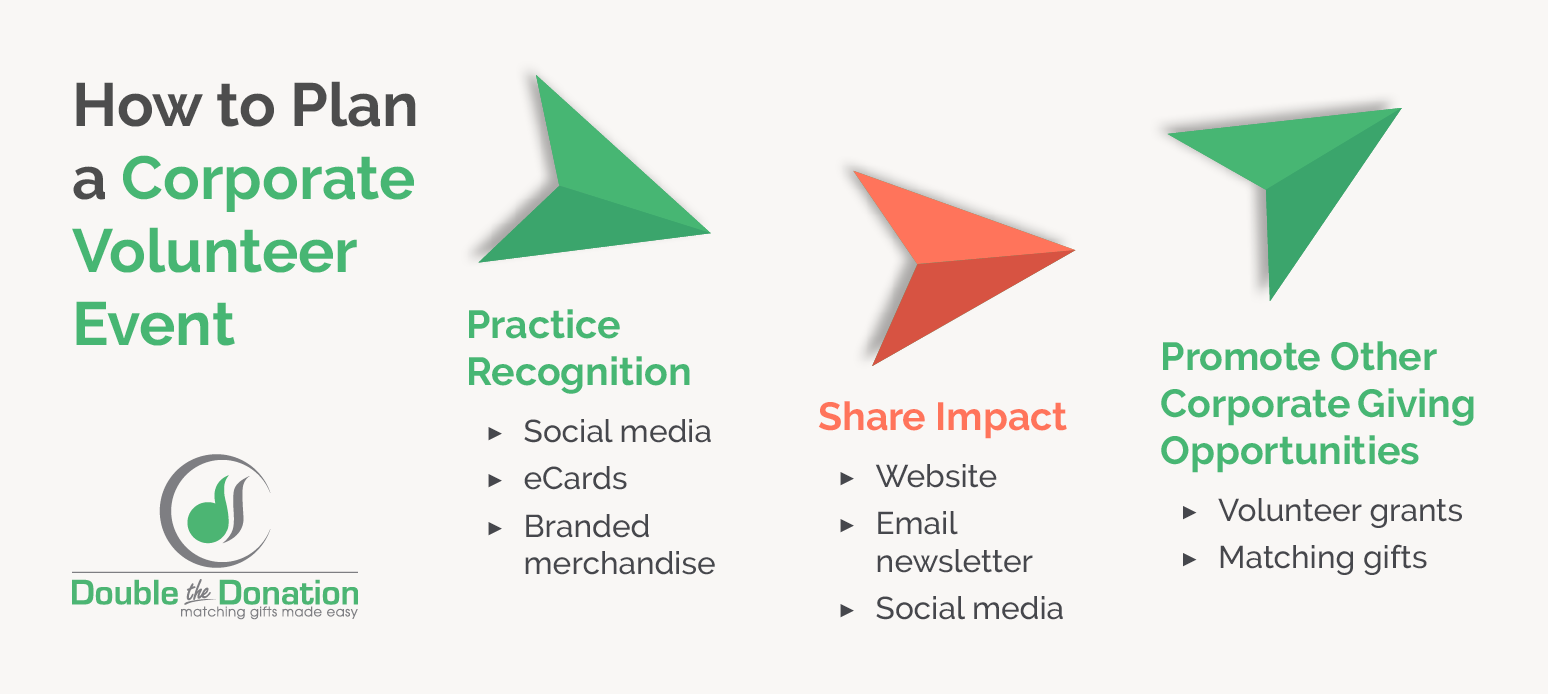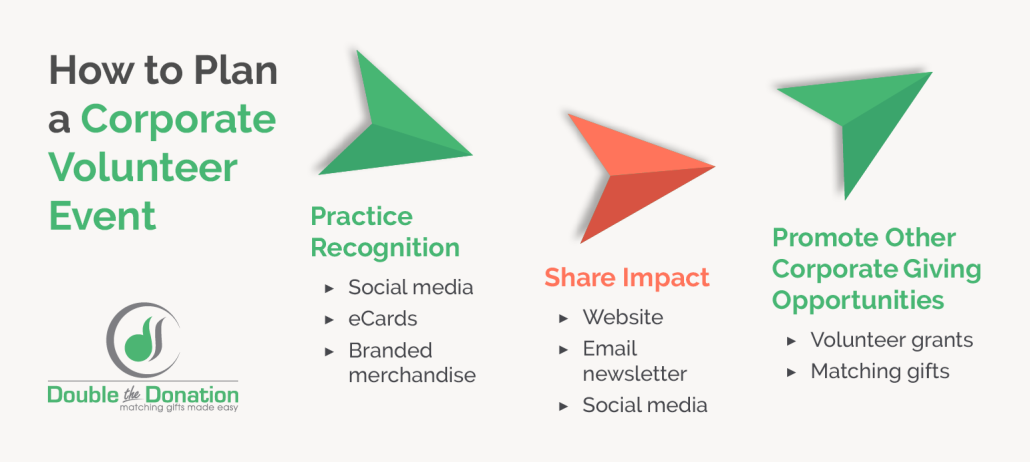 Practice recognition
Show employees that you value their participation by recognizing them for volunteering. There are several effective ways to do so, including:
Social media shoutouts
eCards
Branded merchandise
Furthermore, invite employees to give feedback on their experiences to demonstrate your commitment to providing them with more enticing volunteer opportunities in the future.
Share impact
Don't leave your employees wondering whether their volunteer efforts actually left a meaningful impact on the world. According to VolunteerMatch, 66% of volunteers are motivated by making a difference in their community. Use multiple channels to celebrate the results of each volunteer event, including: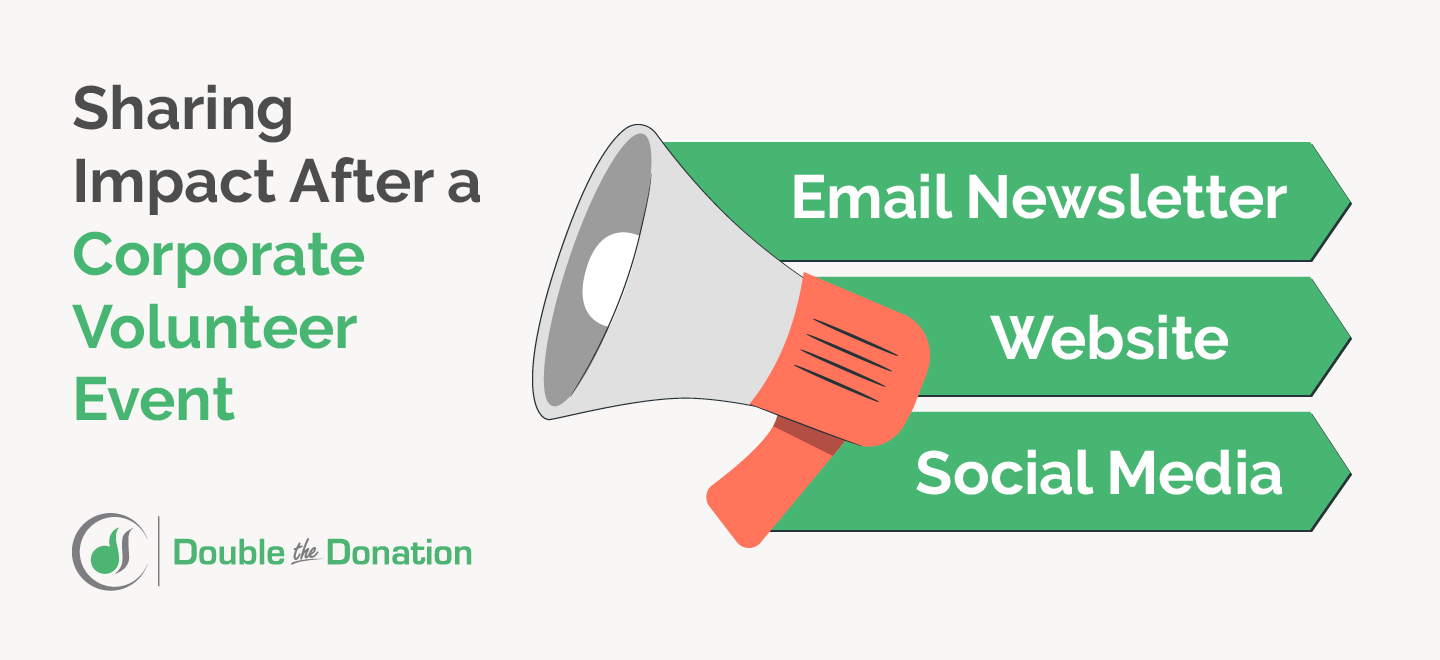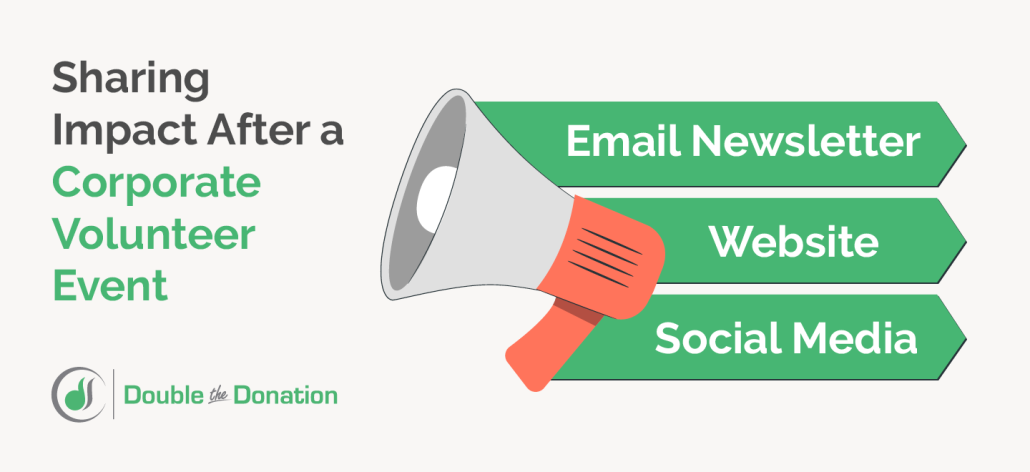 Website
Email newsletter
Social media
Doing so will both maintain employee engagement within your company and boost your reputation among customers and other stakeholders in the community.
Promote other corporate giving opportunities
Beyond taking part in your corporate volunteer activities, there are many ways employees can contribute to your philanthropic goals. For instance, consider offering volunteer grants to nonprofits after employees volunteer a certain number of hours with them.
Matching gifts are another popular program among many businesses, offered by 65% of Fortune 500 companies. Whether your company already has one in place or is considering starting one of these programs, check to see whether your corporate giving software integrates with the latest matching gift tools. Innovative features such as auto-submission, for example, make it easier than ever for employees to submit matching gift requests.
Wrapping Up: Enhancing Your Company's Social Impact
As with any company initiative, remember to adopt an improvement mindset from the get-go. Identify and track relevant metrics to unearth insights for improving your corporate volunteer program over time. This ensures that you engage more employees and power more impact year after year.
To learn more about corporate philanthropy and employee engagement best practices, take a look at these additional resources: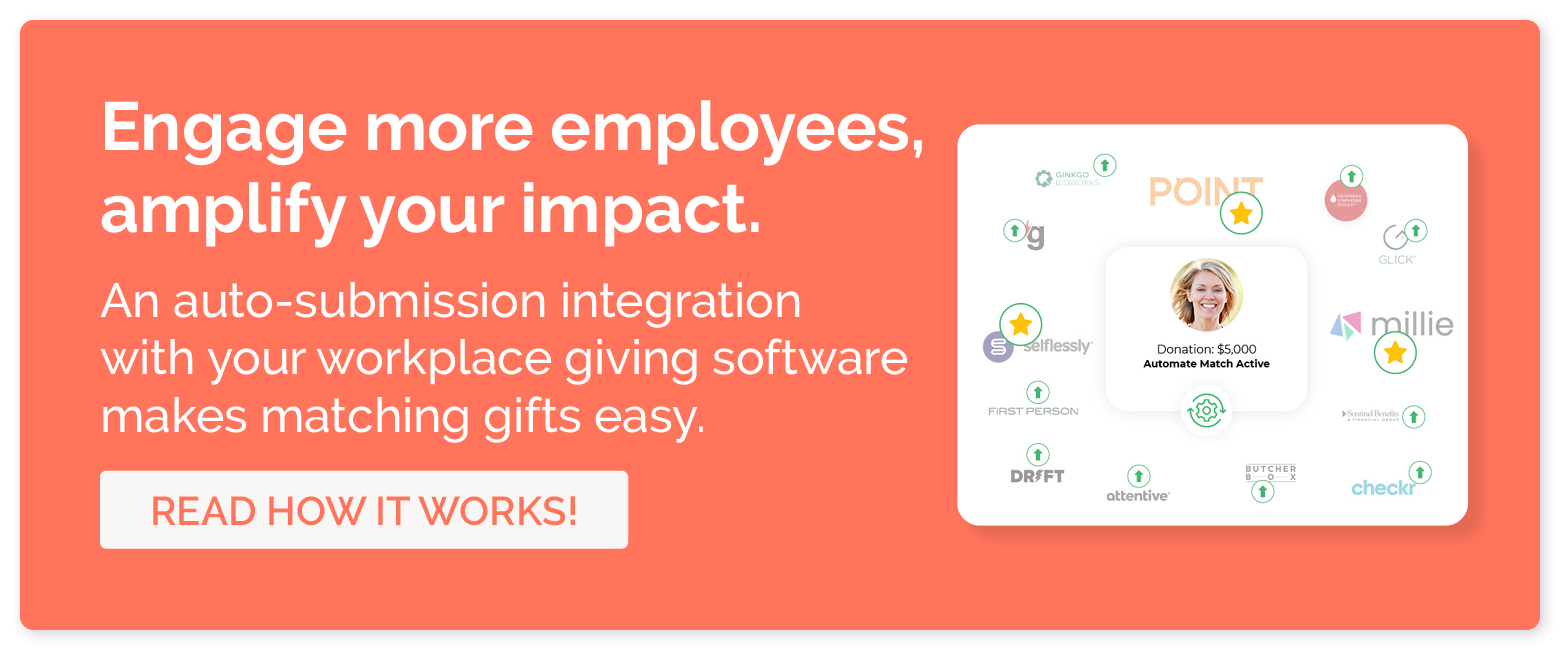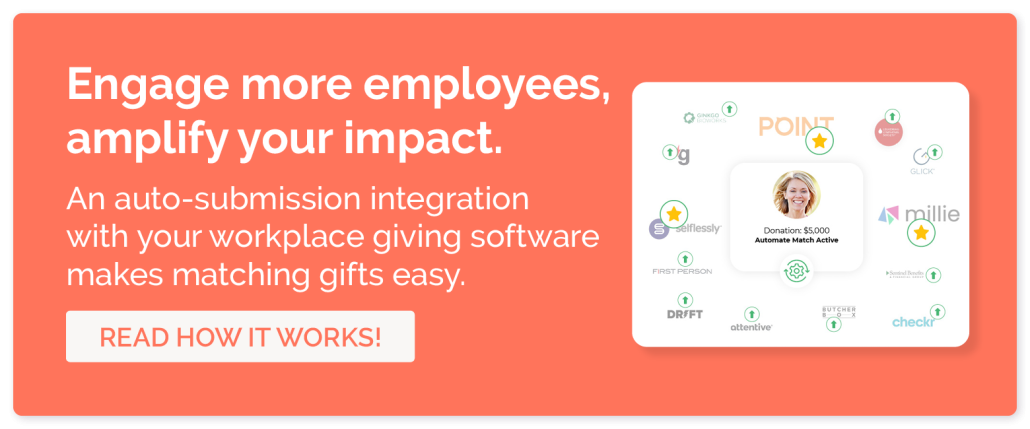 https://doublethedonation.com/wp-content/uploads/2023/11/Corporate-Volunteering-Ideas_Feature.png
600
1600
Adam Weinger
https://doublethedonation.com/wp-content/uploads/2022/03/logo-dtd.svg
Adam Weinger
2023-11-08 12:29:50
2023-11-22 15:01:48
25+ Top Corporate Volunteering Ideas to Inspire Employees