Double the Donation and CrowdChange Partner to Debut Innovative Matching Gift Integration
Double the Donation and CrowdChange are excited to announce their new partnership and unveil a technical integration between 360MatchPro and the CrowdChange fundraising platform. This collaboration equips nonprofit organizations to take advantage of the underutilized fundraising avenue that is corporate matching gifts.
"CrowdChange is committed to providing an intuitive, comprehensive fundraising platform for our partners," says Marni Wiener, Chief Revenue Officer at CrowdChange. "By integrating with 360MatchPro by Double the Donation, we enhance our existing fundraising platform and give our clients the tools they need to raise more from matching gifts."
Leveraging 360MatchPro and CrowdChange, organizations will be able to identify more match-eligible donors during the donation process and drive those matches to completion with 360MatchPro's customizable, automated workflows. This technology simplifies the matching gift process for donors and nonprofits alike, making it that much easier to bring in revenue from corporate matching programs.
"Double the Donation is excited to launch this partnership and add 360MatchPro to CrowdChange's powerful fundraising suite," said Adam Weinger, President of Double the Donation. "Nonprofit organizations often miss out on valuable matching gift funds, but with this technical integration CrowdChange users are equipped to make the most of matching gifts and raise more for their mission."
The seamless integration between 360MatchPro and CrowdChange equips fundraisers with the industry leading matching gift software, effortlessly connecting donors to next steps and raising more for the causes that matter most.

Activate in Seconds and Start Raising More from Matching Gifts!
With this seamless integration and streamlined activation process, you can connect your CrowdChange and 360MatchPro instances in minutes.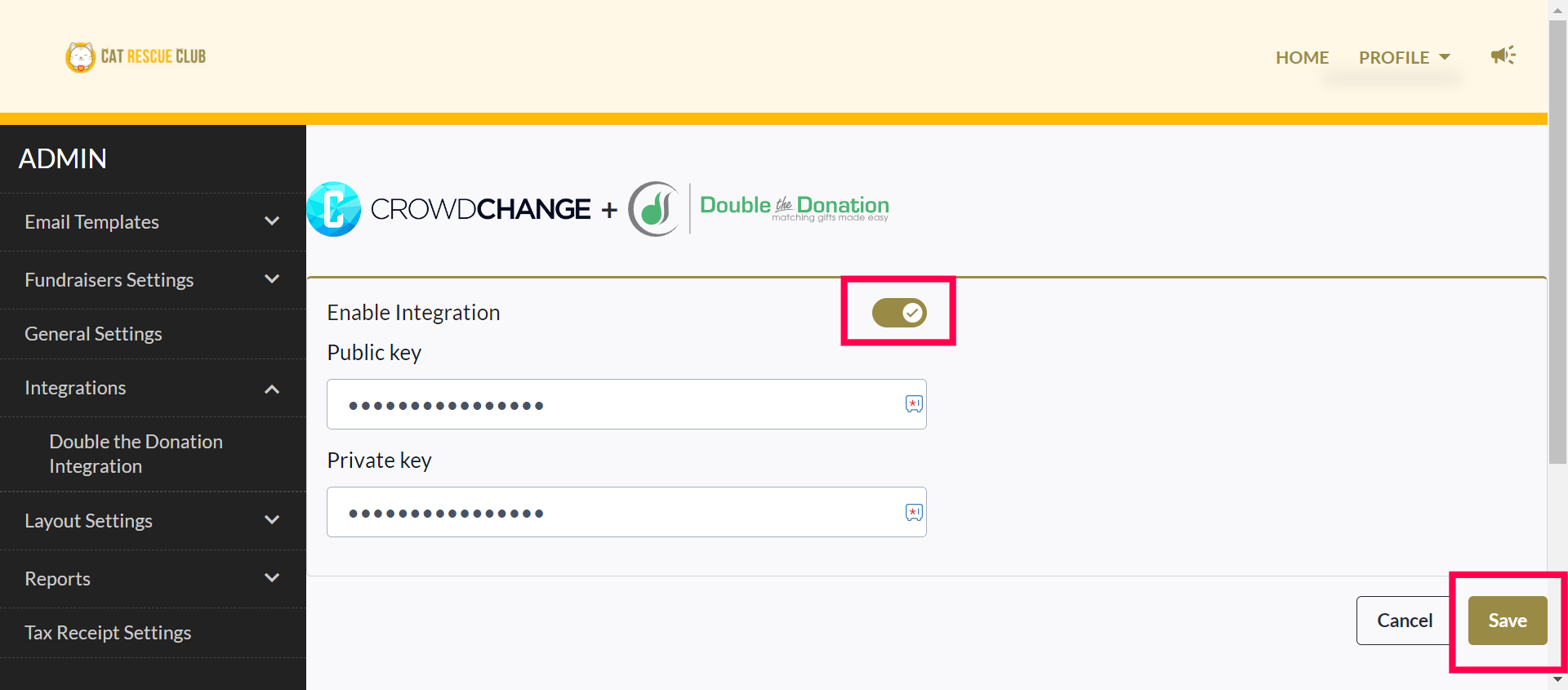 Once you've connected your CrowdChange and 360MatchPro accounts, all that is left to do is add the 360MatchPro search tool to your donations forms! Donors can identify their employer on the donation form and be met with actionable next steps on the thank you page.
360MatchPro also sends automated email notifications to donors following the donation to reconnect donors to their matching gift application form based on their employer information, making it even easier to drive revenue with matching gifts. 
Looking to learn more? Check out our in-depth integration guide to get started!

Drive More Matching Gifts to Completion with 360MatchPro!
360MatchPro ensures your matching gift opportunities don't fall through the cracks.
Take advantage of this solution to:
Identify more matching gift revenue opportunities: 360MatchPro enables you to automatically collect matching gift eligibility from donors using email domains, within donation forms, on confirmation screens, or by email. The more matching gift opportunities 360MatchPro discovers and shares with donors, the more matching gift requests your donors will successfully submit.
Drive more matches to completion, from form submission to corporate payment: Direct donors immediately to their matching gift forms after the donation process is complete. Then, provide the right information to the right donors at the right time with custom emails based on match eligibility. Target follow-ups drive more completed submissions than ever before, bringing exponentially more matching gift checks from companies through your door.
Reallocate your time from routine follow-up to your top opportunities: Your time is valuable, so why spend it chasing small dollar-value matching gifts? Let 360MatchPro automate your matching gift outreach while flagging your highest-value opportunities, allowing your team to personalize follow-ups to the most valuable match-eligible donations. Rest easy knowing that 360MatchPro can handle the rest.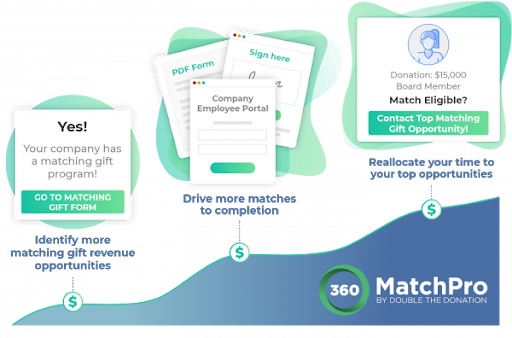 Ready to get started with matching gifts automation using CrowdChange? Request a demo today.
---
About CrowdChange: CrowdChange is a comprehensive events and fundraising software platform in the market. With an easy-to-use, no-coding design and features to cater to all your fundraising needs. Whether you're planning signature events, DIY, or peer-to-peer campaigns, their platform provides the perfect tools for seamless execution. Ideal for non-profits, hospital foundations, universities, schools, and other impactful organizations, CrowdChange empowers you to take charge of your fundraising. To learn more visit https://www.crowdchange.co/home-og#Talktous
About Double the Donation: Automate your matching gift fundraising with the industry-leading solution from Double the Donation. The 360MatchPro platform provides nonprofits with tools to identify match-eligible donors, drive matches to completion, and gain actionable insights. 360MatchPro integrates directly into donation forms, CRMs, social fundraising software, and other nonprofit technology solutions to capture employment information and follow up appropriately with donors about matching gifts. To learn more visit https://360matchpro.com/demo-request/
https://doublethedonation.com/wp-content/uploads/2023/11/DTD_CrowdChange-partnership-announcement.png
290
775
Grace
https://doublethedonation.com/wp-content/uploads/2022/03/logo-dtd.svg
Grace
2023-11-09 11:00:20
2023-11-09 13:56:56
Double the Donation and CrowdChange Partner to Debut Innovative Matching Gift Integration