Nonprofit Basics: Volunteer Management
Volunteers are a powerful force for driving your nonprofit's fundraisers and on-the-ground impact. Long-term volunteers, especially, can provide more than just short-term assistance with events or projects. Rather, their commitment, time, and skills can help you complete your mission and achieve your goals.
Keeping track of your supporters' involvement is crucial for ensuring they're in roles where their skills can be utilized and where they're most needed. By implementing an effective volunteer management strategy, you can empower your volunteers to maximize their contributions toward your cause.
What is volunteer management?
Volunteer management encapsulates the entire process of getting volunteers involved in your mission, supervising their experience with your nonprofit, and thanking them for their efforts.
Some organizations may have more or less hands-on volunteer programs, but the need for effective management to create positive engagement remains the same.
Volunteers who walk away from your nonprofit's events or activities with a positive experience are much more likely to stay involved in the future. The more invested they feel in your cause, the more eager they'll be to share their contributions with their family and friends. Consider implementing volunteer management software to improve your programs and enable you to encourage long-term investment from your supporters.
What are the steps for effective volunteer management?
Successful volunteer management requires thoughtful planning, execution, and follow-through. After all, retaining your volunteers is just as essential as attracting them in the first place.
As you prepare to optimize your nonprofit's volunteer management strategy, focus on these following steps: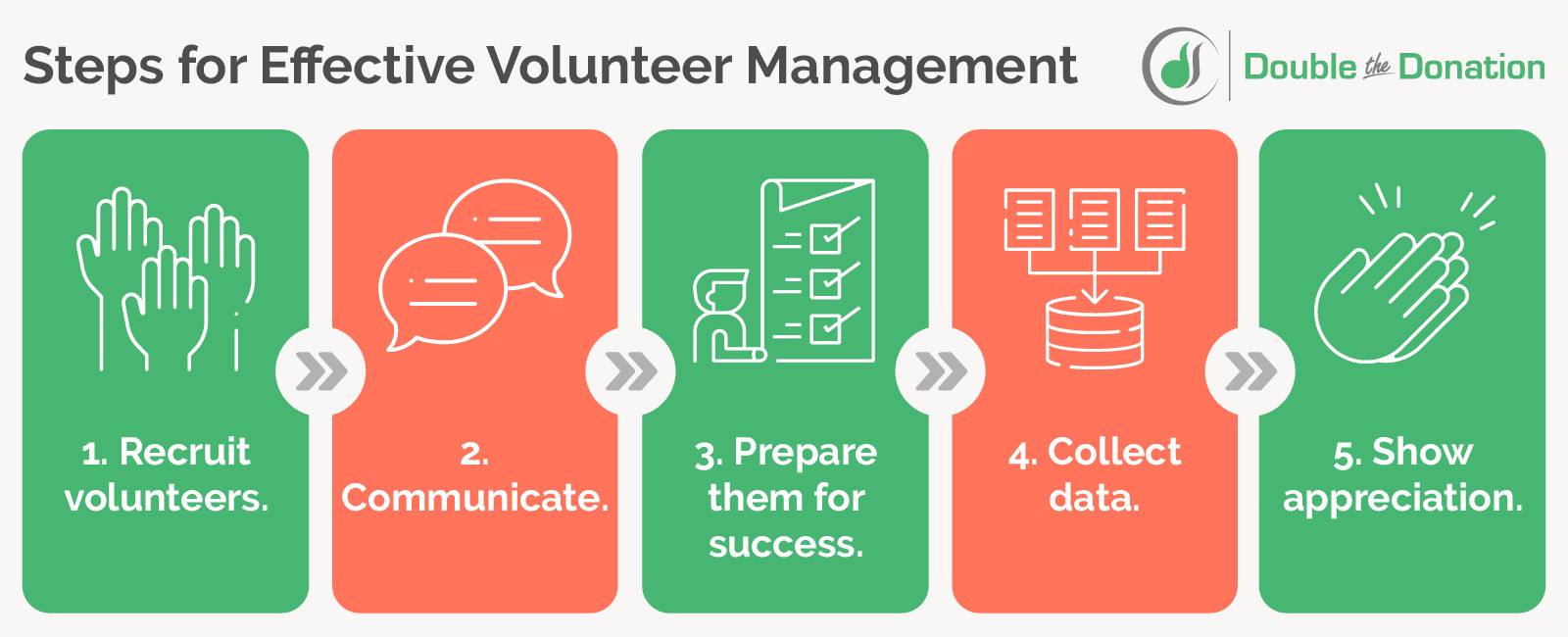 Recruit volunteers. Dedicate a page on your website to your volunteer program. This page should include details about various volunteering opportunities, required skills and time commitments, as well as your volunteer schedule. Integrate your CRM and website so when you approve a volunteer for a position, it will automatically be reflected on your website. This can be especially useful for volunteer opportunities where you only need a set number of people.
Communicate. Once you've recruited volunteers, start establishing strong and productive relationships using your centralized communication system. Keep your volunteers educated about program updates and new opportunities. For instance, be sure to make your volunteers aware of volunteer grant programs for which they may be eligible.
Prepare them for success. An ideal volunteer management strategy provides volunteers with everything they need to participate and succeed. This includes training, supplying any necessary resources, and having a supervisor they can readily turn to for assistance.
Collect data. By gathering detailed information on volunteers' skills and interests, you'll be able to delegate the right tasks to the right people. Furthermore, this data can be immensely valuable when you're measuring and reporting the positive impact of your efforts to donors, grantmakers, the community, and prospective volunteers.
Show appreciation. No volunteer management strategy is complete without promptly recognizing your volunteers for their dedication and hard work. Have plans in place for sending out thank you letters, spotlighting long-term contributors on social media, or even organizing appreciation events.
Your volunteers, by choosing to get involved, are already invested in your cause. With proper volunteer management, you'll be able to nurture long-term, enthusiastic participation from your existing supporters.
What are corporate volunteer grants?
Corporate giving statistics show that 40% of Fortune 500 companies offer volunteer grant programs. Essentially, corporations with these programs provide funding to nonprofits where their employees have chosen to volunteer their time.
Don't forget to take advantage of these opportunities by staying on top of your volunteer data and encouraging your contributors to be informed about any programs their companies may offer.
How can volunteer management software help?
Effectively overseeing the various aspects of the volunteer management process doesn't have to be overwhelming nor time consuming. Volunteer management software is an easy, time-saving solution that allows you to devote your time and resources to the most important parts of your program.
When choosing software to help your volunteer management, look for these important features:
Volunteer Records. The right software will enable you to create a comprehensive collection of volunteer profiles, similar to a donor database. By having all of this information accessible online, you can minimize paperwork clutter and stay organized.
Projects and Events Calendar. Keep everyone on the same page about volunteer opportunities and events with a virtual calendar. Use this tool to optimize your productivity and create schedules for your volunteers.
Segmentation and Communication. Your volunteer management software should offer the ability to segment your contributors into relevant categories for more effective communication. For instance, you can group volunteers based on their involvement history or skills and personalize your messages to them.
Data Analytics. Use data collection and custom reporting tools to analyze the impact of your volunteers' contributions. This information is vital for discovering insights into how you can improve your volunteer program in the future.
By incorporating these digital tools into your volunteer management strategy, you'll be equipped to provide a more positive and encouraging experience for all of your most dedicated supporters.
Other Resources to Explore
Nonprofit Basics – Learn more nonprofit management essentials by exploring other expert resources.
Salesforce Nonprofit Success Pack (NPSP): A Guide – Salesforce NPSP is one of the top CRMs, and can be a strong foundation for managing your volunteer program. Discover how to leverage NPSP and what apps you can use to further flesh out your volunteer management tools.
Nonprofit Basics: Fundraising Video – A fundraising video can be a powerful way to communicate your nonprofit's impact story and showcase your volunteers' accomplishments. Discover how to produce a compelling fundraising video with these basics.
https://doublethedonation.com/wp-content/uploads/2023/02/Fionta_Double-the-Donation_Nonprofit-Basics-Volunteer-Management_Feature.jpg
608
1602
Adam Weinger
https://doublethedonation.com/wp-content/uploads/2022/03/logo-dtd.svg
Adam Weinger
2022-08-24 15:38:09
2023-02-24 15:51:01
Nonprofit Basics: Volunteer Management