How to Offer the Ultimate Employee Giving Experience
Picture this: you're the owner of a mid-size technology company that employs around 100 staff members. You've been brainstorming ways to boost employee morale and show your target customers that you run a value-driven business making its mark on the world.
You stumble across the idea of corporate philanthropy and, more specifically, employee giving. Quickly, you realize that this one concept can help you meet your previously stated goals⁠—and the tax break would be an added bonus!
You decide to take the plunge and invest in developing a workplace giving initiative that will simultaneously benefit your company, your employees, and a wide range of charitable organizations.
But how can you ensure your staff will actually want to participate? By offering them an employee giving experience that prioritizes their wants and needs and is as simple a process as possible!
Here's how you can do that:
In this guide, we'll dive into these valuable tips for employers like yourself looking to make the most of their workplace giving programs.
Ready to get started with our first step? Let's begin!


1. Inform employees of available workplace giving opportunities.
Before you can expect employees to participate in your workplace giving initiatives, you'll need to ensure your staff is made aware of these programs in the first place. Prior to that, you'll need to determine which types of giving programs you'll be offering:
Here are a few of the most common examples:
Matching gifts: Your company matches employee donations to qualifying nonprofits, often dollar for dollar.
Custom matching gifts: Your company selects a particular nonprofit and commits to matching employee donations to that cause.
Volunteer grants: Your company provides nonprofits where employees regularly volunteer with monetary grants.
Employee stipends: Your company allocates a dollar amount to each employee annually, which they donate to the nonprofit of their choice.
Regardless of the combination of giving programs you choose, informing your staff about the new offerings and how to get involved is of utmost importance.
According to matching gift research, 78% of individuals eligible for corporate giving programs are completely unaware. As a result, they're not able to make the most of these philanthropic initiatives.
We recommend providing informational materials that outline your corporate giving programs to all existing staff to get started. For example, you might hold a meeting, send a company-wide email, share a pamphlet, and add an explainer to your employee handbook. Then, be sure your staff knows where to go to seek additional details on the program!
Going forward, you'll want to educate all new team members about workplace giving opportunities as well.


2. Provide employees with ample ways to give.
There are tons of ways that individual donors can support nonprofit causes⁠. So when you create your workplace giving program, your offerings must be inclusive of all types of employee giving.
Top donation channels might include (but are not limited to):
Nonprofit websites
Online giving tools
Peer-to-peer campaigns
Text-to-give
Direct mail
Recurring gifts
Phonathons
Paycheck deductions
Event pledges
Workplace giving or CSR platforms
The opportunities are endless⁠—and each staff member at your business might have a different favorite way to give.
According to the same matching gift studies above, "96% of employees at companies with matching gift programs have a strong or very strong preference for their company to match donations made directly to a nonprofit (such as through the nonprofit's website, peer-to-peer fundraising platform, or mail) rather than only matching donations through a workplace giving software platforms. The more options an employee has to give and to get their gift matched, the more likely they are to utilize available company matching opportunities."

This means that, in order to provide a positive employee giving experience for everyone, be sure to keep your giving (and matching) channels open.


3. Make it simple for employees to determine eligibility guidelines.
As you work to ensure your company is well-informed about the existence of your employee giving programs, it's equally critical that your programs' eligibility guidelines are readily apparent as well. But what are these so-called guidelines?
Let's take matching gifts (i.e., one of the most-used forms of workplace giving) as an example. In order for employees to participate in your company gift-matching initiative, you'll need to provide your staff with the following information:
Donation minimums and maximums: This is the range within which you'll match employee donations (e.g., $50-1,000).
Match ratios: This determines the rate at which you match employee donations. This is typically dollar for dollar (1:1) but can go up to 2:1 or 3:1 as well.
Qualifying types of nonprofits: You might choose a particular type of mission (e.g., environmental organizations) or exclude categories of recipients (such as houses of worship).
Qualifying types of employees: Most companies match gifts made by all full-time employees, while others may open the programs up to part-time workers, retirees, and even employee spouses
Submission deadlines: Your submission deadline is the date by which employees must submit a matching gift request to your company in order to be eligible to receive a match. This may be a certain number of months or align with your calendar or fiscal year.
Because these criteria are necessary for employees to determine their eligibility for a company match, it's important that you communicate this information effectively. Ensure your guidelines are provided in any previously mentioned explainer materials and even on your business' website. Even interested employees won't likely be willing to search high and low for this information. If it is hard to find, you're likely creating an unnecessary obstacle to program success.
Here's an example of what these criteria can look like: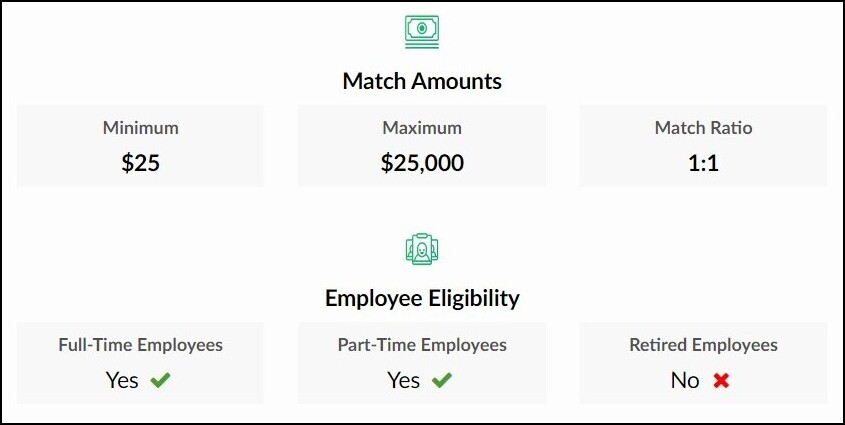 Plus, as a general rule, keeping your guidelines as open as possible will provide an optimal employee giving experience for your staff. For example, when you set low minimums, high maximums, and generous deadlines, more individuals' gifts will qualify for your programming. The more employees who qualify, the more will participate. And you know that higher your levels of participation, the more advantages brought to your company.

4. Ensure your company is listed in corporate giving databases.
One of the easiest ways employees can uncover your aforementioned program guidelines is by accessing a corporate giving database. This is essentially a compilation of information on thousands of businesses and their available corporate giving programs.
For example, Double the Donation offers the industry-leading database for matching gifts and volunteer grants. Thousands of nonprofits utilize this comprehensive tool⁠—likely many of the same ones your employees will support.

For organizations that leverage Double the Donation's embeddable search widget, donors are typically prompted within the donation experience to enter their employer information in search of matching gift eligibility.
If your employees follow this process, you don't want them to search your company name, only to be met with "no results found." This can cause discouragement in the process, even if they know how to locate your program guidelines elsewhere. Plus, many well-intentioned donors simply forget to follow up after losing their initial giving inertia.
So what can you do to avoid this scenario? Make sure your business is listed in corporate giving databases, complete with your programs' eligibility criteria and links to submission forms.
Luckily, Double the Donation accepts submissions for new companies to add to their most comprehensive database, making it as easy as possible for your business to increase its program reach. As a result, you provide the simplest, most optimal employee giving experience while actively supporting their favorite charities.
And if you go the custom program route with a nonprofit partner that uses Double the Donation's matching gift database, the organization can ensure the program is added correctly using the platform's one-off match program management feature!
(Note: if you decide to upgrade your program to a widely accessible one, offering matching gifts to any or all nonprofits, we highly recommend utilizing a dedicated workplace giving platform to manage your efforts. But for a one-off program, 360MatchPro's unique matching gift management feature will suffice.)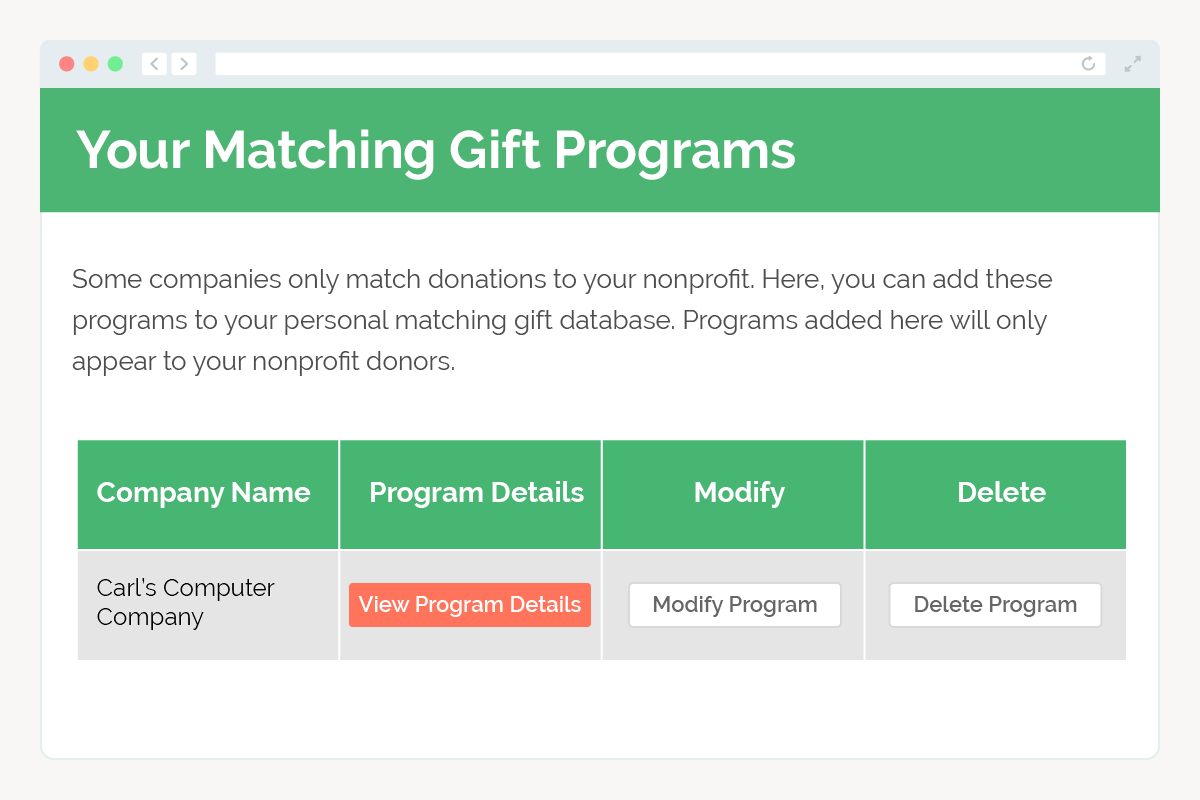 That way, your nonprofit-specific program will populate in that organization's company search tool but won't appear as an option for other nonprofit causes in order to avoid confusion.

5. Incentivize participation in employee giving programs.
By now, your employees should be aware of your employee giving initiatives in place and understand how they can participate. But what if your staff requires a little extra push to get involved with your philanthropic efforts?
That's where strategic incentivization comes in!
If you want to encourage individuals to partake in new employee giving experiences, consider motivating the team with giving goals⁠—either in terms of percentage of overall participation or in total fundraising goals.
Once your team reaches the predetermined objectives, you might treat the company to rewards like these:
Catered lunches
Additional PTO
Casual dress days
In-house masseuse services
Gift card rewards
Professional development opportunities
Company apparel and/or swag
Be sure to remind your employees that the ultimate benefit of a well-run workplace giving program revolves around providing mission-based organizations the funds they need to change the world. But some extra motivation never hurts, either!


6. Simplify requests with auto-submission functionality.
Want to increase employee participation⁠ in (and satisfaction with) your workplace giving programs? Make it as easy as possible to get involved. And it's never been easier than with auto-submission!
Here's what you need to know;
The Historic Submission Process
Once an employee determines that they qualify for a workplace giving program⁠—such as matching gifts⁠—they've traditionally been required to complete a request process put in place by the company they work for. Typically, the individual will be asked to provide basic information about their donation (e.g., amount, method of giving, date the gift was made, etc.) and the organization to which they contributed (such as its mission, mailing address, tax ID number, and more).
New Auto-Submission Functionality
Now, some companies are offering matching gift auto-submission functionality, which substantially streamlines the process for donors and increases the likelihood that matches will be submitted. Instead of asking for all of the above-listed information, companies taking part in auto-submission simply request the individual's corporate email address. The software ecosystem will take it from there to process, approve, and disburse funding for the match.

Leveraging Auto-Submission Providers
If you're interested in getting started with auto-submission capabilities, the easiest way is to partner with a CSR management platform that already offers the functionality through a seamless integration with Double the Donation's innovative technology. These currently include the following providers: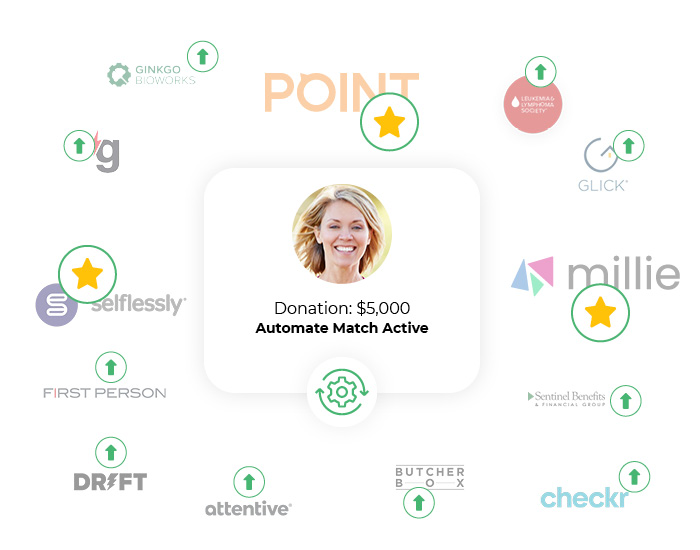 If you already work with a CSR platform that doesn't yet offer this functionality, consider reaching out to your provider to advocate for the technology. After all, auto-submission is available with no added cost⁠—it's free for both the matching gift company and the software vendor they use⁠—so you can offer the ultimate employee giving experience to your team.
Keep in mind⁠—the more employees who take part in your company's matching program, the better the results you can expect to see in terms of team member engagement, brand reputation, and more. And auto-submission abilities set your team up for continued success on all accounts!
---
There's little to no purpose in investing in an employee giving program if nobody at your workplace will participate. To drive participation, you need to look at your employee giving experience from a staff member's perspective and determine whether it's a positive one.
So provide ample opportunities and avenues for giving, make available programs known, simplify the processes involved, and incentivize participation. This can make a world of difference⁠—to your workforce, your community, and even your company's bottom line.
Interested in learning more about employee giving? Check out our other educational resources:

https://doublethedonation.com/wp-content/uploads/2022/06/DTD_How-to-Offer-the-Ultimate-Employee-Giving-Experience_Feature.png
275
725
Adam Weinger
https://doublethedonation.com/wp-content/uploads/2022/03/logo-dtd.svg
Adam Weinger
2022-01-28 21:59:21
2023-09-27 23:02:32
How to Offer the Ultimate Employee Giving Experience