Matching Gifts for Food Security + Anti-Hunger Organizations
Food security and anti-hunger organizations play a critical role in addressing one of society's most pressing challenges⁠—ensuring that every individual has easy access to nutritious food and resources. However, in order to maximize their impact and extend their reach, such organizations often rely on the support of generous donors and well-thought-out fundraising initiatives. One strategy that holds immense potential for enhancing the financial resources of food security organizations? Matching gift programs.
By leveraging the power of matching gifts, food security organizations can more effectively fuel their missions to eradicate hunger within their communities and beyond.
In this post, we delve into the significance of matching gifts for food security and anti-hunger organizations and how you can set your team up for corporate matching success. This includes:
Here, we'll explore the ways in which these programs can transform the landscape of food access and contribute to lasting change. As a fundraiser for such a cause, establishing a foundation of knowledge regarding matching gifts and how to make the most of the opportunities is a must.
Let's dive in!
What to Know About Matching Gifts for Food Security Nonprofits
Anti-hunger organizations, including food pantries, soup kitchens, and other initiatives dedicated to alleviating hunger worldwide, work tirelessly to combat food insecurity and its wide-ranging consequences. But doing so requires access to funding⁠—and making the most of the funds available.
That's where corporate matching gift opportunities come in! When qualifying donors work for companies that offer corporate matching, the company agrees to make a (typically dollar for dollar) match to the organizations its employees support. And most often, food banks and other anti-hunger organizations are eligible to receive the funding!
Matching gift programs essentially empower donors to stretch their donations twice as far for the nonprofit causes they support. In fact, research shows that incorporating matching gifts in an organization's overall fundraising strategy results in a 71% increase in donation response rate and a 51% increase in average gift size.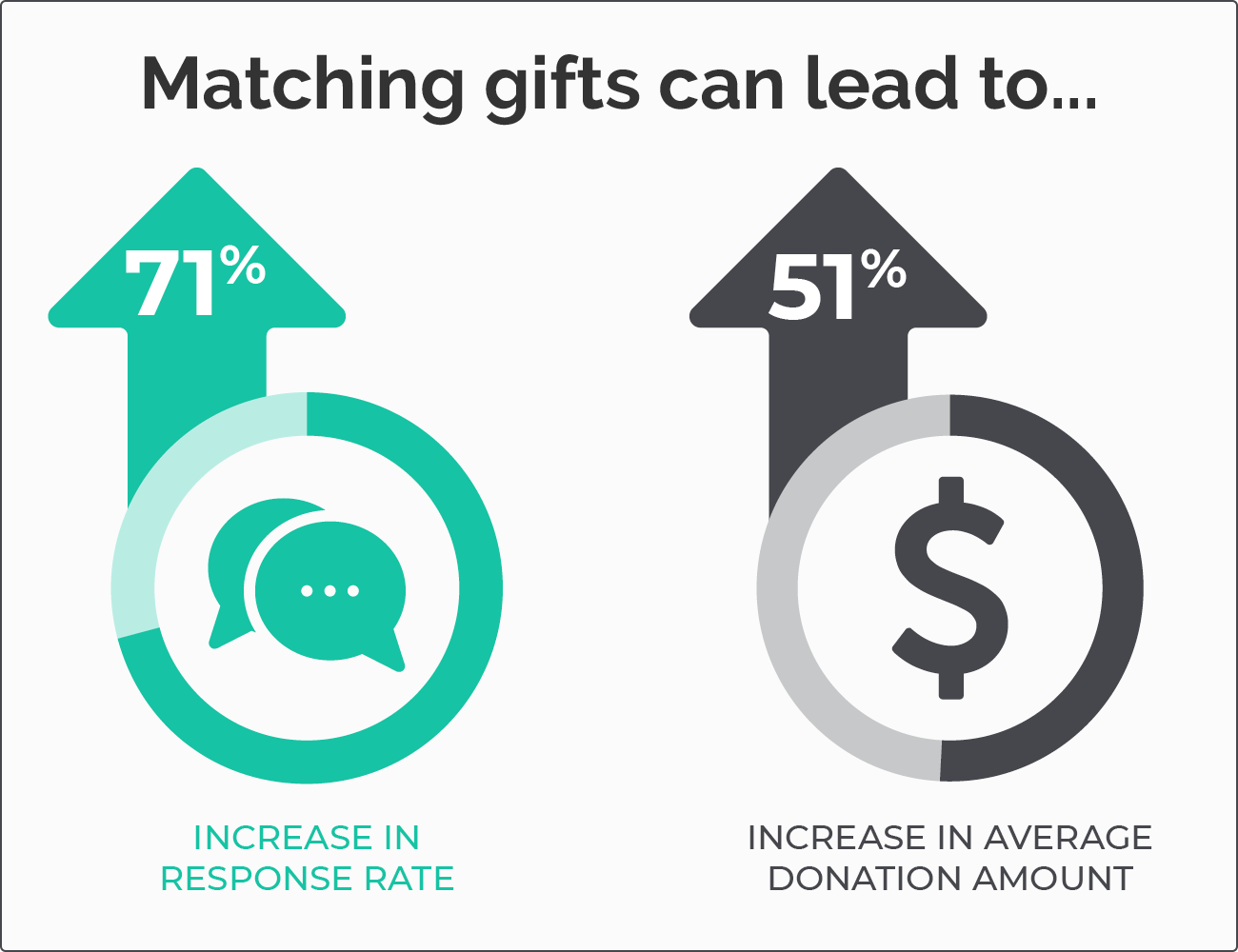 And that's not even taking into account the additional corporate match funding made available through these programs!
All in all, matching gifts offer an actionable strategy to further the mission of food security organizations⁠—without asking generous donors to reach back into their own wallets to do so.
However, these initiatives continue to be overlooked by qualifying organizations and their donors.
Today, millions of individuals qualify for corporate matching gifts through their employers, though the majority of the group remains unaware of the opportunity at stake. And unfortunately, donors who are unaware of their match-eligibility status are not likely to complete the steps required to secure a matching donation from their employer on your behalf.
The solution? Increasing awareness of matching gift programs among your audience.
Companies That Match Donations to Anti-Hunger Orgs
Tons of companies⁠ (including more than 65% of the Fortune 500⁠) offer matching gift programs that inspire employee giving. Typically, anti-hunger causes like yours will qualify for the initiatives⁠—though there are far too many to list.
Here, we wanted to spotlight a few businesses with missions that specifically reflect a vision to alleviate food insecurity.

The Hershey Company
The Hershey Company was founded with a mission to make chocolate accessible to everyone. Today, that mission goes beyond just chocolate, with the company getting involved to support a wide range of food security organizations across the globe.
And one of the most prominent forms of philanthropy offered by the Hershey Company is its matching gift program. Current full-time and retired employees qualify to have the company match their charitable contributions to eligible organizations⁠—including anti-hunger groups and more. Individuals can request up to $5,000 per calendar year on behalf of their favorite causes to which they themselves are also giving.
Learn more about the matching gift program.

Tyson Foods
With a lofty goal to "Feed the World," as coined through its corporate giving initiatives, Tyson Foods is devoted to supporting the communities in which it operates and its team members reside. And they're making a big impact, too! In a single year, the company contributed more than $2.5 million and over 18 million pounds of its protein to Feeding America food banks across the nation.
Plus, Tyson Foods encourages its employees to get involved in its efforts through a generous matching gift program. Current full-time and part-time team members can submit gifts between $10 and $1,000 per year to qualifying organizations to be matched at a dollar-for-dollar rate.
Learn more about the matching gift program.

Campbell Soup Company
Campbell Soup Company cites its philanthropic impact goal as "working to create sustainable change in our communities." And it does so by supporting nonprofit partnerships with organizations aiming to produce a systems-based approach to improving food access and healthy living.
One such method, beyond its community grants and multi-year giving initiatives, is the Campbell Soup Foundation's matching gift program. This offering inspires Campbell employees to get involved by matching donations to eligible nonprofits⁠—including higher education institutions and health and human services.
Full-time, part-time, and retired team members qualify to participate and can request matches between $20 and $1,500 annually.
Learn more about the matching gift program.

PepsiCo
PepsiCo, through the PepsiCo Foundation, states the following in its mission statement: We feed potential. In order to do so, the company aims to support sustainable and innovative solutions that provide nutritious food and other critical resources for underserved communities.
One way that they do so is through the PepsiCo matching gift program. Current full- and part-time employees qualify to request corporate matches for gifts between $25 and $10,000 per year. Most nonprofits are eligible to receive match funding, which includes (but is not limited to), food security organizations and other community missions, educational institutions, environmental groups, and more.
Learn more about the matching gift program.

Starbucks Corporation
Starbucks' Partner Match Program is one of the most popular ways in which the company supports a wide range of organizations. Donations made by full-time and part-time US and Canadian employees to most registered nonprofits qualify for matching at a 1:1 ratio up to $1,000 per year. Once the donation has been made, eligible employees have 90 days to submit their matching gift request on behalf of the cause.
Additionally, the Starbucks Foundation encourages current team members to nominate local nonprofits in consideration of generous Neighborhood Grants, which have provided more than $10 million to over 6,000 organizations.
Learn more about the matching gift program.
Top Tips to Amplify Impact with Effective Gift-Matching
By harnessing the power of gift-matching, you can unlock a world of opportunities to enhance your fundraising efforts and extend the reach of your food security organization's services.
At Double the Donation, we've worked with many of the leading anti-hunger groups, and we've compiled a list of six tried-and-true tips to do so effectively.
1. Raise awareness of matching gift programs among supporters.
More than 78% of eligible individuals have no idea that their employer will match their gifts to charitable causes like yours. And that's why so many matching gifts to unclaimed each year.
Thus, the first step in establishing an effective matching gift strategy for your organization is to educate your supporters about this opportunity.
We recommend employing various marketing channels, such as your…
Website;
Donation process;
Email outreach;
Social media platforms;
SMS messaging;
Direct mail;
And more!
With these tactics, you can effectively share information and success stories related to matching gifts, exposing supporters to the invaluable opportunity. When donors are aware of the programs, they want to get involved.
As you get started, consider working off our optimized matching gift messaging templates and examples to see best practices like these in action. This should include providing ample context regarding the programs, incorporating clear and specific calls to action, and more.
2. Communicate the amplified financial impact of matching.
From the donor's perspective, one of the greatest benefits of participating in a matching gift program is the ability for their contributions to stretch twice as far. After all, they already care about your mission⁠—to reduce food insecurity⁠. Of course, they'll want to make a more significant impact at no extra cost to them!
Thus, be sure to emphasize this amplified donation impact in all of your matching gift communications. You can even put it in specific, tangible terms to better demonstrate the value. For example, if your organization advertises that a $5 donation will feed a family of four for a day, you can clarify that a matched $5 gift can support two families.
3. Collect employment data to uncover match-eligible donors.
One key strategy to maximize the potential of gift matching involves collecting and maintaining accurate employment data for your donors. This will allow your team to compare the information against top matching gift companies (such as the ones listed above) and identify match-eligible gifts.
To gather the necessary data, start by including fields for an individual's employer name in your donation forms. You can also request employment details in post-donation follow-ups and more. Remember that this information can get stale relatively quickly, not to mention matching gift program qualifications are constantly changing, so it's important to collect this data on a regular basis to stay up to date.
(Hint: this is particularly easy when using a matching gift tool that integrates with your online giving platforms.)
4. Thoroughly research companies' matching gift program guidelines.
Not all matching gift companies have the same policies in place, so taking time to research donors' employers can go a long way. By delving into the specifics of each program, you can identify the most advantageous opportunities for your organization and effectively communicate these details to supporters.
And you don't want to discount your cause from a company's program without a closer look, either. For example, many food pantries and soup kitchens are associated with religious groups like churches. But if you see a donor's giving initiative bars matching to faith-based organizations⁠—don't fret! Most companies that exclude strictly religious causes include an addendum to the policy stating that religiously affiliated groups providing social services (like food security initiatives) do, in fact, qualify for matching gifts.
Still, there's no one-size-fits-all answer when it comes to matching gift eligibility, so it's a good idea to conduct thorough research regardless. We recommend utilizing a comprehensive matching gift database to make this task as easy as can be.
5. Explore corporate partnerships with food-focused businesses.
Matching gifts aren't the only type of corporate philanthropy to consider for your anti-hunger cause, either! In fact, pursuing strategic partnerships with for-profit businesses can unleash advantages for both parties involved.
For example, you might ask a local grocery store if they'd be willing to donate nonperishable food items to stock your pantry. Or even host a food drive out of their business that encourages shoppers to participate!
Alternatively, you could solicit a restaurant or catering business to prepare a meal to serve at your organization's soup kitchen.
Depending on your nonprofit programming and the companies in your area, the opportunities are endless. And if you're looking to get your foot in the door with a potential corporate sponsor, taking a look at your donors' employers that are already supporting your cause through matching gifts can be a great start. In fact, the donors who work for those companies can be some of your greatest champions in advocating for such partnerships!
6. Scale efficiencies with matching gift automation.
Running a food security program can be a lot of work. You may even be operating with limited staff and resources, which could make strategically pursuing matching gifts seem like an impossible task. But that's where automation comes in to take the brunt of the effort off your team's plate. Instead, scaling up efficiency and overall results.
Double the Donation's 360MatchPro can maximize matching gifts for food security and anti-hunger organizations with the following features:
Automatic identification of match-eligible donations based on the provided employment data
Seamless integration with nonprofit CRMs and online donation tools, embedding matching gift information and next steps directly within the giving experience
Customizable email streams with optimized follow-up cadences for post-donation communications, providing employer-specific matching gift guidelines and links to online forms
Matching gift lifecycle tracking to follow up on stuck matches and more accurately forecast incoming match revenue
Matching gift automation tools can significantly reduce the administrative burden associated with promoting and managing matching gifts. Plus, it makes things easier for participating donors, too! This ultimately allows your organization to focus on its core mission while reaping the benefits of corporate matching⁠—without lifting a finger.
---
Next Steps
Now, begin pursuing matching gifts for food security groups by implementing these tips and tricks in your fundraising strategy.
When actively promoting and facilitating matching gifts, anti-hunger organizations can tap into the generosity of individuals and corporate entities alike. And ultimately, it allows you to grow your return on investment and do more for the individuals receiving your services.
Interested in learning more about maximizing your matching gift practices? We've compiled a few recommended resources: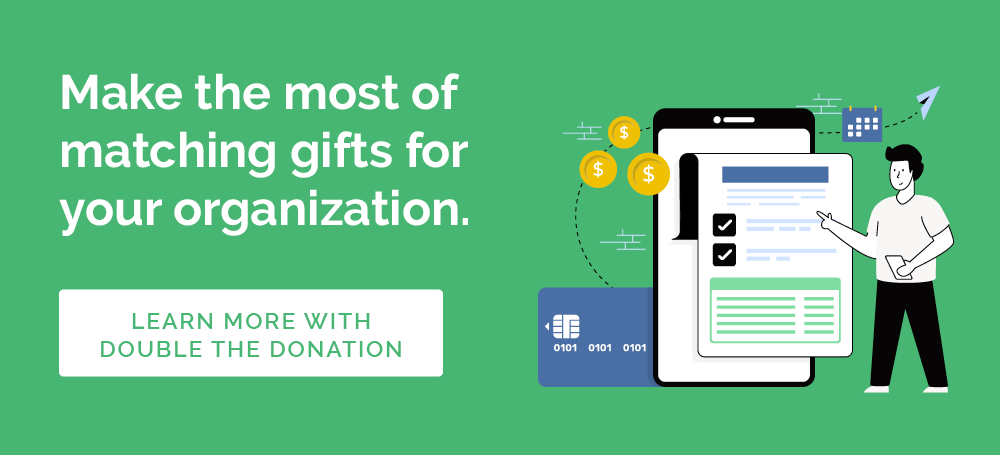 https://doublethedonation.com/wp-content/uploads/2023/05/DTD_Matching-Gifts-for-Food-Security-Anti-Hunger-Organizations_Feature-1.png
600
1600
Adam Weinger
https://doublethedonation.com/wp-content/uploads/2022/03/logo-dtd.svg
Adam Weinger
2023-05-25 14:22:41
2023-05-25 17:02:11
Matching Gifts for Food Security + Anti-Hunger Organizations