Matching Gifts and Animal Rescues | How to Double Impact
When it comes to running an animal rescue, there are a few things we can assume about you. First of all, that you're devoted to the animals in your care. And second, that you want your animal organization's fundraising dollars to go as far as possible to best support the furry (or feathered, scaly, etc.) friends depending on your services.
The solution? Matching gifts!
Matching gifts and animal rescues go hand in hand⁠—or paw in paw, if you will. In this guide, we'll walk through everything you need to know as an animal rescue team member to make the most of matching gifts for your cause. This includes:
Ready to dive in? Let's get started.
The Basics of Matching Gifts for Animal Rescues
Matching gifts can significantly impact just about any nonprofit group⁠—animal rescues included. These powerful programs allow organizations to double their impact, empowering eligible donors to get involved with their companies' programs.
Specifically, matching gifts are a form of corporate philanthropy where businesses match employees' charitable donations to eligible nonprofit causes. This means that if an individual donates to their local pet shelter, their employer will contribute an equal (or sometimes larger) amount, effectively doubling the initial gift. It's an incredible opportunity for individual donors to amplify their impact and make a greater difference in the lives of animals in need.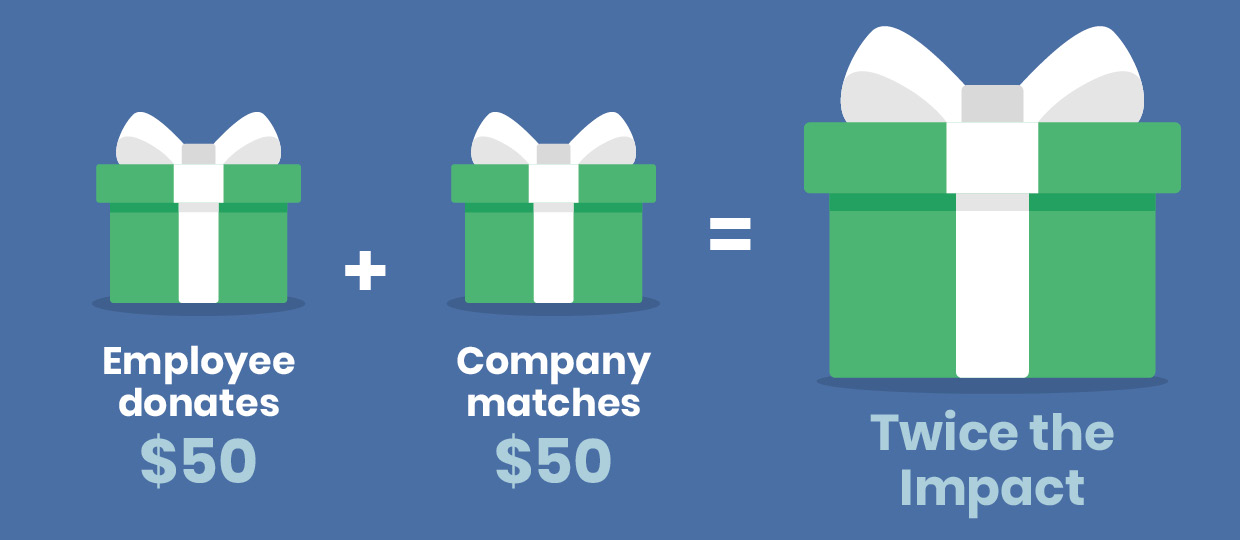 Thus, as an animal rescue fundraiser, matching gifts maximize the support coming your way. Research even shows that individual donors are more likely to give, and more likely to give in larger amounts, when they know that matching is available!
However, matching gifts continue to remain a severely underutilized revenue source for qualifying nonprofits. And that's because most eligible supporters have never been made aware of the programs. Because individual donors typically have to complete and submit their own matching gift forms for their employers, a lack of familiarity with the opportunity results in substantial amounts of unclaimed funding.
Today, an increasing number of organizations are taking steps to close the knowledge and consequent funding gaps⁠ with strategic matching gift promotions and guidance—and we recommend that your animal mission gets on board.
Tips for a Pawsitive Matching Gift Experience
Maximizing matching gifts for animal rescues doesn't have to be difficult. Check out these recommended tips that are already being used by organizations across the globe.
1. Use animal-related imagery in communications to illustrate impact.
You likely understand that imagery is used in nonprofit marketing materials to attract and retain an audience's attention. This is especially beneficial regarding matching gift communications. After all, corporate donation-matching is likely to be a new idea for many of your donors⁠—and an abstract one at that.
Utilizing familiar, impactful imagery can go a long way toward deepening the connection with your audience. Plus, it helps demonstrate the concepts involved with matching gifts through photo, graphic, and video content that reflects your organization's tangible mission values. Think: twin kittens or a bonded pair of dogs.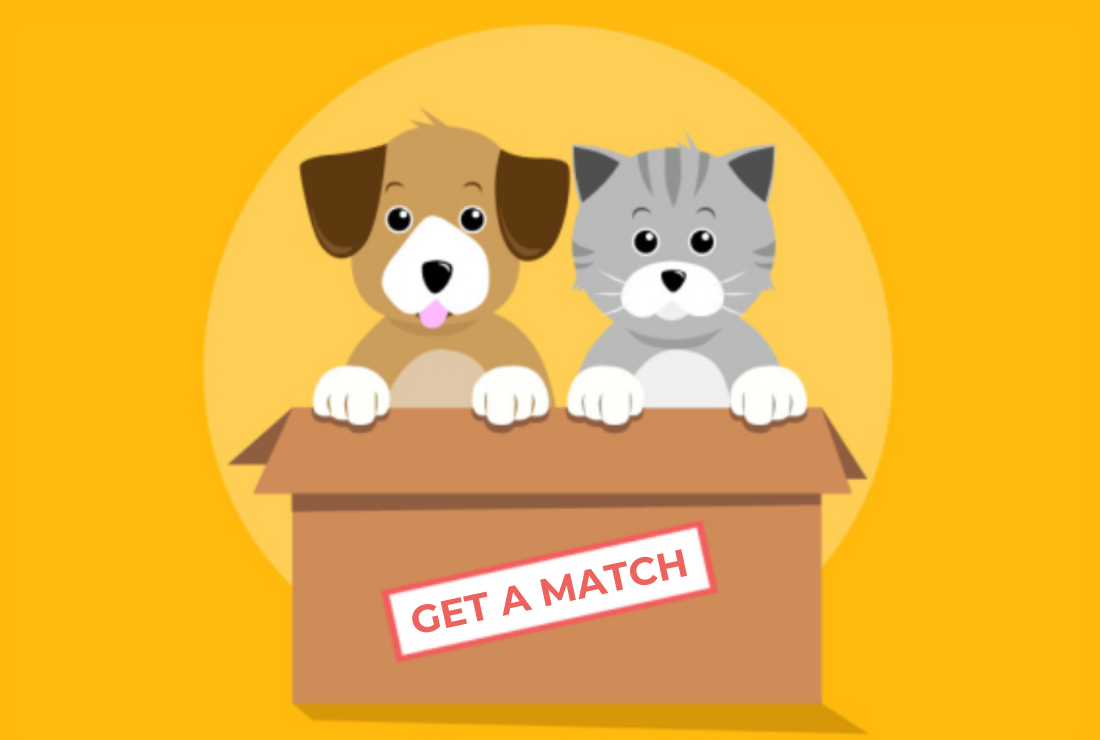 You already know that your donors support your cause. Use visual elements to reiterate that they can do even more with a corporate match, enabling your team to further its lifesaving work, providing vital medical attention, shelter, and loving homes for the animals in your care.
2. Share company-specific matching gift guideline information.
Each company that offers to match employee donations is able to establish its own unique set of matching gift eligibility criteria. Most often, this includes a combination of:
Minimum donation amounts;
Maximum donation amounts;
Matching gift ratios;
Qualifying nonprofit types;
Qualifying employee types;
Submission deadlines.
However, donors who are learning about matching gifts for the first time through your organization are not likely to know where to look for this information. Rather than allowing it to cause a roadblock for supporters, make an effort to provide the relevant details to your donors directly.
For example, if you know an individual works for the Walt Disney Company, research the company's guidelines so that your donor doesn't have to. Then, present them with the information you've uncovered on the gift confirmation page (if you use a matching gift tool) or in a follow-up email.
3. Guide matching gift donors through the process.
Once you or your donor has confirmed a gift's match eligibility, the individual can begin to initiate the process. Typically, this involves a brief online form, with the donor providing details about your organization and their recent transaction.
Make it easy for your supporters to do their part by streamlining things on your end! As you did with the eligibility criteria, locate information regarding your donors' matching gift submission processes to ultimately reduce the extent of the task that's being asked of them.
Then, send them a link to the online portal and encourage them to submit the form. If you know the company is going to ask for information about your organization, proactively share the details they'll need⁠—such as your mailing address and tax ID number.
4. Automate the experience with a matching gift tool.
Without the right resources in your fundraising toolkit, effectively marketing matching gift opportunities to your audience can be a daunting task. Luckily, Double the Donation aims to simplify the process with our best-in-class matching gift automation platform: 360MatchPro. And it empowers organizations like yours to trigger personalized matching gift communications that inform donors about gift-matching, streamline requests, and more.
Specifically, 360MatchPro…
Identifies match-eligible donors with multiple screening methods to collect employment information and screen against known matching gift companies to ensure no qualifying supporters slip through the cracks;
Provides company-specific matching gift guideline information and direct links to online request forms from an organization's confirmation screen and email outreach;
Tracks completed donations through the matching gift lifecycle to forecast incoming revenue and drive forward stuck matches;
Integrates seamlessly with 70+ donation tools and CRMs to establish a robust matching gift promotional cadence that reaches donors where they are.
This allows your team to save time, energy, and resources that can be reallocated to other high-value tasks⁠—such as next-level animal rescue fundraising and caring for your furry friends in need.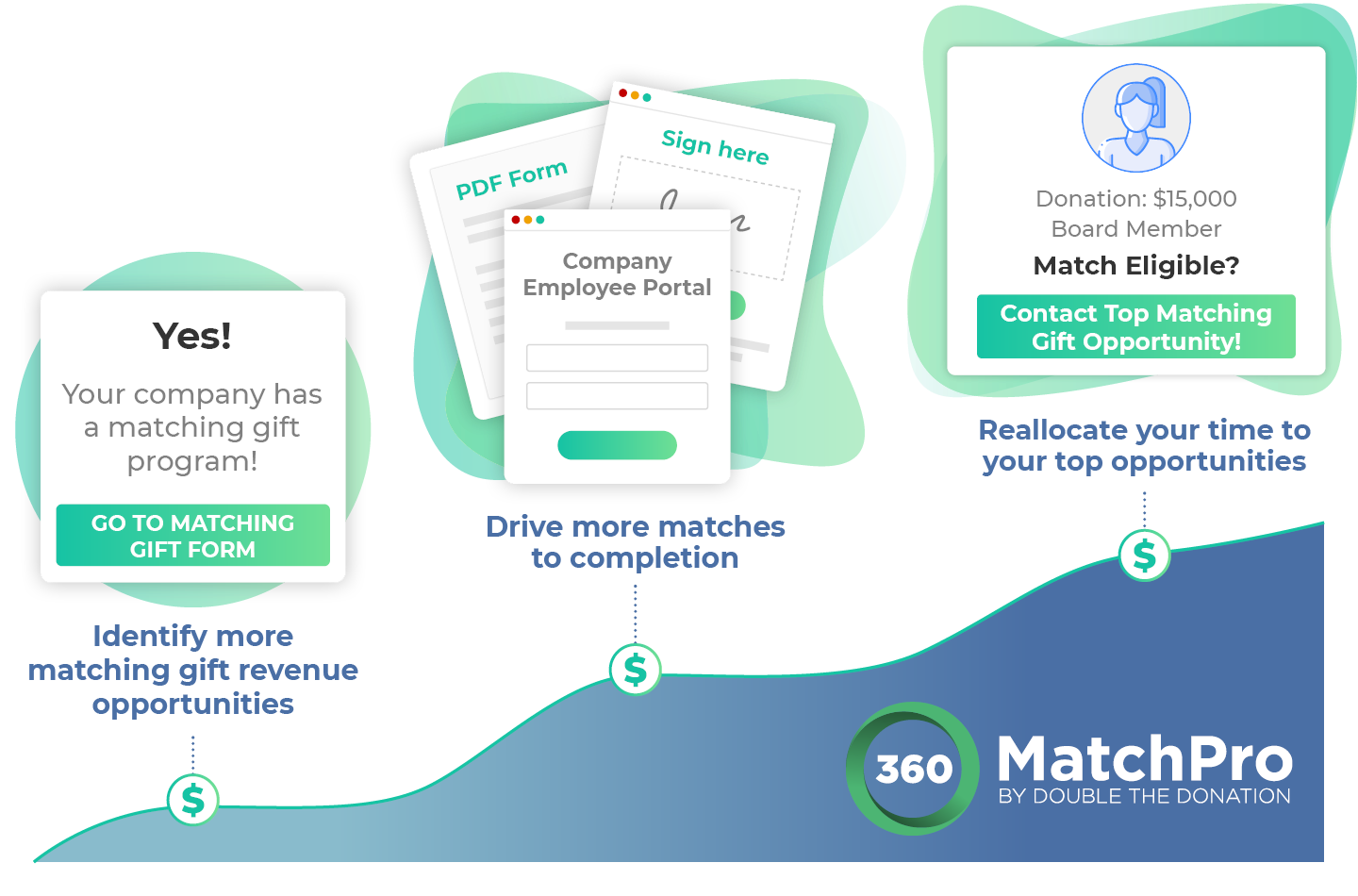 Interested in seeing how other leading fundraising organizations have elevated their fundraising with matching gift technology? Check out this compilation of inspirational case studies⁠—including one from Humane Society International!
5. Seek additional corporate partnership opportunities.
Matching gifts are one of the most prevalent forms of corporate philanthropy, but they're certainly not the only kind out there for your animal rescue. Still, an effective matching gift strategy can help your team uncover additional partnership opportunities.
For example, if you see that a significant segment of your donor base works for a particular employer, you might decide to reach out to the company to seek a sponsorship. If the company already participates in matching employee gifts, even better! You already know that it's a socially responsible business that has a lot in common with your rescue.
And if it's one that doesn't already match gifts, consider imploring them to consider a one-off matching gift initiative benefitting your nonprofit! You can even encourage your donors to advocate for a program on your behalf.
We recommend prioritizing companies that share similar values to your own. For example, a pet-related business (such as a pet supply shop, a grooming business, or even a company that sells cleaning products targeting pet owners) may be interested in sponsoring your upcoming fundraising event. After all, you share a love of animals, and your target audiences are likely to overlap as well.
Companies That Match to Animal Rescue Organizations
Thousands of companies, large and small, have these programs in place as part of their corporate social responsibility initiatives. Tons will match donations made to animal rescues like yours, but we've selected a few standout examples to explore below.

Pets Best Insurance
Pets Best Insurance, a subsidiary of Synchrony Financial, is proud to offer a corporate matching gifts program that reflects its commitment to supporting the welfare of both animals and society as a whole. Through this program, Pets Best Insurance encourages its employees to contribute to nonprofit animal rescue organizations and other charitable causes, amplifying their impact by matching individual donations.
Currently, full-time and part-time employees are eligible to participate in the program. Each team member is able to request matches between $25 and $25,000 to qualifying causes. Among animal rescues are educational institutions (K-12 included), health and human services, arts and cultural organizations, civic and community organizations, environmental groups, and many other 501(c)(3) nonprofits.
Learn more about the matching gift program here.

Hills Pet Nutrition
As a subsidiary of Colgate-Palmolive, Hills Pet Nutrition has designed its corporate matching gift program to make a meaningful difference in its community. And, of course, the furry friends it serves are key beneficiaries when the company matches employee donations to qualifying animal rescues and other charities.
At a dollar-for-dollar rate, full- and part-time team members are eligible to request corporate matching of up to $8,000 per employee per year. Along with animal rescues, other causes the company supports include a variety of education, health, community, and environmental nonprofits.
Learn more about the matching gift program here.

Blue Buffalo
Blue Buffalo and other General Mills subsidiaries offer generous matching gift programs in which they encourage employees to participate. Thus, not only does Blue Buffalo's match initiative demonstrate the company's dedication to supporting the welfare of animals, but it also inspires and motivates employees to give back to causes they care about.
With a match ratio of up to 2:1, Blue Buffalo employees can triple the impact of the gifts they contribute to qualifying organizations. Each team member can request between $25 and $1,000 per year, and the company even matches gifts made by retired employees as well!
Learn more about the matching gift program here.

Zoetis
Formerly under Pfizer and now an independent pharmaceutical company, Zoetis is the largest animal health company across the globe. And it's devoted to animal (and overall) welfare even beyond its own offerings. By supporting charitable causes—including animal-focused organizations—through its matching gift program, Zoetis makes giving back a priority.
Plus, its employees are encouraged to take the reins with the giving program by supporting their own favorite charities and requesting associated corporate matches. Processed through the Zoetis Foundation, employee donations, along with their associated matches, support more than 119,000 pet owners in need and provide over $7.7 million for animals and the people who care for them each year.
Learn more about the matching gift program here.

ADM Animal Nutrition
An Archer Daniels Midland company, ADM Animal Nutrition is a leading manufacturer of animal nutrition products. And its matching gift program goes to support animal welfare as well!
Current full-time team members qualify to request matches from ADM regarding gifts between $100 and $5,000 each year. Among animal rescue organizations, most registered 501(c)(3) nonprofits supported by ADM Animal Nutrition or other ADM employees qualify to receive such funding.
Learn more about the matching gift program here.
And that's only a small percentage of the companies that match gifts to nonprofit organizations⁠—for most of which, animal rescue groups like yours will qualify!
Dive into even more generous matching gift companies with lists like this. Or employ a matching gift database to uncover information on any corporate philanthropy opportunity in seconds.

Matching Gift Communication: Sample Wording for Animal Rescues
Ready to begin promoting matching gifts to your nonprofit rescue's audience? These examples can offer an excellent headstart as you develop your personalized strategy.
Matching Gift Email Template
Subject: Double the Impact of Your Generosity for Our Furry Friends!

Dear [Donor's Name],

On behalf of all the wagging tails, purring kitties, and grateful hearts at [animal rescue], I want to extend our sincerest gratitude for your recent donation. Your compassion and support are making a real difference in the lives of our beloved animals.

I'm reaching out to share an exciting opportunity that could multiply the impact of your contribution (at no additional cost to you!). Many companies offer matching gift programs to support charitable causes close to their employees' hearts. By taking advantage of this wonderful initiative, you can potentially double or even triple the value of your generous donation.

These programs often have a simple process that typically completing a quick online process. Click here to learn more and locate your company's submission forms [link to matching gift page]!

If you have any questions or need further assistance, please don't hesitate to reach out to us. We're here to help every step of the way.

Warm regards,

[Your Name] (and furry friends)
[Your Title/Position]
[Organization]
Matching Gift Facebook Post Template
🐾 Double the Love: Unlock the Power of Matching Gifts! 🐾

We are thrilled to announce an incredible opportunity to make an even bigger impact on the lives of our precious furry companions. Did you know that many companies offer matching gift programs to amplify the donations made by their employees? That means your generosity can be doubled or even tripled, all with a simple request to your employer!

Imagine the difference we can make. Your $50 donation could turn into $100 or more, providing vital medical care, nourishment, and a safe haven for our four-legged friends in need. By taking a few moments to request a matching gift, you have the power to create an even greater impact and transform the lives of animals who are longing for a loving home.

Here's how you can get started:

1️⃣Browse our matching gift page: Visit our website at [link to matching gift page] to explore our dedicated match page. We've compiled helpful resources, FAQs, and step-by-step instructions to assist you in navigating the matching gift process. Find answers to common inquiries, access your company's specific forms, and more.

2️⃣ Gather the necessary information: When speaking with your employer, make sure to have our official name, [animal rescue], our contact details, and any relevant documentation about your recent donation handy.

3️⃣ Advocate for our cause: Share our mission and the impact of your donation with your employer. Let them know how their support can make a significant difference in the lives of animals and the local community. Inspire them with the transformative work we're doing together.

4️⃣ Spread the word: Encourage your colleagues, friends, and family members to explore matching gift opportunities with their employers too. Together, let's make the most of this incredible opportunity to support our beloved animals in need!
Matching Gift Tweet Template
Did you know your donation to [animal rescue] could be matched by your employer? Take a moment to inquire about their matching gift program and amplify the love for our furry friends. Together, we can make a difference! ❤️🐾 #MatchingGifts #AnimalRescue
Matching Gift Text Message Template
Hey [donor], it's [name] from [animal rescue]. Your recent donation means the world to us. Did you know your gift could be doubled? Check out our matching gift page to learn more and maximize your impact for our furry friends. Thank you for your incredible, ongoing support! [Link to matching gift page]
---
Your animal rescue organization likely invests in smart fundraising strategies to generate revenue needed to fund your day-to-day and mission-based activities. If you haven't explored the opportunity already, matching gifts can scale the impact of your efforts to new heights. And you certainly don't want to miss out on this stream of no-cost funding⁠—so it's time to get started!
Learn more—Dive deeper into the world of corporate matching gifts with these recommended resources for your organization: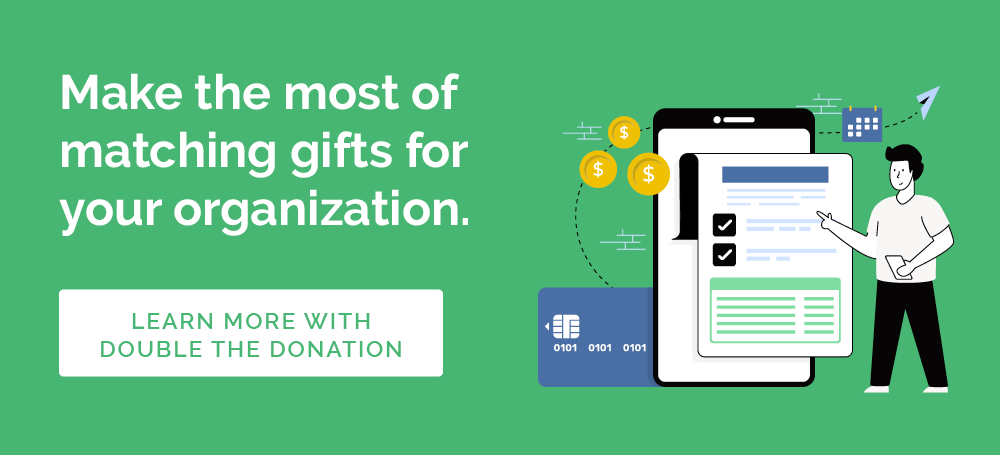 https://doublethedonation.com/wp-content/uploads/2023/05/DTD_Matching-Gifts-and-Animal-Rescues-How-to-Double-Impact_Feature.png
600
1600
Adam Weinger
https://doublethedonation.com/wp-content/uploads/2022/03/logo-dtd.svg
Adam Weinger
2023-05-25 12:57:06
2023-05-25 14:52:27
Matching Gifts and Animal Rescues | How to Double Impact