GiveSmart by Community Brands Integrates with Double the Donation in New Matching Gift Partnership
Double the Donation and GiveSmart by Community Brands have just released a new integration on GiveSmart fundraising forms with 360MatchPro, Double the Donation's advanced matching gift automation software. The new integration allows nonprofits to raise more from matching gifts by taking the stress out of discovering donors' match eligibility. 
"Adding 360MatchPro to GiveSmart fundraising functionality was a no-brainer from the start," said Steve Greanias, General Manager at GiveSmart. "We're aligned closely on our mission: help organizations raise more without increasing their teams' efforts. This new integration does just that, and with the most powerful matching gift software out there."
The new integration focuses on helping donors discover their eligibility and deepen their impact without having to reach back into their own pockets. 
"Matching gifts are a great fundraising resource because the number one roadblock is a simple issue of donor awareness," said Adam Weinger, President at Double the Donation. "Our new integration interacts with donors at the time of giving to help remove that roadblock."
Read on to learn more about the integration and how it benefits mutual users of GiveSmart fundraising and 360MatchPro.
Activate in Seconds and Start Raising More in Matching Gifts!
The GiveSmart and Double the Donation teams have made sure that setup is simple for nonprofit clients. When an organization goes to their GiveSmart settings and navigates to integrations, they'll be able to enter their public and private API keys from their 360MatchPro account. Once they've entered their keys and verified their connection, they can then add the 360MatchPro auto-complete search tool to all relevant donation forms.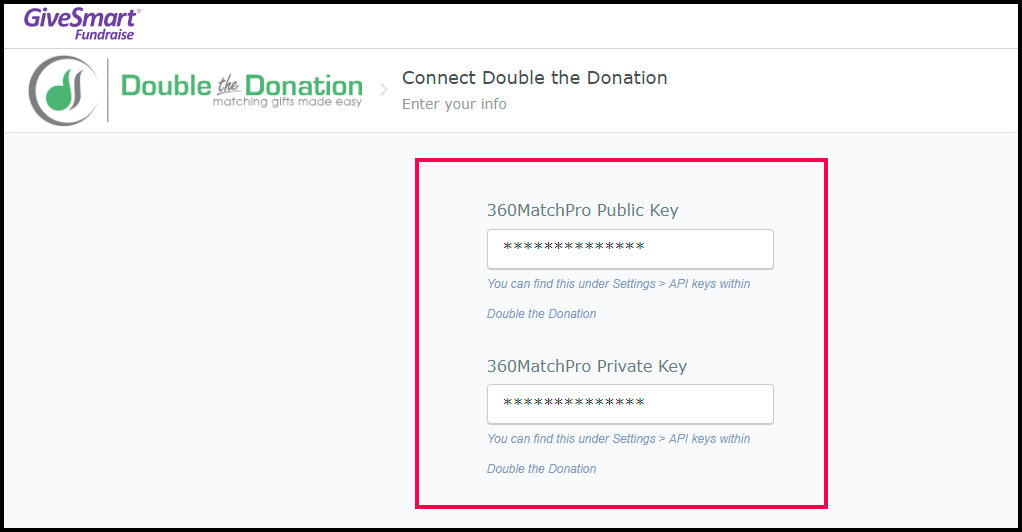 Once 360MatchPro is placed on the nonprofit's donation forms, their donors can then search their company name during the giving process. Once the donor has completed their gift, they can check their email for a personalized message from the nonprofit, powered by 360MatchPro, prompting them to continue the matching gift process and submit their match request.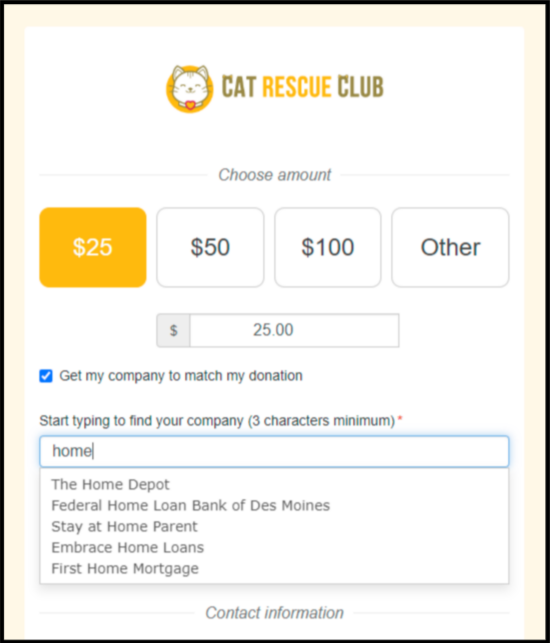 Donors deepen their impact while nonprofits can engage with their supporter base in new and exciting ways that encourage more boosted revenue!
Drive More Matching Gifts to Completion with 360MatchPro!
The GiveSmart and 360MatchPro integration responds to nonprofit and school requests for powerful integrated matching automation. Some more benefits of this automation can be found below: 
Identify more matching gift revenue opportunities:

360MatchPro enables you to automatically collect matching gift eligibility from donors using email domains, within donation forms, on confirmation screens, or by email. The more matching gift opportunities 360MatchPro discovers and shares with donors, the more matching gift requests your donors will successfully submit.

Drive more matches to completion, from form submission to corporate payment:

Direct donors immediately to their matching gift forms after the donation process is complete. Then, provide the right information to the right donors at the right time with custom emails based on match eligibility. Target follow-ups drive more completed submissions than ever before, bringing exponentially more matching gift checks from companies through your door.

Reallocate your time from routine follow-up to your top opportunities:

Your time is valuable, so why spend it chasing small dollar-value matching gifts? Let 360MatchPro automate your matching gift outreach while flagging your highest-value opportunities, allowing your team to personalize follow-ups to the most valuable match-eligible donations. Rest easy knowing that 360MatchPro can handle the rest.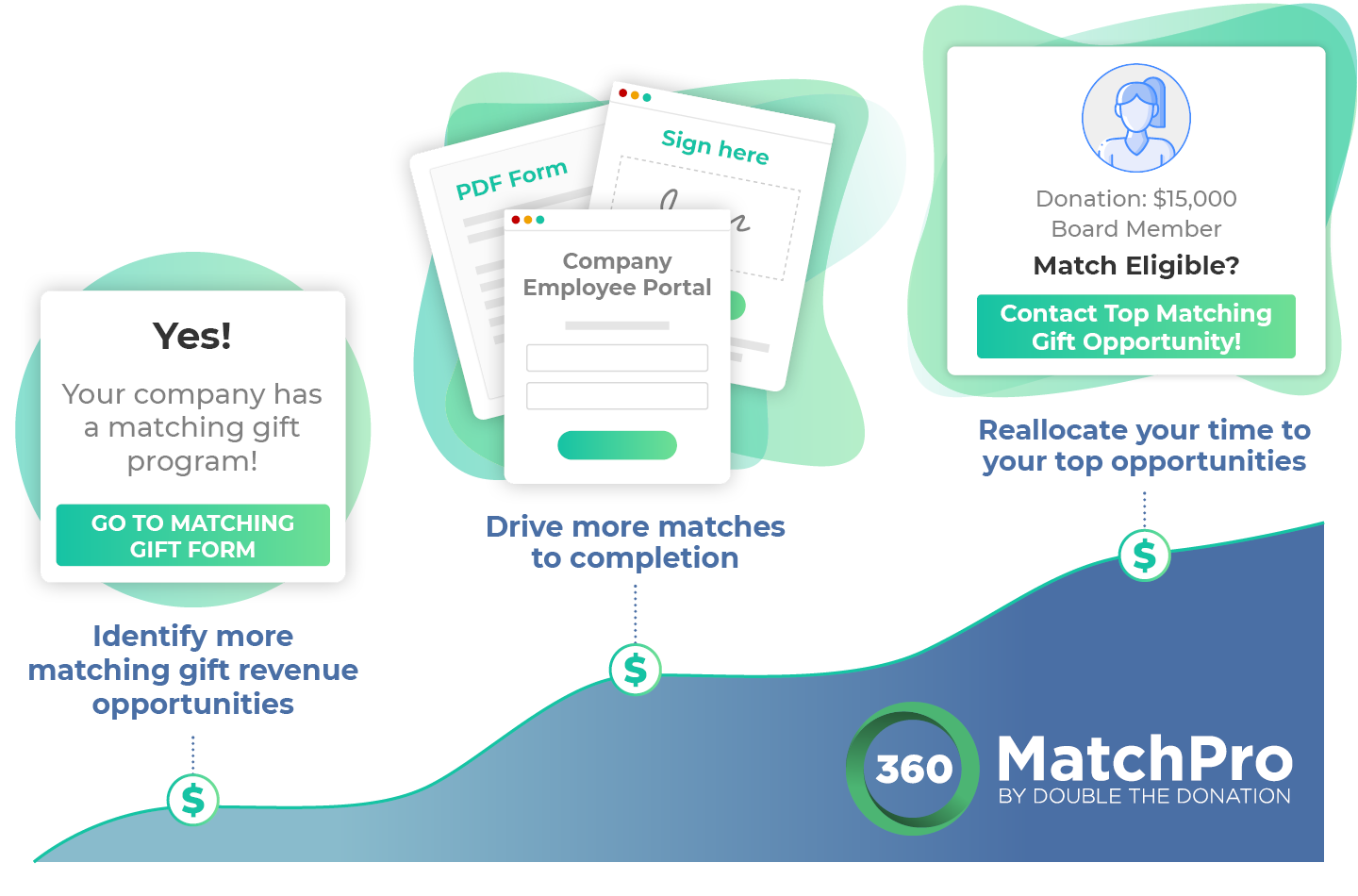 Ready to start raising more with matching gifts? Schedule a personalized demo today. 
---
About GiveSmart by Community Brands: GiveSmart is a fundraising, event management and donor management software with the mission to help nonprofits, schools, and foundations reach their fundraising goals while creating an engaging, exciting, and easy year-round giving experience for donors. GiveSmart has helped its partners raise over $6 billion. Learn more at givesmart.com.
About Double the Donation: Automate your matching gift fundraising with the industry-leading solution from Double the Donation. The 360MatchPro platform provides nonprofits with tools to identify match-eligible donors, drive matches to completion, and gain actionable insights. 360MatchPro integrates directly into donation forms, CRMs, social fundraising software, and other nonprofit technology solutions to capture employment information and follow up appropriately with donors about matching gifts.
https://doublethedonation.com/wp-content/uploads/2023/05/DTD-GiveSmart_announcement-feature-1.png
290
775
Erin Oquindo
https://doublethedonation.com/wp-content/uploads/2022/03/logo-dtd.svg
Erin Oquindo
2023-05-24 17:05:09
2023-05-25 12:50:13
GiveSmart by Community Brands Integrates with Double the Donation in New Matching Gift Partnership