Double the Donation and Allegiance Group Enhance WeDidIt Integration to Streamline Matching Gift Experience
Allegiance Group and Double the Donation are excited to announce their expanded matching gift integration. These partners remain committed to helping fundraising organizations fully harness the power of corporate matching gifts as a funding and donor engagement tool. Allegiance Group's WeDidIt donation forms now integrate directly with 360MatchPro, Double the Donation's industry leading matching gift software. 
With the new 360MatchPro integration, WeDidIt clients can more fully engage donors with matching gifts and track that engagement throughout the matching gift process. Specifically, 360MatchPro can now embed seamlessly into WeDidIt forms and present donors with their exact matching gift next steps on those confirmation pages. Allowing donors to kick off the matching gift request process immediately following their contribution increases follow-through and empowers donors while they are still in the giving mindset. 
"This 360MatchPro integration will help our clients earn more matching gift revenue to benefit their mission. 360MatchPro makes it easy for donors to submit their matching gift request and makes it easy for nonprofits to craft an effective, ongoing matching gift strategy. This is a win-win for donors and fundraising teams, and we look forward to seeing our clients succeed," says Logan Montone, Product Manager of WeDidIt at Allegiance Group.  
Along with providing donors their matching gift next steps on the confirmation page, this enhanced integration will allow mutual clients to automate matching gift outreach to all donors post-contribution. These matching gift emails serve as an engaging touchpoint and increase client success in identifying match opportunities and driving those matches to completion. By using this enhanced 360MatchPro and WeDidIt integration, nonprofits will be equipped to take a more proactive approach to matching gifts and track their progress along the way. Within their 360MatchPro dashboard, clients will be able to access rich matching gift strategy insights. 
"While helping donors navigate corporate matching can unlock your success, manually following up with donors and tracking their engagement can present challenges," says Adam Weinger, President of Double the Donation. "This enhanced WeDidIt integration eliminates those manual steps so that nonprofits can drive more matches to completion with less effort." 
360MatchPro works seamlessly with Allegiance Group's WeDidIt donation forms, improving the matching gift experience for donors. Leveraging this automation, nonprofits can feel confident in their matching gift efforts.  

Activate in Seconds and Start Raising More from Matching Gifts!
Activating the WeDidIt and 360MatchPro integration is simple. Once nonprofits navigate to the organizations setting within their WeDidIt account, they just need to retrieve their public and private API keys from their 360MatchPro account and plug them into the 360MatchPro by Double the Donation section. 

From there, you can select which campaigns you would like to activate 360MatchPro on specifically within your WeDidIt campaigns settings! Once organizations begin leveraging the integration, they will be able to determine their donor's matching gift eligibility during the donation process and provide eligible donors their matching gift next steps on the confirmation page. From there, organizations can send automated matching gift emails to encourage submission! 
This integration can help fuel matching gift revenue for organizations!
Looking to learn more? Check out our in-depth integration guide to get started. 

Drive More Matching Gifts to Completion with 360MatchPro!
360MatchPro ensures your matching gift opportunities don't fall through the cracks.
Take advantage of this solution to:
Identify more matching gift revenue opportunities:

360MatchPro enables you to automatically collect matching gift eligibility from donors using email domains, within donation forms, on confirmation screens, or by email. The more matching gift opportunities 360MatchPro discovers and shares with donors, the more matching gift requests your donors will successfully submit.

Drive more matches to completion, from form submission to corporate payment:

Direct donors immediately to their matching gift forms after the donation process is complete. Then, provide the right information to the right donors at the right time with custom emails based on match eligibility. Target follow-ups drive more completed submissions than ever before, bringing exponentially more matching gift checks from companies through your door.

Reallocate your time from routine follow-up to your top opportunities:

Your time is valuable, so why spend it chasing small dollar-value matching gifts? Let 360MatchPro automate your matching gift outreach while flagging your highest-value opportunities, allowing your team to personalize follow-ups to the most valuable match-eligible donations. Rest easy knowing that 360MatchPro can handle the rest.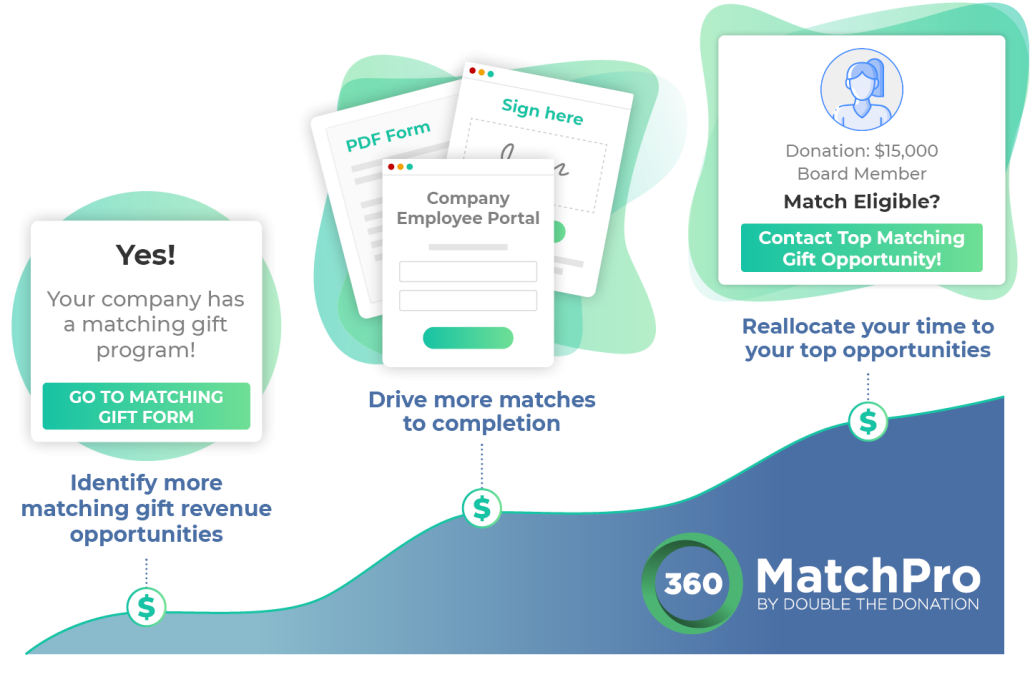 Ready to drive matching gifts for your next fundraising effort? Schedule a personalized demo to learn how matching gifts can fund your mission.
About Allegiance Group: Allegiance Group helps you grow your supporter file, increase giving loyalty, elevate your brand experiences and enhance your technologies. To learn more, visit: https://teamallegiance.com/contact-us/ 
About Double the Donation: Automate your matching gift fundraising with the industry-leading solution from Double the Donation. The 360MatchPro platform provides nonprofits with tools to identify match-eligible donors, drive matches to completion, and gain actionable insights. 360MatchPro integrates directly into donation forms, CRMs, social fundraising software, and other nonprofit technology solutions to capture employment information and follow up appropriately with donors about matching gifts. To learn more, visit https://360matchpro.com/demo-request/
https://doublethedonation.com/wp-content/uploads/2023/05/DTD-WeDidIt-announcement-image-1.png
580
1550
Adam Weinger
https://doublethedonation.com/wp-content/uploads/2022/03/logo-dtd.svg
Adam Weinger
2023-05-11 12:07:29
2023-09-14 21:17:08
Double the Donation and Allegiance Group Enhance WeDidIt Integration to Streamline Matching Gift Experience