Tiltify Partners with Double the Donation for 360MatchPro Matching Gifts Integration
Double the Donation and Tiltify answer the call for advanced matching gift functionality with an all new integration between Tiltify donation forms and 360MatchPro, the leading matching gift automation software for nonprofits and educational institutions.
"Our integration with Double the Donation makes the process of raising more possible for our nonprofit partners while keeping the giving process seamless for our donors," says Michael Wasserman, CEO at Tiltify. "We're excited to use this integration to bridge the gap between engaged donors who want to make an impact and organizations who want to connect with those people."
The integration now enables Tiltify viewers and donors to increase their impact by discovering their matching gift eligibility and taking their next steps toward matching gift success. 
"We're excited to offer organizations the opportunity to interact further with their donors through Tiltify, educating donors about their match eligibility in the process," says Adam Weinger, President at Double the Donation. "This integration keeps the process seamless for those donors but provides that essential information that could result in a match."
Read on to learn more about the Tiltify and 360MatchPro Integration!

Activate in Seconds and Start Raising More from Matching Gifts!
Activating the 360MatchPro and Tiltify integration takes a matter of minutes. After retrieving their public and private API keys from their 360MatchPro account, organizations can plug those keys into their Tiltify account in their integrations module.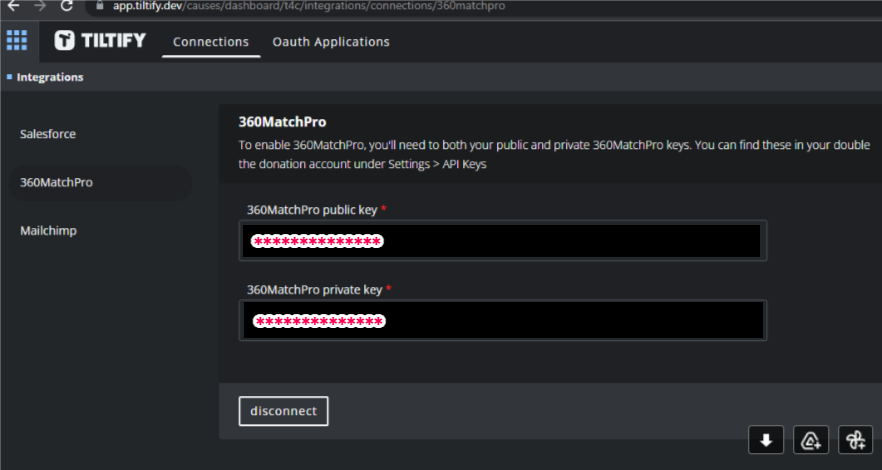 From here, 360MatchPro will be activated across their Tiltify fundraising pages! 
For donors, the process is even easier. After a donor makes a gift on a Tiltify donation page, they'll be prompted to search their company name, then be presented with their next steps toward matching gift success with the 360MatchPro matching gift plugin.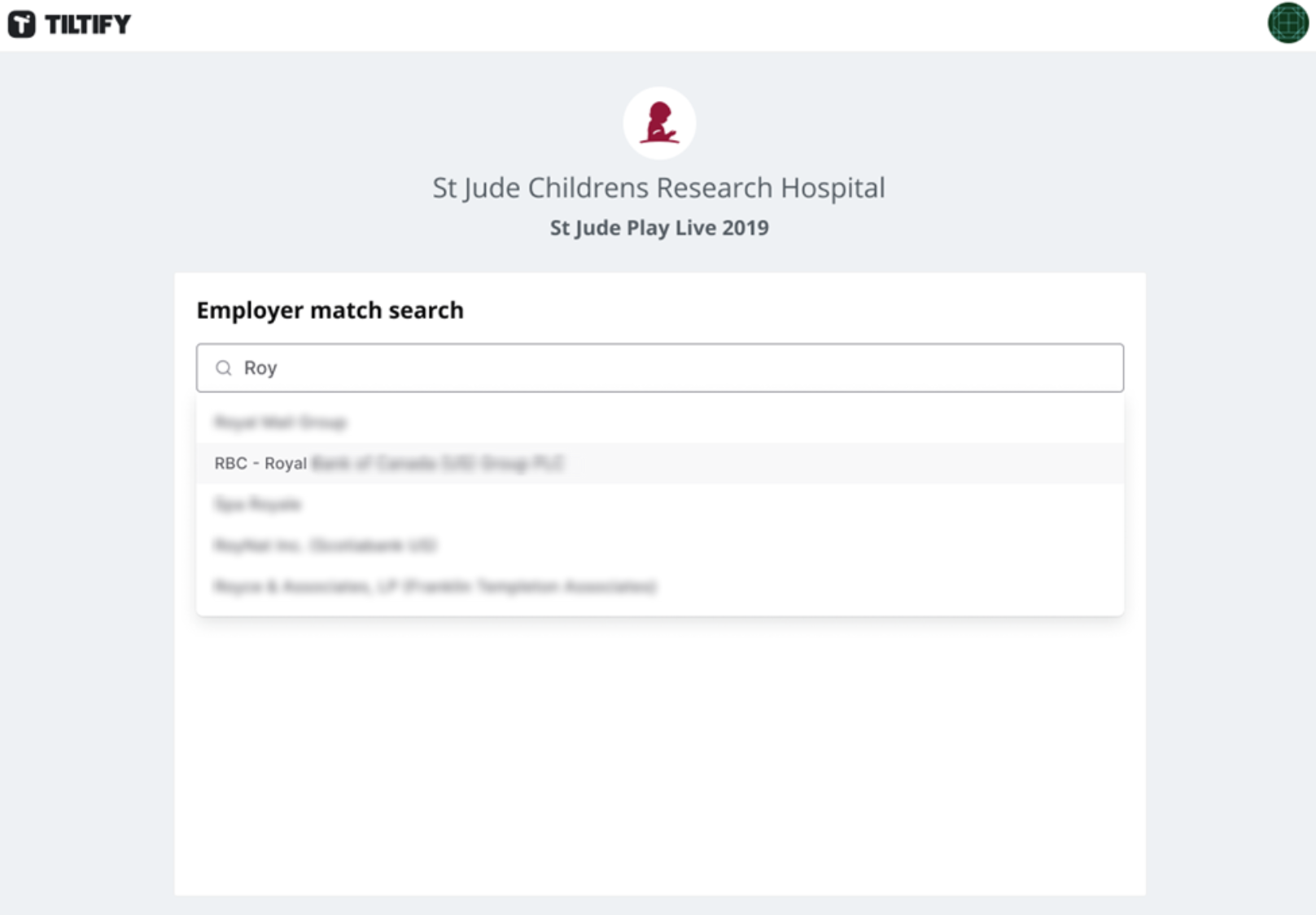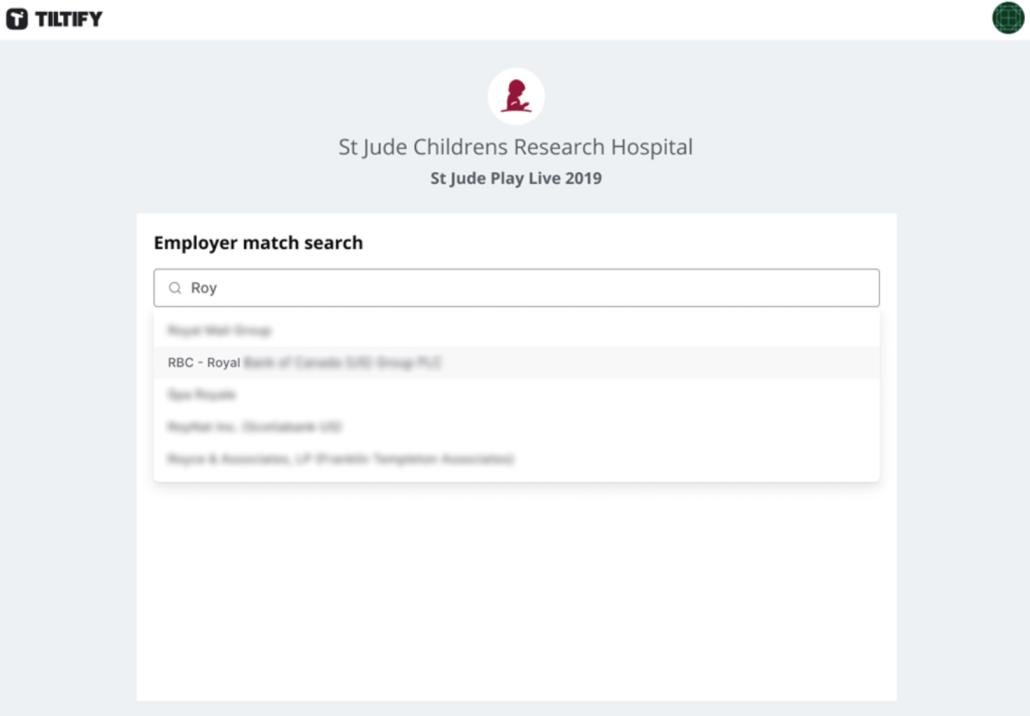 Once the donor hits "Go to Matching Gift Form" on the 360MatchPro matching gift plugin, that donation record will flow into the organization's 360MatchPro account for recording and tracking. Anonymous donations will not include a name when passed into 360MatchPro.

Drive More Matching Gifts to Completion with 360MatchPro!
Double the Donation and Tiltify have partnered so nonprofits boost their revenue with powerful matching gift automation software and engage their donors in a new way.
Some additional features organizations can expect to leverage with 360MatchPro:
Identify more matching gift revenue opportunities:

360MatchPro enables you to automatically collect matching gift eligibility from donors using email domains, within donation forms, on confirmation screens, or by email. The more matching gift opportunities 360MatchPro discovers and shares with donors, the more matching gift requests your donors will successfully submit.

Drive more matches to completion, from form submission to corporate payment:

Direct donors immediately to their matching gift forms after the donation process is complete. Then, provide the right information to the right donors at the right time with custom emails based on match eligibility. Target follow-ups drive more completed submissions than ever before, bringing exponentially more matching gift checks from companies through your door.

Reallocate your time from routine follow-up to your top opportunities:

Your time is valuable, so why spend it chasing small dollar-value matching gifts? Let 360MatchPro automate your matching gift outreach while flagging your highest-value opportunities, allowing your team to personalize follow-ups to the most valuable match-eligible donations. Rest easy knowing that 360MatchPro can handle the rest.
Ready to start raising more with matching gifts? Schedule a personalized demo today.
---
About Tiltify: Tiltify is a social fundraising platform that brings together digital communities, charities, and brands to do social good across the globe. With innovative fundraising engagement tools such as polls, milestones, and rewards as well as interactive overlays, Tiltify is a charity fundraising platform built for digital communities.
About Double the Donation: Automate your matching gift fundraising with the industry-leading solution from Double the Donation. The 360MatchPro platform provides nonprofits with tools to identify match-eligible donors, drive matches to completion, and gain actionable insights. 360MatchPro integrates directly into donation forms, CRMs, social fundraising software, and other nonprofit technology solutions to capture employment information and follow up appropriately with donors about matching gifts.
https://doublethedonation.com/wp-content/uploads/2023/05/Tiltify_DTD_Announcement-Feature.png
290
775
Adam Weinger
https://doublethedonation.com/wp-content/uploads/2022/03/logo-dtd.svg
Adam Weinger
2023-05-10 15:21:53
2023-09-05 15:01:25
Tiltify Partners with Double the Donation for 360MatchPro Matching Gifts Integration