Year-End Fundraising and Matching Gifts: It's Not Too Late!
The holiday giving season is upon us. Luckily, it's not too late to get started with matching gifts and year-end fundraising strategies before the clock strikes midnight and the ball drops on New Year's Day.
As you likely know, the end-of-year fundraising season is a critical time for nonprofits of all shapes and sizes. What better way to maximize such an impactful opportunity than with matching gifts?
To recap, matching gifts are a form of corporate giving where companies agree to match their employees' charitable donations. For nonprofits, these programs produce additional fundraising revenue, increased individual and corporate engagement, and more.
However, our studies show that an estimated $4 to $7 billion in available matching gift funding goes unclaimed each year, essentially leaving tons of corporate donations on the table. And the #1 reason for this significant gap is a lack of knowledge concerning such programs!
This holiday fundraising season, set your organization up to make the most of matching gifts by increasing donor awareness—and Double the Donation is here to help! In this guide, we'll cover the following key points:
⁠Ready to dive deeper into fundraising research and learn more about strategic donor appeals, retroactive outreach, automated email streams, and the software that can power it all? Let's get started!

The Correlation Between Matching Gifts and Year-End Giving Success
End-of-year fundraising and matching gifts are each vital components of a successful nonprofit funding strategy. And the two complement each other to produce a seamless and impactful engagement plan.
After all, more donations flowing during the holiday season means more potential for matching gifts.
Meanwhile, promoting matching gift opportunities leads to more⁠—and larger⁠—donations in the first place!

Not to mention, donation-matching opportunities also provide a great way to differentiate your appeals and retain your organization at the forefront of donors' minds.
Let's take a closer look at some statistics that illustrate the power of year-end fundraising and matching gifts.
Since we know the majority of giving takes place at the end of the year, your team has a significant opportunity to drive more matching gifts when you integrate the two strategies. Talk about a win-win!
Top Strategies to Implement for Impactful EOY Gift-Matching
Now that you understand the importance of matching gifts and their relevance during the holiday fundraising season, you might wonder what actionable next steps you can take to get started.
These expert tips should help!
1. Set up matching gift software ASAP.
You might worry that it's too late to get started with any new software this year⁠—but that's simply not true. In fact, the end of the year is typically the time you rely on fundraising software the most. You already have a lot on your to-do list, and equipping your fundraising team with the best tools also provides you with the biggest impact for the lowest effort.
And matching gift software can go a long way in driving matching gift results with minimal operational lift, thus allowing your team to raise more while retaining time and resources for other critical year-end efforts. Specifically, this type of solution empowers organizations by automating the processes involved with identifying match-eligible donors, triggering tailored matching gift follow-up messaging, and tracking matches to completion.
Luckily, implementing matching gift software can be quick, easy, and massively effective, which means that doing so as the end-of-year season approaches is a must.
Check out this case study from a nonprofit that onboarded its matching gift software in mere hours:
The Metropolitan YMCA of the Oranges was able to be fully onboarded with Double the Donation's tools within 12 hours of buying⁠—all in time for an evening fundraising event on the same day! During this period, Metro YMCA of the Oranges integrated our matching gift tool with their online donation forms, configured automated matching gift follow-ups, and embedded the company search database in their website.

In the following ten months, they identified more than $32,000 in match-eligible donations and maintained a 61% matching gift email open rate and a 9% click-through rate (each more than 3x higher than the average nonprofit).
The moral of the story? Tight turnaround times for software implementation are entirely possible when you need to get up and running quickly⁠—like when the end of the year is quickly approaching. However, it is a priority that you'll want to dive into matching gifts as soon as possible to make the most of your tools as year-end giving ramps up.
Keep in mind that you also want to make the right decision when purchasing matching gift software for your team. We recommend prioritizing easy setup⁠ (including ready-built integrations with your existing solutions⁠), a positive user experience, and innovative functionality (like matching gift auto-submission).
Our top tip: Schedule a demo with the leading matching gift software provider to get started. 360MatchPro is consistently rated as #1 in the industry—see for yourself with a 2-minute overview below!
2. Train your internal fundraising team on the matching gift opportunity.
We mentioned a lack of donor awareness regarding matching gifts as a leading reason for the underutilization of the programs. But often, the knowledge gap extends to an organization's internal fundraising team, too. And unfortunately, this can lead to matching gift opportunities slipping through the cracks⁠—and available corporate funds ultimately going unclaimed. Thus, getting your staff on board with matching gifts leading up to the year-end fundraising season can go a long way.
The better equipped your team members are to share information about matching gifts, the more effective they'll be in advocating for and inspiring program participation.
Double the Donation provides a ton of educational resources designed to assist organizations in internal matching gift training⁠—including blog posts, webinars, downloadable resources, and more. But our top recommendation is our online Matching Gift Academy (which is even free for current clients).
And now is the perfect time to get started as holiday giving draws near!
3. Highlight the potential for matching gifts in end-of-year appeals.
You might have already drafted your year-end fundraising appeals, or you might be working on them right about now. Either way, consider incorporating a blurb about matching gifts!
As the statistics above illustrate, donors are more likely to give (and to give in larger amounts) when they know there's a match available. Thus, matching gifts can be exactly what you need to coax on-the-fence supporters into becoming end-of-year donors for your cause. And it often starts directly within the donation request itself!
Picture this:
Jeff is an avid supporter of your organization, but it's the end of the year, and he's tight on funds. He considered skipping his year-end donation this year (thinking, "What good could my $50 really do, anyway?") when he was informed that his employer would match his gift at a 2:1 rate.

At this, he realized his initial gift could be worth over three times the value of his own contribution (which seems a lot more significant to Jeff⁠), and he made his donation. That's $150 you likely wouldn't have collected if not for matching gifts⁠—and there are a lot of "Jeff's" in the world, too!

Meanwhile, imagine another donor planned to contribute a certain amount⁠—again, let's say $50. When the donor learns about matching gifts, they're inspired to increase their own donation amount (perhaps to $100). This, in turn, drives up the match value as well, producing even more revenue for your cause.
The best part? The way you market matching gift opportunities to supporters can be simple. Incorporate a reminder about matching gifts in your social media, email, text, and other appeals across your nonprofit website and more. Consider saying something like this: "Make your year-end donation go further this year with company gift-matching. See if you're eligible here."
Fun fact: Double the Donation offers pre-made and customizable social media graphics and messaging templates, allowing our clients to get a head start on effective promotions!
4. Reach out to match-eligible donors retroactively.
When you incorporate matching gift outreach into your end-of-year strategy, it doesn't have to be solely focused on new donations, either. In fact, many gifts made throughout the year can still qualify for a match!
Each business that matches gifts establishes its own criteria and submission guidelines. While it varies from company to company, many employers (such as Freeport-McMoRan, William Blair & Company, Victory Capital, and more) grant employee matches through the end of the calendar year. So, for a good deal of your match-eligible donors, their request window will be closing quickly.
That makes the end of the year a perfect opportunity to reach back out to these individuals, remind them about matching gifts, and encourage them to complete the request process with their employer. And it's a fantastic way to boost year-end revenue from existing donors without requiring them to reach back into their own wallets.

5. Familiarize your team with year-end-specific workplace giving programs.
Most businesses with matching gift programs agree to double the donations their employees make year-round. But sometimes, a company establishes a limited-time initiative that is live only at certain times of the year. And the most common timeframe includes year-end-specific matching gift (or other workplace giving) programs.
For example, the International Monetary Fund (IMF) offers a unique giving season match available to its thousands of employees worldwide. Running from mid-October through December each year, the company's Annual Giving Campaign provides an excellent incentive for year-end charitable giving.
Meanwhile, Warner Bros offers its employees a generous donation stipend they can contribute to their favorite nonprofits on Giving Tuesday as a way to kick off the holiday season. That's in addition to the $1,000 year-long match and end-of-year giving programs!
If you identify donors in your orbit who work for companies with these types of short-term philanthropy efforts, be sure to address available opportunities with targeted, personalized communications this giving season.
6. Consider custom matching gift partnerships.
Unfortunately, some companies have yet to establish any matching gift programs for their employees. But they might be willing to when presented with the opportunity⁠. In that case, we recommend reaching out to employers to propose custom (or "one-off") matching gift initiatives.
Custom matches provide an easy way for businesses unfamiliar with matching gifts to get acquainted with the effort in a limited capacity.
If a company agrees to offer such a program, it'll essentially encourage philanthropy by matching employee gifts made exclusively to your organization. And as custom matches typically occur in a defined time frame (e.g., a month), the giving season is a popular time for one to be organized.
Fun fact: Double the Donation now offers innovative functionality for nonprofits looking to facilitate these programs in their company database tool!
*As a note: This feature is designed specifically for fundraisers to manage matching gifts. If you're a corporation that's interested in creating a matching gift program, let us know, and we'll share information about our corporate vendor partners.
7. Leverage automated end-of-year email streams.
Another significant matching gift roadblock lies with nonprofit fundraising staff who lack the time to manage and promote the efforts. In fact, Nonprofits Source reports that 80% of nonprofits struggle to establish workplace giving strategies with limited staff and resources.
Luckily, that's where matching gift automation comes in!
Automated email streams enable nonprofits to configure and trigger customizable messages when an individual gives to your organization. This might include one dedicated to match-eligible donors, one for likely ineligible donors, and one for donors with unknown eligibility.
Doing so ensures that every donor receives matching gift outreach in a timely manner. And that no donation falls through the cracks, even when your team is juggling 100 different end-of-year tasks. Meanwhile, the time you would have spent issuing matching gift reminders can be reallocated to other fundraising and mission-related tasks.
Here's an example of an email you might send: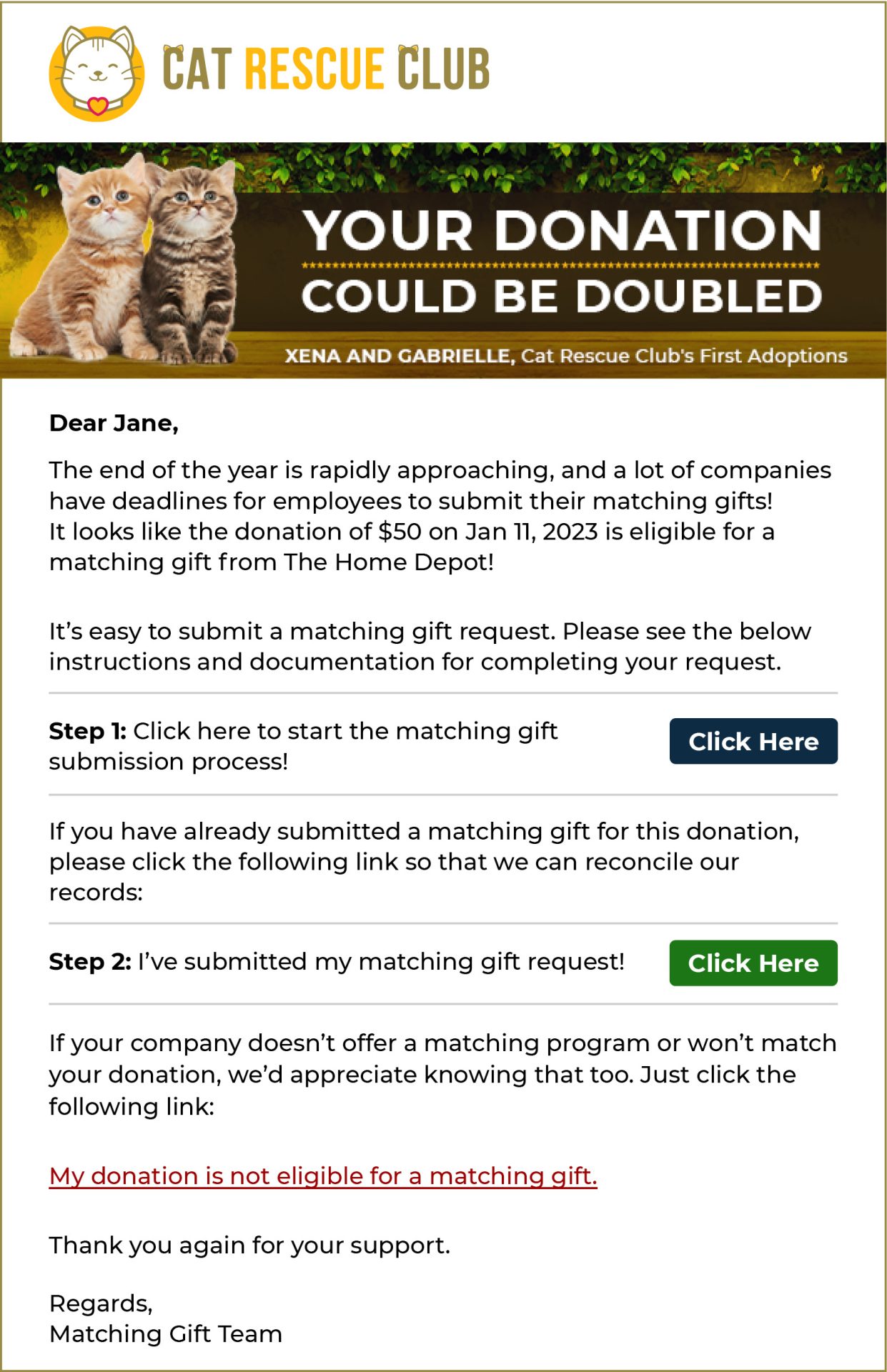 Year-end email streams can either take place directly following a giving season donation (typically within 24 hours of the initial gift) or retroactively, as detailed above. Both are excellent ways to encourage matching gift participation among donors and drive additional revenue for your cause.
Regardless, you'll want to provide the donor with as much employer-specific information as is available. This should include donation minimums and maximums, match ratios, submission deadlines, and direct links to their company's online request forms. And your automation system can gather all of that data so that you don't have to!
---
Next Steps for Smart Year-End Fundraising and Increasing Matching Gifts
It's not too late to launch matching gift strategies this year-end fundraising season. But it is time to get started now. After all, the longer you wait, the more potential matches you're missing out on.
Prepare your team by incorporating these practices and investing in powerful and innovative matching gift tools. This allows you to maximize corporate donation-matching in the remainder of the year and into the new year, too.
Good luck, and happy holidays!

https://doublethedonation.com/wp-content/uploads/2022/10/DTD_Year-End-Fundraising-and-Matching-Gifts_Feature-1.png
550
1450
Adam Weinger
https://doublethedonation.com/wp-content/uploads/2022/03/logo-dtd.svg
Adam Weinger
2023-10-25 14:28:58
2023-11-03 16:35:52
Year-End Fundraising and Matching Gifts: It's Not Too Late!