Matching Gift Blurbs | Sample Wording & Best Practices
As with any type of outreach, the wording in your matching gift appeals is vital. Thus, it should be carefully considered when revamping your nonprofit's matching gift strategy. In this guide, we'll cover everything you need to know about writing matching gift blurbs that drive results.
Matching gifts can produce a great source of additional revenue for nonprofits. In fact, an estimated $2 to $3 billion is donated through matching gift programs every year. That means that lackluster appeals could cause your organization to miss out on a lot of potential revenue.
After all, choosing the right message when promoting matching gifts can be the determining factor in whether or not a donor participates in their employer's match program. Considering this, be sure to take the time needed to craft and integrate dedicated matching gift blurbs throughout your donor outreach.
To make sure you send the most effective message possible, first familiarize yourself with the following topics:
By learning and implementing the specific language of effective appeals, your nonprofit will be one step closer to maximizing its revenue potential. And your donors will be that much more likely to take the intended action in your appeals.
Ready to revamp your matching gift outreach? Let's dive in with the basics.
What Are Matching Gift Blurbs?
The first step in boosting revenue through matching gifts is to produce effective copy promoting the programs. In other words, you need to create well-written resources for donors and prospects to learn about matching gifts.
One of the most impactful (and easiest) ways to do so? Implement matching gift blurbs throughout your messaging.
[Note: If you're not sure what a blurb is⁠—don't worry. More than likely, you've come across the idea in action already, even if you're not familiar with the terminology.]
A blurb is essentially a short piece of writing, typically a brief and attention-grabbing description or promotional statement. Regarding corporate matching, a matching gift burb is a quick explanation (think: 1-3 sentences) of the opportunity that aims to inspire participation among donors.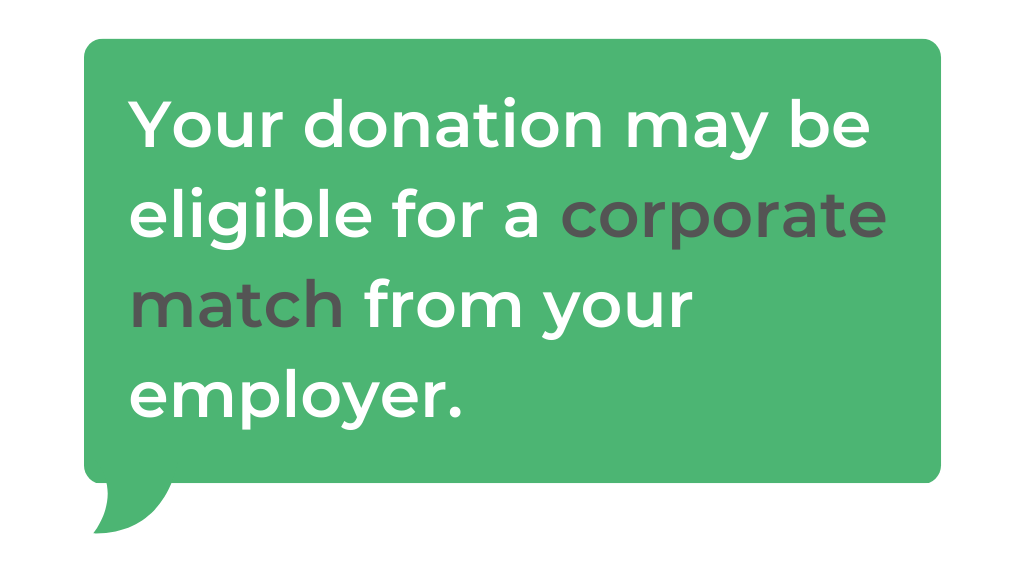 Examples may include:
Advertisements about matching gifts appearing alongside your online resources;
Printed inserts included in physical communications;
Notes incorporated beneath team members' email signatures;
And more.
While wording and placement can vary, the ultimate goal is for your messaging to entice readers to get involved in their companies' initiatives—even if they'd never been made aware of the initiative prior.
Best Practices for Impactful Matching Gift Blurbs
The text you use in your matching gift appeals⁠—specifically, your matching gift blurbs⁠—is an essential component of your fundraising. It should be straightforward and to the point, aiming to persuade your audience and drive action.
We've compiled a list of tried-and-true tips for drafting matching gift messaging. Read through these suggested practices and see which ideas you can implement in your own outreach!
Employ donor-focused language.
When discussing matching gifts, your chosen wording can mean the difference between a supporter clicking the link or moving on without any further thought.
For example, let's say you're planning to link your dedicated match page from your website's main navigation. What should you name that tab on the menu? We suggest something along the lines of "Matching Gifts," "Double your Donation," or "Matching Gift Company Search."
What we recommend against is wording such as "Corporate Matching" or "Corporate Giving" since these phrases often don't resonate with individual donors. You don't want users skipping over the page due to an assumption that the resource is targeting companies rather than individual supporters!
Keep this in mind as you frame matching gift language in all of your donor-facing blurbs⁠—but especially regarding headings, titles, and other elements designed to grab your audiences' attention.
Keep your copy short and sweet.
Your matching gift blurb doesn't have to be complicated. In fact, brevity is crucial⁠—you want to get the message across before the reader loses interest.
The perfect length can vary based on placement, purpose, and audience. Still, most matching gift blurbs can and should be short, sweet, and to the point. We recommend no longer than a single paragraph unless you're dedicating a larger piece of communication (e.g., an entire email blast) to the topic.
Make the most of action-driven verbiage.
When making a fundraising appeal, the wording in your message is important. More specifically, your choice of verbs can directly affect the success of a campaign.
For example, people⁠—even dedicated supporters⁠—often need a direct call to action in order to get involved. The key is to ask your donors to do something, to take a particular action.
In other words, matching gift appeals need action verbs. Otherwise, donors won't be entirely sure what their next steps should be.
In an email or web page, phrases like "Get Started" or "Read More" tell your audience what you're asking them to do. But more specific calls to action can drive even greater results. Instead of "Click Here," try "Search Your Employer Here" if you utilize a matching gift search tool like Double the Donation. This way, donors know exactly what's being asked of them in order to support your cause.
Why? Donors care about your mission⁠—and they want to help. Too often, however, they're held back by a lack of information and no clear directions for how they can be of service. Using clear and concise verbiage can help inform and clarify the steps your donors need to take next.
The result? More matches!
Prioritize impact in communications.
Donors like to see that their hard-earned dollars are making a difference for the causes they care about. Thus, it's important to emphasize amplified mission impact as a key benefit of employee matching opportunities in the associated messaging.
As you craft your matching gift blurbs, be sure to emphasize the potential of a donor's contribution to stretch beyond the amount of their initial gift.
When possible, try using tangible examples pertaining to your organization's mission. If you run a food pantry, for instance, that might mean informing supporters that, with matching gifts, you can feed twice as many individuals and families with the same initial donation amount.
Locate and follow up on match opportunities with Double the Donation.
When revamping your corporate fundraising appeals strategy, a matching gift database can help pinpoint these opportunities with ease. This way, you can employ automated and targeted outreach⁠—in addition to broader matching gift blurbs⁠—throughout your messaging.
Specifically, Double the Donation's platform is designed to assist nonprofits in increasing awareness among donors. From there, it also simplifies the process for individuals to submit subsequent match requests.
Once you integrate it across your online fundraising channels, here's what the tool does:
Exposes supporters to matching gift information at multiple points throughout the giving experience;
Enables donors to search for more than 24,000 companies and subsidiaries, empowering them to quickly locate their employers and eligibility criteria;
Allows your nonprofit to identify match opportunities through email domain screening, an intuitive search tool, and more;
Provides direct links to updated forms and guidelines for each company, thus streamlining the submission tasks for supporters;
Follows up with match-eligible donors via personalized emails to drive more matches to completion;
Tracks donors throughout the process to easily assist with stuck matches and more accurately forecast incoming revenue.
Think your organization could benefit? Request a demo here!
Where to Include Matching Gift Blurbs
Now that you understand what matching gift blurbs are⁠—and which strategies will empower you to write the best copy possible⁠—you'll need to consider optimal placement. In other words…where should you insert your newly crafted or finetuned matching gift promotional blurbs?
The short answer is this: wherever you see the opportunity to promote corporate giving opportunities, do it. The more, the merrier! The more familiar donors are with the concept of corporate gift-matching, the more likely they are to participate.
The longer answer involves just about any place where you interact with donors⁠—before, during, and after giving. Check out this list of some of the most popular blurb locations for organizations like yours.
A Dedicated Matching Gifts Page
If you want to create high-traffic matching gift outreach, a good place to begin is where the most supporters are: online! Your website is likely the first impression most people have of your organization, so you want to make it count.
An easy way to increase the visibility of your matching gift promotion is to create a dedicated page for matching gifts. On the page, you'll want to highlight the basics of employee match initiatives and provide instructions for typical programs within your matching gift blurbs.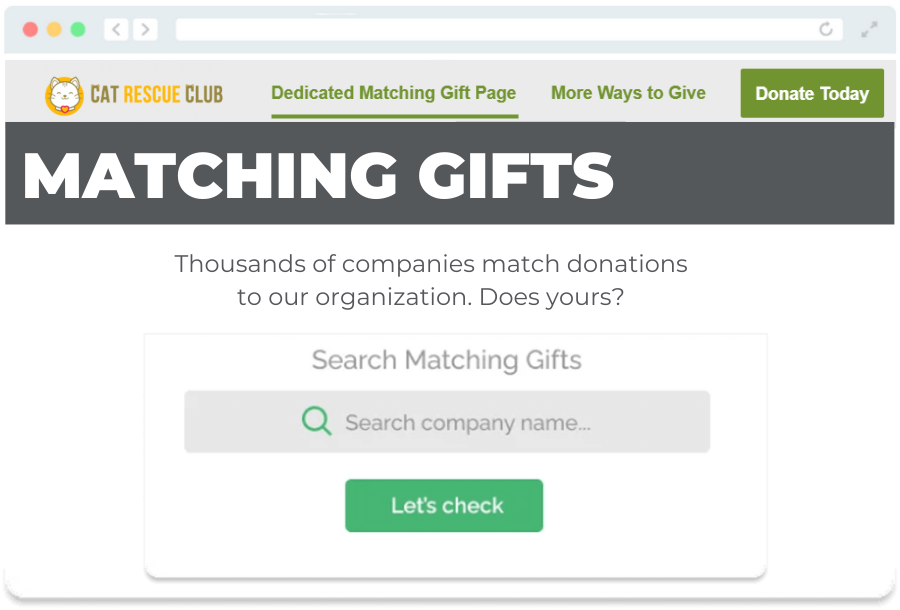 (Tip: If you employ matching gift software like Double the Donation, don't forget to embed the search tool on this page alongside your blurb. That way, users won't have to go out of their way to research their companies' programs on their own after discovering the opportunity!)
Your "Ways to Give" Page
Similarly, your organization may already have a "Ways to Give" page on its website that is designed to provide ample opportunities for supporters to get involved with your cause. This might include planned giving, donations of stock and other gifts-in-kind, monthly recurring giving programs, and more.
And one thing you don't want to forget on this page is matching gifts.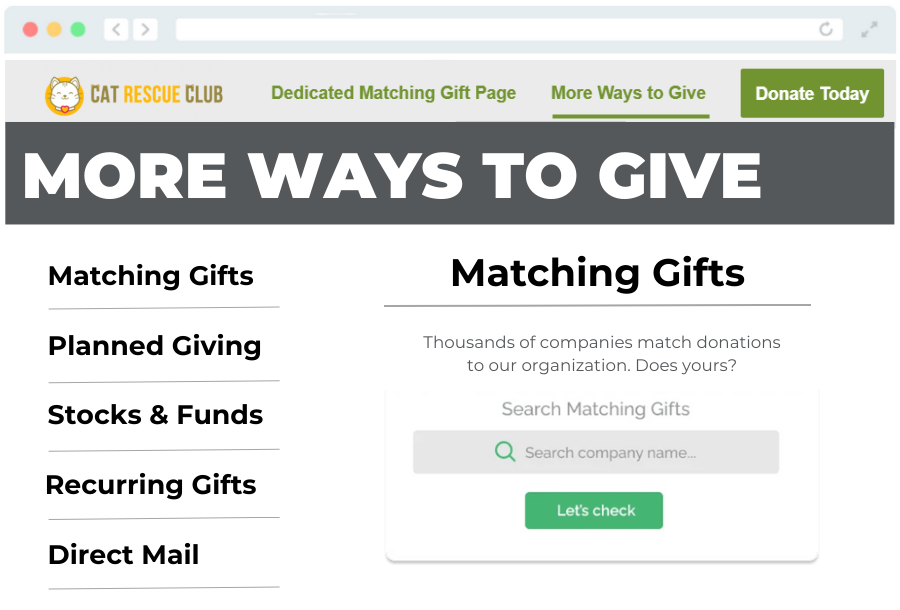 Include a quick blurb about the impact of getting a donation matched and how a donor can uncover their own eligibility. You can even embed your matching gift company search tool here, as well!
Fundraising Appeals
Did you know that recent studies on matching gifts and donor behavior report that 84% of individuals are more likely to donate to a nonprofit if a matching gift is being offered? This finding results in a 71% increase in donation response rate when matching gifts are mentioned in fundraising appeals.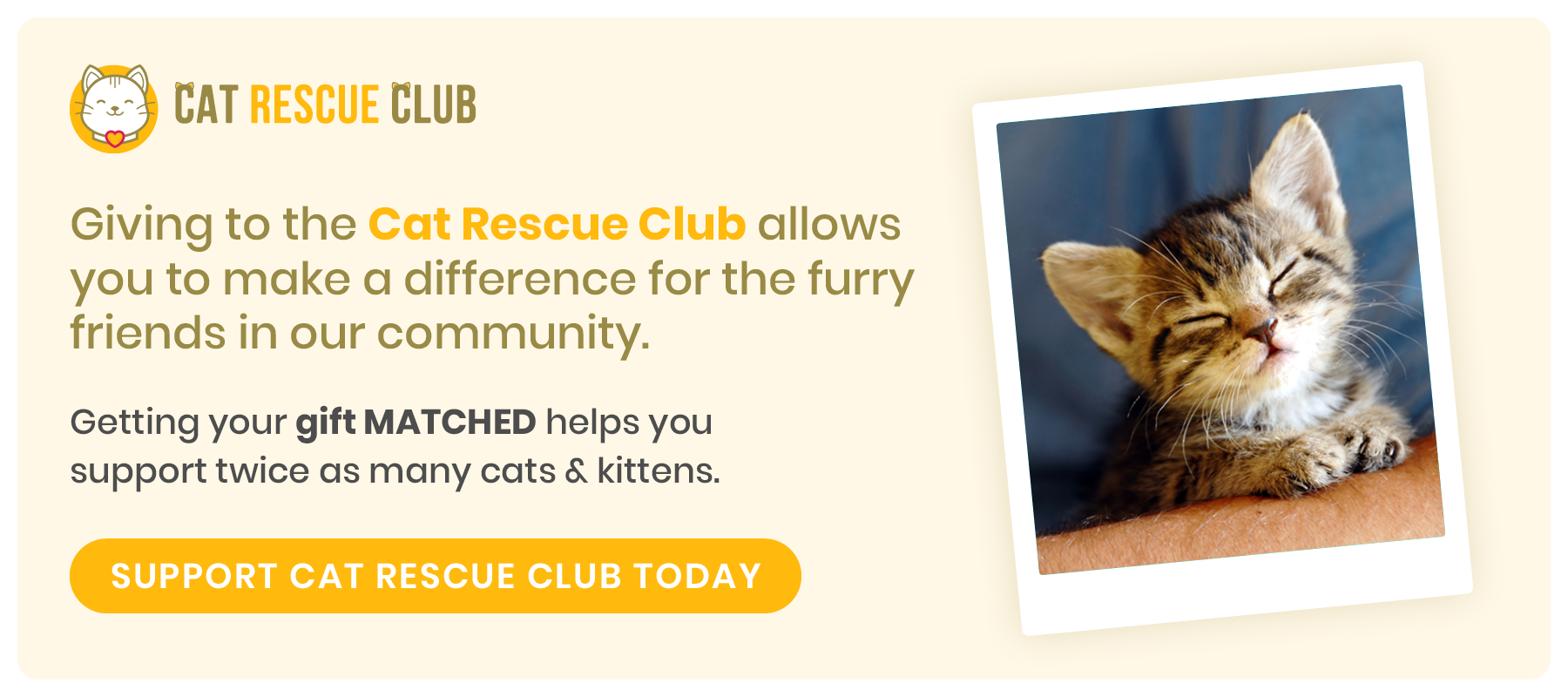 This ultimately means including a matching gift blurb in a donation ask can produce significantly more revenue for your giving campaign. Not only can you expect funding from corporate matches that ultimately come through, but you'll also benefit⁠ from elevated giving rates in the meantime.
Email Communications
As an established nonprofit, your team is likely already using email to maintain contact with donors. But do you utilize email to effectively promote matching gifts? You should!
Incorporating matching gift blurbs within email marketing can bring awareness of the opportunity to a wide range of nonprofit supporters. And your entire message doesn't have to be dedicated to matching gifts, either. Consider adding a quick blurb on the topic to broader email communications such as newsletters, campaign or project updates, end-of-year reports, and more.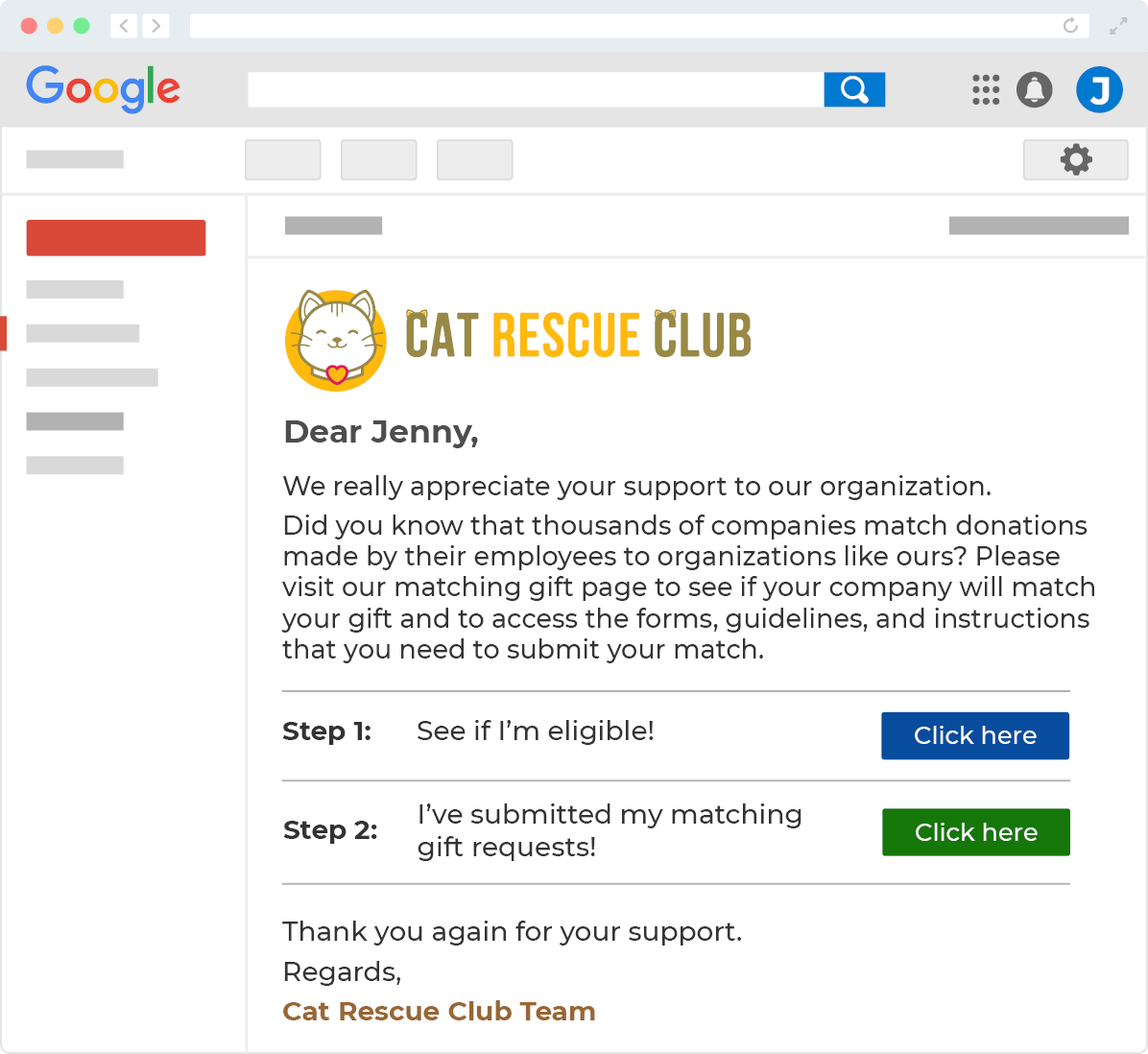 The text you use in your outreach should be persuasive but to the point. Consider emphasizing key points with bolding to increase skimmability and convey the importance of matching gifts for your organization.
Email Signatures
One of the easiest places to incorporate a matching gift blurb is within your organization's staff email signatures. All it takes is a few seconds for each team member to adjust their automatic sign-off (hint: simplify the process by providing individuals with the text they should add), and you'll be all set to promote matching gifts in every email you send year-round.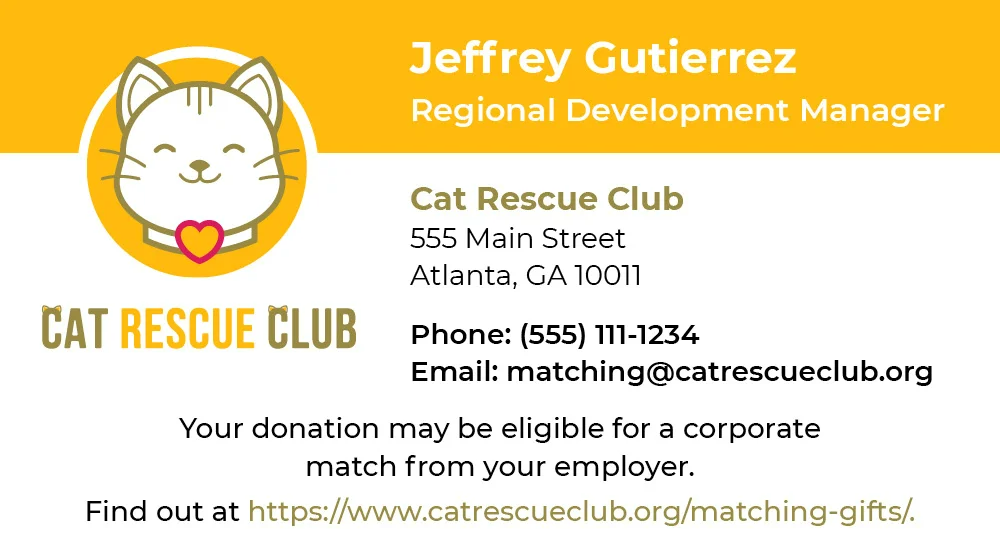 Keep in mind that you'll want this blurb to be as succinct as possible. A quick sentence with a link to your matching gift page will typically do!
Donation Page
Another key location for matching gift blurbs is your online donation form. At this point in the process, the user is already ready to donate. Why wouldn't they want to double the impact of their gift without having to part with any additional dollars?
In fact, donors might even be willing to give more after learning about the matching gift opportunity. The aforementioned studies indicate that 1 in 3 donors would contribute a larger gift if a match is applied to their donation⁠—ultimately resulting in a 51% increase in the average donation amount.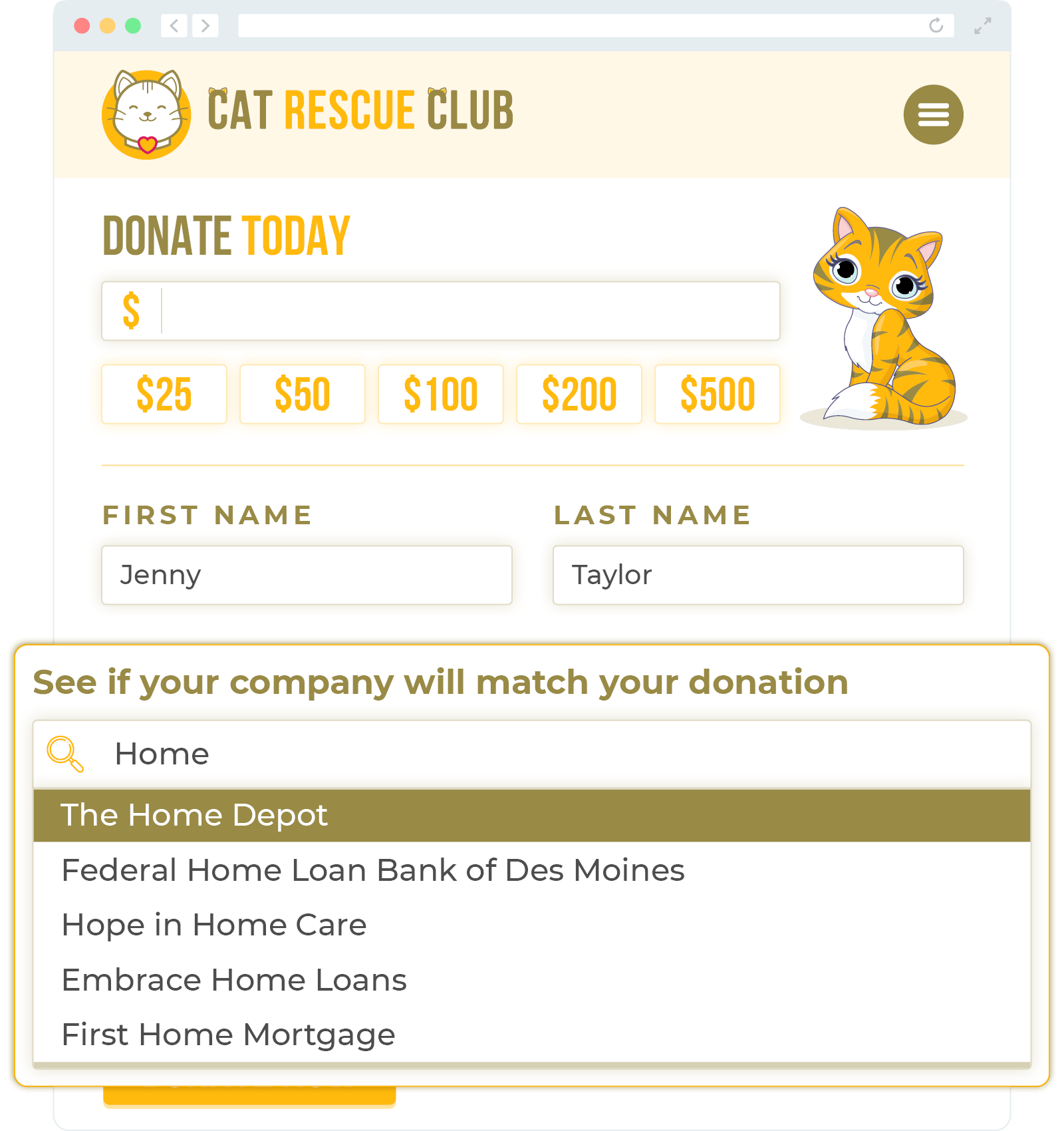 We recommend using your giving form to collect employment data from your supporters (made easy with our embedded company search tool!). And when you add context to the request in the form of a matching gift blurb, donors will be increasingly likely to provide the information.
Keep in mind that this should likely be the briefest blurb of all to ensure that you don't slow the donor down as they make their way through the giving experience.
Confirmation Screen
After a donor clicks "submit" on their completed giving form, they're typically redirected to a confirmation page. This resource often thanks them for their contribution and provides them with details as to suggested next steps to further their impact⁠. For example, a supporter may be encouraged to share their recent gift on social media, become a recurring donor, or even take on a peer-to-peer fundraising role.
And your confirmation screen is also the perfect location for a matching gift blurb!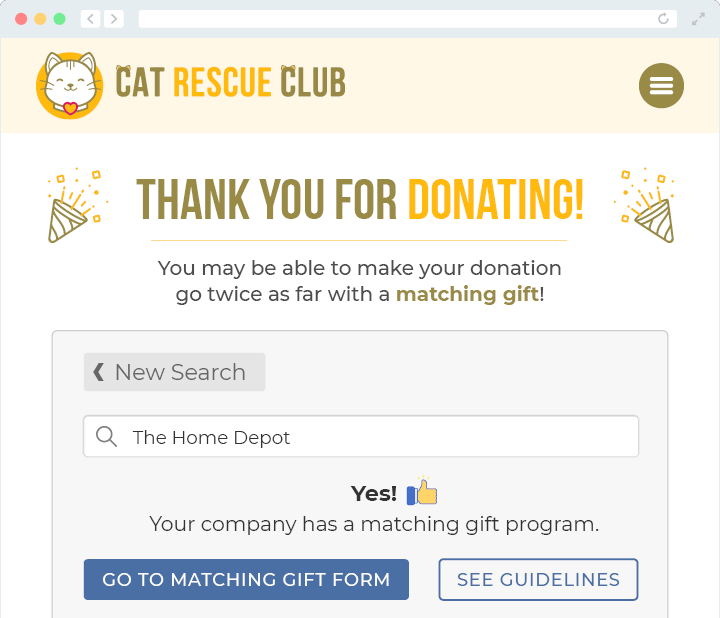 Plus, when you utilize matching gift software, you can even provide employer-specific program insights and submission forms based on the company an individual selected within the giving form. This allows you to personalize your blurbs, providing relevant details in real time.
Donor Acknowledgements
Soon after a donor makes their initial contribution is the best time to remind them about matching gift opportunities. That said, mentioning matching gifts in your gift acknowledgments (regardless of channel) can go a long way.
Your donors are typically passionate about your mission. Most would jump at the chance to make their recent gifts stretch even farther without having to reach back into their wallets. All you have to do is make them aware of the chance to do so and guide them in the right direction.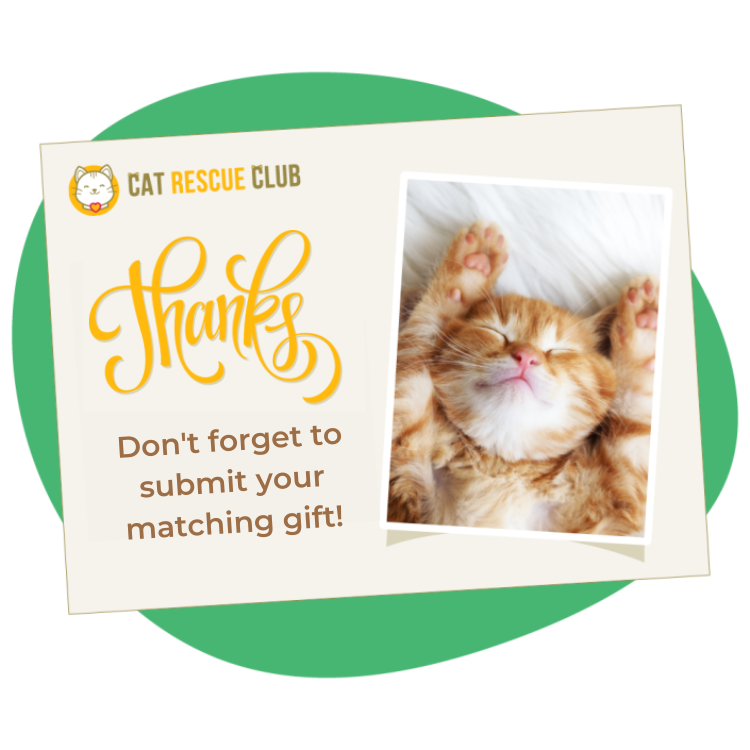 You can even take your acknowledgments⁠—and, thus, your matching gift blurbs⁠—to the next level with unique and engaging eCards! When you ensure your messaging stands out in a supporter's inbox, you can increase the likelihood that they'll engage with your content and ultimately take the action you're driving them toward.
Social Media
In today's digital age, your organization's social media profiles are likely some of your most valuable marketing assets. Of course you'll want to share matching gift blurbs using this channel!
Doing so can encourage existing donors to complete unclaimed matching gift requests, inspire on-the-fence supporters to give in the first place, and more. By leveraging the power of social media, nonprofits like yours can reach a wider audience and engage with their communities in a meaningful way.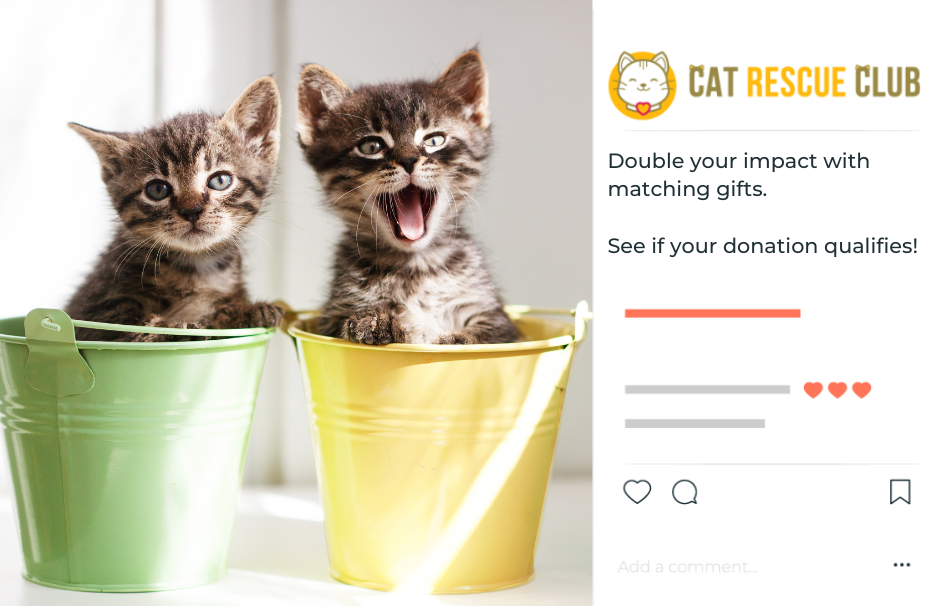 Keep in mind that when it comes to social media, your matching gift blurbs can take the form of shareable content (e.g., graphics or videos), post captions, or both!
Direct Mailings
If you utilize direct mail in your nonprofit's fundraising strategy, consider including a matching gift blurb that accompanies your other materials.
This can include:
Inserts
Envelopes
Postcards
Letters
And more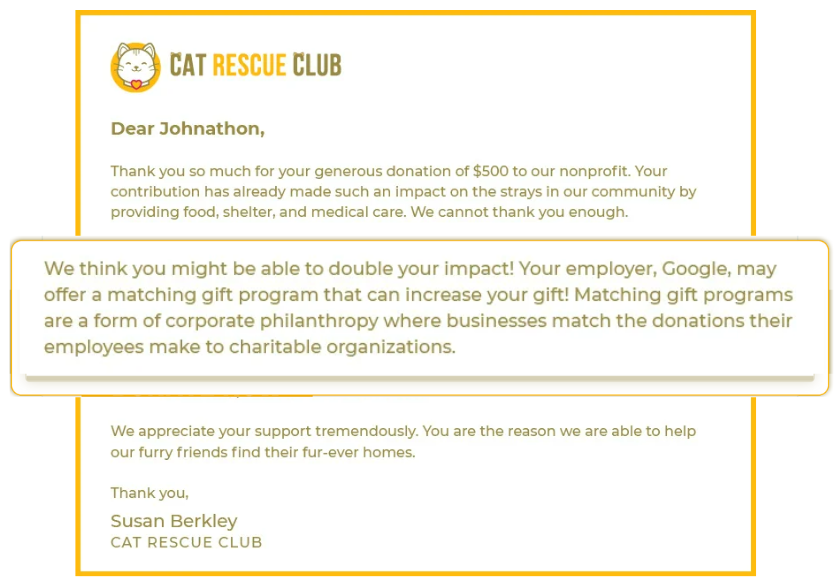 Regardless of the types of mailings you send, make sure it's quick and easy for recipients to learn more about matching gifts. We recommend directing readers to your online matching gift page using an easy-to-type URL or a scannable QR code!

Bonus! Free Matching Gift Blurb Templates to Use
Ready to get started with impactful matching gift blurbs? These copy-and-pasteable templates can serve as an excellent jumping-off point.
Fill in the blanks with details about your organization and its mission, then plug in the finalized messaging throughout your donor outreach.
Thanks for the gift, [DONOR]! Did you know you may be able to double your donation with a match from your employer? See if you qualify for a matching gift by searching our employer database here.
[NONPROFIT] receives thousands of dollars each year through corporate matching gift programs. Does your company participate? Find out if you can do more for our mission with a match.
Matching gifts allow generous donations to go twice as far for our goal of [MISSION STATEMENT]. And it's easy to request a match⁠—locate your employer's program guidelines and request forms here!
Double your impact! Many employers offer matching gift programs that can double or even triple your donation to [NONPROFIT]. Explore our matching gifts page or check with your HR department to see if your employer participates.
Many companies offer to match their employees' charitable contributions, which means your gift to [NONPROFIT] could go twice as far. Contact your HR department⁠—or click here to use our matching gift search tool⁠—to learn more.
Don't miss the chance to amplify your impact! Many employers offer matching gift programs, which means your donation to [NONPROFIT] could be matched dollar-for-dollar. Contact your employer or use our search tool to see if they participate.
Did you know that your employer could help you make an even bigger impact on [MISSION]? Check with your HR department to see if your company offers a matching gift program and take advantage of this opportunity to support [NONPROFIT] even more.
Your recent gift to [NONPROFIT] could be doubled… Many employers offer matching gift programs, so be sure to check if your company participates. Contact your HR department or explore our dedicated matching gifts page for more information.
---
Wrapping Up
To drive awareness of the matching gift opportunity, integrating well-crafted matching gift blurbs throughout your communications is essential.
Implement the above tips for wording and verbiage⁠—or jump in with one of our sample messages. Then, insert your blurbs in the recommended locations for optimal exposure to donors.
Paired with a dedicated matching gift service, you'll be all set to boost your organization's matching gift revenue⁠ (and subsequent impact⁠!) going forward.
Interested in learning more about matching gifts⁠—and how to promote them with effective messaging? Check out these suggested resources for further reading: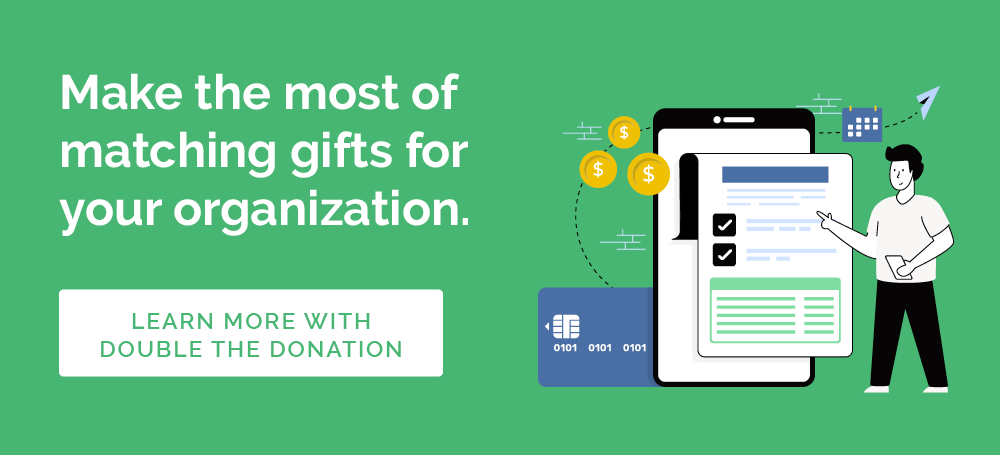 https://doublethedonation.com/wp-content/uploads/2013/07/DTD_Matching-Gift-Blurbs-Sample-Wording-Best-Practices_Feature.png
600
1600
Adam Weinger
https://doublethedonation.com/wp-content/uploads/2022/03/logo-dtd.svg
Adam Weinger
2023-04-19 16:00:32
2023-12-07 02:38:59
Matching Gift Blurbs | Sample Wording & Best Practices