Summa Selects 360MatchPro by Double the Donation for Matching Gifts Integration Partnership
Double the Donation and Summa (formerly known as Adcieo) are proud to announce a new partnership between their software tools, providing nonprofit organizations with the opportunity to capture matching gift insights and pursue more matching gift revenues from every donor who gives on Summa pages.
"We started working with Double the Donation through our mutual connection with the American Liver Foundation and immediately set to work on building out a natively integrated solution," says Dennis Chyba, President at Summa. "We're glad to now have a solution that will allow American Liver Foundation and many other organizations to make the most of their matching gifts strategy when using Summa and Double the Donation."
The integration interacts with donors at the time of giving, helping them discover their match potential by searching for their company's matching gift program. Then, 360MatchPro presents the donor with their company's program details and next steps to fulfill their request. 
"Double the Donation is focused on providing the best, most intuitive experience for donors and nonprofits alike," says Adam Weinger, President at Double the Donation. "Our advanced tools combined with the Summa donation experience makes for an integration that does just that."

Drive More Matching Gifts to Completion with 360MatchPro!
360MatchPro and Summa offer valuable matching gift features to help your organization double donations for your mission.
With the power of this solution, your organization can:
Identify more matching gift revenue opportunities: 360MatchPro enables you to automatically collect matching gift eligibility from donors using email domains, within donation forms, on confirmation screens, or by email. The more matching gift opportunities 360MatchPro discovers and shares with donors, the more matching gift requests your donors will successfully submit.
Drive more matches to completion, from form submission to corporate payment: Direct donors immediately to their matching gift forms after the donation process is complete. Then, provide the right information to the right donors at the right time with custom emails based on match eligibility. Targeted follow-ups drive more completed submissions than ever before, bringing exponentially more matching gift checks from companies through your door.
Reallocate your time from routine follow-up to your top opportunities: Your time is valuable, so why spend it chasing small dollar-value matching gifts? Let 360MatchPro automate your matching gift outreach while flagging your highest-value opportunities, allowing your team to personalize follow-ups to the most valuable match-eligible donations. Rest easy knowing that 360MatchPro can handle the rest.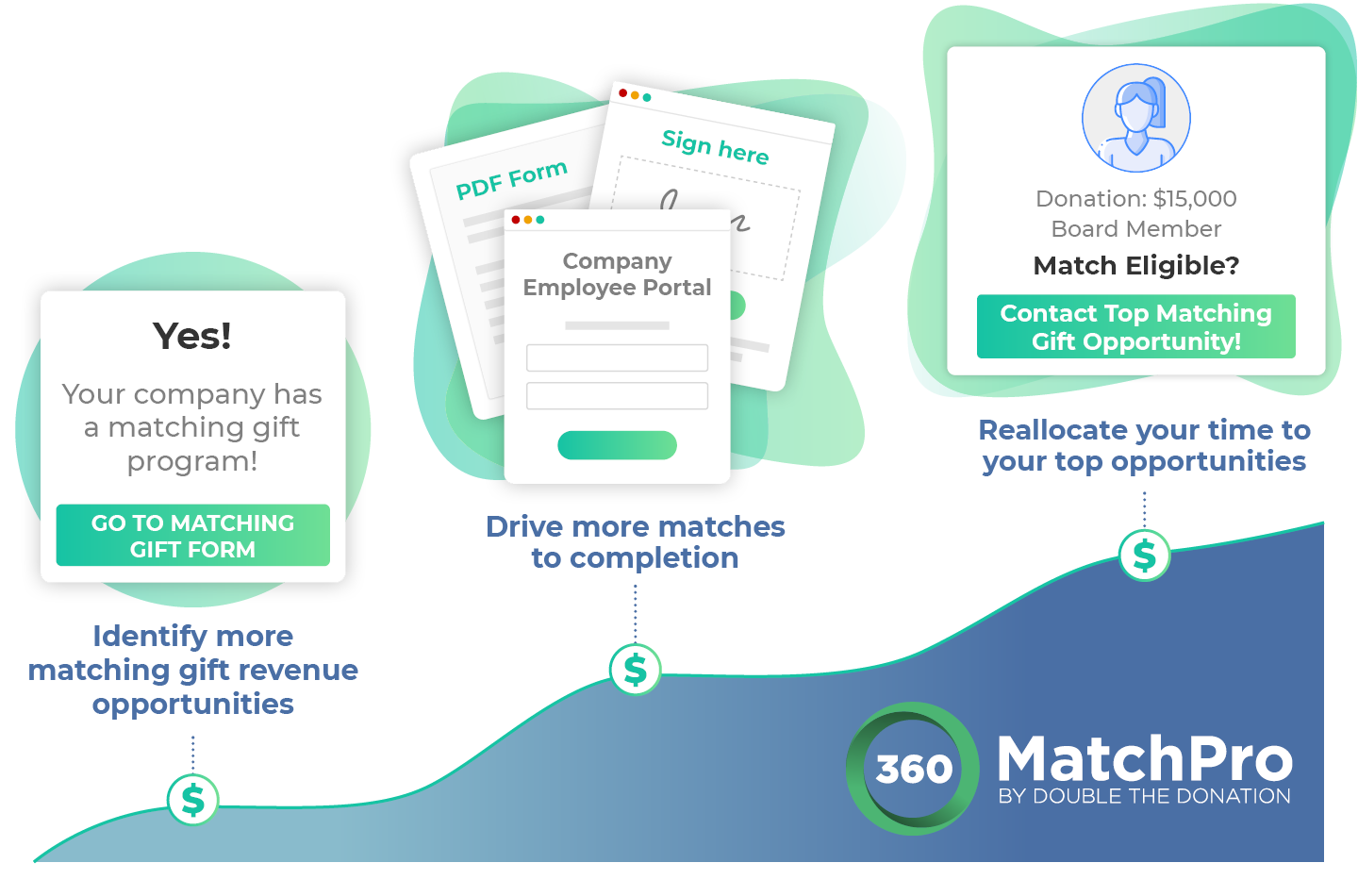 Ready to get started? Schedule a personalized demo today.
---
About Summa: Summa is an innovative and flexible suite of fundraising technology solutions designed to help nonprofit organizations of all sizes raise awareness, drive donor acquisition, boost donor retention, reduce workload, and make data-driven decisions.
About Double the Donation: Automate your matching gift fundraising with the industry-leading solution from Double the Donation. The 360MatchPro platform provides nonprofits with tools to identify match-eligible donors, drive matches to completion, and gain actionable insights. 360MatchPro integrates directly into donation forms, CRMs, social fundraising software, and other nonprofit technology solutions to capture employment information and follow up appropriately with donors about matching gifts. To learn more visit https://360matchpro.com/demo-request/
https://doublethedonation.com/wp-content/uploads/2023/04/DTD_Summa-partnership-announcement.png
290
775
Adam Weinger
https://doublethedonation.com/wp-content/uploads/2022/03/logo-dtd.svg
Adam Weinger
2023-04-24 14:56:14
2023-09-14 22:10:20
Summa Selects 360MatchPro by Double the Donation for Matching Gifts Integration Partnership