Nonprofit Basics: Graphic Design for Nonprofits
Creating the right image for your nonprofit is essential for generating positive brand awareness. Sloppy or unprofessional-looking marketing materials can reflect poorly on your nonprofit and veer prospects away from your cause. On the other hand, effective graphic design for nonprofits will help create a memorable and inviting tone for your organization.
Whether you hire in-house nonprofit graphic designers or outsource the work to an agency, your team should understand the basics of designing attractive artwork for your cause. To help, we'll explore the fundamentals of nonprofit graphic design, including the different types and elements to include in your brand guide.
What Is Graphic Design For Nonprofits?
Nonprofit graphic design refers to the artwork a nonprofit uses to market its cause. It's the practice of composing and arranging words, shapes, colors, and other artistic components to communicate a message. Nonprofits use graphic designs in a variety of digital and print materials, from their official logo to printed flyers and solicitation letters.
Materials that incorporate designs might be used to advertise an upcoming campaign, express gratitude to supporters, or tell the nonprofit's story. Used in both the digital and print space, artwork tells supporters what the organization's cause is all about.
By implementing branding and visual hierarchy techniques, a nonprofit can create designs that spruce up its marketing materials and communicate its message.
3 Types of Graphic Design For Nonprofits
It doesn't matter what your organization's mission is or what platforms your nonprofit uses to promote its work. Nonprofit graphic design is an essential part of furthering your cause.
Design intertwines with every piece of collateral you create, starting with your logo and even filtering into your office space and event venues. To help you gain a better sense of where design comes into play, let's explore three main types of graphic design for nonprofits.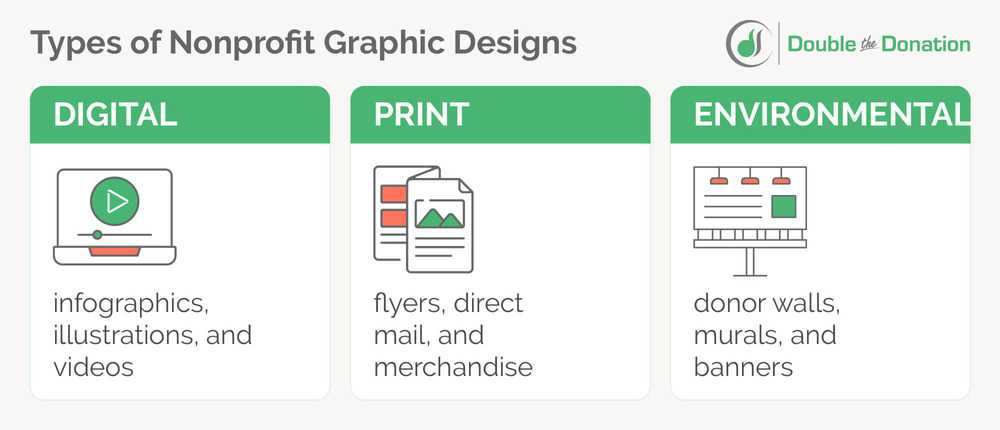 Digital Designs
Modern organizations need to have a digital presence if they want to continue their work. From designing your nonprofit website to venturing into social media and email, effective digital graphic designs for nonprofits can help your cause thrive.
Across these different platforms, you might create designs, such as:
Infographics. These break down complex information into bite-sized pieces and visuals. Often used to articulate statistics, infographics make it easier for people to understand the importance of your work. They're also incredibly shareable, making them perfect for social media marketing.
Illustrations. These are original visualizations drawn by artists. Think of it as a way to explain an idea without text. Eye-capturing artwork can help tell your nonprofit's story. While ideal for digital outreach, you can also incorporate them into printed materials, like t-shirts.
Videos. Great for embedding into your website or posting on social media, videos are a proven way to humanize your nonprofit's work and put a face to your cause. They enable supporters to hear directly from your leadership, volunteers, and beneficiaries. While you might not immediately associate videos with needing graphic design expertise, there's a lot that goes into video, audio, and graphic editing.
Whether you're designing your website, a board report, or an email newsletter, these common types of graphics will be helpful for communicating your message. Note that more goes into your design than these reusable graphics, though. As we'll explore later, you'll also want to consider the layout of your website, emails, reports, and so on.
Print Nonprofit Graphic Design
Even in a digital-first world, print marketing is still essential for pushing your cause forward. A few common print materials that incorporate graphic design for nonprofits include:
Flyers. When designed effectively, your campaign flyers can stand out among a swarm of other brochures on a bulletin board. Kwala's guide to fundraising flyers explains that your design should include elements like your campaign name, participation details, fundraising goal, contact information, and a call to action.
Direct mail. Any piece of direct mail you send to supporters should come across as professional. This includes everything from donation solicitations and volunteer appreciation letters to postcards. Add your logo to your letterhead, brand your envelopes, feature your brand colors and fonts, and include perforated return slips with pre-addressed envelopes for donations.
Merchandise. From t-shirts to stickers, make sure your merchandise designs encapsulate your organization's identity. Infuse your brand colors, logo, typography, and illustrations to effectively communicate your mission.
Print materials are essential for keeping in touch with supporters who aren't active online. Especially when you put thought behind your designs, these materials can come across as much more personal than generic digital outreach, like mass emails or social media posts.
Environmental Designs
Believe it or not, graphic design for nonprofits comes into play with your environment, too. Whether in your office or at an event space, the designs you use can help create an immersive, inviting atmosphere.
For instance, you might incorporate design strategies by creating:
Donor walls: Show appreciation to sponsors and major donors with a donor wall. Choose a layout that complements the architecture of your office space. Then, brand it using your organization's preferred fonts, colors, and shapes that communicate your mission.
Murals: Ideal for your office or a prominent location in your community, a well-painted mural can draw awareness for your mission and create a more immersive environment. Illustrations should feature your nonprofit's name and contact information, like your social media handle.
Banners: This is one of the simplest types of environmental design. Create a lightweight banner that you can transport to different locations, like fundraising events and industry events. All you really need to include is your logo, tagline, and colors.
This type of nonprofit graphic design should be more subtle and blend into your environment. Combining elements of graphic design with interior design will ultimately create a coherent, branded space.
Elements of Nonprofit Graphic Design
Regardless of the types of designs you create, several elements play into all of them. Whether you're brand new to graphic design for nonprofits or a seasoned expert, make sure you know these basic elements before your next project:

Color palette. Colors create a mood within your artwork and can help tell your brand's story. For instance, red communicates urgency and is often associated with health or disaster relief organizations. Green is often associated with the Earth and growth, making it ideal for environmental organizations. Note that different color combinations can alter supporters' impressions further.
Typography. Fonts can also alter the mood your designs elicit in supporters. The main categories of fonts are serif, sans serif, cursive, and script fonts. As an example, sans serif fonts are minimalistic and offer crisp readability. If an existing typeface doesn't suit your brand, you can always create your own.
Spacing. White (or negative) space refers to the space between design elements. Morweb's guide to nonprofit web design best practices explains that an appropriate amount of space makes it easy to read content without feeling distracted.
Before creating your nonprofit's graphics, your best bet is to create a brand guide that defines these characteristics and guidelines that every design should follow.
In any case, remember that your ultimate goal should be to balance aesthetic appeal with technical functionality. In turn, you'll create standout, visually-engaging graphic designs for your nonprofit.
Other Resources to Explore
Nonprofit Basics – Learn more nonprofit management essentials by exploring other expert resources.
Nonprofit Branding: The Complete Guide + 10 Examples – Your nonprofit's brand should shine through in its graphic designs. Learn the essentials of nonprofit branding and see real-world examples from notable organizations in this guide.
12 Best Nonprofit Graphic Design Tools to Amplify Your Cause – Transform your designs with the right tools. This guide shares some of the best low-cost tools out there.
https://doublethedonation.com/wp-content/uploads/2023/01/Graphic-Design-for-Nonprofits_Feature.jpg
380
1000
Adam Weinger
https://doublethedonation.com/wp-content/uploads/2022/03/logo-dtd.svg
Adam Weinger
2022-07-11 16:16:08
2023-01-11 16:44:32
Nonprofit Basics: Graphic Design for Nonprofits