Matching Gift Videos | Examples and Best Practices
Corporate matching gifts can significantly benefit any institution's fundraising efforts. Raising awareness of the programs is essential, however, as available opportunities are often overlooked, especially for organizations developing a new matching gift program. For nonprofits, schools, and other fundraising organizations, matching gift videos may be just the answer you were looking for.
In this guide, we'll walk through the basics of matching gift videos (and how to create the most impactful content for your audience), as well as share high-performing examples from organizations to be inspired by. Feel free to explore the following topics:
In the age of YouTube, TikTok, social media reels, and more, video is a favorite channel for content creators to share important information and engage with their audiences. And, when done well, viewers love to watch them⁠ (on average, for a total of 100+ minutes a day).
When it comes to matching gifts, you may already have a good amount of content on your website⁠—perhaps a dedicated match page, informative blog posts, and even a matching gift widget on your donation forms.
But did you know that research indicates viewers retain significantly more of a message when they watch it in video format (95%) compared to written text (10%)? Thus, matching gift videos can be a powerful tool for effectively marketing matching gift opportunities to your institution's supporters.
Let's dive in with a few tried-and-true tips and tricks for creating optimized matching gift video content.
6 Best Practices for Producing Impactful Matching Gift Videos
A well-made video has the ability to engage its audience from beginning to end, share vital information that is processed and retained, and remain at the top of the viewers' minds for long after the last second is up. Plus, video has only gotten increasingly popular according to shifting trends.
Follow these tips to create a video that elevates your matching gift strategy and meets the above standards and more.
1. Embed the video on your matching gift web page.
In order for your matching gift video to produce the greatest results, you'll want to ensure it reaches the widest audience. One of the best ways to do so is by embedding the video directly into your organization's matching gift page. After all, this is where supporters will navigate to learn more about matching gift program opportunities, so it makes sense that it's the key location in which your video will live. Then, be sure to share your matching gift page with supporters and potential donors alike.
We also recommend incorporating your video in donor-facing communications such as donation receipts and gift acknowledgments, as well as any campaign landing pages for giving days, peer-to-peer fundraisers, annual fund campaigns, and more. The more opportunities you have for donors to engage with your video, the better you'll fare!
2. Start by introducing matching gifts as a concept.
Before you dive into the nitty gritty of matching gifts in your donor-facing video, it's a good idea to cover the basics. After all, tons of donors will have never heard of matching gifts prior to being introduced via your newly developed content.
Thus, we recommend starting at the beginning. Explain what corporate matching gift programs are, provide an overview of the wide availability of the initiatives, and emphasize how matches are made possible through the direct actions of individual donors.
3. Highlight how quick and simple the matching process is.
Most companies with matching gift programs offer a simple request process that can be kicked off online in less than five minutes. However, donors who don't understand what's involved in matching gift programs may assume that it's a significant undertaking.
Be sure to emphasize the speed and simplicity of the donor's end of the process! Typically, all it takes is some basic information about the donor, their initial donation, and the organization they supported.
You might even mention how it's typically an entirely digitized submission experience, often involving an online portal or PDF form to complete. Plus, some companies now offer auto-submission, allowing their employees to submit a request in just a few clicks without ever leaving the organization's giving page!
4. Keep your content short, sweet, and to the point.
There's a ton you could say about matching gifts if you were, for example, giving a multi-hour lecture on workplace giving programs. In your matching gift video, however, it's best to keep it short and sweet.
You'll want to cover the basics of matching gifts and provide enough of a foundation to draw donors in and inspire them to participate. But you don't want to lose your audience's attention, so you'll want to stick with an overview (with a call to action to dive in). 60 seconds is our recommended run time!
5. Incorporate closed captioning for increased accessibility.
If your matching gift video will include a voiceover or other speaking parts, it's important to add closed captioning for the text. This will allow for optimal accessibility, enabling individuals who are hard of hearing and those watching without volume to get the most out of your video content.
6. Direct viewers to additional resources.
Your matching gift video is great for providing an overview of matching gift programs quickly and effectively. But it's not the only source of information on matching gifts you should make available to your supporters. Thus, in your video, we recommend directing viewers to additional resources as well. This may include your dedicated matching gift web page, company search tool, or even resources on Double the Donation's website.
Sample Matching Gift Videos Created That Work
See our best practices in action by exploring existing matching gift videos created and utilized by organizations like yours. As you watch these videos, consider which elements can be brought into your own video production strategy to drive success.
Virginia Commonwealth University ⁠— You could double your donation! | Matching Gifts
Virginia Commonwealth University produced this video in early 2020 to educate donors about the impact and availability of matching gifts. Get inspired by their matching gift video here:
Summary of the Matching Gift Video
Virginia Commonwealth University's matching gift video stars two sets of look-alikes, each donning VCU apparel to represent matching gift opportunities to their audience.
The video shows the pairs walking through three key steps that a viewer can take to get their donation matched to VCU⁠. These include navigating to the school's matching gift page with its embedded company search tool, making an individual donation at the provided giving page URL, and following the instructions provided to request a match.
Here are a few standout screengrabs:
What this Matching Gift Video Does Well
Virginia Commonwealth University's matching gift video stands out for its:
Creative utilization of look-alike individuals to represent corporate gift-matching;
Communication of school spirit through the incorporation of branded apparel;
Step-by-step overview of the donation and matching gift processes;
Case Western Reserve University ⁠— CRWU Annual Giving Matching Gifts
Case Western Reserve University is another example of a higher education institution that uses a top-notch matching gift video to communicate the importance of corporate matching opportunities. Take a look at their video here:
Summary of the Matching Gift Video
CWRU's matching gift video utilizes animated elements to highlight matching gift opportunities to viewers. The video begins by likening matching gifts to more common "deals" such as BOGO (buy one, get one free) sales, instant rebates, and more to establish the value of these programs.
From there, they continue to convey that matching gifts are widely available and allow donors to create a greater impact with their gifts while directing the audience to their dedicated matching gift web page to learn more. Finally, they concluded with a powerful data point that states that the school collected nearly $300,000 in matching gift funds the previous year, encouraging viewers to follow suit.
Here are a few standout screengrabs:
What this Matching Gift Video Does Well
Case Western Reserve University's matching gift video stands out for its:
Engaging use of animation to tell the story of matching gifts;
Incorporation into CWRU's dedicated matching gift page, in addition to being posted on the institution's YouTube page;
Symbolism regarding 2-for-1 and BOGO sales as a way to reiterate the impact of corporate gift matches for donors and organizations;
Utilization of statistics to effectively communicate the power of matching gifts the school has seen in the past.
Other Unique Ideas for Nonprofit Matching Gift Videos
We've shared several tips and examples for effective matching gift videos⁠—but what exactly should your video contain?
Here are some content ideas that can help guide the creation of your nonprofit or school's matching gift video to ensure it stands out, resonates with your supporters, and drives impact.
Share a constituent story.
One of the main reasons donors participate in matching programs is because they want to increase their impact on a cause they care about. Make the most of that idea by telling specific constituent stories that will connect with your audience and urge them to do more.
For example, consider sharing about one student we'll call Jack. Jack was able to pursue a degree and thrive at your university thanks to a scholarship opportunity made possible by generous donor funding. Now, enter Jill. When donors request matching gifts on behalf of your institution, it allows you to support twice as many students⁠—including Jack's sister, Jill.
Use relevant imagery to help visualize matching.
Videos rely on incorporated imagery to grab and maintain viewers' attention and interest. In order to represent an abstract concept such as matching gifts, we recommend utilizing applicable symbols.
A few of our favorites include a pair of matching (or mismatched) socks and identical gift boxes. Other ideas may include twins or look-alikes (human or otherwise), multiple briefcases or stacks of cash, matching games, or complementary puzzle pieces. The more creative, the better!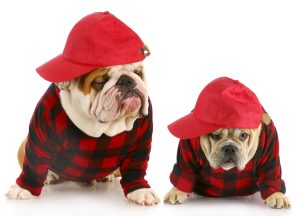 Conduct a brief matching gift FAQ.
Many donors will have questions about matching gift programs, the role they play in fundraising, and how an individual would get involved. Answer some of the most commonly asked questions rapid-fire style to provide all the information an individual would need to get started and remove possible roadblocks before they even arise.
Alternatively, you could ask your audience what questions they might have about corporate gift-matching, then create a matching gift video for your organization based on the inquiries provided.
Highlight matching gift fundraising statistics.
Matching gift statistics can be one of the most effective ways to communicate the power and prevalence of matching gift program opportunities to your audience.
When a donor hears something like, "$4 to $7 billion in matching gift funds goes unclaimed per year," or "Over 26 million individuals work for companies with matching gift programs," they may be more inclined to look into their own matching gift eligibility status and, as a result, request a match on your behalf.
Interested in including matching gift stats? Here are a few of our other favorites:
65% of Fortune 500 companies offer matching gift programs;
An estimated $2-$3 billion is donated through matching gift programs annually;
84% of donors say they're more likely to donate if a match is offered;
1 in 3 donors indicates they'd give a larger gift if matching is applied to their donation.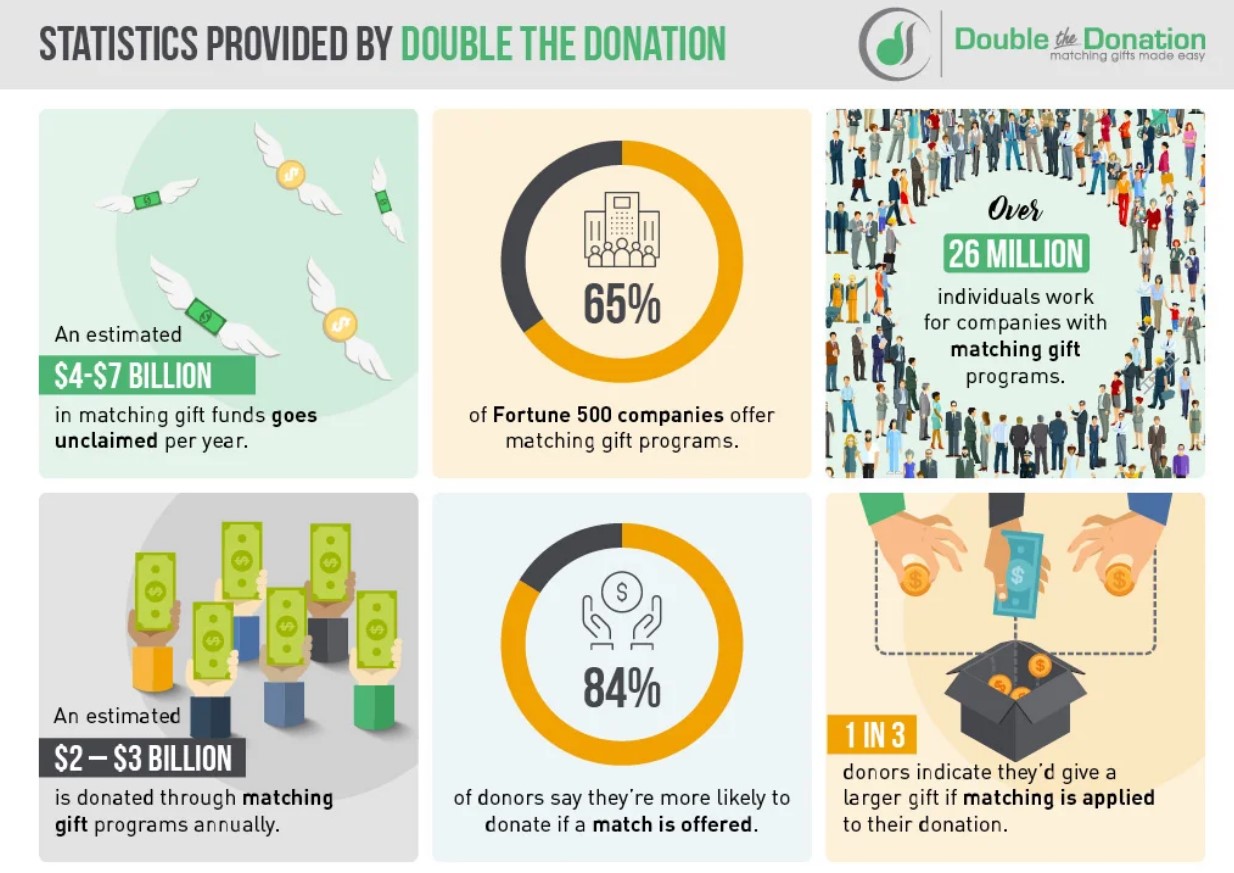 Emphasize local businesses with matching gift programs.
Many businesses have local roots, which means there are likely many opportunities for corporate matching programs right in your neighborhood. Research a few companies' programs and consider highlighting the opportunities in your matching gift videos!
For example, if you're fundraising for an organization in Atlanta, you may choose to highlight companies based out of the city, such as Coca-Cola, Home Depot, IBM, and more. Then, don't forget to inform your audience that tons more companies across the country or even the globe offer these programs as well. They're typically not restricted to a single geographic location, meaning all donors should look into their employers' available matching initiatives.

Bonus! Get a Matching Gift Video From Double the Donation
In case you don't have an in-house production team, we wanted to make it as quick and as easy as possible to acquire an impactful matching gift video for your audience. That's why Double the Donation is now offering matching gift video production services!
Existing Double the Donation clients have two options…
Free Generic Matching Gift Video
Getting started with a Double the Donation-branded, 60-second overview of the matching gift opportunity and how Double the Donation's tools can help is easy⁠—and free!
Ready to download your matching gift video? Simply navigate to the Marketing tab in your account. From there, scroll to the Matching Gift Videos section, locate the FREE Matching Gift Video for Donors, and select Download Now. The video will instantly begin to download to your device, and from there you can upload it to your matching gift page and other fundraising resources.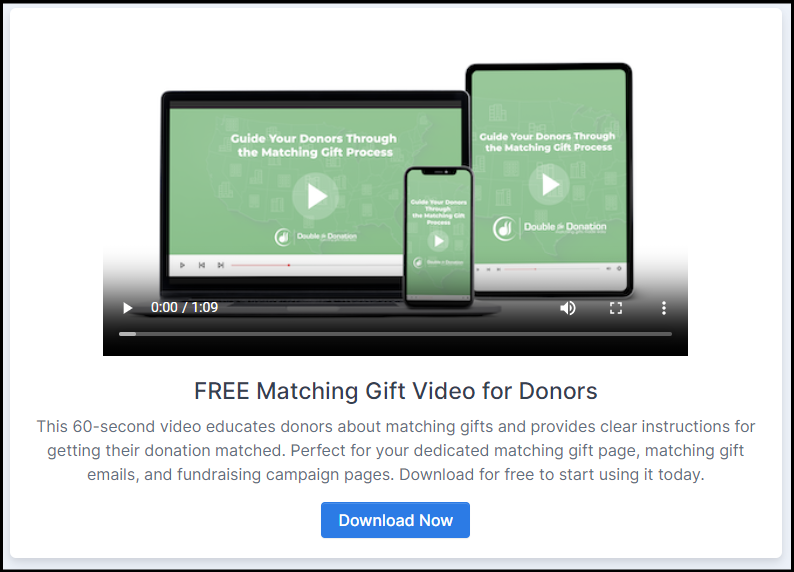 Custom-Branded Matching Gift Video
On the other hand, if you're looking for a video that will match your organization's branding and style⁠—complete with your logos, colors, and more⁠—a personalized matching gift video is the way to go. And now, you can request one from the Double the Donation team in seconds for a small fee.
To do so, head to the Marketing tab in your Double the Donation account, and locate the Matching Gift Videos module. Select the Learn More button from the Personalized Video for Your Nonprofit section, and you'll be prompted to complete a brief form that requests your organization name, logo image file, and primary brand color.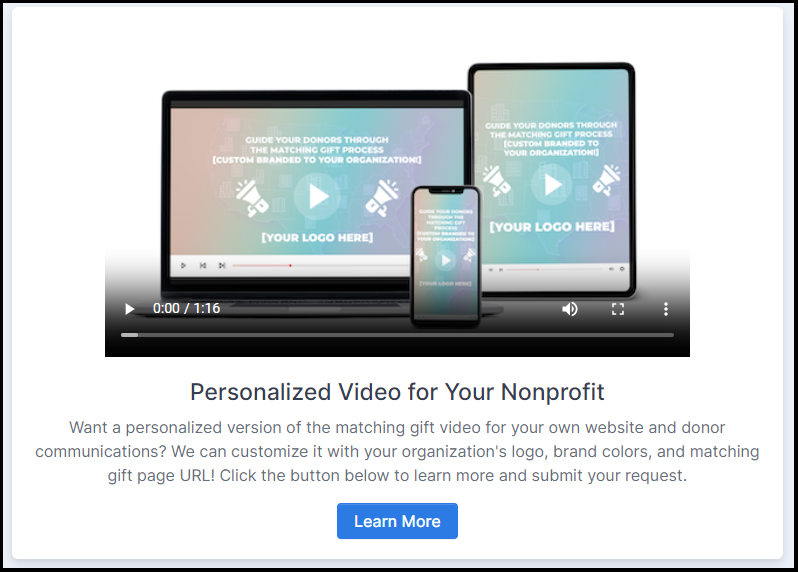 From the time you submit your inquiry, you can expect to receive the completed video in approximately five business days⁠—and it will be delivered straight to the email address indicated on the video request form!
Learn more about requesting a matching gift video from Double the Donation here.
---
That's a Wrap!
Matching gift videos can be a particularly effective (and memorable) way to communicate information about matching gift programs and encourage donors to participate. With these tips, tricks, and examples in your back pocket, you should be well on your way to creating impactful videos for your nonprofit or educational institution. Best of luck!
Interested in learning more about strategic matching gift marketing best practices? Check out our other blog posts here: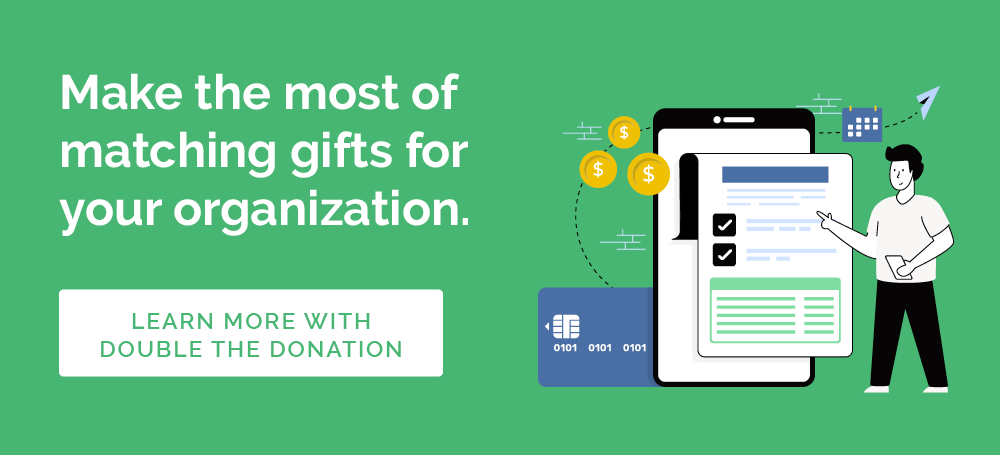 https://doublethedonation.com/wp-content/uploads/2022/07/DTD_Matching-Gift-Videos-_-Examples-and-Best-Practices_Feature.jpg
300
800
Adam Weinger
https://doublethedonation.com/wp-content/uploads/2022/03/logo-dtd.svg
Adam Weinger
2022-07-27 21:57:24
2023-05-09 16:34:55
Matching Gift Videos | Examples and Best Practices