Marketing Matching Gifts With Direct Mail Outreach
While electronic communication is a speedy and efficient outreach strategy, some donors prefer communication via direct mail. That's why we recommend taking a multi-channel approach to marketing matching gifts with direct mail outreach and online engagement efforts.
This way, you're able to reach a significantly wider audience while offering additional touchpoints to make your materials stand out. And in the end, that means more matching gifts for your cause.
Now, you might be asking yourself (or your team): "Is paper marketing out of date?" The simple answer is that no, it's not. In fact, there are a number of donors who still prefer the personal touch of tangible mail.
When people read direct mail, as opposed to email or other online communications, the interaction between ink and paper does something to help people better remember what they're reading. Common sense would advise that you don't just want people to read about matching gift programs; you want people to remember them.
Though digital giving methods are en vogue as of late, some donors don't respond to internet-based outreach. Whether your donors are less technologically savvy or simply prefer a good, old-fashioned letter, some donors are best contacted through the (still lively) snail mail process.
This may include a combination of:
The debate between paper communication and technological communication has raged on for years. Nonetheless, employing both types of marketing works best.
Every type of direct mail has its place in the matching gift donation cycle, and each one will help you better reach that vital segment of donors who prefer to interact via direct mail communications.
In this guide, we'll learn more about marketing matching gifts with direct mail using each of these strategies. Let's begin!

Marketing Matching Gifts With Letters
Use letters to remind donors to check if their employers offer matching gifts. Make sure the wording doesn't read like a sale but rather feels like a personal communication between your nonprofit and the donor.
You want people to know that, by applying for a matching gift, they're doing a great service to your nonprofit⁠—above and beyond their initial contribution. If you have the time and resources, consider writing your letters by hand. If not, you may decide to opt for printed matching gift letters.
Consider these best practices for marketing matching gifts with direct mail letters:
Target your direct mailings to active donors who have recently contributed a gift to your organization.
Research your donors (and their matching gift eligibility) before sending your letters to ensure you're not throwing away any postage.
Take a multi-channel approach to communicating with donors, reminding them about matching gift programs via mail, and following up with digital communications.
Just be sure to write to your donors like they're human beings and share personal stories to get them increasingly invested in your cause. This will encourage individuals to want to go the extra mile to seek out and participate in their employers' matching gift programs.
And when you receive a matching gift, remember to say "thank you!" Even if you communicate with a donor primarily via email, a paper thank you in the mail can be a great way to show how much you appreciate the additional dollars (and the steps the donor took to secure the funding).
Example Content:

"Many employers offer matching gift programs that could double or even triple your contribution. We invite you to seek out matching gifts so that Atlanta University can continue to educate the next generation of changemakers."
"Many corporations offer programs that match employee donations to the Cat Rescue Club. The tax-deductible portion of your membership contribution is often eligible to be matched as well⁠—find out more on our website!"
"Visit catrescueclub.org/employer-matching/ or visit https://doublethedonation.com/CRC to find out if your company will match your donation."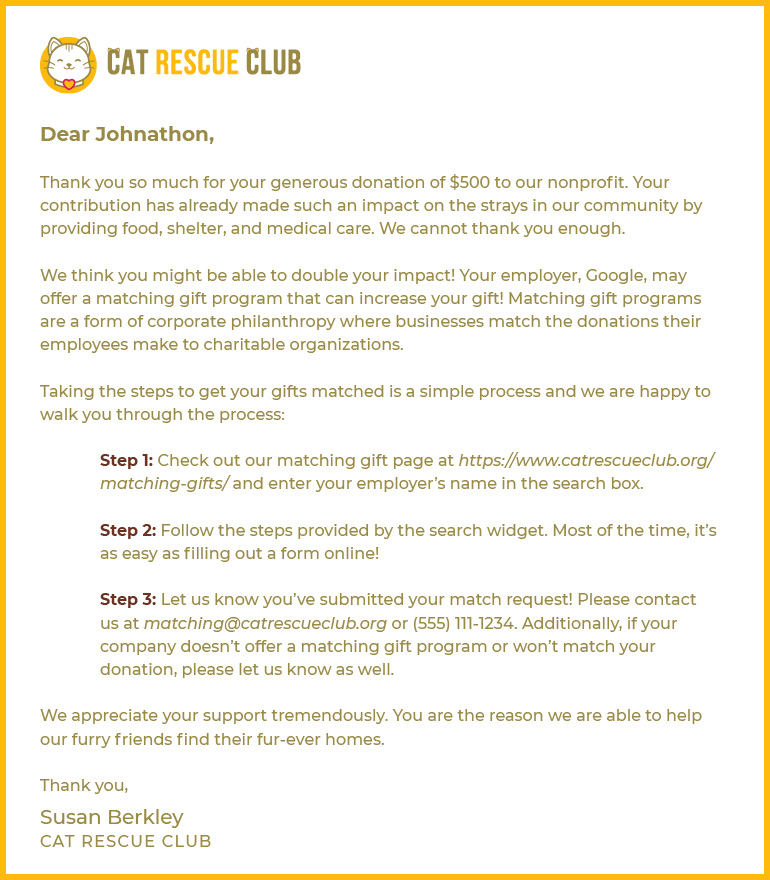 Marketing Matching Gifts With Direct Mail Inserts
If you don't want to edit all of your existing marketing materials to mention matching gifts, or if you want to call added attention to such programs, paper mailing inserts may be the offline marketing technique for you.
Paper inserts are typically slips of paper included in additional donor mailings that call special attention to matching gifts. And they come in a variety of forms, as well. Sometimes they're as simple as small pieces of paper, though you could even get creative and turn your paper insert into a bookmark or another longer-lasting material.
Consider these best practices for marketing matching gifts with direct mail inserts:
To reduce costs, design direct mail inserts smaller than a full page or use a postcard.
Rather than creating an additional direct mail insert, incorporate donation-matching information on the back of an existing paper insert material.
Consider retaining direct mail marketing strategies for donors or members at higher giving levels (and prioritize digital outreach for small and mid-level donors).
Stick to a limited amount of text that gets straight to the point⁠—typically an overview of matching gifts and a call to action to participate.
Incorporate eye-catching graphics that elevate the brief message rather than take away from the content at hand.
Encourage recipients to visit your website (and, specifically, your dedicated matching gift page) at the provided link. If the URL for your match page is long or complicated to type, consider including a shortened version that automatically redirects to your matching gift page.
Direct mail is more likely to be noticed by less tech-savvy donors and members who aren't exploring your website on a regular basis. Including a matching gift insert in new members' or donors' welcome packets, membership renewal materials, or annual update communications can bring additional attention to matching gifts.
Example Content:

"Matching gifts can double your support for our organization. Many corporations offer programs that will match employee donations to our organization. Is your employer one of them? Learn more about available matching gift programs on our website!"
"Matching gifts and volunteer grants are important sources of revenue for our organization. Visit our matching gift page to find out if your company will match your donation and to access the appropriate forms and guidelines."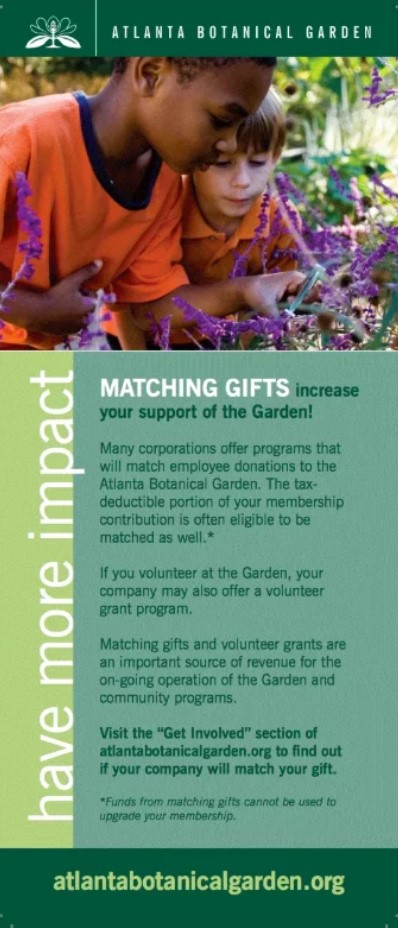 Marketing Matching Gifts With Postcards
People love receiving personalized mail, and postcards can be a great way to make your materials stand out. After all, you get to immediately surpass the issue of donors who never get past the first obstacle⁠—the envelope.
As a result, postcards can be an especially effective way to encourage donors to submit matching gifts.
Consider these best practices for marketing matching gifts with postcards:
Summarize what matching gifts are and what the financial impact is.
Remind donors to submit their matching gift requests to their employers.
Directs recipients to a site (or individual's contact information) where they can access additional information.
Determine which segments of donors to which you'll send postcards⁠—including all recent donors, recent donors above a certain threshold, donors identified as match-eligible, or donors who've submitted matching gifts for past donations but haven't yet for their most recent contributions.
Just as with the solicitation letters, the more personalized you can make your postcards, the better. Handwritten cards are great, but at the very least, you'll want to have your postcards signed by hand. Knowing that a real person cared enough to write (or sign) your mailing can go a long way toward connecting with recipients on an individual level.
Example Content:

"Get your donation matched! Scan this QR code to visit our page on corporate matching gifts and find out if your employer will match your generous donation to our cause."
"Do you match? Visit www.lls.org/matching-gifts/ to search our matching gift database and quickly access your company's matching gift program guidelines."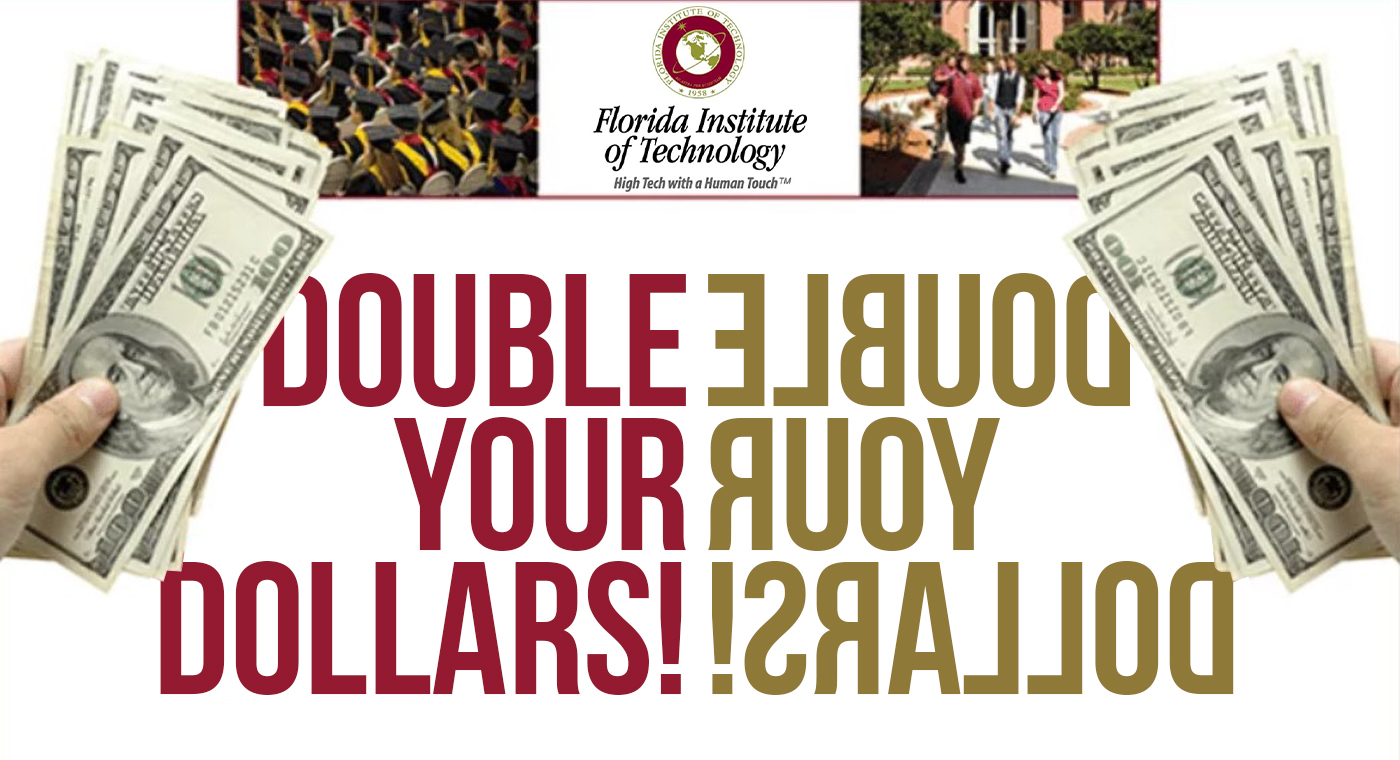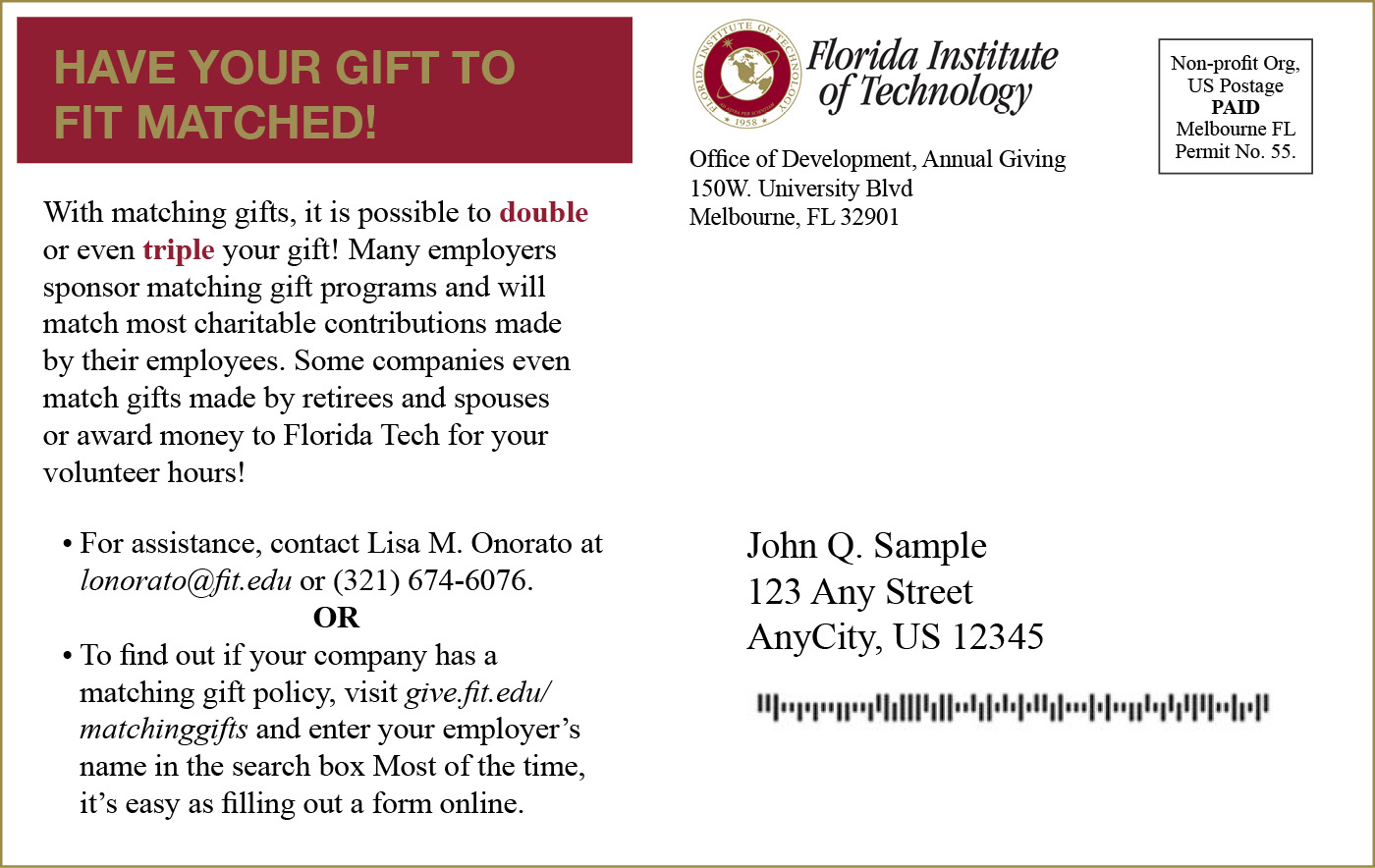 Marketing Matching Gifts With Thank-You Notes
It's likely that your nonprofit is receiving matching gift checks several months after the original donations. Sending thank-you notes is a great way to notify your donors that the matching contributions were received.
Thanking donors is not only the right thing to do, but it also instills a positive impression in donors' minds and ultimately closes the loop. As a result, donors will be more likely to make future contributions with matching gifts.
Consider these best practices for marketing matching gifts with thank-you notes:
Utilize a "thank-you" card that is both easy to read and eye-appealing while also staying true to your brand's color scheme.
Ask donors to keep your organization in the loop throughout their matching gift request process (i.e., indicating when they've submitted their match), which allows you to better track and record incoming matching donations.
Provide insights into the tangible impact the individual's donation match can offer your organization and its beneficiaries.
Share gratitude for both the donation match and the individual's initial donation.
For large institutions, the chances are that you'll be sending notes to more people than hand cramps you care to endure. Printed materials are a speedy and efficient alternative to handwritten letters, but if you want that personal touch, pick up a pen and scribble a quick message. Even just signing at the bottom can show an extra level of dedication that donors will respond to!
Example Content:

"We recently received a matching donation from the Home Depot as a result of your generous donation and subsequent match request on our behalf. Thank you for your constant support of our cause!"
"Thank you for submitting your matching donation! Your support goes above and beyond to help us fulfill our mission. Our team, and the beneficiaries we serve, will forever be grateful for your contributions to the campaign."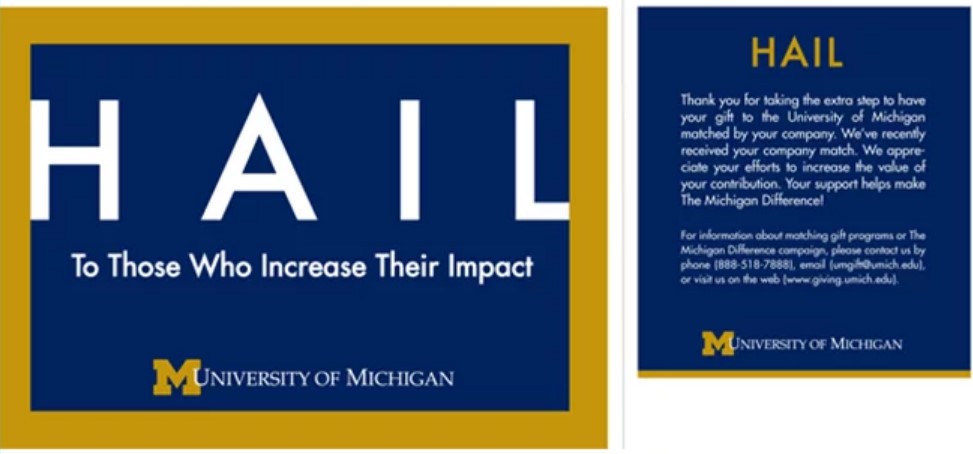 Marketing Matching Gifts With Physical Newsletters
Physical newsletters as a marketing medium offer a unique opportunity for organizations to share content that goes in-depth about the details of matching gifts. After all, this method typically encompasses an increased amount of space to articulate why matching gifts are important⁠—and their specific benefits to your nonprofit⁠—as compared to some other direct mail or even online marketing tactics.
This, in turn, brings them closer to your nonprofit in a way that makes them feel more in touch with (and thus more included) in your community.
Consider these best practices for marketing matching gifts with physical newsletters:
Share compelling statistics about matching gift availability and potential (hint: we've compiled a list of impactful corporate giving research here to help).
Communicate the value of matching gifts using examples of tangible benefits that increased funding can bring your organization and its mission.
Direct readers to additional online resources where donors can navigate to learn more about getting involved with donation-matching.
Consider creating a matching gift-specific edition of your nonprofit newsletter, chockfull of information about the giving opportunity.
Chances are, you have an online newsletter to share current events and updates surrounding your nonprofit organization and its mission. But have you noticed that some people still prefer the physical newspaper to the digital edition?
As a result, a physical newsletter gives you a better chance of reaching donors who you might otherwise miss.
Example Content:

Matching gifts occur when socially responsible companies agree to financially match donations that their employees make to eligible causes. However, millions of eligible donors have no idea whether their companies offer such a program! As a result, more than $4 to $7 billion in available matching gift funding goes unclaimed every year. Are you missing out on potential matches from your employer? Check out our website to learn more about these opportunities and determine whether your most recent donation is eligible for a corporate match."
"In the last year, more than $100,000 worth of donations made to our charity were identified as eligible for corporate matching through donors' employing companies. However, only a fraction of that amount was actually processed and contributed via corporate matches. Imagine what we could do if every match-eligible donor secures a corporate donation from their employer⁠. Think of all the families in our community who won't go hungry, thanks to adequate funding for our food pantry! Find out if your employer offers a matching program by visiting www.henrypantry.com/matching."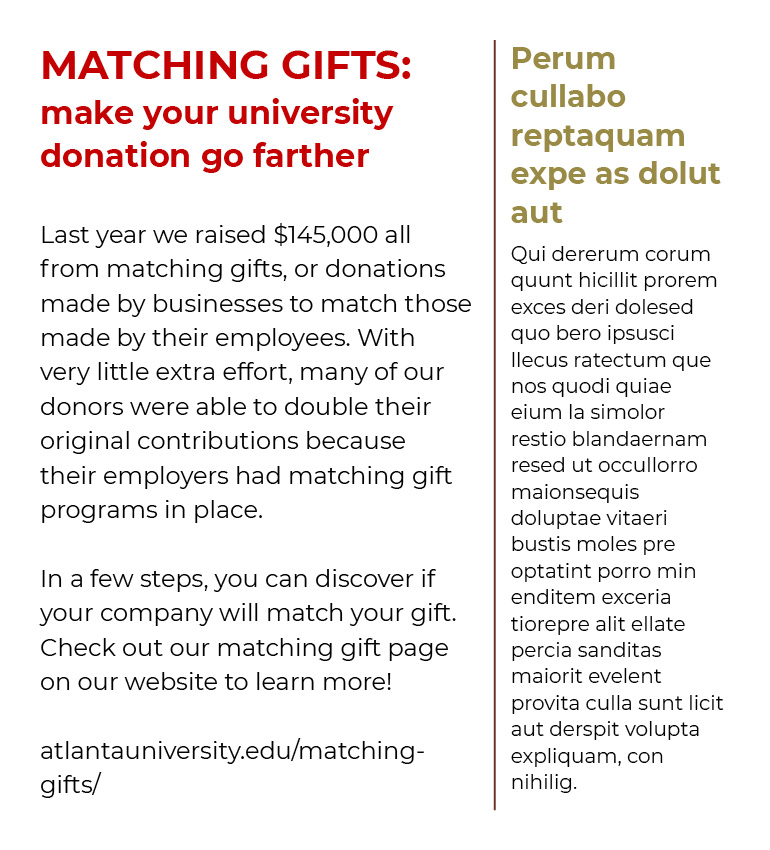 Marketing Matching Gifts With Return Envelopes
If your nonprofit is like other organizations using direct mail to solicit donations, you probably include a pre-addressed, pre-paid return envelope. This is a common practice, the purpose of which is to make it easy for donors to send in their donations.
But did you know that the return envelope is also a prime spot to remind donors to look into their employers' matching gift programs?
Consider these best practices for marketing matching gifts with return envelopes:
Keep your text short and sweet⁠—you're not going to have a ton of space on the outside of an envelope.
Direct recipients to additional resources where they can learn more about matching gift opportunities.
If a donor is submitting a gift to your organization via return envelope, there's no better time to inform them of the power of matching gifts.
Why?
These already-philanthropic donors can increase the impact of their donations to your organization without spending any more on their initial donation. Right when they're already in the giving spirit is the perfect opportunity to inform them about the opportunity!
Example Content:

"Thanks for donating! Don't forget to see if your company offers a matching gift program. Visit atlantauniversity.edu/matching-gifts/ to access your company's matching gift form, guidelines, and instructions."
"Next steps: find out if your donation is matchable! Search your employer's name in our online matching gift database at www.catrescue.org/employee-matching."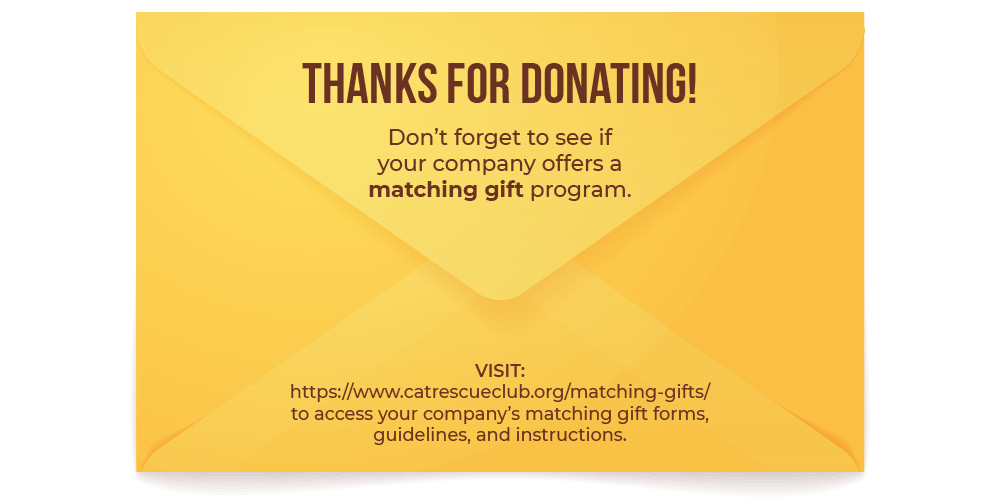 ---
A lot of the time, scoring matching gifts is about increasing awareness about these programs. Marketing matching gift with direct mail outreach offers a bevy of ways to connect to donors⁠—and some donors even respond better to paper mail than they do digital methods.
From letters to postcards to newsletters, you have a ton of options to raise more fundraising revenue than ever (both matching gift and otherwise).
And remember⁠—the question is hardly ever whether to market matching gifts with direct mail or with digital outreach. Instead, a multi-channel approach is nearly always the best solution for communicating with donors, sharing information in effective and memorable ways, and ultimately driving more donation matches to completion.
Interested in increasing matching gift marketing for your cause? Check out our other educational resources to raise more:
Improving the Donor Journey with Matching Gifts. Incorporating matching gift outreach⁠—whether direct mail, digital, or a combination of the two⁠—is one of the best ways to improve the donor journey and provide excellent supporter experiences. Find out how with this guide!
Corporate Giving and Matching Gift Statistics [Updated 2022]. These corporate philanthropy, workplace giving, and matching gift statistics are unbelievable but true. Learn more about the current state of corporate giving, the potential that these programs offer for nonprofit causes like yours, and how to close the gap.
Corporate Volunteer Grant Programs: Learn the Basics. Thousands of companies provide organizations with which their employees volunteer generous grants corresponding to the number of hours spent with the cause. Like matching gifts, volunteer grants enable supporters to do more for their favorite charities!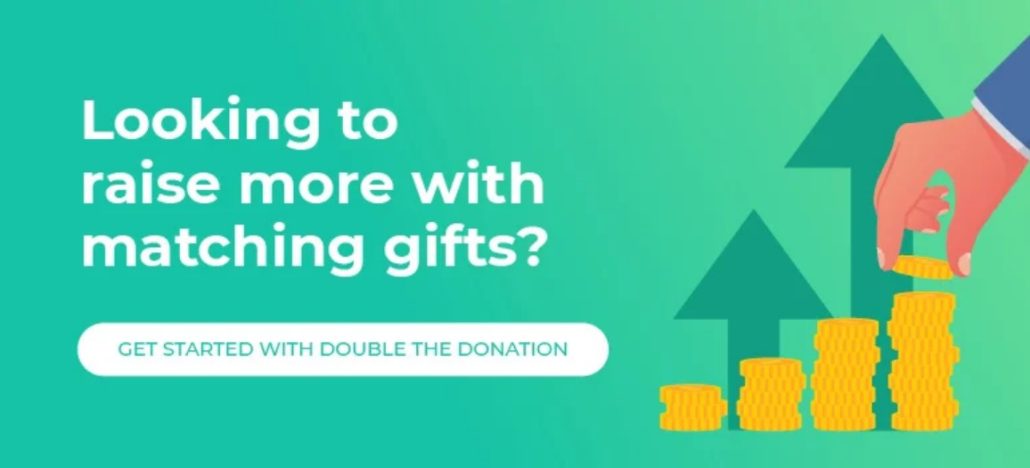 https://doublethedonation.com/wp-content/uploads/2022/05/DTD_Marketing-Matching-Gifts-With-Direct-Mail-Outreach_Feature.png
550
1450
Adam Weinger
https://doublethedonation.com/wp-content/uploads/2022/03/logo-dtd.svg
Adam Weinger
2022-05-11 14:00:44
2022-06-20 07:54:21
Marketing Matching Gifts With Direct Mail Outreach