Matching Gifts: 5+ Letters Every Nonprofit Should Be Sending
Matching gifts play a large part in nonprofit fundraising, and one of the easiest, most effective ways to raise awareness for these major opportunities is through letters. Whether online or offline, letters can provide detailed information that helps donors understand how easy and how important it is to submit matching gift requests to their employers.
To boost your matching gift potential, incorporate some or all of these types of letters in your communication strategy:
If you're ready to maximize your matching gift funds, let's get started!



Letter #1 – Acknowledgment Emails
When life gives you generous donors, make them thank you notes.
Email is a quick, efficient way to demonstrate your gratefulness directly after a donation is made. This communication is typically automated but can still leave a powerful impact.
Acknowledgment emails can be written with customizable templates in which you insert a donor's name, brand it to your organization, and include a few other bits of information in order to deliver a personal touch.
The key is to show your appreciation. Matching gift donors could be former prospects, volunteers, or fundraisers, and they all deserve a good pat on the back. Once a mutually-beneficial relationship has been built, you can make an appeal for matching gifts.
The letter should focus on the thank you, so the matching gift appeal should be kept to a minimum. However, adding matching gift appeals to thank you notes can serve as a reminder that donors need to take the time to make their donations go twice as far.
Here's a sample acknowledgment email: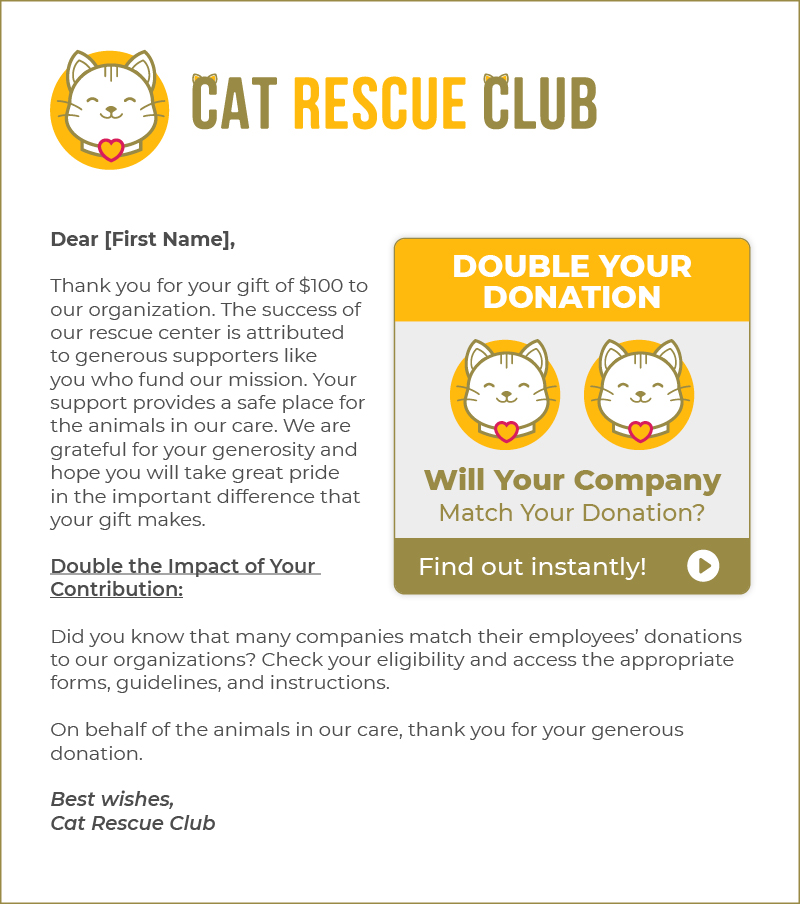 A matching gift appeal in an acknowledgment letter could be as simple as:
Are you eligible for a matching gift? Ask your employer today if you can double your donation to [insert your nonprofit's name here].
Does your employer offer a matching gift program? Find out now if your donation can go twice as far: [insert link to a dedicated matching gift page].
You might be eligible for a matching gift. Ask your HR department today if your employer will make your gift have twice the impact.
If you're looking for a more efficient way to find out which donors are eligible for matching gifts through their employer, consider investing in an automation platform like 360MatchPro by Double the Donation. 
360MatchPro sends out automated emails on behalf of your organization, but personalizes the messages beyond simply inserting a donor's name and other details. The platform scans the information your donors provide during the donation process to determine their eligibility for a matching gift.
If a donor is determined to be match eligible, the platform will trigger an email like this: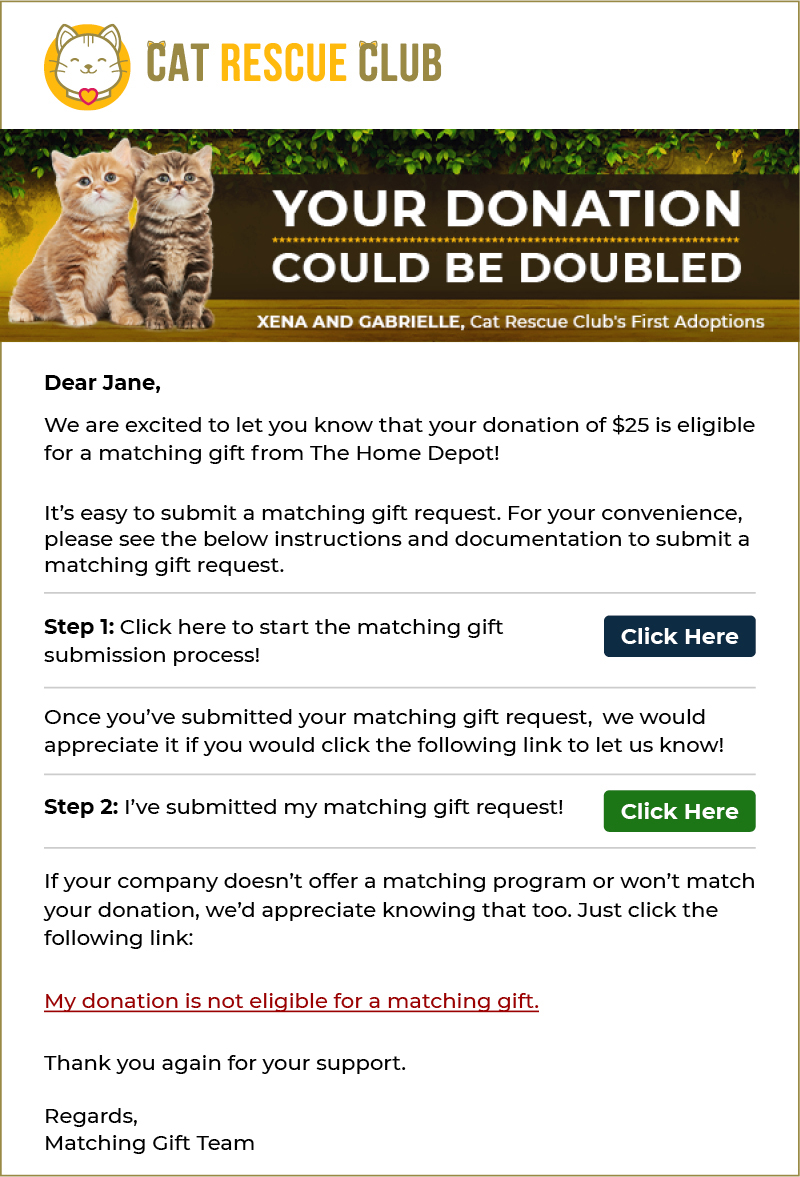 This email addresses the donor by name, acknowledges their gift amount, and even references their employer. There is also a clear call-to-action encouraging the donor to submit a matching gift request.
If a donor's eligibility is unknown, on the other hand, the platform will trigger an email like this: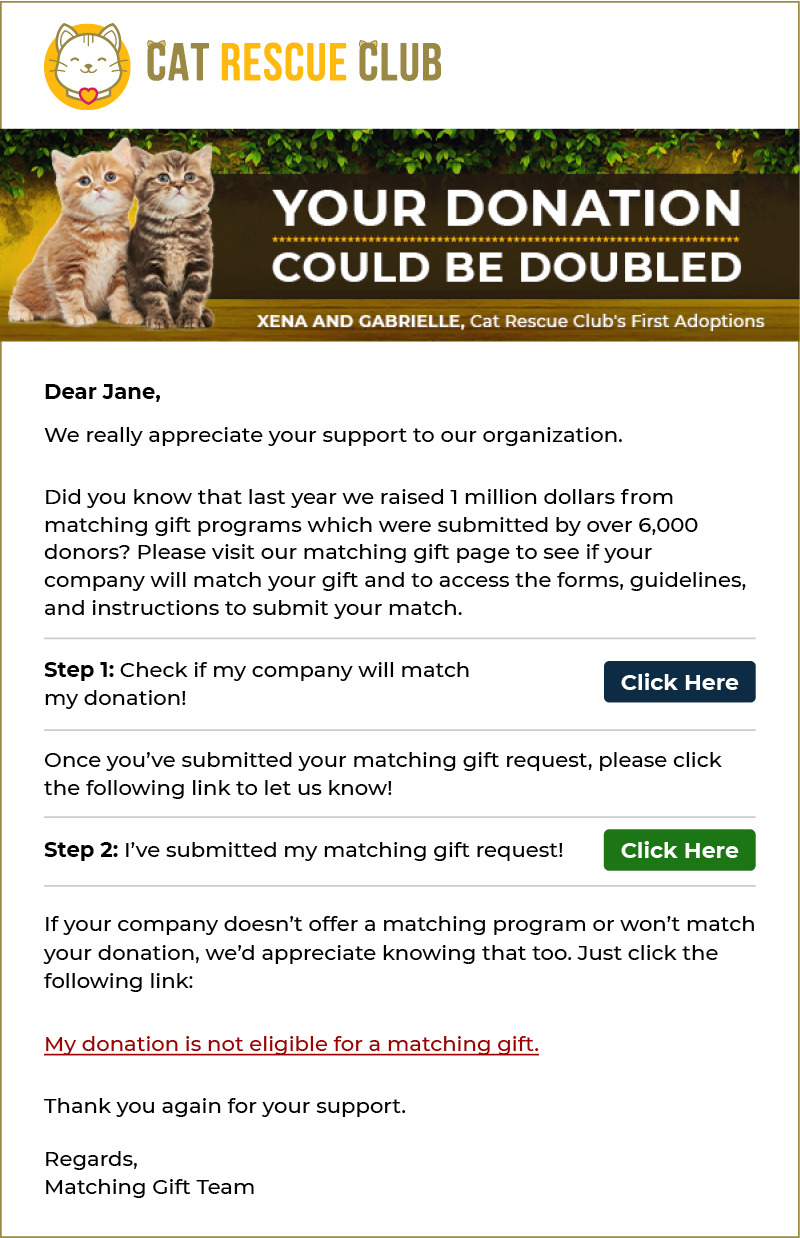 This email message thanks the donor and encourages them to look up their matching gift eligibility using clear instructions and buttons.
Thanking donors is one of the major keys to donor retention. When you thank them, you're also extending them a courtesy by giving them the chance to give more without needing to reach back into their own pockets. They want to help your cause as much as possible, and you don't want to leave easy money on the table.
When to send: After a donation
Who to send to: Recent donors
Why to send: To thank for a donation and to make a matching gift appeal
View additional sample matching gift acknowledgment letters.



Letter #2 – Thank You Letters and Postcards
You might refer to direct mail as 'snail mail', but what it lacks in speed, it more than makes up for in emotional impact.
People know when you're sending them an automated message. Direct mailings could be automated messages, too, but there are ways to prove to donors that your direct mailings have been touched by real people that can't be accomplished through email.
While you won't have the time to handwrite every thank you letter or postcard, merely signing your name at the bottom can do wonders to let donors know that you took personal time out of your day to thank them for their generous gifts. Caring doesn't have to be complicated. It just has to be recognizable.
Direct mail is more expensive than email due to the price of stamps, so you may not want to mail a letter to everyone. Prospect research can reveal which donors are eligible for matching gifts, so you aren't sending special letters to people who aren't eligible to submit a matching gift.
Other people worth mailing to are donors who you know prefer direct mail to email. Many older donors still prefer direct mail and will be more receptive to matching gift appeals made through this medium. Many nonprofit professionals often don't realize that online donors prefer to move offline as quickly as possible. Even online donors like offline contact.
When to send: After a donation
Who to send to: Match-eligible donors who prefer direct mail to email
Why to send: Some donors prefer tangible materials to electronic communications.
View additional sample matching gift acknowledgment letters.



Letter #3 – Paper Inserts with Other Communications
Incorporating matching gift appeals into emails and direct mailings entails editing your current marketing materials. The alternative is to create entirely new materials that can accompany your established donor letters.
Here's a sample matching gift insert from the National Kidney Foundation: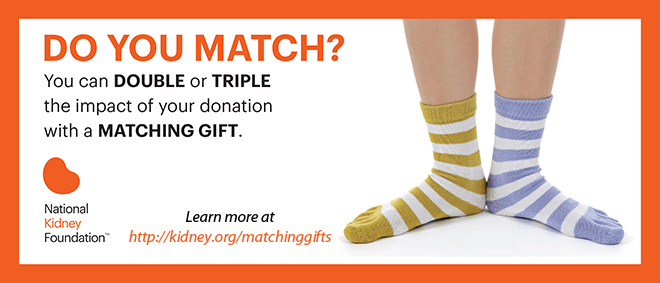 Paper inserts can be mailed along with almost any direct mail communication. Consider sending donors magazines, acknowledgment letters, or volunteer information, and with each communication attempt, you can include a paper insert to remind them of the possibility of matching gifts.
Even for people who don't donate, including a paper insert in a direct mailing can help encourage them to give. Including matching gifts in fundraising appeals increases response rates by 71%, with those donations being 51% higher in average amount.
Reminding donors about matching gifts can help boost your fundraising, but reaching out to people who have yet to give can do a world of good for your nonprofit, too!
When to send: Any time you send a communication through direct mail
Who to send to: Prospects and donors
Why to send: Raise awareness for matching gifts to boost fundraising
View additional sample matching gift direct mail pieces.



Letter #4 – Newsletters
More often than not, potential and current donors don't know about matching gifts at all, let alone what they entail. A good remedy for this is to offer resources about matching gift fundamentals and step-by-step instructions in your nonprofit marketing materials for completing a match request.
Many nonprofits already use formal newsletters to keep donors up-to-date on all the happenings within the organization, so devoting part of the newsletter to matching gifts should be fairly simple to do. Matching gifts are even worth a dedicated email just to announce the opportunity.
The best strategy is to dedicate one or two newsletters a year, depending on how many you send, entirely to matching gifts.
Check out this example: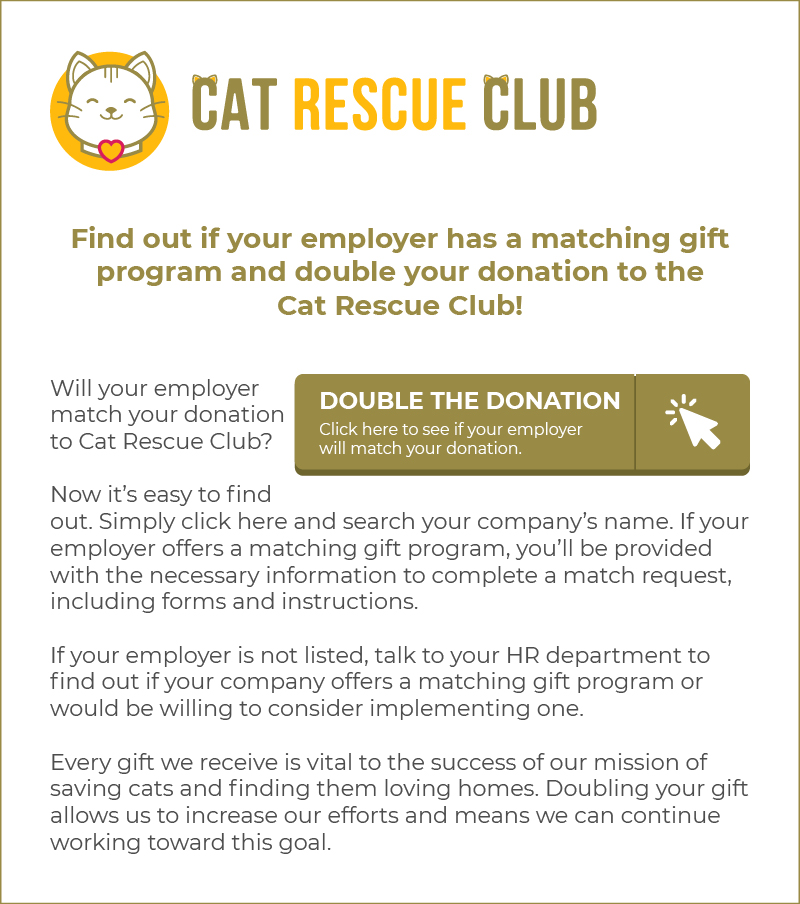 Think of it this way: One email, one goal.
When newsletters have a singular focus, donors are less likely to be distracted by news of your recent fundraiser or listings of upcoming volunteer opportunities. If something is worth mentioning in your newsletter, it should receive the recognition it deserves.
Don't have your important announcements competing with one another. By focusing on matching gifts, donors have one call-to-action to pay attention to, and thus, one action to take on their minds.
That said, split newsletters can work and certainly help to save newsletter real estate. Splitting might mean that matching gifts share a newsletter with one or many other topics. You might even choose to include the matching gift appeal as a banner along the side of the newsletter. Make sure to design your newsletter where each important announcement is prominently featured in its own section. That way, nothing significant gets overlooked.
Just like with thank you letters, split up email and direct mailing of newsletters to those donors who best respond to the respective mediums.
It's best to send matching gift newsletters during the times of year when the most donations come in, as you'll reach more people at times when they're in the giving mindset.
When to send: Once or twice throughout the year.
Who to send to: Donors and volunteers.
Why to send: Keep donors updated on your nonprofit's matching gift policies and need for additional funds.
View additional sample matching gift newsletters and emails.



Letter #5 – Giving Season Appeals
Timing matters. Depending on how your nonprofit times its letters, your organization stands to either build more meaningful relationships or miss out on vital fundraising opportunities.
Many donors tend to give at the end of the year. This is when people are most aware of their finances in terms of how much money they've spent over the prior twelve months and how much they have left to give. Plus, the holiday season brings out donors' charitable sides! Because of this, a lot of businesses and nonprofits make their big pushes for donations during this time, commonly known as giving season.
Year-end appeals involve asking for donations and making matching gift appeals. These letters aim to encourage people to give while reminding them that matching gifts will help to deliver double the impact. Year-end appeals can be tailored for the time of year, in terms of embracing any seasonal holidays or other special occasions in regards to the language used and the layout of the communication.
This is another opportunity where an automation platform like 360MatchPro by Double the Donation can aid your cause. 360MatchPro offers a year-end email stream that you can use to contact donors about the donations they've already made during that year.
This is what the year-end email looks like: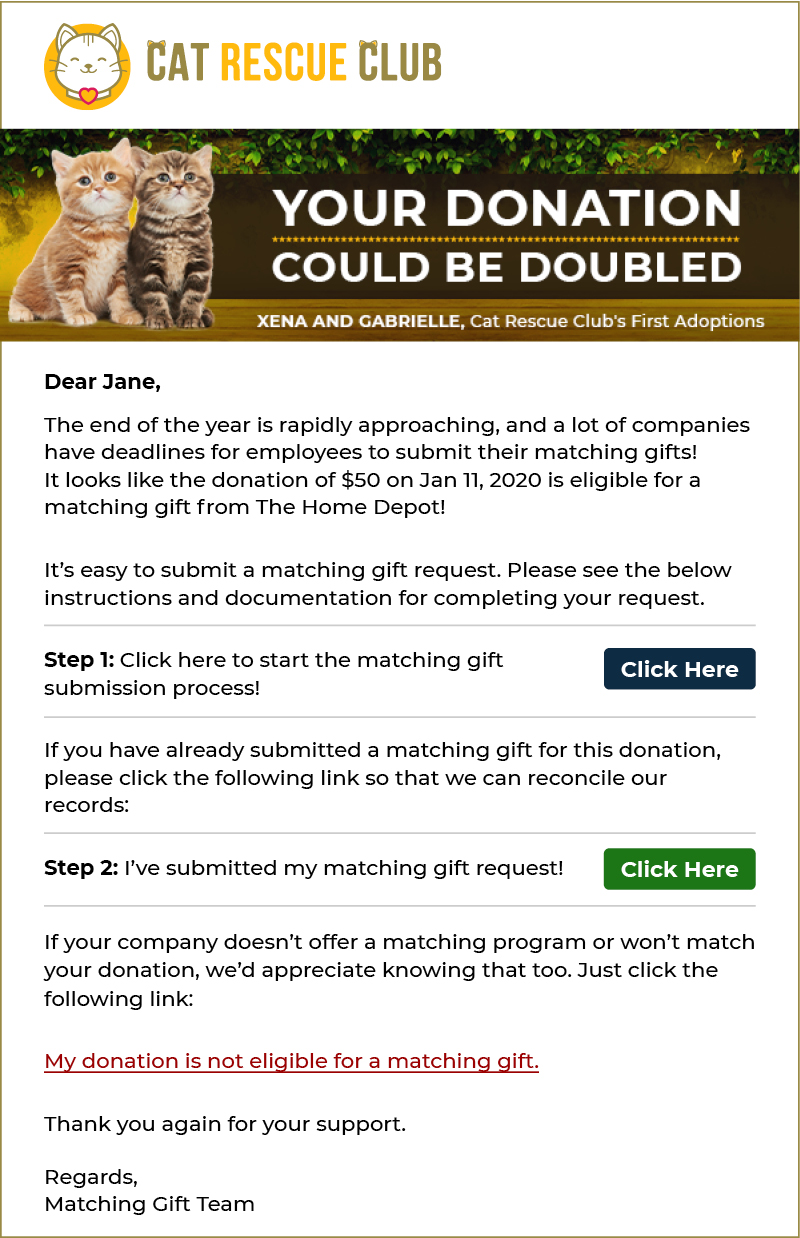 This email is, again, personalized to the donor, includes the donation amount and date, and also provides pertinent information about their employer and their matching gift eligibility. Clear calls-to-action then encourage them to start the matching gift process.
For more information on year-end fundraising strategies, check out our comprehensive guide.
New-year appeals are similar to year-end appeals, but they tend to focus on reminding donors to seek matching gifts more so than doing that in tandem with encouraging donations.
Many people have already given for the year, and the start of the new year is an ideal time to reach out to everyone who has donated in order to remind them that they can still do a little bit more to help your cause.
When to send: End of the year and start of the new year
Who to send to: High-quality prospects and current donors
Why to send: Encourage donations and remind donors about the possibility of a matching gift
View additional year-end and new-year matching gift appeals.
Takeaway: There are many ways to acquire more matching gifts, but most won't leave a personal touch like letters.



Letter #6 – Postcards
If you're looking to promote matching gifts via direct mail but want to take a more unique approach than the typical fundraising letter, consider sending a fundraising postcard instead.
Postcards have a friendly feel, like a note from a loved one who's thinking of you. Consider incorporating them into your direct mail strategy, and specifically as a matching gift marketing tactic. You're sure to keep your organization (and it's additional giving opportunities) at the forefront of the donor's mind for a longer period of time.
Be sure that your postcards are visually appealing, attention-grabbing, and strategically branded to your organization or campaign. Here's what it might look like: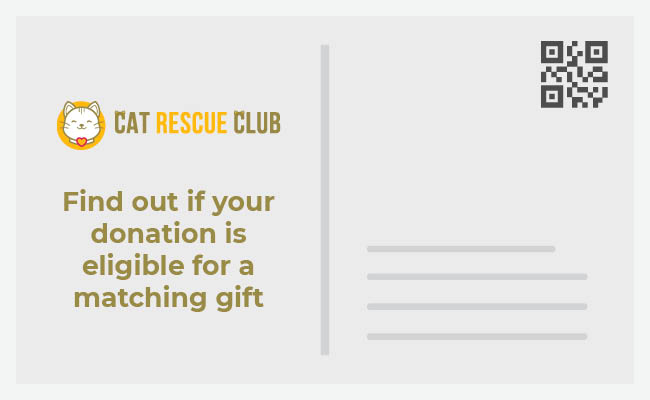 Then, include a clear and specific call to action for the recipient—such as determining their matching gift eligibility or submitting a request if applicable—to a relevant online resource to learn more. Since this link won't be "click-able" on a physical postcard, it's a good idea to keep your URL short, sweet, and easy to type or incorporate a scannable QR code as well.
When to send: A few days to a week after a donor has made a gift
Who to send to: Donors you've determined are likely to be eligible for a matching gift
Why to send: Cut through the issue of getting your envelope opened in the first place by removing the unnecessary obstacle
Matching Gift Database: Identify Matching Gifts with Double the Donation
As you now know, nonprofits can boost their revenue by promoting matching gifts to their donors. When eligible, donors can double (maybe even triple!) their contributions with the help of their employers. The key is to make them aware of these available opportunities and to thank them for their contributions.
Double the Donation can simplify this process for everyone involved. When you embed their matching gift plugin across your website and fundraising channels, you'll maximize your revenue. By pinpointing eligible donors, you'll know exactly when to send the necessary letters you've learned about in this article, too!
Double the Donation offers the #1 matching gifts database, with more than 8,500 organizations using it. The industry-leading searchable database includes more than 20,000 companies and subsidiaries representing 15+ million match-eligible individuals.
As the most comprehensive source of matching gift forms and instructions, corporate employees will be able to quickly check their eligibility and submit requests to their employers.
360MatchPro by Double the Donation, as you've learned, goes beyond providing users with necessary process information and forms. The system can recognize match-eligible donors through email domain screening and encourage donors to complete the matching gift process through automated reminder emails. Most letters will be automated, but you'll still need to send those vital appreciation and announcement letters! Your staff will save time while still providing donors with the necessary guidance for completing their matching gift requests promptly.
---
There you have it: 5 different types of letters for all of your fundraising needs. Hopefully, sending these letters can help you boost your revenue by promoting matching gifts to your generous donors.

jQuery(window).on("hashchange", function () {
window.scrollTo(window.scrollX, window.scrollY - 370);
});
https://doublethedonation.com/wp-content/uploads/2022/05/Matching-Gift-Letters_Feature.jpg
275
710
Adam Weinger
https://doublethedonation.com/wp-content/uploads/2022/03/logo-dtd.svg
Adam Weinger
2016-06-07 19:23:14
2022-06-20 07:54:34
Matching Gifts: 5+ Letters Every Nonprofit Should Be Sending