7 Employee Engagement Ideas to Promote Philanthropy
When you think of employee engagement, what comes to mind? It could mean having happy employees, employees who are invested in the work they're doing for your company, or employees who feel good about what your company does as a whole.
In reality, all of those traits define employee engagement. And having high employee engagement levels comes with a lot of value.
Why is employee engagement important?
Employee engagement is important because it boosts productivity, profitability, and retention rates at your company. When employees are engaged at their company, it means they have an emotional investment in the work they're doing and the work your business does overall.
But employee engagement takes many forms, and it takes effort from your company to foster an environment that encourages engagement. One of the most effective ways you can boost engagement at your company is through corporate philanthropy.
When companies take part in corporate philanthropy efforts, it reflects well on them as a whole and encourages employees to get involved. In this article, we'll outline seven employee engagement ideas centered around philanthropy. Using these ideas, your company will be in a better position to increase engagement among your employees.
We'll discuss:
Centering your efforts around corporate philanthropy is a great way to boost morale among your employees and keep them invested in the work you do. Let's get started.

1. Matching Gift Programs
With the rise of corporate social responsibility (CSR), many companies are taking the initiative to do good in their communities. One of the most common ways companies do this is by implementing matching gift programs.
Corporate matching gift programs are a type of philanthropy in which companies financially match donations that their employees make to nonprofits.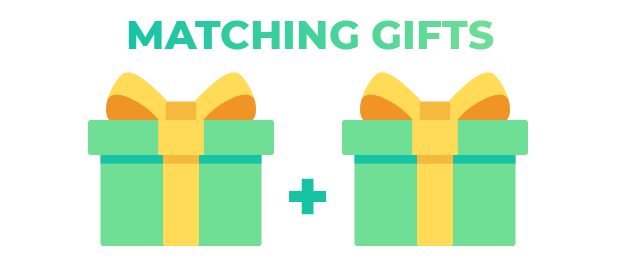 Many companies match at a 1:1 ratio (dollar for dollar), but these ratios range anywhere from .5:1 to 4:1. That means nonprofits have the opportunity to receive at least double the amount of an initial gift.
How do matching gifts tie into employee engagement?
Matching gift programs are essential for employee engagement because those programs demonstrate to employees that your company cares about the same organizations and causes they do. While most matching gift companies organize unrestricted programs (where the employer will match donations to any nonprofit its employees support), a custom or "one-off" match initiative is a great way to ease into the engagement opportunity. In this case, your company would select a single nonprofit to which you'd match donations, thus rallying your staff around a particular cause!
Although matching gifts are common in terms of workplace giving programs, many employees don't know their companies even offer a program.
That's why your company should take the initiative to promote these programs to your employees. Whether it's done through onboarding or regular employee communications, alerting employees to the fact that they can double their donations to their favorite charities can go a long way in terms of engagement.
Taking this initiative is also great for the nonprofits your matching gift program benefits, because the more you encourage employees to participate in these programs, the more nonprofits will raise for their causes. It's a win-win!
*While 360MatchPro offers custom matching gift program management functionality, this feature is designed specifically for fundraisers looking to manage custom matching gift initiatives—360MatchPro does not work directly with corporations. If you're a company interested in creating a matching gift program, contact us, and we'll share information about our corporate vendor partners.

2. Corporate Volunteerism
Just as matching gifts are one of the most common types of CSR programs out there, another common CSR initiative is corporate volunteerism.
Through corporate volunteerism, employees are encouraged to volunteer their time at local nonprofits they want to support. 
Companies encourage volunteerism in a number of ways, one of which is through offering paid time off during the year to volunteer. This is an extra incentive for employees because they get to support a charitable cause while still getting paid.
Many companies also offer volunteer days, such as a day of service, to promote team-building and give back to the community. This encourages coworkers to get together, get to know one another, and work as a team to help an organization.
Corporate volunteerism also benefits nonprofits because of the skills corporate employees bring to the table—which are often skills and expertise that the nonprofits may not otherwise be able to afford.
How does corporate volunteerism tie into employee engagement?
Companies that promote volunteer opportunities and actively encourage their employees to participate show that they care about giving back to the community, and are even willing to offer paid time off to do so. This reflects well on companies and even encourages consumers to continue purchasing products and services from them.
When employees see the good their companies are doing in their communities, they are more likely to participate, think positively about their role in the company, and be happier as a result.

3. Corporate Volunteer Grants
Corporate volunteerism doesn't end with the time and effort that your employees offer nonprofits. There's another type of workplace giving program directly related to volunteerism that can benefit nonprofits, reflect well on your company, and boost employee engagement.
Corporate volunteer grants turn non-monetary contributions—volunteer hours—into revenue for your nonprofit. When employees at a company devote a specific number of hours to volunteering with a nonprofit, participating companies provide a set dollar amount for those hours to the nonprofit.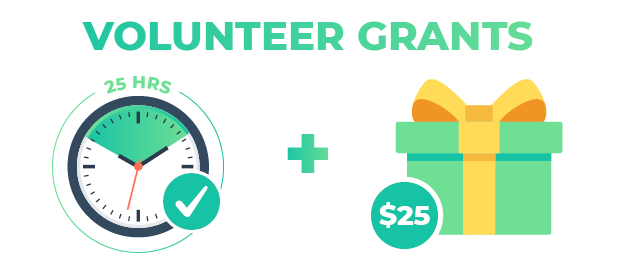 For example, this could look like:
$25 for every hour an employee volunteers
$15 per hour an employee volunteers, with a minimum of 20 hours

$500 after volunteering 20 hours with a nonprofit
Corporate volunteer grants essentially help nonprofits meet their fundraising and volunteer goals at the same time.
How do corporate volunteer grants tie into employee engagement?
Many volunteers and nonprofits are unaware that the volunteer's employer even offers a volunteer grant program. That's why it's essential to actively promote these opportunities to employees—especially those who volunteer with nonprofits on a regular basis.
The more you encourage volunteerism and promote volunteer grant opportunities, the more employees will feel engaged with your company and its values.
Additionally, the easier you make it to participate in your volunteer grant program, the more you'll get out of the program you've invested in. One way to make participation easier and more streamlined is by investing in employee engagement software. If you're interested in the kinds of solutions available to you, jump to that section now!

4. Automatic Payroll Deductions
Another form of workplace giving that can lead to high employee engagement is automatic payroll deductions. 
An automatic payroll deduction allows employees to deduct a small portion of each paycheck to donate to a charity.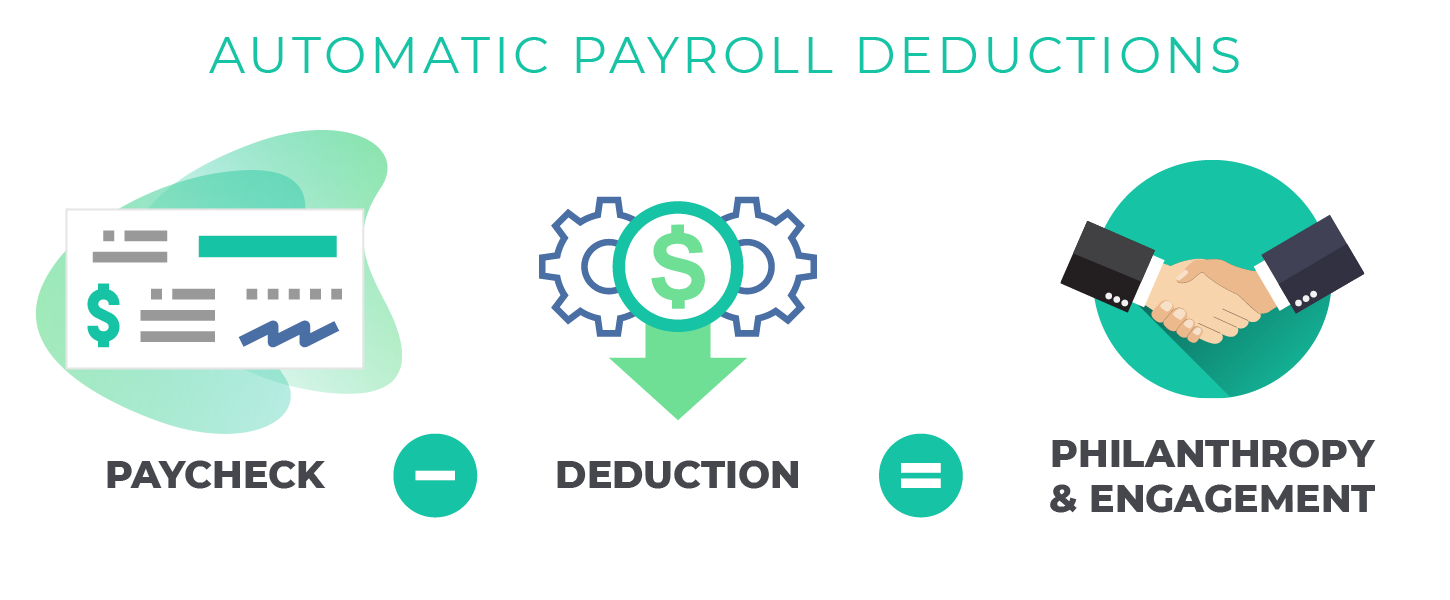 Automatic payroll deductions are great options for employees because they can give to nonprofits in smaller increments—especially if they're unable to donate a large sum at once. If their employer also offers a matching gift program, those donations can even be doubled.
Most organizations are generally vetted by companies to ensure their employees' automatic payroll contributions are going to reputable nonprofits. This will reassure employees that their donations are going to a good cause. 
How do automatic payroll deductions tie into employee engagement?
By making it easy for employees to give to reputable organizations, your company accomplishes a few things:
Employees get to make a difference for the causes they care about.

The donations have no extra fees for the nonprofits (like credit card processing fees) and the donation is still tax deductible for employees.

Employees will continue to participate in automatic payroll deductions long term because of the ease and security associated with the program.
The more options you offer as part of your workplace giving programs, the more likely employees will be to engage and participate in those programs. Automatic payroll deductions are an excellent option to consider as a company.

5. Annual Giving Campaigns
The year-end giving season (generally October through December) is the most popular time for nonprofit donations. During this time, donation numbers are higher than all year round.
Companies can use this time to encourage their employees to donate to important causes. This can be done via monetary donations or donations of time. When paired with matching gifts and corporate volunteer grants, the impact goes even further.
Many nonprofits run annual giving campaigns around this time of year to raise a large portion of the funds they need to continue serving their missions. Encouraging your employees to give during these campaigns is especially important for the nonprofits they support, but also for your company's image.
How do annual giving campaigns tie into employee engagement?
If your company wants to boost engagement among its employees, be sure to encourage them to participate in annual giving. Promote specific opportunities to donate to nonprofits whose missions align with your company values. This reflects well on your company in the public eye, while also showing your employees that giving to worthy causes is an important component of your business practice.

6. Cause Marketing Campaigns
As a big part of CSR, companies will often launch a cause marketing campaign in conjunction with a nonprofit cause. During a cause marketing campaign, a company increases its own profitability while also doing good in the communities in which they operate.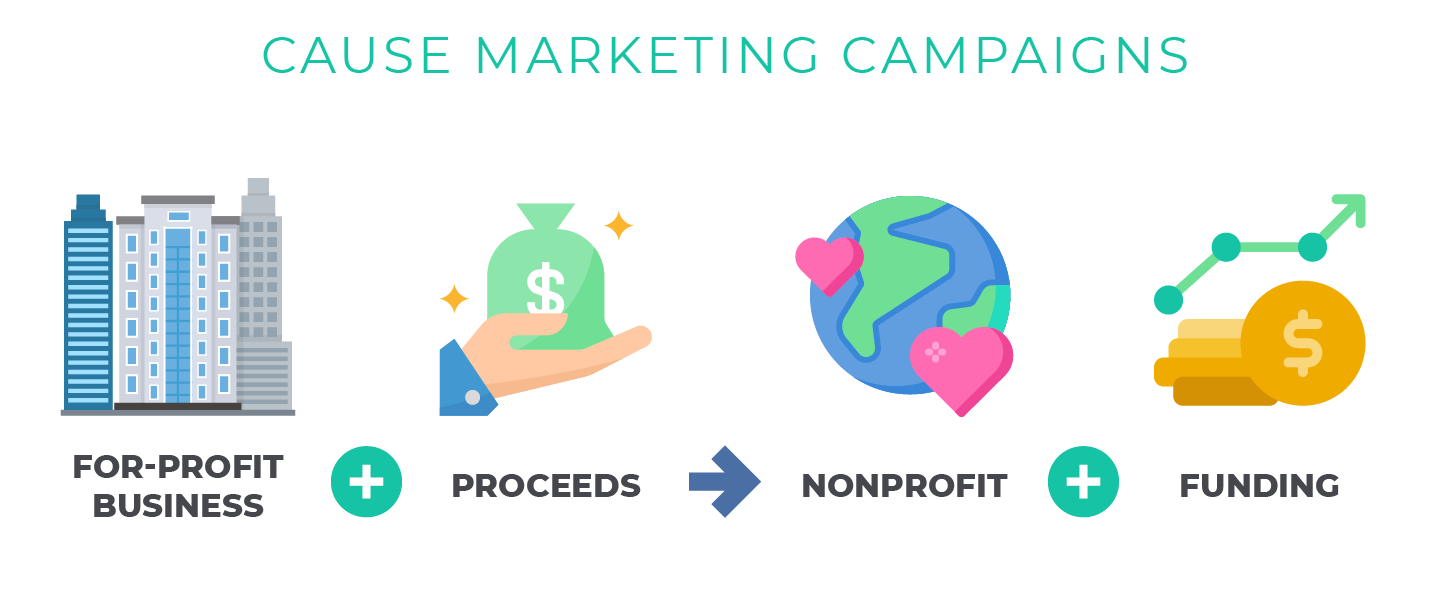 Here are some examples of cause marketing:
Businesses encourage customers to round up their purchases to donate to a specific charity or cause.

Businesses donate a portion of their profits to a specific charity or cause. 

Businesses accept donated goods to provide to specific charities.
Both the for-profit and nonprofit sides benefit from cause marketing. For-profit businesses can see an increase in sales and exposure, while nonprofits receive more funding and goods that can help them serve their constituents.
How do cause marketing campaigns tie into employee engagement?
Cause marketing is a great employee engagement idea because it actively encourages employee participation. After all, cause marketing works best if your company is helping a cause that your employees believe in. If your staff supports the idea, they'll work harder and be more invested in helping.


7. Employee Engagement Software
For all of these employee engagement ideas, you'll want to have an organized system in place to run it. With so many moving parts and workplace giving options, it can be challenging to consolidate donations, volunteer opportunities and hours, and matching gift requests in one place.
Employee engagement software is a must when it comes to organizing your workplace giving programs.
Using an employee engagement platform, you can:
Track and review employee donations, including automatic payroll deductions.

View and approve employee matching gift requests.

Allow employees to log their volunteer hours.

View and approve volunteer grant requests.

Post and coordinate volunteer opportunities for your employees.

Organize team volunteer events.
These are just some of the ways employee engagement software can help keep your company on track.
Be sure to invest in the right employee engagement software that will allow your company to benefit the most from the workplace giving programs you've already invested so much into.

Additional Resources
Looking for even more information about employee engagement ideas that can benefit your company? Start with the resources below:

https://doublethedonation.com/wp-content/uploads/2022/06/Employee-Engagement-Ideas-Feature.jpg
540
1450
Adam Weinger
https://doublethedonation.com/wp-content/uploads/2022/03/logo-dtd.svg
Adam Weinger
2021-04-28 13:41:10
2023-10-09 15:43:36
7 Employee Engagement Ideas to Promote Philanthropy