8 Results-Driven Reasons Employee Engagement is Important
Andrew Carnegie once said, "You must capture and keep the heart of the original and supremely able man before his brain can do its best."
Though Carnegie wasn't explicitly talking about employee engagement, this quote perfectly illustrates how vital it is to engage your employees. This way, they will be happier and perform to the best of their abilities.
Unfortunately, employee engagement is sometimes an afterthought. However, engaging employees should be practiced at all levels of the business hierarchy and cultivated on a regular basis.
Studies show that less than a third of American workers are engaged at their jobs, so there is definitely room for improvement. But why exactly does employee engagement matter?
Here are eight reasons why employee engagement is important to your company.

1. Employee engagement can help your cause marketing.
If your company takes up a cause marketing campaign throughout the year or during a specific time period, having engaged employees is a must.
Cause marketing campaigns occur when companies partner with nonprofits to help raise money for those nonprofit causes as part of their everyday business activities. For example, a restaurant chain might encourage its customers to donate to an organization committed to ending child hunger.
Here are the benefits of having engaged employees:
They can help boost your company's cause marketing efforts.

They like to participate in events and volunteer with nonprofits.

They enjoy being part of a solution.
Employees who are engaged at work will be more than willing to help out when the company they work for pursues a noble cause.

2. Better engagement means better productivity.
According to Gallup, corporations whose employees are engaged perform more than 200% better than companies whose employees are not.
When employees are engaged at work, they feel a connection with the company. They believe the work they're doing is important and therefore work harder.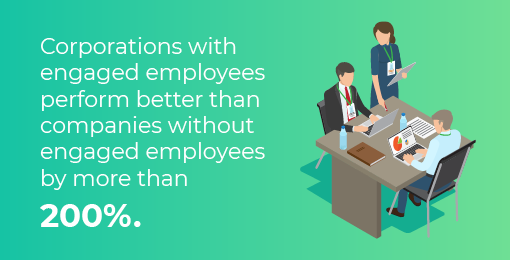 As Gallup notes, lack of employee engagement costs American businesses anywhere from $450 to $550 billion a year when workplace accidents, absenteeism, and larger healthcare costs are factored in. This massive chunk of money could significantly shrink if more companies emphasized employee engagement.

3. Engaged employees are less likely to quit.
If you're completely happy and content in a relationship, why would you break up with your significant other?
You probably wouldn't.
The same principle goes for employees' relationships with their employers. In fact, according to a Dale Carnegie Training study, the Bureau of National Affairs reported that $11 billion is lost annually due to employee turnover.
But, if the members of your team are engaged and feel appreciated, they will be less inclined to look for other employment opportunities. Fostering a culture of employee engagement can be the key to reducing turnover rates and boosting employee retention.
If employees feel needed and wanted when they go into work each day, the connections they form with the company and other employees are not easily eroded. By cultivating and maintaining these relationships, you reduce the risk that your employees will quit.

4. Engaged employees are positive.
Workers who feel disconnected and disengaged are more likely to have negative things to say about your company. If a disengaged employee leaves or is fired, they may vent their frustrations on any number of social forums and sites.
Because negative feedback tends to be magnified more than positive, your company's reputation and credibility could be damaged due to a single disengaged, disgruntled employee.
Conversely, engaged employees are positive and have enthusiastic things to say about their work. Whether they are bragging about their job to customers or telling friends and family how much they enjoy working, employees who are engaged will help spread good news about your company and improve your overall reputation.

5. Employees feel satisfied when they're engaged.
Employee engagement isn't just beneficial for your company. Employees who are engaged at work feel satisfied with their careers and are generally happier individuals than employees who aren't engaged.
It's important to remember that boosting employee engagement isn't simply about creating more productive, robotic employees and increasing profits. Employee engagement is advantageous for both parties and should be treated as a two-way street.
One of the biggest advantages to increased employee engagement is that you'll be surrounded by happy workers who enjoy coming to work nearly every day.

6. Engaged employees are better communicators.
Employees who care about their jobs are more effective communicators with coworkers, leaders, and customers alike. Disengaged workers may mindlessly go through their day without remembering any of the conversations that they had (if they had any at all).
Engaged employees, however, engage each other in stimulating discussions that could turn into productive brainstorming sessions. Incorporating a culture of employee engagement can not only help employees connect with one another, but also help create new innovations and ideas.

7. Engaged employees are more creative.
All of the conversations that spring up within your company because of increased employee engagement have the potential to make your employees more creative.
Disengaged employees rarely produce new solutions or bring innovative ideas to the table; they have little interest in contributing to the bigger picture or being creative with their job.
Engaged employees, on the other hand, find creativity to be essential. They thrive on knowing they can find new ways to complete tasks and projects and are always looking for fresh takes on old ideas.

8. Engaged employees are more philanthropically minded.
Employees who are engaged at work want to know that the company they work for cares about the community. If the company encourages volunteerism or offers matching gifts, engaged employees are more likely to take advantage of these opportunities to donate their time and money toward worthy causes.
One way to demonstrate that you care about important causes is by investing in workplace giving software that makes it easy for your employees to participate in your giving programs.
A workplace giving platform lets you do things like:
Manage employee donations and matching gift requests.

Track employee volunteer hours and volunteer grant requests.

Arrange automatic payroll deductions so employees can donate a portion of their paycheck to a nonprofit of their choice.
By creating an atmosphere of corporate philanthropy, you'll not only help employees contribute to nonprofit organizations, but also help them feel more engaged and fulfilled at work. And when it's easy for them to take part in workplace giving, you'll get more out of the programs you've already invested in.

Additional Employee Engagement Resources
By creating an atmosphere of employee engagement, you'll not only boost productivity and profits, but also help your employees reach their full potential and look forward to coming to work each day.
Looking for more engagement strategies? Check out the resources below:

https://doublethedonation.com/wp-content/uploads/2022/05/Why-Employee-Engagement-is-Important-Feature.jpg
540
1450
Adam Weinger
https://doublethedonation.com/wp-content/uploads/2022/03/logo-dtd.svg
Adam Weinger
2015-09-02 11:00:02
2023-04-08 11:51:00
8 Results-Driven Reasons Employee Engagement is Important