Nonprofit Basics: Employee Engagement Ideas
As a mission-driven organization, it's important for your nonprofit to have employees that are invested in and passionate about their work. In other words, it's critical to the nature of nonprofit work to have engaged employees who want to drive your mission forward and deliver results for your beneficiaries.
While that might seem obvious, it is a little easier said than done. According to Gallup, only 36% of U.S. employees are engaged at work. Nonprofits face unique challenges when it comes to employee engagement, not the least of which is that they have to compete with the for-profit sector for talent and often have limited resources to work with when honing the employee experience. Actively pursuing ways to engage your employees can help with this issue.
What is nonprofit employee engagement?
Employee engagement refers to how your employees feel about their jobs and how invested they are in your organization's larger goals. Engaged employees are passionate about their work, enjoy their jobs, and feel satisfied with how they are valued and compensated for their efforts. They're also very loyal to the organizations they work for and are more likely to stay retained in their roles.
Fostering employee engagement and overall satisfaction is an important part of nonprofit HR, which manages all aspects of the employee lifecycle. From recruiting to exit interviews, keeping the entire employee experience in mind can help you strategize to come up with employee engagement ideas that boost employee retention and help you meet employee needs.
5 Ideas for Engaging Your Nonprofit Employees
Here are five of our favorite ideas for engaging your employees: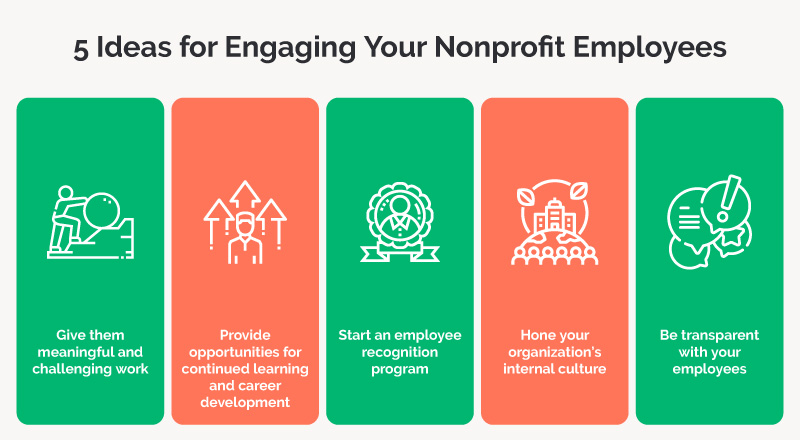 Give them meaningful and challenging work. Menial, repetitive tasks aren't fun for anyone. Employees should be doing meaningful work that challenges them and helps them tap into their strengths and build new skills. Employees won't be innovative and excited about their work if they feel their skills are undervalued or that they aren't really contributing to a larger purpose.
Provide opportunities for continued learning and career development. Employees don't want a stagnant experience. Provide them with opportunities to do things like go to conferences, join professional organizations, and continue their education in other ways. There should also be a clear-cut path for career development and growth so that employees know how they can advance in their roles. For example, employees should have access to knowledge about how they could pursue becoming a manager or director and feel able to discuss those opportunities with their manager.
Start an employee recognition program. An employee recognition program sets up a formal framework for acknowledging employees for their work and accomplishments. For example, you might set up a rewards program for when employees meet certain goals (like securing X major gifts), or create an employee of the month program.
Hone your organization's internal culture. Make your organization a fun place to work. Encourage employees to get to know their coworkers by hosting parties and events. Surprise your employees with fun perks to make them feel appreciated. Cultivate an atmosphere of positivity and openness so that concerns don't fester and employees are comfortable in their work environment.
Be transparent with your employees. Being honest about the good and the not-so-good will show your employees that you see them as valuable team members that should be included in organizational happenings. Show your employees that you care about them by addressing issues honestly and focusing on solutions for moving forward. If employees feel like they can bring up issues with management, then you're more likely to catch potential problems before they've fully evolved. And employees who feel cared for are more likely to care about their work.
Nonprofit employee engagement is essential for building up a strong internal team that can drive your mission forward. These ideas can help you fine-tune your own organization's strategy!
Other Resources to Explore
Nonprofit Basics – Learn more about nonprofit management essentials by exploring other expert resources.
Working With a Nonprofit Human Resources Consultant – An HR consultant can provide a third-party perspective on how your nonprofit handles employee relationships and help you to improve. Learn more in this guide.
Compensation Consulting: The Ultimate Guide (+ Top Firms!) – Compensation affects employee satisfaction. Working with a compensation consultant is a great option for nonprofits looking to hone their approach. Start exploring these recommendations!
https://doublethedonation.com/wp-content/uploads/2022/12/Astron_Solutions_DTD_Employee_Engagement_Ideas_Feature.jpg
300
800
Adam Weinger
https://doublethedonation.com/wp-content/uploads/2022/03/logo-dtd.svg
Adam Weinger
2022-12-15 19:44:23
2022-12-20 19:49:38
Nonprofit Basics: Employee Engagement Ideas