8 Exceptional Capital Campaign Consulting Firms

Planning for a capital campaign is a huge endeavor, and even the most experienced nonprofits need some assistance. Your nonprofit can get help by hiring a capital campaign consultant or a capital campaign consulting firm.
To make sure we're on the same page, a capital campaign consultant is a professional adviser that can provide counsel on how to plan for your campaign. Consultants can help complete common capital campaign tasks, such as performing a feasibility study, writing a case for support, and training your leadership.
You can hire a consultant to assist you throughout the duration of the campaign or for just a few small tasks here and there.
If you're not sure who to hire, we have eight capital campaign consulting firms that you can consider. 
In case you were wondering, we picked these top seven capital campaign consulting firms based on client satisfaction, knowledge of capital campaigns, and strength of approach.

1. Aly Sterling Philanthropy — Our Top Choice Capital Campaign Consultant
Overview
Aly Sterling Philanthropy is a full-service consulting firm, with years of experience guiding organizations through capital campaigns.
Their team is comprised of experienced professionals that understand the importance of strong leadership and a solid infrastructure.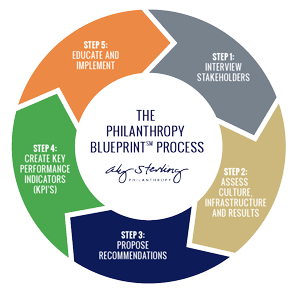 When working with Aly Sterling Philanthropy, the consultants will conduct a Philanthropy Blueprint, which is a 6-step process that assesses your organization to pinpoint where you need the most help.
Services
Aly Sterling offers services, such as:
Performing feasibility studies
Writing a case for support
Training leadership
Researching prospective donors
In addition to the services listed above, their website includes resources to help nonprofits navigate the planning process for capital campaigns (and other fundraisers!).
Type of Client
Aly Sterling Philanthropy, a member of The Giving Institute, has worked with the Boys and Girls Club of Toledo, Ronald McDonald House Charities of Southern West Virginia, and Maumee Valley Habitat for Humanity.
They are proud to work with organizations of any size that serve a range of causes, including arts and culture, healthcare, and social justice advocacy. 
Location
While headquartered in Toledo, Ohio, Aly Sterling welcomes clients located anywhere in the United States.

2. Averill Fundraising Solutions — Our Top Choice Capital Campaign Consultant
Overview
When you hire Averill Fundraising Solutions to serve as your capital campaign consultant, you can trust you're gaining a partner that has diverse experience throughout the nonprofit sector.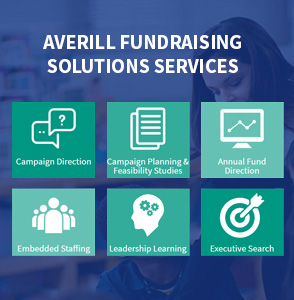 Averill's consultants can help your team during the pre-planning phase by developing key collateral (like case statements and prospect lists), or they can stay on for the whole campaign as your capital campaign's director.
Since they have over 75 years of experience working with charities, faith-based organizations, schools, and other nonprofits, they'll be ready to take on any challenge your capital campaign presents.
Depending on your needs, they may even embed a capital campaign consultant in your organization to provide extra guidance from the inside out.
Services
You can rely on Averill for:
Campaign direction
Campaign planning and feasibility studies
Annual fund direction
Executive search
Embedded staffing
With any of these services, Averill's capital campaign consultants will stay with you every step of the way as partners.
Type of Client
Large organizations representing a wide variety of interests have consulted with Averill in the past, including the Salvation Army in Sierra del Mar, California, and the Boys and Girls Club in Newark, New Jersey. 
Averill also partners with mature organizations at a smaller scale to help them grow into the institutions they want to become.
Location
Located in New York, Averill is in the neighborhood of some of the top major gift giving prospects in the United States. However, the firm works with organizations all across the U.S. and Canada.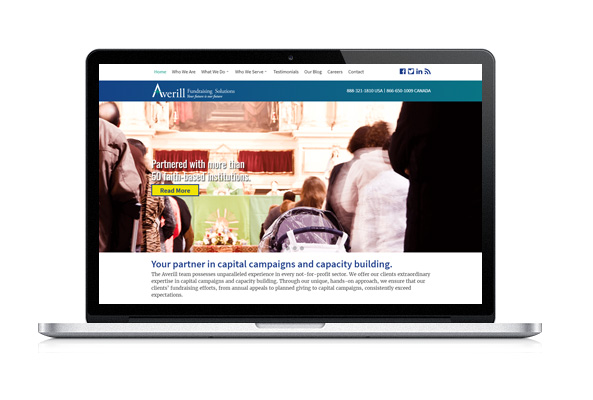 3. Capital Campaign Pro — Our Top Pick for Digital Resources & Advising
Overview
We understand that not every campaign director will desire the assistance of traditional capital campaign consulting. For those nonprofit professionals, we recommend Capital Campaign Pro.
Capital Campaign Pro is the only fully online, virtual campaign resource for nonprofits.
Their system breaks capital campaigns out into a seven-phase plan, spanning from pre-campaign planning to post-campaign analysis. Along the way, it empowers nonprofit professionals with the knowledge, confidence, resources, and expert support needed to hold an effective capital campaign.

Services
Capital Campaign Pro includes the following features and services:
A step-by-step capital campaign plan
Campaign templates, checklists, assessments and worksheets
A Guided Feasibility Study
Expert capital campaign advisors
Capital Campaign Pro (as well as comprehensive free resources on its website, such as this guide to capital campaigns) empowers nonprofit professionals to successfully navigate their next capital campaign on their own terms. However, you can also work with their team of expert advisors for additional support.
Type of Client
Capital Campaign Pro was created for leaders of all size nonprofits who:
Are uninterested in traditional consulting.
Want to be empowered and learn successful campaign strategy and techniques.
Are seeking an online-powered approach.
Want a community of colleagues who are leading successful campaigns.
Are looking for budget-friendly support and advising.
Whether due to budgetary constraints or poor experiences with consultants in the past, this system was created for those seeking a refreshing campaign experience.
Location
Capital Campaign Pro is a fully online, virtual resource that is incredibly accessible for nonprofit leaders across the country and around the world. This means that regardless of location, your organization can make the most of the its resources.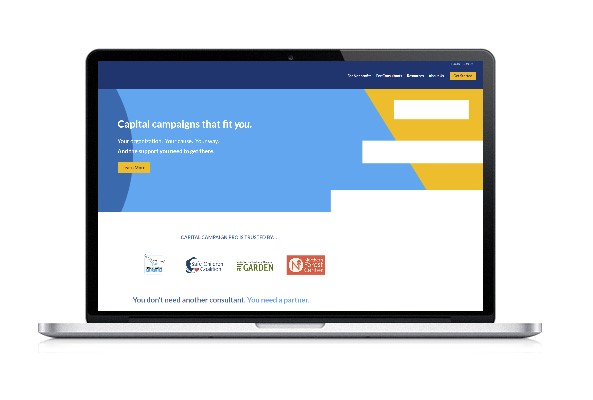 4. Alexander Haas
Overview
As one of the leading fundraising consulting firms in the nation and a member of The Giving Institute, Alexander Haas has years of experience planning capital campaigns. 
In their own words, they "know what it takes to be successful in today's philanthropic marketplace and how to help you get the results it takes to prosper."
Services
Nonprofits interested in Alexander Haas will find services that include:
Pre-campaign counsel
Feasibility studies
Plan development
They provide services for more than just capital campaigns; nonprofits can get assistance with their annual fund or donor stewardship.
Type of Client
Educational and faith-based institutions are some of the common types of clients that the consultants at Alexander Haas work with. Plus, they work with any size organization, large or small.
Location
The Alexander Haas consulting firm is located in Atlanta, Georgia.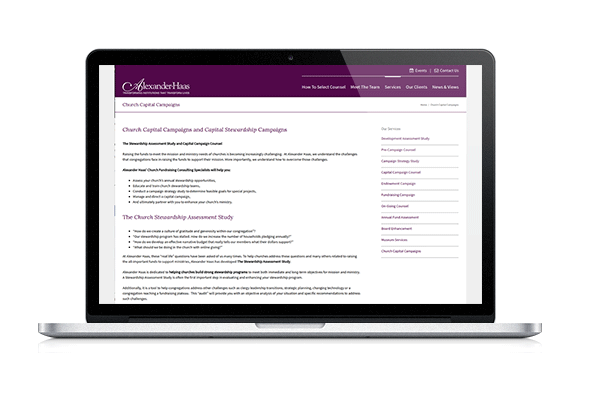 5. Brian Lacy and Associates
Overview
Brian Lacy and Associates is a fundraising and data services consulting firm with 3 decades of experience providing "leading industry resources and veteran talent to maximize what your [nonprofit] team can do across the giving spectrum."
They have helped over 400 organizations raise more than $1 billion in contributions.  
Services
If you need help with your capital campaign, Brian Lacy and Associates offers many different services for your nonprofit.
They cover services like:
Prospect screening
Securing funds to reach fundraising goals
Marketing and communications
Type of Client
Some of their clients include Brooklyn College Foundation, Appalachian State University, and Mississippi State. In addition to educational institutions, they aid healthcare and art and culture organizations.
Location
Brian Lacy and Associates is located in Houston, Texas.

6. J.F. Smith Group
Overview
The J.F. Smith Group has over 25 years of capital campaign experience to help guide nonprofits throughout their fundraising.
Their goal is "helping clients fulfill their dreams through a unique, professionally directed development partnership."
Services
One of the most important parts of a capital campaign is the feasibility study, and J.F. Smith Group will conduct interviews with participants so you don't have to!
Additionally, J.F. Smith Group can also help with:
Staff training
Campaign strategy
Wealth screening
Aside from capital campaigns, nonprofits can hire J.F. Smith for other fundraising projects as well.
Type of client
The J.F. Smith Group works with medium-sized organizations. They've worked with clients such as Auburn Humane Society, Jacksonville State University, and Auburn University.
Location
J.F. Smith Group is headquartered in Auburn, Alabama.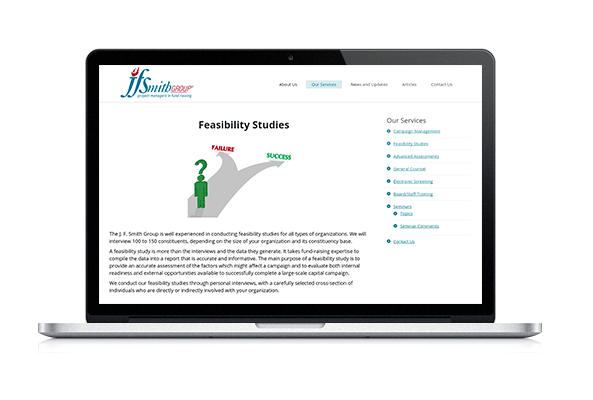 7. The Curtis Group Consultants
Overview
Founded in 1989, The Curtis Group has over 25 years of experience working with nonprofits to improve their fundraising. 
Their philosophy is "To be there. For you. With you. Working alongside you in every phase of the campaign until you reach your goal."
Services
The Curtis Group can handle many aspects of a nonprofit's capital campaign, from the initial planning to training your board of directors.
Along with creating a unified brand for a capital campaign, The Curtis Group can help design and create:
Brochures
Case statements
Major donor presentation kits
Type of client
The Curtis Group has worked with over 150 arts and culture, educational, and healthcare organizations. While they work with any size organization, The Curtis Group finds that they can provide the best services to small and medium size nonprofits.
Location
The Curtis Group is located in Virginia Beach, Virginia.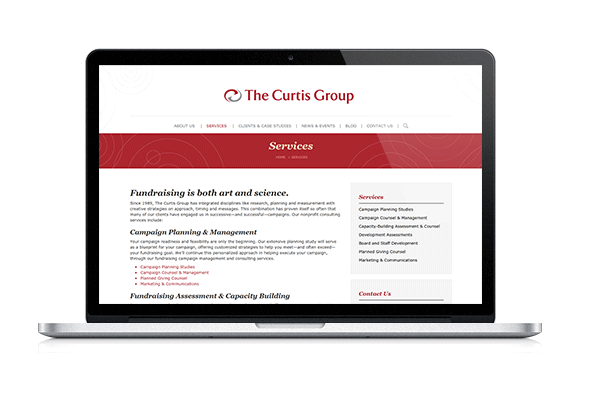 8. Gail Perry Group
Overview
Founded in 1994, the Gail Perry Group has spent over 25 years helping nonprofits of all kinds reach their goals through effective capital campaigns, major giving programs, and fundraising strategies. 
The Gail Perry Group uses a proprietary data-driven methodology, Campaigns by the Numbers, to identify hidden major gift opportunities for clients. GPG also helps clients learn the easy Conversational Ask method of securing transformational gifts from happy donors.  
Services
Gail Perry Group offers services such as: 
Feasibility studies

Training retreats for board members

Capital campaign planning and counsel 
Type of client
The Gail Perry Group worked with nonprofits of all sizes. Former clients include schools and universities, health organizations, foundations, arts and culture institutions, and many other nonprofits.
Location
The Gail Perry Group is located in Chapel Hill, North Carolina, and works nationally.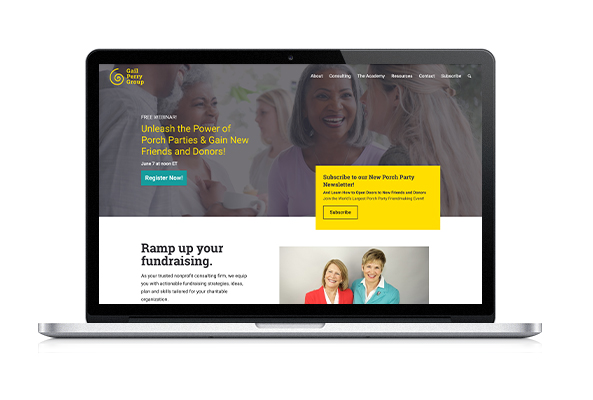 Additional Capital Campaign Resources
Guide to Capital Campaigns
Brush up on capital campaign basics and best practices before hiring a consultant. This guide provides the strategies to help you raise more money during your campaign.
Keep reading if you want to learn the ins and outs of capital campaigns!
Planning a Capital Campaign
Launching a capital campaign requires a lot of planning. That's why we've found this guide so helpful! It details every step to help you get through the planning phase.
Keep reading if you're looking for a step-by-step guide to planning your capital campaign.
Capital Campaign Consultant
Finding the best-fit capital campaign consultant for your nonprofit isn't always easy, and you'll want to know what to expect during this comprehensive hiring process.
Averill Fundraising Solutions has the guide you need to make your decision.
https://doublethedonation.com/wp-content/uploads/2022/06/Capital-Campaign-Consulting-Firms-1.jpg
321
845
Adam Weinger
https://doublethedonation.com/wp-content/uploads/2022/03/logo-dtd.svg
Adam Weinger
2016-12-14 20:21:55
2023-09-11 17:49:50
8 Exceptional Capital Campaign Consulting Firms